Best 9 Hotels with Pools in Ottawa
Welcome to the wonderful world of luxury accommodations in Ottawa, Canada! Today, we delve into a refreshing topic – lavish hotels with enticing swimming facilities. Ottawa, known for its rich history and vibrant culture, offers an array of exquisite properties that boast magnificent aqua features. Whether you seek a peaceful dip after exploring the city's iconic landmarks or simply yearn for a poolside retreat, these opulent establishments promise to elevate your stay to new heights.
Immerse yourself in relaxation as you luxuriate in the splendid aquatic havens offered by Ottawa's finest establishments. Picture yourself lounging beside crystal-clear turquoise waters under the warm Canadian sun. The city showcases an impressive selection of hotels equipped with pools that cater to every traveler's desire for relaxation and rejuvenation. From rooftop infinity pools providing breathtaking views of Parliament Hill to indoor sanctuaries adorned with cascading waterfalls and lush greenery – there is no shortage of options when it comes to indulging in aquatic bliss during your visit to this marvelous destination. So let us dive into the enchanting realm of Ottawa's top-notch hotels with irresistible swimming amenities!
The Best Ottawa Hotels with a Pool
Novotel Ottawa City Centre Hotel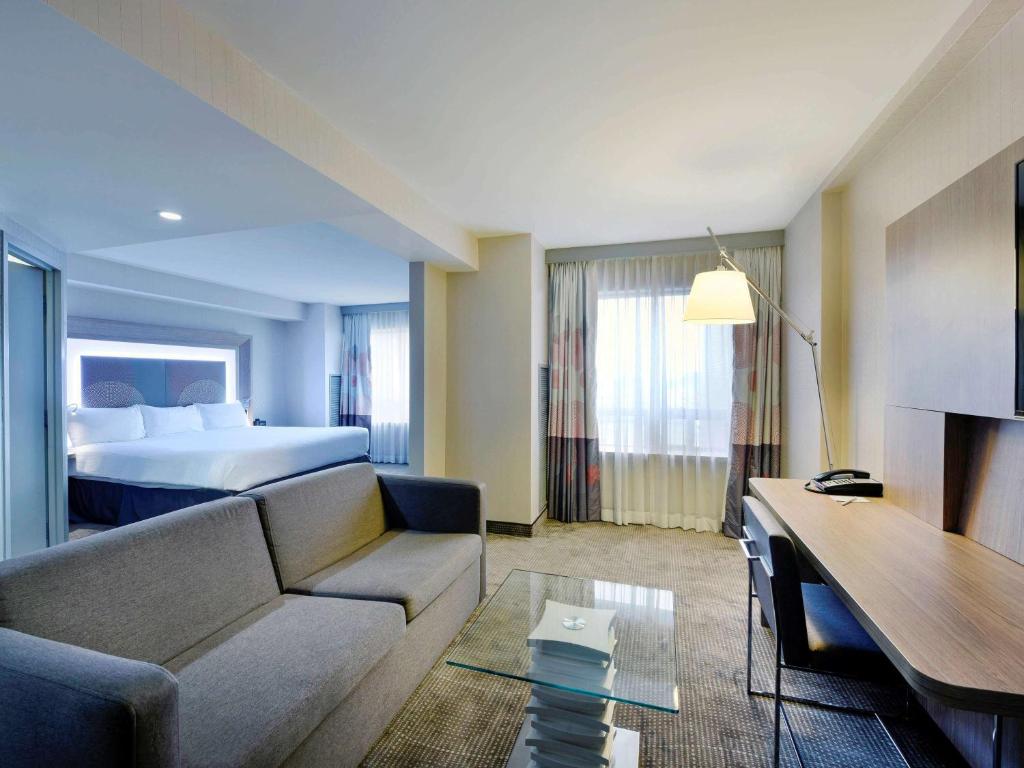 Located in downtown Ottawa, just a short stroll from the trendy Byward Market district, Novotel Ottawa City Centre Hotel offers guests a luxurious stay with its indoor pool and free WiFi. Each guest room is modernly furnished and features amenities such as a flat-screen LCD TV, a spacious ergonomic desk area, and tea/coffee making facilities. The hotel also boasts an on-site restaurant called Albion Rooms which serves up delicious dishes made with locally sourced produce, while the bar offers an impressive selection of local craft beers, wines, and house-made cocktails. For those who prefer dining in the comfort of their own room, room service is available throughout the day. Guests can take advantage of the 24-hour fitness centre or unwind in the hotel's hot tub. Additionally, the lobby provides complimentary pod-style work stations for those needing to catch up on work or check emails. With its convenient location just 1.1 km from The National Gallery of Canada and within walking distance to Parliament Hill, Novotel Ottawa City Centre Hotel is an ideal choice for both business and leisure travelers alike.
– Convenient downtown location near Byward Market
– Indoor pool for relaxation or exercise
– On-site restaurant offering locally sourced menu
– Complimentary pod-style work stations in lobby
– Close proximity to popular attractions like The National Gallery of Canada
LIV Extended Stay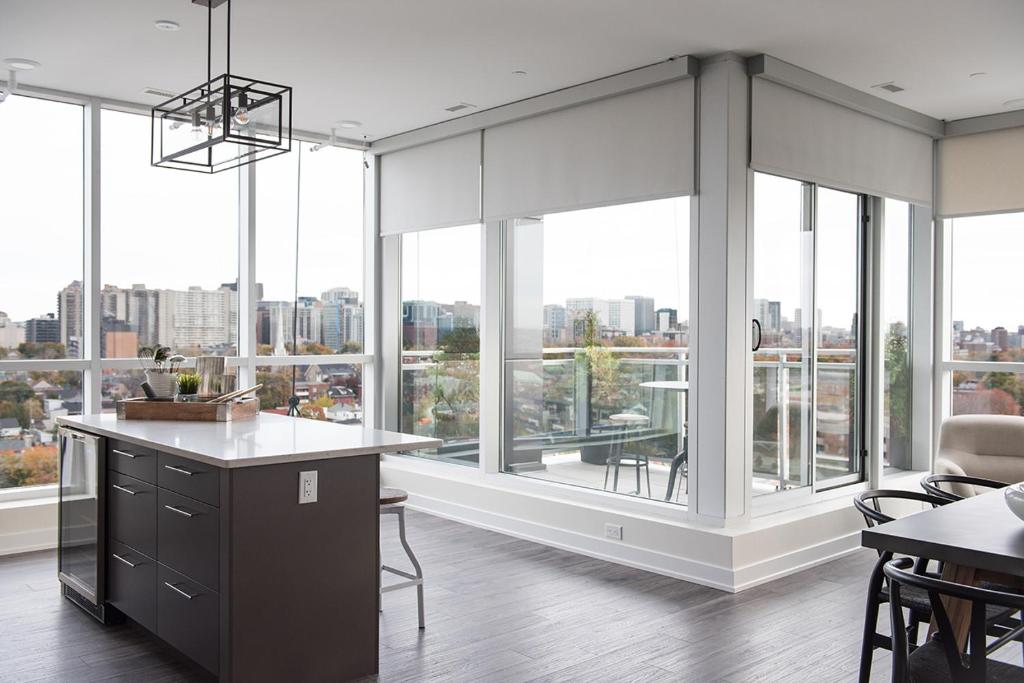 Located in Ottawa, LIV Extended Stay is a fantastic aparthotel that offers comfortable and spacious accommodations with a seating area and a fully equipped kitchen. Guests can enjoy complimentary WiFi throughout their stay. Each unit features a flat-screen TV, a private bathroom with free toiletries, a hair dryer, and either a bath or shower. For added convenience, the aparthotel also provides amenities such as a dishwasher and coffee machine. In addition to these great facilities, LIV Extended Stay boasts an inviting hot tub for guests to relax in, as well as a lovely terrace where they can unwind and enjoy the surrounding views. The Canadian War Museum is within walking distance from the property, making it an ideal choice for history enthusiasts. Moreover, the Ottawa Macdonald-Cartier International Airport is conveniently only 10 km away from the aparthotel.
Pros:
– Comfortable accommodations with spacious seating areas
– Fully equipped kitchens for guests' convenience
– Complimentary WiFi available throughout the property
– Inviting hot tub for relaxation
– Convenient location near Canadian War Museum and Ottawa airport
Holiday Inn Ottawa East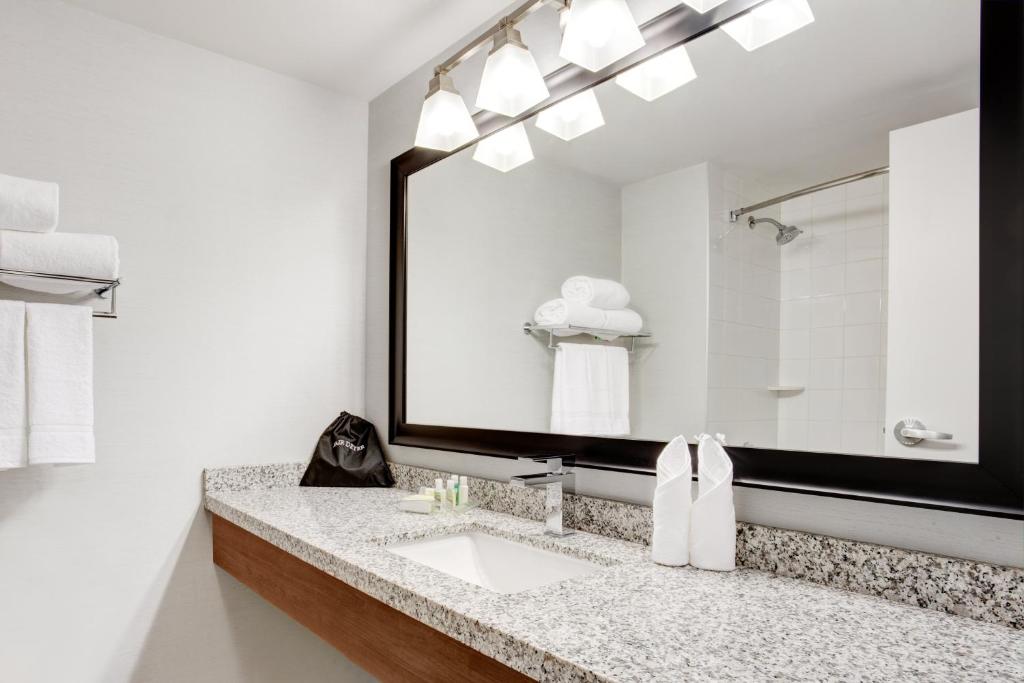 Conveniently situated less than 5 minutes' drive from the Trans-Canada Highway, the non-smoking Holiday Inn Ottawa East offers a comfortable stay with its spacious rooms featuring large windows that allow for ample natural light. Each room is equipped with a 42" HDTV, coffee maker, and work desk. Guests can enjoy delicious meals at Myra's Restaurant, which offers a variety of dishes including hamburgers and pastas, as well as a selection of drinks. The hotel also provides free WiFi throughout and on-site parking at no extra cost. For business travelers, there is an on-site business centre available for photocopying and faxing needs. Additionally, the St. Laurent Shopping Centre is conveniently located just a 5-minute walk away.
– Spacious rooms with ample natural light
– Free WiFi throughout
– On-site restaurant offering a variety of dishes and drinks
– Complimentary on-site parking
– Convenient location near major highway and shopping centre
Other places to stay in Ottawa
Hotels with Pools in Ottawa with Nice Views
Hotels in Ottawa with pools offer a refreshing escape with spectacular views of the city. Whether it's overlooking the bustling downtown or the serene Ottawa River, these hotels provide a perfect setting to relax and unwind after exploring the capital city.
The Westin Ottawa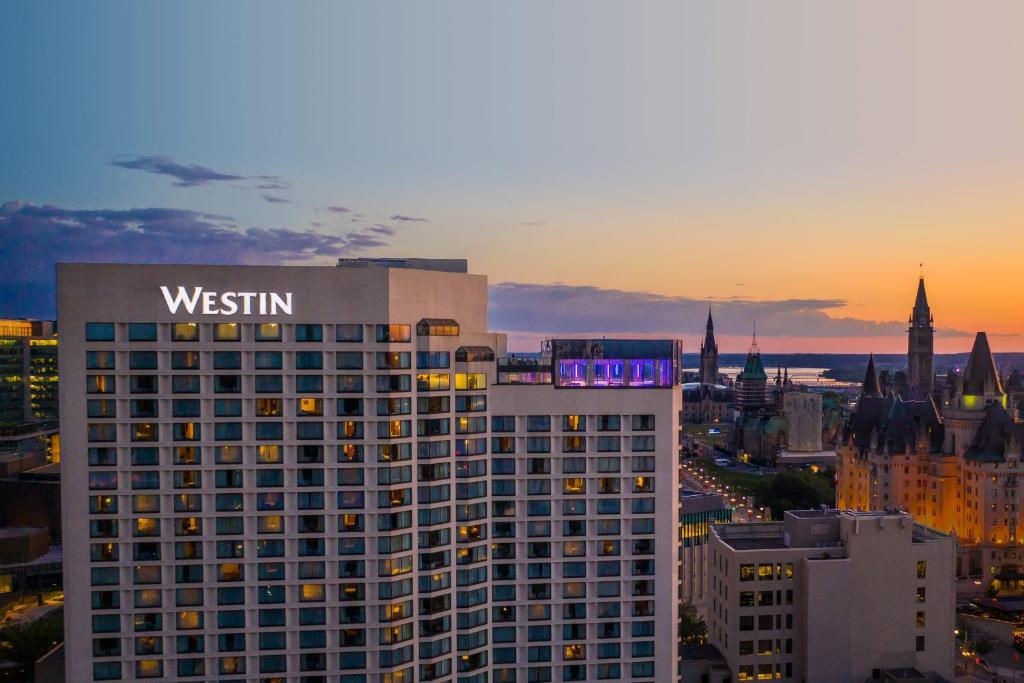 The Westin Ottawa is a luxurious non-smoking hotel situated next to the Rideau Centre Shopping Mall and the Shaw Centre. Guests can enjoy their stay with access to an indoor pool, hot tub, and fully equipped fitness centre. The hotel also offers squash courts, floral services, and a 24-hour business centre. Two on-site restaurants, Daly's and the Shore Club, provide delicious dining options. Additionally, guests can benefit from free public WiFi, 50" flat-screen TVs in every room with in-room films provided, as well as bicycle rentals available from May to September that support a local children's hospital. With its convenient location near attractions like the Ottawa Art Gallery and Parliament Hill within walking distance, The Westin Ottawa is an ideal choice for travelers.
– Indoor pool for relaxation and leisure
– Convenient location next to shopping mall and convention center
– On-site restaurants offering delicious cuisine
– Fitness center equipped for workouts
– Options for charitable contribution through bicycle rentals
Fairmont Chateau Laurier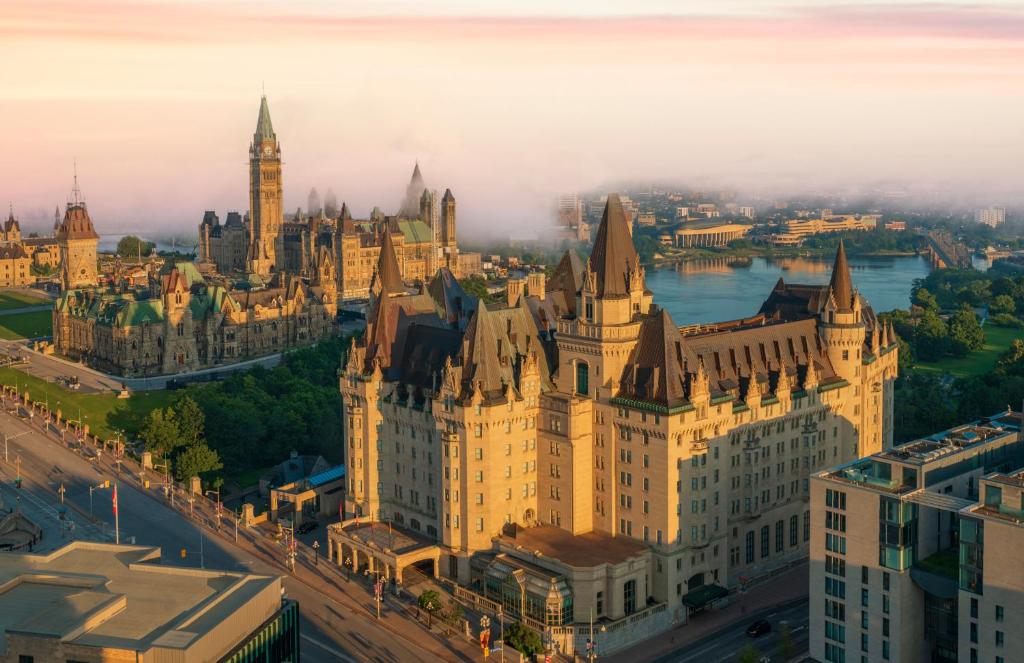 The Fairmont Chateau Laurier is a historic hotel located in the heart of Ottawa, just steps away from the Parliament Buildings and the picturesque Rideau Canal. The hotel boasts an indoor pool and offers elegant dining options as well as spacious rooms with flat-screen cable TVs. Guests can enjoy tea and coffee-making facilities, a minibar, and windows that open to the outside in each beautifully furnished room. The en suite bathrooms feature plush bathrobes for added comfort. Dining at the Fairmont includes Zoé's Lounge, a perfect spot for afternoon tea or evening cocktails, and Wilfrid's Restaurant which offers stunning views of Parliament. Guests also have free access to the on-site health club which features a modern fitness center equipped with personal flat-screen TVs on each machine. With friendly staff available 24/7 to assist with travel plans, guests can explore local attractions such as Major's Hill Park and the Ottawa Convention Centre which are both within walking distance. Additionally, Rideau Centre Mall is conveniently located less than 100 meters away.
Pros:
– Convenient central location near Parliament Buildings and Rideau Canal
– Elegant dining options including Zoé's Lounge and Wilfrid's Restaurant
– Indoor pool for relaxation or exercise
– Modern fitness center with personal TV-equipped machines
– Friendly 24/7 staff assistance
SOHO Residences Lisgar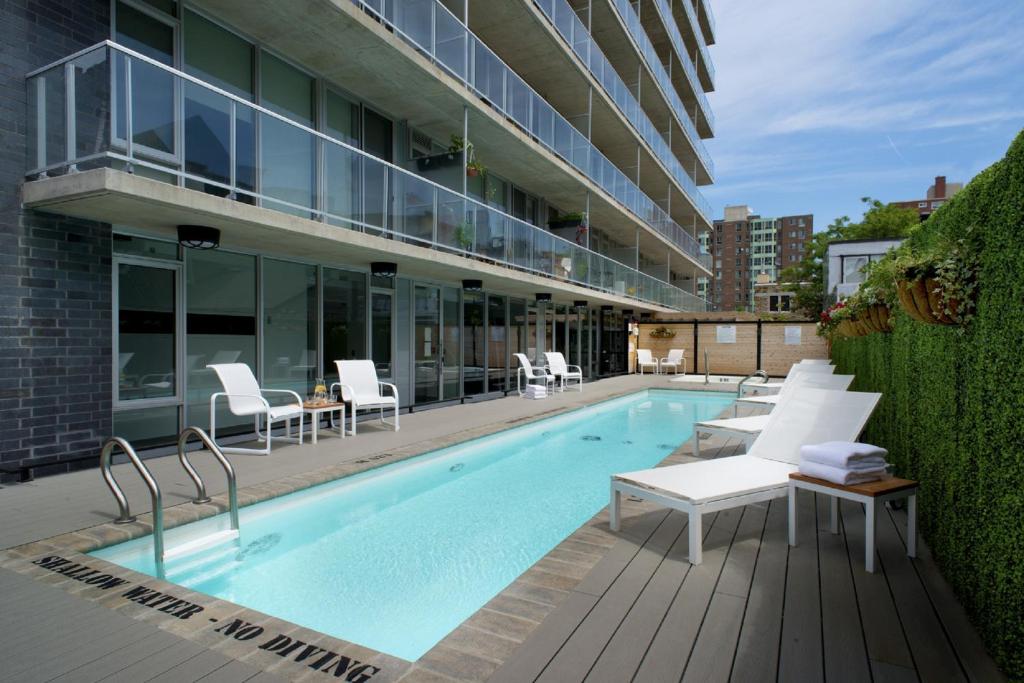 Located in downtown Ottawa, SOHO Residences Lisgar is a stylish apartment hotel offering a seasonal outdoor pool and stunning city views. This 100% smoke-free property is conveniently situated just 1.5 km from the Ottawa Convention Centre and provides guests with fully stocked apartments complete with towels and linens. The air-conditioned units feature free WiFi, flat-screen TVs, and well-equipped kitchens with amenities such as a dishwasher, oven, and microwave. Guests can also enjoy bath robes in each private bathroom. With its prime location near popular attractions like the Supreme Court of Canada (1.2 km away) and excellent amenities, SOHO Residences Lisgar offers a comfortable and convenient stay in Ottawa.
– Seasonal outdoor pool for guests to relax and unwind.
– Fully stocked apartments with all necessary amenities.
– Convenient location close to popular attractions.
– Free WiFi available throughout the property.
– 100% smoke-free environment ensuring a pleasant stay for all guests.
Romantic Hotels with a Pool in Ottawa
Ottawa offers a selection of romantic hotels with pools, providing couples with a relaxing retreat. With their serene atmosphere and inviting pool areas, these accommodations offer the perfect setting to unwind and enjoy each other's company during your stay in the city.
Lord Elgin Hotel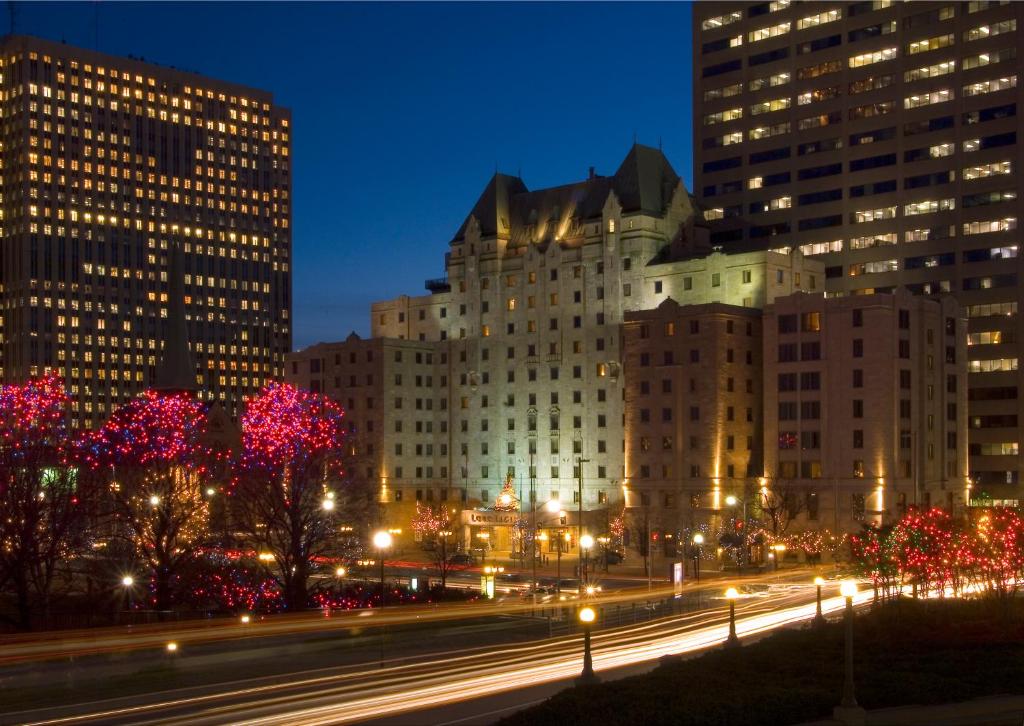 The Lord Elgin Hotel is a non-smoking, luxurious landmark hotel located in the heart of Canada's capital city. Situated directly across from the National Arts Centre and just steps away from major attractions, this hotel offers spacious accommodations with 49-inch TVs and top-notch amenities. With its ideal location, guests can easily explore Parliament buildings and the National Art Gallery. The Lord Elgin also features a state-of-the-art 24-hour fitness centre, complete with an indoor lap pool for those looking to stay active during their stay. In addition, guests can enjoy ice skating on Rideau Canal during winter or indulge in the vibrant shops and restaurants of Byward Market. To remember their trip, visitors can browse for souvenirs at the small on-site gift shop while making free local calls to share their experiences with loved ones.
– Indoor lap pool for fitness enthusiasts
– Convenient city centre location near major attractions
– Spacious accommodations with modern amenities
– Easy access to Parliament buildings and National Art Gallery
– Close proximity to vibrant shops and restaurants in Byward Market
Homewood Suites By Hilton Ottawa Kanata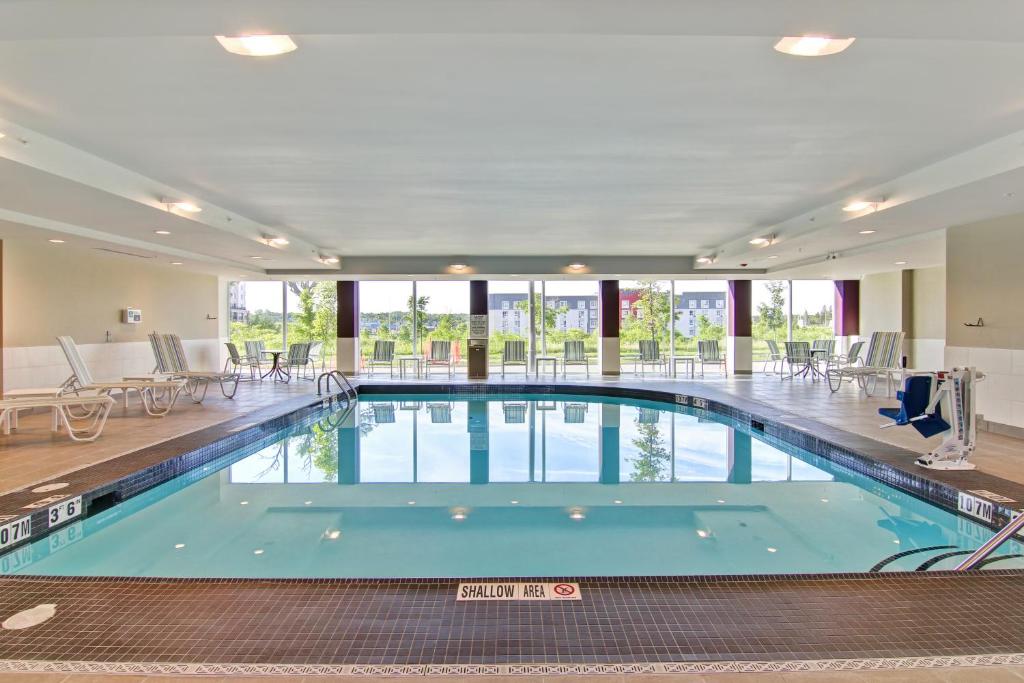 Homewood Suites by Hilton Ottawa Kanata is a conveniently located all-suite hotel, just 5 minutes' drive from Kanata's North Business Park and 29 minutes' drive from Macdonald-Cartier International Airport. With its complimentary hot breakfast and free WiFi, this hotel ensures a comfortable stay for its guests. Each spacious studio or suite features a fully-equipped kitchen with stainless steel appliances, allowing guests to prepare their own meals. The cozy living area includes a sofa bed and a HDTV for relaxation. Guests can enjoy the convenience of an indoor pool, fitness room, 24-hour front desk, and business center. On-site parking is also available at no extra cost. The hotel's location offers easy access to Highways 417 and 416.
Pros:
– Convenient location near Kanata's North Business Park
– Complimentary hot breakfast included
– Spacious suites with fully-equipped kitchens
– Indoor pool and fitness room available
– Free on-site parking
Les Suites Hotel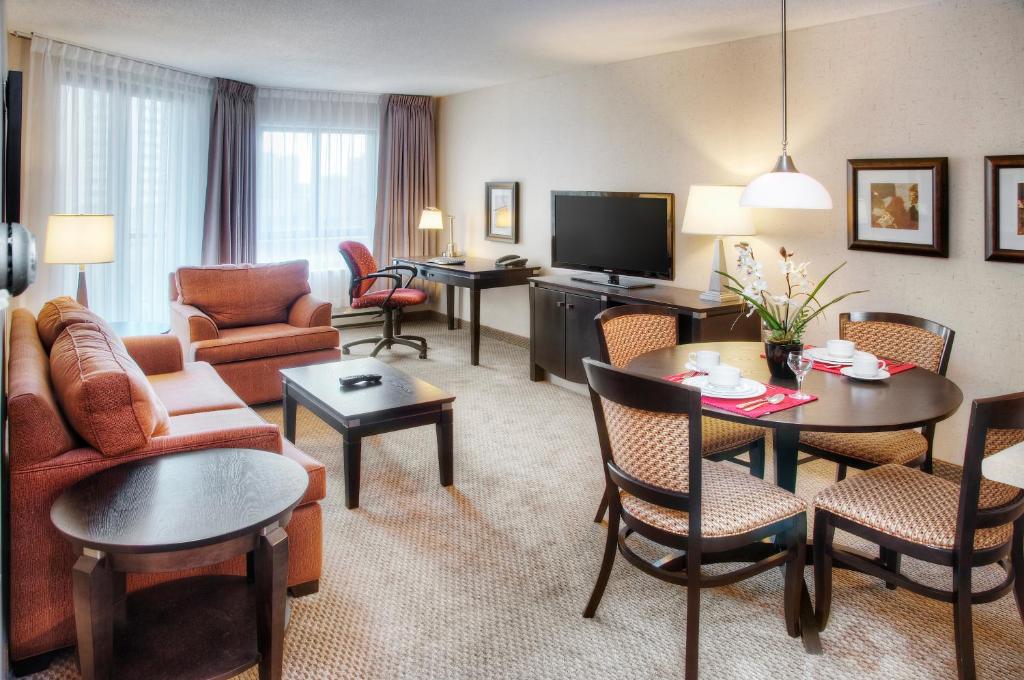 Les Suites Hotel is an apartment-style hotel located in the heart of Ottawa, Ontario. It offers fully furnished one and two-bedroom suites with all the comforts of home, including fully equipped kitchens and washers and tumble dryers. The hotel is conveniently situated next to the Rideau Centre, where guests can enjoy shopping, dining, and entertainment options. After a workout at the 24-hour fitness centre, guests can take a refreshing swim in the indoor pool. The pet-friendly suites also provide free wireless high-speed internet access and complimentary local calls for added convenience. For on-site dining, guests can visit Presse Café which offers a range of beverages as well as fresh salads, sandwiches, and desserts.
– Apartment-style accommodations with fully equipped kitchens
– Indoor pool for relaxation or exercise
– Convenient location near shopping and entertainment options
– Pet-friendly rooms for furry companions
– Complimentary amenities such as free Wi-Fi and local calls
Ottawa Hotels with Pool Information
| | |
| --- | --- |
| 🛎️ Hotels with a Pool in Ottawa | 9 |
| 💰 Hotel prices starting from | $177 |
| 💵 Highest price | $1731 |
| 🥇 Average Review Score | 8/10 |
| 🛏️ Average number of Rooms | 174 |
FAQ
Can you recommend any luxury hotels with pools in Ottawa?
Absolutely! One of the top luxury hotels in Ottawa with a stunning pool is the Fairmont Château Laurier. This iconic hotel features an indoor saltwater pool that offers breathtaking views of the city skyline. With its elegant decor and excellent service, the Fairmont Château Laurier is a perfect choice for travelers seeking a luxurious stay with access to a beautiful swimming pool.
Are there any budget-friendly hotels in Ottawa that still have pools?
Certainly! If you're looking for a budget-friendly option that includes a pool, consider staying at the Travelodge Ottawa West. This hotel offers comfortable rooms at affordable rates and boasts an indoor heated pool. It's a great choice for travelers who want to relax and unwind after exploring all that Ottawa has to offer without breaking the bank.
Are there any family-friendly hotels in Ottawa with pools?
Yes, there are several family-friendly hotels in Ottawa that have pools perfect for kids to enjoy. The Brookstreet Hotel is one such option, offering not one but two outdoor saltwater swimming pools along with separate children's wading areas. With spacious accommodations and amenities designed with families in mind, this hotel ensures both parents and kids have a fantastic time during their stay.
Do any hotels in Ottawa have rooftop pools?
While there aren't currently any hotels in Ottawa with rooftop pools, there are still plenty of options available offering beautiful indoor or outdoor pool experiences. The Andaz Ottawa ByWard Market stands out as one such choice, featuring an impressive indoor saltwater swimming pool complete with expansive windows overlooking the cityscape. So even though you won't find rooftop views while swimming, this hotel provides an equally delightful experience.
Can I find boutique hotels in Ottawa that offer unique pool settings?
Absolutely! If you're searching for boutique accommodation options in Ottawa that also boast distinctive pool settings, look no further than the ARC The.Hotel. This chic and modern hotel features a stylish rooftop pool and lounge area, where guests can relax while enjoying panoramic views of the city. It's the perfect way to unwind after a day of exploring Ottawa's vibrant neighborhoods and attractions.
Popular Hotels with Pools destinations