Best 8 Hotels with Pools in Glasgow
Welcome to Glasgow, a vibrant city in the United Kingdom that offers a plethora of luxurious accommodations complete with refreshing swimming facilities. In this guide, we will dive into the best hotels with pools in Glasgow, allowing you to cool off and unwind during your stay. Whether you seek a relaxing swim after exploring the bustling city streets or simply wish to bask under the sun while sipping on a refreshing cocktail, these hotels provide an oasis of tranquility amidst the urban landscape.
Glasgow boasts an array of exquisite lodgings equipped with magnificent aquatic retreats. From shimmering rooftop infinity pools that offer breathtaking panoramic views of the city skyline to indoor spas featuring inviting plunge pools, there is no shortage of options for water lovers seeking an unforgettable experience. Escape from the hustle and bustle of everyday life and immerse yourself in pure bliss as you swim laps or laze by the poolside, taking advantage of exceptional amenities provided by these remarkable establishments.
Indulge in elegant surroundings while enjoying state-of-the-art swimming facilities at any one of these top-notch hotels. Immerse yourself in opulence as you take advantage of their impeccable service, luxurious amenities, and stunning pool areas – perfect for unwinding after a day filled with exploration or business endeavors. Join us as we take a dip into Glasgow's most enticing accommodation options that guarantee not only lavish comfort but also delightful aquatic experiences that will leave you feeling rejuvenated and revitalized throughout your stay.
The Best Glasgow Hotels with a Pool
Kimpton – Blythswood Square Hotel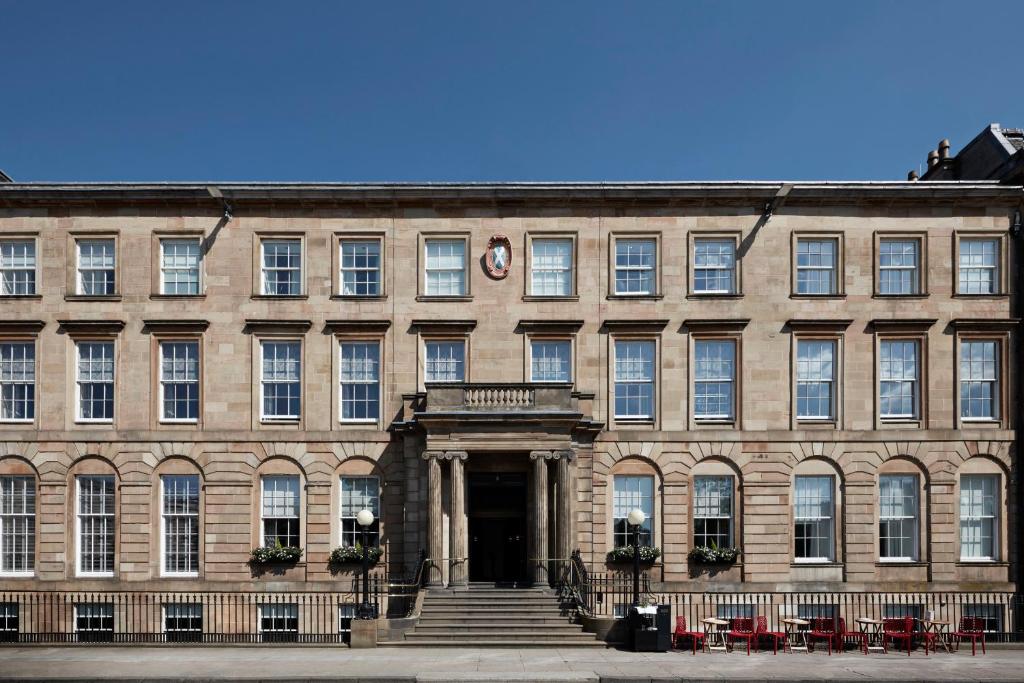 Kimpton – Blythswood Square Hotel is a charming boutique hotel located in the heart of Glasgow city center, just a short stroll away from Sauchiehall Street. This luxurious 5-star hotel, originally built in 1823 and formerly the home of the Royal Scottish Automobile Club, has undergone extensive restoration to offer guests a blend of stunning architectural beauty and modern amenities. The rooms are elegantly appointed with complimentary Wi-Fi, bathrobes, a digital TV, an mp3 system, and luxurious marble bathrooms. The hotel's restaurant and bar are housed in the former ballroom, exuding relaxed elegance for guests to indulge in delightful dining experiences or enjoy afternoon tea at The Salon with its stylish atmosphere and panoramic views. Although undergoing transformation until summer 2023, Kimpton – Blythswood Square Hotel continues to provide unparalleled comfort and service to its guests.
– Boutique luxury in Glasgow city center
– Stunning architectural beauty and elegant interiors
– Complimentary Wi-Fi throughout the hotel
– Restaurant and bar offering delicious dining options
– Relaxing spa facilities being reimagined for ultimate well-being (until June 30th)
Norton House Hotel & Spa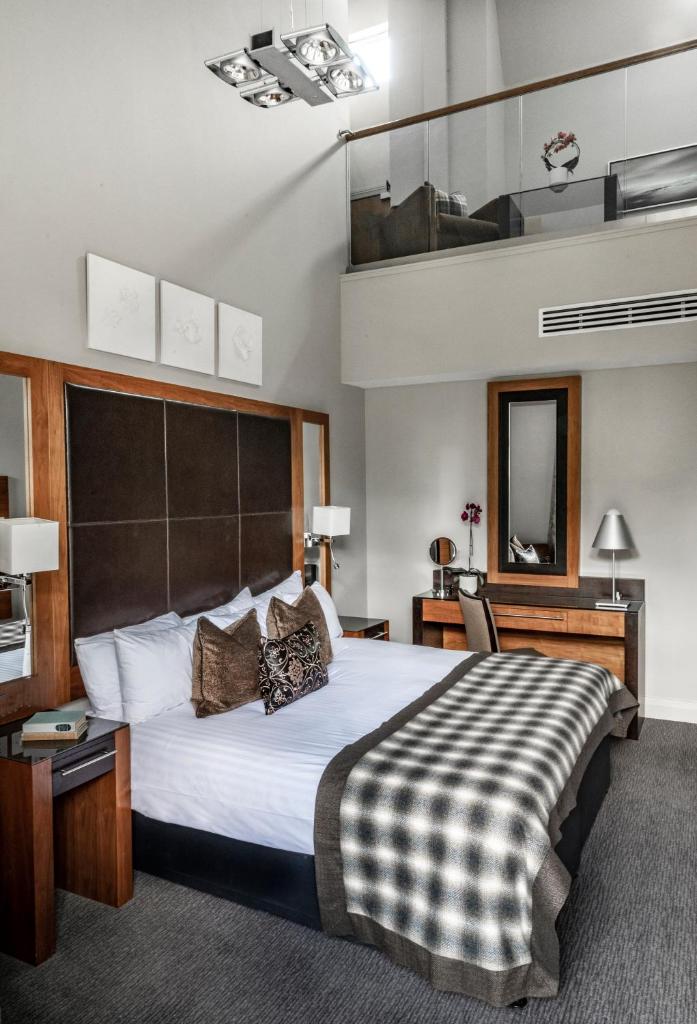 Norton House Hotel & Spa is a boutique hotel located in a stunning Victorian mansion set amidst 55 acres of picturesque grounds. This luxurious property boasts an indoor pool, a top-notch spa, and elegant rooms with complimentary internet access. The hotel is conveniently situated just a 20-minute drive from Edinburgh and only 3 miles away from Edinburgh Airport. Guests can indulge in ultimate relaxation at the spa's sauna, steam room, or hydrotherapy pool, as well as take advantage of the fully equipped gym and treatment rooms. With its excellent facilities and prime location near major motorways, Norton House Hotel offers both convenience and tranquility for its guests.
– Beautiful Victorian mansion set in expansive grounds
– Luxury spa with sauna, steam room, and hydrotherapy pool
– Award-winning restaurant serving traditional British cuisine
– Elegant rooms with modern amenities including satellite TV/DVD player
– Conveniently located near Edinburgh and the airport
Glasgow Argyle Hotel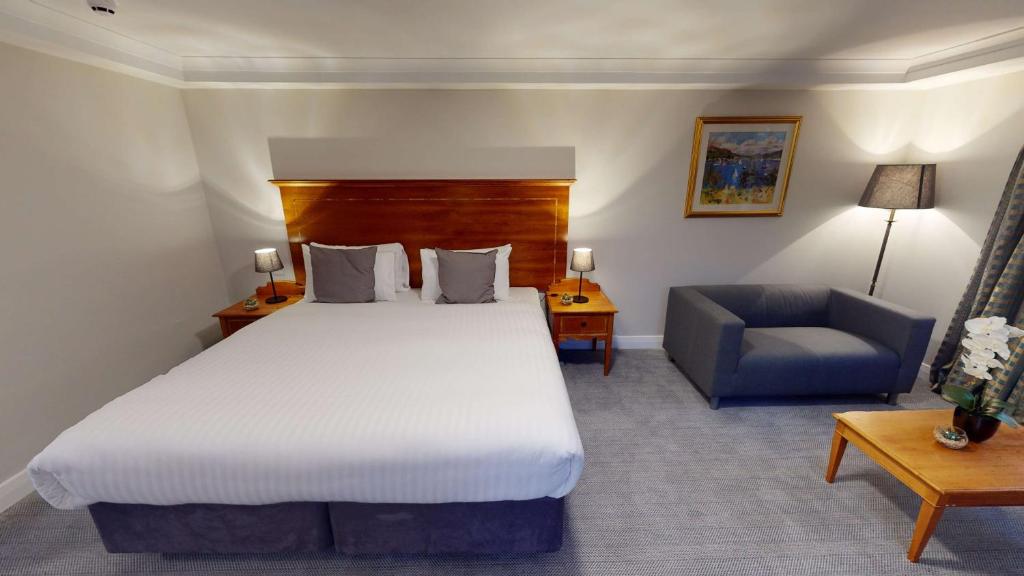 Located just a short walk from Glasgow Central Station or a quick drive from Glasgow Airport, the Glasgow Argyle Hotel offers guests a peaceful retreat with its spacious and air-conditioned rooms. With complimentary Wi-Fi and on-site parking, this hotel ensures convenience for all visitors. The highlight of the hotel is its leisure club, which features a 15-meter pool, steam room, sauna, and fully equipped gym. The Best Western Hotel Glasgow has also been recognized with a prestigious SilverGreen Tourism Award. Each room at the Glasgow Argyle Hotel is furnished with a 32-inch flat-screen TV and provides complimentary tea and coffee for guests' enjoyment. When it comes to dining options, the Brasserie restaurant serves delectable dishes made with seasonal ingredients while the lounge bar offers an array of wines and beers in a relaxing atmosphere. For those looking to explore the city, George Street's shops as well as the famous Argyle Arcade are within walking distance. Additionally, attractions such as the Scottish Exhibition and Conference Centre (SEC), Celtic Park, and Ibrox Stadium are just a short drive away.
– Convenient location near transportation hubs
– Quiet and spacious rooms
– Leisure facilities including pool, steam room, sauna, and gym
– On-site parking available
– Award-winning sustainability efforts
Other places to stay in Glasgow
Hotels with Pools in Glasgow with Nice Views
Glasgow is home to several luxury hotels with pools that offer breathtaking views of the cityscape. Whether it's a rooftop pool overlooking the skyline or an indoor pool with large windows showcasing panoramic vistas, these hotels provide a perfect combination of relaxation and stunning scenery for guests to enjoy during their stay in Glasgow.
Hilton Glasgow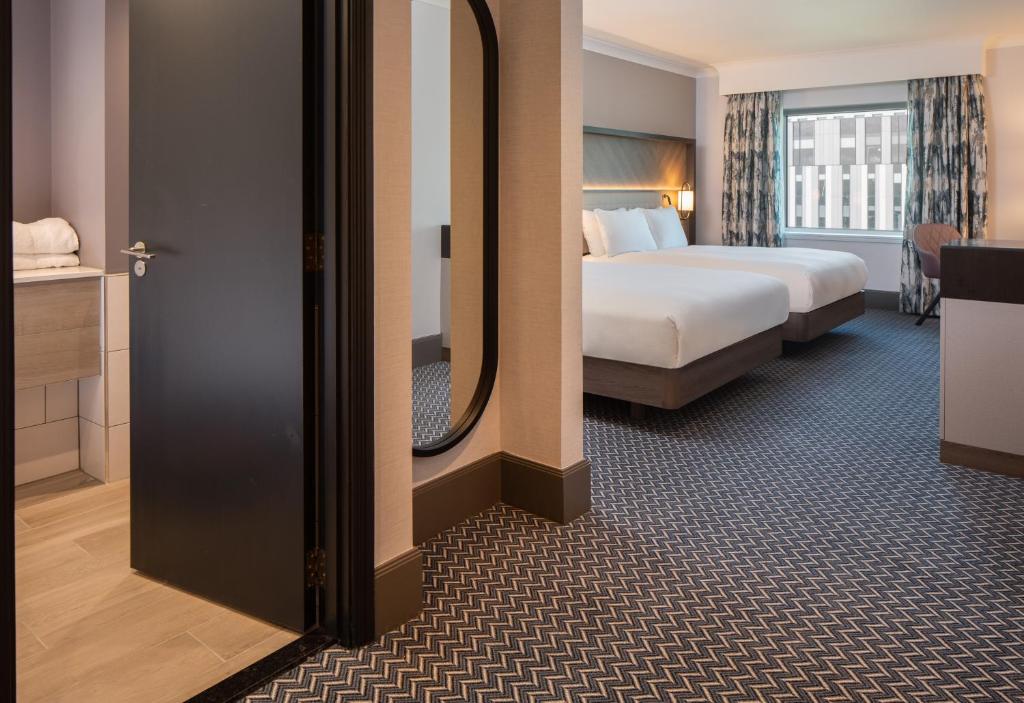 Located in the heart of Glasgow's financial district, the Hilton Glasgow Hotel is ideally situated for both business and leisure travelers. With its close proximity to the main shopping area, transport links, and the Scottish Exhibition & Conference Centre (SEC), guests can easily explore all that the city has to offer. The hotel boasts 320 newly refurbished bedrooms, a stylish restaurant & bar, and even features the first Dilmah Tea lounge in the UK. Additionally, guests can take advantage of the hotel's state-of-the-art facilities including a 20-yard swimming pool, sauna, steam room, and a modern gym equipped with the newest equipment. With personal training and treatments available at PURE Spa & Beauty, visitors are sure to find relaxation and rejuvenation during their stay.
– Convenient central location within walking distance of shopping areas
– Close proximity to popular attractions such as King's Theatre
– Brand new Grand Ballroom for events and conferences
– Stylish restaurant & bar serving delicious food and signature cocktails
– State-of-the-art Health & Fitness Club featuring a swimming pool, sauna, steam room, and modern gym
Village Hotel Glasgow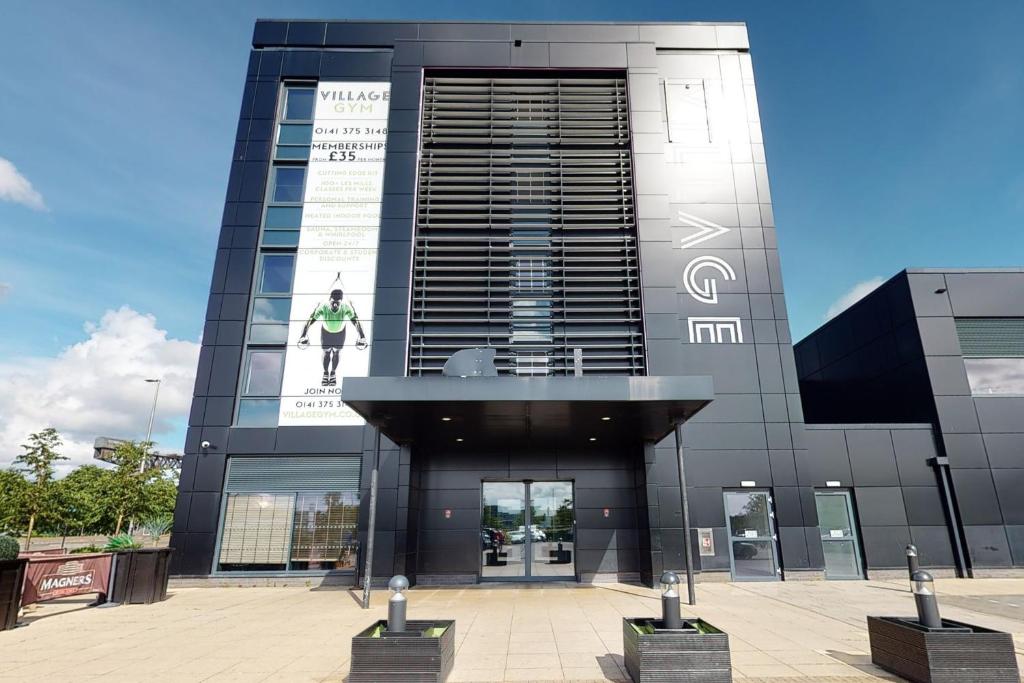 Located near the SECC, SSE Hydro Arena, and Clyde Auditorium, Village Hotel Glasgow offers convenient car parking for its guests. This chic hotel features 120 stylish bedrooms with amenities such as free Wi-Fi, a large LED TV, an en-suite bathroom, and an iron. The hotel also provides Sky TV and the Sky Sports channel in all rooms. Guests can indulge in all-day dining at the Village Pub & Grill, which serves a variety of dishes made with local produce including meat and vegetable skewers, healthy options, and tempting desserts. The hotel boasts an extensive leisure facility that includes a 20-meter pool, steam room, and sauna. Additionally, Village Hotel Glasgow offers four meeting rooms capable of accommodating up to 300 guests. With its prime location just minutes away from popular attractions like SECC, SSE Hydro Arena, Clyde Auditorium as well as Finnieston area's vibrant dining scene; it is also conveniently close to the shopping district and major rail stations which are only a short taxi ride away. For travelers arriving by air, Glasgow International Airport is just 7 miles away.
Pros:
– Convenient car parking
– Stylish bedrooms with modern amenities
– All-day dining option featuring local produce
– Extensive leisure facilities including a pool
– Close proximity to popular attractions and transportation
Dalmahoy Hotel & Country Club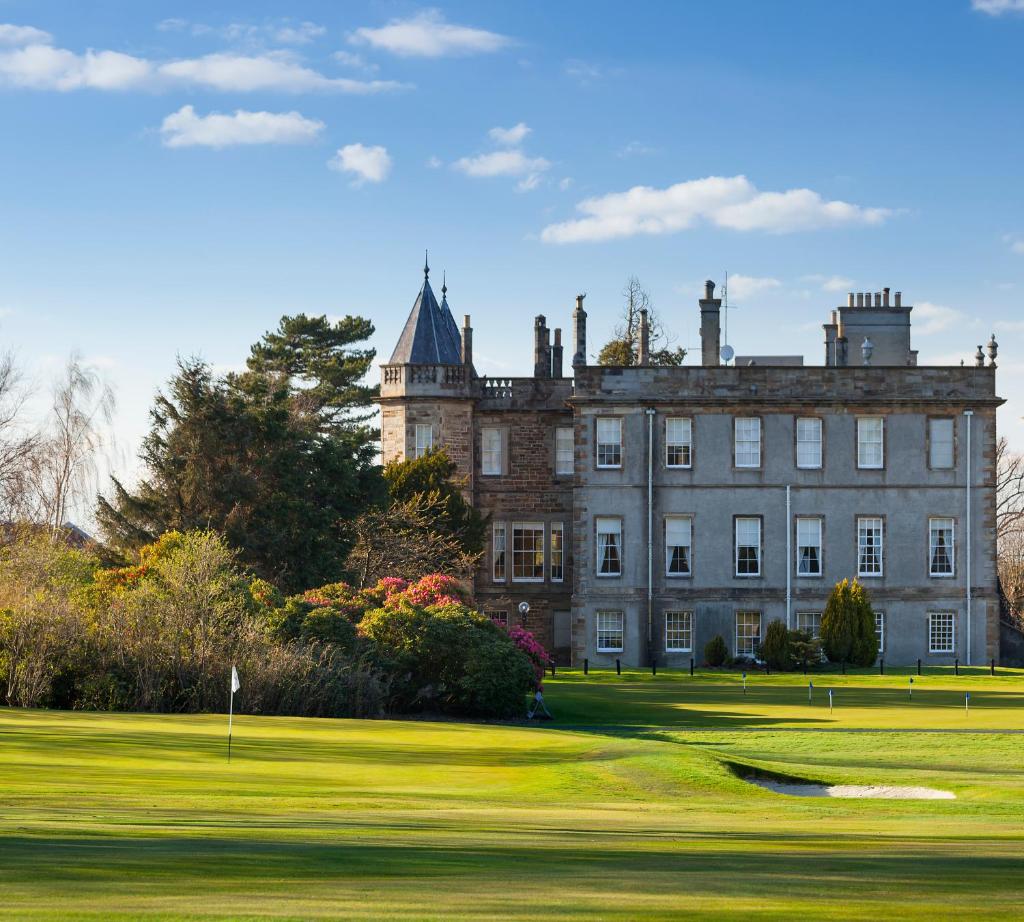 Located amidst 1000 acres of stunning parkland, Dalmahoy Hotel & Country Club is a historic country hotel in Edinburgh. Built in 1725, this luxurious hotel offers guests a range of amenities including two 18-hole golf courses, a spa, and leisure facilities. The spacious rooms feature modern comforts such as flat-screen TVs and en-suite bathrooms. Guests can indulge in delicious cuisine at The Pentland restaurant while enjoying panoramic views of the lush greenery surrounding the hotel. The hotel also boasts an indoor swimming pool, sauna, steam room, tennis facilities, and a modern gymnasium. With its convenient location near major roadways and being just a short drive from Edinburgh city center, Dalmahoy Hotel & Country Club provides both tranquility and accessibility for its guests.
– Indoor swimming pool
– Beautiful parkland setting
– Award-winning restaurant with panoramic views
– Expansive grounds featuring championship golf course and PGA-approved academy
– Convenient location near major roadways
Other places to stay in Glasgow
Romantic Hotels with a Pool in Glasgow
In Glasgow, couples can enjoy a romantic getaway at hotels with pools that offer an intimate and luxurious experience. From serene rooftop pools to secluded indoor oases, these romantic retreats provide the perfect setting for relaxation and quality time together.
The Gleneagles Hotel
Established in 1924, The Gleneagles Hotel is a prestigious resort in the heart of Scotland. Set within 850 acres, it offers guests a luxurious and unforgettable experience. The hotel features three championship golf courses that are perfect for golf enthusiasts, as well as an ESPA spa where guests can indulge in relaxation and rejuvenation. The Gleneagles Hotel also houses a falconry school, allowing guests to get up close and personal with these majestic birds of prey.
In terms of dining options, the hotel does not disappoint. With four fine dining restaurants to choose from, guests can savor imaginative menus prepared by world-class chefs. Highlights include the Michelin Starred Andrew Fairlie restaurant, the Birnam Brasserie, the formal Strathearn restaurant, and the lively Dormy Bar and Grill.
Apart from golfing and spa treatments, guests can engage in various activities such as off-road driving, horse-riding lessons, dog training sessions or shooting experiences.
The accommodation at Gleneagles Hotel is nothing short of opulent. Guests can enjoy elegant rooms and luxurious suites that offer views over the extensive grounds and come equipped with modern amenities including complimentary Wi-Fi. The en suite bathrooms are stocked with high-quality toiletries.
For those looking to stay active during their visit, Gleneagles Hotel offers The Club facility where fitness classes take place regularly. Additionally, there are two swimming pools (indoor and outdoor), a sauna, steam room gym facilities available for use. An outdoor hot tub provides a perfect spot for relaxation after an eventful day.
Surrounded by rolling hills and breathtaking landscapes,the resort boasts several world-renowned golf courses including The PGA Centenary course along with The King's Course and The Queen's Course.A truly magical destination offering luxury amenities coupled with unparalleled beauty.
Pros:
– Prestigious resort located in stunning Scottish countryside
– Three championship golf courses on-site
– Luxurious ESPA spa and falconry school
– Four fine dining restaurants, including Michelin Starred Andrew Fairlie
– Range of activities available, such as off-road driving and horse-riding
Crieff Hydro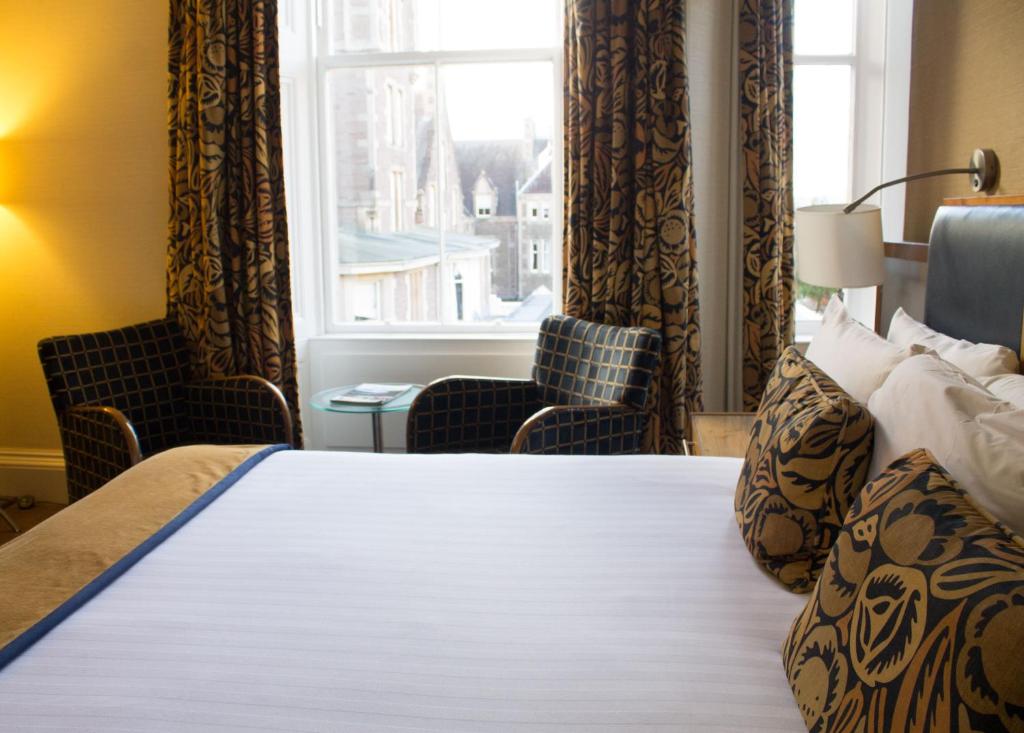 Located in the stunning Strathearn Valley, Crieff Hydro Hotel is a luxurious resort nestled within a 900-acre estate. This Victorian spa hotel offers an array of activities, including a 9-hole par 3 golf course and over 60 indoor and outdoor options for guests to enjoy. With two swimming pools, off-road driving courses, tennis courts, and even a rifle range, there's something for everyone here. The adults-only spa features an indoor pool, steam room, sauna, and spa bath for ultimate relaxation. For those seeking adventure, horse riding, quad biking, and water sports are also available. The stylishly decorated 4-star accommodations offer satellite TVs and private bathrooms. Family-friendly rooms include work desks and tea/coffee facilities. Dining options are plenty with an Italian-style family restaurant and bar as well as the grand Meikle Restaurant in the Victorian dining room. Guests can also take advantage of qualified childcare services offered by Big Country for up to four hours per day at an additional charge.
Pros:
– Vast array of indoor and outdoor activities
– Luxurious adults-only spa with pool
– Family-friendly rooms with modern amenities
– Multiple dining options to suit every taste
– Qualified childcare services available
Glasgow Hotels with Pool Information
| | |
| --- | --- |
| 🛎️ Hotels with a Pool in Glasgow | 8 |
| 💰 Hotel prices starting from | $200 |
| 💵 Highest price | $1596 |
| 🥇 Average Review Score | 8.4/10 |
| 🛏️ Average number of Rooms | 157 |
FAQ
Can you recommend any luxury hotels in Glasgow with pools?
Yes, there are several luxury hotels in Glasgow that offer pools for their guests to enjoy. One such hotel is the Blythswood Square Hotel, which features a stunning rooftop pool with panoramic views of the city. Another option is the Dakota Deluxe Glasgow, known for its stylish decor and beautiful indoor pool area.
Are there any budget-friendly hotels in Glasgow that have pools?
Yes, if you're on a budget but still want to enjoy a hotel with a pool in Glasgow, there are options available. The Holiday Inn Express Glasgow City Centre Riverside offers an indoor swimming pool and convenient amenities at an affordable price. Another choice is The Normandy Hotel, located near the airport, which offers a heated indoor pool for guests to relax and unwind.
What are some family-friendly hotels in Glasgow with pools?
For families looking for accommodation with pools in Glasgow, there are some great choices. The Hilton Glasgow offers an impressive leisure club with a heated indoor pool suitable for kids of all ages. Another option is the Crowne Plaza Glasgow, which features a family-friendly swimming area as part of its extensive leisure facilities.
Do any hotels in Glasgow offer spa facilities along with their pools?
Certainly! There are hotels in Glasgow that not only have pools but also offer spa facilities for guests to indulge and rejuvenate themselves. One such place is the Kimpton Blythswood Square Hotel where you can enjoy both a luxurious spa experience and access to their rooftop infinity pool overlooking the city skyline.
Which hotels have outdoor pools in Glasgow?
While outdoor pools may not be very common due to weather conditions in Scotland, there are some options available in Glasgow. The Radisson Blu Hotel has an outdoor rooftop terrace where you can find a small yet inviting heated pool surrounded by loungers offering stunning views of the city's skyline.
Popular Hotels with Pool destinations