Best 9 Hotels with Pools in London
As an esteemed travel writer and connoisseur of exquisite accommodations, I am thrilled to present to you a magnificent guide showcasing luxurious hotels boasting shimmering aquatic retreats within the vibrant city of London, in the resplendent United Kingdom. Let us delve into a world where opulence meets relaxation, as we explore these remarkable establishments that offer not only impeccable service and elegant surroundings but also the added allure of inviting pools.
Embark on a lavish journey through London's hospitality scene, where aqua-centric havens await your indulgence. Imagine basking under the warm sunbeams on a plush lounger beside a glistening pool, enveloped by the bustling energy of this cosmopolitan metropolis. These urban sanctuaries provide an oasis amidst the frenetic cityscape, allowing guests to unwind and recharge in style.
From rooftop infinity pools with breathtaking panoramic views over iconic landmarks such as Big Ben and The Shard, to subterranean sublimity in underground pools surrounded by soothing ambiance and utter tranquility – London's hotels truly cater to every discerning traveler seeking both extravagance and aquatic delight. So join me as we dive into this captivating guide featuring extraordinary hotels with pools that will undoubtedly enhance your visit to this captivating city.
The Best London Hotels with a Pool
Milestone Hotel Kensington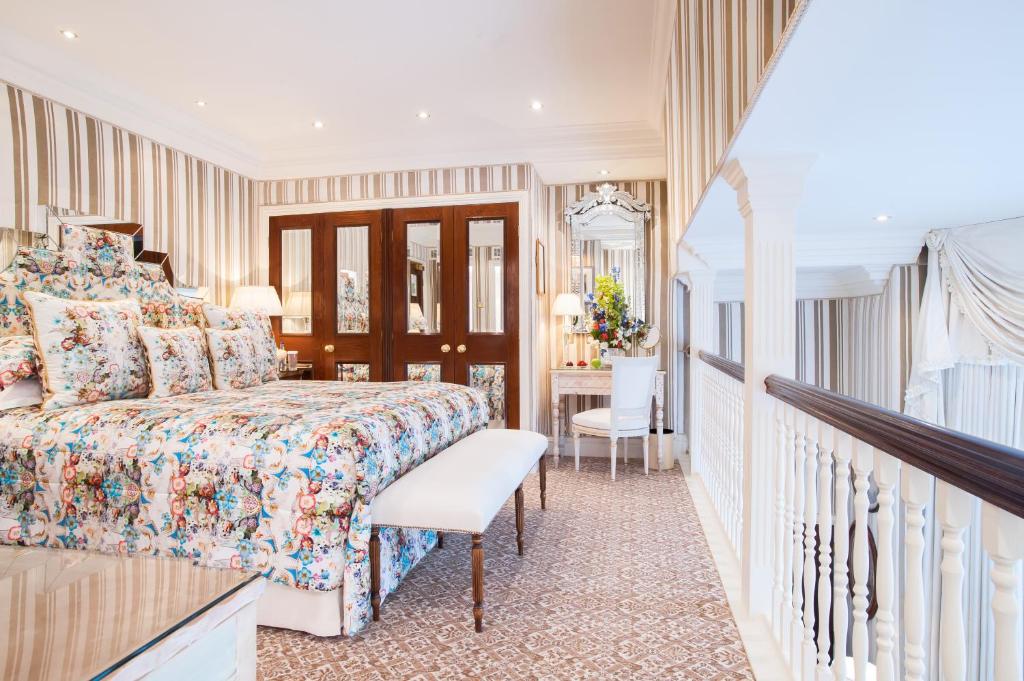 Located between London's Knightsbridge and Kensington districts, the Milestone Hotel Kensington is a luxurious 5-star boutique hotel with stunning views of Kensington Palace and Gardens. The hotel features a resistance pool, fitness center, and spa, offering guests the perfect opportunity to relax and rejuvenate. Each individually designed room exudes romantic elegance and offers modern amenities such as air conditioning, a 24-hour front desk, and state-of-the-art technology. Dining options at the Milestone Hotel Kensington include the onsite Cheneston's Restaurant which serves traditional cuisine made with locally sourced and organic produce. Guests can also enjoy over 400 vintage wines at the intimate Stables Bar or relax in the chic conservatory while sipping cocktails. With its close proximity to attractions like Hyde Park, Royal Albert Hall, Victoria and Albert Museum, as well as designer shopping destinations like Harrods Department Store, this historic hotel is an ideal choice for travelers looking to explore London's vibrant entertainment scene.
– Resistance pool for relaxation
– Luxury spa for pampering treatments
– Individually designed rooms with modern amenities
– Onsite restaurant serving traditional cuisine using locally sourced ingredients
– Close proximity to popular attractions and shopping destinations
art'otel London Battersea Power Station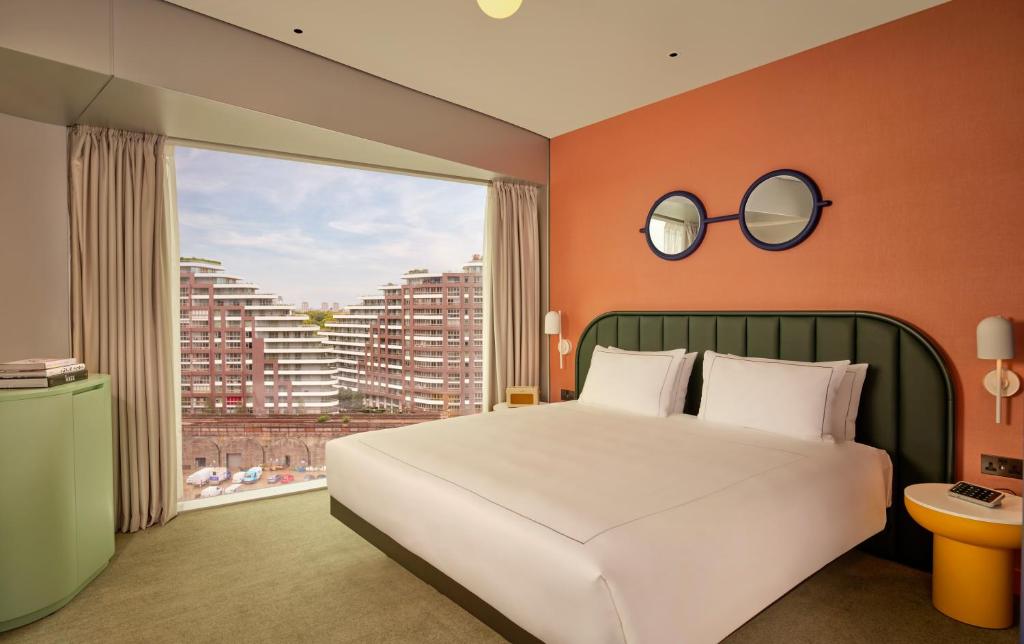 Located in the vibrant Battersea Power Station development, art'otel London Battersea Power Station is a newly opened luxury hotel that offers a range of amenities and stunning views. Guests can enjoy the convenience of a restaurant, café, sauna, Wi-Fi, treatment rooms, gym, and an art gallery. The accommodation features 24-hour front desk service, concierge assistance, room service, and luggage storage. One of the standout features of this hotel is its rooftop pool and bar situated on the 16th floor, providing guests with breathtaking 360-degree views. The air-conditioned rooms are well-appointed with coffee and tea facilities, a minibar, safety deposit box, and smart TV. The bathrooms come with a shower, hairdryer, bathrobes, and slippers. Additionally, art'otel London Battersea Power Station offers an A la carte breakfast to start your day off right. With its prime location just minutes away from public transportation options such as Battersea Power Station Zone 1 underground station and Vauxhall Station, guests have easy access to explore popular landmarks like the Houses of Parliament. London City Airport is also conveniently located just 17 km away from this stylish hotel.
Pros:
– Rooftop pool with stunning panoramic views
– Convenient location within the Battersea Power Station development
– Wide array of amenities including a restaurant and gym
– Art gallery showcasing unique artwork
– Proximity to major transportation hubs for easy exploration
Courthouse Hotel Shoreditch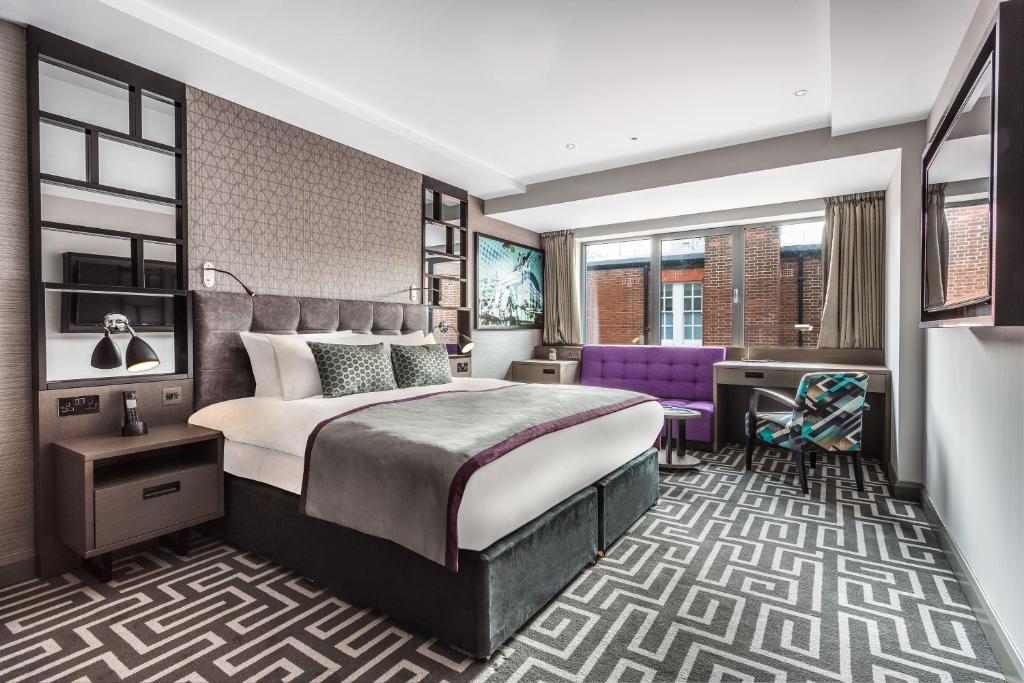 Located just 100 meters from Hoxton Square in London, Courthouse Hotel Shoreditch offers a range of luxurious amenities to its guests. The hotel features an indoor pool, sauna, steam room, and fitness center for those looking to relax and unwind. Guests can also enjoy the convenience of an onsite restaurant and bar, as well as free WiFi throughout the property. The rooms are equipped with modern comforts such as a flat-screen TV, minibar, desk, and en-suite bathroom complete with complimentary toiletries, bathrobes, and slippers. Some rooms even offer a seating area and city views. Additional services include 24-hour front desk assistance, luggage storage facilities, laundry/dry cleaning/ironing services upon request. With popular attractions like Brick Lane just 0.7 miles away and the Tower of London at a distance of 1.7 miles, Courthouse Hotel Shoreditch provides easy access to explore the city's vibrant culture. For travelers flying in or out of London City Airport is conveniently situated only 8 miles away.
Pros:
– Indoor pool for relaxation
– Sauna and steam room for ultimate pampering
– Fitness center for staying active on vacation
– Onsite restaurant and bar options
– Convenient location near popular attractions
Other places to stay in London
Hotels with Pools in London with Nice Views
London is home to a variety of luxury hotels with pools, offering guests the perfect opportunity to relax and enjoy stunning views of the city. Whether it's a rooftop pool overlooking iconic landmarks or an indoor pool surrounded by floor-to-ceiling windows, these hotels provide a serene escape from the bustling streets of London.
Leonardo Royal Hotel London City – Tower of London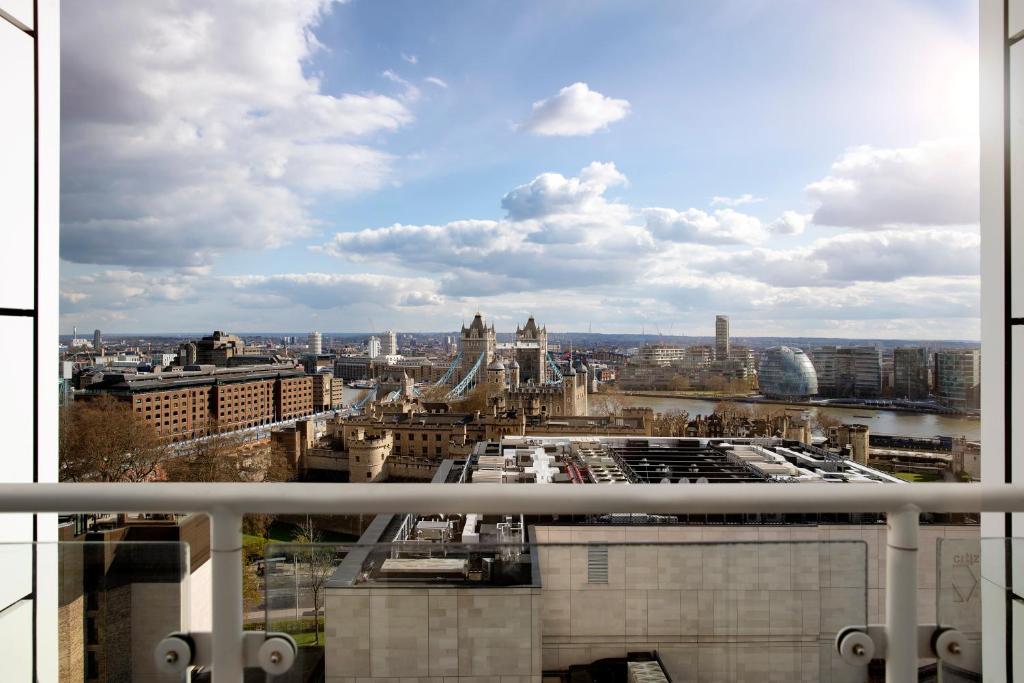 Overlooking the historic Tower of London, the luxury 4-star Leonardo Royal Hotel London City – Tower of London is a stunning destination that offers guests an exceptional experience. With a spa that includes a 25-meter swimming pool and a large gym, guests can relax and unwind during their stay. The hotel also features a brasserie and cocktail lounge, offering delicious dining options and refreshing drinks. Conveniently located just 2 minutes' walk from Tower Hill Tube Station, guests have easy access to explore the city. Free WiFi is available throughout the hotel and some rooms even receive a 10% discount on spa treatments. Each elegant air-conditioned room boasts modern amenities such as a flat-screen TV, trouser press, tea/coffee making facilities, and en-suite bathrooms with complimentary toiletries and hairdryers. The Leonardo Royal Hotel London City – Tower of London also offers an array of onsite bars and restaurants for guests to indulge in. Leo's Bar and Restaurant provides traditional cuisine with contemporary decor while Corvo Bar and Cafe offers a wide variety of drinks and snacks to enjoy. A full buffet breakfast is now offered as well. For those looking to relax further, the hotel provides leisure facilities including a steam room and sauna for ultimate relaxation after exploring the vibrant city of London. St Paul's Cathedral is just a short 20-minute walk away from this splendid hotel.
Pros:
– Stunning views overlooking the historic Tower of London
– Luxurious spa with swimming pool for ultimate relaxation
– Convenient location near public transportation
– Discounted spa treatments for select rooms
– Onsite bars and restaurants offering delectable cuisine
The Berkeley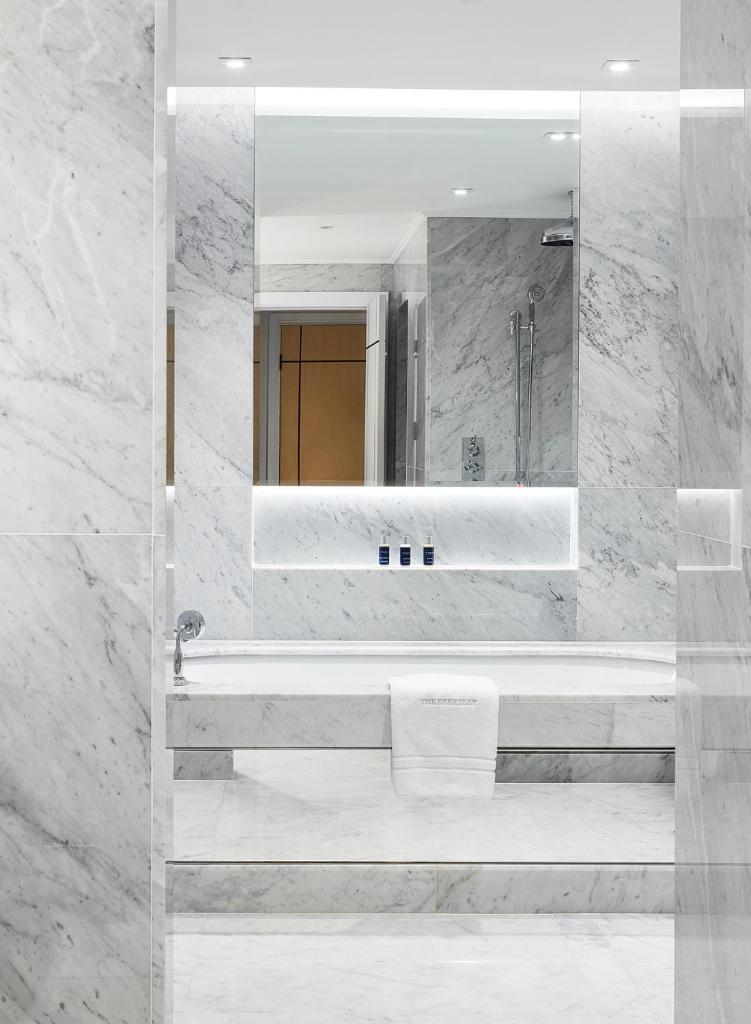 Located in Knightsbridge, within a short walk from Hyde Park and Harrods, The Berkeley is a luxury hotel that has been offering sublime service, style, and cuisine for over 100 years. The hotel features an award-winning restaurant, a spa and fitness center, as well as the friendly and intimate Collins Room that offers an award-winning fashion-themed afternoon tea. The bedrooms at The Berkeley are beautifully designed with fine Italian marble bathrooms and luxurious fabrics to ensure a comfortable and opulent night's sleep. With its excellent location just minutes away from desirable Knightsbridge shops and Hyde Park, this 5-star hotel combines luxury with convenience. Additionally, guests can indulge in fine dining at Marcus Wareing at The Berkeley which boasts one Michelin star. Other amenities include free WiFi throughout the building.
– Prime location in Knightsbridge near Hyde Park
– Award-winning restaurant with one Michelin star
– Fashion-themed afternoon tea experience
– Luxurious bedrooms with Italian marble bathrooms
– Free WiFi throughout the building
Sanctum On The Green Hotel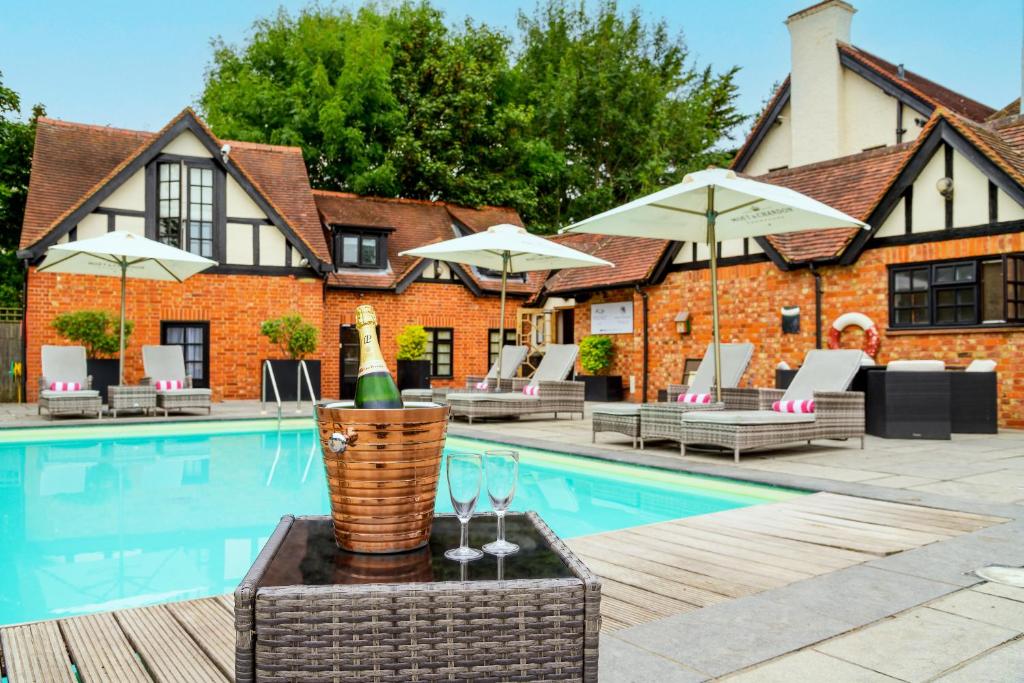 Located in the picturesque village of Cookham Dean, Sanctum On The Green Hotel is a charming and quirky boutique hotel surrounded by the quaint Berkshire countryside. With its relaxed atmosphere and plenty of character, including artwork by singer-songwriter Chrissie Hynde, this hotel offers guests a unique stay. The Mole and Badger Pub & Shokudo serves Japanese-inspired dishes, perfect for a light bite or a relaxed dinner, along with a hearty wine list and cocktail menu featuring locally sourced gin. The ten bedrooms range from cosy to the king-size garden lodge, some featuring beamed ceilings and four-poster beds. All rooms include TV and en-suite bathrooms. Guests can enjoy the hotel's gorgeous garden and heated swimming pool during the summer months, as well as an enclosed courtyard for al fresco dining. Sanctum On The Green Hotel is conveniently located just 45 minutes from central London and less than 30 minutes from Heathrow Airport, with easy access to the picturesque riverside towns of Henley, Marlow, and Windsor. Free parking is available to guests.
– Charming boutique hotel in picturesque countryside
– Unique artwork by singer-songwriter Chrissie Hynde
– Japanese-inspired cuisine at Mole and Badger Pub & Shokudo
– Gorgeous garden with heated swimming pool
– Convenient location near London attractions
Other places to stay in London
Romantic Hotels with a Pool in London
London offers a plethora of romantic hotels with stunning pools, allowing couples to indulge in relaxation and intimacy amidst the bustling city. Whether it is a rooftop pool with panoramic views or an elegant indoor oasis, these hotels provide the perfect setting for a memorable romantic escape.
The Landmark London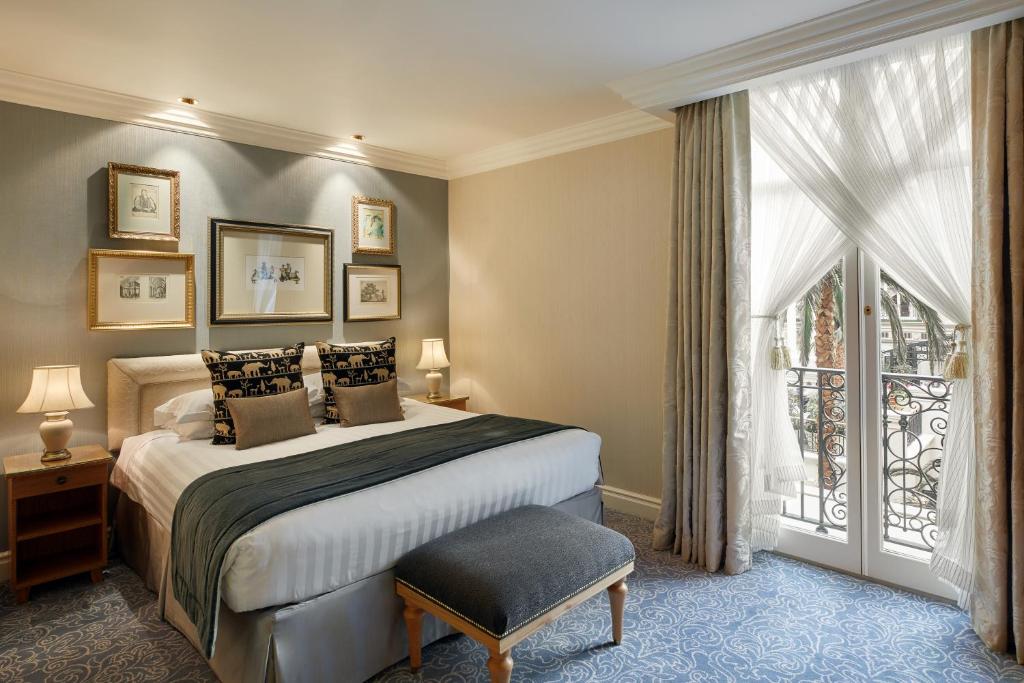 Located in the heart of London's fashionable Marylebone, The Landmark London is a deluxe hotel that offers a truly luxurious experience. With its stunning glass-roofed 8-story atrium adorned with towering palm trees, guests are greeted with an impressive sense of grandeur upon arrival. The hotel boasts spacious air-conditioned rooms decorated with fine fabrics and elegant furniture, equipped with modern amenities such as flat-screen satellite TVs and free Wi-Fi. The marble bathrooms come complete with designer toiletries, adding an extra touch of luxury. Dining options include The Winter Garden, situated at the heart of the atrium and offering fine modern cuisine, as well as the Great Central Bar & Restaurant which serves European dishes in sophisticated surroundings. For those looking to unwind and rejuvenate, the Spa & Health Club offers a range of relaxing and therapeutic treatments including massages, reflexology, and hot stone treatments. Guests can also take advantage of facilities such as a steam room, sauna, relaxation room, fully equipped gym, garden terrace for relaxation in nature's embrace,and Mirror Bar for unwinding over drinks. Additionally,the hotel provides free access to Spa at The Landmark London. Conveniently located near attractions such as Regents Park and Lords Cricket Ground (both less than 10 minutes' walk away), as well as being just 50 meters from Marylebone Tube station providing excellent access to all of London's attractions.
– Stunning glass-roofed 8-story atrium
– Luxurious bedrooms decorated with fine fabrics
– Award-winning restaurant offering fine modern cuisine
– Comprehensive spa facilities including steam room and sauna
– Convenient location near popular attractions
Courthouse Hotel London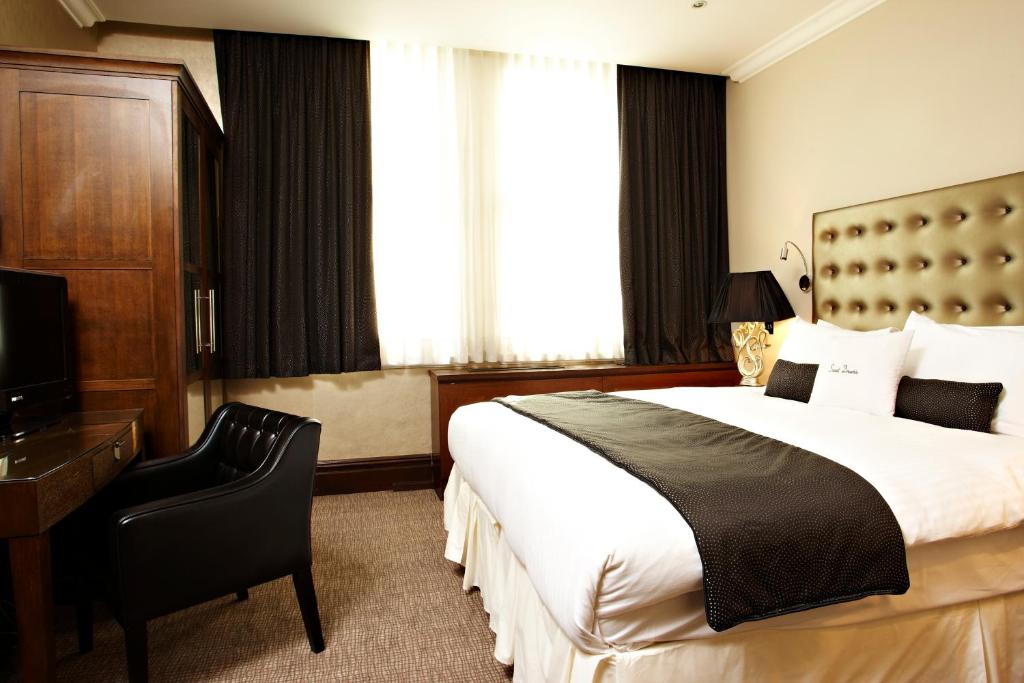 Located in the heart of Central London, just a stone's throw away from Oxford Circus Tube Station, the Courthouse Hotel London is a luxurious retreat housed in a beautiful Grade II Listed building. With stylish rooms and exceptional international cuisine, this hotel offers a truly indulgent experience. Guests can enjoy Indian street food at Soho Wala or savor Asian cuisine at the Michelin recommended Silk Restaurant. The hotel also features an indoor pool, spa, sauna, and well-equipped gym for relaxation and rejuvenation. A rooftop terrace with panoramic views of the London skyline and a chic cocktail bar add to its allure. Situated in the bustling shopping and theatre district, guests have easy access to popular destinations like Oxford Street and Piccadilly Circus.
– Stylish rooms with modern decor
– Fantastic international cuisine options
– Luxurious spa offering indulgent treatments
– Indoor pool for relaxation
– Superb location near iconic shopping areas and theaters
NYX Hotel London Holborn by Leonardo Hotels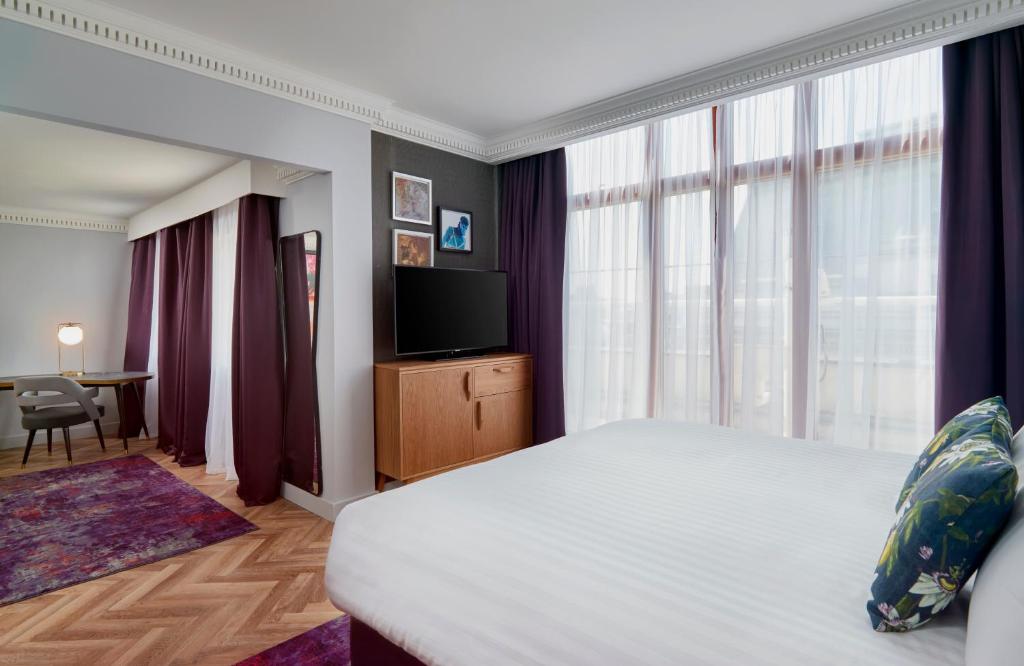 NYX Hotel London Holborn by Leonardo Hotels is a luxurious hotel located in the prestigious Bloomsbury district of London. The hotel offers beautifully furnished rooms with hand-carved furniture, large LCD TVs, sound systems, and complimentary newspapers. Guests can indulge in relaxation at the spa and health club, which features a stunning Roman-style swimming pool surrounded by stone pillars and offers a range of beauty treatments. The hotel is conveniently situated just a 5-minute walk from The British Museum and within walking distance to Kings Cross Station, Covent Garden, Leicester Square, and Holborn Underground Station. For fitness enthusiasts, there is a modern gym staffed by professional trainers.
– Luxurious rooms with beautiful hand-carved furniture
– Relaxing spa with Roman-style swimming pool
– Convenient location near popular attractions and transportation
– Modern gym with professional trainers
– Complimentary newspapers for guests
London Hotels with Pool Information
| | |
| --- | --- |
| 🛎️ Hotels with a Pool in London | 9 |
| 💰 Hotel prices starting from | $237 |
| 💵 Highest price | $1735 |
| 🥇 Average Review Score | 8.3/10 |
| 🛏️ Average number of Rooms | 149 |
FAQ
1. Are there many luxury hotels with pools in London?
Absolutely! London is home to a plethora of luxury hotels that offer stunning swimming pool facilities. From rooftop pools with panoramic views of the city skyline to indoor pools surrounded by lush gardens, you'll find a range of options to suit your taste and preferences.
2. Can hotel guests use the pool for free?
Generally, hotel guests have complimentary access to the pool facilities. However, it's always recommended to check with the specific hotel before booking as some may charge additional fees or have certain restrictions depending on their policies and peak seasons.
3. Do any London hotels have heated pools?
Yes, many luxury hotels in London boast heated pools, ensuring a comfortable swimming experience throughout the year. Whether you visit during chilly winter months or warm summer days, these heated pools allow you to take a refreshing dip regardless of the weather outside.
4. Which are some popular areas in London known for hotels with pools?
London offers various neighborhoods where you can find luxurious hotels with exceptional pool amenities. Some popular areas include Mayfair, Kensington, Covent Garden, and South Bank among others. These areas not only provide access to great shopping and dining but also offer convenient proximity to major attractions.
5. Can non-guests use hotel pools in London for a fee?
In some cases, non-guests can enjoy hotel pool facilities by paying a day pass or membership fee at selected properties across London. This allows individuals who are not staying at the hotel to indulge in a luxurious swim experience while enjoying other amenities offered within these upscale establishments.
Popular Hotels with Pool destinations