Best 11 Hotels with Pools in Lisbon
Welcome to the mesmerizing city of Lisbon, Portugal, where opulent accommodations and refreshing aquatic paradises await you. In this guide, we will explore the most exquisite hotels offering magnificent swimming facilities in Lisbon. Dive into a world of splendor as we unveil the stunning poolscapes that embody luxury and relaxation in this vibrant European destination.
Lisbon's distinguished hotels have elevated the concept of serene water retreats to new heights. Immerse yourself in a sanctuary of tranquility as you indulge your senses in these lavish establishments. From shimmering lap pools to infinity edges seamlessly blending with panoramic city views, there is an oasis for every discerning traveler seeking respite from bustling urban life.
Join us on this journey as we discover hidden gems nestled within the heart of Lisbon. Get ready to bask in the sun-drenched terraces surrounding azure pools, unwind beneath swaying palm trees, and surrender to an atmosphere that epitomizes sophistication and ultimate bliss. Whether you seek a rejuvenating morning swim or an evening dip under starry skies, let us introduce you to the finest hotels with pools that epitomize elegance and create unforgettable memories amidst Lisbon's charismatic charm.
The Best Lisbon Hotels with a Pool
LUSTER Hotel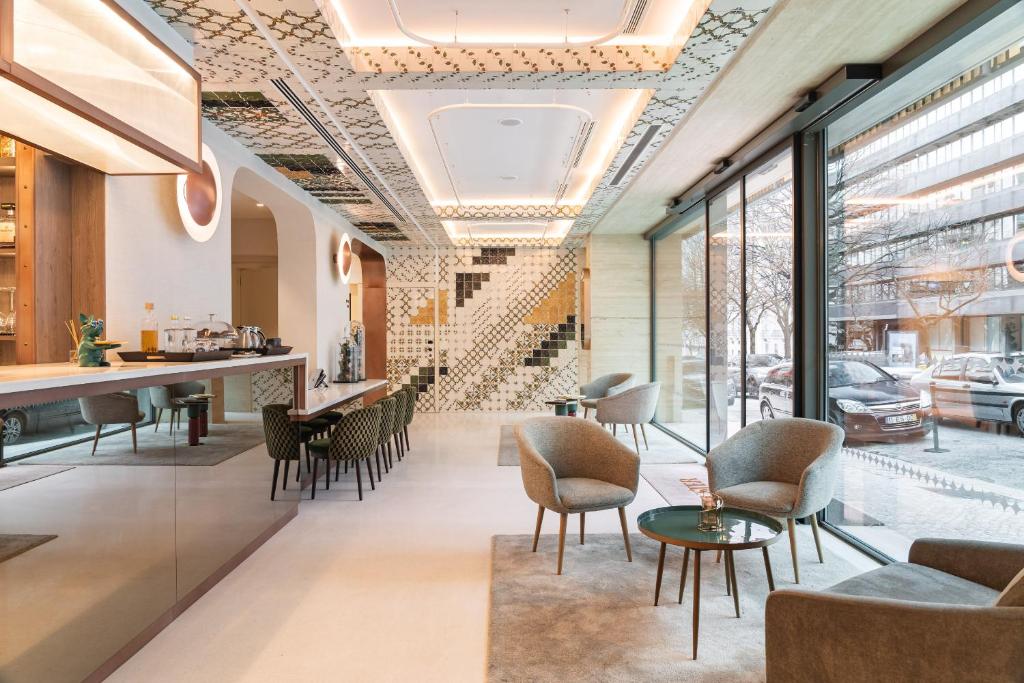 LUSTER Hotel, newly opened in November 2022, is a luxurious 4-star hotel located in the heart of Lisbon. With its prime location and modern amenities, it offers a comfortable stay for discerning travelers. The hotel boasts both indoor and outdoor pools where guests can take a refreshing dip or simply lounge by the water. The air-conditioned rooms are elegantly furnished and equipped with all the necessary facilities like a desk, flat-screen TV, private bathroom, coffee machine, and safety deposit box. Selected rooms also feature balconies with city views. Additionally, guests can indulge in relaxation at the indoor pool, sauna, hot tub or hammam available on site. For ultimate convenience and comfort, LUSTER Hotel offers room service and a 24-hour front desk to cater to any needs or requests. In terms of dining options, there is an on-site restaurant where guests can enjoy delectable dishes during their stay. To explore the vibrant surroundings of Lisbon further, popular attractions such as Miradouro da Senhora do Monte and Rossio are within easy reach from the hotel. The nearest airport is Humberto Delgado Airport which is conveniently just 6 km away from the property; airport transfers can be arranged upon request for an additional fee.
Pros:
– Indoor and outdoor pools for year-round swimming options
– Newly opened hotel with modern amenities
– Central location in Lisbon for easy access to attractions
– Free WiFi throughout the property
– On-site restaurant offering delicious meals
The Vintage Hotel & Spa Lisbon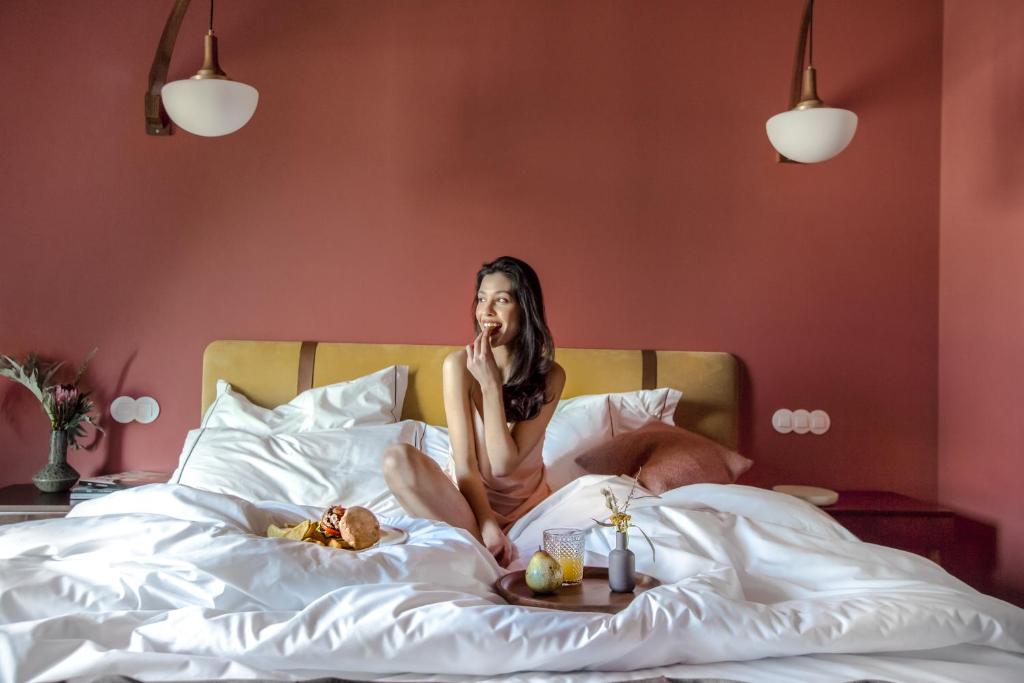 The Vintage Hotel & Spa – Lisbon is a luxurious 5-star hotel located just 300 metres from Lisboa's vibrant Avenida da Liberdade. Offering a range of top-class amenities, including a rooftop bar with stunning panoramic views, a heated indoor pool, a spa and fitness centre, this hotel ensures a truly indulgent stay. The rooms are spacious and stylishly designed, featuring large windows, free WiFi and satellite TV. The modern spa facilities include water circuits, treatment rooms and the inviting heated indoor pool. Guests can also enjoy complimentary snacks, craft beer and hot drinks during their stay. The Blue Restaurant serves delicious traditional Portuguese cuisine, while the Lobby Bar offers an extensive selection of cocktails and wines. For those who like to keep fit while traveling, there is a well-equipped gym available as well. With its convenient location near Avenida Metro Station and just 6 km from Portela Airport, guests have easy access to explore all that Lisbon has to offer. The friendly staff at the 24-hour reception desk are also on hand to assist with car rental services if needed.
Pros:
– Rooftop bar with breathtaking city views
– Heated indoor pool for year-round relaxation
– Modern spa facilities offering water circuits and treatments
– Complimentary snacks, craft beer and hot drinks provided
– Well-equipped gym for fitness enthusiasts
Dom Pedro Lisboa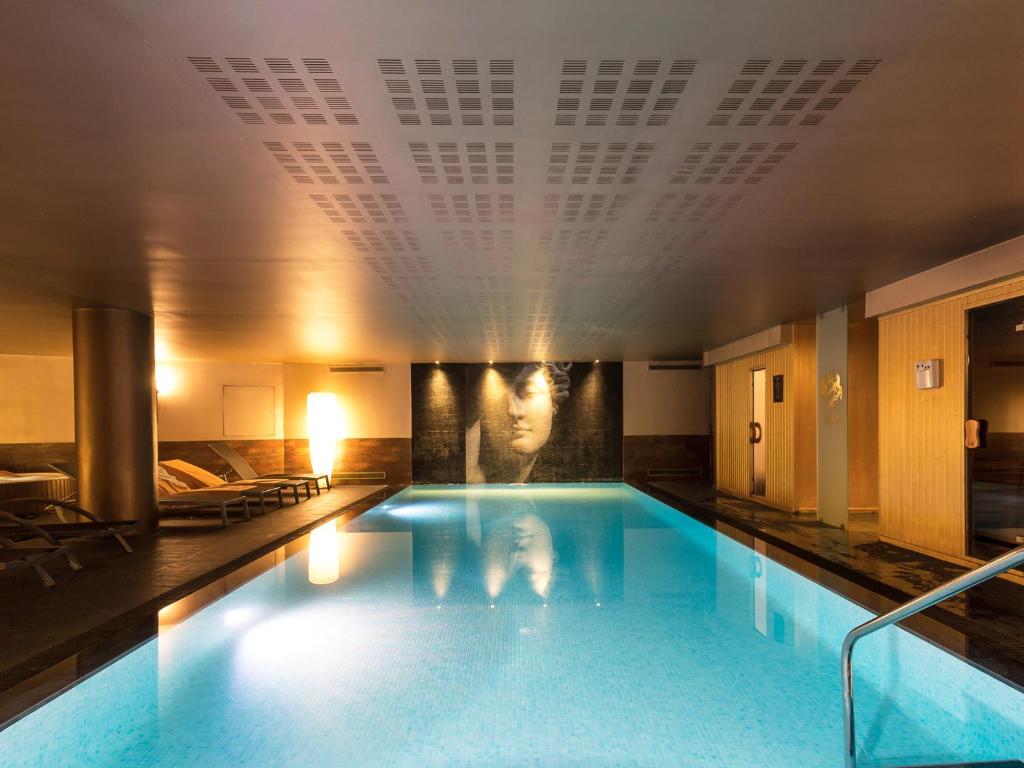 Located in the heart of Lisbon, the Dom Pedro Lisboa hotel offers a luxurious and elegant experience for its guests. With stunning views over the city, the Tagus River, and São Jorge Castle, this deluxe hotel boasts spacious guest rooms decorated in a classical style. The highlight of the hotel is its spa facilities which include an indoor swimming pool, hot tub, chromotherapy, Turkish bath, sauna, and cardio-fitness room. Guests can also indulge in massages and therapies at one of the three treatment rooms. Dining options are plentiful with the gourmet Italian restaurant "Il Gattopardo" serving Mediterranean-style meals on a covered terrace and "Le Café" bistro offering an à-la-carte international menu along with buffet-style Portuguese lunches. The hotel's prime location allows easy access to Lisbon's high-end stores and boutiques on Liberdade Avenue as well as popular attractions such as the Docas area and historical district. It is also conveniently situated across from Amoreiras shopping centre and a short distance from public transportation options including the nearest Metro station only 750 meters away.
– Prime location in Lisbon's central area
– Elegant guest rooms with beautiful views
– Full range of spa facilities including indoor swimming pool
– Gourmet Italian restaurant with Mediterranean-style meals
– Convenient proximity to shopping centers and public transportation
Other places to stay in Lisbon
Hotels with Pools in Lisbon with Nice Views
Lisbon offers a variety of hotels with pools boasting stunning views. Whether it's overlooking the Tagus River or the city's charming rooftops, these hotels provide an ideal retreat to cool off and relax while taking in the picturesque surroundings.
Olissippo Lapa Palace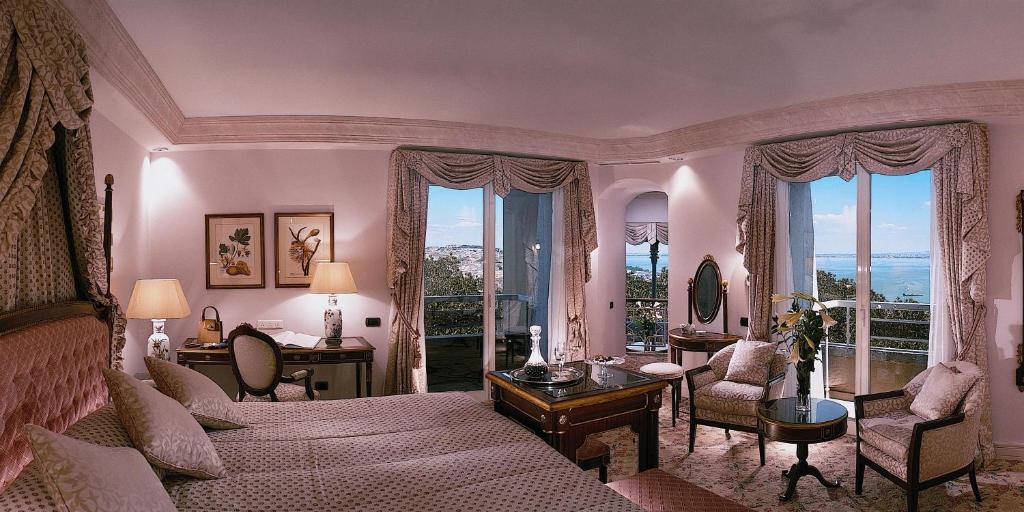 The Olissippo Lapa Palace is a boutique hotel offering the perfect blend of luxury and charm. Located on a hilltop overlooking the Tagus River, this 19th-century palace is surrounded by lush sub-tropical gardens. Guests can relax and unwind in the expansive spa, which features both indoor and outdoor pools, a sauna, and a Turkish bath. The hotel's elegant rooms are bright and airy, with most offering balconies that boast stunning views of either the river or the pool and garden. Dining options include the fine Mediterranean cuisine at Restaurant Hotel Lapa, as well as refreshing cocktails served around the pool at Le Pavillion during summer months. With its picturesque location and top-notch amenities, Olissippo Lapa Palace provides an unforgettable experience for guests seeking luxury in Lisbon.
– Indoor and outdoor pools for ultimate relaxation
– Expansive spa with sauna and Turkish bath
– Stunning views of Tagus River or pool from room balconies
– Fine dining at Restaurant Hotel Lapa
– Refreshing cocktails served around the pool during summer months
Palacio Ramalhete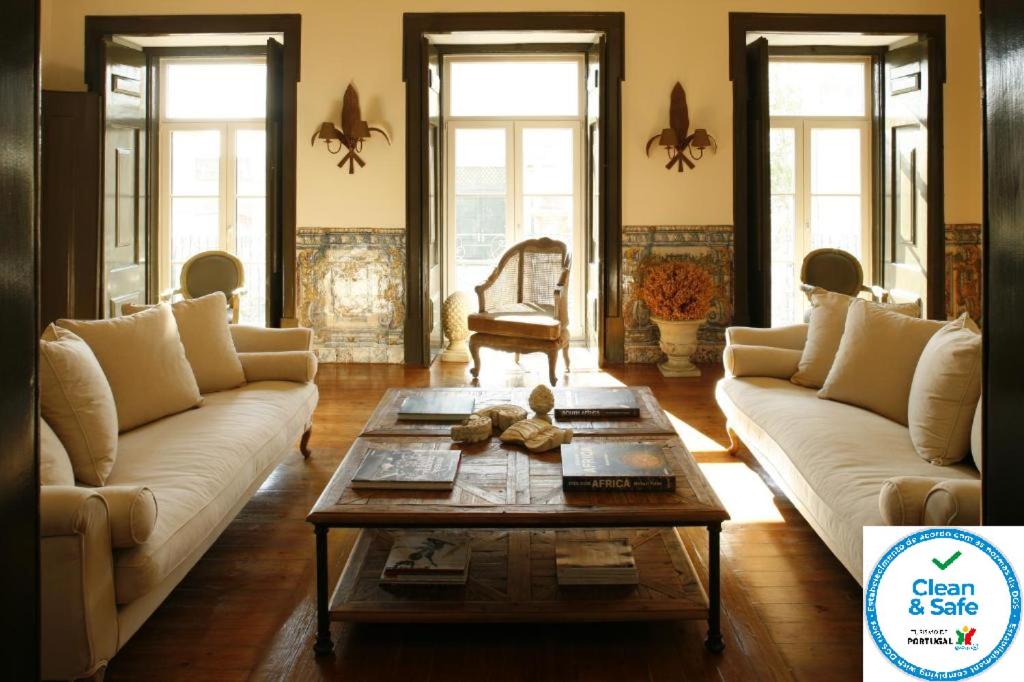 Located in the fashionable area of Janelas Verdes, Palacio Ramalhete is a charming boutique hotel set within an 18th-century palace. This stunning guest house offers rooms adorned with authentic ceramic tiles and boasts a heated pool that overlooks the picturesque courtyard. Each spacious room at Palacio Ramalhete is beautifully decorated with antique furniture, flat-screen TVs, and elegant wooden floors. Unique features such as stucco ceilings, oak walls, or even fireplaces with copper roofs add to the charm of the accommodations. Most rooms also offer breathtaking views of the Tagus River. Guests can start their day with a delicious buffet breakfast served either in the spacious common room or on the patio during warmer months. The hotel also houses a well-stocked bar where visitors can enjoy drinks and snacks throughout the day. For relaxation, guests can lounge by the designer sun loungers beside the pool or unwind in the outdoor lounge area while admiring sunset views. Conveniently located just steps away from Rua Das Janelas Verdes Bus Stop and less than 3 minutes' walk from The National Museum of Ancient Art, Palacio Ramalhete offers both comfort and easy access to nearby attractions.
– Authentic 18th-century palace setting
– Beautifully decorated rooms with unique details
– Heated pool overlooking a serene courtyard
– Buffet breakfast served in spacious common room or on patio
– Outdoor lounge area for enjoying sunset views
Iberostar Selection Lisboa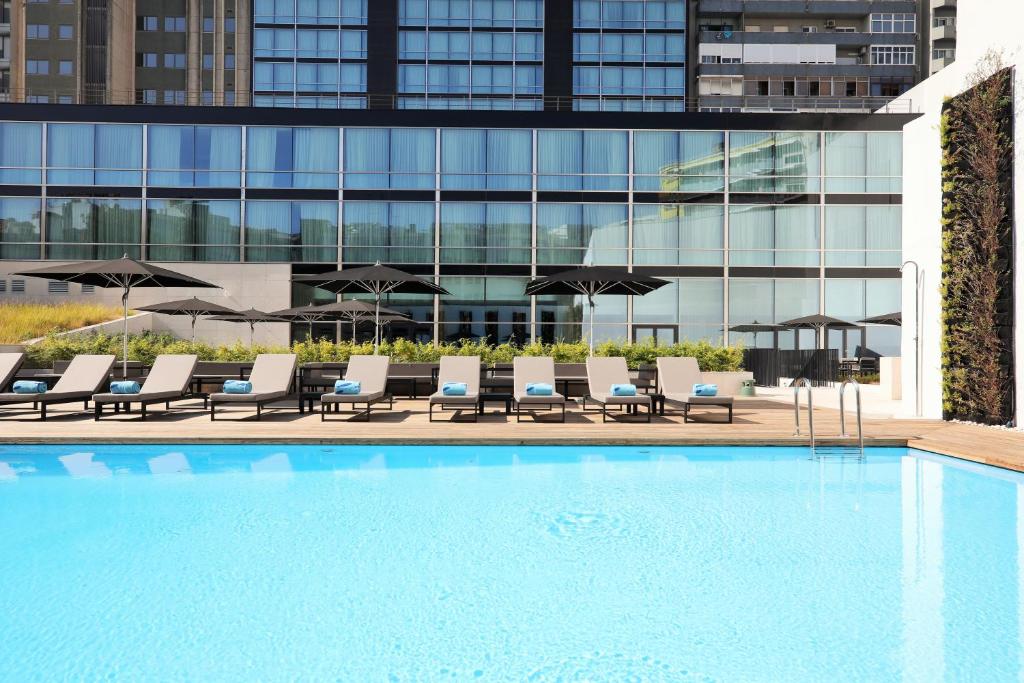 The 5-star Iberostar Selection Lisboa is located in the heart of Lisbon, just steps away from Eduardo VII Park and Marquês de Pombal Square. This luxurious hotel offers a range of amenities including an outdoor swimming pool and a terrace with beautiful gardens. Guests can also enjoy the Heated indoor pool, sauna, sensory shower, Turkish bath, and massage services at the SPASensations area for an additional cost. The hotel boasts different types of rooms with city views or suites to cater to guests' preferences. Room service is available 24/7 at an extra cost, while a continental breakfast is served each morning. Visitors can experience a delightful dining experience at Restaurant Luz or grab a drink at the Boalma Bar. The hotel also features seven meeting rooms that can be converted into multiple event areas with a capacity of up to 250 people. Additional services like laundry service, private parking, and 24-hour reception are available for an extra fee. For fitness enthusiasts, the gym is free to use during their stay. With its convenient location near Avenida da Liberdade and easy access to popular attractions such as Bairro Alto and São Jorge Castle, Iberostar Selection Lisboa ensures an unforgettable stay in Lisbon.
– Convenient location near popular attractions
– Outdoor swimming pool and terrace with gardens
– Extensive spa facilities including heated indoor pool
– Various room options including suites with city views
– Delicious dining options at Restaurant Luz and Boalma Bar
Romantic Hotels with a Pool in Lisbon
Lisbon offers a selection of romantic hotels with pools, allowing couples to unwind and relax together in a serene setting. These hotels provide the perfect combination of luxury, privacy, and an inviting pool area for couples seeking a romantic getaway in the city.
Pestana Palace Lisboa Hotel & National Monument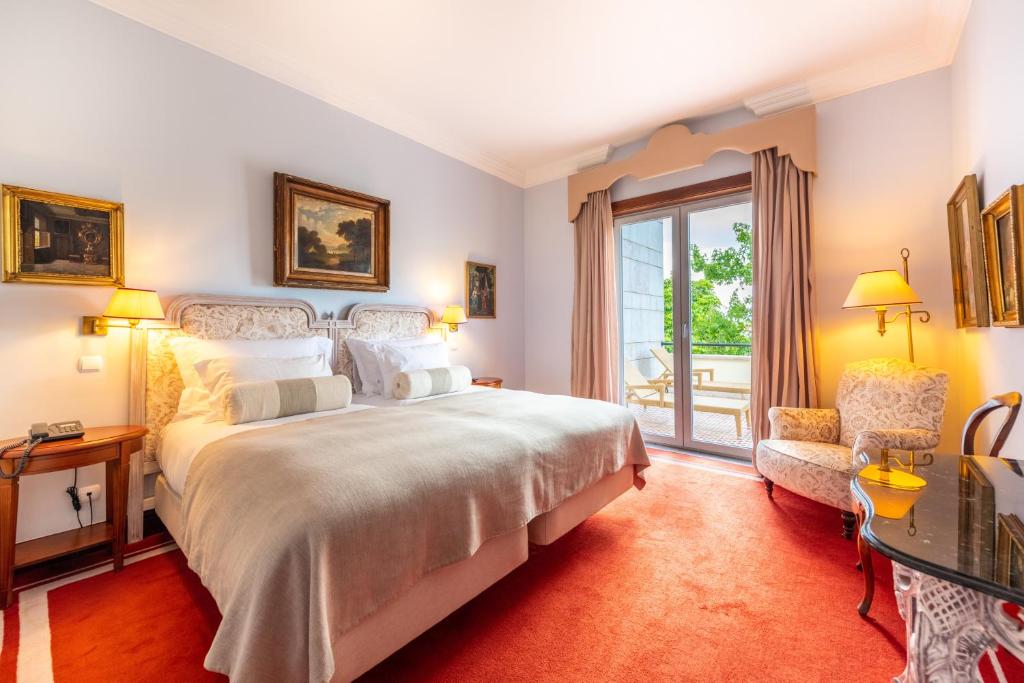 The Pestana Palace Lisboa Hotel & National Monument is a luxurious 5-star hotel that has been beautifully restored from a 19th-century palace. Set amidst private parklands with stunning views of the Tagus River, this hotel offers guests an unforgettable experience. The property boasts two swimming pools, including an indoor pool where the water is heated to a sustainable temperature of 26ºC. There is also a sauna and wellness center for guests to indulge in relaxation and rejuvenation. The hotel's chic and sophisticated restaurant serves up traditional Portuguese dishes with garden views, while the poolside restaurant offers light refreshments during the summer months. Each spacious room is elegantly furnished and comes with modern amenities such as a flat-screen TV and minibar. Many rooms also feature a furnished balcony overlooking the lush gardens, and some even have a separate seating area with a plush sofa. Additional amenities include a bar offering snacks and drinks, as well as a steam bath, hot tub, and business center. With its ideal location, close to attractions like Belém Tower and Hieronimyte Museum, Pestana Palace Lisboa Hotel & National Monument is the perfect choice for luxury travelers seeking both comfort and convenience.
Pros:
– Stunning views of the Tagus River
– Beautifully restored 19th-century palace
– Two swimming pools for ultimate relaxation
– Chic restaurant serving traditional Portuguese cuisine
– Convenient location near popular attractions
EPIC SANA Marquês Hotel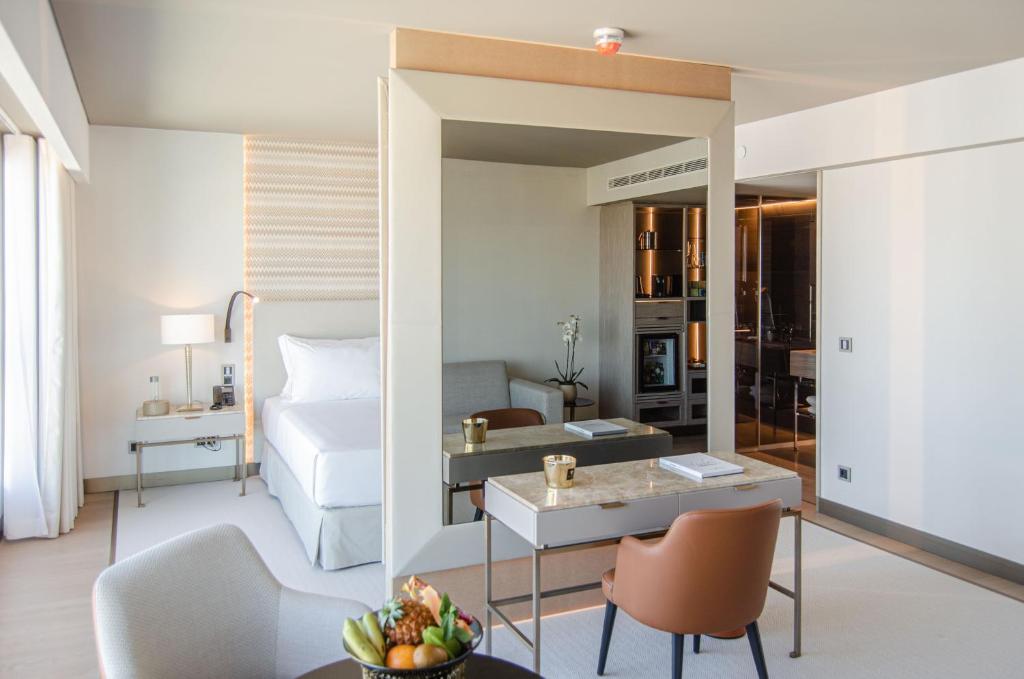 Situated between the lush Parque Eduardo VII and the iconic Marquês de Pombal Square, the EPIC SANA Marquês Hotel is a luxurious 5-star property in Lisbon. This hotel offers spacious and elegantly designed suites and rooms, equipped with private bathrooms, LCD TVs, minibars, and luxury amenities. Guests can enjoy fantastic views of downtown Lisbon and the Tagus River from the panoramic heated pool on the top floor. The hotel also features a fitness center, concierge service, and a 24-hour front desk. Dining options include The Garden buffet restaurant, KOJI Bar and Restaurant serving Japanese cuisine, and Allora Restaurant offering dishes made with products from top Italian regions. Guests can pamper themselves at Sayanna Wellness & Spa which offers various treatments using international brands such as Natura Bissé and Aromatherapy Associates. Additional facilities include a Congress Center with event spaces and a convenient central location that allows guests to easily explore all parts of the city.
– Prime location near Parque Eduardo VII
– Panoramic heated pool with stunning city views
– Multiple dining options including Japanese cuisine
– Luxurious spa offering various treatments
– Convenient access to public transportation
Memmo Príncipe Real – Design Hotels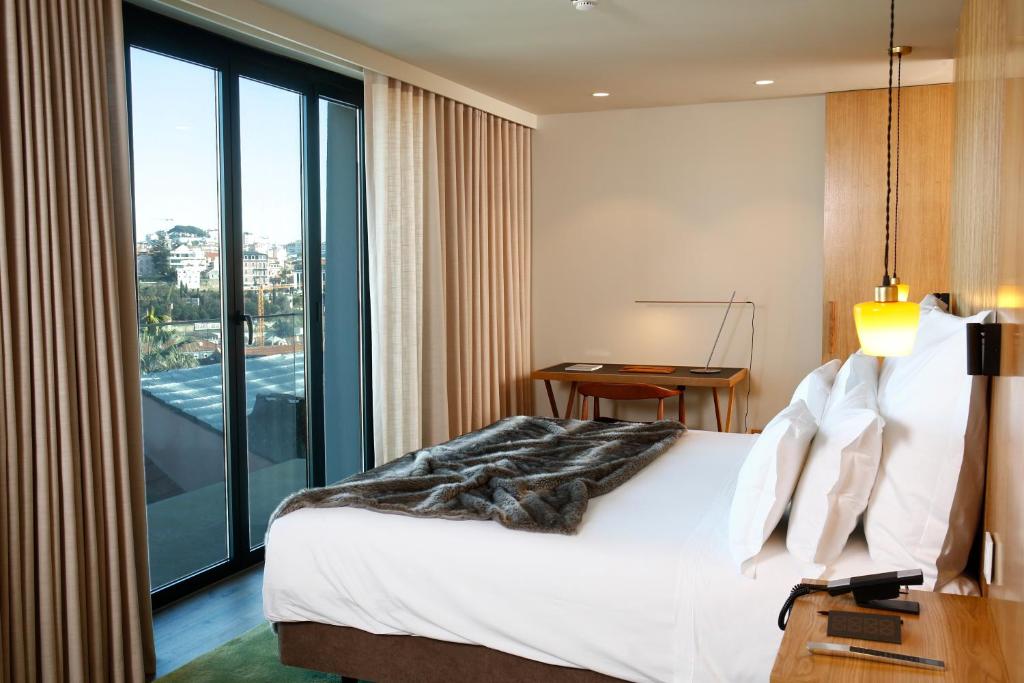 Located in the exclusive district of Príncipe Real in Lisbon, Memmo Príncipe Real – Design Hotels offers a luxurious and stylish stay for travelers. With Bairro Alto and Avenida da Liberdade just a short walk away, guests have easy access to historic Lisbon. The hotel's Café Principe Real Restaurant showcases Portuguese and international dishes with influences from Brazil, Africa, and Asia. The central area of the hotel features a terrace overlooking the pool and the city, providing a perfect spot to relax. Each air-conditioned room is equipped with modern Bang & Olufsen TVs, bathrobes, slippers, premium Hermés amenities in the private bathroom, and professional quality hair dryers. Guests can enjoy an exclusive breakfast in the morning as well as light meals and refreshing drinks throughout the day. The property boasts a timeless contemporary architectural style complemented by an oil painting of D. Pedro V by artist Barahona Possollo and classic vintage furniture. With its outdoor pool and lounge offering panoramic city views, Memmo Príncipe Real is an ideal choice for a luxurious stay in Lisbon.
– Located in an exclusive district of Lisbon
– Short walk to historic attractions
– Stylish restaurant serving Portuguese and international dishes
– Outdoor pool with panoramic city views
– Luxurious rooms with modern amenities
Hotels with Pools in Lisbon That Are Good for Families
Lisbon offers a range of luxury hotels with pools that are perfect for families. These pools provide a refreshing oasis where parents can relax while children enjoy swimming and playing in a safe environment. With their convenient locations and family-friendly atmosphere, these hotels ensure a memorable and enjoyable stay for all.
Hotel Hotel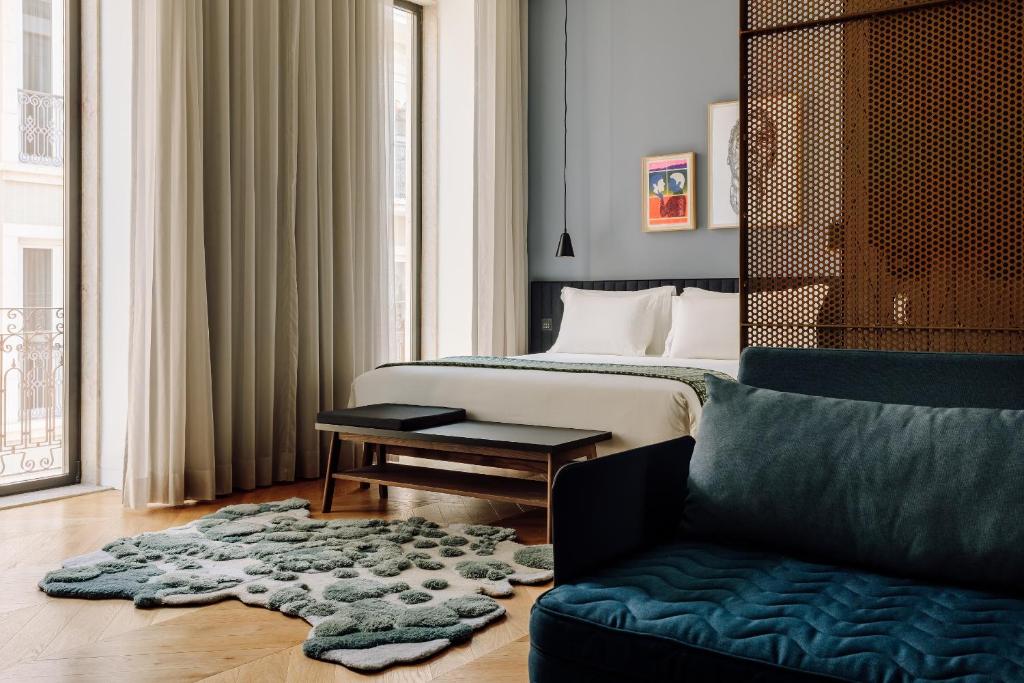 Hotel Hotel – Member of Design Hotels is a stunning 4-star hotel located in Lisbon, opened in December 2021. This luxurious hotel offers guests an unforgettable experience with its outdoor swimming pool, beautiful garden, terrace, and on-site restaurant. The rooms at Hotel Hotel are equipped with comfortable bed linen and towels for added convenience. The hotel provides various amenities including a 24-hour front desk, airport transfers, room service, and free WiFi. Each air-conditioned room features a desk, coffee machine, minibar, safety deposit box, flat-screen TV, and a private bathroom with a shower. Guests can enjoy a delicious breakfast daily which includes buffet options as well as à la carte and continental choices. With its prime location near popular attractions such as Rossio square, Dona Maria II National Theatre, and Commerce Square, Hotel Hotel is the perfect choice for travelers looking to explore the vibrant city of Lisbon.
– Outdoor swimming pool
– Beautiful garden
– Terrace
– On-site restaurant
– Convenient location near popular attractions
Casa Balthazar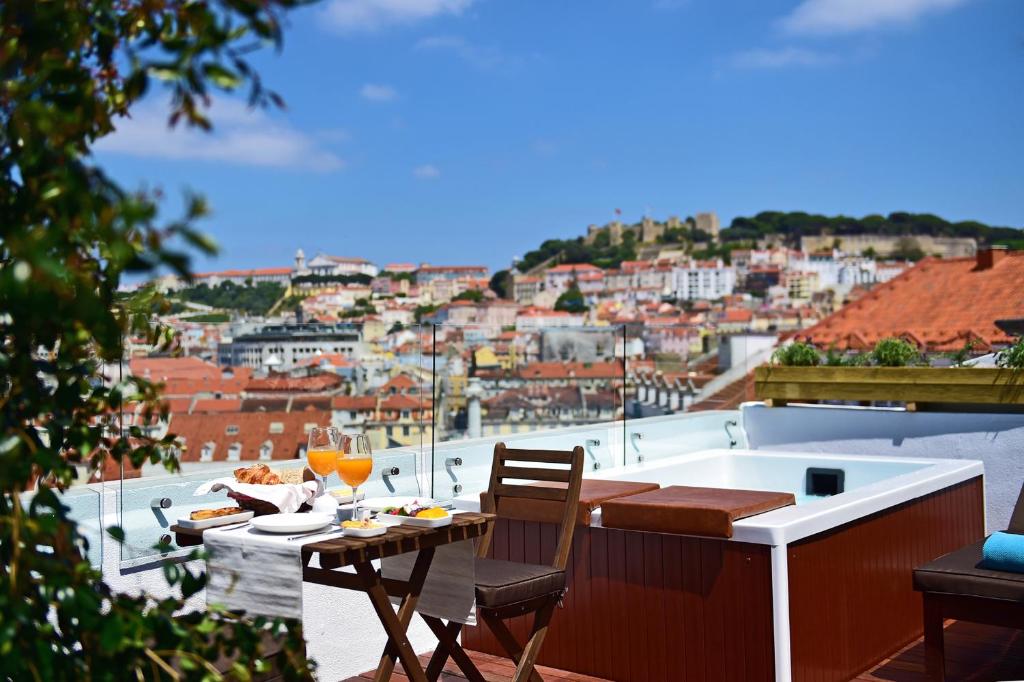 Casa Balthazar is a charming guest house located just a 3-minute walk from the Restauradores and Rossio metro stations in Lisbon. The modern, self-catering units offer free WiFi and are perfect for those who prefer to have their own space while traveling. The highlight of the hotel is its beautifully landscaped garden, complete with a pool and sun loungers, where guests can relax and soak up the sun. There is also a bar on-site for those who want to enjoy a refreshing drink. For breakfast, guests can indulge in delicious pastries from A Confeitaria Nacional, a historic patisserie located just a short walk away. The spacious rooms and suites at Casa Balthazar are air-conditioned and feature flat-screen TVs with cable channels and iPod docking stations. Some accommodations even come with private balconies or panoramic views of Lisbon. Guests will also appreciate the fully equipped kitchenettes and private dining areas available in some units. With its convenient location near Rossio Train Station, guests can easily explore the romantic city of Sintra. Additionally, Cais do Sodré Station is just a 10-minute walk away, offering connections to Cascais and its beautiful beaches.
– Prime location near metro stations
– Beautifully landscaped garden with pool
– Spacious rooms with modern amenities
– Fully equipped kitchenettes for self-catering options
– Easy access to both city attractions and beach destinations
Lisbon Hotels with Pool Information
| | |
| --- | --- |
| 🛎️ Hotels with a Pool in Lisbon | 11 |
| 💰 Hotel prices starting from | $60 |
| 💵 Highest price | $1155 |
| 🥇 Average Review Score | 9/10 |
| 🛏️ Average number of Rooms | 135 |
FAQ
Is it common for hotels in Lisbon to have pools?
Yes, many hotels in Lisbon have pools. The city offers a variety of accommodation options, ranging from boutique hotels to luxury resorts, and a good number of them feature pool facilities. Whether you prefer a rooftop pool with panoramic views of the city or a serene oasis nestled within lush gardens, you'll find plenty of choices in Lisbon.
Are hotel pools in Lisbon open year-round?
While most hotel pools in Lisbon are open during the warmer months from spring to autumn, there are some properties that keep their pools open year-round. However, it's important to check with the hotel directly or consult their website for specific information about pool availability and any seasonal closures before making your reservation.
Do hotels charge extra for using the pool?
The majority of hotels do not charge extra for using the pool facilities. However, it's always advisable to confirm this with your chosen hotel beforehand as some upscale properties may have certain policies or additional amenities that require an extra fee. Additionally, access to spa areas or exclusive pool areas may incur an additional charge at select establishments.
Are children allowed in hotel pools?
Yes, children are generally allowed in hotel pools in Lisbon. Many family-friendly hotels offer separate children's pools or designated shallow areas within the main pool where younger guests can safely enjoy themselves. However, adult supervision may be required depending on the age and swimming abilities of the child.
What other amenities can I expect besides a pool at these hotels?
In addition to refreshing swimming pools, many hotels in Lisbon offer an array of luxurious amenities and services. These can include well-equipped fitness centers, relaxing spa facilities offering various treatments and massages, exquisite dining options serving both local and international cuisine, stylish bars for cocktails and entertainment purposes, spacious sun terraces with loungers and umbrellas for soaking up the sun while enjoying breathtaking views of the cityscape or riverfront scenery, and sometimes even private access to nearby beaches.
Popular Hotels with Pools destinations