Best 9 Hotels with Pools in Athens
Welcome to Athens, Greece – a city of ancient ruins and vibrant culture. While exploring this magnificent destination, you may find yourself yearning for a refreshing dip to escape the Mediterranean heat. Fear not, as Athens offers an array of opulent accommodations boasting exquisite aquatic havens. Whether you seek a relaxing oasis or a glamorous rooftop retreat, these luxurious hotels with swimming pools are sure to satisfy your desires.
As you embark on your quest for the perfect poolside experience in Athens, prepare to be mesmerized by the beauty that awaits. Imagine lounging in a sun-soaked haven surrounded by lush green gardens and panoramic views of the Acropolis. Picture yourself sipping on a refreshing cocktail while submerged in an infinity pool overlooking the azure waters of the Aegean Sea. With their impeccable service and attention to detail, these magnificent pools elevate your stay from ordinary to extraordinary.
So dive into our guide as we unveil some of Athens' most splendid hotels with pools. From tranquil hideaways offering serene escapes from bustling city life to trendy urban oases where luxury meets contemporary design – prepare for an unforgettable aquatic adventure in this captivating Greek capital!
The Best Athens Hotels with a Pool
Asomaton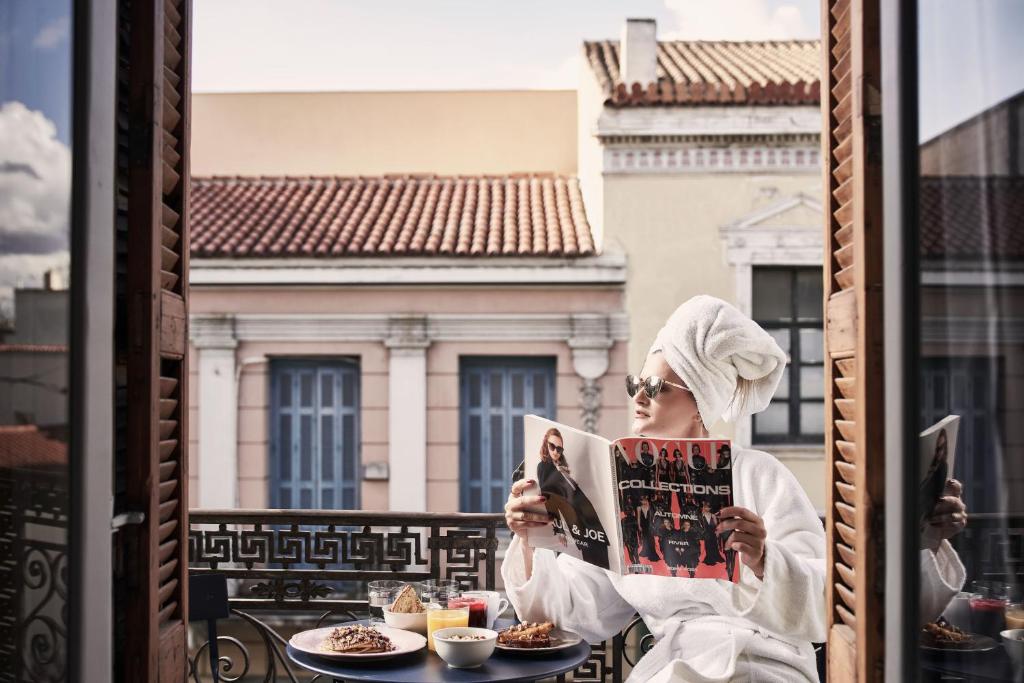 Asomaton is a boutique hotel located in Athens, just 600 meters from Monastiraki Metro Station. This newly opened hotel offers express check-in and check-out, allergy-free rooms, a beautiful garden, free WiFi throughout the property, and a terrace. Guests can enjoy an à la carte breakfast every morning. The hotel features an indoor pool and hot tub for guests to relax in. Room service is also available for added convenience. The air-conditioned rooms at Asomaton are equipped with modern amenities such as a wardrobe, coffee machine, fridge, minibar, safety deposit box, flat-screen TV, and a private bathroom with a shower. Some rooms even offer balconies and city views. Bed linen and towels are provided in each room. The hotel's location is ideal for exploring popular attractions like Gazi – Technopoli and the National Theatre of Greece which are less than 1 km away. Monastiraki Railway Station, Monastiraki Square, and Kerameikos Metro Station are also nearby. For those flying into Athens, Eleftherios Venizelos Airport is 33 km away and the hotel offers a paid airport shuttle service.
– Boutique hotel
– Convenient location near Monastiraki Metro Station
– Indoor pool and hot tub
– Free WiFi throughout the property
– Terrace area for relaxation
Perivoli Country Hotel & Retreat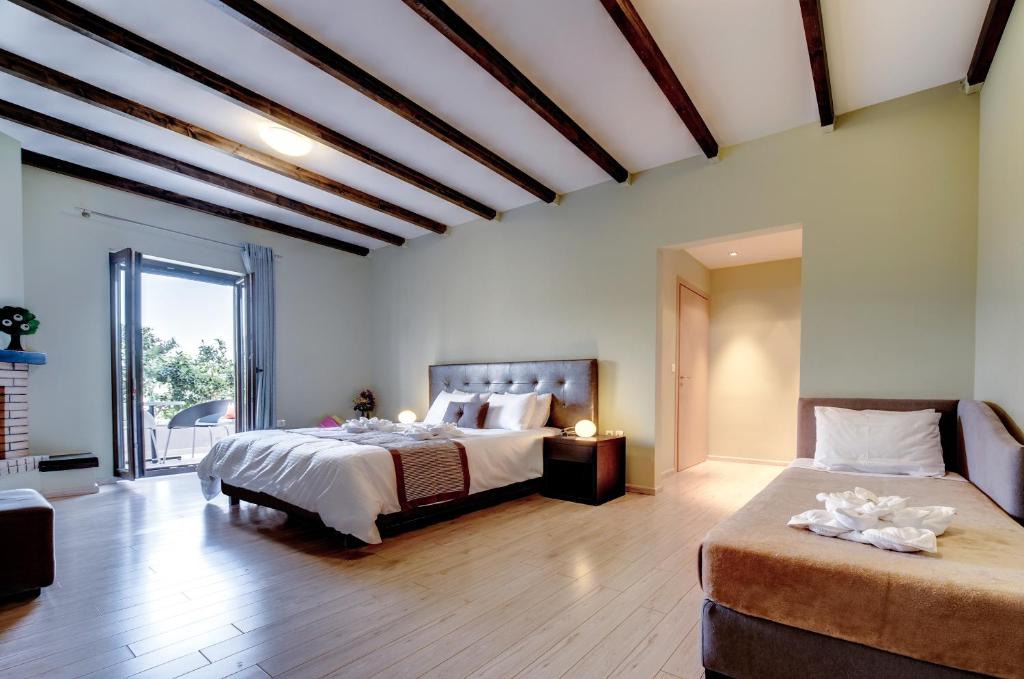 Located in the picturesque hillside of Pirgiotika in Argolida, Perivoli Country Hotel & Retreat offers guests a serene and tranquil escape. The hotel features rooms with stunning panoramic views, a spacious outdoor pool, and an on-site restaurant that serves delectable local gourmet dishes made with fresh, organic ingredients. The traditional rooms are designed with wooden floors, beamed ceilings, and cozy fireplaces. Guests can relax and rejuvenate surrounded by lush orange groves while enjoying breathtaking views of the sea and Mount Parnon from the swimming pool. A delicious buffet breakfast is served daily, and popular attractions such as Nafplio city, Tolo beach, Epidaurus Ancient Theatre, and Mycenae ancient site are just a short drive away.
– Breathtaking panoramic views
– Spacious outdoor pool with stunning surroundings
– Delicious local gourmet dishes at the on-site restaurant
– Cozy traditional rooms with organic bath amenities
– Close proximity to popular historical sites
Electra Metropolis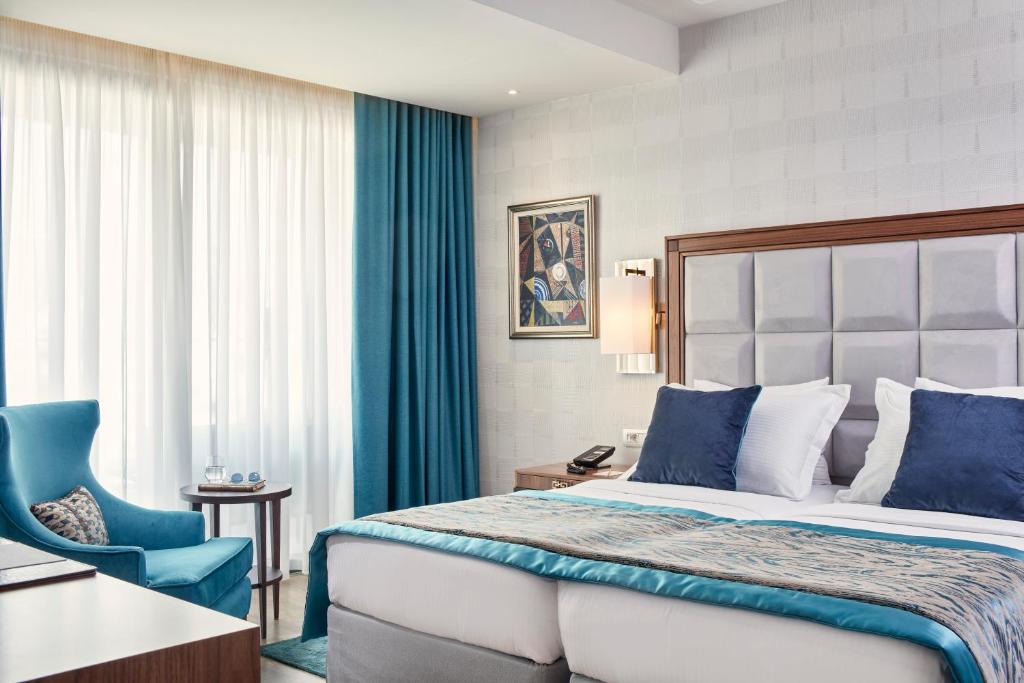 Located in the heart of Athens, just 200 meters from Syntagma Square, the modern Electra Metropolis is an elegant hotel that offers a luxurious stay. The highlight of this hotel is its small rooftop pool with a waterfall effect and a sun terrace offering stunning views over the city. The rooms and suites are tastefully decorated with modern furnishings, wooden floors, and warm tones. Each room features a marble-tiled bathroom equipped with all necessary amenities and organic KORRES toiletries. Guests can enjoy gourmet dishes and refreshing cocktails at the top-floor restaurant or relax at the M Bar while taking in panoramic views of the Acropolis. Additionally, there is a retro-style lounge area decorated with Fassianos artwork where guests can unwind with coffee or drinks. With its prime location, just steps away from restaurants, bars, shops, and within walking distance to the scenic Plaka area, Electra Metropolis offers convenience for exploring everything Athens has to offer.
– Small rooftop pool with waterfall effect
– Sun terrace with panoramic views over the city
– Elegant rooms and suites featuring modern decor
– Top-floor restaurant offering gourmet dishes
– Retro-style lounge area for relaxation
Other places to stay in Athens
Hotels with Pools in Athens with Nice Views
When it comes to hotels with pools in Athens offering nice views, visitors can expect an elevated experience. From rooftop pools overlooking the iconic landmarks of the city to serene poolside settings with breathtaking panoramas, these hotels provide a refreshing and picturesque escape for guests looking for a touch of luxury during their stay in Athens.
Green Suites Boutique Hotel
Located in Athens, Green Suites Boutique Hotel is a luxurious 5-star hotel that opened in December 2019. It offers a range of amenities including a seasonal outdoor swimming pool, private parking, fitness centre and a beautiful garden. The hotel provides exceptional service with room service and concierge assistance available to guests. The rooms are stylishly decorated and feature comfortable beds with high-quality linens and towels. Each air-conditioned room is equipped with modern amenities such as a desk, coffee machine, minibar, safety deposit box, flat-screen TV and a private bathroom with shower. Some rooms also offer terraces or city views. Guests can enjoy breakfast options every morning including buffet, à la carte and continental choices. Free WiFi is available throughout the property along with other convenient services like airport transfers and a 24-hour front desk. The hotel's location offers easy access to Omonia Metro Station (4.8 km), Eleftherios Venizelos Airport (29 km), Larissis Railway Station (5 km) and University of Athens – Central Building (5.1 km).
– Seasonal outdoor swimming pool
– Private parking
– Fitness centre
– Stylishly decorated rooms
– Excellent service from the staff
Divani Apollon Palace & Thalasso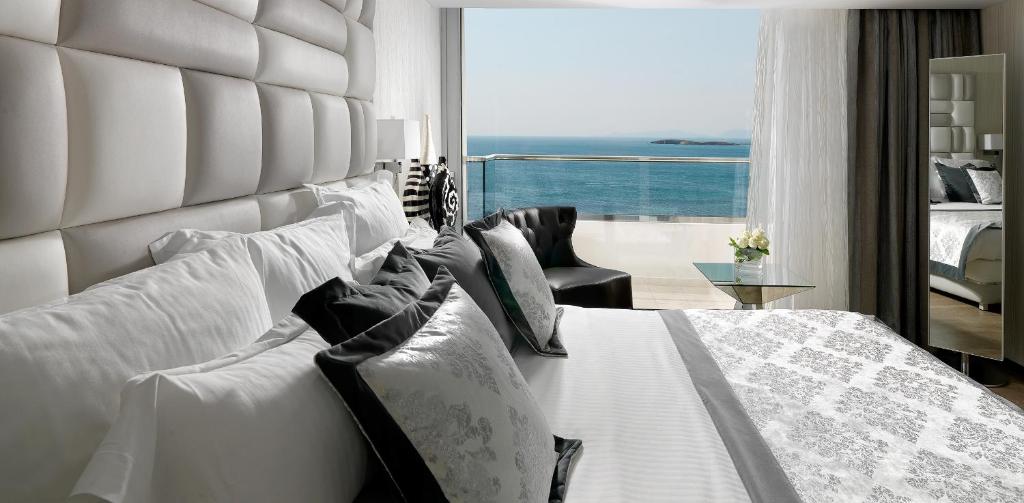 Set against the breathtaking backdrop of Athens Riviera, Divani Apollon Palace & Thalasso is an exquisite resort that offers luxurious accommodation and an array of exceptional amenities. With both indoor and outdoor pools, guests can enjoy a refreshing swim while taking in the stunning sea views. The hotel boasts a state-of-the-art thalassotherapy centre, where visitors can experience rejuvenating treatments and therapies. The elegantly decorated rooms feature designer fabrics, oak furniture, and captivating artwork, all offering magnificent views of the sea or pools. The property also houses four restaurants, including Anemos which features buffet dining with a view of the pool and sea; Atlantis Lounge and A&D bar offer light snacks, signature cocktails, and live music; while Papaioannou fine-dining restaurant serves delectable seafood dishes accompanied by fine wines in an intimate seaside atmosphere. Additionally, guests can indulge in a sumptuous breakfast buffet comprising Greek delicacies as well as European favorites at the hotel. The Meltemi poolside snack bar provides shaded seating areas overlooking the pools during summer months. For recreation, there is a flood-lit tennis court and jogging route for active guests to enjoy. Watersports are available at the property's private beach for those seeking more adventurous activities. Conveniently located just 18 km from downtown Athens with easy access to Glyfada's shopping district and nightlife via shuttle bus (5-minute ride), Divani Apollon Palace & Thalasso offers a truly luxurious experience.
Pros:
– Stunning sea views from elegantly decorated rooms
– State-of-the-art thalassotherapy centre
– Four on-site restaurants offering diverse dining experiences
– Indoor and outdoor pools for ultimate relaxation
– Convenient location near downtown Athens and Glyfada's shopping district
Nafplia Palace Hotel & Villas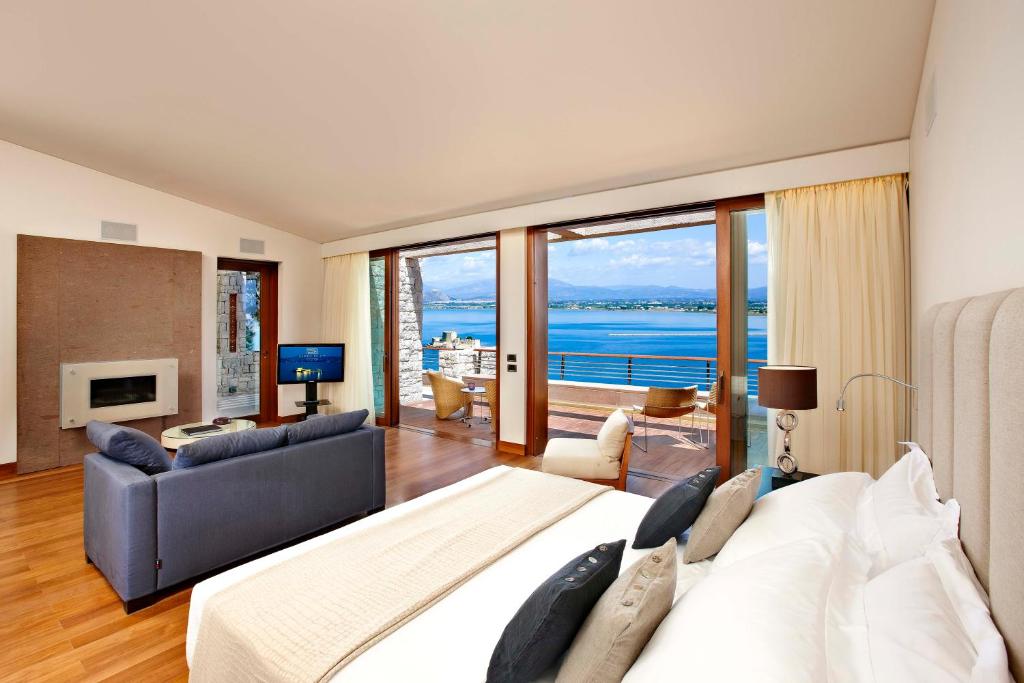 Nafplia Palace Hotel & Villas is a luxury hotel situated on the slope of the ancient fortress of Akronafplia. With breathtaking views of the Argolic Bay, this hotel offers a range of accommodations including rooms with balcony views and villas and bungalows with private pools. Guests can indulge in relaxation at the outdoor swimming pool while enjoying snacks and drinks from the poolside bar. Each room features spacious private balconies overlooking Nafplion and Bourtzi island fort, as well as elegant marble bathrooms. The hotel's Amimoni and Circle restaurants serve gourmet dishes paired with local wines for a truly indulgent dining experience. Conveniently located just a 15-minute walk from Syntagma square and the Archaeological Museum of Nafplion, Nafplia Palace Hotel & Villas offers an exquisite stay immersed in history and luxury.
– Stunning views of Argolic Bay
– Private pools available in villas and bungalows
– Outdoor swimming pool with bar service
– Elegant marble bathrooms
– Proximity to Syntagma square and Archaeological Museum
Romantic Hotels with a Pool in Athens
Experience a romantic getaway in Athens at hotels with stunning pool settings. Indulge in the serenity of private plunge pools or admire breathtaking city views while lounging by rooftop infinity pools, creating unforgettable memories for couples seeking relaxation and intimacy.
Vouliagmeni Suites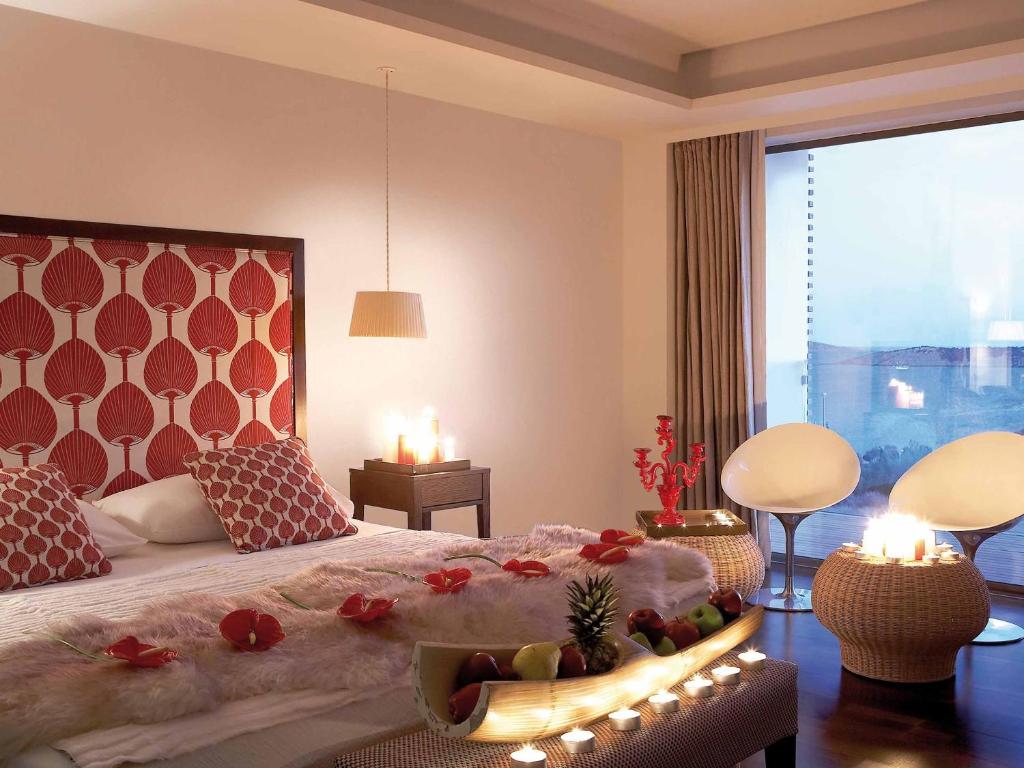 Vouliagmeni Suites is a small hotel located in Vouliagmeni, on the renowned Athens Riviera. This luxurious hotel offers a relaxing and tranquil atmosphere with its outdoor pool and panoramic views of the Saronic Gulf. The hotel also provides free Wi-Fi and digital satellite TV for guests to enjoy. The comfortable and contemporary accommodation at Vouliagmeni Suites includes deluxe rooms and suites, each individually furnished with exclusive amenities such as a Bang and Olufsen TV and power showers. During the winter, guests can indulge in delicious meals at Adam and Eve restaurant, which features bright decor, while in the summer, they can savor their food on the restaurant's veranda while enjoying stunning sea views. With its convenient location just 20 km from Athens city center, Vouliagmeni Suites allows easy access to all major attractions. Additionally, there are various bars and restaurants within a short walking distance.
Pros:
– Small hotel with an intimate atmosphere
– Outdoor pool for relaxation
– Panoramic views of the Saronic Gulf
– Comfortable accommodation with deluxe rooms and suites featuring exclusive amenities
– Convenient location near beaches, nightlife, shopping areas, bars & restaurants
Amarilia Hotel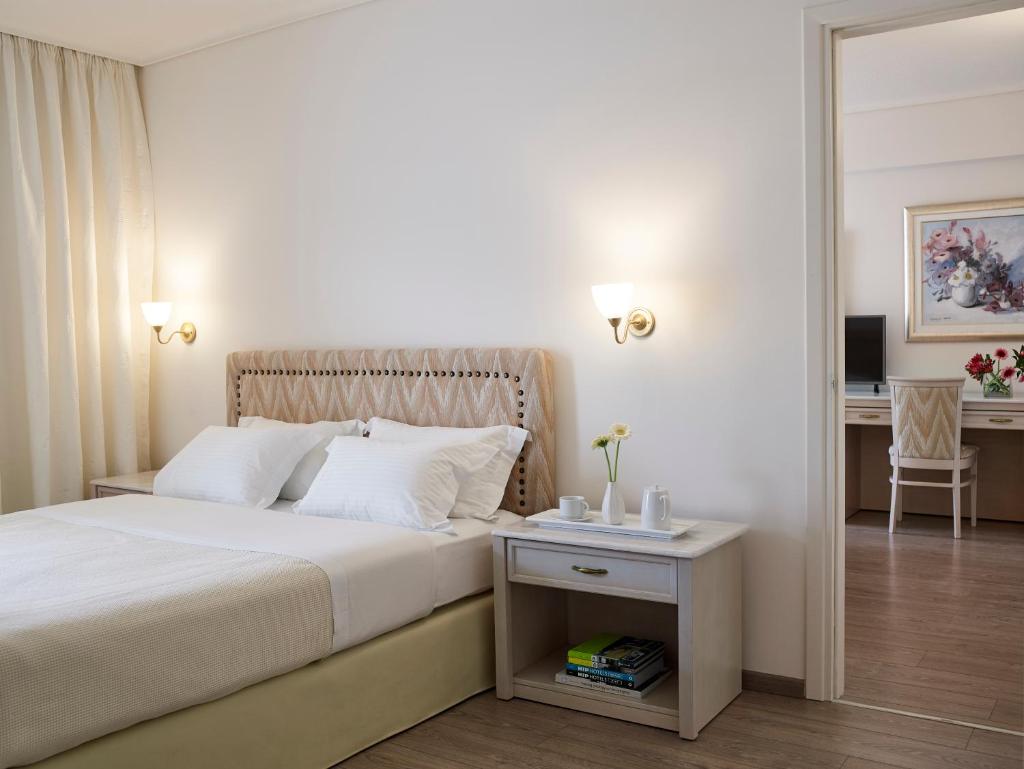 The Amarilia Hotel is a stunning 4-star hotel located near the beach and lake of Vouliagmeni, offering breathtaking views of Saronikos Gulf. Guests can enjoy comfortable and spacious rooms with modern amenities such as free Wi-Fi, satellite TV, air conditioning, and a fridge. The hotel features an outdoor pool where guests can relax and soak up the sun while sipping on refreshing cocktails from the pool bar. The Allegro Bar serves delicious snacks, and the Artemis Restaurant offers a wide selection of International and Greek cuisine. The friendly reception staff at Amarilia Hotel are available 24/7 to assist with car rentals and travel arrangements. With its seafront location, this hotel provides easy access to sandy beaches, seaside restaurants, and is just a short drive away from Athens' city center.
– Breathtaking views of Saronikos Gulf
– Convenient location near the beach
– Spacious rooms with modern amenities
– Outdoor pool for relaxation
– Friendly 24-hour reception staff
Azur Hotel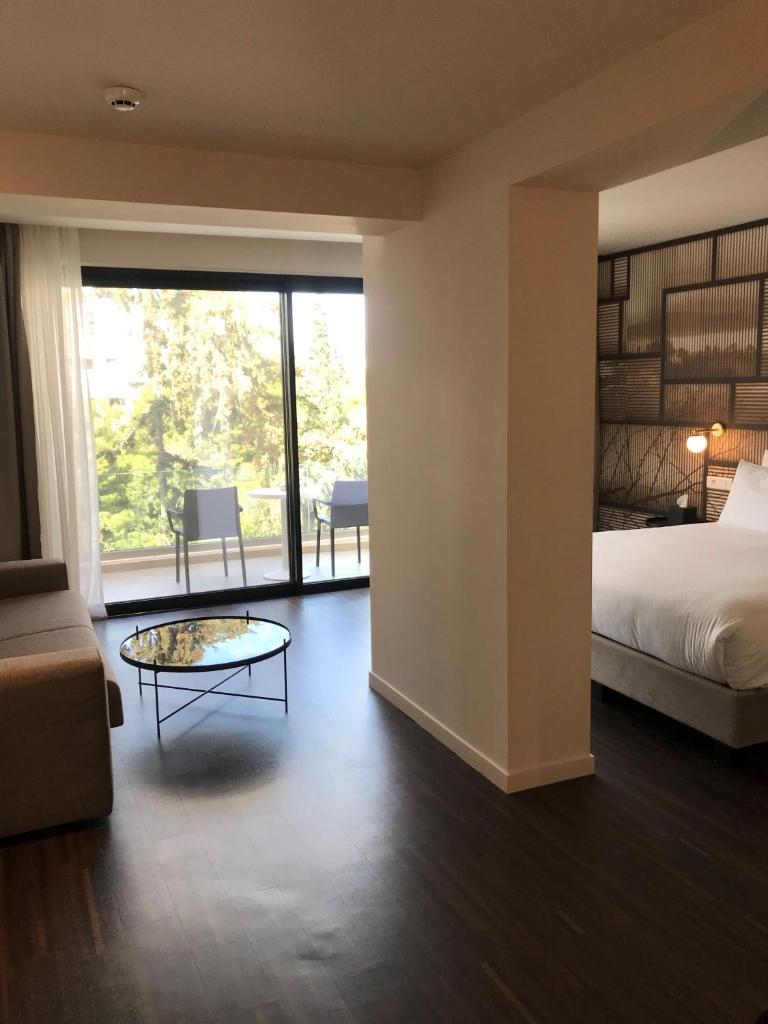 Azur Hotel is a stylish boutique hotel located in the beautiful city of Athens. Situated just 100 meters from Vouliagmeni Beach, this hotel offers guests a luxurious experience with its range of amenities. One of the highlights of this property is its seasonal outdoor swimming pool, where guests can relax and soak up the sun. The hotel also features a bar, perfect for enjoying refreshing drinks by the poolside. Each room is elegantly furnished and equipped with modern comforts such as a flat-screen TV and private bathroom with free toiletries. Some rooms even come with their own private pool for an extra touch of luxury. Guests can also enjoy stunning views from their balconies. The hotel's location in the Vouliagmeni district allows easy access to popular attractions like Vouliagmeni Marina and Glyfada Beach. With friendly staff who speak Greek, English, and Arabic, assistance is always available at the reception desk. Whether you're looking to explore Athens or simply unwind by the pool, Azur Hotel provides an ideal retreat for your vacation.
– Boutique hotel with stylish decor
– Outdoor swimming pool for relaxation
– Convenient location near attractions
– Rooms equipped with modern amenities
– Friendly multilingual staff at your service
Athens Hotels with Pool Information
| | |
| --- | --- |
| 🛎️ Hotels with a Pool in Athens | 9 |
| 💰 Hotel prices starting from | $90 |
| 💵 Highest price | $1991 |
| 🥇 Average Review Score | 8.6/10 |
| 🛏️ Average number of Rooms | 87 |
FAQ
Can I find hotels with pools in Athens, Greece?
Yes, there are several hotels in Athens that offer pools for their guests. From boutique hotels to luxury resorts, you can easily find accommodations with refreshing pools where you can relax and cool off during your stay in the city.
Do all hotels in Athens have pools?
No, not all hotels in Athens have pools. While many luxury and high-end accommodations offer this amenity, it's important to check the hotel's website or contact them directly to confirm if they have a pool available.
What are the benefits of staying at a hotel with a pool in Athens?
Staying at a hotel with a pool in Athens offers several advantages. Firstly, it provides an opportunity for relaxation and rejuvenation after exploring the city's vibrant streets and historic landmarks. Secondly, swimming is a great way to stay active and enjoy some exercise during your vacation. Lastly, lounging by the poolside allows you to soak up the sun and enjoy beautiful views of Athens while enjoying a cocktail or two.
Are there any budget-friendly hotels with pools in Athens?
Yes, there are budget-friendly options that include access to swimming pools. Some mid-range hotels offer smaller outdoor or indoor pools where guests can still unwind and cool off without breaking the bank. These properties often provide excellent value for money while ensuring guests' comfort.
How do I find out if my chosen hotel has a pool before booking?
To find out if your chosen hotel has a pool before booking, you can visit their official website or call/email them directly. Most hotel websites provide detailed information about their amenities including whether they have swimming facilities onsite. If no information is readily available online, contacting their front desk will allow you to obtain accurate details about the availability of pools at the property
Popular Hotels with Pools destinations