Best 9 Hotels with Pools in North Yorkshire
Welcome to a comprehensive guide unveiling the opulent world of accommodations with exquisite swimming facilities in North Yorkshire, England. Nestled amidst breathtaking landscapes and steeped in rich history, this picturesque region offers an array of luxurious hotels that boast remarkable pools for travelers seeking the perfect blend of relaxation and indulgence.
Immerse yourself in a realm of tranquility as you explore these sumptuous hotels that provide an immersive aquatic escape. From infinity pools overlooking rolling hills to indoor sanctuaries surrounded by elegant architecture, each property presents its own distinct charm and allure. Whether you prefer to soak up the sun on a sun lounger beside a sparkling pool or take invigorating morning laps before setting off to explore the countryside, these retreats offer an idyllic oasis for discerning guests.
Prepare to have all your senses pampered as you discover the lavish amenities and impeccable hospitality that awaits at each hotel. Indulge in spa treatments that rejuvenate both mind and body after a refreshing dip or savor delectable cuisine while relishing panoramic views from poolside restaurants. With meticulous attention to detail, these luxurious accommodations promise an extraordinary experience where every moment is tailored to surpass even the most discerning traveler's expectations.
Join us on this delightful journey through exceptional hotels with enchanting pools, inviting you into a realm where elegance meets serenity, all set against the breathtaking backdrop of North Yorkshire.
The Best North Yorkshire Hotels with a Pool
Middlethorpe Hall & Spa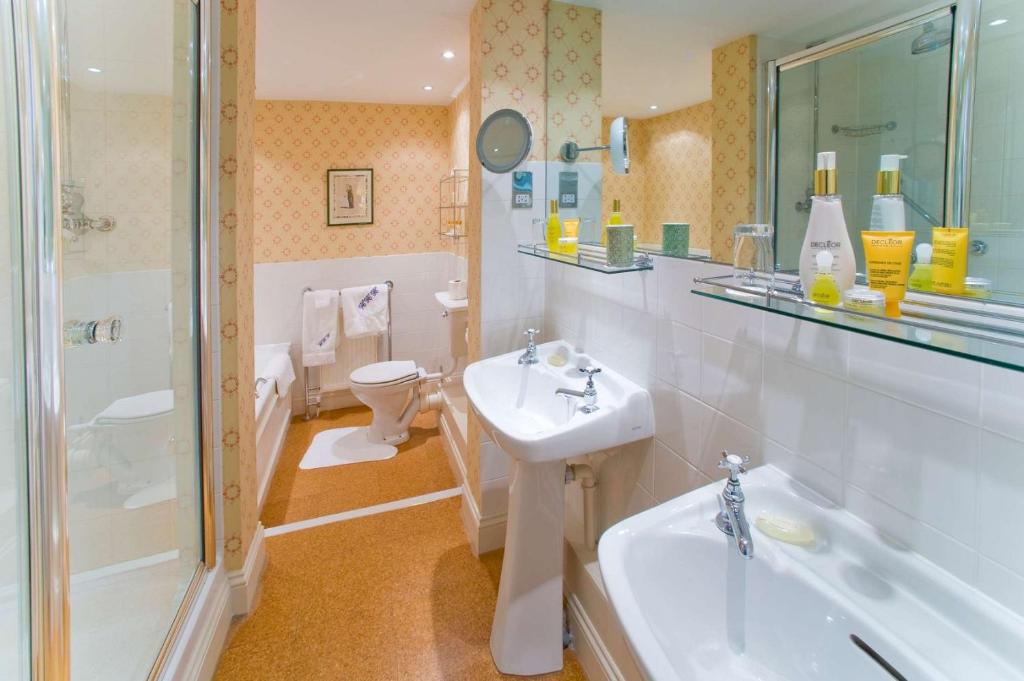 Located just 2 miles from the historic city center and overlooking York Racecourse, Middlethorpe Hall & Spa boasts a boutique spa, stunning gardens, and award-winning cuisine. The grand restaurant with its panelled walls offers beautiful garden views, where guests can savor creative British dishes by candlelight. The elegant bedrooms are adorned with antiques and many offer views of the grounds. Each room comes equipped with a flat-screen TV and a private bathroom complete with fluffy robes and complimentary toiletries. Guests can unwind in the indoor swimming pool, spa bath, sauna or steam room, or work out in the gym located in the Victorian summer house. The extensive grounds feature leafy terraces and fragrant orchards while the menus highlight fresh local produce and ingredients sourced from their very own kitchen garden. As an added bonus, this historic hotel dating back to 1699 is now part of the National Trust, with all profits generously donated to charity. Conveniently situated just a 5-minute drive from York Minster and offering free on-site parking, Middlethorpe Hall & Spa provides guests with both luxury and philanthropy.
– Boutique spa offering relaxation amenities such as an indoor swimming pool, spa bath, sauna, steam room
– Elegant bedrooms featuring antique decor and picturesque views of the grounds
– Stunning gardens with leafy terraces and fragrant orchards
– Grand restaurant serving creative British cuisine with beautiful garden views
– Historic hotel that supports charity through its affiliation with the National Trust
DoubleTree by Hilton Harrogate Majestic Hotel & Spa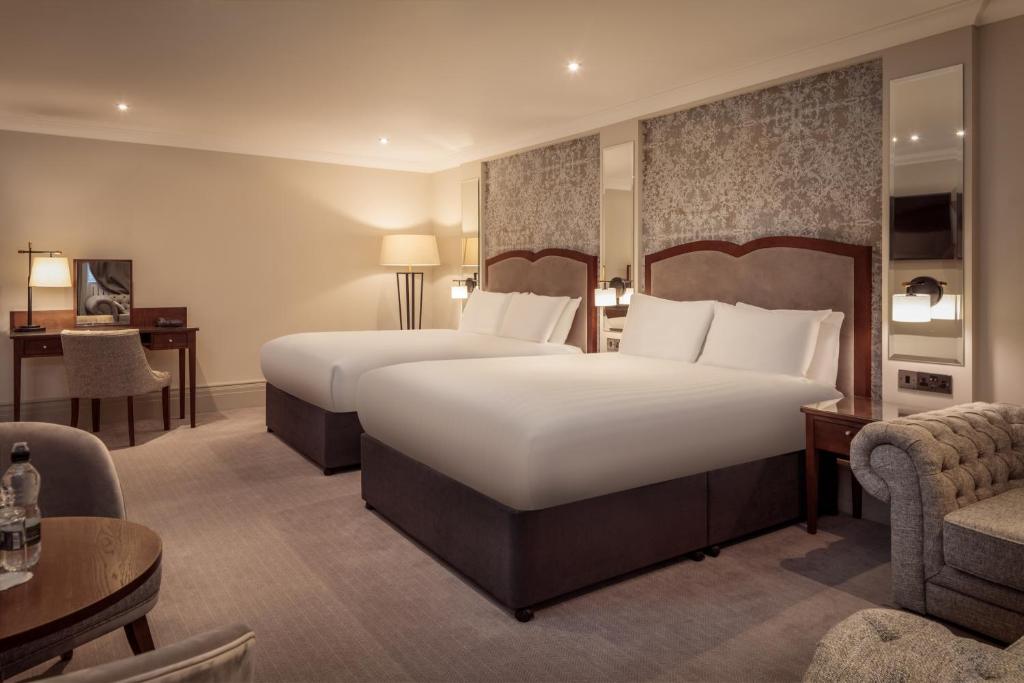 Located in the picturesque town of Harrogate, DoubleTree by Hilton Harrogate Majestic Hotel & Spa is a magnificent 19th-century hotel nestled among expansive gardens. Situated next to the Harrogate International Centre and just a short stroll from Betty's Tea Rooms, this hotel is perfectly positioned for exploring all that the town has to offer. The hotel boasts spacious rooms, many of which offer stunning views of the town and landscaped gardens. Each room is equipped with modern amenities including Wi-Fi access, a TV, and tea/coffee making facilities. Guests can indulge in fine cuisine at the on-site restaurant which offers an extensive wine selection. A delicious breakfast featuring both cooked and continental options is served each morning. With its convenient location, Harrogate Rail Station can be reached in just 10 minutes on foot while popular attractions such as the Yorkshire Event Centre and Yorkshire Showground are only 3 miles away.
– Expansive gardens overlooking the town
– Close proximity to Harrogate International Centre and Betty's Tea Rooms
– Spacious rooms with beautiful views
– On-site restaurant serving fine cuisine and a range of wines
– Convenient location near public transportation links
Discovery Accommodation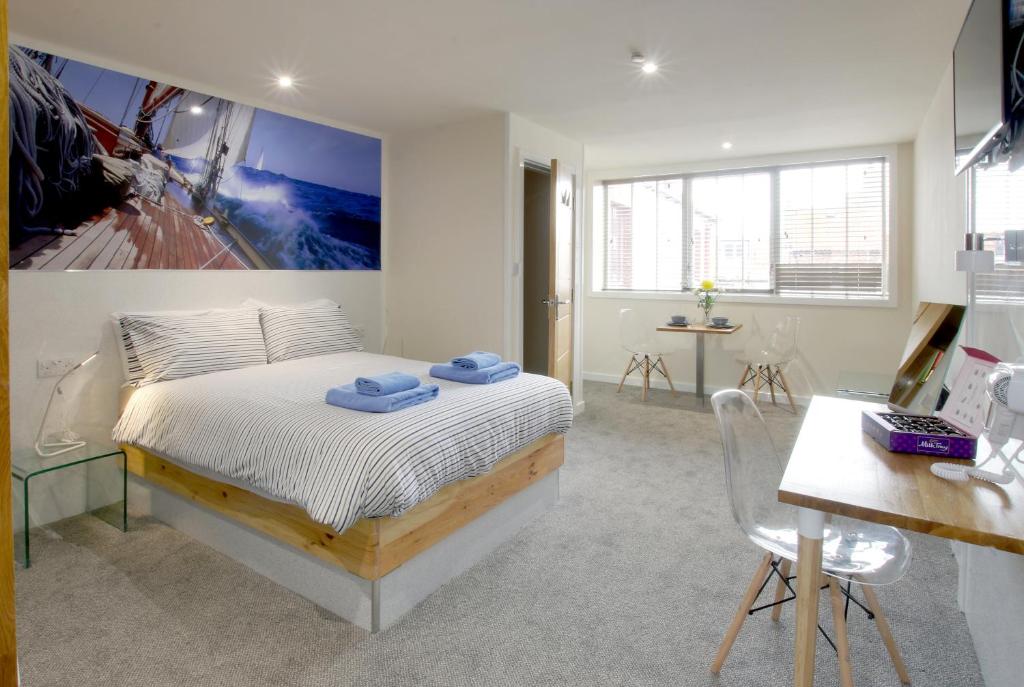 Discovery Accommodation is an apartment hotel located just a 5-minute walk away from the beautiful sandy Whitby Beach. Offering a range of self-contained properties spread across West Cliff, the town center, and the sea-front areas of Whitby, guests have plenty of options to choose from. The bedrooms and apartments are bright and airy, each equipped with a TV and private bathroom. Some rooms even feature tea and coffee making facilities, fully equipped kitchens, living areas, and modern decor. With its convenient location only 500 meters from Whitby Railway Station, half a mile from Whitby Harbour, and within a 10-minute drive to the stunning North York Moors, Discovery Accommodation provides an ideal base for exploring the area.
– Convenient location within walking distance to Whitby Beach
– Variety of self-contained properties to choose from
– Some rooms include fully equipped kitchens for added convenience
– Modern decor throughout the accommodations
– Easy access to local attractions such as Whitby Harbour and North York Moors
Other places to stay in North Yorkshire
Hotels with Pools in North Yorkshire with Nice Views
Experience the serene beauty of North Yorkshire while lounging by a pool with breathtaking views. These hotels offer the perfect blend of relaxation and natural scenery, making for an unforgettable luxury getaway in this stunning region.
The Devonshire Arms Hotel & Spa – Skipton (Bolton Abbey)
Located on the Bolton Abbey Estate in Skipton, The Devonshire Arms Hotel & Spa is a stunning 4-star country house hotel surrounded by 30,000 acres of picturesque land. With an award-winning restaurant, an adult-only spa, a gym and an indoor pool, this hotel offers guests a luxurious and relaxing stay. The rooms provide different views of The Dales, River Wharfe, and Italian Garden, with some featuring lavish bathrooms. Indulge in the spa's sauna, steam room, swimming pool, and whirlpool for the ultimate relaxation experience. Activities such as clay pigeon shooting, fly-fishing, and falconry displays can be enjoyed on the estate. Food options include the renowned 4AA Rosette Burlington Restaurant serving seasonal dishes made from local produce or a more modern gastro-menu at The Brasserie. Guests can also treat themselves to afternoon tea or unwind at the lounge bar.
– Impressive country house hotel set amidst breathtaking surroundings
– Adult-only spa offering a range of treatments and massages
– Indoor pool for year-round relaxation
– Exquisite dining experiences with seasonal dishes using local ingredients
– Various activities available within the estate including clay pigeon shooting and fishing
The Devonshire Fell Hotel
Located in the picturesque village of Burnsall, The Devonshire Fell Hotel offers a charming retreat on the outskirts of the Bolton Abbey Estate. Surrounded by idyllic countryside, this property features 16 individually designed bedrooms, each offering stunning views of the Yorkshire landscape. With free WiFi and parking available, guests can easily explore nearby attractions including ancient castles and UNESCO World Heritage Sites. The vibrant reception area and bar provide a cozy atmosphere for relaxation, while the 2AA Rosettes restaurant serves mouth-watering dishes made from locally sourced ingredients. Nature enthusiasts will delight in the abundance of walking trails, perfect for exploring with furry friends (additional fees apply).
– Stunning views of the Yorkshire countryside
– Vibrant and cozy reception area and bar
– Delicious dining options using locally sourced produce
– Ideal location for walkers and their dogs
Principal York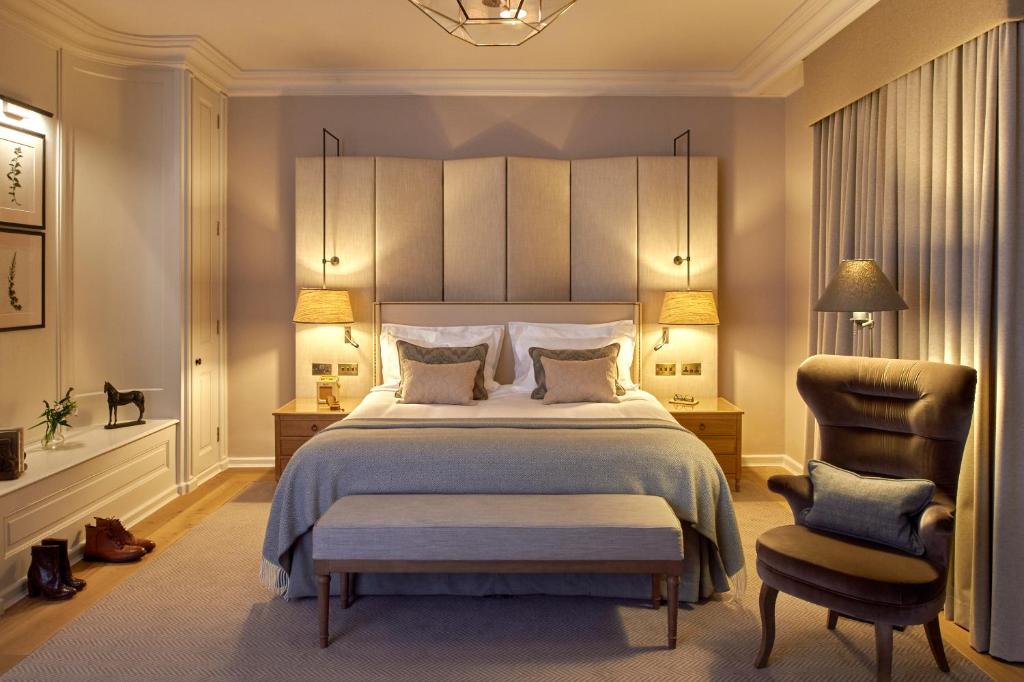 The 4-star Principal York, formerly The Royal York Hotel, offers a luxurious stay in the heart of York. Set in quiet gardens with views of York Minster, this hotel provides stylish and modern rooms featuring amenities such as a flat-screen Smart TV and tea/coffee making facilities. Guests can enjoy the leisure club which includes a sauna, steam room, and heated indoor pool. The hotel is conveniently located next to York Train Station, providing easy access to London, Scotland, and the north of England. Indulge in delicious meals at The Refectory Kitchen and Terrace or unwind with a drink at Chapter House bar. Traditional afternoon tea is also available in the charming Garden Room. With its central location, guests can explore the historic city center and popular attractions such as York Shambles within a short walk from the hotel.
– Indoor pool for relaxation
– Convenient location next to train station
– Stylish rooms with modern amenities
– Delicious dining options on-site
– Easy access to popular attractions
Romantic Hotels with a Pool in North Yorkshire
North Yorkshire offers a range of romantic hotels with pools, perfect for couples seeking a luxurious getaway. Whether nestled in the countryside or overlooking picturesque landscapes, these hotels provide the ideal setting for relaxation and intimacy.
Feversham Arms Hotel & Verbena Spa (Helmsley)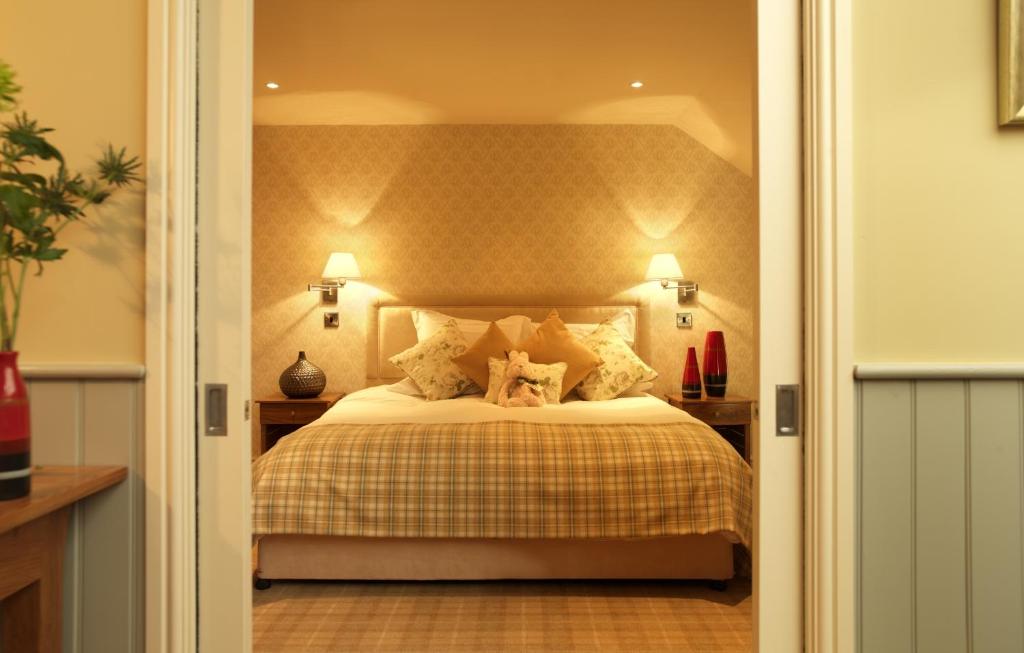 Nestled on the edge of the picturesque North Yorkshire Moors, in the charming market town of Helmsley, Feversham Arms Hotel & Verbena Spa offers a truly enchanting retreat. With a history spanning over 150 years, this elegant hotel combines Victorian charm with modern luxury. The hotel features 33 individually designed en-suite bedrooms, inviting lounges, and a 2 AA-awarded restaurant. The award-winning Verbena Spa provides guests with indulgent facilities including a popular heat experience and an outdoor heated swimming pool that is open all year round. Free Wi-Fi and parking are also available for guests' convenience. Located just off the A170, Feversham Arms is ideally situated for exploring nearby attractions such as Castle Howard, Whitby, Scarborough, and Nunnington.
Pros:
– Stunning location on the edge of North Yorkshire Moors
– Elegant and charming Victorian heritage combined with boutique design
– Superb dining options at the 2 AA-awarded restaurant
– Full range of revitalizing treatments at the award-winning Verbena Spa
– Outdoor heated swimming pool available throughout the year
The Grand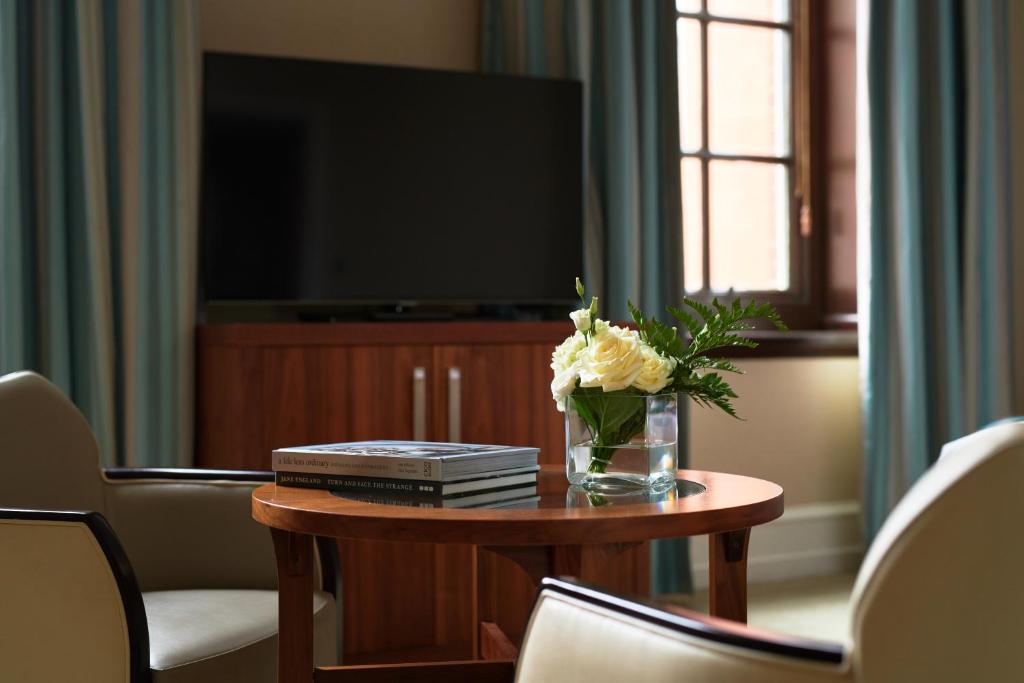 The Grand Hotel, a luxurious 5-star establishment, is located in the magnificent Grade II listed former railway headquarters. Its stylish rooms are equipped with modern amenities such as free WiFi, flat-screen TVs, bathrobes, slippers, and Molton Brown toiletries. The hotel also offers an evening turn down service for added comfort. Guests can indulge in an immersive and social dining experience at The Rise restaurant, which serves modern British cuisine made from locally sourced ingredients. Afternoon tea or a leisurely lunch can be enjoyed here as well. The highlight of the hotel is its luxury vaulted spa complete with a 13-meter swimming pool, hot tub, sauna, steam room, and treatment rooms offering various health and wellness therapies. For fitness enthusiasts, there is a state-of-the-art fitness center available for guests to use with prior reservation. Please note that access to the pool and spa treatments are subject to availability.
– Stylish rooms featuring modern amenities
– Immersive and social dining experience at The Rise restaurant
– Luxurious vaulted spa with swimming pool
– Fully-equipped fitness center available for guests' use
– Treatments offered within the spa's treatment rooms
Rudding Park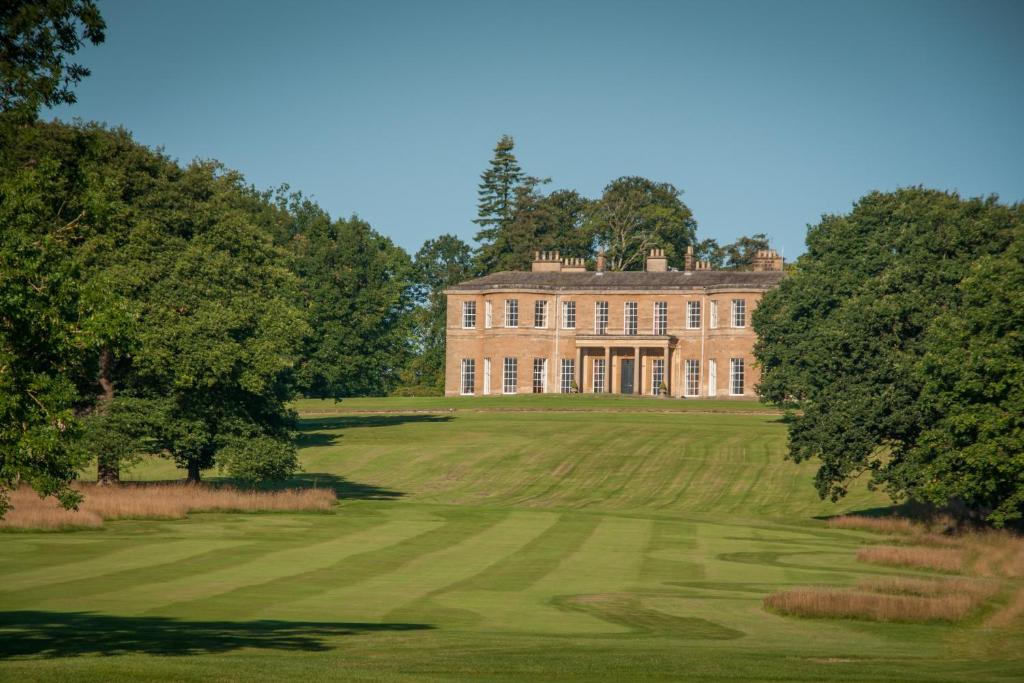 Rudding Park is an elegant hotel located less than 3 miles from Harrogate. It boasts an award-winning restaurant, a luxury spa, and an excellent 18-hole golf course set in beautiful 19th-century parkland. The Spa at Rudding Park offers guests the chance to relax in its indoor swimming pool, juniper log sauna, and bucket shower. For those looking for an extra touch of luxury, there is the option to upgrade to access the Roof Top Spa and Garden with its stunning views over the mature gardens. Additionally, the hotel features modern rooms with flat-screen TVs and sleek tiled bathrooms. Some rooms even have balconies or private terraces overlooking either the gardens or the chapel. Other facilities include a gym, a private cinema, a floodlit driving range, a 6-hole short course, and chipping and putting greens for golf enthusiasts. Guests can enjoy delicious local dishes at Clocktower Restaurant or opt for light meals and coffee at the stylish conservatory.
Pros:
– Excellent location near Harrogate
– Award-winning restaurant offering both A La Carte Menu and Tasting Menu
– Luxury spa facilities including indoor swimming pool
– Beautiful views from Roof Top Spa and Garden
– Wide range of recreational activities such as golfing
North Yorkshire Hotels with Pool Information
| | |
| --- | --- |
| 🛎️ Hotels with a Pool in North Yorkshire | 9 |
| 💰 Hotel prices starting from | $110 |
| 💵 Highest price | $857 |
| 🥇 Average Review Score | 8.3/10 |
| 🛏️ Average number of Rooms | 76 |
FAQ
Can you recommend any luxury hotels with pools in North Yorkshire?
Yes, there are several luxury hotels in North Yorkshire that offer pool facilities. One highly recommended option is The Grand Hotel in York, which features an exquisite indoor pool surrounded by elegant lounging areas. Another great choice is Swinton Park Hotel, located near Masham, which boasts a stunning outdoor heated pool set amidst beautiful landscaped gardens. These hotels provide the perfect retreat for travelers looking to enjoy a relaxing swim while indulging in upscale accommodations.
Are there any budget-friendly hotels with pools in North Yorkshire?
Absolutely! If you're on a tighter budget but still want to have access to a pool during your stay in North Yorkshire, there are some affordable options available. The Feversham Arms Hotel & Verbena Spa is one such hotel that offers both comfort and a lovely heated outdoor pool at reasonable rates. Additionally, the Crown Spa Hotel in Scarborough provides guests with an indoor swimming pool along with various other amenities at affordable prices.
Do all hotels in North Yorkshire have swimming pools?
Not all hotels in North Yorkshire have swimming pools. While many luxurious and upscale establishments do feature pools as part of their facilities, smaller or more budget-friendly accommodations might not offer this amenity. It's always best to check the hotel's website or contact them directly to confirm whether they provide a swimming pool before making your reservation.
Can I use the hotel's pool even if I'm not staying overnight?
In some cases, it might be possible for non-guests to use the hotel's pool facilities for a fee or through purchasing day passes. However, this varies from hotel to hotel and depends on their policies and availability. It's advisable to contact the specific hotel you're interested in visiting to inquire about their day pass options or if they allow external guests access to their pool area.
Are the swimming pools open year-round at these hotels?
The availability and accessibility of hotel pools in North Yorkshire can differ depending on the establishment. While many hotels keep their pools open year-round, some may have seasonal closures or limited hours during certain months. It's essential to check with the hotel directly or consult their website for specific details regarding pool access throughout the year.
Popular Hotels with Pool destinations