Best 11 Hotels with Pools in Palma de Mallorca
Welcome to Palma de Mallorca, the ultimate paradise for travelers seeking a touch of luxury and relaxation. Nestled on the stunning Mediterranean coast, this enchanting Spanish city boasts an array of exquisite hotels with magnificent swimming facilities. Whether you are an aqua enthusiast or simply crave a refreshing dip after a day of exploring the city's vibrant streets, Palma de Mallorca offers a plethora of enticing options.
Immerse yourself in pure bliss as you indulge in the luxurious amenities and breathtaking views at these opulent accommodations. From dazzling rooftop pools that overlook the glittering turquoise sea to tranquil oasis-like settings surrounded by lush gardens, there is something for every discerning traveler's taste. Imagine starting your day with invigorating laps in crystal-clear waters or basking under the warm Mediterranean sun on plush loungers beside palm-fringed pool decks.
Escape to Palma de Mallorca and dive into a world where lavishness meets tranquility. Discover our handpicked selection of hotels boasting captivating swimming pools that will leave you feeling rejuvenated and pampered throughout your stay in this Spanish gem. Soothe your senses, embrace serenity, and create unforgettable memories while unwinding in style amidst Palma de Mallorca's most remarkable aquatic havens
The Best Palma de Mallorca Hotels with a Pool
Hotel Basilica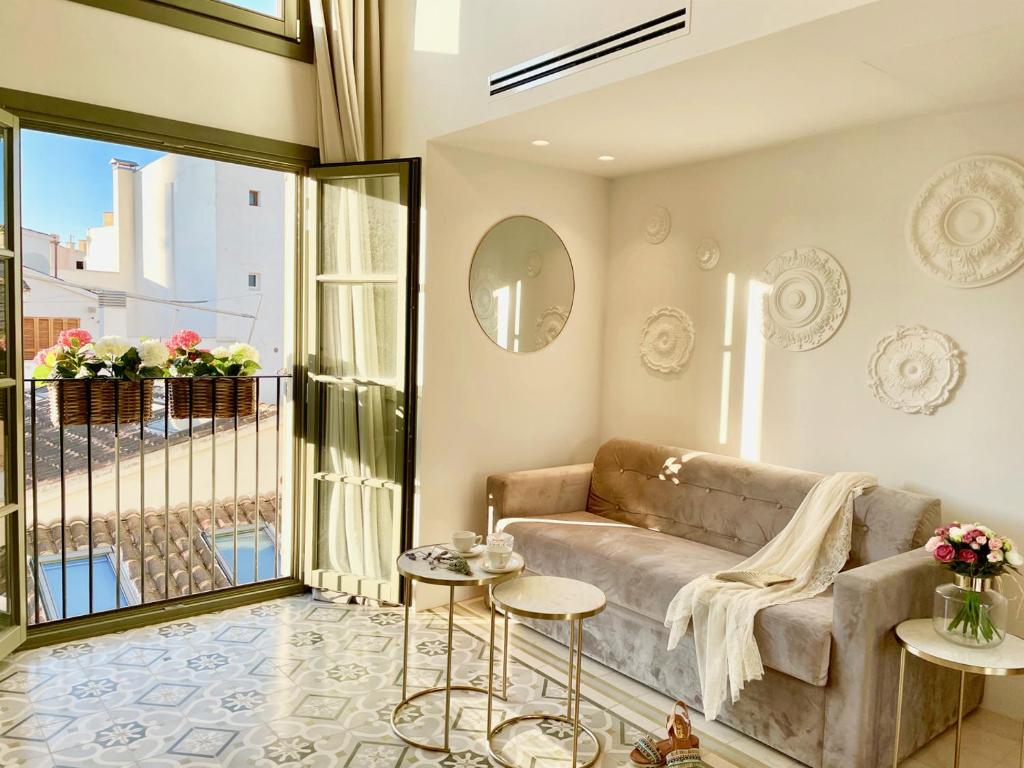 Located conveniently in Palma de Mallorca, Hotel Basilica is a 4-star hotel that offers air-conditioned rooms, a seasonal outdoor swimming pool, free WiFi, and a bar. The hotel has a 24-hour front desk and a tour desk for guests' convenience. Private parking is available upon reservation. The rooms at Hotel Basilica are well-appointed with amenities such as a wardrobe, desk, flat-screen TV, and private bathroom. Guests can enjoy a continental or buffet breakfast during their stay. The hotel also features a sun terrace where guests can relax and soak up the sun. With Es Molinar Beach just 1.9 km away and Palma Yacht Club only 2.6 km away, there are plenty of nearby attractions to explore. For those arriving by plane, the nearest airport is Palma de Mallorca located 9 km from the hotel and the property offers a paid airport shuttle service.
– Convenient location in Palma de Mallorca
– Seasonal outdoor swimming pool
– Free WiFi throughout the property
– Sun terrace for relaxation
– Airport shuttle service available
Sant Francesc Hotel Singular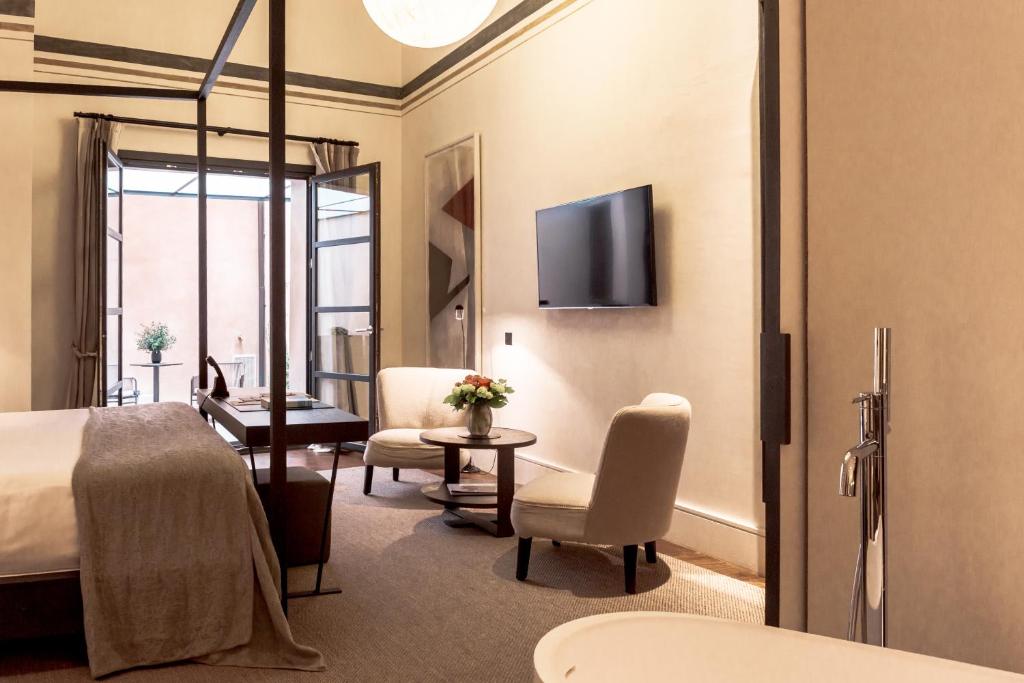 The 5-star Sant Francesc Hotel Singular is a stunning boutique hotel located in a beautifully restored 19th-century manor house, situated in the charming Plaza de Sant Francesc. With its prime location in the heart of Palma de Mallorca's old town, guests are just steps away from major attractions such as Palma Cathedral and Palma Port. The hotel boasts tastefully designed rooms and suites, each thoughtfully furnished with wood-beamed ceilings, covered verandas, or even original frescoes and moldings. Indulge your taste buds at Restaurant Quadrat, enjoy a drink at the lobby bar or patio, or take in breathtaking views of Plaza Sant Francesc from the Singular Rooftop Terrace which features a 30 m² pool. Guests can also take advantage of amenities including free WiFi access, air conditioning, Nespresso coffee makers, minibars, flat-screen TVs with satellite television channels. In addition to these luxuries, the hotel offers a gym facility and beauty treatments for ultimate relaxation.
– Prime location in close proximity to major attractions
– Tastefully designed rooms with unique features
– Spectacular rooftop terrace with pool and stunning views
– Elegant restaurant serving delicious cuisine
– Additional amenities including gym and beauty treatments
Hotel Feliz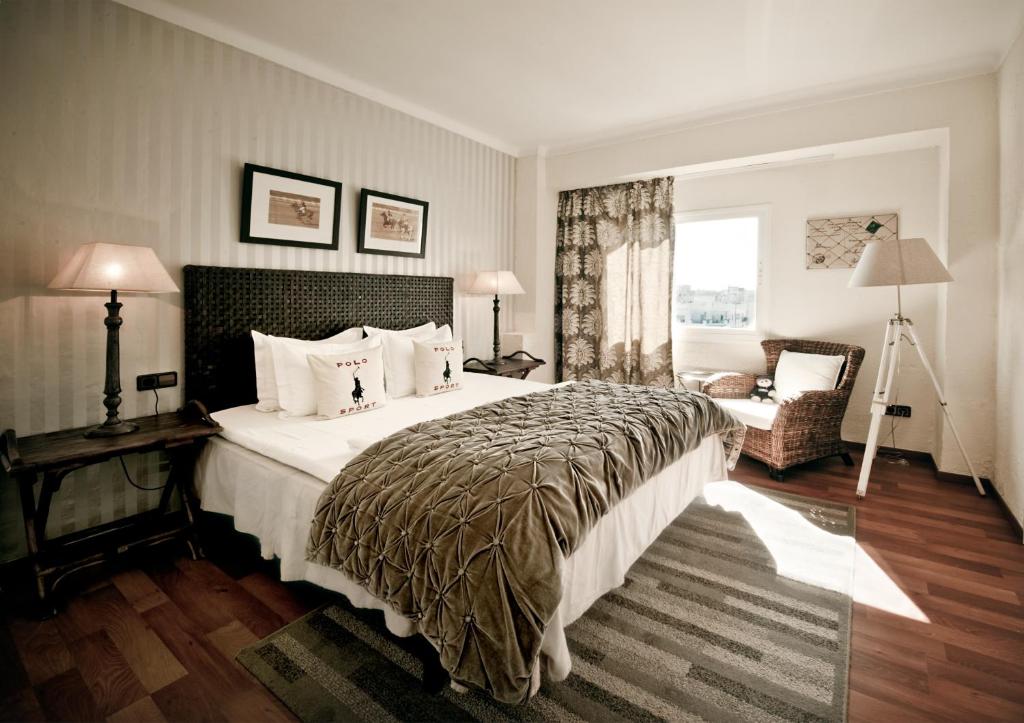 Hotel Feliz is a centrally located hotel in Palma that offers guests stunning panoramic views of Palma Bay from its rooftop terrace. The hotel boasts stylish rooms with modern amenities such as air conditioning, flat-screen satellite TVs, and free WiFi. Guests can enjoy delicious meals at the small restaurant and relax in the terrace area, cocktail bar, or lounge. For relaxation, there is also a hot tub available for use. The hotel's prime location allows guests to easily explore Palma's vibrant port and beautiful Cala Mayor Beach which is just 2 km away. Nature lovers will appreciate the proximity to Bosc de Bellver Forest which is only 300 meters away. Additionally, Palma Airport is conveniently located just a 15-minute drive away with bus connections leaving from a stop that is only 200 meters from Hotel Feliz.
– Stunning panoramic views of Palma Bay
– Stylish rooms with modern amenities
– Delicious dining options at the small restaurant
– Relaxing terrace area and cocktail bar/lounge
– Convenient location near port, beach, forest, and airport
Other places to stay in Palma de Mallorca
Hotels with Pools in Palma de Mallorca with Nice Views
Hotels with pools in Palma de Mallorca offer guests a refreshing oasis to cool off and relax while enjoying stunning views of the city or the Mediterranean Sea. Whether lounging by the poolside or taking a dip in the crystal-clear waters, these hotels provide an idyllic setting for an unforgettable vacation experience.
Nakar Hotel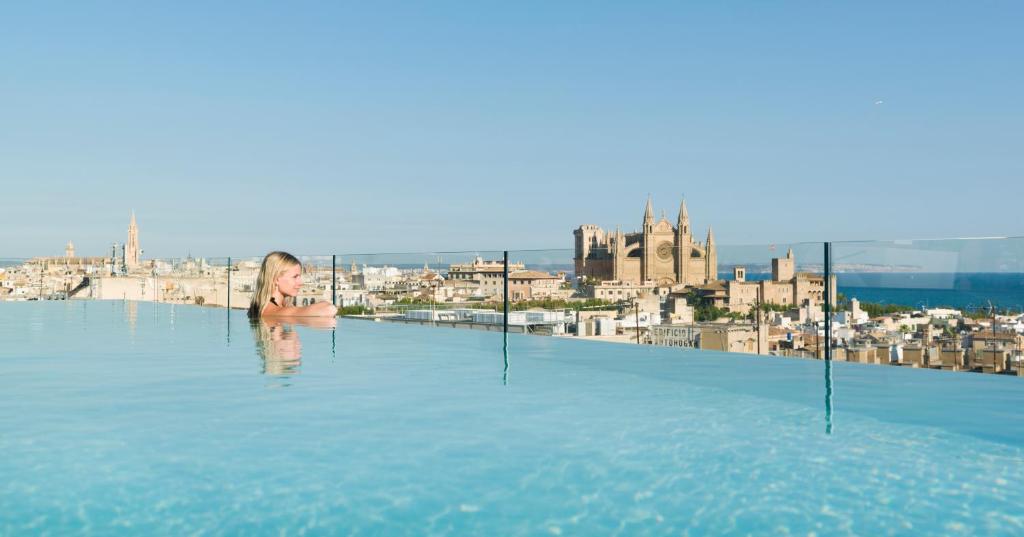 Located in the heart of Palma de Mallorca, just 300 meters from Palma Port, Nakar Hotel offers a luxurious and modern stay. The hotel features air-conditioned rooms with free WiFi throughout the property and an outdoor pool with stunning views of the city. Guests can indulge in delicious meals at the on-site restaurant or enjoy a drink at the bar. The deluxe rooms come equipped with a spa bath or hot tub for ultimate relaxation. Situated on Jaime III Avenue, known for its shopping opportunities, Nakar Hotel is conveniently located near public parking (for an additional fee) and is only 10 km away from Palma de Mallorca Airport. Each room includes a flat-screen TV with satellite channels, a private bathroom, and a balcony or patio in select rooms. Bathrobes, slippers, and free toiletries are also provided for added comfort. Take advantage of the hotel's charming terrace offering breathtaking views of both the city and sea. Additional amenities include a 24-hour front desk, bike hire services, and proximity to popular attractions such as Palma Yacht Club (600m away) and Cala Major Beach (3.8km away).
Sant Jaume Design Hotel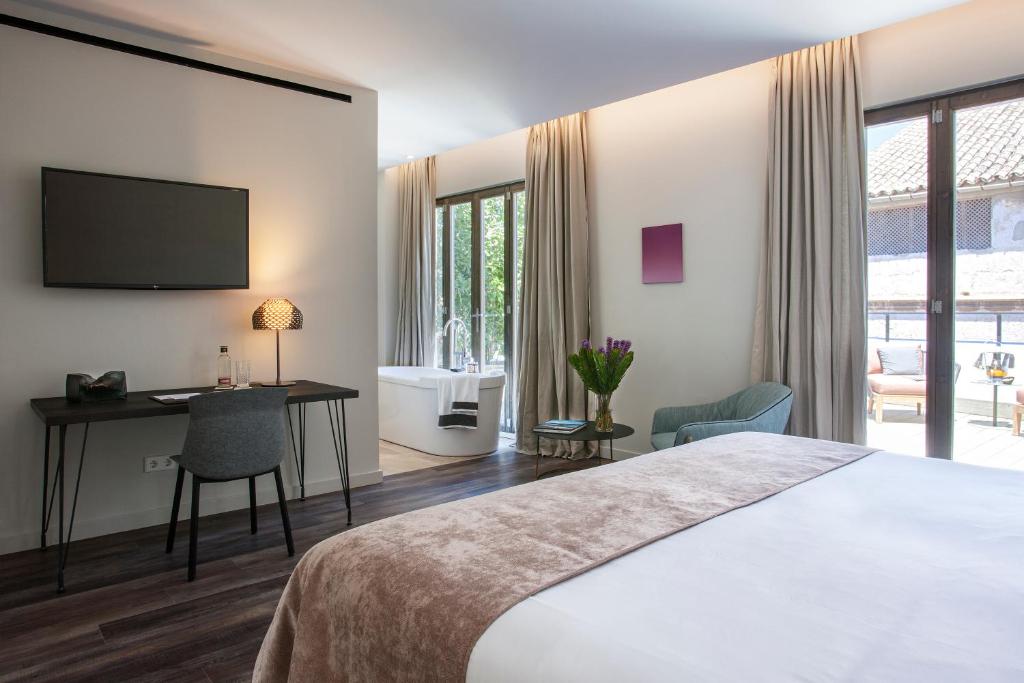 Located in the heart of Palma de Mallorca, just 200 meters from Palma Port, Sant Jaume Design Hotel offers a luxurious and stylish stay. The hotel boasts a free spa center with an indoor pool and sauna, perfect for relaxation. On the rooftop terrace, guests can also enjoy an outdoor plunge pool with stunning views of the city. The hotel's restaurant serves delicious Mediterranean cuisine and tapas, ensuring a delightful culinary experience. Each room is beautifully designed, air-conditioned, and equipped with modern amenities including a flat-screen TV. The private bathrooms are complete with bathrobes, slippers, free toiletries, a hairdryer with diffuser, and even a hair straightener for added convenience. With its excellent facilities including a fitness center and friendly 24-hour front desk service, Sant Jaume Design Hotel ensures guests have everything they need for an unforgettable stay. Moreover, the hotel's prime location allows easy access to attractions like Cala Major Beach which is only 4.3 km away while Palma de Mallorca Airport is just 8 km from the property.
– Free spa center featuring an indoor pool and sauna
– Rooftop terrace with an outdoor plunge pool
– Delicious Mediterranean cuisine served at the hotel's restaurant
– Well-designed rooms equipped with modern amenities including flat-screen TVs
– Convenient location near popular attractions like Cala Major Beach
Sheraton Mallorca Arabella Golf Hotel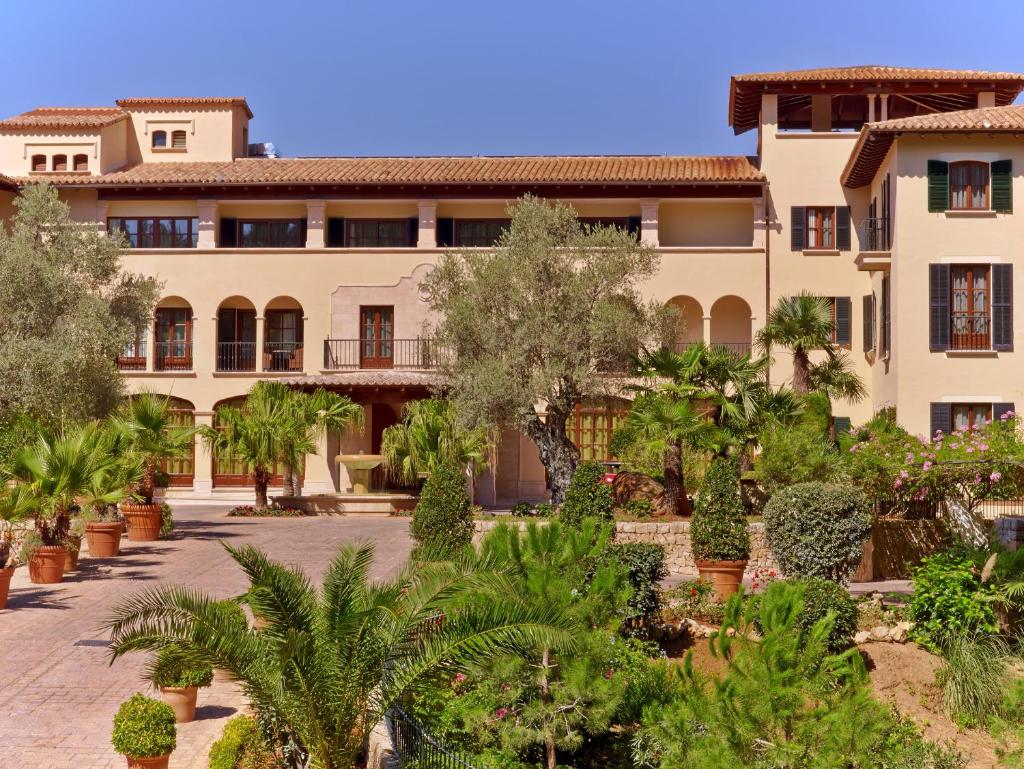 Located in the picturesque Son Vida Golf Club, just outside Palma de Mallorca, Sheraton Mallorca Arabella Golf Hotel is a luxurious destination for golf enthusiasts and relaxation seekers alike. The hotel offers a complimentary shuttle service to four golf courses, allowing guests to enjoy their favorite sport with ease. With its indoor and outdoor pools, including a family pool with slides (seasonal) and a kids' pool, as well as an indoor swimming pool at Shine Spa, there are plenty of opportunities to take a refreshing dip or simply lounge by the water. The poolside restaurant, La Bodega del Green, serves delicious Spanish tapas for those looking to indulge in local cuisine. In addition to the exceptional golfing facilities and pools, the hotel features other amenities such as fitness center, tennis courts, beach volleyball court, cycling-friendly facilities with bike storage and repair tools. For ultimate relaxation, guests can pamper themselves at the Shine Spa while children have fun at the seasonal kids club. With spacious rooms featuring large French windows and satellite TV along with private bathrooms complete with bathrobes and hairdryers; Sheraton Arabella ensures a comfortable stay for all guests. The hotel's prime location also allows easy access to Palma de Mallorca which is only 7 km away and the airport which can be reached within 20 minutes.
Pros:
– Free shuttle service to four golf courses
– Multiple swimming pools including family pool with slides
– Poolside restaurant serving Spanish tapas
– Fitness center and sports facilities such as tennis courts
– Convenient location near Palma de Mallorca and airport
Romantic Hotels with a Pool in Palma de Mallorca
Palma de Mallorca offers a variety of romantic hotels with pools, allowing couples to relax and unwind in a serene atmosphere. Whether it's an infinity pool overlooking the sea or a private pool in a secluded garden, these hotels provide the perfect setting for romantic getaways in this enchanting Mediterranean city.
La Residencia
Located in the picturesque artist village of Deià, Mallorca, La Residencia is a stunning boutique hotel with a rich history dating back to the 16th century. The hotel offers a luxurious experience with its two outdoor pools, award-winning restaurant, and a rejuvenating spa. Each room is uniquely designed with traditional Mallorcan decor and antique furnishings. Guests can explore the permanent art exhibition and sculpture garden within the hotel grounds. With breathtaking sea and mountain views, guests can relax in the hot tub or enjoy a game on one of the two tennis courts. Complimentary boat excursions are available during the summer months. Free WiFi is accessible throughout the property, and guests are greeted with fresh flowers and fruit in their rooms daily. Classical music concerts take place regularly at La Residencia, which also houses a Steinway Piano for guests to enjoy. For a unique experience, guests can partake in donkey trails through the olive groves with the hotel's resident donkeys or take painting and sculpting lessons from artists who own this charming property upon request. Casual dining options include Café Miró which serves tapas and local cuisine, as well as a poolside restaurant and snack bar for convenience. Free private parking is available for those who choose to explore Mallorca by car.
– Boutique luxury hotel in an artist village
– Two beautiful outdoor pools
– Award-winning à la carte restaurant
– Spa facilities including sauna and wellness center
– Unique experiences such as donkey trails through olive groves
Castillo Hotel Son Vida, a Luxury Collection Hotel, Mallorca – Adults Only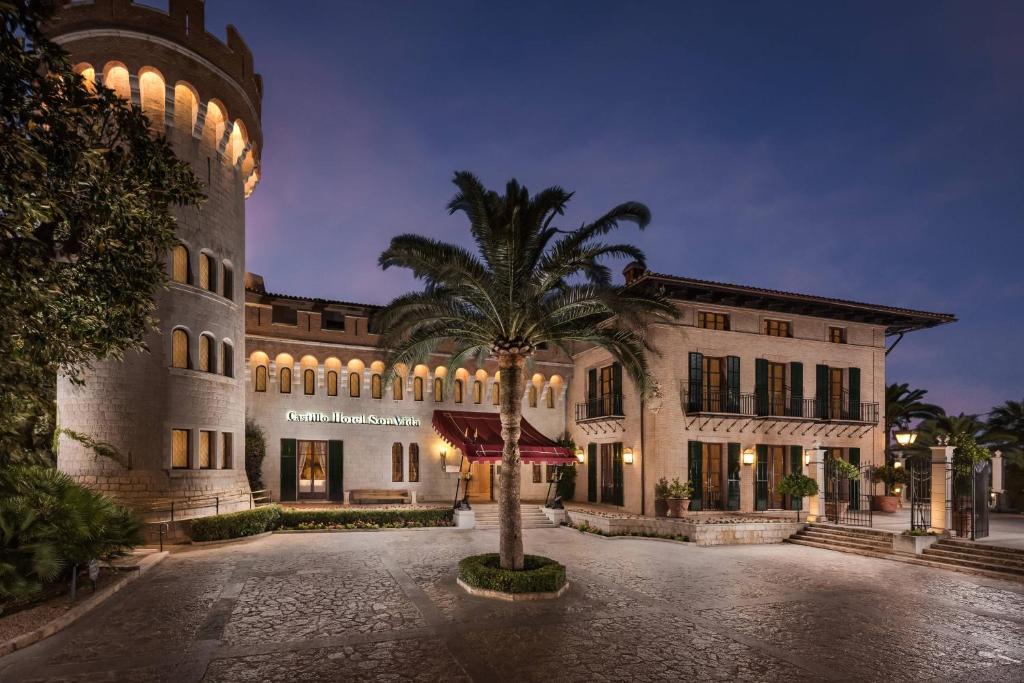 Nestled within the exclusive neighborhood of Son Vida, Castillo Hotel Son Vida, a Luxury Collection Hotel, Mallorca – Adults Only transports guests to a world of luxury and elegance. Housed in a 13th-century castle, this hotel offers breathtaking views of Palma Bay. With its renovated free spa complete with steam room, bio sauna, steam bath, and four treatment rooms, guests can indulge in ultimate relaxation. The hotel boasts three swimming pools including an indoor pool for year-round enjoyment. The elegant rooms are equipped with modern amenities such as flat-screen TVs and offer either garden or panoramic bay views. Dining options abound with two restaurants, bars, and lounges serving exquisite cuisine. Guests can also enjoy 24-hour room service for added convenience. Surrounded by four state-of-the-art golf courses including the renowned Son Vida Golf Club, golf enthusiasts will be in heaven. Complimentary shuttle services are available to nearby hotel restaurants as well as the sandy beach of Illetes just a short drive away. For those seeking entertainment beyond the hotel grounds, Palma city center is minutes away offering an array of leisure activities and attractions. With its stunning location and luxurious facilities, Castillo Hotel Son Vida is the ideal venue for group events or simply indulging in sheer opulence.
– Stunning views of Palma Bay
– Renovated spa with steam room and bio sauna
– Multiple swimming pools including an indoor pool
– Elegant rooms with modern amenities
– Surrounded by state-of-the-art golf courses
Hotel Can Alomar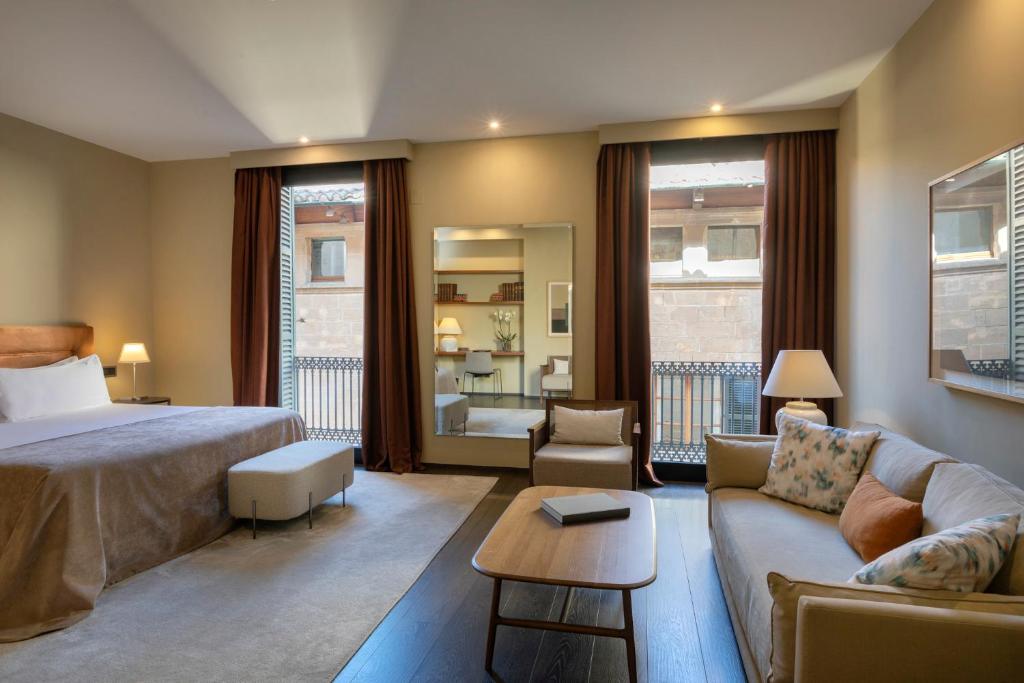 Hotel Can Alomar is a luxurious establishment located on the picturesque Paseo del Borne Boulevard in the heart of Palma. With its own plunge pool and free WiFi, this hotel offers guests a truly indulgent experience. The trendy on-site restaurant, De Tokio a Lima, serves up an exciting fusion of Japanese, Peruvian, and Mediterranean flavors. The spacious rooms are fitted with all modern amenities including satellite TV, king-size beds, and a seating area for ultimate comfort. The bathrooms are equally impressive with their stylish design and complimentary bathrobe and slippers. Guests can unwind in the relaxation area located on the sun terrace which features a plunge pool with a hot tub. For those seeking ultimate relaxation, massages and private yoga or Pilates classes are available at an additional cost. Additionally, guests can enjoy breathtaking views of the cathedral and bay from the hotel's viewing tower while indulging in rejuvenating treatments. With its convenient location just minutes away from Mallorca Cathedral and Almudaina Palace as well as being within walking distance to notable restaurants and shops along the boulevard, Hotel Can Alomar truly embodies luxury living in Palma.
Pros:
– Plunge pool for ultimate relaxation
– Trendy restaurant serving fusion cuisine
– Spectacular views from the viewing tower
– Conveniently located near popular attractions
– Relaxation area offering massages and private yoga/pilates classes
Hotels with Pools in Palma de Mallorca That Are Good for Families
Palma de Mallorca offers a great selection of hotels with pools that are perfect for families. These accommodations provide a refreshing escape from the city's heat and offer a fun and safe environment for children to enjoy their vacation.
Hotel Can Moragues Health & Wellness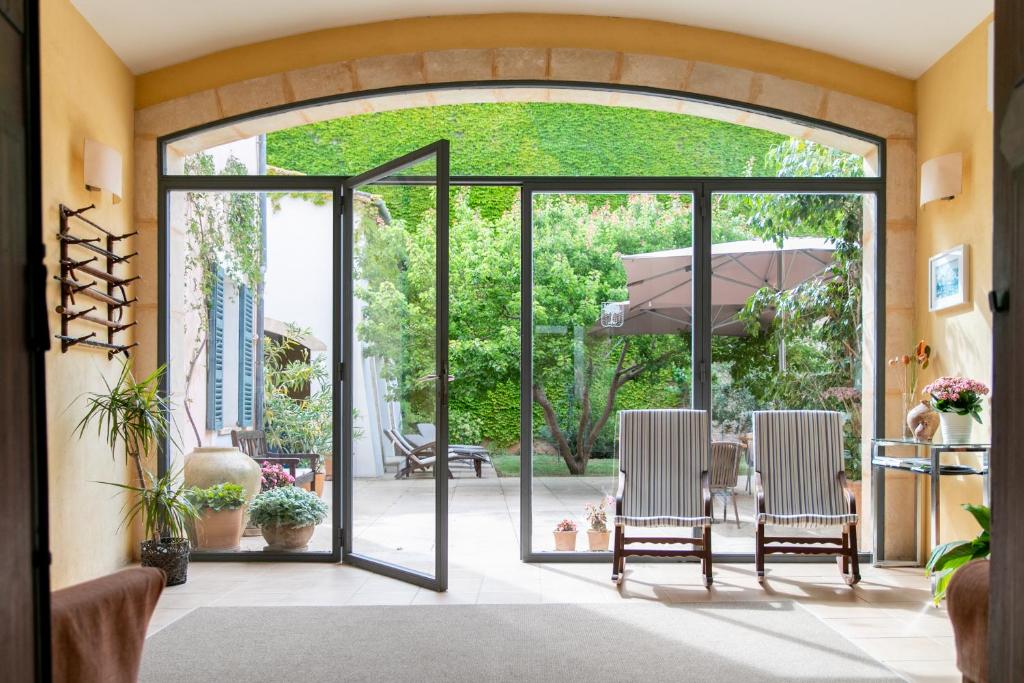 Hotel Can Moragues Health & Wellness is a boutique hotel situated in the beautiful countryside of Majorca. Originally built as a manor house in the 18th century, this charming hotel seamlessly combines historic charm with modern comforts. The individually decorated guest rooms feature a blend of original features, such as bare stone walls, and contemporary design elements. Guests can take a leisurely stroll along the hotel's charming patio adorned with orange trees to experience an authentic taste of Mediterranean life. Artá, a well-preserved traditional Majorcan village, is just waiting to be explored in the ancient surrounding streets. For relaxation, guests can unwind on the sun terrace under the warm sunshine before taking a refreshing dip in the covered swimming pool. Those seeking further tranquility can indulge in some quiet reading time in the peaceful reading room. The hotel also offers guided tours for guests who want to explore their surroundings or venture out into the local countryside on bike or horseback rides. Additionally, easy access is provided to various golf courses and stunning Mediterranean beaches nearby.
– Peaceful and serene atmosphere
– Beautifully restored historic building
– Authentic Mediterranean experience
– Convenient location for exploring local attractions
– Accessible to golf courses and pristine beaches
Nixe Palace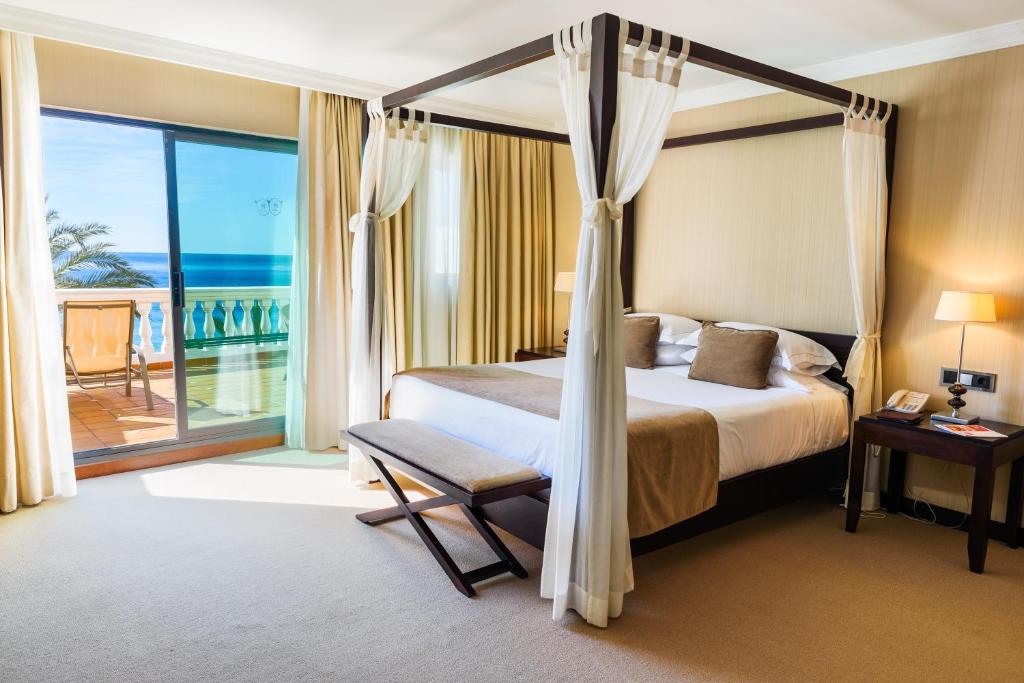 Located next to Cala Major Beach and the Marivent Palace, the luxury Nixe Palace hotel offers a perfect retreat for those seeking a beachfront getaway. The hotel boasts an outdoor pool, a free spa with a thermal circuit, Turkish steam bath, ice fountain, heated loungers, and stunning sea views. The modern rooms feature amenities such as satellite TV, free WiFi access, and spacious bathrooms with toiletries, bathrobes, and slippers. Golf enthusiasts will appreciate the hotel's specialized golf department which offers trips to nearby courses and discounted green fees at Son Vida and Son Muntaner. Indulge in exquisite Mediterranean cuisine or fresh seafood at one of the three on-site restaurants or enjoy a refreshing drink at the poolside bar while taking in the beautiful surroundings. Guests can also take advantage of the gym facilities and indulge in relaxing massage treatments (surcharge applies).
Pros:
– Ideal location next to Cala Major Beach and Marivent Palace
– Free spa facilities including thermal circuit with sea views
– Modern rooms with satellite TV and free WiFi access
– Specialized golf department offering trips to nearby courses with discounted green fees
– Three on-site restaurants serving Mediterranean cuisine and fresh seafood
Palma de Mallorca Hotels with Pool Information
| | |
| --- | --- |
| 🛎️ Hotels with a Pool in Palma de Mallorca | 11 |
| 💰 Hotel prices starting from | $220 |
| 💵 Highest price | $966 |
| 🥇 Average Review Score | 9/10 |
| 🛏️ Average number of Rooms | 60 |
FAQ
Can I find hotels with pools in Palma de Mallorca?
Yes, Palma de Mallorca offers a wide range of hotels with pools to cater to different tastes and preferences. From luxurious five-star resorts to boutique hotels and budget-friendly options, you'll have no trouble finding accommodation with a pool in this vibrant city.
Do all hotels in Palma de Mallorca have pools?
Not all hotels in Palma de Mallorca have pools. While many establishments do offer this amenity, especially those categorized as four- or five-star properties, some smaller hotels or guesthouses may not have pool facilities. It's always recommended to check the hotel's amenities before making a reservation if having a pool is an essential requirement for your stay.
What types of pools can I expect at the hotels in Palma de Mallorca?
Hotels in Palma de Mallorca feature various types of swimming pools for guests' enjoyment. You can often find outdoor pools that are perfect for soaking up the Mediterranean sun while taking refreshing dips. Some upscale properties may also offer heated indoor pools, allowing guests to swim year-round regardless of the weather.
Are there any rooftop pool options available at hotels in Palma de Mallorca?
Absolutely! Many luxury and boutique hotels in Palma de Mallorca boast stunning rooftop pool areas where you can relax while enjoying panoramic views of the city and its surroundings. These rooftop pools often come with comfortable loungers, stylish bars, and sometimes even exclusive access for hotel guests only.
Do I need to pay extra fees to use the pool facilities at my hotel in Palma de Mallorca?
In most cases, access to the swimming pool is included within your room rate when staying at a hotel offering this facility. However, it's important to double-check with your chosen hotel as policies may vary depending on the property. Some high-end resorts might charge additional fees or require certain room categories for pool access, so it's always a good idea to clarify these details beforehand.
Popular Hotels with Pools destinations