Best 6 Hotels with Pools in Galway
Welcome to the enchanting city of Galway, Ireland – a destination that seamlessly blends rich history, vibrant culture, and breathtaking natural beauty. As we dive into our exploration of this captivating city, let us take a moment to immerse ourselves in the serene and refreshing world of hotels with pools in Galway.
Galway is renowned for its charming landscapes and lively atmosphere, making it an ideal setting for luxury accommodations. What better way to indulge in the tranquility of this mesmerizing destination than by booking a stay at one of Galway's opulent hotels boasting magnificent swimming areas? Take a dip in the crystalline waters as you bask under the warm Irish sun or unwind with a leisurely swim after a day spent exploring the bustling streets adorned with medieval architecture.
From boutique hotels nestled amidst lush greenery to lavish resorts overlooking majestic coastlines, Galway offers an array of exquisite options for poolside relaxation. Whether you seek an oasis within the heart of the city or desire to wake up to panoramic views from your private suite's terrace pool, Galway has no shortage of extraordinary experiences awaiting your arrival. So dive into our travel guide as we delve deeper into these luxurious havens where you can truly make a splash during your unforgettable visit to Galway!
The Best Galway Hotels with a Pool
Salthill Hotel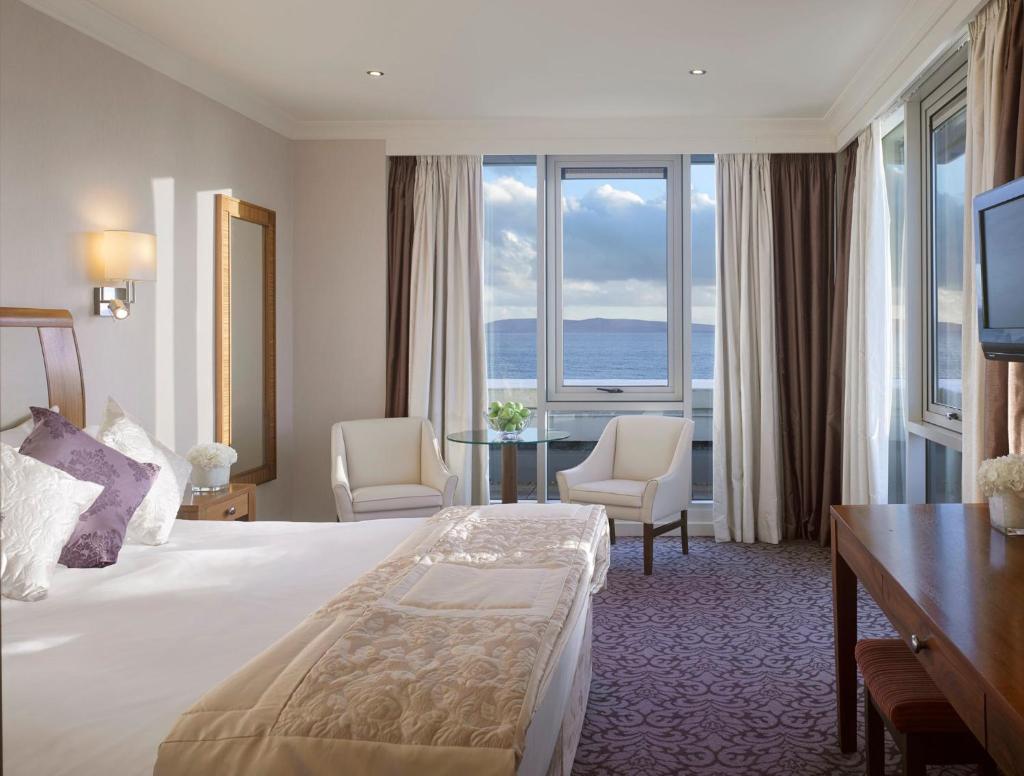 Located on the beautiful Salthill Promenade, overlooking Galway Bay and the Clare Hills, Salthill Hotel is an elegant hotel with stunning views. The hotel boasts a 25-meter indoor swimming pool, a whirlpool, and a spacious gym. Guests can also enjoy free access to The Ocean Fitness Centre, which features an 18-meter hydro pool, sauna, steam room, and more. The rooms at Salthill Hotel are equipped with modern amenities including flat-screen TVs with cable channels and free WiFi. Some rooms offer breathtaking sea views. The hotel's Amber Room and Prom Restaurants serve delicious dishes made from locally sourced ingredients while the Blackrock Cafe and Bar offers an extensive selection of drinks. There is also outdoor seating available for guests to enjoy the ocean views. With free parking and its convenient location near Galway city center, Salthill Hotel is the perfect base for exploring this beautiful area.
– Stunning views of Galway Bay
– Indoor swimming pool
– Spacious gym facility
– Delicious dining options using locally sourced produce
– Convenient location near Galway city center
Clybaun Hotel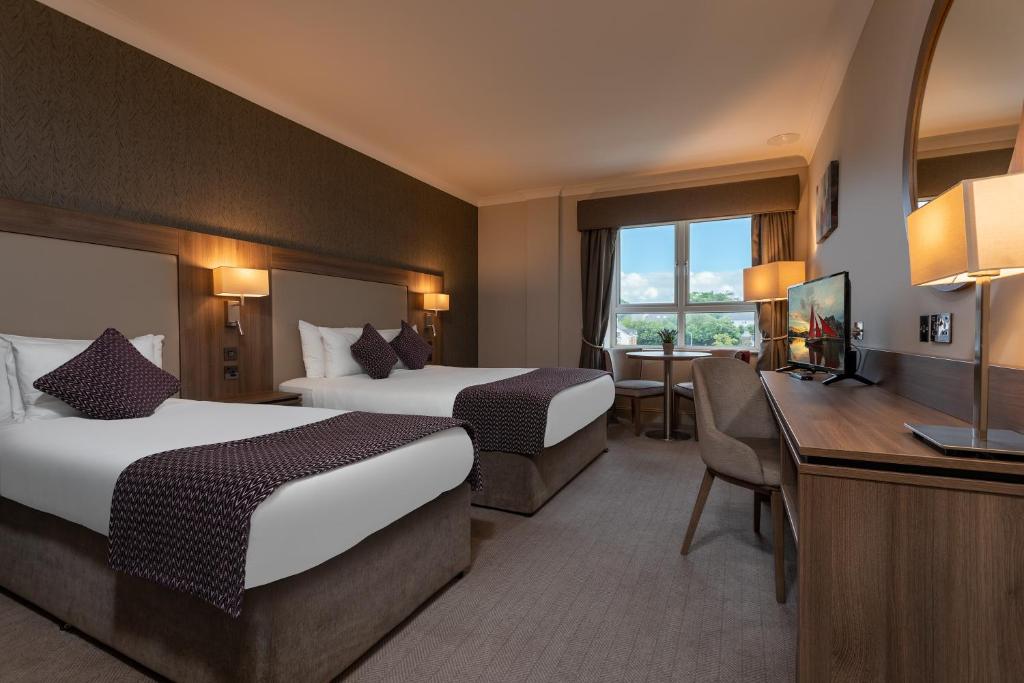 The Clybaun Hotel is a four-star hotel ideally located between the vibrant city of Galway and the tranquil seaside resort of Salthill. With easy access to Connemara, the Aran Islands, and the best of the west of Ireland, it offers a perfect base for exploring the region. The hotel boasts an impressive leisure center with fantastic facilities including an indoor heated swimming pool, a spacious gym with audio visual entertainment, a steam room, a sauna, a whirlpool, and an outdoor Canadian hot tub. The hotel itself is bright and spacious with plenty of comfortable seating areas both indoors and outdoors. Guests can enjoy a leisurely drink in O'Gorman's Bar & Bistro or relax in the decked garden area. Activities for both adults and children are available on-site along with a beauty clinic offering various treatments. Dining options include all-day dining at O'Gorman's Bar & Bistro with menus for lunch and evening bar food, as well as breakfast and dinner served in the Maritime Restaurant where guests can choose from set or à la carte menus. Free WiFi is provided throughout all dining and drinking areas, making it easy to stay connected while enjoying your meals or drinks. Additionally, there is ample free on-site parking available for guests' convenience. The hotel's proximity to a shopping center featuring popular brands such as New Look and Next provides an added convenience for guests looking to indulge in some retail therapy during their stay. For those who enjoy sports activities, there is also a nearby sports facility where one can practice various disciplines. Finally, being in Galway means that visitors have access to numerous festivals and events throughout the year, most notably during June through September when celebrated events like the Galway Arts Festival, Races, and Oyster festival take place.
Pros:
– Indoor heated swimming pool
– Convenient location between Galway city and Salthill
– Accessible to Connemara and Aran Islands
– Impressive leisure center with a variety of facilities
– Plenty of indoor and outdoor seating areas for relaxation.
Galway Bay Hotel Conference & Leisure Centre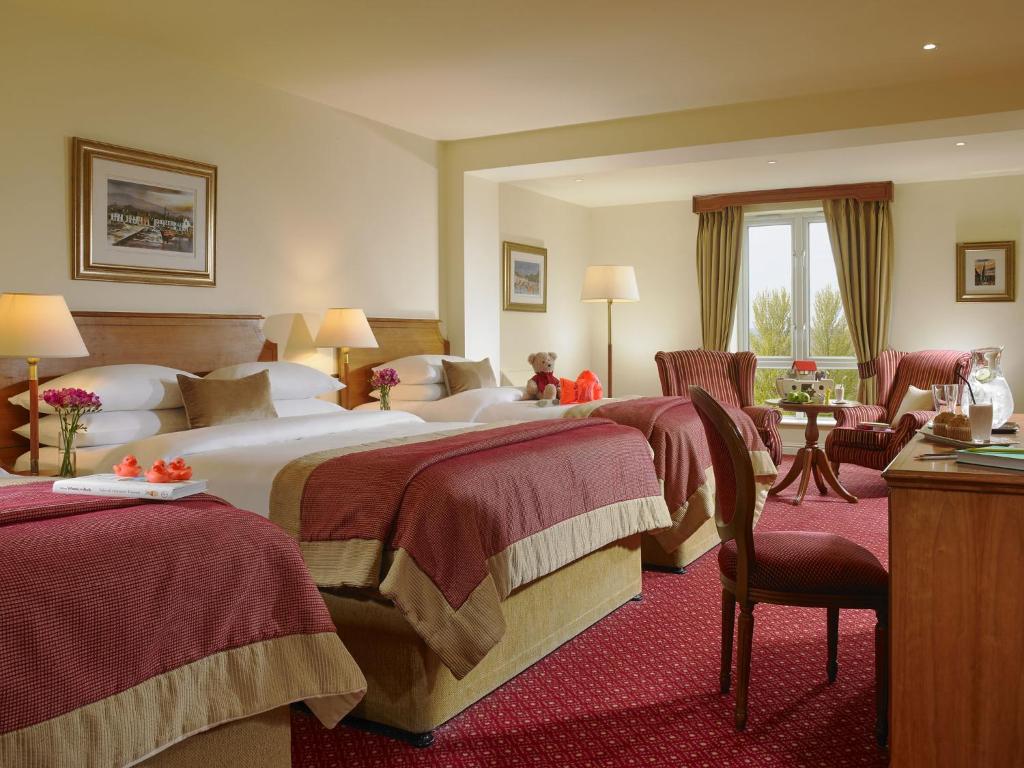 The Galway Bay Hotel Conference & Leisure Centre is an award-winning, 4-star hotel located on Galway's Blue Flag beach with breathtaking views of Galway Bay. The hotel features a range of amenities including a swimming pool, massage fountain, and the AA Rosette Bay Brasserie. Each room is elegantly decorated and offers modern comforts such as an interactive TV, free Wi-Fi, and free newspapers upon request. Guests can also enjoy a private bathroom with a hairdryer and tea/coffee facilities. The hotel's leisure centre includes a fully equipped gym and sauna that guests can freely use. Health and beauty treatments are also available for those seeking relaxation. A delicious full Irish breakfast is served every morning at the hotel, while the AA Rosette Bay Brasserie serves exquisite modern Irish cuisine made with fresh ingredients. For carvery lunches and homemade dishes, guests can visit the Harvest Cafe. Free parking is provided to all guests, making it convenient to explore Galway's vibrant city center and cathedral just minutes away by car. Additionally, both the Galway Golf Club and Pearse Stadium are within a short 10-minute walk from the hotel.
– Stunning views over Galway Bay
– Access to swimming pool
– Well-equipped leisure center with gym and sauna
– Delicious modern Irish cuisine at AA Rosette Bay Brasserie
– Convenient location near popular attractions in Galway
Other places to stay in Galway
Hotels with Pools in Galway with Nice Views
Galway offers a range of luxury hotels with swimming pools that offer stunning views. Whether overlooking the rugged coastline or tranquil countryside, these hotels provide an idyllic setting for guests to relax and unwind while enjoying their swim.
Radisson BLU Hotel and Spa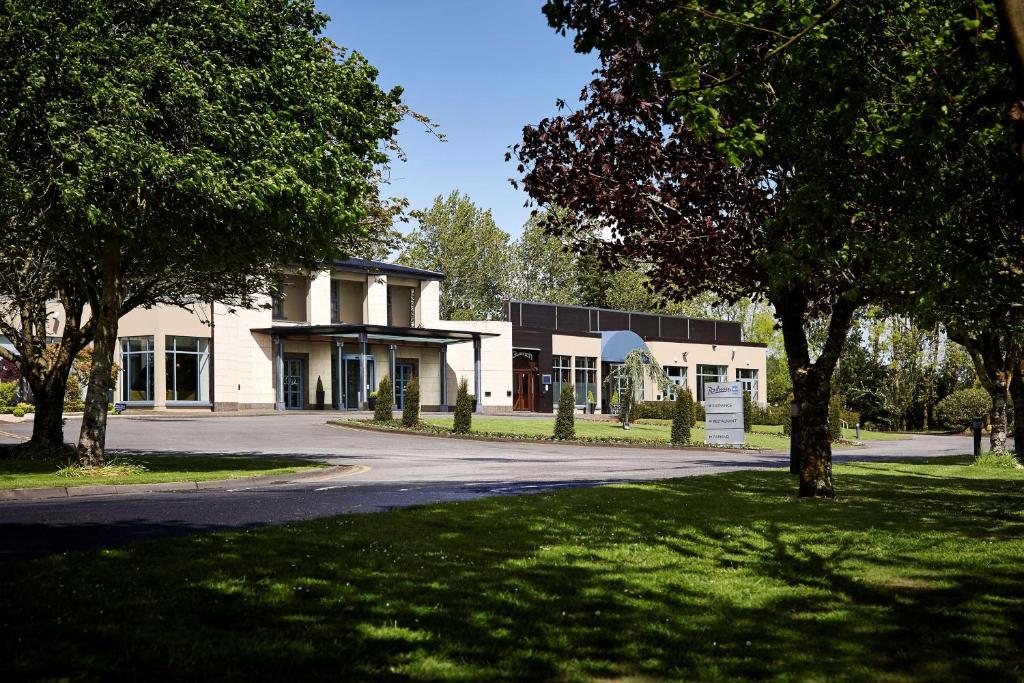 Located in 20 acres of beautifully landscaped gardens, the Radisson Blu Hotel and Spa offers a luxurious stay with top-notch amenities. Guests can enjoy free parking and indulge in delicious meals at the hotel's award-winning restaurant. For ultimate relaxation, there is the Rain Spa & Wellness Clinic, as well as leisure facilities and two vibrant bars. The hotel's convenient location allows guests to easily explore nearby attractions such as King John's Castle, The Hunt Museum, and Thomond Park Stadium. And for families traveling with children, there is a kids' club offering fun activities like nature trails, bush craft skills, treasure hunts, and archery. Don't miss out on visiting The Paddocks where you can interact with adorable farm animals. With Limerick City just a short 5-minute drive away and Shannon Airport only 10 minutes away by car, this Radisson Blu hotel provides both comfort and convenience.
Pros:
– Beautifully landscaped gardens
– Free parking
– Award-winning restaurant
– Luxurious Rain Spa & Wellness Clinic
– Convenient location near popular attractions
Clayton Hotel Galway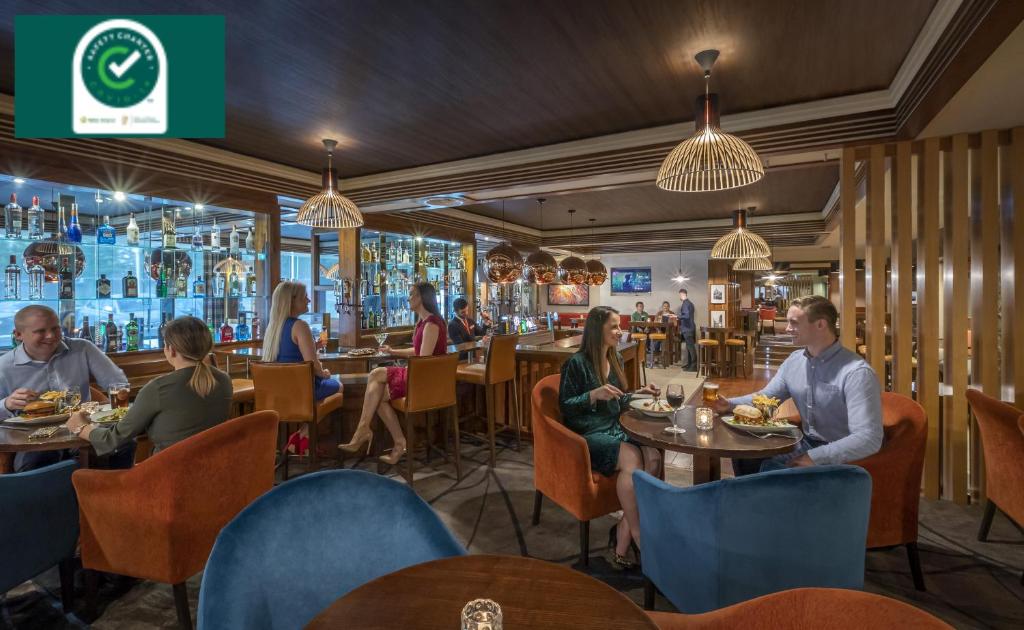 Clayton Hotel Galway is a contemporary hotel with excellent leisure facilities and convenient free parking. Located opposite Galway Racecourse, just outside the city center, the hotel is in close proximity to major business parks such as IDA Galway Business & Technology Park, Parkmore Business Park, Briarhill Business Park, and Ballybrit Business Park. The hotel's leisure center features a 20-meter swimming pool and a sauna. Each room and suite at Clayton Hotel Galway is equipped with air conditioning, a King Koil bed, and a large flat-screen TV. Guests can enjoy free WiFi throughout the hotel. In the evenings, visitors can unwind at the comfortable Enclosure Bar & Bistro which offers drinks, snacks, and a dinner menu made using fresh local produce. For those looking to experience fine Galway cuisine, Tribes Restaurant is the place to be. With friendly service of high standards and its strategic location for exploring the city's vibrant restaurant scene, pubs and shops make Clayton Hotel an ideal choice for travelers.
– Indoor pool facility
– Convenient free parking
– Contemporary design
– Air-conditioned rooms with King Koil beds
– Complimentary WiFi throughout
The Dean Galway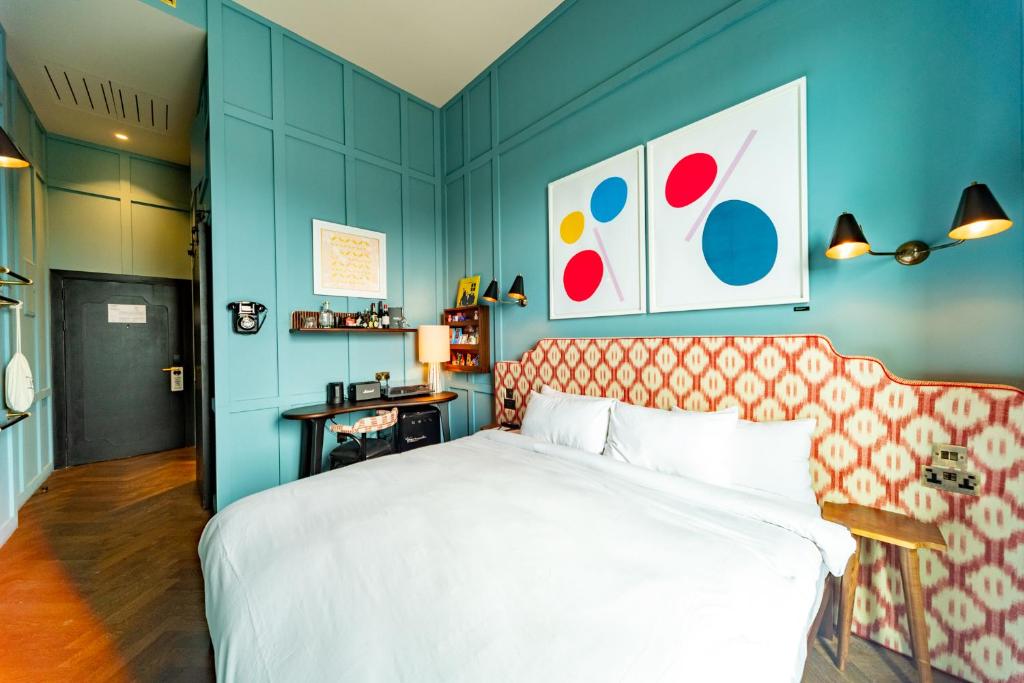 Opened in January 2022, The Dean Galway is a luxurious 4-star hotel located in Galway. With its range of amenities including free bikes, an outdoor swimming pool, a fitness center, and a terrace, this hotel ensures guests have a memorable stay. The hotel also offers room service, a 24-hour front desk, and free WiFi for added convenience. Guests can indulge in delicious American and Italian cuisine at the on-site restaurant or enjoy drinks at the bar. The well-appointed units feature air conditioning, flat-screen TVs with satellite channels, minibars, kettles, showers, free toiletries, and desks. Each room has a private bathroom with a hairdryer and bed linen. Special dietary requests such as vegetarian or gluten-free options are also available upon request. Situated near popular attractions like Eyre Square and Galway Railway Station, The Dean Galway provides easy access to explore the city's highlights. For those arriving by air, Shannon Airport is approximately 80 km away.
– Convenient location near popular points of interest
– Excellent amenities including an outdoor swimming pool
– Stylishly appointed rooms with modern comforts
– On-site restaurant serving American and Italian cuisine
– Accommodates special dietary requests
Galway Hotels with Pool Information
| | |
| --- | --- |
| 🛎️ Hotels with a Pool in Galway | 6 |
| 💰 Hotel prices starting from | $235 |
| 💵 Highest price | $1184 |
| 🥇 Average Review Score | 8/10 |
| 🛏️ Average number of Rooms | 154 |
FAQ
Can you recommend any luxury hotels with pools in Galway?
Yes, there are several luxury hotels in Galway that offer pool facilities. One highly recommended option is the G Hotel and Spa, which features a stunning indoor pool surrounded by stylish decor. Another great choice is the Glenlo Abbey Hotel, which boasts an elegant outdoor pool overlooking the beautiful surroundings of Lough Corrib. These hotels provide an indulgent experience for guests seeking relaxation and rejuvenation.
Are there any budget-friendly hotels in Galway with swimming pools?
While Galway is known for its luxury hotel offerings, there are also some budget-friendly options that come with swimming pools. The Salthill Hotel is a popular choice among budget travelers, as it offers affordable accommodation along with a large indoor pool and leisure center. Additionally, The Connacht Hotel provides a range of amenities including an indoor heated pool suitable for all ages. These options allow travelers to enjoy a refreshing swim while still being mindful of their budget.
Are the hotel pools in Galway open year-round?
Most hotel pools in Galway are indeed open year-round for guests to enjoy. Whether you visit during the summer or winter months, you can usually expect to have access to these facilities throughout your stay. However, it's always advisable to check with your chosen hotel directly as occasional maintenance or unforeseen circumstances may result in temporary closures.
Do I need to book in advance to use the hotel pools?
It's generally not required to book your access to hotel pools in advance as they are available exclusively for registered guests during their stay. However, during peak seasons or special events, it might be beneficial to contact your chosen hotel beforehand just to ensure availability and avoid any disappointment upon arrival.
What additional amenities can I expect at hotels with pools in Galway?
Hotels with swimming pools often offer various other amenities beyond just the pool itself. Many properties include spa facilities where you can indulge in massages, saunas, and steam rooms for ultimate relaxation. Additionally, fitness centers equipped with state-of-the-art equipment are commonly available for those wanting to maintain their workout routines. Some hotels might also provide poolside bars or lounges where you can sip on refreshing drinks while enjoying the sun and water.
Popular Hotels with Pool destinations