Best 9 Hotels with Pools in Venice
Welcome to the enchanting city of Venice, Italy, where timeless beauty merges with luxurious hospitality. As you embark on your journey through this floating masterpiece of a city, prepare to be captivated not only by its iconic canals and stunning architecture but also by the exquisite hotels that offer a refreshing oasis amidst the Venetian charm. In this guide, we will unveil an array of extravagant accommodations that boast resplendent aqua features, allowing you to indulge in pure relaxation while immersing yourself in the allure of this extraordinary destination.
Venice is renowned for its unparalleled elegance and romantic ambiance, and what better way to enhance your stay than by choosing a hotel with a magnificent pool? Picture yourself basking under the warm Italian sun on a secluded terrace overlooking the Grand Canal or drifting lazily in crystalline waters amidst lush gardens. Whether you seek opulent rooftop sanctuaries or hidden lagoon-side retreats, our handpicked selection will cater to your discerning tastes and elevate your experience in this captivating city. A perfect blend of old-world charm and modern luxury awaits as we dive into the realm of hotels with pools in Venice.
The Best Venice Hotels with a Pool
Hilton Molino Stucky Venice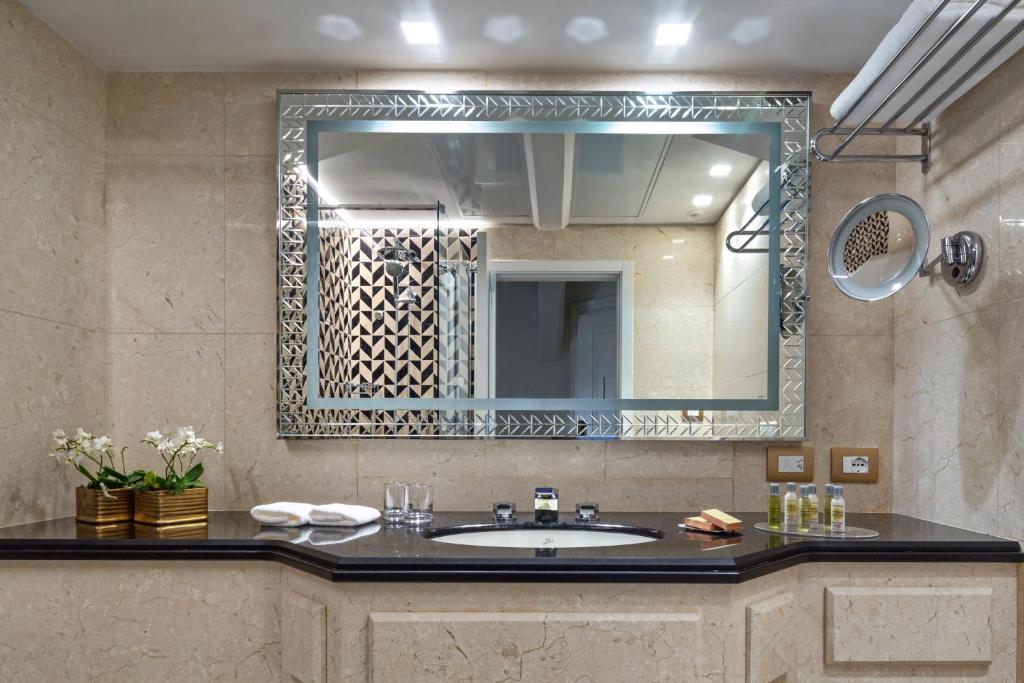 Located on the tranquil banks of Giudecca Island, the Hilton Molino Stucky Venice is a former flour mill transformed into a unique and elegant hotel. The air-conditioned rooms and suites feature contemporary décor, marble bathrooms, flat-screen TVs, and coffee makers. With access to the Executive Lounge offering complimentary drinks and snacks, guests can indulge in luxury during their stay. The hotel boasts a rooftop swimming pool with stunning views of Venice, as well as a large spa where guests can unwind in the sauna, hot tub, or Turkish bath. Dining options include Il Molino Restaurant for daily buffet breakfasts and stylish restaurants serving traditional Veneto and Italian cuisine. For panoramic views of the city, guests can relax with a drink at the rooftop bar. A fitness center is also available for those who want to stay active during their visit. Additionally, Hilton Molino Stucky Venice provides a convenient water shuttle service that transports guests to the city center within 15 minutes.
– Access to Executive Lounge with complimentary drinks and snacks
– Rooftop swimming pool with panoramic views
– Large spa offering sauna, hot tub, and Turkish bath
– Stylish restaurants serving traditional Veneto and Italian cuisine
– Water shuttle service for easy access to the city center
Palazzo Veneziano – Venice Collection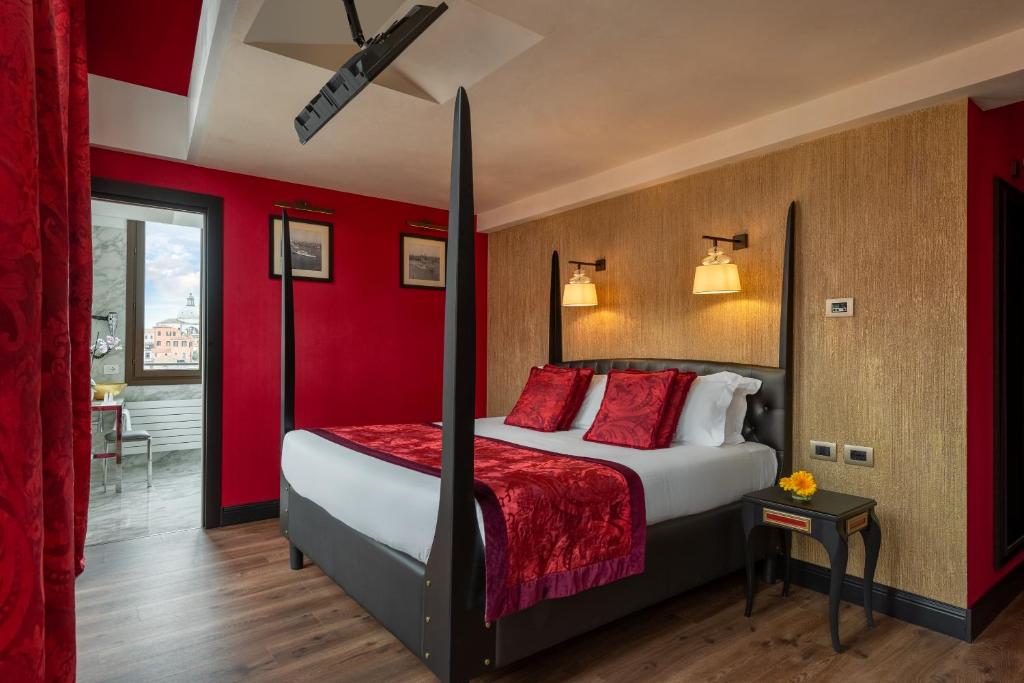 Located by the S. Basilio ferry stop in Venice, Palazzo Veneziano – Venice Collection offers elegant rooms with free WiFi. The hotel features a bar on-site for guests to enjoy. St. Mark's Square and Basilica are just 1.8 km away from the property, while La Fenice Theatre and Rialto Bridge are within close proximity as well. The air-conditioned rooms at Palazzo Veneziano boast parquet floors and marble bathrooms, with some rooms even offering a spa bath or delightful views of the canal. For convenient travel, Venezia Santa Lucia Train Station is only 1.4 km away, and Venice Marco Polo Airport can be reached within a 15 km distance.
– Convenient location near S. Basilio ferry stop
– Elegant rooms with parquet floors and marble bathrooms
– Option for rooms with spa baths or canal views
– On-site bar for guests to enjoy
– Close proximity to popular landmarks such as St. Mark's Square and Rialto Bridge
Nolinski Venezia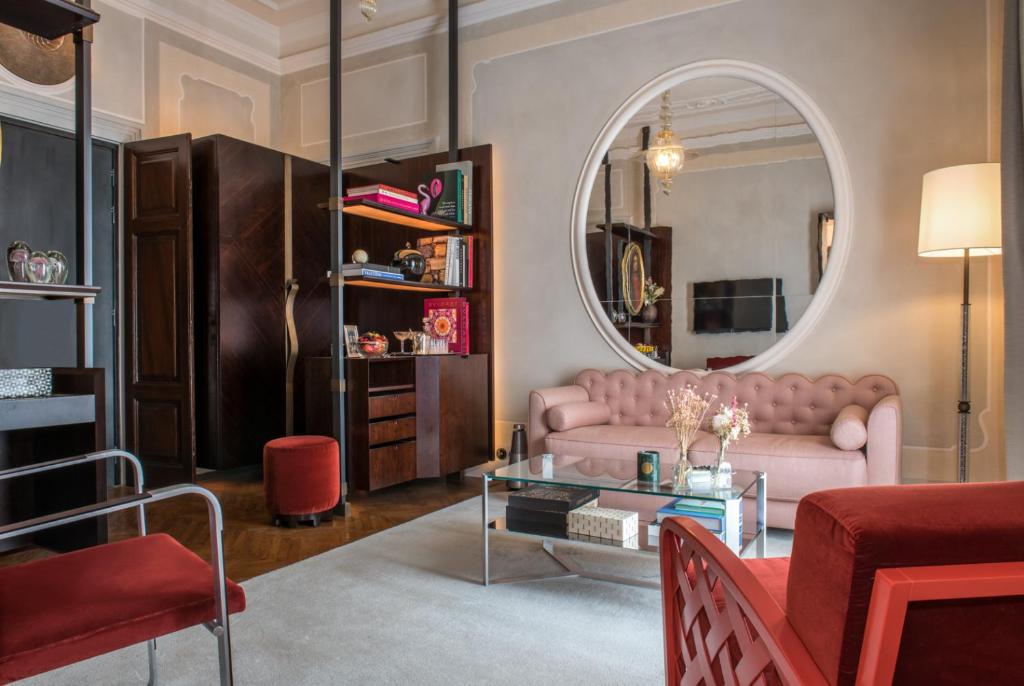 Newly opened in March 2023, Nolinski Venezia is a luxurious 5-star hotel conveniently located in Venice. With its air-conditioned rooms offering stunning city views, guests can enjoy a comfortable stay with modern amenities including free WiFi and access to an indoor pool. The hotel also features a terrace, restaurant, room service, and a 24-hour front desk with currency exchange services. Each room is equipped with a wardrobe, flat-screen TV, private bathroom, and safety deposit box. Guests can start their day with a delicious à la carte breakfast before exploring popular attractions such as La Fenice Theatre, Piazza San Marco, and Basilica San Marco. For convenience, the hotel offers paid airport shuttle service to Venice Marco Polo Airport which is just 18 km away.
– Newly opened luxury hotel
– Convenient location in Venice
– Air-conditioned rooms with city views
– Indoor pool for relaxation
– Delicious à la carte breakfast available daily
Other places to stay in Venice
Hotels with Pools in Venice with Nice Views
Hotels with pools in Venice offer a serene and refreshing escape from the bustling city. With magnificent views of the canals and historic architecture, these hotels provide a perfect setting to relax and unwind after exploring the city's enchanting streets.
Hotel Metropole Venezia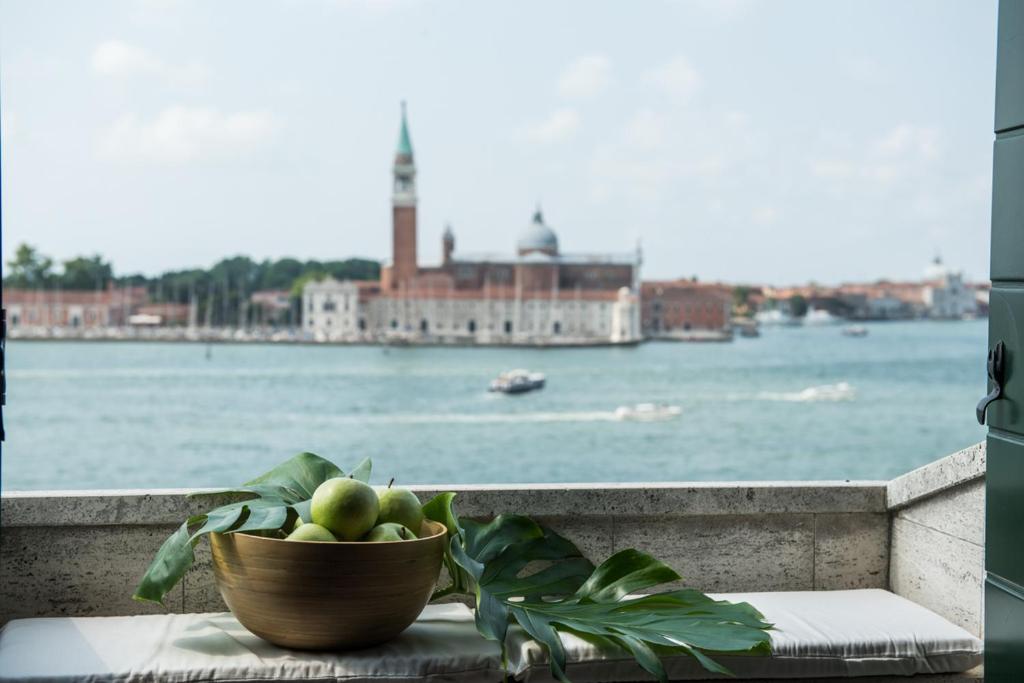 The Hotel Metropole Venezia is a boutique hotel ideally located just 350 meters from Saint Mark's Square in Venice. The luxurious rooms are adorned with antique furnishings and exquisite fabrics, offering an elegant and sophisticated atmosphere. Guests can enjoy stunning views of the Venice Lagoon from their rooms while indulging in modern amenities such as free Wi-Fi, minibar, and air-conditioning. The hotel's corridors showcase a fascinating collection of antique fans, tapestries, and other artifacts. The property boasts a beautiful citrus garden with palm trees and a 14th-century well, creating a tranquil oasis for guests to relax and unwind. Dining options include a contemporary restaurant serving delectable cuisine and an ethnic lounge bar perfect for enjoying cocktails. Additionally, the hotel serves a tantalizing buffet breakfast featuring bacon, eggs, hams, cheeses, seasonal fruits, tiramisu, and pannacotta. With its convenient location near the San Zaccaria Vaporetto water bus stop (200 meters away) and just a short 5-minute walk from the iconic Bridge of Sighs, Hotel Metropole Venezia is the ideal choice for travelers seeking luxury combined with historical charm.
– Prime location near Saint Mark's Square
– Luxurious rooms with oriental-style decor
– Fascinating collection of antique artifacts throughout the hotel
– Beautiful citrus garden with palm trees
– Fine dining options at the Oriental Bar & Bistrot
Hotel San Giorgio
Hotel San Giorgio is a charming seaside retreat located in the tranquil resort of Porto Santa Margherita di Caorle. With its prime location facing the sea, guests can enjoy stunning views from the hotel's terrace. The property boasts a private beach and two swimming pools, one for adults and one for children, perfect for relaxation and fun under the sun. For sports enthusiasts, there are also free facilities available such as tennis courts. Guests can unwind in peaceful and panoramic rooms while indulging in mouthwatering fish and seafood specialties at the hotel's restaurant. Additionally, bicycles are provided free of charge to explore the nearby historic center and picturesque pine wood surrounding Hotel San Giorgio.
– Prime location facing the sea
– Private beach
– Two swimming pools (one for adults, one for children)
– Free sports facilities
– Complimentary bicycles
Hotel Cipriani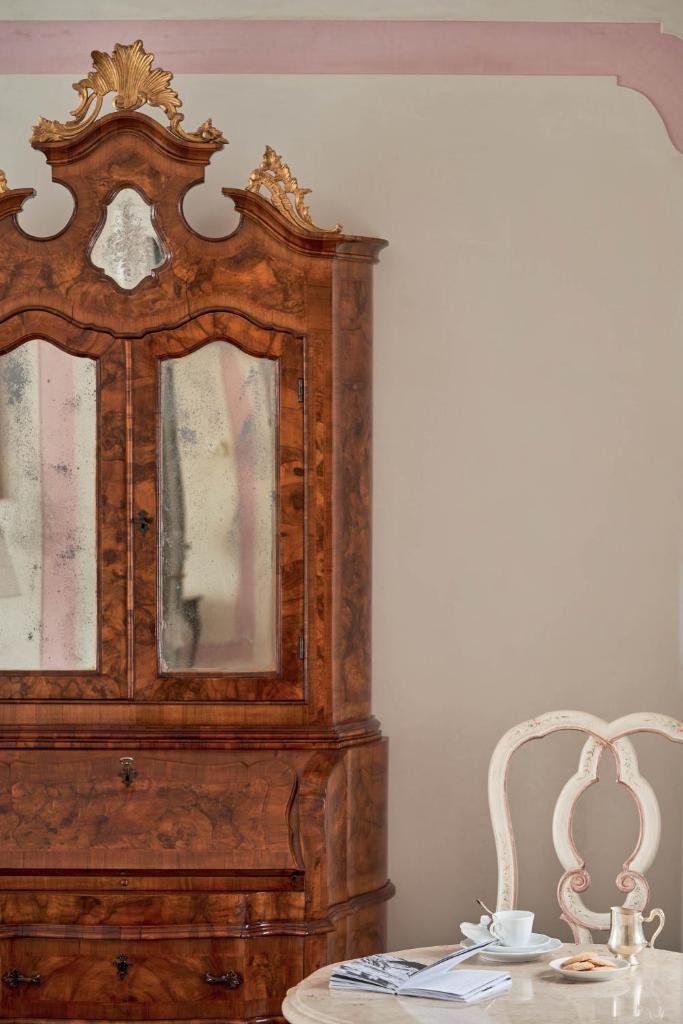 Luxury Hotel. Located on Giudecca Island, Hotel Cipriani, A Belmond Hotel, Venice offers breathtaking views of Venice Lagoon and the Doge's Palace. This 5-star hotel boasts a large outdoor swimming pool, tennis court, and luxurious wellness facilities. The elegant interior design and numerous outdoor spaces provide guests with the perfect setting to relax and enjoy the stunning surroundings. The hotel offers a variety of dining options, including the gourmet Oro Restaurant, Cip's Club with its wooden terrace overlooking St Mark's Square, and Il Porticciolo Restaurant for a delightful seafood lunch. The spacious rooms and suites are equipped with modern amenities such as free Wi-Fi, complimentary e-magazines, and HD flat-screen TVs. Guests can enjoy views of the lagoon or the beautiful garden and vineyard from their accommodations. Conveniently located just 4 minutes away from St. Mark's Square via the hotel's private boat service, Hotel Cipriani also provides shuttle services to/from Venice Marco Polo Airport and Venezia Santa Lucia Train Station upon request.
Pros:
– Stunning views of Venice Lagoon
– Large outdoor swimming pool
– Luxurious wellness facilities
– Variety of dining options available
– Spacious rooms with modern amenities
Romantic Hotels with a Pool in Venice
Venice offers a romantic ambiance that is enhanced by the presence of luxurious hotels with pools. Couples can indulge in intimate moments while enjoying stunning views and soaking up the charm of this magical city. The combination of a pool and Venice's captivating atmosphere creates an unforgettable experience for couples seeking a romantic getaway.
San Clemente Palace Kempinski Venice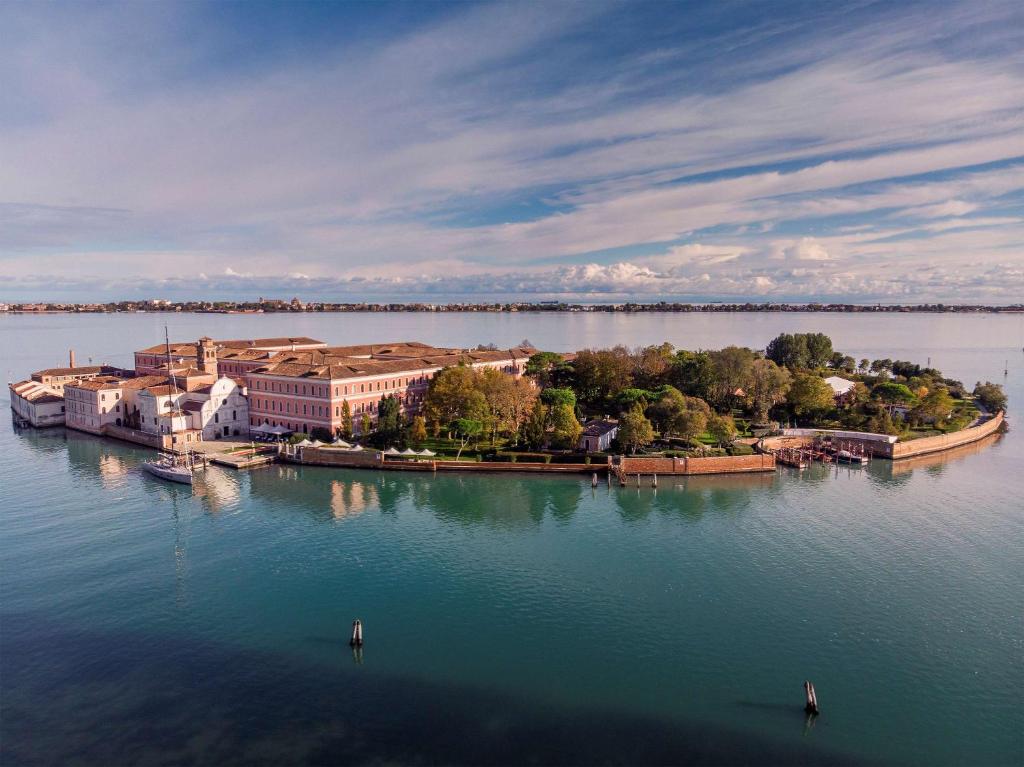 The San Clemente Palace Kempinski Venice is a luxury hotel situated on its own private island. With three bars, three gourmet restaurants, and a spa, guests are pampered with top-notch amenities. The highlight of the hotel is its outdoor swimming pool and terrace overlooking the lagoon. Surrounded by lush gardens and equipped with gazebos, tables, and chairs, the pool area offers a tranquil space to relax and unwind. The elegantly decorated rooms feature LCD flat-screen TVs, en-suite bathrooms made of Italian marble, and some even have Terrazzo floors or lagoon views. Guests can also enjoy the tennis court, fitness area, sauna, steam room, and take advantage of the free shuttle boat service to St. Mark's Square.
– Exclusive location on its own island
– Three bars and gourmet restaurants
– Outdoor swimming pool with terrace overlooking the lagoon
– Luxurious rooms with elegant furnishings
– Free shuttle boat service to St. Mark's Square
JW Marriott Venice Resort & Spa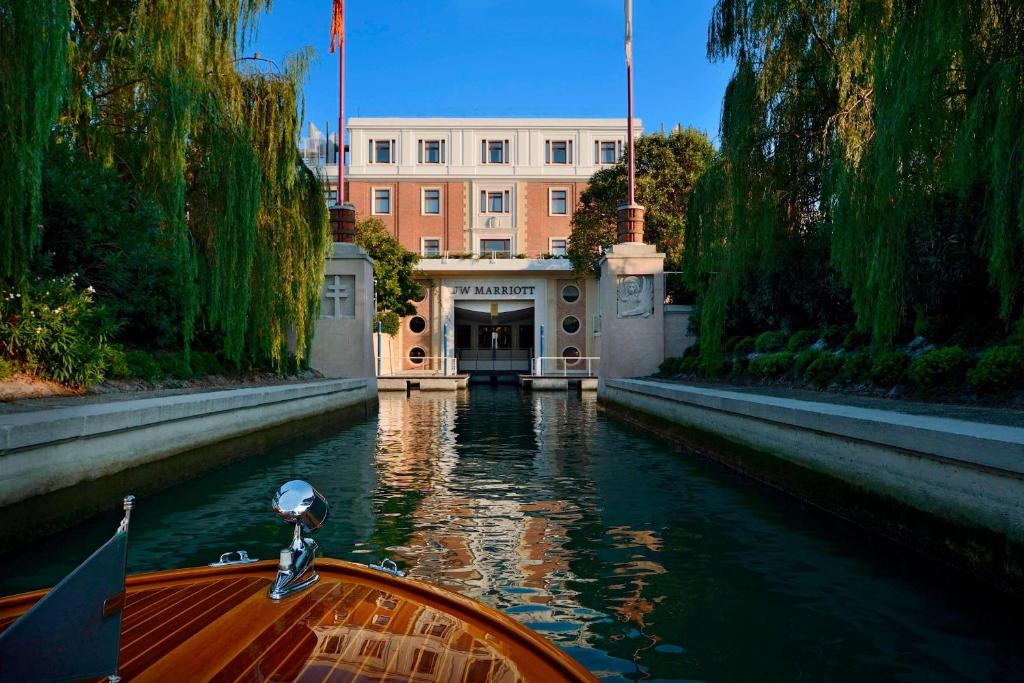 JW Marriott Venice Resort & Spa is a luxurious 5-star resort located on the breathtaking Isola delle Rose island in the Venetian lagoon. Offering stunning views of the lagoon, this hotel boasts a range of exceptional amenities including a lagoon-view spa, three outdoor pools and four restaurants. With lush gardens, a rooftop pool deck, and even its own church, JW Marriott Venice provides guests with an unparalleled experience of luxury and serenity. The resort's dining options are equally impressive – from the rooftop restaurant specializing in Venetian cuisine to the family restaurant located by one of the pools, and not forgetting Fiola at Dopolavoro Venezia, headed by Michelin-starred chef Fabio Trabocchi. Accommodations include rooms and suites within the main building where the rooftop pool deck is situated, as well as scattered units throughout the beautiful gardens. Each air-conditioned room or suite features modern decor and a private bathroom with either a shower or bath. Additionally, guests can explore various amenities such as an onsite church, olive groves, cycling paths and three bars for their convenience. For those looking to explore beyond the island retreat, there is a complimentary shuttle boat available that takes you to Saint Mark's Square in just 15 minutes.
– Stunning rooftop pool offering panoramic views
– Variety of dining options including Michelin-starred chef's restaurant
– Luxurious accommodations with modern decor
– Beautiful gardens to wander through
– Complimentary shuttle boat to Saint Mark's Square
Hotel Giorgione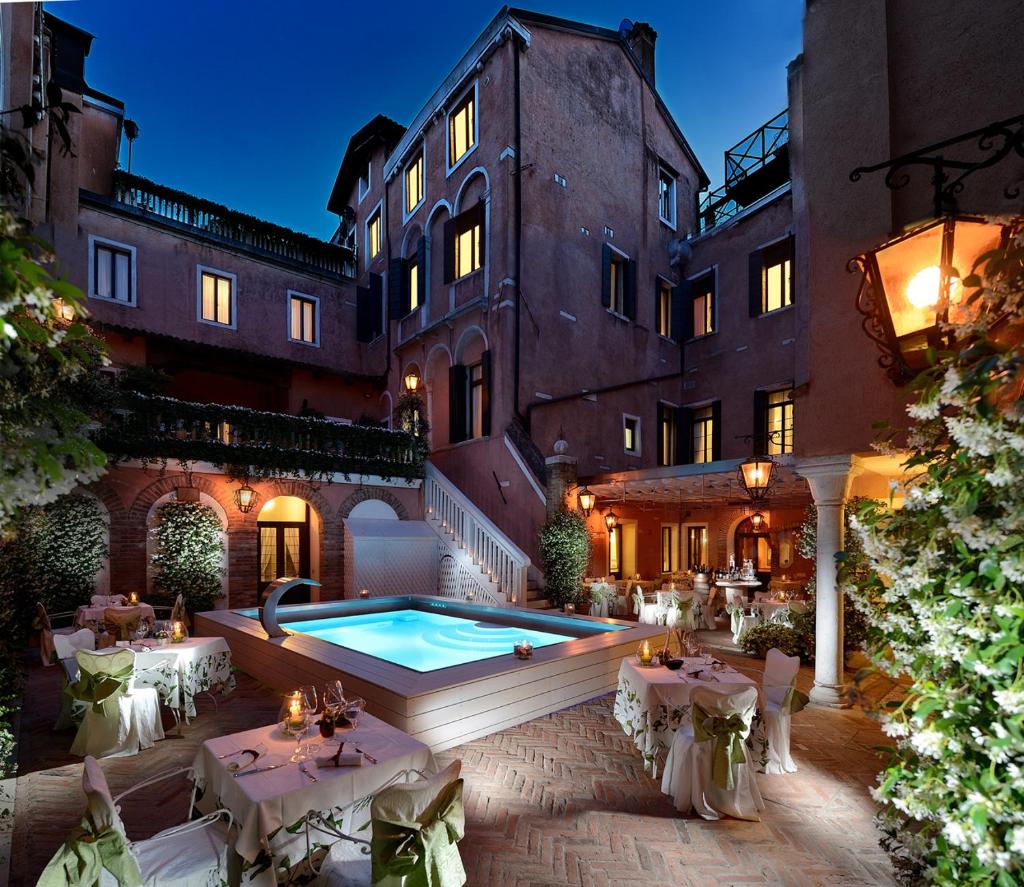 Hotel Giorgione is a stunning 18th-century building located in the heart of Venice. This 4-star hotel offers a truly luxurious experience with its classic decor, featuring antique furniture and Venetian accents. The rooms exude elegance, featuring precious fabrics and Murano-glass chandeliers, while also offering modern amenities including an LCD TV with satellite channels. The property boasts an outdoor seasonal pool, hot tub, and solarium for guests to enjoy during their stay. Additionally, the hotel's rich breakfast buffet serves freshly baked croissants, eggs, bacon, and more in the charming courtyard with a fountain. With its central location in the Cannaregio district, Hotel Giorgione is just a short walk away from major attractions including the Rialto Bridge and St Mark's Square.
Pros:
– Outdoor seasonal pool
– Classic decor with antique furniture
– Rich breakfast buffet served in a charming courtyard
– Central location near popular attractions
– Free WiFi throughout the hotel
Venice Hotels with Pool Information
| | |
| --- | --- |
| 🛎️ Hotels with a Pool in Venice | 9 |
| 💰 Hotel prices starting from | $170 |
| 💵 Highest price | $1770 |
| 🥇 Average Review Score | 8.6/10 |
| 🛏️ Average number of Rooms | 140 |
FAQ
Are there hotels with pools in Venice?
Yes, there are several hotels in Venice that offer pools for their guests to enjoy. While the city is known for its charming canals, some hotels recognize the desire for a refreshing swim during a stay. These hotels often feature rooftop or courtyard pools, providing a tranquil escape from the bustling streets of Venice.
Do all hotels in Venice have pools?
No, not all hotels in Venice have pools. Due to the unique geography of the city and limited space available, many accommodations focus on preserving historical buildings rather than adding modern amenities such as swimming pools. However, there are still many luxury hotels that cater to guests seeking a poolside experience during their stay.
What are the benefits of staying at a hotel with a pool in Venice?
Staying at a hotel with a pool in Venice offers various benefits. Firstly, it provides an opportunity to relax and cool off after exploring the city's attractions under the sun. Additionally, these pools often provide stunning views of either the Venetian skyline or picturesque canals, enhancing your overall experience by allowing you to soak up the beauty of this enchanting city while enjoying some leisure time by the water.
Are hotel pools open year-round in Venice?
The availability and accessibility of hotel pools vary depending on each establishment's policies and weather conditions. Some hotel pools may be open year-round, providing indoor facilities for guests to enjoy regardless of seasonality. However, others may only operate their outdoor swimming areas during peak summer months when weather permits. It is advisable to check with your chosen hotel beforehand regarding their specific pool opening dates and times.
Do I need to pay extra for using hotel pools in Venice?
In most cases, access to hotel swimming pools will be included as part of your room reservation fee if your chosen accommodation features one. However,some high-end luxury establishments might offer exclusive access or additional services like spa treatments by the pool, which may incur extra charges. It is recommended to review the hotel's amenities and pricing details before making a reservation to ensure you are aware of any additional costs associated with pool usage.
Popular Hotels with Pool destinations