Best 11 Hotels with Pools in Jaipur
Welcome to a captivating journey through the luxurious sanctuaries of Jaipur, India. This sprawling city, adorned with architectural gems and steeped in rich history, offers a delightful selection of hotels boasting exquisite aqua havens. Indulge yourself in opulence as we dive into a world where tranquil azure waters meet unparalleled hospitality.
Jaipur, also known as the Pink City, is renowned for its regal charm and vibrant culture. As you navigate through its bustling streets and marvel at the mesmerizing palaces and forts, let your senses be drawn towards the allure of these magnificent accommodations that offer more than just a place to rest your head. Immerse yourself in an oasis of serenity as you luxuriate in the shimmering pools nestled amidst lush green gardens or perched high above with panoramic views of this enchanting city.
Whether you seek respite from Jaipur's scorching summers or simply desire a momentary escape from reality, these hotels with crystalline pools will leave you mesmerized. Embark on an unforgettable journey where every dip becomes an indulgence, every swim a symphony for your soul. Join us as we uncover the most extraordinary hotels that redefine luxury and elevate relaxation to new heights in Jaipur's poolside paradise.
The Best Jaipur Hotels with a Pool
Khas Bagh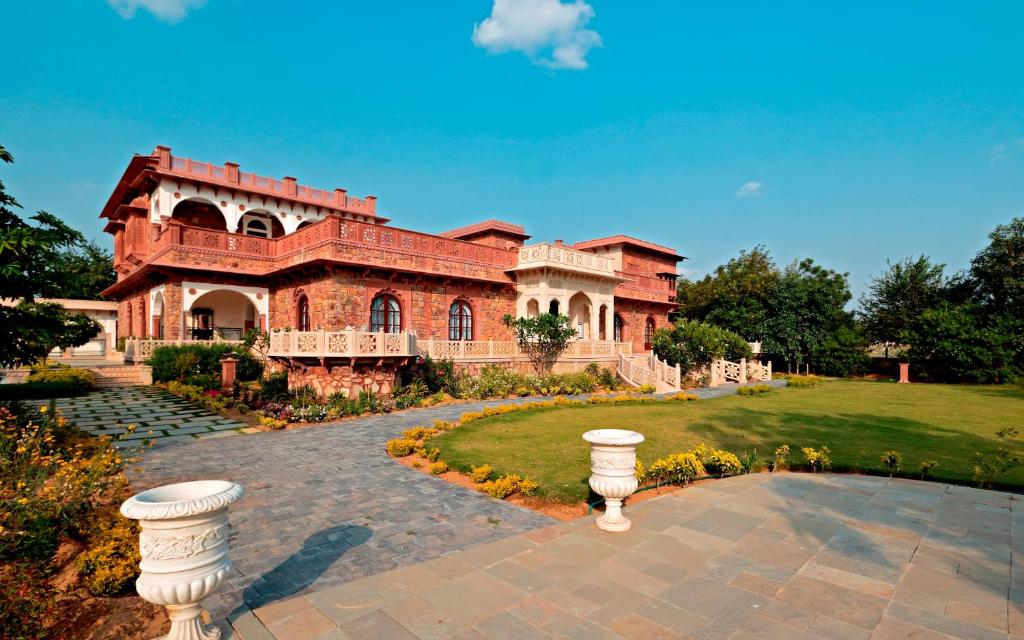 Located in Jaipur, Rajasthan, Khas Bagh is a luxurious resort offering stunning views of the mountains. Situated just 5 km from Seesh Mahal, this resort boasts an outdoor pool and various amenities such as a children's playground and sun terrace. Guests can indulge in delicious meals at the on-site restaurant or enjoy a cup of tea while admiring the beautiful mountain or garden views from their rooms. The rooms are equipped with modern amenities including flat-screen TVs and private bathrooms with free toiletries. The resort also offers free WiFi and free private parking for guests' convenience. Additionally, guests can take advantage of the complimentary use of bicycles to explore the area or opt for horse riding activities arranged by the resort. With its proximity to popular attractions like Amber Fort and Jaigarh Fort, as well as being just 23 km away from Jaipur International Airport, Khas Bagh is an ideal choice for a luxurious stay in Jaipur.
– Stunning mountain views
– Outdoor pool
– Children's playground
– Sun terrace
– Complimentary use of bicycles
The Vijayran Palace by Royal Quest Resorts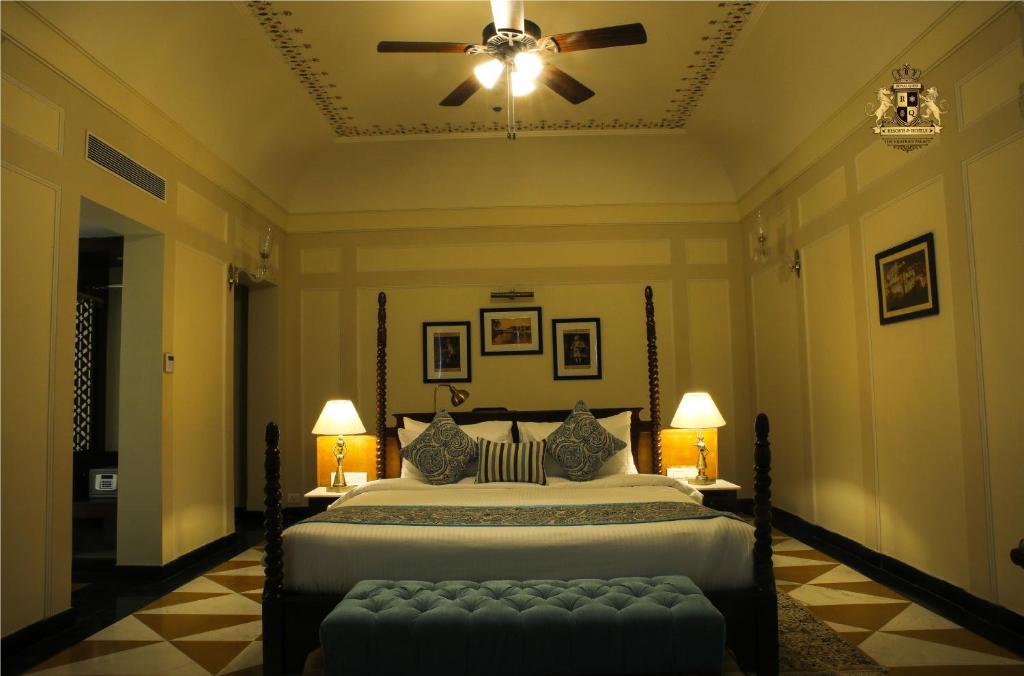 Located in Jaipur, just 14 km from Amber Fort, The Vijayran Palace by Royal Quest Resorts is a luxurious 5-star hotel offering a range of amenities. Guests can enjoy the outdoor swimming pool, fitness centre, and garden. The hotel also features a kids' club, room service, and free WiFi. For entertainment options, guests can play billiards and table tennis or explore the nearby area through activities like horse riding and cycling. The hotel offers stunning mountain views along with a terrace and 24-hour front desk for added convenience. Each air-conditioned room is well-equipped with modern amenities including a desk, kettle, minibar, safety deposit box, flat-screen TV, and private bathroom with bidet. Additionally,the rooms at The Vijayran Palace come with a comfortable seating area. A delicious breakfast is served every morning with buffet, à la carte,and continental options available to choose from.In terms of dining options,the on-site restaurant serves authentic Indian cuisine.Vegetarian,d vegan,and dairy-free dishes are also available upon request.The popular attractions Seesh Mahal and Jalmahal are located 14 km and 18 km away respectively.The nearest airport is Jaipur International Airport,a convenient 33 km from the hotel.
Pros:
– Beautifully designed luxury hotel
– Outdoor swimming pool for relaxation
– Wide range of facilities including fitness centre
– Kids' club to keep children entertained
– Convenient location near popular tourist attractions
Jai Mahal Palace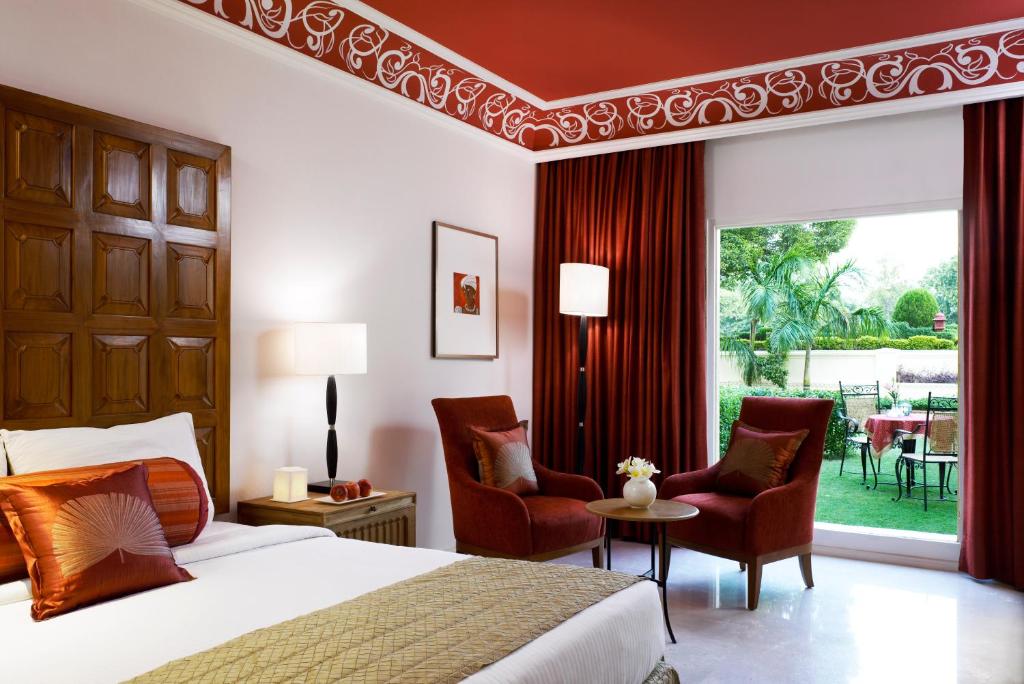 Located in the heart of Jaipur, Taj Jai Mahal Palace is a 5-star heritage property spread across 18 acres of stunning Moghul gardens. With its Indo-Saracenic architecture and Colonial-style interiors, this hotel provides a unique and luxurious experience. The hotel features an outdoor pool, spa, fitness facilities, and a range of rooms with modern and classic Indian-style décor. Guests can enjoy amenities such as flat-screen TVs, wooden flooring, and spacious bathrooms with bathtubs. In terms of location, Taj Jai Mahal Palace is just 7 km away from popular attractions like City Palace and Hawa Mahal. The convenience continues with free parking available on site as well as its proximity to Jaipur Railway Station (1.5 km) and Jaipur International Airport (14 km). Guests can also indulge in relaxation at the Jiva Spa or play a game of chess with life-size chessmen. Dining options include Cinnamon and Giardino for fine dining experiences, Marble Arch for multi-cuisine options, Marigold bar for refreshing beverages, La Patisserie for fresh cakes and pastries, and Oasis by the pool for snacks.
Pros:
– Luxurious heritage property
– Beautiful Moghul gardens
– Convenient location near popular attractions
– Range of dining options available
– Excellent spa facilities
Other places to stay in Jaipur
Hotels with Pools in Jaipur with Nice Views
Hotels in Jaipur with pools offer an exquisite experience, combining relaxation and stunning views. Whether it's admiring the city's ancient palaces or enjoying the lush greenery of surrounding landscapes, these hotels provide a perfect oasis for guests to unwind and soak up the beauty of Jaipur.
Rambagh Palace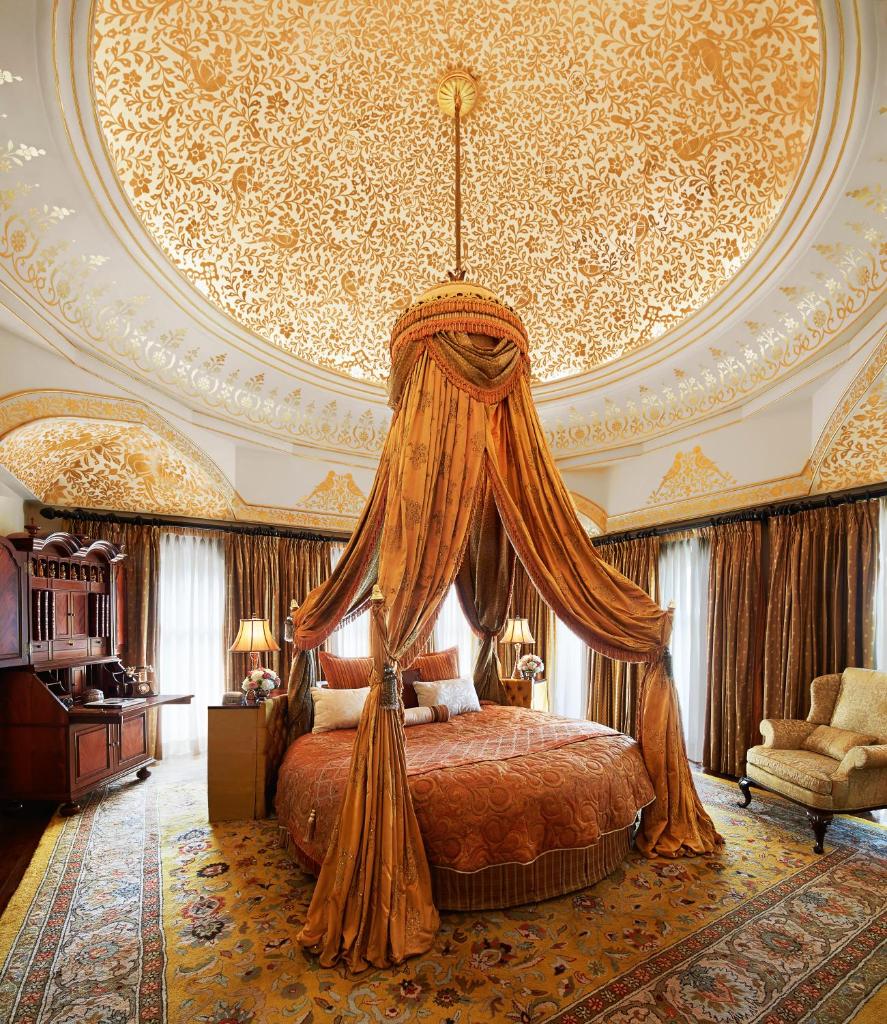 Located in Jaipur, the luxurious Rambagh Palace is a stunning hotel that was once the residence of the Maharaja. The palace showcases beautiful Indian architecture and manicured gardens. Guests can enjoy both an indoor and outdoor pool, as well as full spa services for ultimate relaxation. The spacious air-conditioned rooms are adorned with rich textures, elegant carpets, and hand-painted wall motifs. Each room includes modern amenities such as a flat-screen TV, personal safe, and minibar. The bathrooms feature a walk-in shower and separate bathtub for added luxury. Guests can indulge in a relaxing massage at the Jiva Grande Spa or take part in yoga sessions with experienced gurus. For those looking to stay active, there is also a gym available on-site. Additionally, the attentive palace butlers are always ready to assist guests in arranging vintage horse-drawn carriage rides during evenings. Dining options at Rambagh Palace are plentiful with choices like breakfast and light meals served at The Rajput Room, traditional afternoon tea paired with champagne at Verandah, sumptuous Indian cuisine at Suvarna Mahal, casual outdoor dining at Steam, and refreshing drinks at Polo Bar. Known as the "Jewel of Jaipur," this magnificent hotel is conveniently located about 3.5 km from popular attractions such as City Palace, Hawa Mahal, and Jantar Mantar and only 11 km from Jaipur Airport.
– Stunning Indian architecture
– Indoor and outdoor pools
– Full spa services available
– Spacious rooms decorated with rich textures
– Attentive palace butlers offer personalized service
Crowne Plaza Jaipur Tonk Road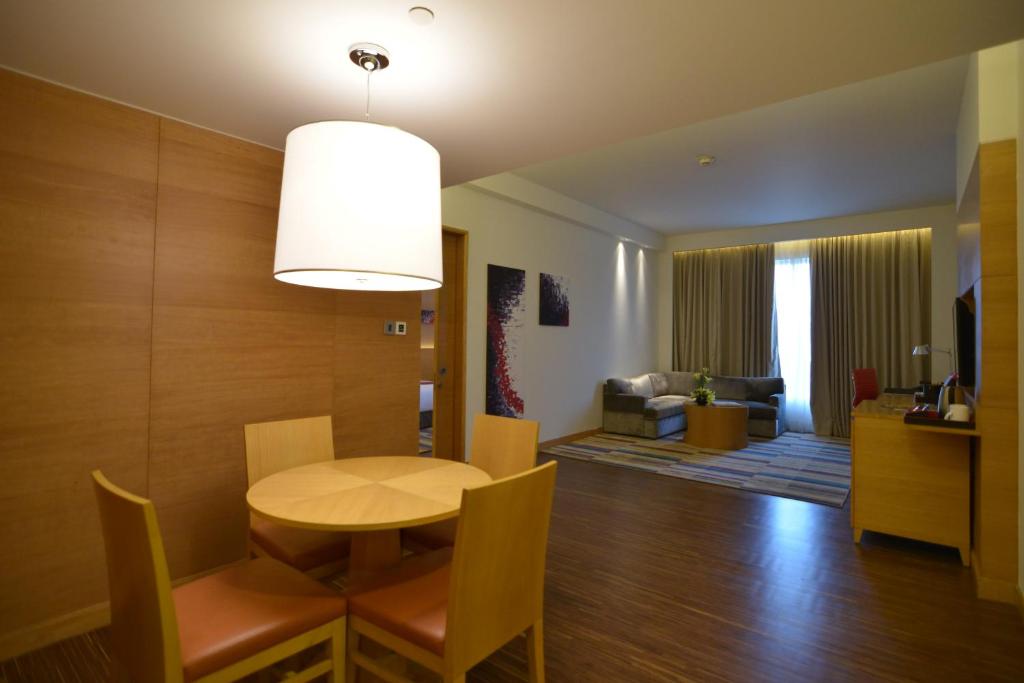 Crowne Plaza Jaipur Tonk Road is a luxury hotel located opposite Jaipur Exhibition and Convention Centre in the business hub of Sitapura, just 9.6 km from Jaipur International Airport. The hotel offers a range of amenities including a rooftop pool, spacentre, sauna, and Tattva Spa. Each room comes with a flat-screen TV with satellite channels and additional perks such as slippers, free toiletries, and a hairdryer. Guests can enjoy dining at Socorro, a global cuisine restaurant, or grab some freshly baked muffins at The Lounge. Connexions Bar offers refreshing beverages and the hotel also provides car hire services. With its convenient location and excellent facilities, Crowne Plaza Jaipur Tonk Road is a great choice for both business and leisure travelers.
– Rooftop pool with stunning views
– Spacious rooms with modern amenities
– On-site spa for relaxation
– Variety of dining options available
– Convenient location for business travelers
The Lalit Jaipur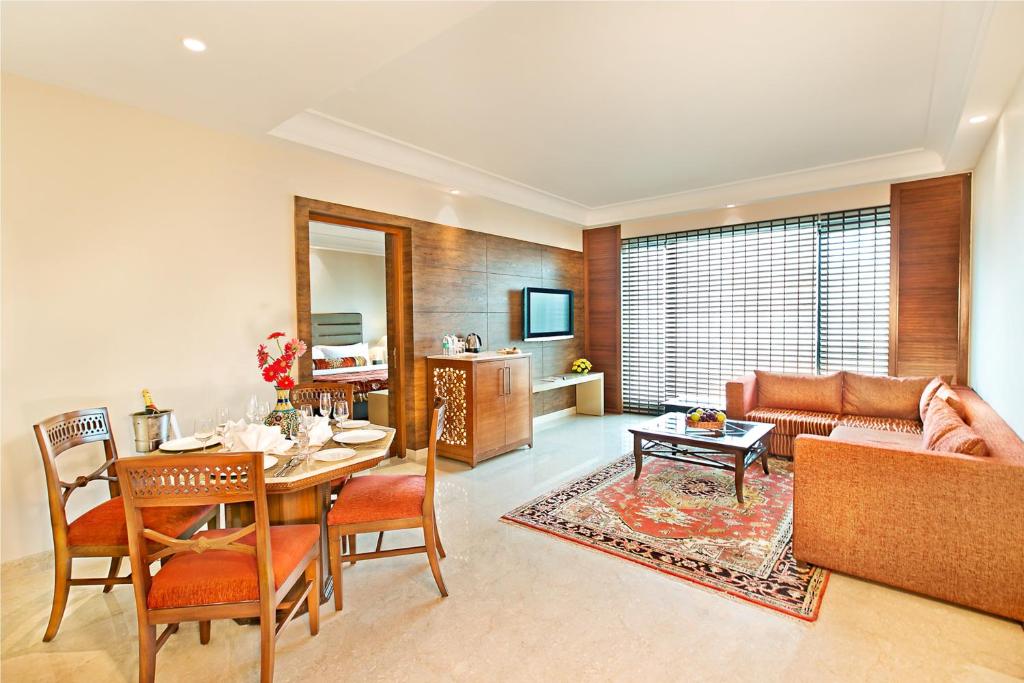 The Lalit Jaipur is a modern and stylish hotel that seamlessly blends traditional local architecture with contemporary design. Located just a 5-minute drive from both the Jaipur International and Domestic airports, this luxurious hotel offers a range of amenities for guests to enjoy. The spa features steam baths, hydrotherapy rooms, and an extensive menu of massage treatments. The outdoor pool area is spacious and inviting, complete with a separate children's pool and a poolside bar. The fully equipped fitness center is perfect for those looking to stay active during their stay. Guests can indulge in delicious international dishes at the 24-hour Coffee Shop or savor Indian specialties at Baluchi for lunch and dinner. With air-conditioned guest rooms featuring modern amenities such as flat-screen TVs, personal safes, minibars, and tea/coffee making facilities, this hotel ensures a comfortable stay for all guests.
Pros:
– Convenient location near the airport
– Luxurious spa offering various treatments
– Spacious outdoor pool area with separate children's pool
– Fully equipped fitness center
– Delicious dining options with international and Indian cuisine
Romantic Hotels with a Pool in Jaipur
Romantic Hotels with a Pool in Jaipur offer couples a serene escape amidst the vibrant city. The tranquil ambiance of these hotels, combined with their inviting pool areas, creates the perfect setting for romantic moments and relaxation.
Sawai Man Mahal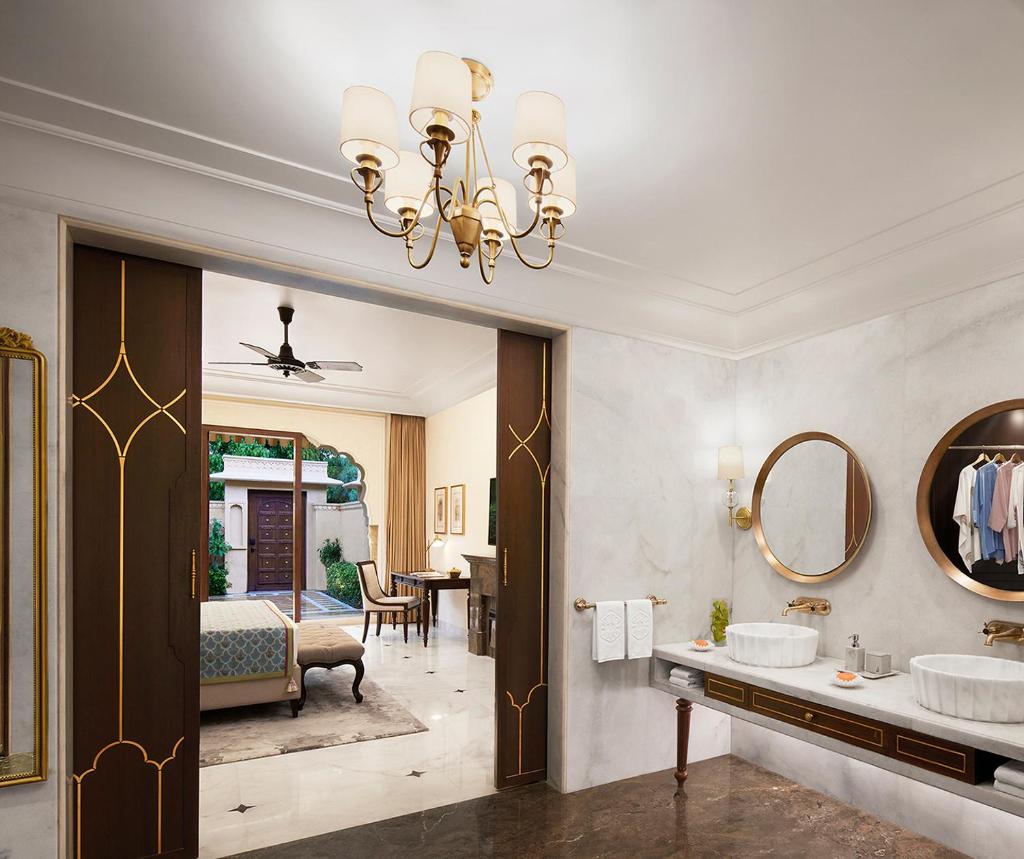 The Sawai Man Mahal is a luxury hotel with a plunge pool that exudes majesty and has its own unique design universe. This heritage-palace pays tribute to Maharaja Sawai Man Singh II, an Indian prince, with expressive architecture, lush pleasure-gardens, haute-cuisine, and immersive experiences. The spacious rooms and private courtyards are adorned with greenery, while the royal suites feature private plunge pools and free-style bathtubs. The palace-hotel offers an outdoor pool and fitness center for rejuvenation, as well as the Jiva Spa at the nearby Rambagh Palace for an inimitable spa experience. With its remarkable facade reminiscent of Amer Fort and a grand lobby showcasing heritage elements like the 187-year-old Golden Gate from Rambagh Palace's original entrance, Sawai Man Mahal captures the essence of Rajputana heritage in Jaipur. The palace also features delicate thikree work, hand-painted murals, carefully preserved artifacts, vintage photographs, and a captivating decor chosen by the royal family. Guests can indulge in culinary delights at La Mesa and La Terraza – Spanish-themed restaurants – or celebrate special occasions at Maharani Mahal or Chandra Mahal- gold-accented ballrooms with vast lawns. Located just 20 minutes from Jaipur Airport, this immersive palace promises an extraordinary experience.
Pros:
– Stunning plunge pools in royal suites
– Luxurious outdoor pool for relaxation
– Superb fitness center for wellness activities
– Indulgent spa experiences at Jiva Spa
– Exquisite Spanish-themed dining options
Royal Heritage Haveli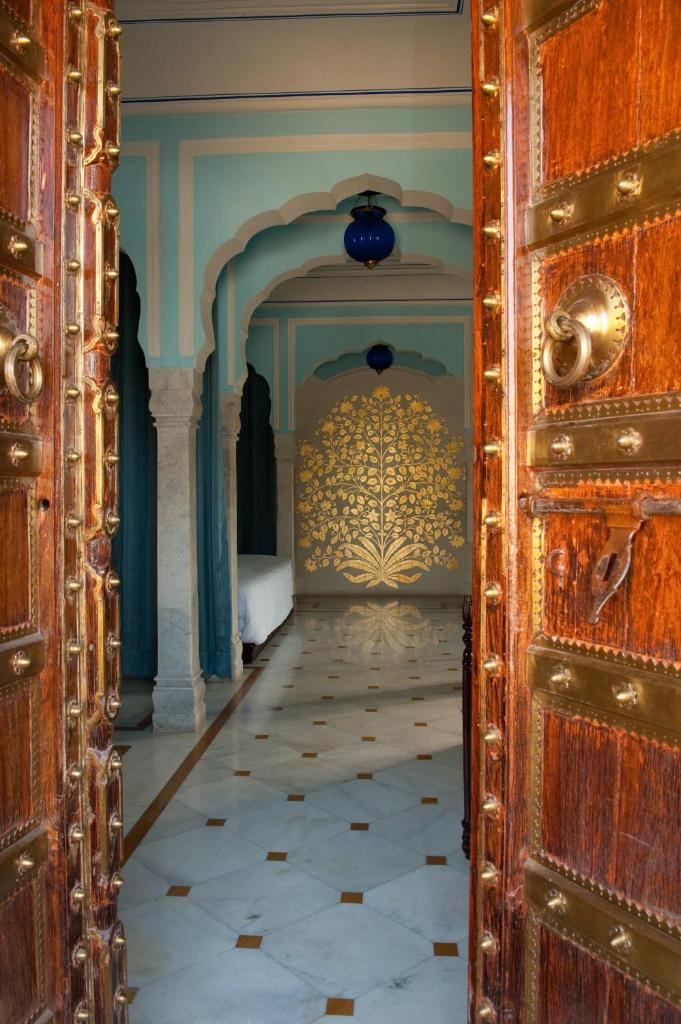 Once a grand mansion built in the 18th century, the Royal Heritage Haveli has now been transformed into a luxurious boutique hotel. After being closed for 150 years, it welcomes guests with open arms and offers an array of amenities to ensure a memorable stay. The outdoor swimming pool is perfect for a refreshing dip, while the rambling lawns and serene courtyards provide tranquil spaces to relax and unwind. Inside, the plush interiors and stately living areas exude opulence and charm. The hotel also boasts a multi-cuisine restaurant that serves delectable dishes both in-house and through in-room dining. Free WiFi is available throughout the property. The rooms at Royal Heritage Haveli are adorned with beautiful arched doorways and wall frescoes, capturing the essence of traditional Rajasthani design. Each room features patterned flooring, a cozy seating area, and a flat-screen TV for entertainment. Guests can indulge in rejuvenating yoga sessions or request an in-room Swedish or Kerala massage to de-stress after exploring Jaipur's bustling streets. Additional facilities include a business center for those traveling on work and a tour desk to assist guests in planning their sightseeing adventures. Light refreshments are offered at the hotel's bar and coffee shop as well. Conveniently located just 5.9 km from Jaipur Railway Station and 17 km from Jaipur Airport, Royal Heritage Haveli provides easy access to popular attractions such as Hawa Mahal and Jal Mahal which are within a radius of 13 km.
Pros:
– Beautifully restored heritage property
– Outdoor swimming pool for relaxation
– Inviting rambling lawns and serene courtyards
– Elegant interiors exuding opulence
– Convenient location near major attractions
Alsisar Haveli – Heritage Hotel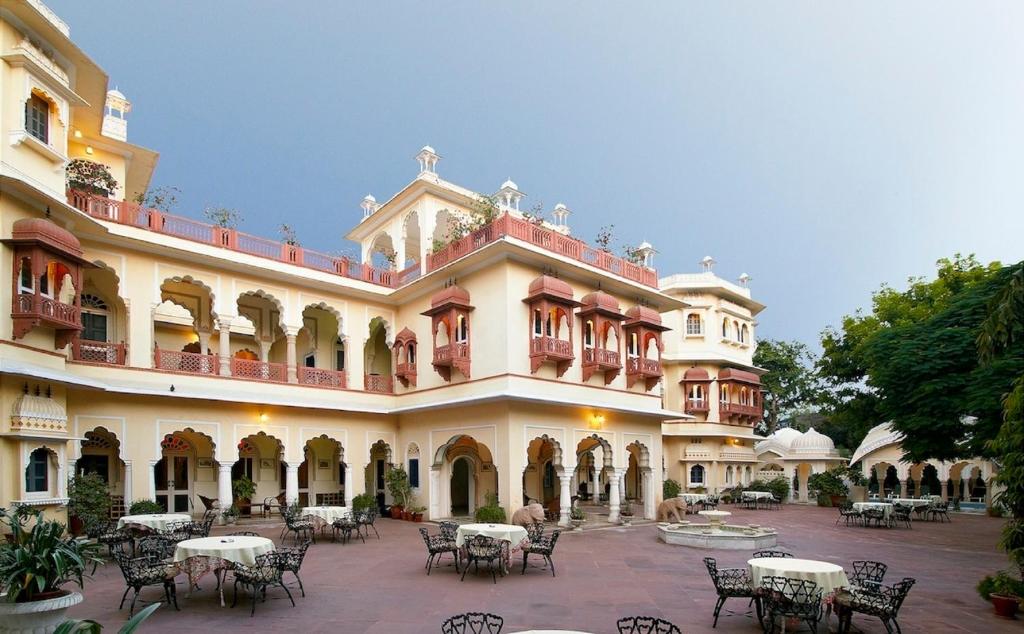 Alsisar Haveli is a boutique heritage hotel located in the heart of Jaipur, known as the pink city. This traditional Rajput-ian style hotel is situated just 10 km from the famous Amber Fort. Guests can enjoy an outdoor pool, a restaurant offering local and international dishes, and a spa and wellness centre for ultimate relaxation. The hotel features beautifully decorated guest rooms with wood-crafted furniture, vibrant colors, and modern amenities like a work desk, complimentary bottled water, and satellite TV. The en suite bathrooms are equipped with hot showers and bathtubs. Alsisar Haveli also offers a reading hall, garden, travel desk for tour arrangements, airport transfers, car hire services, and luggage storage at the 24-hour front desk. The property boasts a shop called Tokree onsite and provides breathtaking views of Nahargarh Fort from its roof terrace. Conveniently located near City Palace (2.5 km), Hawa Mahal (2.8 km), Amer Fort (13 km), Jaipur Airport (13 km) and Albert Hall Museum (2.8 km).
Pros:
1) Charming heritage hotel with traditional Rajput-ian architecture
2) Outdoor pool for relaxation
3) Spaand wellness centre for pampering oneself
4) Convenient location near major attractions in Jaipur
5) Beautifully decorated guest rooms with modern amenities
Hotels with Pools in Jaipur That Are Good for Families
Jaipur offers a range of family-friendly hotels with pools, providing a perfect escape from the city's heat and a fun way to unwind. These hotels offer safe and spacious swimming areas that cater to both adults and children, ensuring a memorable stay for the whole family.
Holiday Inn Jaipur City Centre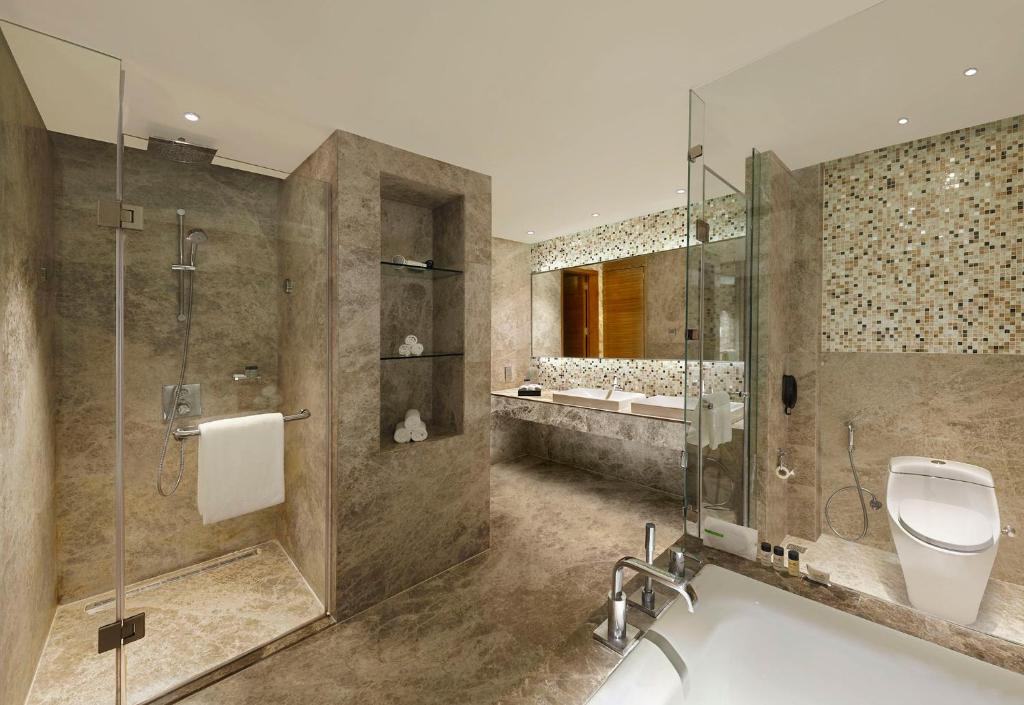 Located within 3.6 km from the City Palace and Amer Fort, Holiday Inn Jaipur City Centre offers a range of luxurious amenities. Each elegantly designed, air-conditioned room features a satellite TV, seating area, and minibar. The hotel boasts an outdoor swimming pool, fitness centre, and spa for guests to relax and rejuvenate. With three dining options serving various cuisines including multi-cuisine, Chinese specialties, grilled food, and beverages, guests can indulge in a variety of culinary delights. Additional facilities include a 24-hour front desk, ticket service, tour desk, luggage storage, and complimentary parking. Plus points include iPod docks in the rooms and the option to request amenities like pen drives or snack baskets/fruit baskets.
– Outdoor swimming pool
– Fitness centre
– Spa & wellness centre
– Three dining options with diverse cuisines
– Complimentary parking
Buena Vista Luxury Garden Spa Resort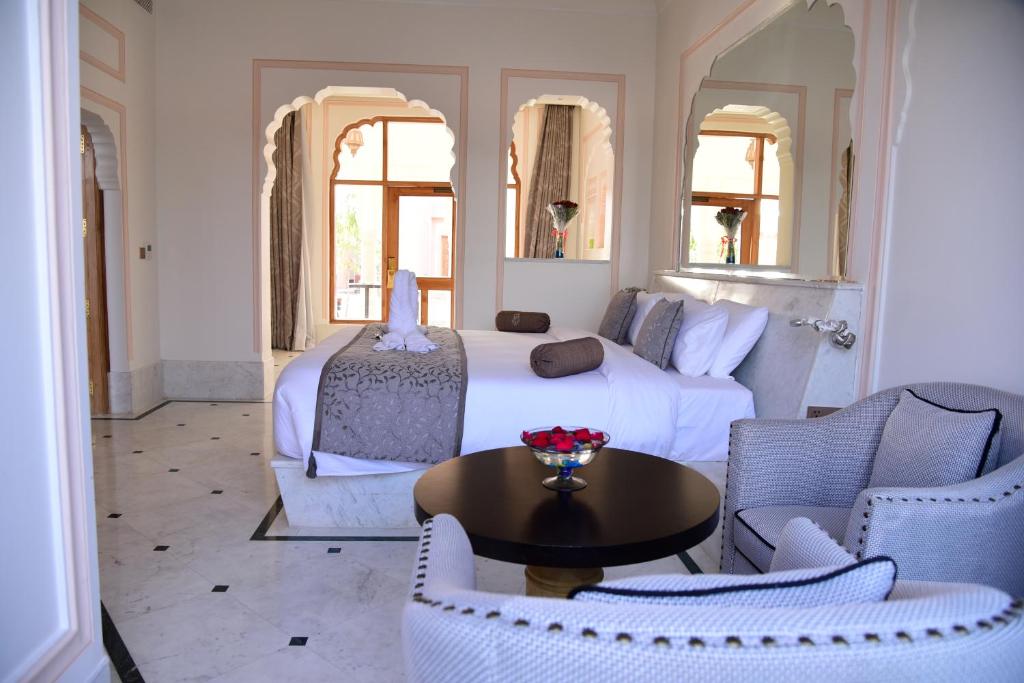 Located in Amer amidst the stunning Aravali hills, Buena Vista Luxury Garden Spa Resort offers a luxurious stay with both indoor and outdoor pools. The resort boasts spacious villas equipped with private swimming pools, providing guests with ultimate relaxation and privacy. With free WiFi and a bar on-site, guests can enjoy modern amenities while immersing themselves in the serene surroundings. The resort also features a fitness centre and a garden for those seeking to stay active or simply unwind amidst nature. Additional facilities include a 24-hour front desk, free private parking, and air-conditioned rooms complete with coffee machines and private bathrooms stocked with complimentary toiletries. Wake up to a delicious continental or buffet breakfast before indulging in the wellness area of the property which includes a hot tub. For entertainment, guests can enjoy mini-golf within the resort premises. With Jaipur just 12 km away and Jaipur International Airport at a convenient distance of 20 km, Buena Vista Luxury Garden Spa Resort is an ideal choice for travelers looking for luxury combined with natural beauty.
– Indoor and outdoor pools for maximum enjoyment
– Private swimming pools in all villas for added exclusivity
– Fitness center to keep fit during your stay
– Serene location amidst the Aravali hills
– Free WiFi available throughout the resort
Jaipur Hotels with Pool Information
| | |
| --- | --- |
| 🛎️ Hotels with a Pool in Jaipur | 11 |
| 💰 Hotel prices starting from | $210 |
| 💵 Highest price | $1421 |
| 🥇 Average Review Score | 8.3/10 |
| 🛏️ Average number of Rooms | 132 |
FAQ
Are there any luxury hotels in Jaipur with pools?
Yes, there are several luxury hotels in Jaipur that offer pool facilities. Some of the popular options include The Raj Palace, Taj Rambagh Palace, and Trident Jaipur. These hotels provide guests with a lavish and relaxing pool experience where they can unwind and enjoy their stay in style.
Do all hotels in Jaipur have swimming pools?
No, not all hotels in Jaipur have swimming pools. While many high-end and luxury hotels provide this amenity to their guests, budget or mid-range accommodations may not have a pool facility. It is always advisable to check the hotel's amenities before making a reservation if having a pool is an essential requirement for your stay.
What are some benefits of staying at a hotel with a pool?
Staying at a hotel with a pool offers several benefits. Firstly, it provides an excellent opportunity for relaxation and rejuvenation after exploring the city's attractions. It allows guests to cool off during hot summer days or simply lounge by the water under the sun. Additionally, swimming is known to be an excellent low-impact exercise that can help improve overall fitness levels.
Can non-hotel guests use the pool facilities at these hotels?
In most cases, access to hotel pools is limited to registered guests only. However, some luxury properties may offer day passes or allow non-guests to use their pools on specific conditions like paying an additional fee or booking spa treatments within the hotel. It is recommended to contact the specific hotel beforehand to inquire about their policies regarding external access to their pool facilities.
Are there any safety measures taken at these hotel pools?
Yes, reputable hotels take various safety measures for their pool facilities such as providing trained lifeguards during specified hours of operation and ensuring water quality maintenance through regular cleaning and disinfection procedures. They also enforce basic safety rules like no diving in shallow areas and providing appropriate signage for guests' awareness. It is always important to follow these safety guidelines while using the pool facilities for a pleasant and secure experience.
Popular Hotels with Pools destinations