Best 11 Hotels with Pools in Edinburgh
Welcome to the enchanting city of Edinburgh, where history meets luxury and contemporary elegance. As a passionate traveler and connoisseur of opulent accommodations, I am thrilled to share with you the hidden gems that offer resplendent pool facilities in this iconic Scottish destination. Whether you seek a tranquil retreat amidst the bustling streets or an inviting oasis after exploring historic landmarks, Edinburgh boasts an array of hotels with exquisite aquatic havens.
Immerse yourself in unparalleled grandeur as you dive into the glistening waters of these marvelous establishments. Picture yourself basking under the sun on a plush lounger by the poolside, surrounded by stunning views of Edinburgh Castle or serene gardens. These hotels provide not only a refreshing escape from daily routines but also an opportunity to indulge in ultimate relaxation and pampering.
Embark on this virtual journey with me as we explore some of Edinburgh's finest accommodations adorned with magnificent pools. Let's dive into a world where luxury intertwines seamlessly with sophisticated design and impeccable service, promising unforgettable memories etched forever in your travel repertoire.
The Best Edinburgh Hotels with a Pool
Crieff Hydro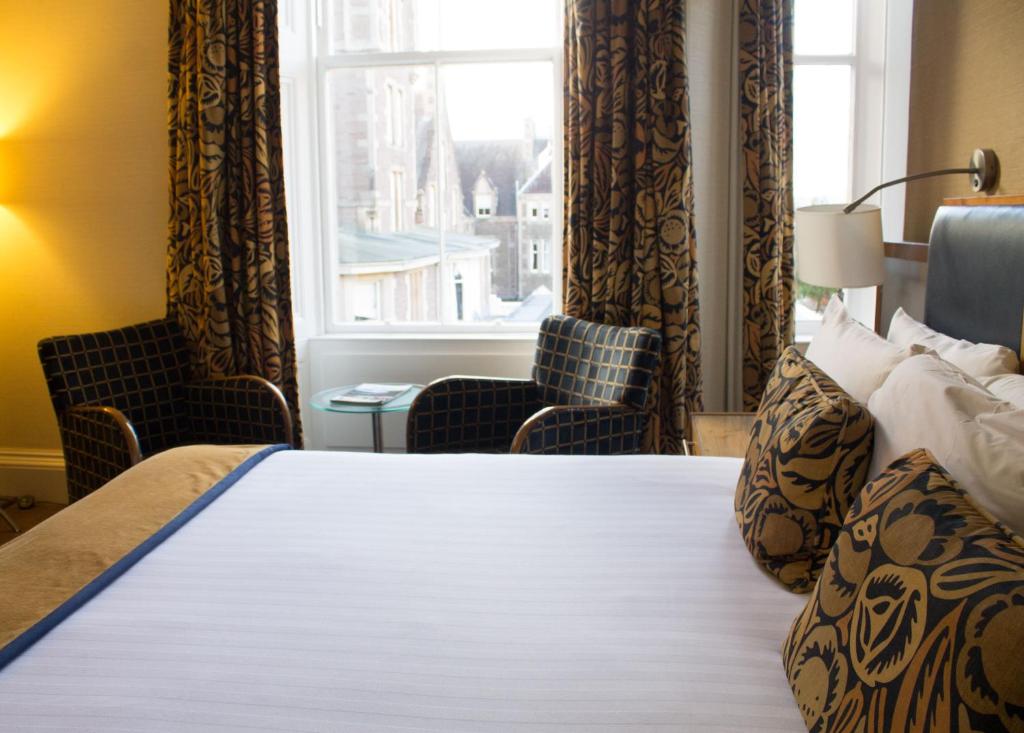 Crieff Hydro Hotel is a stunning resort located in the picturesque Strathearn Valley, just an hour's drive from Edinburgh and Glasgow. Set in a sprawling 900-acre estate, this hotel offers a wide range of activities to keep guests entertained. From a Victorian spa and a 9-hole par 3 golf course to over 60 indoor and outdoor activities, there is something for everyone here. The resort boasts impressive facilities including two swimming pools, off-road driving courses, tennis courts, and even a rifle range. For those looking to relax, the luxury adults-only spa features an indoor pool, steam room, sauna, and spa bath. Additionally, guests can enjoy horse riding, quad biking or water sports during their stay. The accommodation at Crieff Hydro Hotel is nothing short of exceptional with stylishly decorated rooms equipped with satellite TVs and private bathrooms. Family-friendly rooms are also available featuring work desks and tea/coffee facilities. When it comes to dining options, guests have several choices including an Italian-style family restaurant and bar as well as the more traditional Meikle Restaurant situated in the grand Victorian dining room. For parents needing some time alone or couples wanting to unwind together without interruption, qualified childcare is available for up to four hours per day at an additional charge through Big Country.
Pros:
– Wide range of indoor and outdoor activities
– Impressive facilities including two swimming pools
– Luxurious adults-only spa with various amenities
– Stylishly decorated rooms with modern amenities
– Multiple dining options catering to different tastes
SCHLOSS Roxburghe
Located in the picturesque town of Kelso, SCHLOSS Roxburghe offers a luxurious stay for guests seeking relaxation and tranquility. This stunning hotel, part of Destination by Hyatt, boasts an outdoor swimming pool where guests can take a refreshing dip under the sun. The property also features a fitness center and a garden, perfect for those looking to stay active or simply unwind amidst nature's beauty. Indulge in delicious meals at the on-site restaurant or rejuvenate your senses at the sauna and hot tub. With well-appointed rooms equipped with modern amenities, including flat-screen TVs and coffee machines, guests are guaranteed a comfortable stay. The hotel also provides free Wi-Fi throughout the property, ensuring you can stay connected during your visit. Start your day off right with a buffet or continental breakfast available at SCHLOSS Roxburghe before exploring nearby attractions such as Melrose Abbey and Etal Castle. For those seeking additional pampering, the spa center offers 4-star treatment to help you truly unwind during your vacation. With its prime location just 84 km from Edinburgh Airport, SCHLOSS Roxburghe is not only captivating but conveniently accessible as well.
– Outdoor swimming pool
– Fitness center
– Sauna and hot tub
– Well-appointed rooms with modern amenities
– Spa center offering 4-star treatment
The Gleneagles Hotel
Established in 1924, The Gleneagles Hotel is a prestigious resort located in the heart of Scotland. Spread across 850 acres, this grand hotel offers an array of luxurious amenities and activities. Guests are treated to three championship golf courses, including The PGA Centenary and National Academy Golf Courses, as well as a falconry school for those seeking a unique experience. The hotel also features an ESPA spa where guests can indulge in rejuvenating treatments. With four fine dining restaurants on-site, including the Michelin-starred Andrew Fairlie restaurant, visitors can savor delectable meals throughout their stay. Additionally, The Club at Gleneagles Hotel offers fitness classes and boasts two swimming pools, a sauna, a steam room, gym facilities, and an outdoor hot tub. With its elegant rooms and suites featuring picturesque views of the grounds and complimentary Wi-Fi access, Gleneagles Hotel truly offers a luxury experience.
– Three championship golf courses
– Award-winning full Scottish breakfast served
– Variety of fine dining restaurants on-site
– ESPA spa offering rejuvenating treatments
– The Club with fitness classes and leisure facilities
Other places to stay in Edinburgh
Hotels with Pools in Edinburgh with Nice Views
Hotels with pools in Edinburgh offer guests a refreshing and picturesque experience, allowing them to unwind while enjoying stunning views of the city's iconic landmarks. Whether it's overlooking the historic streets or the majestic Edinburgh Castle, these hotels provide a luxurious retreat for travelers seeking relaxation and beauty all in one place.
Edinburgh Holyrood Hotel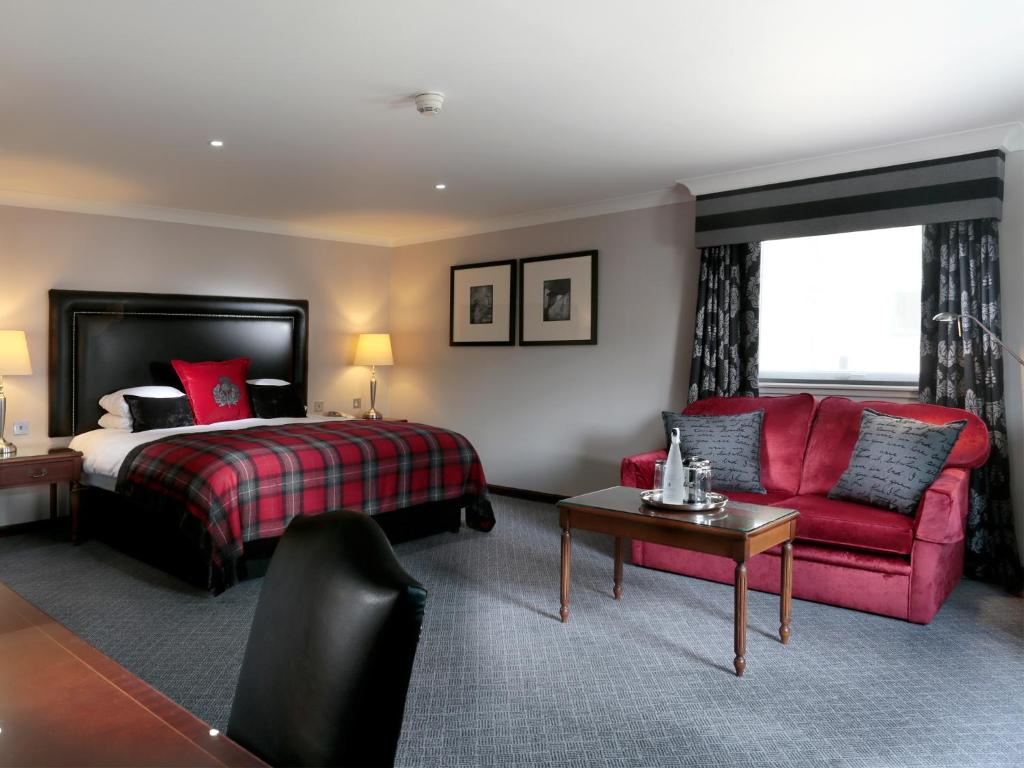 Located just meters from Holyrood Park in Edinburgh's historical center, the Edinburgh Holyrood Hotel offers guests a luxurious stay with its large rooms and award-winning restaurant and spa. Guests can enjoy free WiFi access and indulge in the Health and Wellbeing Club, which features a gym, indoor pool, and sauna. The hotel also offers on-site parking and is within walking distance of popular attractions such as Holyrood Palace and Abbey. With its excellent location, comfortable accommodations, and top-notch amenities, it's no wonder that this hotel is a favorite among couples.
– Indoor pool for guests to relax and unwind
– Award-winning restaurant offering locally sourced meat and fish dishes
– Beauty center with modern treatment rooms for pampering sessions
– Convenient on-site parking available
Novotel Edinburgh Centre
Located just a 5-minute walk from Grassmarket, Novotel Edinburgh Centre is the ideal hotel for those looking to explore the vibrant city. The hotel boasts a hot tub and swimming pool, perfect for relaxation after a busy day of sightseeing. The spacious and modern rooms feature LCD TVs, free Wi-Fi, private bathrooms, minibars, and tea/coffee facilities. Guests can also take advantage of the sauna and modern fitness center. The on-site Tap Kitchen & Bar offers delicious American dining cuisine as well as seasonal Scottish dishes. With its convenient location, guests can easily visit attractions such as the Royal Lyceum Theatre, Edinburgh Waverley Rail Station, Holyrood Park, and The Royal Mile.
– Convenient location near Grassmarket
– Hot tub and swimming pool for relaxation
– Spacious and modern rooms with LCD TVs
– On-site restaurant serving American and Scottish cuisine
– Close proximity to popular attractions such as Royal Lyceum Theatre
Dalmahoy Hotel & Country Club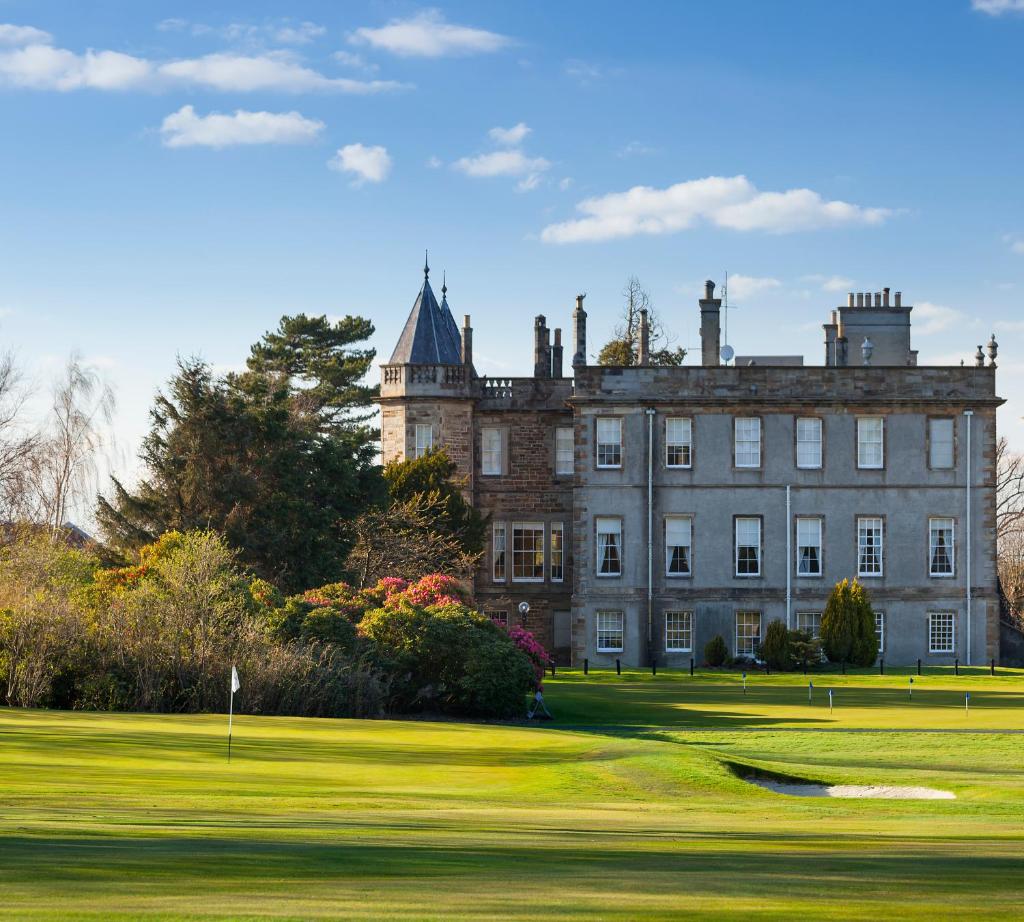 The Dalmahoy Hotel & Country Club is a luxurious country hotel situated amidst 1000 acres of stunning parkland. Built in 1725, this historic hotel offers an array of amenities including two 18-hole golf courses, a spa, and multiple dining options. The spacious rooms are equipped with modern comforts such as flat-screen TVs and en-suite bathrooms. Guests can enjoy delectable cuisine at The Pentland restaurant while taking in panoramic views of the beautiful landscape. The hotel also features an indoor swimming pool, sauna, steam room, tennis facilities, and a leisure club with state-of-the-art gym equipment and fitness classes. With free WiFi throughout the property and complimentary parking available, guests will have a convenient stay. Plus, its location near major roads provides easy access to Edinburgh which is only a short drive away.
– Expansive parkland setting
– Award-winning restaurant with scenic views
– Indoor swimming pool and leisure facilities
– Multiple golf courses on-site
– Convenient location near major roads
Other places to stay in Edinburgh
Romantic Hotels with a Pool in Edinburgh
Romantic Hotels with a Pool in Edinburgh offer the perfect blend of luxury and intimacy for couples looking to unwind and connect. With their serene poolside settings and inviting ambiance, these hotels provide an idyllic retreat for lovebirds seeking a romantic getaway.
Apex Grassmarket Hotel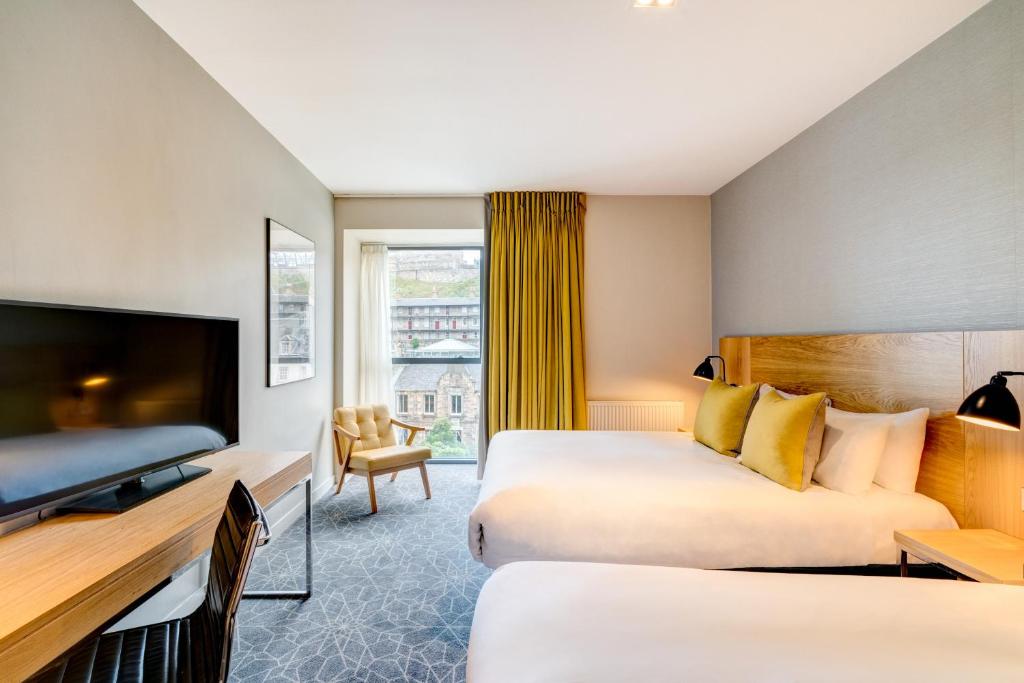 Located in the vibrant Grassmarket area, the Apex Grassmarket Hotel offers guests a luxurious stay with an array of amenities. With a sauna, gym, and pool on site, guests can relax and rejuvenate during their stay. The hotel also boasts an award-winning restaurant where guests can sample delicious dishes from seasonally rotating menus. Each room is elegantly designed and features a widescreen TV, en suite bathroom with shower and luxury toiletries, as well as tea/coffee making facilities and complimentary bottled water. Just a short 15-minute walk away are popular attractions such as Princes Street and Edinburgh Castle, while the Royal Mile and National Museum of Scotland are within close proximity of the hotel. With free WiFi throughout the property and Edinburgh Airport only a 25-minute drive away, the Apex Grassmarket Hotel provides both convenience and comfort for its guests.
– Sauna, pool, gym on site
– Award-winning restaurant with seasonal menus
– Elegant rooms with modern amenities
– Convenient location near popular attractions
– Free WiFi access
Apex Waterloo Place Hotel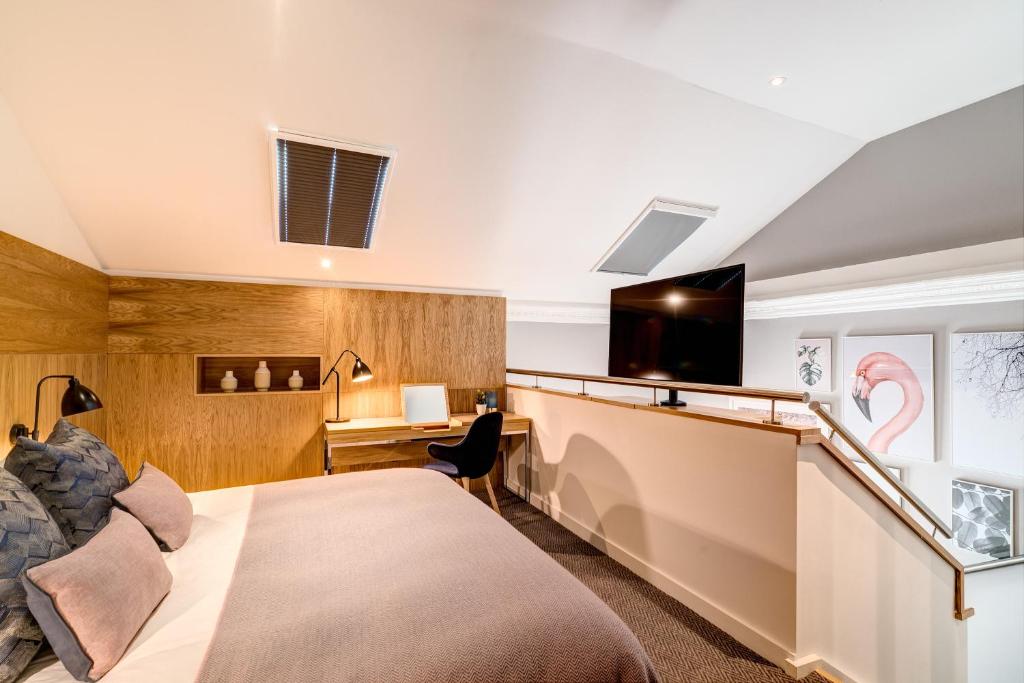 The 4-star Apex Waterloo Place hotel is a luxurious retreat located in the heart of Edinburgh, just steps away from Calton Hill. This elegant hotel offers a range of amenities including a stylish spa, swimming pool with poolside seating, sauna and steam room. Guests can also enjoy the fitness suite for a great workout session. The on-site restaurant, Elliot's, serves delicious traditional Scottish cuisine, while the bright bar offers a selection of fine wines and quality spirits. The rooms are spacious and well-appointed with comfortable beds, flat screen TVs and en-suite bathrooms featuring both a bath and walk-in shower. Some rooms even have Nespresso Coffee machines for added convenience. With its prime location in Edinburgh's Old Town, the hotel is within walking distance to popular attractions such as the Royal Mile and Edinburgh Castle.
– Stylish spa facilities
– Indoor swimming pool with poolside seating
– Fitness suite for workouts
– On-site restaurant serving traditional Scottish cuisine
– Spacious rooms with modern amenities
Kimpton – Charlotte Square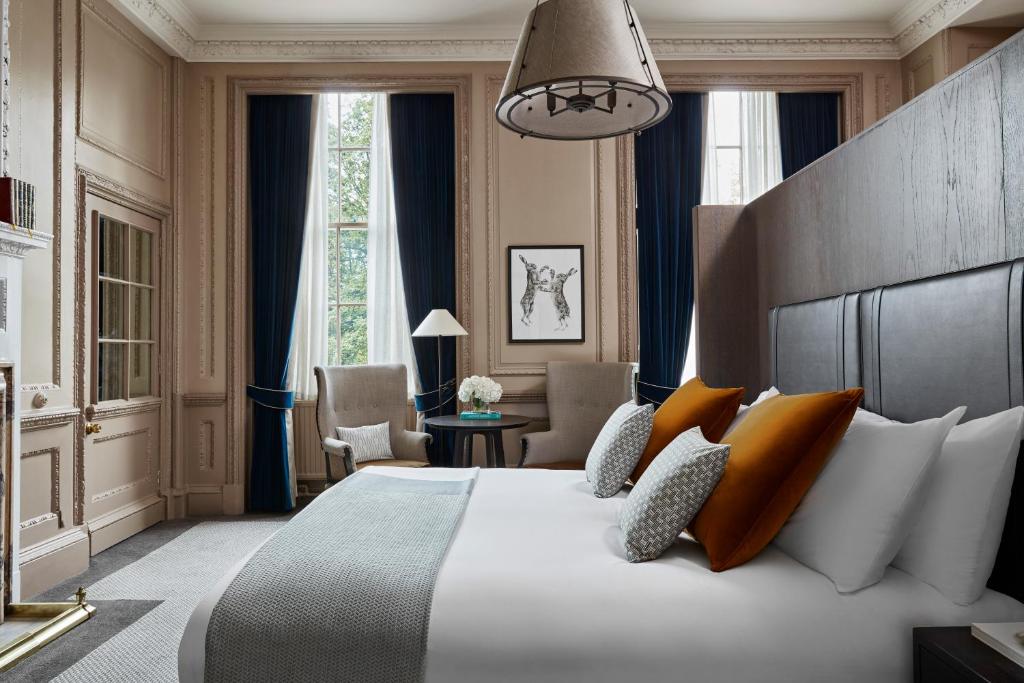 Kimpton Charlotte Square Hotel is a luxurious hotel located in the heart of Edinburgh, just steps away from Princes Street and George Street. The stylishly designed rooms feature modern amenities such as a flat-screen Smart TV and 300 thread count bed linen. Guests can enjoy a complimentary treat box and find a fridge stocked with fresh milk and mineral water. The hotel boasts an impressive spa offering a range of treatments at an additional cost. Each en suite bathroom is equipped with complimentary toiletries. Dining options include The Garden, an indoor courtyard serving delicious food throughout the day, including hot dishes, salads, cakes, spritzers, and Scottish cocktails in the evening. BABA is another excellent choice for guests seeking Middle Eastern and Mediterranean cuisine along with refreshing cocktails. Complimentary access to the leisure facilities is provided to all guests, which includes a gym, swimming pool, and spa. Additionally, the hotel's prime location puts it at the center of Edinburgh's financial district and within easy walking distance of Waverley Railway Station. For travelers flying in or out, Edinburgh Airport is just 7 miles away.
Pros:
– Ideal central location near popular shopping streets
– Well-appointed rooms with modern amenities
– Excellent dining options including Middle Eastern cuisine
– Access to top-notch leisure facilities including gym and swimming pool
Hotels with Pools in Edinburgh That Are Good for Families
Edinburgh offers a range of hotels with pools that are perfect for family vacations. From indoor pools ideal for year-round enjoyment to outdoor pools with stunning city views, families can relax and unwind while their little ones splash away in these inviting hotel retreats.
Waldorf Astoria Edinburgh – The Caledonian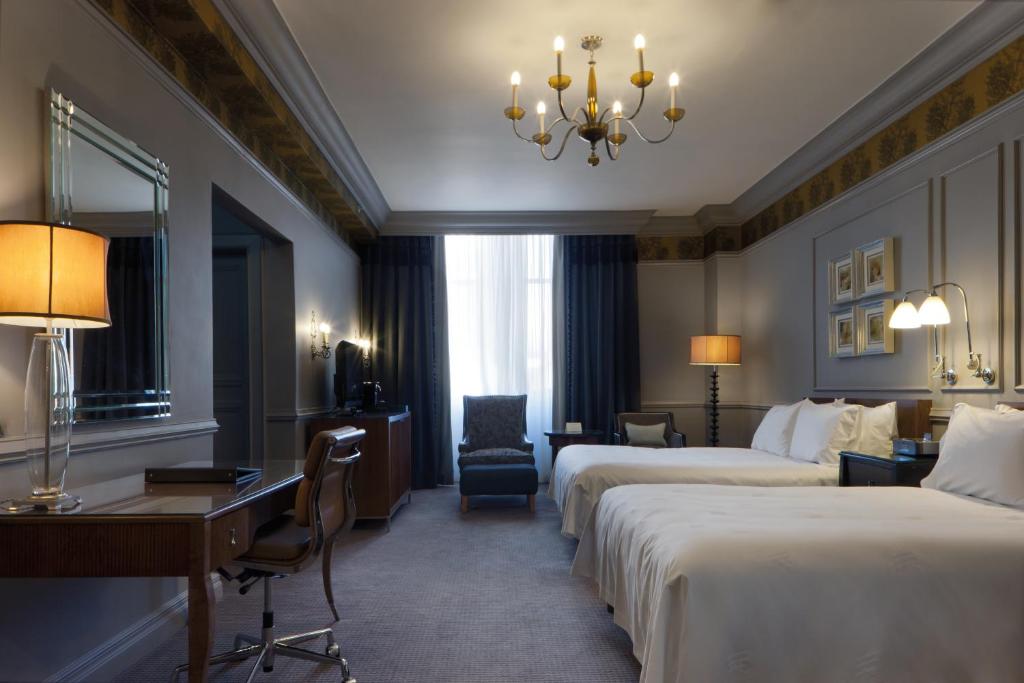 Waldorf Astoria Edinburgh – The Caledonian is a luxury hotel located just a 1-minute walk from Princes Street, offering unobstructed views of Edinburgh Castle. Originally built in 1903 as part of Edinburgh's central railway station, this hotel combines historic charm with modern amenities. Each room features a flat-screen TV, luxurious bathroom with designer toiletries, and fluffy bathrobes. Guests have access to the Waldorf Astoria Spa, which includes a steam room, sauna, whirlpool, swimming pool, and gym. The award-winning restaurant Grazing by Mark Greenaway provides exceptional dining experiences. With its close proximity to George Street's vibrant nightlife and shops, as well as Edinburgh Old Town and the iconic castle within walking distance, Waldorf Astoria Edinburgh – The Caledonian offers an unforgettable stay.
– Prime location near Princes Street
– Stunning views of Edinburgh Castle
– Access to luxurious spa facilities
– Award-winning dining at Grazing by Mark Greenaway
– Close proximity to popular attractions
Norton House Hotel & Spa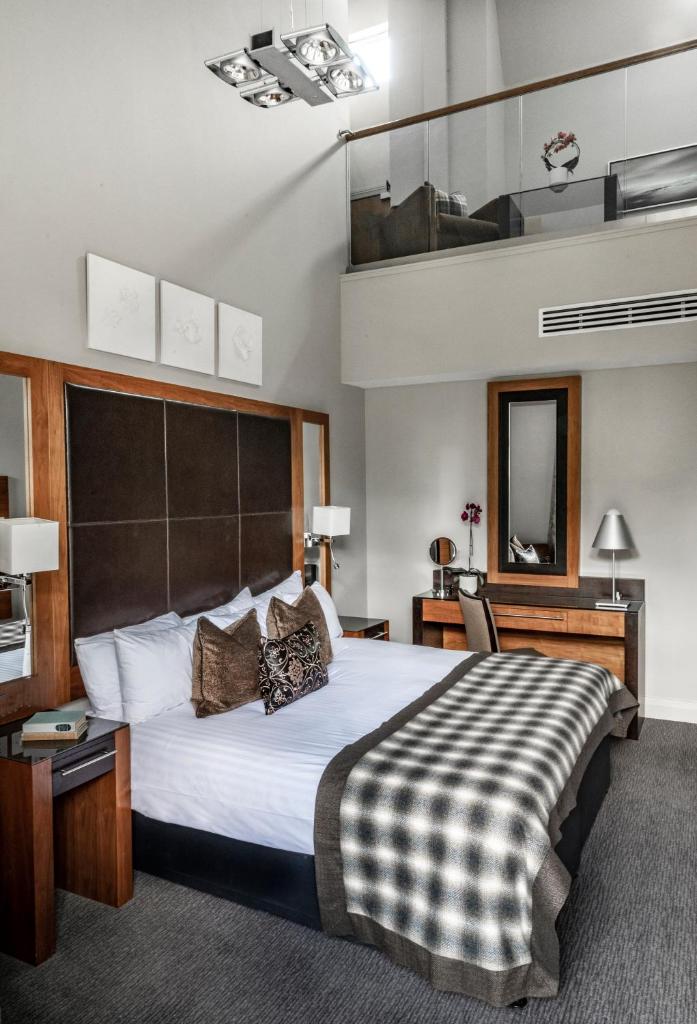 Norton House Hotel & Spa is a boutique hotel located in a charming Victorian mansion set within 55 acres of beautiful grounds. This luxury hotel offers guests a range of amenities, including a spa, award-winning restaurant, and boutique rooms with free internet access. It is conveniently located just a 20-minute drive from Edinburgh and only 3 miles away from Edinburgh Airport. The hotel's spa features an indoor pool with feature fountains, as well as a sauna, steam room, hydrotherapy pool, fully equipped gym and treatment rooms. Guests can also enjoy the Brasserie which serves traditional British cuisine or relax with classic cocktails and afternoon teas at The Glass Lounge. With its leafy surroundings and easy access to the M8 and M9 motorways, Norton House Hotel provides free on-site parking for added convenience. Edinburgh Castle is just 20 minutes away by car.
– Beautiful location in a Victorian mansion with extensive grounds
– Luxury spa offering various relaxation facilities
– Award-winning restaurant serving traditional British cuisine
– Boutique rooms with modern amenities
– Conveniently located near Edinburgh attractions
Edinburgh Hotels with Pool Information
| | |
| --- | --- |
| 🛎️ Hotels with a Pool in Edinburgh | 11 |
| 💰 Hotel prices starting from | $268 |
| 💵 Highest price | $1068 |
| 🥇 Average Review Score | 8.4/10 |
| 🛏️ Average number of Rooms | 164 |
FAQ
Can I find hotels with pools in Edinburgh?
Yes, there are several hotels in Edinburgh that offer pools for their guests to enjoy. Whether you're looking for a rooftop pool with stunning views of the city or an indoor pool for year-round swimming, you'll have plenty of options to choose from. These hotels often provide luxurious amenities and services to ensure your stay is comfortable and enjoyable.
Are hotel pools in Edinburgh heated?
Yes, many of the hotel pools in Edinburgh are heated, especially the indoor ones. This allows guests to enjoy a swim no matter the time of year or weather conditions outside. The temperature of the pool water is typically maintained at a comfortable level, ensuring a relaxing and refreshing experience for swimmers.
Do all hotels with pools provide towel service?
Yes, most hotels with pools in Edinburgh provide towel service for their guests. You can usually expect to find clean towels available either directly at the pool area or through the hotel's front desk. Some establishments may require you to exchange your room key or sign out a towel before use, so it's always advisable to check with the hotel's staff regarding their specific towel policy.
Are children allowed in hotel pools?
Yes, children are generally allowed in hotel pools but may be subject to certain rules and regulations depending on each establishment's policy. Some hotels may require adult supervision while others might have designated hours specifically for families with children. It's important to review these guidelines beforehand if you plan on traveling with kids and intend to use the hotel pool facilities.
Is it necessary to book a specific room type for access to hotel pools?
In most cases, access to hotel pools is not restricted based on room type. However, some upscale accommodations may offer exclusive pool access or additional amenities like private plunge pools or jacuzzis only available in certain suites or higher-tier rooms. It's recommended that you inquire about pool access during your booking process if it's a major factor in your stay.
Popular Hotels with Pool destinations