Best 9 Hotels with Pools in Bath
Welcome to Bath, United Kingdom, a charming city that exudes elegance and history at every turn. Nestled in the heart of this picturesque destination are some truly remarkable hotels that offer not just comfort and luxury, but also the perfect oasis for relaxation – hotels with pools.
In Bath, you can immerse yourself in opulence while enjoying a refreshing dip in one of these magnificent aquatic retreats. These water-filled wonders provide an idyllic escape from the hustle and bustle of everyday life. Whether you prefer to bask under the warm sun on a poolside lounger or take a leisurely swim to invigorate your senses, these hotels have everything you need for a rejuvenating experience.
Indulge yourself in one of Bath's exquisite accommodations boasting stunning pools that range from tranquil indoor havens to serene outdoor sanctuaries. Take pleasure in the soothing ambiance as you take laps surrounded by lush greenery or unwind with a cocktail while floating gently in crystal-clear waters. With their luxurious amenities and breathtaking views, these hotels ensure that your stay will be nothing short of extraordinary.
So why settle for anything less when visiting Bath? Treat yourself to an unforgettable getaway where luxury meets serenity at one of these exceptional hotels with pools. Dive into tranquility and let the stress melt away as you embark on an extraordinary journey through this captivating city
The Best Bath Hotels with a Pool
The Gainsborough Bath Spa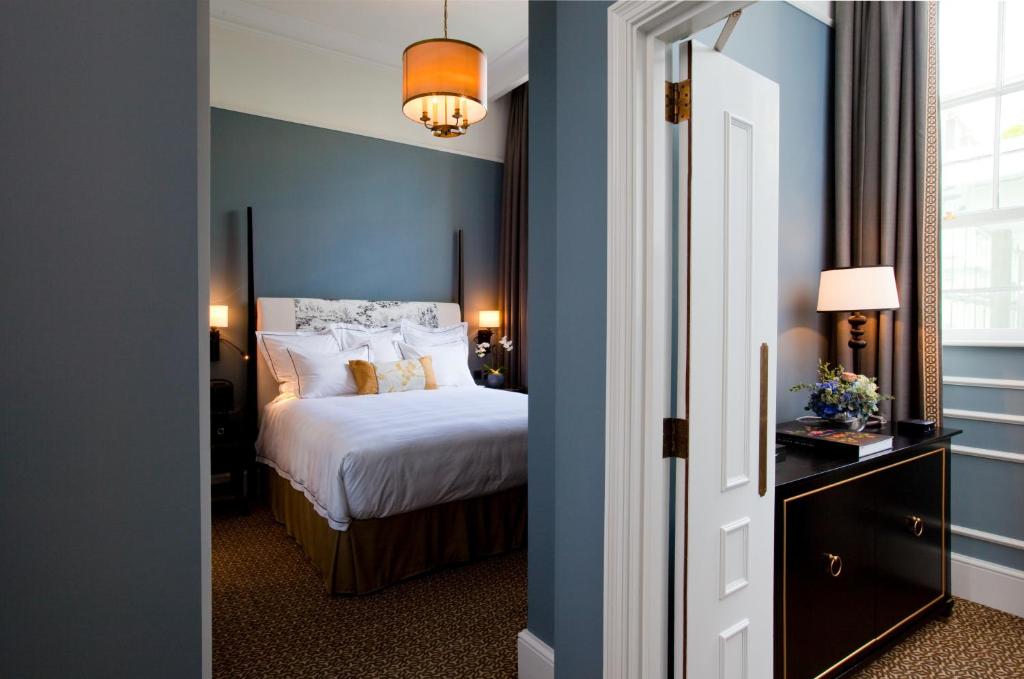 The Gainsborough Bath Spa – a YTL Hotel is a luxurious five-star accommodation located in Bath, United Kingdom. What sets this hotel apart is its unique access to naturally heated thermal waters within its Spa Village, making it the only hotel in the UK with this feature. The property boasts well-appointed rooms with flat-screen TVs, seating areas, and private bathrooms complete with bath robes and slippers. Guests can unwind at The Canvas Room, which serves a delightful light lunch menu until 5pm or indulge in Afternoon Tea available daily from 3pm to 5pm (advance booking required). The Gainsborough Bar offers a wide selection of beverages and operates from 5pm to 11pm every night. Additionally, the concierge team is always ready to provide guidance and assist with any alternative arrangements needed. Situated just steps away from popular attractions such as the Roman Baths and Bath Abbey, this hotel offers convenience alongside luxury. Bristol Airport is also easily accessible at just 24 km away. For more details or direct contact information, please visit their website.
Pros:
– Access to naturally heated thermal waters within the Spa Village
– Luxurious five-star accommodation
– Conveniently located near popular attractions
– Well-appointed rooms with modern amenities
– On-site dining options including The Canvas Room serving light lunch and Afternoon Tea by advance booking
Ellenborough Park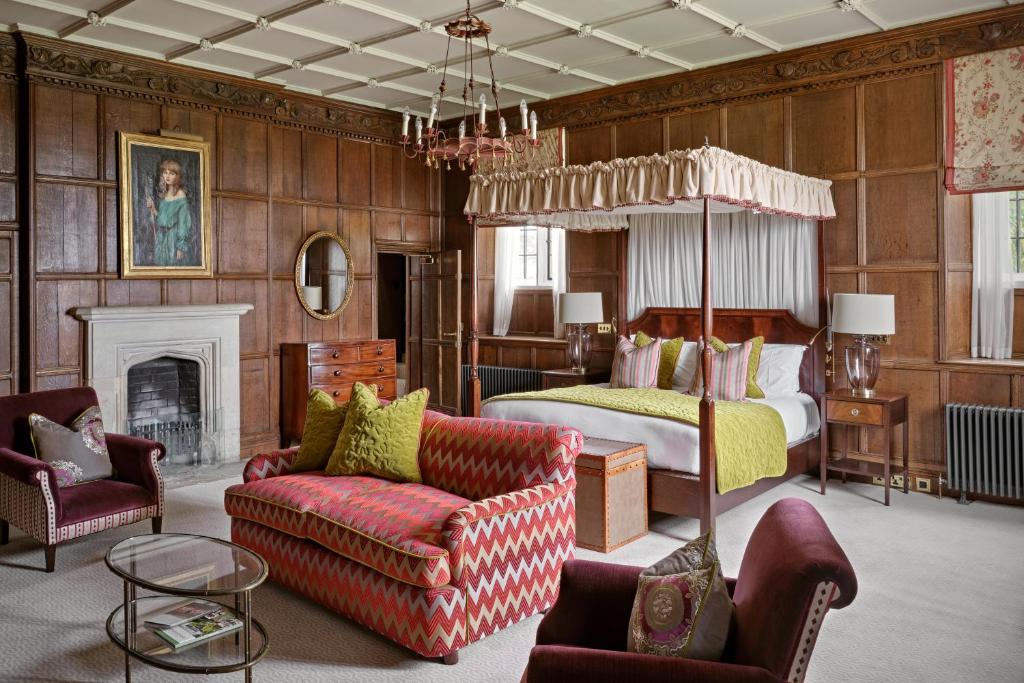 Nestled between the Cotswolds' highest point and Cheltenham Racecourse, Ellenborough Park is a luxurious 5-star hotel steeped in history. The main house of this 90-acre estate dates back to the 15th Century and has been beautifully restored to its former glory. With 61 unique rooms and suites, guests can indulge in the charm of a Cotswold manor house with contemporary amenities. The hotel offers two restaurants serving delicious dishes made from locally sourced produce, catering to every palate. During the summer months, guests can enjoy dining alfresco on the South Lawn or relax on the Taittinger Terrace while sipping crafted cocktails and admiring panoramic views of Cheltenham Racecourse and Cleeve Hill. For ultimate relaxation, guests can visit The Spa which features enticing treatments, a sauna, steam room, Jacuzzi, outdoor heated pool, and gym facilities. A private track leads from Ellenborough Park to Cheltenham Racecourse for convenient transfers during racing seasons. With its proximity to historical attractions like Tewkesbury and easy access to the M5 motorway, Ellenborough Park is an ideal destination for luxury seekers.
– Beautifully restored historic manor house
– Two exquisite restaurants with locally sourced cuisine
– Stunning panoramic views of Cheltenham Racecourse
– Luxurious spa facilities including an outdoor heated pool
– Convenient location near historical attractions
Bishopstrow Hotel and Spa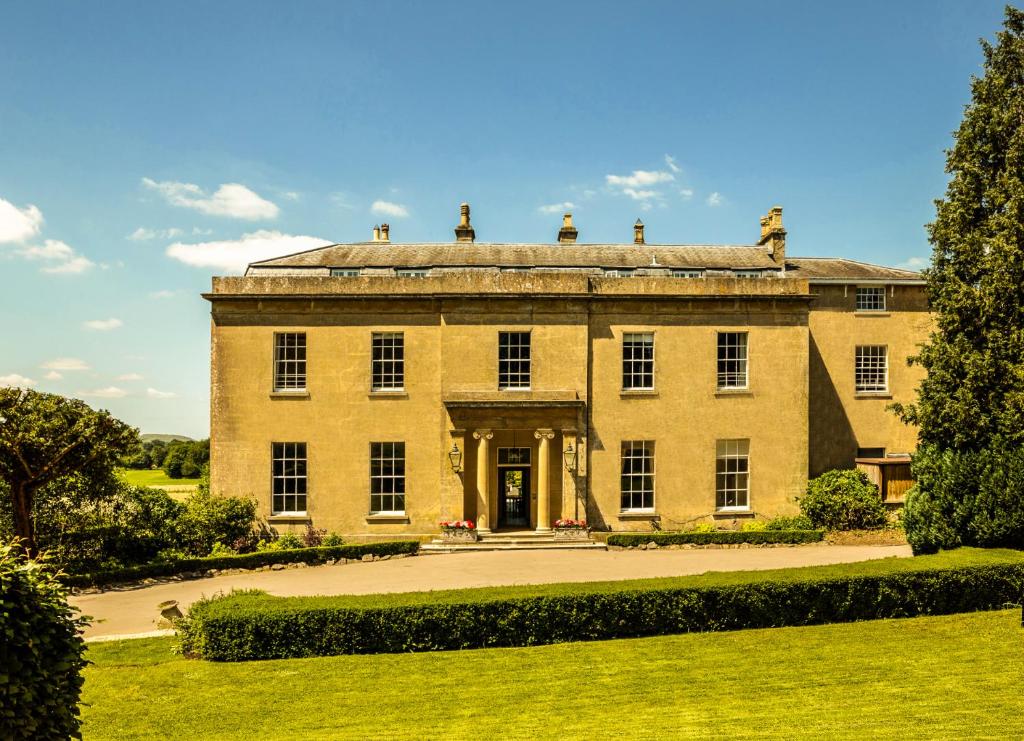 Bishopstrow Hotel and Spa is an idyllic English country house nestled in the picturesque Wiltshire countryside. With a focus on luxury and relaxation, this hotel boasts a state-of-the-art spa and a restaurant that takes pride in using only the freshest local ingredients. A mere 10-minute journey from Longleat House and Safari Park, guests can enjoy a range of amenities such as indoor and outdoor pools, a Rasul mud therapy room, Elemis & VOYA treatments, sauna, steam room, and more. Conveniently located between Salisbury and Bath, Bishopstrow Hotel also offers peaceful gardens that lead to the river along with tennis courts within its grounds. Each bedroom exudes its own unique charm and is beautifully adorned, providing the perfect retreat for stress relief and rejuvenation.
Pros:
– Luxurious spa facilities including indoor and outdoor pools
– Extensive range of treatments using top-quality brands
– Beautifully decorated bedrooms with individual personalities
– Tranquil gardens leading to the river offering peace and serenity
– Convenient location near popular attractions like Longleat House
Other places to stay in Bath
Hotels with Pools in Bath with Nice Views
Hotels with pools in Bath offer a delightful combination of relaxation and scenic beauty. Guests can unwind while enjoying stunning views of the city's picturesque surroundings, creating a serene atmosphere that complements the luxurious experience.
De Vere Tortworth Court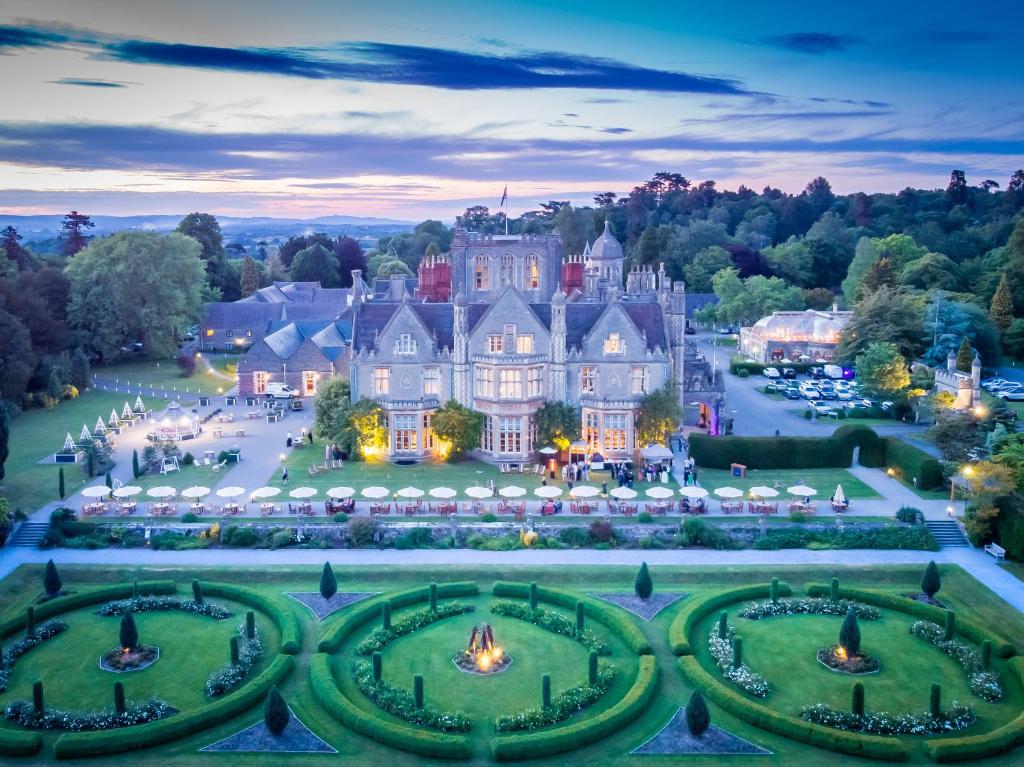 De Vere Tortworth Court is a magnificent Gothic mansion located in the serene parkland of the Cotswold Edge, just a stone's throw away from the stunning Severn Valley and Bristol. This Grade II Listed building offers guests an unforgettable experience with its exceptional dining options, leisure club facilities, and spacious, traditionally designed rooms. The hotel features Moreton's Restaurant, housed within the charming former library adorned with oak-panelled walls and an impressive fireplace. What truly sets De Vere Tortworth Estate apart is its breathtaking arboretum that boasts 300 rare and protected trees spread across 30 acres of picturesque parkland. Guests can indulge in ultimate relaxation at the leisure club which includes an indoor pool, spa bath, gym, sauna, steam room, and beauty therapy centre. The restaurant serves delectable freshly prepared breakfasts and evening meals while offering stunning views of the enchanting gardens.
– Beautiful historic Gothic mansion in tranquil surroundings
– Exceptional dining experience at Moreton's Restaurant
– Impressive arboretum with rare trees in expansive parkland
– Luxurious leisure club facilities including indoor pool and spa
– Breathtaking garden views from the restaurant
The Royal Crescent Hotel & Spa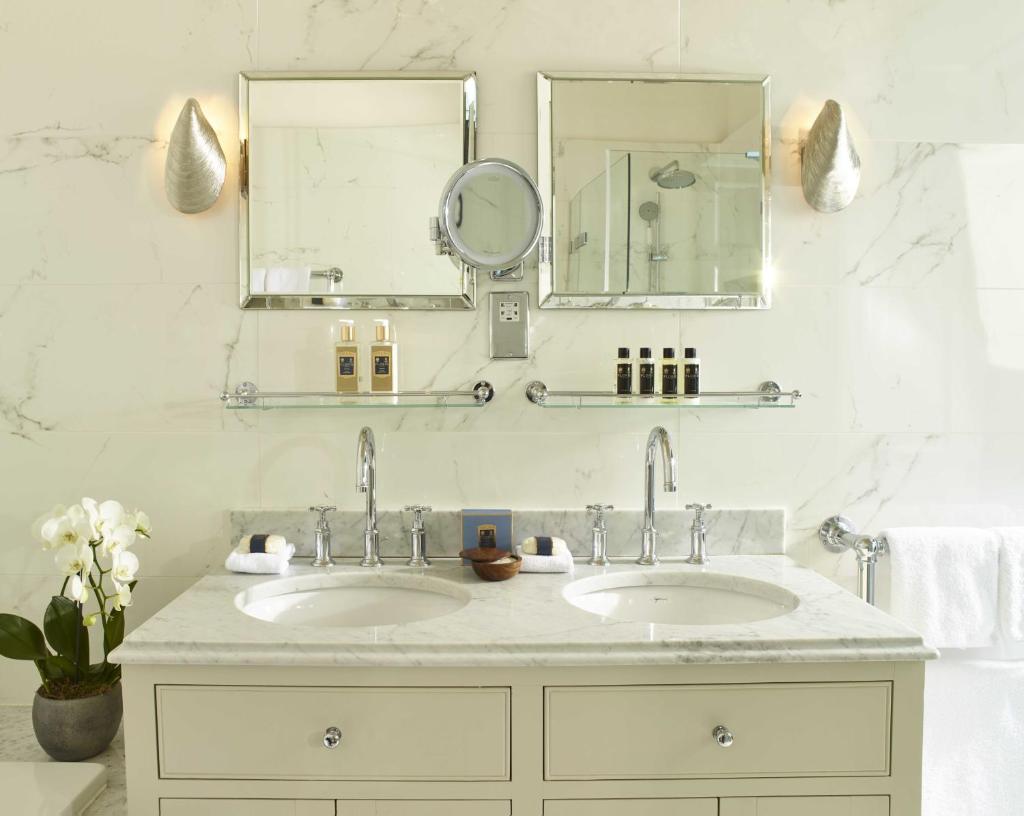 Located in Bath's Royal Crescent, The Royal Crescent Hotel & Spa is a magnificent 5-star hotel offering luxurious amenities and stunning surroundings. Guests can enjoy a fully equipped gym, an award-winning restaurant, and a cocktail bar. The highlight of the hotel is the Bath House spa, which features relaxation pools with massage jets, a sauna with salt therapy treatments, and a steam room. The spa is housed within an original coach house and stables. Each bedroom boasts an elegant 18th-century-style décor with luxury bedding and flowers. Free WiFi is available throughout the property, along with exquisite paintings from period artists like Gainsborough. The Montagu bar offers all-day dining options as well as cocktails and champagne, while the beautiful gardens are perfect for enjoying a traditional afternoon tea. With its prime location just a 15-minute walk from the city-center attractions such as Pump Room Baths and Theatre Royal, The Royal Crescent Hotel & Spa provides guests with both convenience and grandeur.
– Fully equipped gym
– Stunning Bath House spa
– Award-winning restaurant
– Elegant 18th-century-style décor in each bedroom
– Beautiful gardens for traditional afternoon tea
Whatley Manor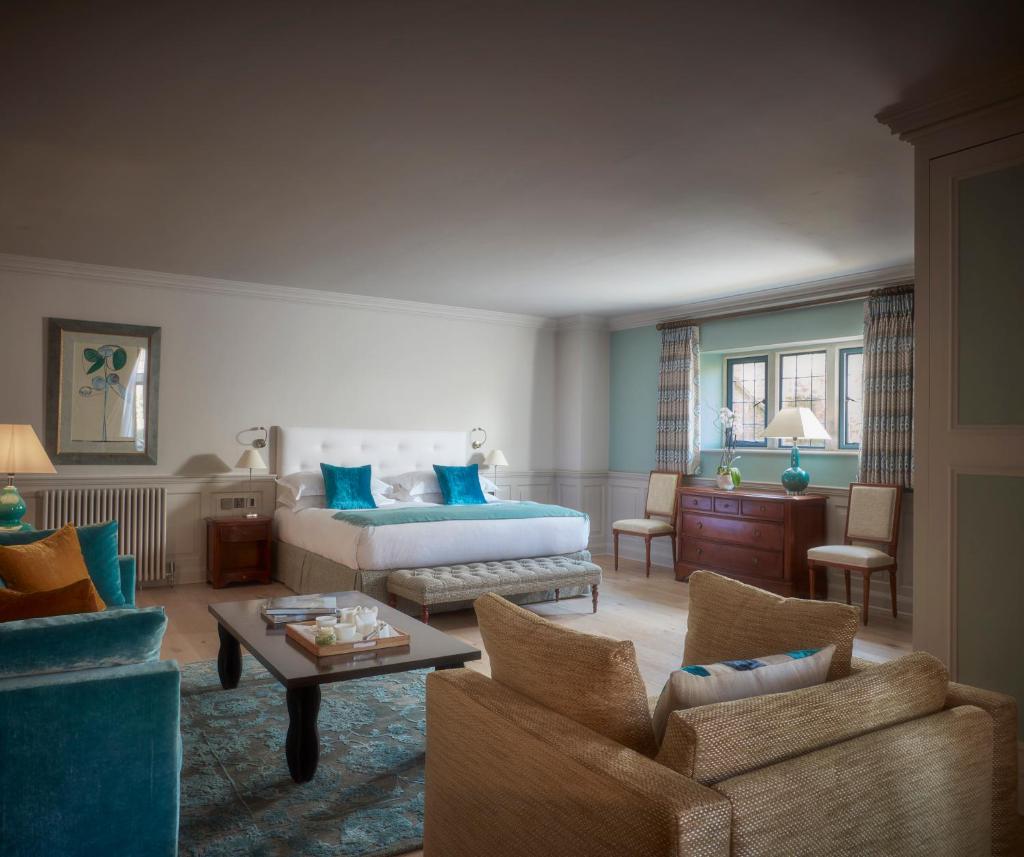 Nestled within 12 acres of picturesque Wiltshire countryside, Whatley Manor is a stylish venue that offers a relaxing and revitalizing experience. Guests can indulge in a twelve-course dining experience from Thursday to Sunday, or enjoy the informal brasserie, The Grey's, which serves lunch and dinner daily. The hotel's spa, Aquarias, has been voted as one of the top 10 UK spa retreats by Condé Nast Traveller Readers and offers Natura Bissé signature treatments for the ultimate well-being. Additionally, guests can take leisurely strolls through the beautiful landscaped gardens adorned with sculptures, fountains, and enchanting lighting that enhances the natural splendors on offer.
– Twelve-course dining experience
– Informal brasserie serving lunch and dinner daily
– Acclaimed spa with Natura Bissé signature treatments
– Beautiful landscaped gardens with sculptures and fountains
– Relaxed atmosphere for a tranquil getaway
Romantic Hotels with a Pool in Bath
Bath offers a mesmerizing selection of romantic hotels with pools, perfect for couples seeking a luxurious getaway. These enchanting accommodations offer tranquil poolside retreats, allowing guests to unwind and create unforgettable memories together.
The Bath Priory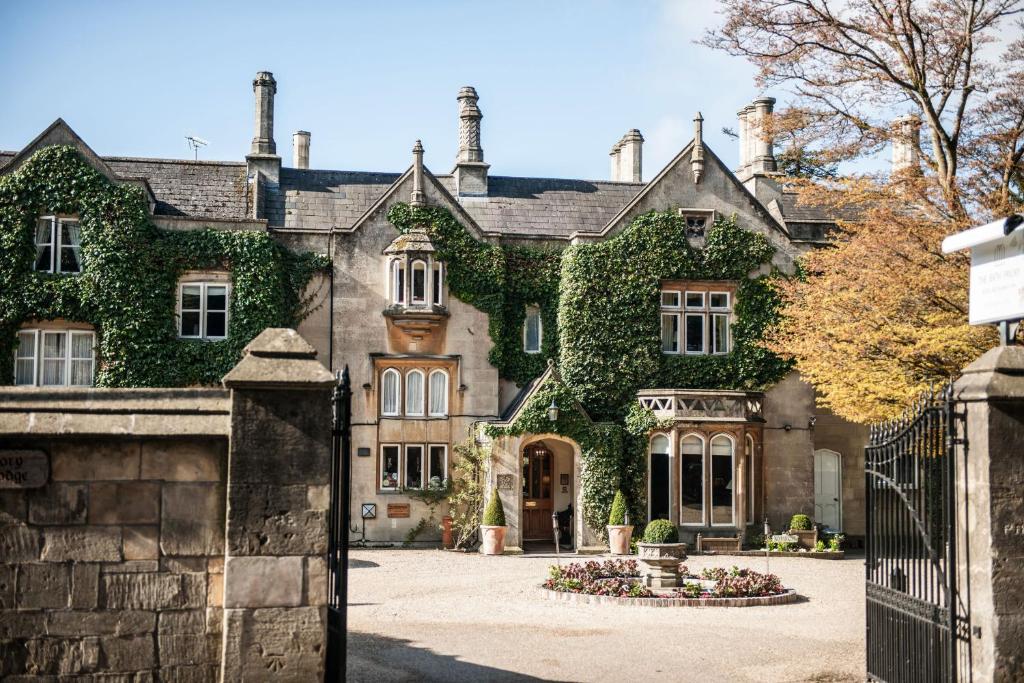 The Bath Priory Hotel is a luxury country house hotel nestled within 4 acres of stunning grounds. Located less than 2 miles from Bath Abbey, this hotel offers a truly luxurious experience with its spa and renowned restaurant. The restaurant at The Bath Priory serves modern French dishes and seasonal cuisine, while the Pantry provides casual dining in a cozy atmosphere. The hotel's Provence-inspired Garden Spa by L'Occitane features an indoor heated swimming pool, along with a pool-side sauna and modern steam pod. Guests can also indulge in L'Occitane beauty treatments by appointment. The rooms at Bath Priory are elegantly decorated and offer free WiFi access. With its picturesque surroundings in the rolling Avon countryside, this hotel is perfect for those seeking tranquility while still being within walking distance of attractions like the Jane Austen Centre. Additionally, free parking is available on-site and vibrant Bristol is just a short drive away.
– Luxury spa offering L'Occitane beauty treatments
– Renowned restaurant serving modern French dishes
– Elegant rooms with free WiFi access
– Indoor heated swimming pool with sauna and steam pod
– Beautiful grounds perfect for relaxation
Homewood Hotel & Spa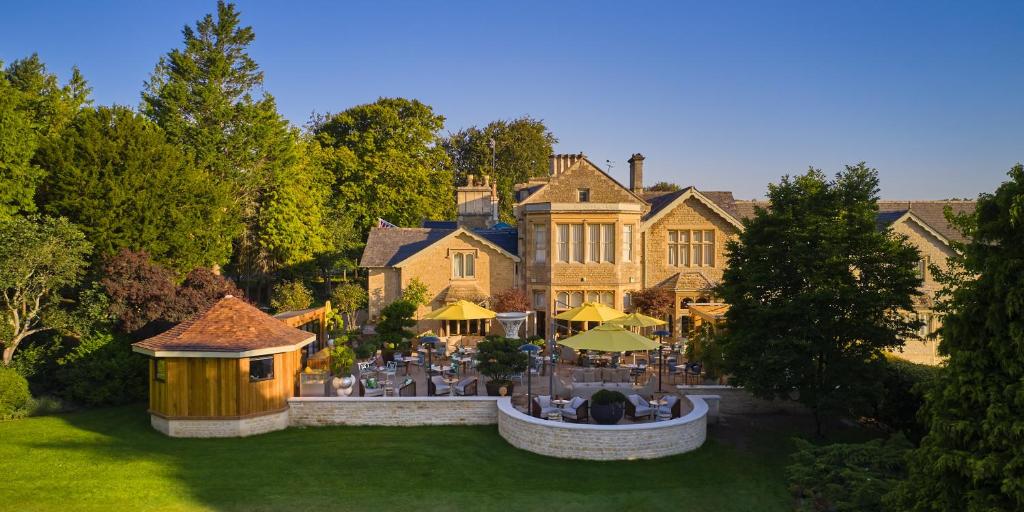 Located near Bath, the Homewood Hotel & Spa is a Georgian country retreat that offers a tranquil escape surrounded by parkland and beautiful gardens. The hotel seamlessly blends traditional charm with contemporary design, featuring antique paintings, wood floors, and log fires alongside chic fabrics and modern cuisine. Guests can indulge in the award-winning dishes served at The Restaurant at Homewood, known for its exceptional modern English cuisine. For ultimate relaxation, the on-site spa boasts a hydrotherapy pool, sauna, steam room, and an outdoor heated swimming pool with stunning views of the surroundings. Luxurious treatments are also available to further pamper guests. With luxurious and unique bedrooms offering splendid garden views, Homewood Hotel & Spa promises an unforgettable stay.
– Peaceful seclusion amid parkland and stunning gardens
– Award-winning modern English cuisine at The Restaurant at Homewood
– A range of luxurious treatments offered at the on-site spa
– Outdoor heated swimming pool with breathtaking views
Castle Of Comfort Hotel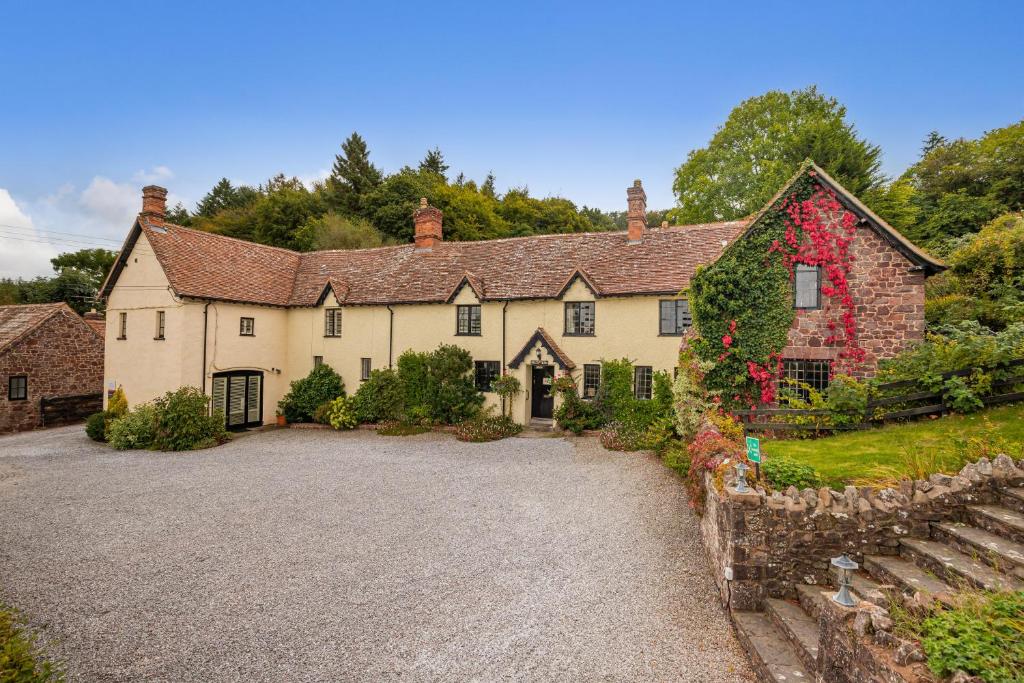 Castle Of Comfort Hotel is a charming 16th-century country house nestled on the slopes of the Quantock Hills, offering a tranquil getaway just 15 miles from Exmoor National Park. Boasting quiet gardens and an atmosphere of serenity, this 5-star establishment has received the prestigious Gold Award from VisitBritain. Guests can enjoy complimentary Wi-Fi and parking facilities, as well as indulge in delectable cuisine at the hotel's restaurant, open every evening except Sundays. With its rich history as a coaching inn during the 17th century, The Castle of Comfort retains many original features including beautiful wooden beams. Each en suite room is tastefully furnished and equipped with modern amenities such as TVs, telephones, hairdryers, tea/coffee making facilities, and even complimentary sherry. Conveniently located just off the A39 and less than 10 miles from Bridgwater, this small country house offers a luxurious experience with its impeccable service and picturesque surroundings.
– Tranquil location on the slopes of Quantock Hills
– Gold Award winner by VisitBritain
– Charming gardens for relaxation
– Delicious dining options at the on-site restaurant
– Well-appointed rooms with thoughtful amenities
Bath Hotels with Pool Information
| | |
| --- | --- |
| 🛎️ Hotels with a Pool in Bath | 9 |
| 💰 Hotel prices starting from | $254 |
| 💵 Highest price | $1955 |
| 🥇 Average Review Score | 8.7/10 |
| 🛏️ Average number of Rooms | 57 |
FAQ
Is there a luxury hotel in Bath with an indoor pool?
Yes, there are several luxury hotels in Bath that feature indoor pools. One notable option is The Gainsborough Bath Spa, a five-star hotel located in the heart of the city. This elegant hotel not only offers beautifully designed rooms and top-notch amenities but also boasts a fabulous indoor thermal pool. Guests can indulge in a relaxing swim while enjoying the views of the historic Roman Baths.
Are there any budget-friendly hotels in Bath with outdoor pools?
Unfortunately, there aren't many budget-friendly hotels in Bath that offer outdoor pools. However, one affordable option to consider is Hilton Bath City Hotel. While it doesn't have an outdoor pool, it does offer access to their nearby sister property, which has an impressive rooftop pool overlooking the city skyline. So even if you're on a budget, you can still enjoy some sun and have a refreshing dip during your stay.
Which hotels in Bath have heated pools?
If you prefer swimming in comfortable temperatures all year round, there are several hotels in Bath with heated pools. One such hotel is Macdonald Bath Spa Hotel, which features both indoor and outdoor heated pools for guests to enjoy no matter the season. With its tranquil surroundings and luxurious facilities, this hotel provides a perfect opportunity to relax and unwind while taking advantage of their inviting heated swimming areas.
Is it possible to find family-friendly hotels with pools in Bath?
Yes! Families visiting Bath will be delighted to know that there are family-friendly hotels offering excellent pool facilities. Apex City of Bath Hotel is one such establishment where families can enjoy leisure time together by making use of their spacious indoor swimming pool area. Additionally, this modern hotel provides various amenities catering specifically to families including interconnected rooms or suites for added convenience.
Do any boutique hotels exist in Bath with unique pool experiences?
Absolutely! For those looking for unique pool experiences at boutique accommodations in Bath, The Queensberry Hotel is a top recommendation. While the hotel boasts elegant rooms and impeccable service, it also features an outdoor plunge pool located within their beautiful walled garden. It offers a tranquil oasis where guests can take a refreshing dip while surrounded by the hotel's charming architecture and greenery.
Popular Hotels with Pool destinations