Best 10 Hotels with Pools in Napa
Welcome to Napa, the idyllic destination renowned for its exquisite vineyards and stunning landscapes. Within this charming region lies a selection of opulent accommodations that boast magnificent aquatic havens. Today, we delve into the realm of hotels in Napa featuring lavish swimming pools, where guests can indulge in ultimate relaxation and rejuvenation.
Nestled amidst the heart-stirring beauty of Napa Valley, these luxurious lodgings offer an array of aqua-centric retreats. Immerse yourself in the resplendent surroundings as you plunge into crystal-clear waters at these elegant properties. Delight your senses with a refreshing swim or bask lazily by the poolside under the warm Californian sun. Whether you seek a serene oasis or an invigorating swim, these opulent establishments ensure unparalleled experiences for every traveler.
Imagine sipping on a glass of delightful local wine while relishing panoramic views from a tranquil infinity pool perched upon rolling hillsides. Dive into serenity as you dip into an elegantly designed rooftop pool decked with chic loungers and lush greenery all around. Unwind in style as you embrace the soothing ambiance of indoor pools adorned with intricate mosaic tiles and shimmering underwater lighting features. With their meticulous attention to detail and exceptional service, these hotels afford guests unforgettable pool experiences that perfectly complement their Napa adventures.
The Best Napa Hotels with a Pool
Carneros Resort and Spa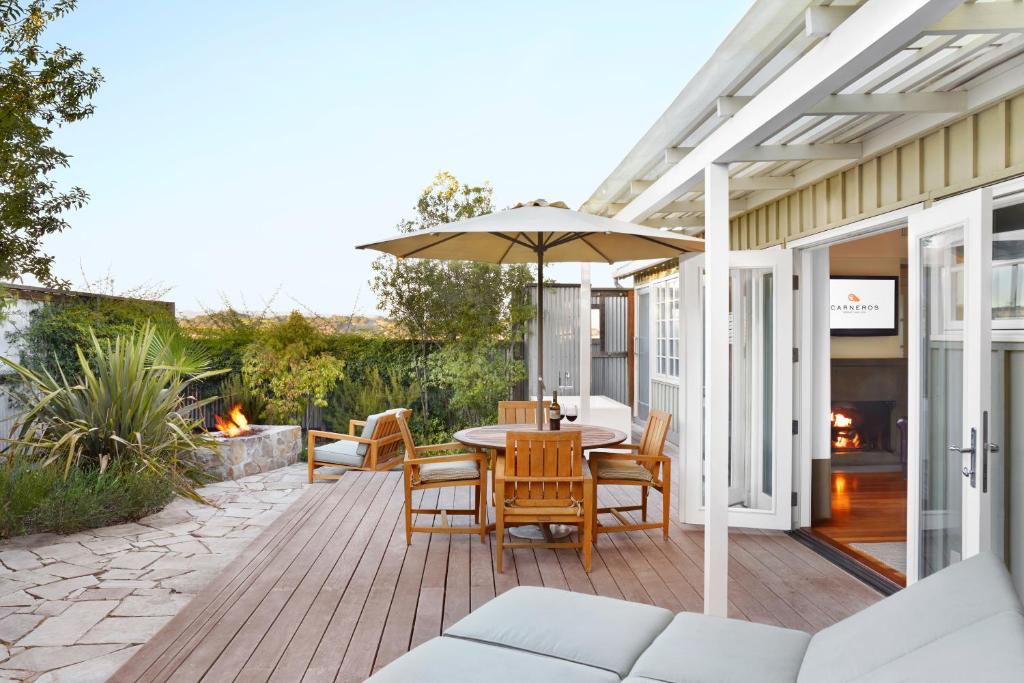 Perched atop the scenic Napa Valley, Carneros Resort and Spa is a luxurious retreat offering a host of amenities to its guests. The resort features two outdoor pools, including an adult-only hilltop pool with breathtaking views. Guests can also enjoy the 3,000-square-foot fitness center, bocce ball courts, and complimentary bicycles for exploring the grounds. Each suite or cottage is elegantly appointed and includes a furnished patio, bathrobes, free WiFi, and a flat-screen TV. The resort boasts three full-service gourmet restaurants – Hilltop Dining Room, Boon Fly Café, and The Farm – offering delectable meals with outdoor patio dining options. Additionally, there is an onsite gourmet market and local store for convenience. For wine enthusiasts, several renowned wineries like Buena Vista Winery and Cline Cellars are just a short drive away. With its beautiful location and top-notch amenities, Carneros Resort and Spa is the perfect destination for those seeking relaxation in Napa Valley.
– Two outdoor pools with padded lounge chairs
– Award-winning spa for ultimate relaxation
– Three full-service gourmet restaurants on-site
– Complimentary bicycles provided to explore the grounds
– Proximity to renowned wineries in Napa Valley
Grand Reserve at The Meritage
Located just 6.4 km from downtown Napa, Grand Reserve at The Meritage offers luxurious accommodation with free WiFi. This resort boasts an outdoor swimming pool and 9 on-site wine tasting rooms. The air-conditioned rooms feature a private bathroom and a balcony, while the hotel also offers a hot tub, fitness centre, and business centre for guest use. Guests can indulge in delicious cuisine at Morimoto Restaurant or enjoy a taste of the five towns that make up Napa Valley at Fivetown Grocery. With hiking trails nearby and knowledgeable reception staff to help plan activities, this hotel is the perfect destination for an unforgettable Napa Valley getaway.
Pros:
– Outdoor swimming pool
– On-site wine tasting rooms
– Balconies in guest rooms
– Delicious dining options available
– Proximity to downtown Napa
The Inn on Pine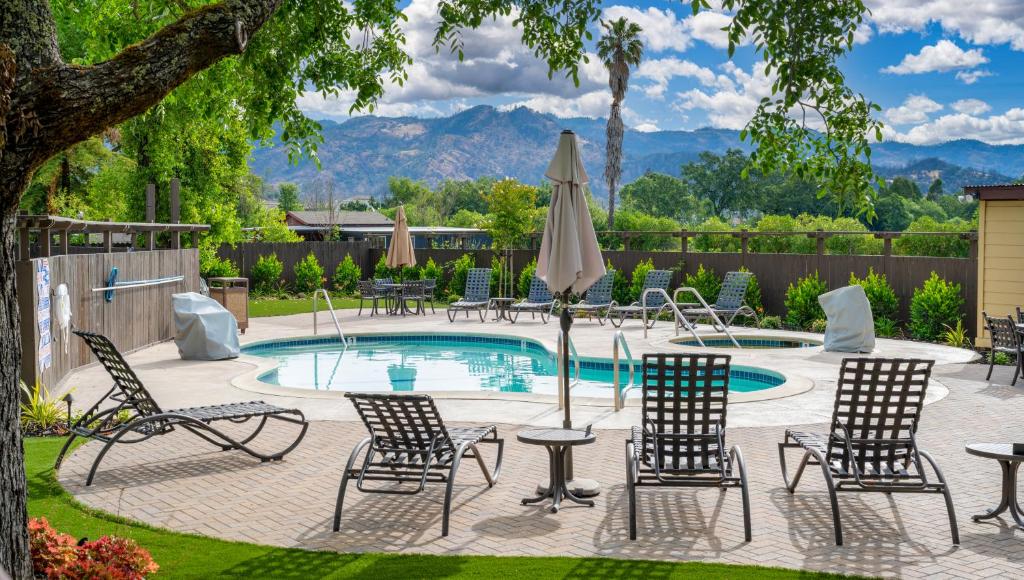 Located near Mount St. Helena in Calistoga, The Inn on Pine is a luxurious resort that offers guests a truly relaxing and rejuvenating experience. With its outdoor pool and spacious rooms featuring large bathrooms with whirlpool tubs, this resort provides the perfect setting for unwinding after a day of exploration. The guest rooms are elegantly decorated with brown accents and equipped with modern amenities such as microwave, refrigerator, and coffee facilities. Each room also features a ceiling fan and a cozy 2-person seating area. In addition to providing comfortable accommodations, the resort offers valuable assistance to guests by providing information on local wineries and hiking routes. Nature enthusiasts will be delighted to know that Bothe-Napa Valley State Park is just 3.6 miles away from the resort, while those seeking natural wonders can visit Old Faithful, the geyser of California, which is only a 5-minute drive away.
– Outdoor pool for refreshing swims
– Spacious rooms with whirlpool tubs
– Convenient amenities like microwave and refrigerator in each room
– Assistance in planning winery visits and hiking routes
– Proximity to popular attractions like Bothe-Napa Valley State Park and Old Faithful
Other places to stay in Napa
Hotels with Pools in Napa with Nice Views
Hotels with pools in Napa offer a relaxing escape amidst beautiful surroundings. Whether it's enjoying a refreshing swim or simply lounging by the poolside, these hotels provide guests with stunning views that enhance their overall experience of tranquility and luxury.
SENZA Hotel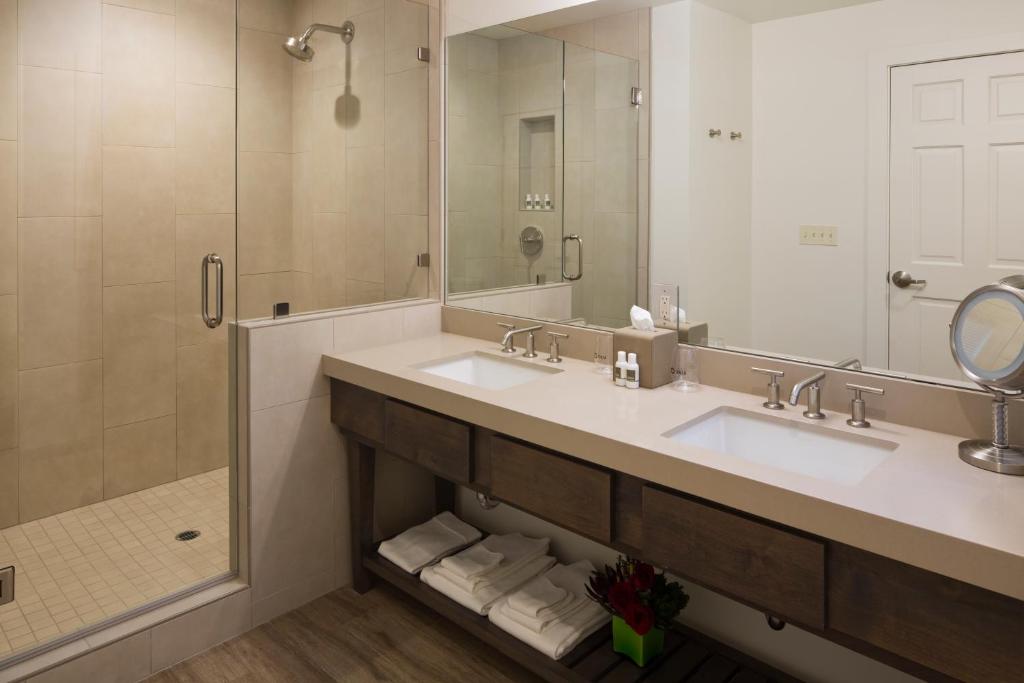 Nestled in the picturesque Napa Valley, SENZA Hotel is a charming inn that boasts a sun deck with an inviting outdoor pool. The French doors in each room open up to a private patio and offer guests a cozy bathrobe for their comfort. Adorned with antique furniture and original artwork, every room at SENZA Hotel exudes a sense of timeless elegance. Equipped with modern amenities such as flat-screen cable TVs, CD players, and comfortable seating areas, guests can unwind and relax in style. For those seeking ultimate relaxation, the hotel provides an outdoor hot tub and poolside lounge chairs where guests can soak up the California sunshine. The shaded patio offers a retreat from the heat, while the daily continental breakfast ensures guests start their day off right. Conveniently located just one mile away from California Wine Tours, which organizes delightful journeys through Napa Valley wineries, SENZA Hotel is also within easy reach of Vintner's Golf Club and Napa Valley Museum.
– Sun deck with an inviting outdoor pool
– Private patios with French doors
– Antique furniture and original artwork
– Outdoor hot tub for ultimate relaxation
– Daily continental breakfast available
RiverPointe Napa Valley Resort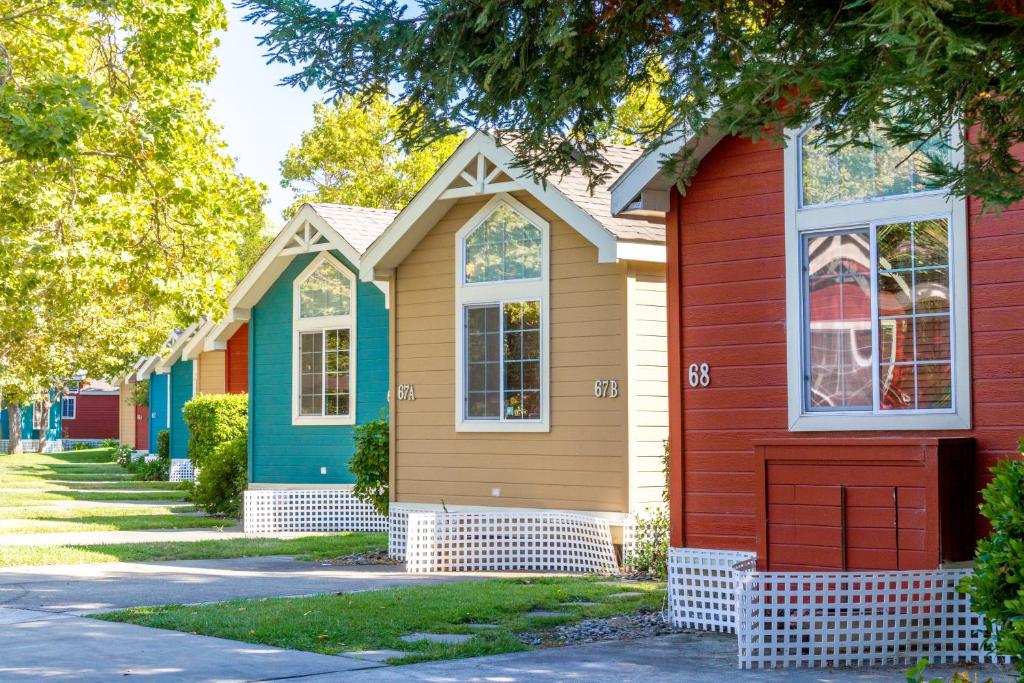 Located on the picturesque banks of the Napa River, RiverPointe Napa Valley Resort is a charming resort in California that offers a relaxing and luxurious stay. The resort boasts an outdoor heated pool and spacious accommodations with private patios, fully equipped kitchens, and flat-screen TVs. Guests can enjoy the convenience of sofa beds, DVD players, and free Wi-Fi in their rooms, along with wooden floors and ceiling fans for added comfort. The kitchens include dishwashers for easy meal preparation. On-site amenities at RiverPointe Napa Valley Resort include a gym, library, BBQ facilities, and a guest launderette. For those looking to explore the area, the resort also offers a tour desk for arranging activities and sightseeing trips. With its ideal location just 1 mile from Napa Valley Wine Train and close proximity to attractions like Napa Retail Center Shopping Center (less than a half mile) as well as Napa Valley Country Club and Napa College (both 2 miles away), guests will have plenty to see and do during their stay.
– Outdoor heated pool for refreshing swims
– Spacious accommodations with patios
– Fully equipped kitchens for convenient meal preparation
– Access to on-site gym and library
– Close proximity to popular attractions
Candlelight Inn Napa Valley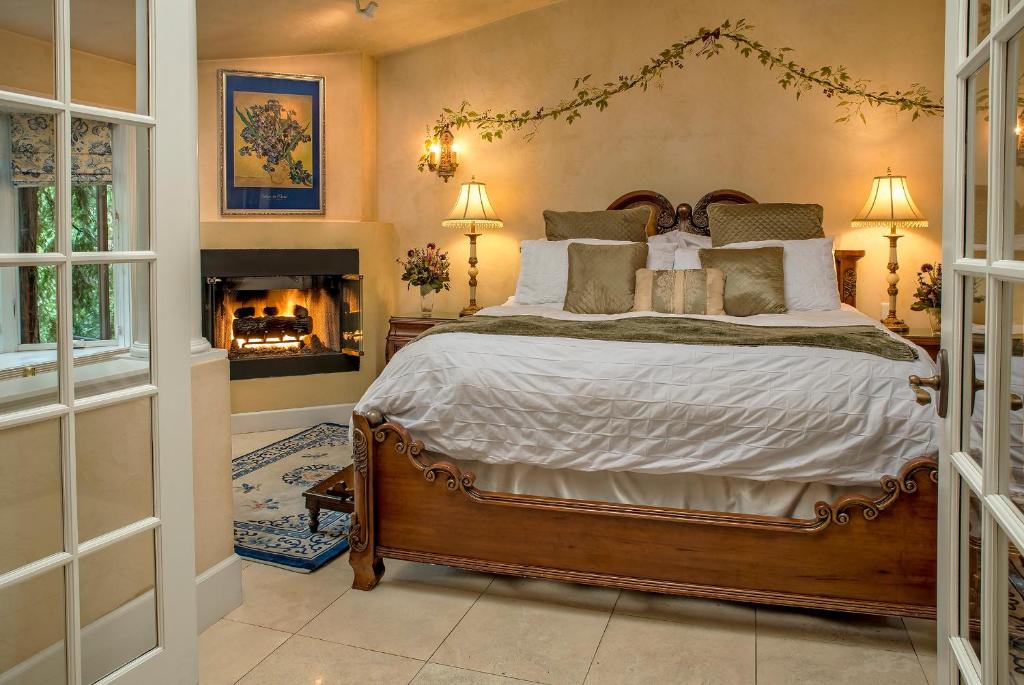 Located in the heart of Napa Valley, the Candlelight Inn offers a charming and romantic bed and breakfast experience. Housed within a beautifully restored 1929 English Tudor inn, this adults-only (21+) retreat boasts spacious and individually designed rooms with private baths and complimentary bathrobes. Guests can unwind by the outdoor pool and patio or explore the nearby attractions such as the Napa Valley Wine Train and Napa Municipal Golf Course. Start your day with a delicious three-course breakfast featuring fresh fruits, sweet pancake or French toast dishes, and gourmet egg creations. The innkeepers are eager to assist you with dining recommendations and planning your itinerary in wine country. Complimentary amenities include free WiFi, flat-screen TVs with DVD players, newspapers, beverages, snacks throughout the day.
– Beautifully restored 1929 English Tudor inn
– Spacious rooms with unique decor
– Outdoor pool and patio for relaxation
– Delicious three-course breakfast served daily
– Convenient location near popular attractions
Romantic Hotels with a Pool in Napa
Nestled among the rolling hills of Napa Valley, romantic hotels with pools offer the perfect retreat for couples seeking a luxurious and intimate getaway. Surrounded by lush vineyards and serenaded by the gentle rustle of leaves, these hotels provide a tranquil oasis where guests can relax by sparkling pools, sip on fine wines, and create cherished memories together.
Hotel Indigo Napa Valley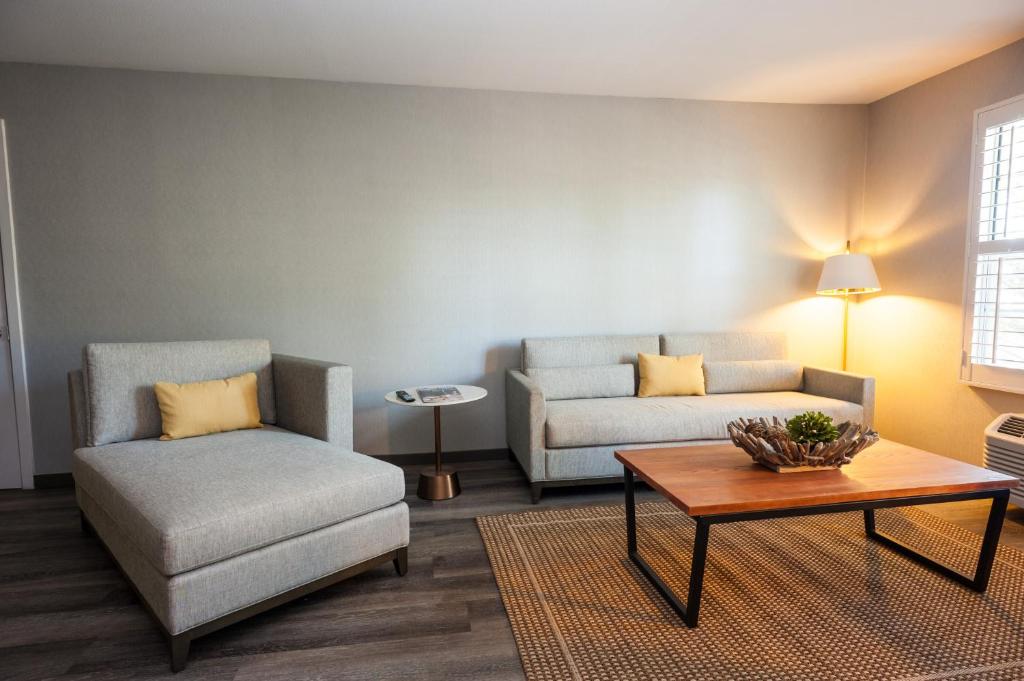 Hotel Indigo Napa Valley is a conveniently located hotel, just a 7-minute drive from downtown Napa and the Wineries of Napa Valley. The hotel boasts an outdoor pool and spacious rooms equipped with a 42-inch flat-screen TV. Each contemporary room provides free WiFi, a refrigerator, and a coffee machine for added convenience. Guests can enjoy complimentary access to the outdoor hot tub and well-equipped fitness center. The sun terrace offers a relaxing atmosphere with umbrella-covered tables. Private parking is available for an extra charge. Nearby attractions include the Napa Premium Outlet Mall (7 minutes' drive) and Napa Golf Course (10.5 km away).
Pros:
– Convenient location close to downtown Napa and wineries
– Spacious rooms with modern amenities
– Outdoor pool and hot tub for relaxation
– Well-equipped fitness center for guests' use
– Complimentary WiFi in every room
Bardessono Hotel and Spa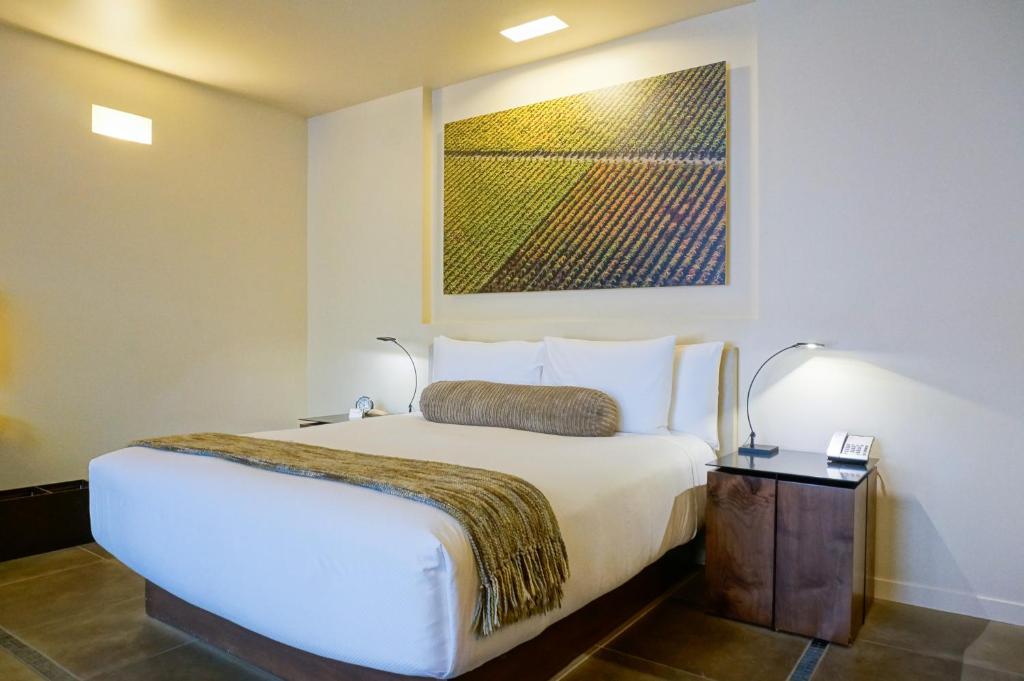 Located in California, Bardessono Hotel and Spa is a luxurious five-star hotel that offers spacious suites with private balconies, fireplaces, and comfortable sofas. The hotel boasts a full-service spa and an on-site restaurant that serves locally grown cuisine with organic ingredients. The bathrooms are designed as private spas with massage tables for ultimate relaxation. Guests can enjoy amenities such as 40-inch flat-screen cable TVs, free Wi-Fi, desks, slippers, bathrobes, hairdryers, and refrigerators. Bardessono Hotel and Spa also offers a rooftop pool where guests can unwind and enjoy the beautiful views. Additionally, guests have access to free bicycle rentals to explore the surrounding area. The B spa provides massages and a sauna for further rejuvenation. For those looking to start their day off right, there is even a Saturday morning yoga class available. Wine enthusiasts will appreciate the bar's wine tasting events held on Friday nights. Nearby attractions include Napa Valley Bike Tours at just half a mile away from the hotel, as well as Napa itself which is within 9 miles of Bardessono Hotel and Spa.
Pros:
– Spacious suites with private balconies
– Full-service spa offering massages
– Locally grown cuisine at the on-site restaurant
– Rooftop pool for relaxation
– Free bicycle rentals for exploring the area
North Block Hotel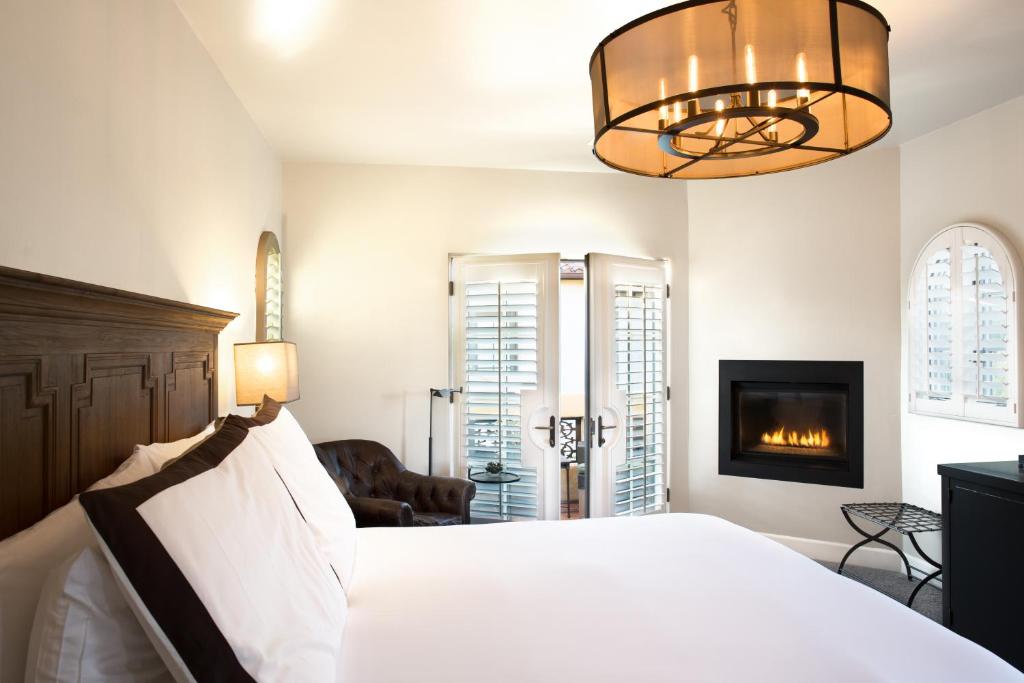 Located in the beautiful Napa Valley, the North Block Hotel in Yountville, California is a luxurious resort that offers an array of amenities for a truly indulgent stay. The hotel features an inviting on-site pool and hot tub, perfect for relaxing after a day of exploring the surrounding area. Guests can also enjoy spa services to further enhance their relaxation experience. The hotel's restaurant is helmed by Chef Nick Tamburo, previously from Manhattan's Momofuku Ko, who brings his unique take on refined California cooking using locally sourced ingredients. With its proximity to French, Italian, Pacific Rim, and California restaurants, guests can also savor a diverse culinary scene nearby. Each guest room at the North Block Hotel is equipped with modern comforts such as a flat-screen TV and heated floors in the spacious bathroom featuring a large soaking tub. Additionally, every room boasts either a terrace or patio with comfortable seating areas to enjoy the stunning views. For those looking to explore beyond the hotel grounds, there are plenty of activities available nearby including visits to art galleries, museums, antique shops, and even bike rental facilities.
– Convenient location in Napa Valley
– On-site pool and hot tub for relaxation
– Spa services available for ultimate pampering
– Acclaimed restaurant headed by Chef Nick Tamburo
– Stylish rooms with modern amenities and outdoor seating areas
Hotels with Pools in Napa That Are Good for Families
Napa offers a variety of hotels with pools that are perfect for families seeking relaxation and fun. These family-friendly hotels provide a refreshing way to cool off after exploring the local vineyards and are an ideal spot for children to splash around and make lasting vacation memories.
Auberge du Soleil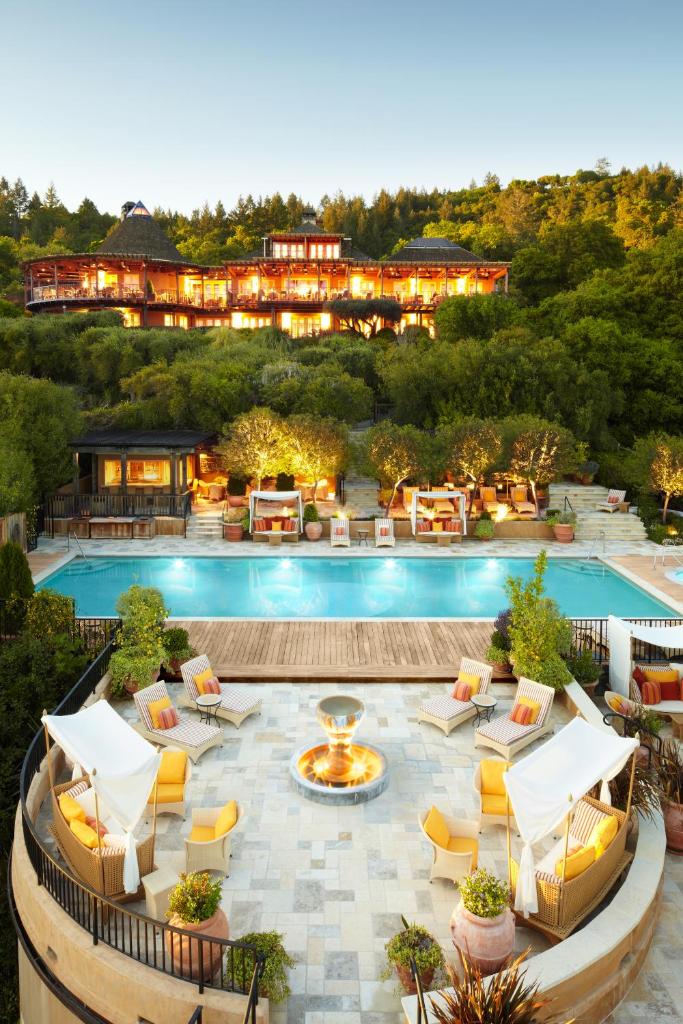 Nestled among a 33-acre olive grove, Auberge du Soleil in Napa Valley is a luxurious resort offering an array of amenities for a truly indulgent stay. The resort boasts an outdoor pool with cabanas, perfect for lounging and enjoying the beautiful surroundings. Guests can also unwind at the health and wellness spa or indulge in exquisite dining at the acclaimed Restaurant at Auberge du Soleil, which features locally sourced California dishes with Mediterranean flavors and an extensive wine cellar. The guest accommodations are elegant and comfortable, complete with fireplaces, balconies or patios, Italian linens, plush slippers, and bathrobes. The en-suite bathrooms feature oversized soaking tubs with separate walk-in showers and free spa toiletries. Some suites even offer separate living rooms and additional LED TVs. For more relaxed dining options, guests can head to The Bistro & Bar which offers outdoor dining with panoramic views. Additionally, the resort's spa offers massages, facials, and a signature purification ritual along with complimentary fitness classes like power yoga and boot camp. With its Mediterranean-inspired ambiance and proximity to Lake Hennessey and Saint Helena town, Auberge du Soleil provides guests with an unforgettable luxury experience.
Pros:
– Stunning location amidst a 33-acre olive grove
– Outdoor pool with cabanas for ultimate relaxation
– Acclaimed restaurant serving delicious California-Mediterranean cuisine
– Luxurious guest accommodations featuring fireplaces
– Spa offering rejuvenating treatments
Napa Hotels with Pool Information
| | |
| --- | --- |
| 🛎️ Hotels with a Pool in Napa | 10 |
| 💰 Hotel prices starting from | $178 |
| 💵 Highest price | $1138 |
| 🥇 Average Review Score | 8.8/10 |
| 🛏️ Average number of Rooms | 60 |
FAQ
Can you recommend any hotels in Napa with pool facilities?
Absolutely! One highly recommended hotel in Napa with a fantastic pool is the Silverado Resort and Spa. This luxurious resort features a beautiful outdoor swimming pool surrounded by lush greenery, providing a serene oasis for relaxation. Guests can lounge by the pool, soak up the California sun, and enjoy refreshing drinks from the poolside bar. It's the perfect place to unwind after exploring the vineyards or indulging in wine tasting sessions.
Are there any hotels in Napa that offer private pools?
Yes, there are several hotels in Napa that offer private pools for guests seeking ultimate privacy and exclusivity. Auberge du Soleil is one such luxury hotel that boasts stunning private plunge pools with panoramic views of Napa Valley. These secluded pools provide an intimate setting for couples or those looking for a romantic escape.
Do all hotels with pools provide towels for guests?
Yes, most hotels with pools in Napa provide towels for their guests' convenience. Whether it's a large resort or a boutique hotel, they typically offer complimentary towel services by the pool area so guests can dry off after taking a dip. However, it's always wise to check with your chosen hotel beforehand to ensure they have this amenity available as policies may vary.
Can non-guests use the pool facilities at hotels in Napa?
In general, access to hotel pools is reserved exclusively for registered guests as an added perk of their stay. However, some luxury resorts and boutique hotels may allow non-guests to use their pool facilities upon payment of a fee or purchase of day passes based on availability. It's advisable to contact your desired hotel directly to inquire about their policy regarding non-guest usage of their pools.
Are there any adults-only pool options available at hotels in Napa?
Certainly! For travelers looking for an adult-focused experience without kids splashing around, there are hotels in Napa that offer adults-only pool areas. The Andaz Napa Hotel is one such example. This chic boutique hotel features a rooftop pool exclusively for adult guests, providing a tranquil atmosphere for relaxation and unwinding amidst panoramic views of the city and surrounding vineyards of Napa Valley.
Popular Hotels with Pool destinations