Best 11 Hotels with Pools in Mykonos
Welcome to Mykonos, the jewel of the Aegean Sea! If you're seeking an idyllic getaway where relaxation meets luxury, then look no further than this breathtaking Greek island. Known for its vibrant nightlife and picturesque beaches, Mykonos also boasts a plethora of exquisite hotels with invigorating swimming facilities.
Imagine waking up to the gentle melody of waves crashing against the shore and stepping out onto your private terrace overlooking a gleaming aquamarine pool. From infinity pools that seamlessly blend into the horizon to secluded lagoon-style oases tucked away amidst lush gardens, Mykonos offers an array of aquatic havens for discerning travelers. Whether you prefer lounging on sun-drenched deck chairs or taking refreshing dips under the warm Mediterranean sun, these hotels provide a serene haven where you can immerse yourself in tranquility while indulging in unparalleled luxury.
As you explore this enchanting island during your poolside escape, remember to sample local delicacies at charming tavernas dotting narrow cobblestone streets and witness stunning sunsets over windmills that stand as relics from another time. And when it's time to retreat from the vibrant energy of Mykonos Town or rejuvenate after venturing through its labyrinthine alleys, these hotels with their shimmering pools will welcome you back with open arms. So dive into paradise and experience Greek hospitality at its finest while creating lasting memories in this enchanting slice of heaven on earth.
The Best Mykonos Hotels with a Pool
Anax Resort and Spa (Agios Ioannis Mykonos)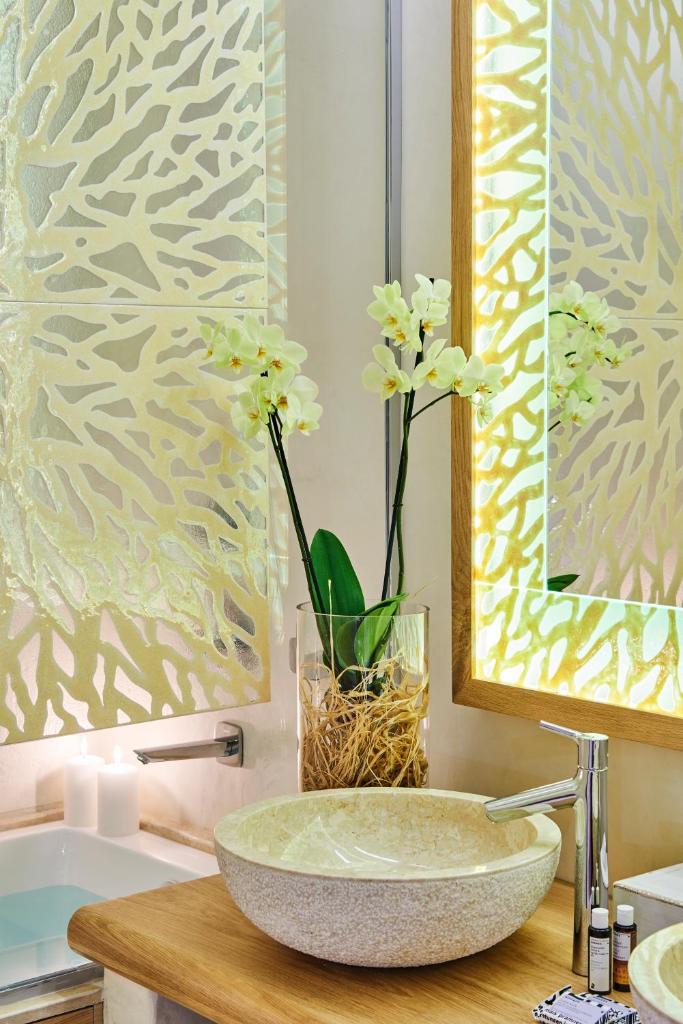 Located in Agios Ioannis, Mykonos, the Anax Resort and Spa offers a stunning seafront setting that perfectly combines traditional Cycladic architecture with modern amenities. The resort features a luxurious spa center offering a wide range of beauty treatments, as well as an infinity pool, hot tub, and a restaurant serving exquisite Mediterranean cuisine. The stylish and spacious units at Anax Resort and Spa have balconies and patios with breathtaking sea views. Each unit boasts an elegant bathroom with a spa bath and shower, along with complimentary toiletries. Some units even have their own private pools for added luxury. Guests can enjoy smart TVs with Bluetooth access in every unit, while air conditioning is available throughout the resort. The fully equipped gym provides fitness enthusiasts with ample opportunities to stay active during their stay. At the spa center, guests can indulge in relaxing hammam sessions, sauna experiences, rejuvenating massages, and invigorating facial treatments. The poolside bar offers comfortable sunbeds where guests can lounge while sipping on premium cocktails from the extensive drink menu. Additional dining options include a lobby bar and snack bar for lighter bites throughout the day. Free WiFi is accessible in all areas of the resort for guests' convenience.The bustling town center of Mykonos is approximately 4.5 km away from Anax Resort and Spa, offering exclusive boutiques and vibrant bars and restaurants to explore.The lively Psarou Beach is just 4 km away from the resort's doorstep.Mykonos Airport is conveniently located 5 km away,and free private parking is available on site.
Pros:
– Stunning seafront location
– Luxurious spa center offering various beauty treatments
– Infinity pool with magnificent views
– Stylish accommodation units featuring elegant bathrooms
– Convenient access to Mykonos town center
Alissachni Mykonos (Psarou)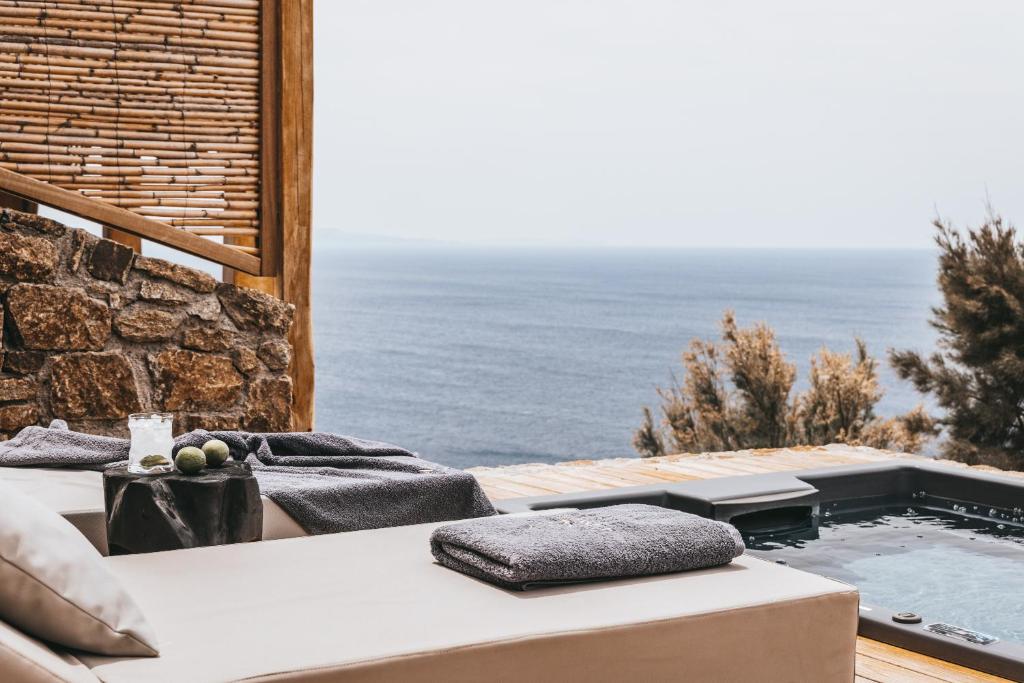 Alissachni Mykonos (Psarou) is a luxurious 5-star hotel located in the charming area of Psarou, just 2.9 km from Psarou Beach. The hotel boasts a seasonal outdoor swimming pool, free private parking, a beautiful garden, and a shared lounge for guests to relax in. Each accommodation at Alissachni Mykonos offers stunning sea views and includes access to a terrace and hot tub. Indulge in delicious Greek, Italian, and Mediterranean cuisine at the hotel's restaurant or take advantage of room service for ultimate convenience. The hotel also provides excellent amenities such as a 24-hour front desk, airport transfers, and free WiFi throughout the property. The rooms are tastefully decorated with air conditioning, flat-screen TVs with satellite channels, coffee machines, showers with complimentary toiletries, and spacious wardrobes. Some rooms even feature captivating pool views and balcony spaces. Guests can start their day off right with breakfast options including buffet spreads or à la carte choices along with continental favorites. Vegetarian, vegan, and gluten-free options are also available upon request. For those looking to explore the area on two wheels, bike hire is offered by the hotel as well. Don't miss out on visiting Platis Gialos Beach only 2.9 km away or taking a trip to see the iconic Mykonos Windmills just 4.2 km from the property.
Pros:
– Luxurious 5-star accommodations
– Stunning sea views from each room
– Access to terrace and hot tub
– Excellent dining options serving Greek and Mediterranean cuisine
– Convenient amenities such as airport transfers and free WiFi throughout
Santa Marina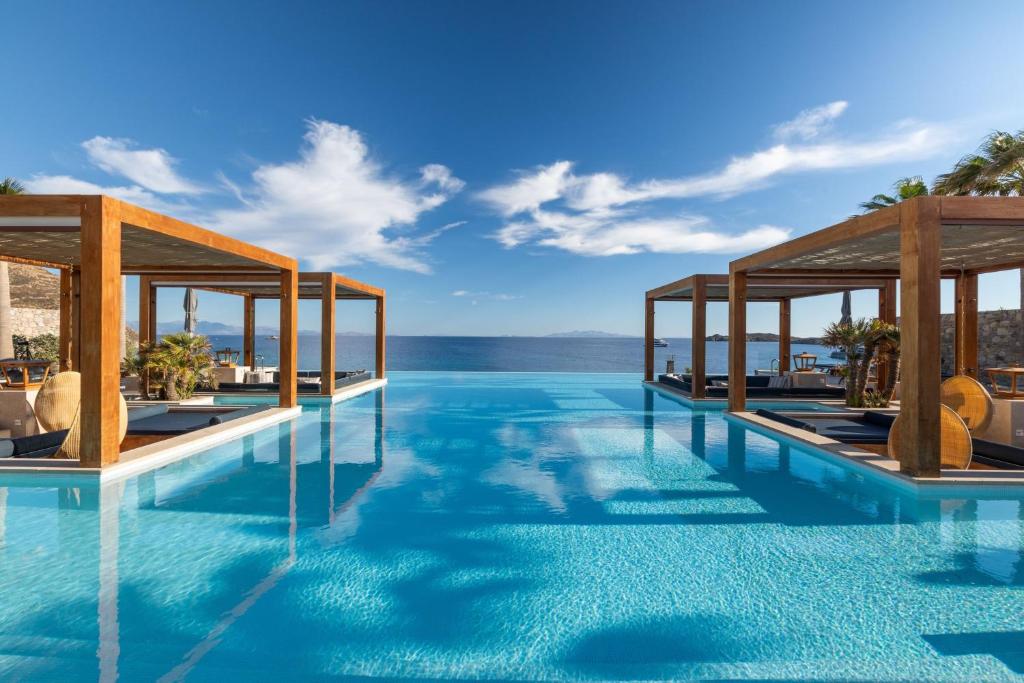 Santa Marina, Mykonos is a luxury hotel with an infinity pool, located on a secluded peninsula overlooking the beautiful Aegean Sea. Just 4 km away from Mykonos town, this hotel offers guests a truly indulgent experience. The hotel features two restaurants serving delicious cuisine, a beach bar on its private sandy beach, and a fully equipped spa for ultimate relaxation. The rooms at Santa Marina are designed in an organic modern style and each open out to private balconies. The highlight of the hotel is its two infinity pools that offer breathtaking views of the crystal blue sea. A floodlit tennis court and tennis coach are also available for those looking for some outdoor activity. Families will appreciate the children's playground and children's pool provided for junior guests. The rooms are well-appointed with amenities such as satellite TV, air conditioning, minibar, bathrobes, slippers, and free toiletries in the bathrooms for extra comfort. Guests can indulge in Mediterranean cuisine with stunning sea views at Mykonos Social by Jason Atherton or enjoy gourmet seafood and cocktails prepared by a famous mixologist at the Asian-style Buddha Bar. For those wanting to stay active during their stay, there is a fully equipped gym available as well as hot tubs, sauna, and steam bath facilities. Santa Marina also caters to business travelers with two fully appointed meeting rooms. For those seeking exclusive services like private helicopter or jet plane transfers or yacht and speedboat services from the private marina, Santa Marina can arrange them upon request. Located just 4 km away from Mykonos Airport and within easy reach of Psarrou Beach and Platys Gialos Beach by car (10-minute drive), Santa Marina offers convenience alongside luxury accommodations.
Pros:
– Stunning location overlooking the Aegean Sea
– Two infinity pools with panoramic views
– Variety of dining options including Mediterranean cuisine at Mykonos Social by Jason Atherton
– Fully equipped spa and wellness facilities including a gym, hot tubs, sauna, and steam bath
– Exclusive services available upon request such as private helicopter or jet plane transfers and yacht or speedboat services from the private marina
Other places to stay in Mykonos
Hotels with Pools in Mykonos with Nice Views
Mykonos, known for its stunning vistas, offers a selection of luxurious hotels with pools that boast breathtaking views. Whether it's overlooking the Aegean Sea or the picturesque Mykonos town, these hotels provide an idyllic setting to relax and soak up the beauty of the island.
CUBIC HOTEL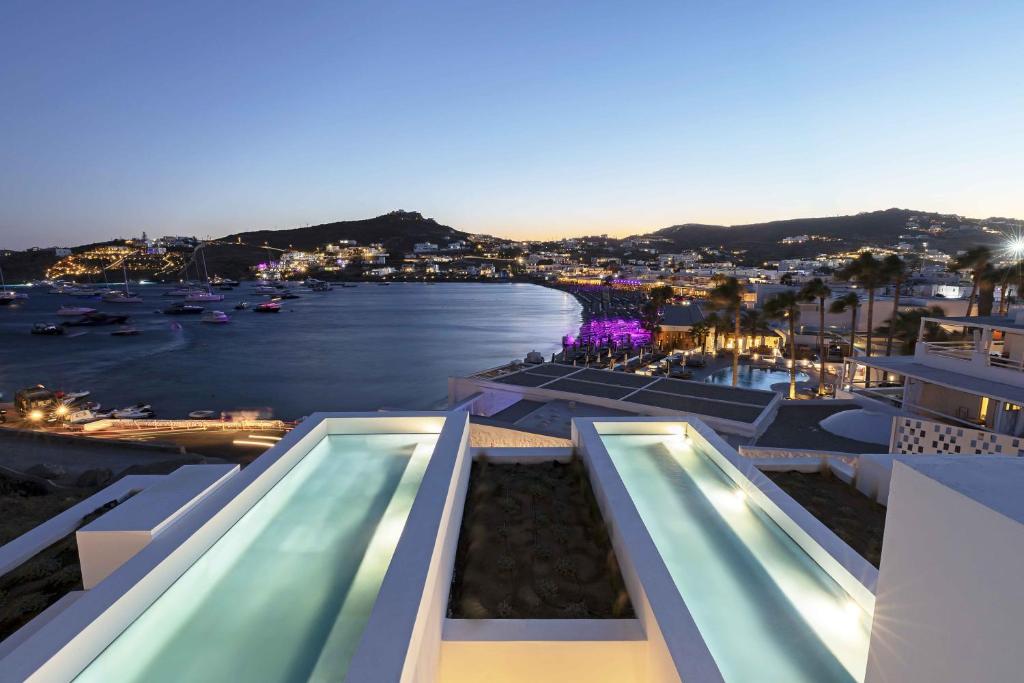 CUBIC HOTEL, a charming boutique hotel that opened in June 2022, is situated in the idyllic town of Ornos. This beachfront accommodation offers guests a range of enticing amenities including a fitness center and a terrace. The property's prime location places it just 60 meters from Ornos Beach and within easy reach of Korfos, Agios Ioannis Beach, and Psarou Beach. Guests can start their day with a delicious à la carte breakfast at CUBIC HOTEL before enjoying the convenience of room service and a 24-hour front desk. Each well-appointed room features modern comforts such as air conditioning, free WiFi, and a flat-screen TV. Some rooms even boast stunning sea views. Additionally, Mykonos Windmills and the Archaeological Museum of Mykonos are just short distances away from this exceptional hotel.
– Prime beachfront location
– Fitness center for guests to stay active during their stay
– Terrace for enjoying breathtaking views
– Thoughtful amenities such as coffee machines in all units
– Welcoming staff available 24/7 at the front desk
Smy Mykonos Suites & Villas – ex Greco Philia (Elia Beach)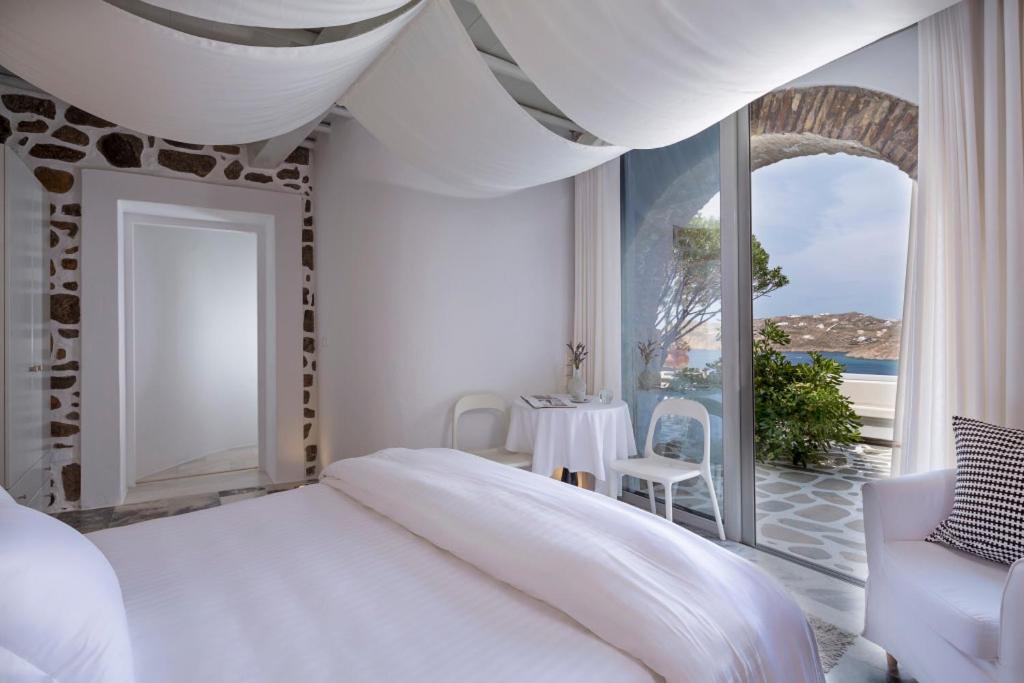 Smy Mykonos Suites & Villas – ex Greco Philia (Elia Beach) is a boutique hotel located on the cliffs above Elia beach, offering exclusive accommodation with stunning views of the Aegean Sea. The hotel features an outdoor pool where guests can relax and enjoy the breathtaking scenery. The pool bar serves refreshing drinks, allowing guests to unwind by the poolside. The on-site restaurant, led by an award-winning chef, offers Mediterranean dishes made with fresh seafood and organic vegetables, creating a delightful dining experience with panoramic sea views. The hotel also boasts a spa that provides aesthetic treatments and integrative therapies to enhance guests' wellness journey. Each stylish suite and spacious villa at Smy Mykonos Suites & Villas offers unobtrusive sea views and is equipped with comfortable beds featuring hypo-allergenic mattresses and pillows. Other amenities include flat-screen TVs with CD/DVD players, free Wi-Fi, seating areas, welcome cake and fruit baskets upon arrival. A delicious breakfast is served until noon daily. The hotel's concierge and front desk are available to assist guests with recommendations for restaurants, arranging services such as dry cleaning, ironing service or car hire.
Pros:
– Stunning location on the cliffs overlooking Elia beach
– Luxurious accommodations with comfortable beds
– Pool area offering breathtaking sea views
– On-site restaurant serving delectable Mediterranean cuisine
– Spa providing rejuvenating treatments for wellness enhancement
Myconian Ambassador Relais & Chateaux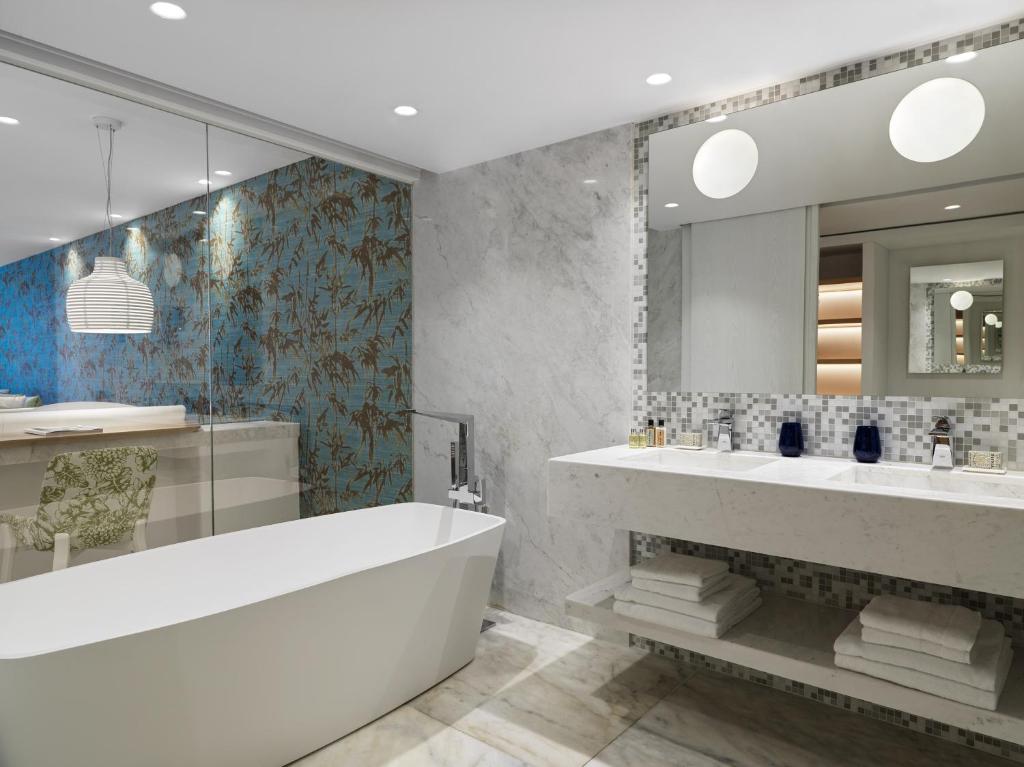 The Myconian Ambassador Relais & Chateaux is a boutique hotel located overlooking the popular beach of Platis Gialos. This luxurious hotel offers excellent spa and wellness facilities, as well as a spacious outdoor swimming area. The stylish rooms provide stunning views of the Aegean Sea, and guests can enjoy a delicious breakfast at Latitudes or light meals and drinks by the pool at George's Bar. Some rooms even feature an outdoor hot tub or private pool. The spa center offers Pantai treatments, body massages, an indoor pool, hot tub, and Elemis products. Guests can also indulge in evening cocktails or candle-lit dinners at Efisia Restaurant. The hotel provides free shuttle service to/from the port and Mykonos Airport. Additionally, guests have the option to join the resort's diving club.
Pros:
– Stunning views of the Aegean Sea from stylish rooms
– Excellent spa facilities with Pantai treatments and Elemis products
– Spacious outdoor swimming area for relaxation
– Free shuttle service to/from port and airport for convenience
– Opportunity to join resort's diving club for underwater exploration
Romantic Hotels with a Pool in Mykonos
Mykonos is renowned for its stunning romantic hotels with pools, offering couples a tranquil and intimate retreat. With their breathtaking views, serene ambiance, and luxurious pool areas, these hotels provide the perfect setting for a romantic getaway on this beautiful Greek island.
Argo Hotel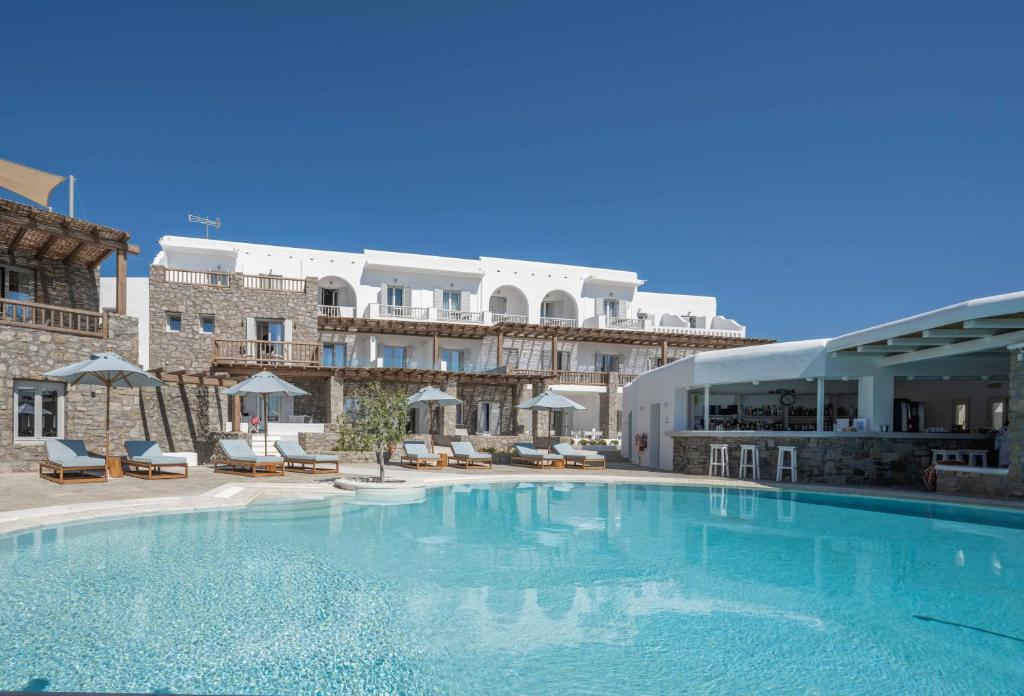 Argo Hotel is a stunning Cycladic-style hotel located just 100 meters from the beautiful Platis Yialos beach in Mykonos. The hotel offers spacious rooms with pool views, featuring minimal décor and classic furnishings. Guests can enjoy free WiFi in public areas and indulge in Greek and Mediterranean cuisine at the Avli Tou Thodori beach restaurant nearby. Each air-conditioned room is equipped with modern amenities such as a fridge, TV, hairdryer, and safe. Start your day with a delicious breakfast served by the pool area or unwind in the evening at the poolside bar. The hotel also offers airport or port transfers upon request (extra charge). With its convenient location near the bus station, Argo Hotel is only 3.5 km away from Mykonos Town and a short 5-minute walk to Psarou Beach. Don't miss out on visiting other famous sandy beaches like Paraga, Paradise, and Super Paradise that can be easily accessed by regular boat services from Platis Yialos.
Pros:
– Close proximity to Platis Yialos beach
– Beautiful pool views from spacious rooms
– Free WiFi access
– Delicious Greek and Mediterranean cuisine at Avli Tou Thodori restaurant
– Convenient location near bus station for easy access to Mykonos Town and other beaches
Kivotos Mykonos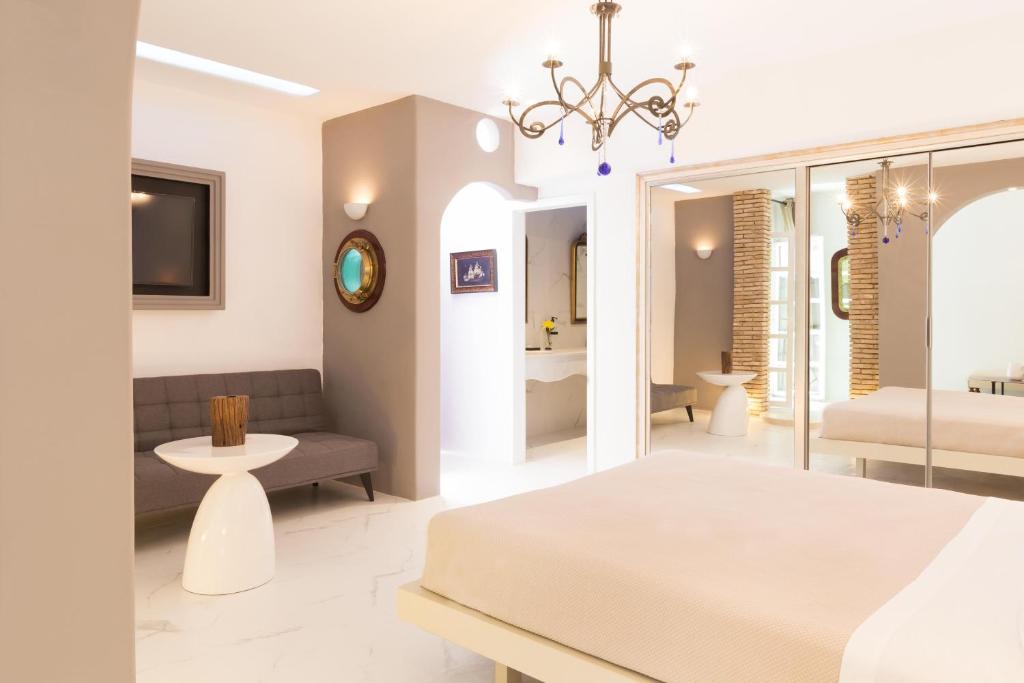 Kivotos Mykonos is a charming boutique hotel nestled on a private beach in the stunning bay of Ornos, just a short 5-minute drive away from the bustling town, port, and airport of Mykonos. This delightful property boasts two inviting swimming pools, as well as luxurious spa facilities and a state-of-the-art fitness center for guests to enjoy. Each villa and suite at Kivotos has been individually adorned by renowned artists and local craftsmen, giving it a unique and artistic touch. Guests can indulge in mouthwatering Mediterranean cuisine and local specialties while taking in breathtaking views of the bay at the à la carte Le Pirate restaurant. Additionally, the La Meduse gourmet restaurant offers Greek fusion dishes and fresh seafood against the backdrop of Ornos Bay shimmering under moonlight. Upon arrival, guests are welcomed with a refreshing drink.
– Privileged location on a private beach
– Beautifully decorated villas and suites by famous artists
– Two inviting swimming pools
– Extensive spa facilities for ultimate relaxation
– Gourmet dining options with stunning bay views
Mykonos Theoxenia Boutique Hotel (Mýkonos City)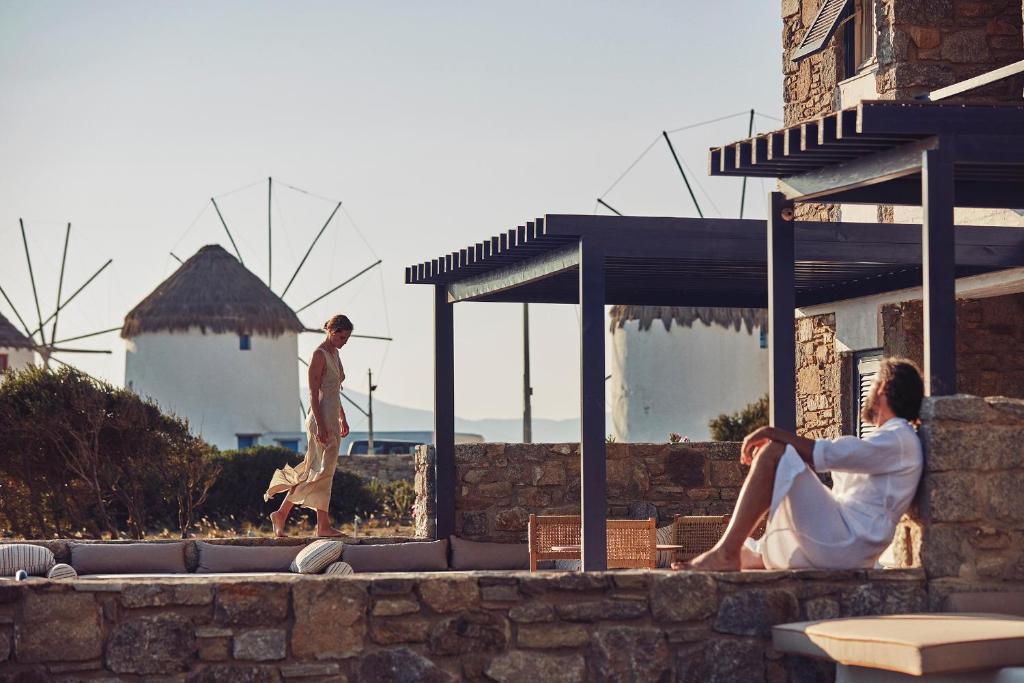 The Mykonos Theoxenia Boutique Hotel is a luxurious hotel located right next to the famous windmills of Mykonos and the picturesque neighborhood of Little Venice. Upon arrival, guests are treated to sparkling wine, a healthy trail mix bag, slippers, pool towels, deluxe body and hair care items, and cosmetics. They can relax by the outdoor swimming pool and enjoy refreshing cocktails from the pool-side bar. The hotel features a main restaurant offering special gastronomic proposals, as well as state-of-the-art fitness and treatment rooms. All rooms and suites are equipped with air conditioning, minibars, and bathrooms with either a bath or shower (some even feature a spa bath). Guests receive complimentary bathrobes as well as a welcome package upon arrival and Greek breakfast each morning. The hotel spa offers various relaxation and beauty treatments throughout the day. The pool area provides sun loungers or beach chairs for guests to bask in the Mediterranean sun. Despite its close proximity to trendy bars and exciting nightclubs, this hotel maintains its serene atmosphere. Free private parking is available on site.
– Luxury hotel with outdoor pool
– Prime location near iconic windmills and Little Venice
– Complimentary welcome package upon arrival
– Access to state-of-the-art fitness center and treatment rooms
– Serene atmosphere despite being located near bustling nightlife
Hotels with Pools in Mykonos That Are Good for Families
Mykonos is home to several family-friendly hotels with pools, perfect for a relaxing and enjoyable vacation. These hotels offer spacious pool areas, suitable for both kids and adults, ensuring memorable moments of fun in the sun while creating lasting family memories.
Mykonos Riviera Hotel & Spa (Tourlos)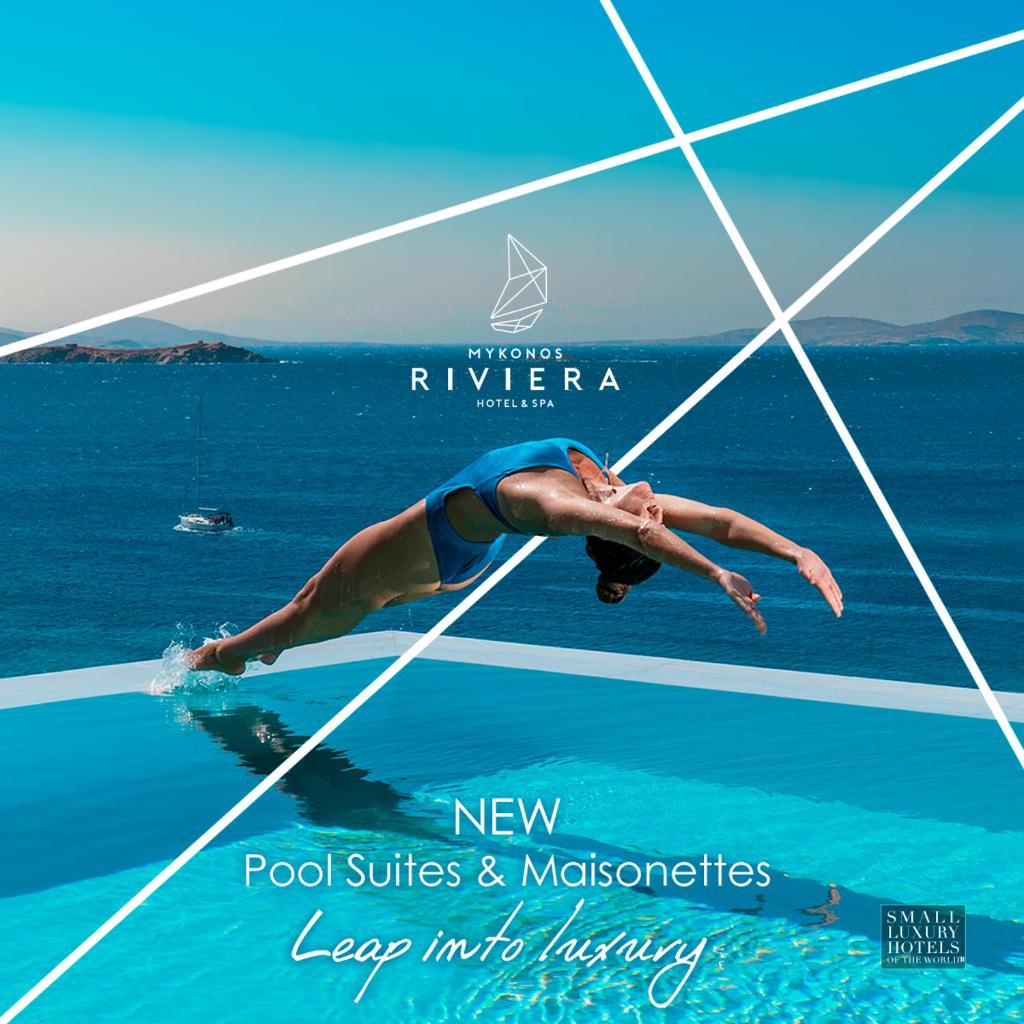 Mykonos Riviera Hotel & Spa in Tourlos is a brand new 5-star boutique hotel that offers luxurious accommodation options and breathtaking sunset views. The hotel's nautical-themed style creates a chic and stylish atmosphere, with spacious rooms and suites featuring open plan bathrooms, designer bathtubs, and private terraces overlooking the Aegean sea. Guests can enjoy unparalleled services and amenities including an exquisite spa, two restaurants, and an infinity pool with fiber optic lighting. The hotel is conveniently located just minutes away from Agios Stefanos beach and a short stroll from the scenic Mykonos Town. Some rooms or suites even offer the extra luxury of an outdoor hot tub or private pool. With its car rental service, business center, shuttle service to/from the airport upon request, and 24-hour reception assistance, Mykonos Riviera ensures that guests have everything they need for a truly memorable stay.
– Ultra chic nautical-themed style
– Panoramic sunset views
– Luxurious accommodation options
– Exquisite spa with top-notch amenities
– Infinity pool with fiber optic lighting
Aeonic Suites and Spa (Mýkonos City)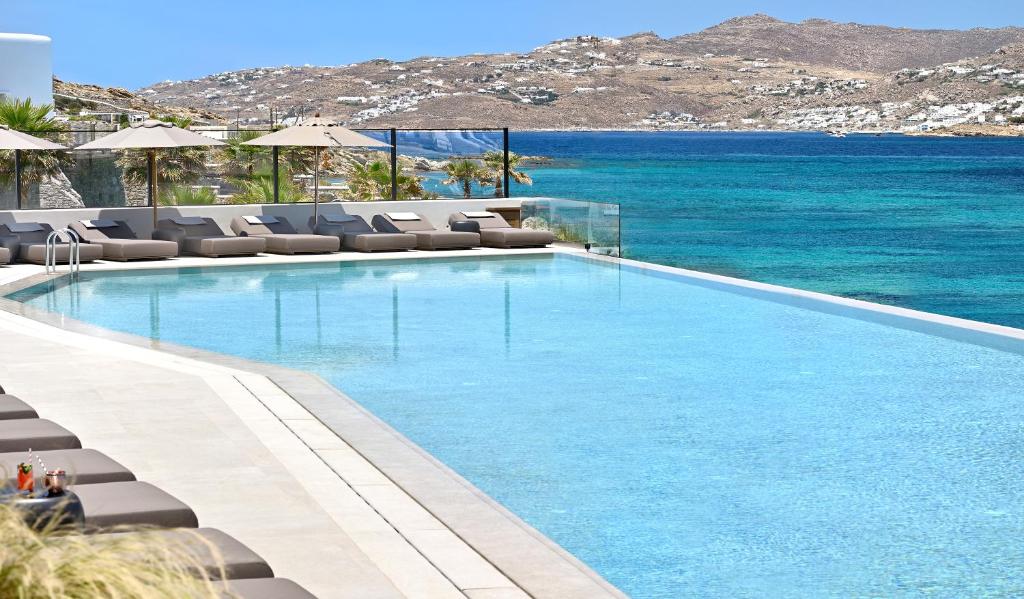 Located in the heart of Mýkonos City and newly opened in February 2021, Aeonic Suites and Spa is a luxurious hotel offering an array of amenities. Situated just 200 meters from Korfos Beach, guests can enjoy a seasonal outdoor swimming pool, free private parking, a fitness center, and a beautiful garden. The hotel also boasts a terrace and bar for guests to relax and unwind. With its own restaurant serving delectable Greek and Mediterranean cuisine, guests will be spoiled for choice. The accommodation offers air-conditioned rooms complete with modern amenities such as a coffee machine, minibar, flat-screen TV, safety deposit box, and private bathroom with shower. Some rooms feature balconies or sea views for breathtaking vistas of the surrounding area. Additionally, the hotel provides excellent services including airport transfers, room service available around the clock, complimentary WiFi access throughout the property. Guests can start their day off right with a delicious breakfast featuring buffet options as well as continental and American dishes. Vegetarian, vegan, and dairy-free options are also available upon request. For those looking to pamper themselves further during their stay at Aeonic Suites and Spa there is even an on-site hairdresser's salon and business center for added convenience. With popular attractions like Mykonos Windmills just 3.3 km away and the Archaeological Museum of Mykonos within easy reach at 4.3 km distance from the hotel; Aeonic Suites & Spa is undoubtedly an ideal destination to indulge in luxury while exploring this vibrant island paradise.
Pros:
– Convenient location in Mýkonos City
– Seasonal outdoor swimming pool
– Fitness center for active travelers
– Delicious Greek-Mediterranean cuisine served at on-site restaurant
– Stylishly designed rooms with modern amenities
Mykonos Hotels with Pool Information
| | |
| --- | --- |
| 🛎️ Hotels with a Pool in Mykonos | 11 |
| 💰 Hotel prices starting from | $203 |
| 💵 Highest price | $806 |
| 🥇 Average Review Score | 9.3/10 |
| 🛏️ Average number of Rooms | 44 |
FAQ
Can you recommend any hotels with pools in Mykonos, Greece?
Yes, there are several luxury hotels in Mykonos that offer stunning pools for their guests to enjoy. Some popular options include the Belvedere Hotel, which has a beautiful infinity pool overlooking the Aegean Sea, and the Myconian Ambassador Relais & Chateaux, which features an impressive pool area with panoramic views. These hotels provide a perfect combination of relaxation and luxury amidst the vibrant atmosphere of Mykonos.
Do all hotels in Mykonos have pools?
Not all hotels in Mykonos have pools. While it is common for luxury and upscale accommodations to have pools available for guests, some smaller boutique hotels or budget-friendly options may not offer this amenity. If having a swimming pool is essential for your stay in Mykonos, make sure to research and choose a hotel that specifically advertises this feature.
What are the benefits of staying at a hotel with a pool?
Staying at a hotel with a pool can enhance your overall vacation experience in many ways. Firstly, it provides you with an opportunity to relax and cool off during hot summer days. It also offers additional recreation options as you can swim or lounge by the poolside while enjoying beautiful surroundings. Moreover, swimming is known to be an excellent form of exercise that can help alleviate stress and improve your overall wellbeing.
Are hotel pools open year-round in Mykonos?
Hotel pool availability may vary depending on seasonal factors in Mykonos. Due to its Mediterranean climate, most hotels keep their pools open from late spring until early autumn when the weather is warmest. However, it's always best to check directly with your chosen hotel regarding specific dates to ensure they will have their pool facilities operational during your planned stay.
Do I need to pay extra for using the hotel pool?
In general, if you are a guest staying at a hotel with a pool in Mykonos, you will have access to the pool facilities without any additional charges. However, it is always a good idea to confirm this with your hotel beforehand as some luxury hotels may offer exclusive amenities or VIP access to certain pools for an additional fee.
Popular Hotels with Pools destinations