Best 12 Hotels with Pools in Milan
Welcome to Milan, Italy, where opulence and relaxation intertwine in a captivating blend. Today, we embark on a journey through the city's most exquisite accommodations that boast resplendent swimming facilities. Prepare to immerse yourself in a world of aquatic indulgence as we explore the hotel pools scattered across this metropolitan oasis.
Milan is renowned for its sophisticated charm, and what better way to experience it than by luxuriating in the cool embrace of an upscale pool? From rooftop havens with panoramic vistas to serene sanctuaries nestled amidst lush gardens, Milan's hotels offer an array of options for every discerning traveler. Whether you seek solace after a day of exploring iconic landmarks like the Duomo or wish to unwind before savoring delectable Italian cuisine, these pools will cater to your every desire.
Prepare to be dazzled by the stylish design and impeccable service that epitomize Milanese hospitality. Immerse yourself in crystal-clear waters under the Italian sun or take a refreshing dip beneath moonlit skies; whatever your preferences, one thing is certain – these pools will elevate your stay in Milan to unprecedented levels of refinement and rejuvenation. So grab your swimsuit, pack your sunglasses, and get ready to dive into an unforgettable experience at these exceptional hotels with pools in Milan!
The Best Milan Hotels with a Pool
Sina De La Ville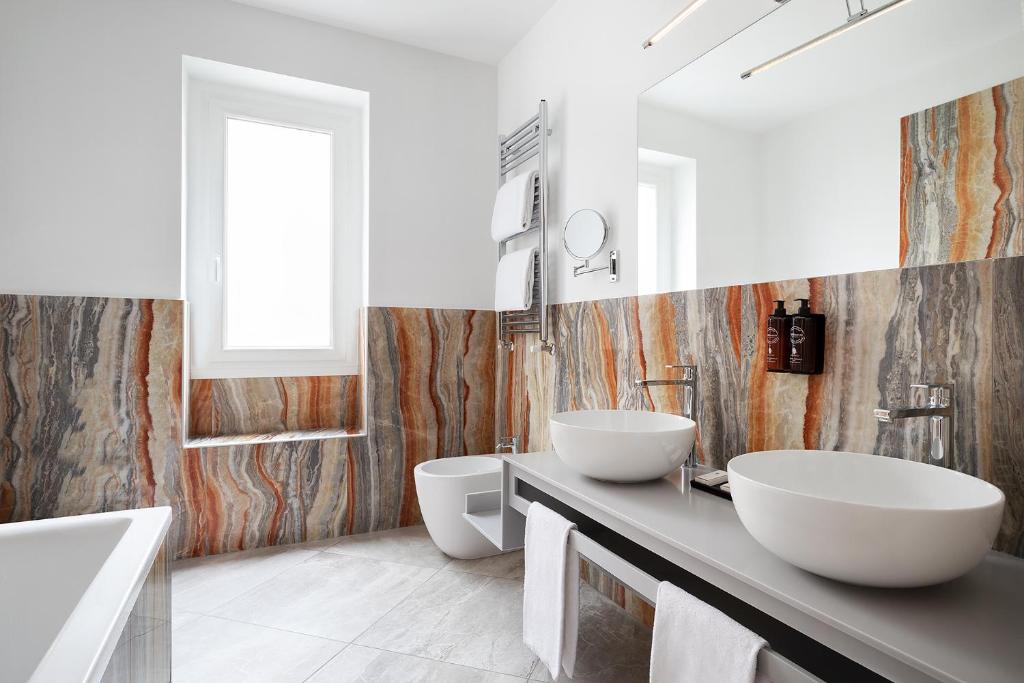 Located just 350 metres from Milan Cathedral, Sina De La Ville is a luxurious hotel that offers a memorable stay in the heart of the city. With its rooftop sun terrace featuring a hydromassage tub, guests can enjoy stunning views of Milan while relaxing in style. The hotel's rooms are individually designed with either classic or modern decor, providing a unique and comfortable atmosphere. Guests can take advantage of the free WiFi throughout the property and indulge in genuine Mediterranean cuisine at the on-site restaurant, Il Vizio. A buffet breakfast is also available to start the day off right. For ultimate relaxation, guests can visit the wellness centre which includes a steam bath, small gym, sauna and various beauty treatments. Additionally, Sina De La Ville boasts an excellent location with popular attractions such as La Scala Theatre and Duomo Metro Stop within a convenient 5-minute walk.
– Rooftop sun terrace with hydromassage tub
– Unique rooms with classic or modern decor
– Free WiFi throughout
– On-site restaurant serving genuine Mediterranean cuisine
– Wellness centre with steam bath, gym, sauna and beauty treatments
Grand Hotel Tremezzo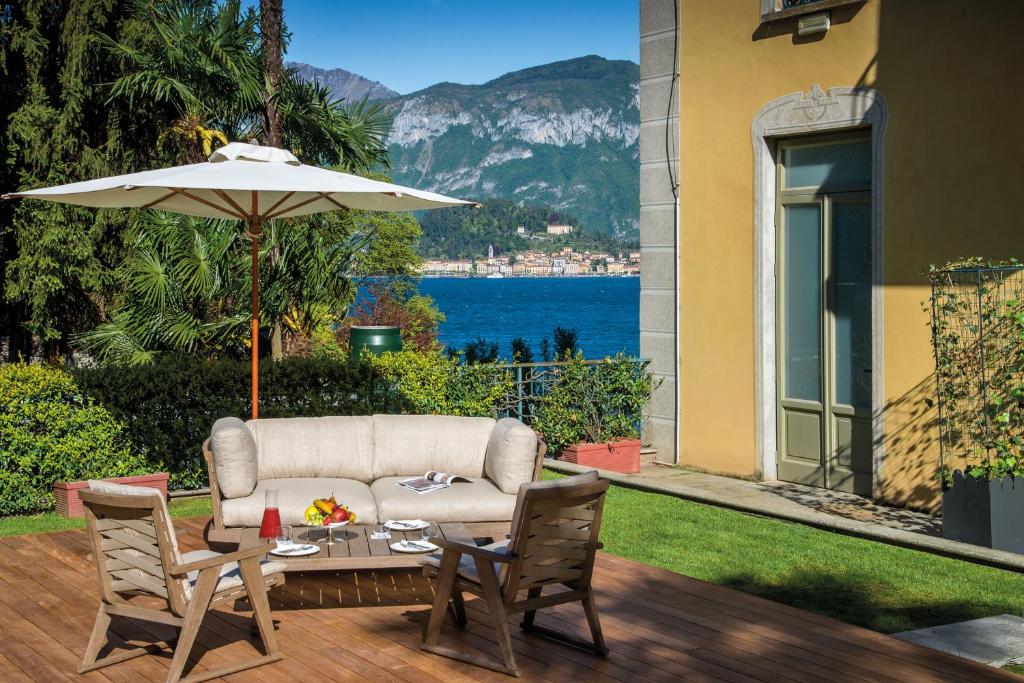 Located in Tremezzo, the Grand Hotel Tremezzo offers guests a luxurious and unforgettable experience overlooking Lake Como and Bellagio. Just a short stroll away from Villa Carlotta and its stunning botanic garden, this hotel boasts a modern wellness center complete with a sauna, relaxation lounge, and an outdoor hot tub that provides breathtaking views of the lake. The hotel also features three swimming pools for guests to enjoy. The rooms and suites are elegantly decorated with free WiFi and air conditioning. Most rooms offer beautiful lake views, while some even include a terrace with a hot tub. Sports enthusiasts will appreciate the gym, tennis court, and jogging paths located throughout the park grounds. For those interested in exploring the lake's hidden treasures, motorboats can be rented directly from the hotel. Indulge in fine Italian cuisine at La Terrazza panoramic restaurant or relax at one of the many wine bars and lounges available on-site. With its ideal location near Cadenabbia harbor, guests have easy access to boat trips across the lake. Additionally, discounts are offered at nearby Menaggio and Cadenabbia golf clubs.
– Breathtaking views of Lake Como
– Modern wellness center with sauna and outdoor hot tub
– Elegant rooms with lake views
– Range of dining options including fine Italian cuisine
– Convenient location near boat trips across the lake
Palazzo Parigi Hotel & Grand Spa – LHW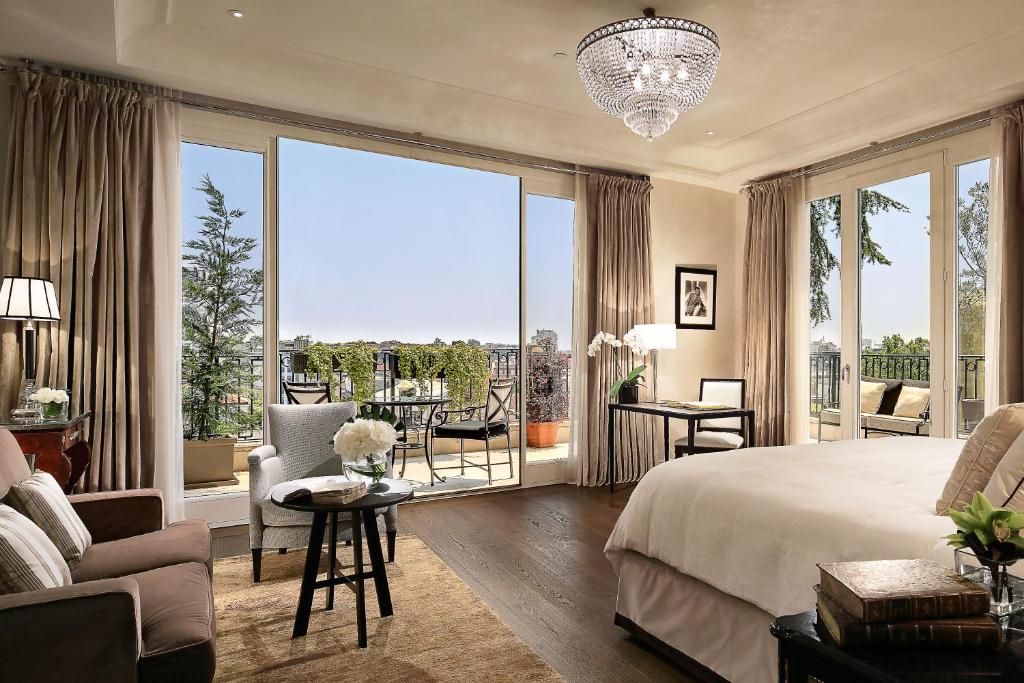 Located in the heart of Milan's fashion district, Palazzo Parigi Hotel & Grand Spa – LHW offers a luxurious stay with air-conditioned rooms featuring balconies or terraces. The hotel boasts an elegant restaurant serving local specialties and a patisserie where guests can indulge in typical Italian sweets. The rooms are equipped with modern technologies, including flat-screen TVs and minibars, while suites offer spacious seating areas for additional comfort. Guests can also enjoy free WiFi throughout the property. For those wanting to explore the city, Milan Cathedral is just 1.5 km away and Turati Metro Station is within a short walking distance. Additionally, Malpensa Airport can be easily reached by car in approximately 40 minutes.
– Prime location in Milan's fashion district
– Luxurious and elegant rooms with balconies or terraces
– Excellent dining options including a restaurant and patisserie
– Modern amenities such as free WiFi and flat-screen TVs
– Convenient access to popular city attractions like Milan Cathedral
Other places to stay in Milan
Hotels with Pools in Milan with Nice Views
Milan offers a range of luxurious hotels with pools boasting beautiful views, allowing guests to relax and unwind while enjoying the cityscape. From rooftop pools overlooking Milan's skyline to serene poolside settings surrounded by lush gardens, these hotels offer a perfect combination of comfort and aesthetic appeal.
Hotel Royal Victoria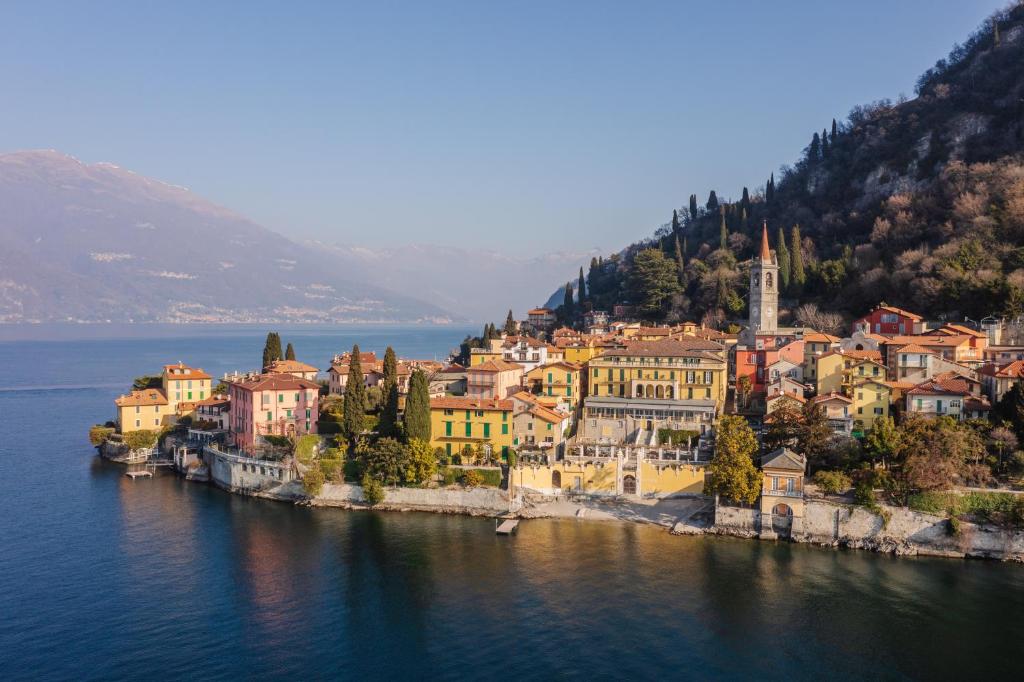 Hotel Royal Victoria, by R Collection Hotels, is a charming boutique hotel located in Varenna, offering breathtaking panoramic views of Lake Como. Housed in a historic 19th-century building, this property boasts lush gardens and a delightful swimming pool. Guests can indulge in ultimate relaxation at the wellness center which features a sauna and steam bath. The hotel's prime location right on the lake shore allows for easy access to all the attractions Varenna has to offer. Each room is equipped with modern amenities including satellite TV, Wi-Fi internet and air conditioning. Some rooms even come with balconies that overlook the stunning lake view. With two restaurants on-site, including one that offers scenic views of Bellagio, guests are spoilt for choice when it comes to dining options. Additionally, the hotel provides a private dock for convenient water transportation. Open from May until September, the swimming pool adds an extra touch of luxury to your stay.
– Breathtaking panoramic views of Lake Como
– Lush gardens and beautiful swimming pool
– Wellness center with sauna and steam bath
– Prime lakefront location in Varenna
– Two restaurants with exquisite dining options
Excelsior Hotel Gallia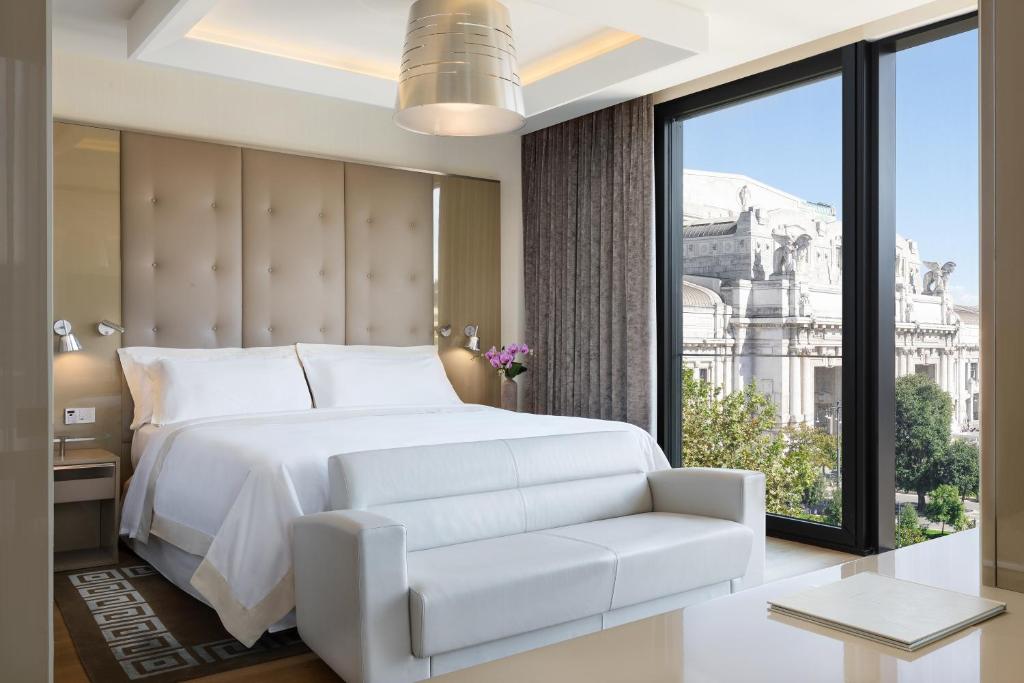 Located in the heart of Milan, right opposite Central Station and close to the popular designer shopping district, Excelsior Hotel Gallia is a luxurious hotel that offers an exquisite experience. The 1000-m² Shiseido spa provides guests with a pampering retreat, while the rooftop restaurant offers breathtaking views of the city. With its convenient location near Centrale Metro Stop and the main station and airport bus terminal, exploring Milan is made easy. The rooms are elegantly decorated with Italian design furniture and feature floor-to-ceiling windows and Trussardi toiletries. The conference center can accommodate up to 430 people and includes versatile La Cupola Rooms for private events. Guests can indulge in delicious meals at the Terrazza Gallia restaurant on the terrace, or enjoy a mixology experience at the lounge bar. For those attending events at Rho Fiera exhibition centre, it is easily accessible by bus or metro from the main station.
– Convenient location near Central Station
– Luxurious Shiseido spa
– Rooftop restaurant with amazing views
– Elegantly decorated rooms with Trussardi toiletries
– Versatile conference center for private events
NH Collection Milano CityLife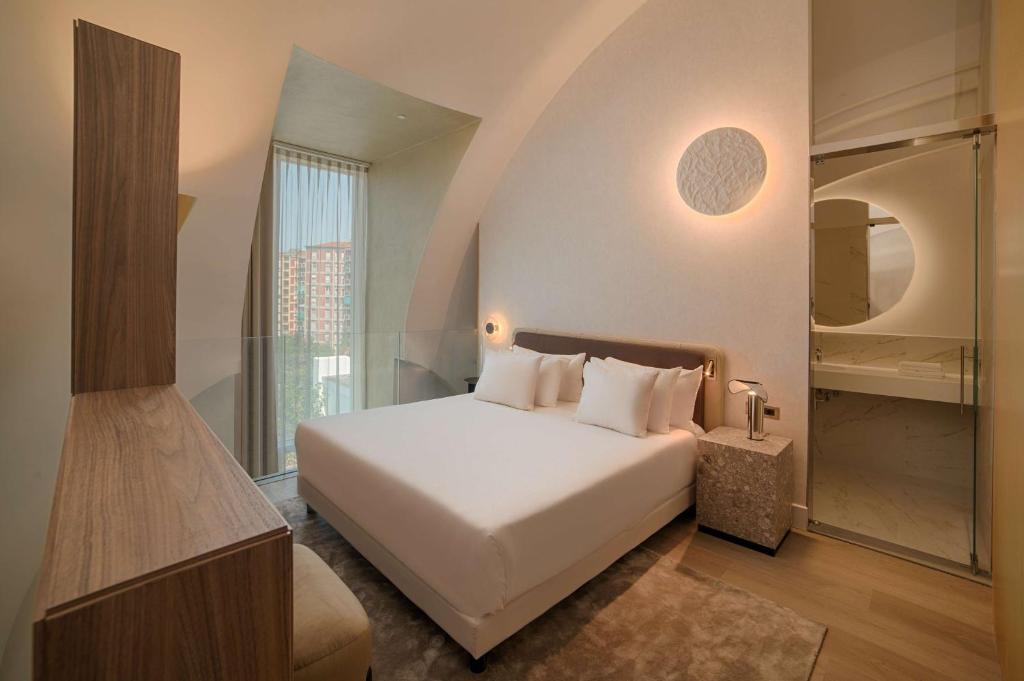 NH Collection Milano CityLife is a newly opened hotel in Milan, conveniently located only 100 meters from Portello metro station in the vibrant CityLife district. The hotel boasts a rooftop pool, which is perfect for relaxing and enjoying panoramic views of the city. The pool area also features a stylish bar where guests can sip on refreshing cocktails while taking in the surroundings. The hotel offers comfortable guest rooms equipped with modern amenities such as flat-screen TVs, air conditioning, and free Wi-Fi. Some rooms even come with private terraces for added luxury. Additionally, NH Collection Milano CityLife has an on-site restaurant with an outdoor area, providing delicious dining options for guests. With its prime location near Fiera Milano City and easy access to transportation, this hotel is an excellent choice for both business and leisure travelers.
– Rooftop pool with stunning city views
– Convenient location near metro station and Fiera Milano City
– Stylish bar at the border of the pool
– Comfortable guest rooms with modern amenities
– On-site restaurant with outdoor dining area
Romantic Hotels with a Pool in Milan
Milan is home to some incredible romantic hotels with pools, offering couples the perfect blend of relaxation and luxury. These poolside retreats provide a serene atmosphere where guests can unwind and enjoy each other's company in beautiful surroundings.
Relais I Due Roccoli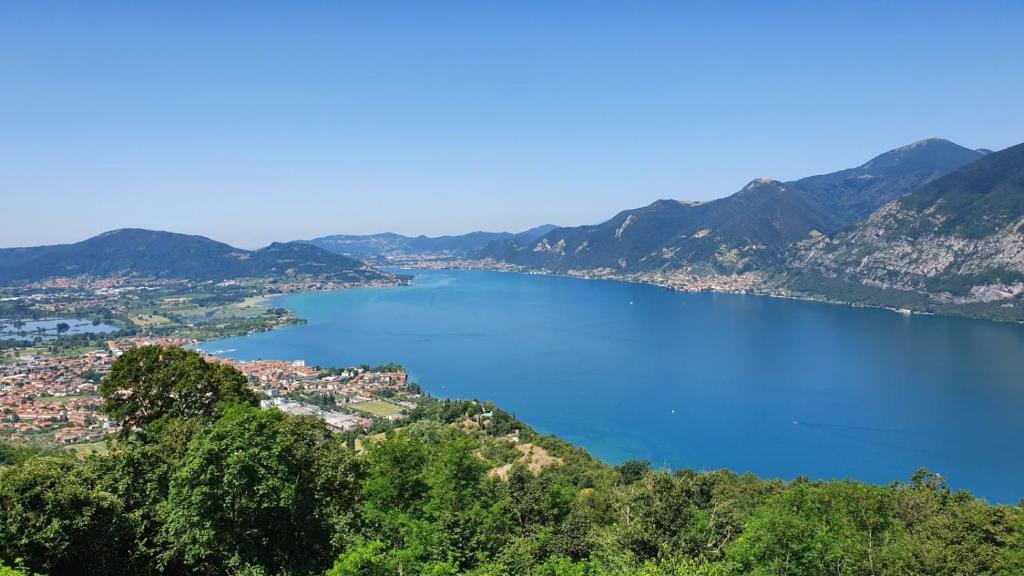 Relais I Due Roccoli is a charming and historic hotel situated only 4 km away from the picturesque town of Iseo. Nestled amidst breathtaking surroundings, this hotel boasts panoramic rooms that provide mesmerizing views of either the serene lake or the lush park that envelops it. The property itself is housed within a beautifully preserved ancient villa, complete with an enchanting 18th-century small church and several stunning panoramic terraces. Guests can indulge in exquisite dining experiences at the restaurant, which features an elegant outdoor dining area overlooking the park and offers a refined à la carte menu.
– Spectacular panoramic views of the lake and park
– Rich in history with its ancient villa and small church
– Multiple scenic terraces to relax and soak up the surroundings
– Elegant outdoor dining area for memorable meal times
– Exquisite à la carte menu serving refined dishes
Casa Cipriani Milano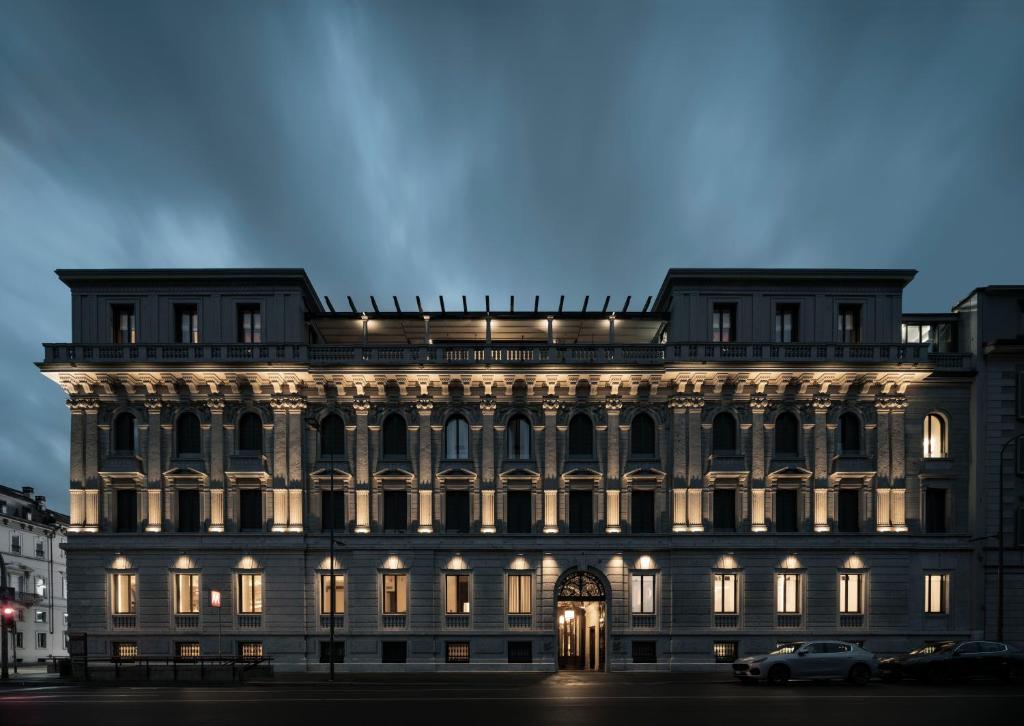 Newly opened in September 2022, Casa Cipriani Milano is a luxurious hotel located in the heart of Milan. The hotel offers air-conditioned rooms with modern amenities such as free WiFi, private parking, and room service. Guests are welcomed by a 24-hour front desk and can enjoy dining at the on-site restaurant or relaxing on the terrace. The accommodation boasts 5-star luxury with a hammam and spa center for ultimate relaxation. Each guest room features a CD player, TV, and complimentary toiletries. Breakfast options include à la carte, Italian, and American dishes served daily. The hotel's convenient location allows guests to easily explore popular attractions like GAM Milano, Villa Necchi Campiglio, and San Babila Metro Station. Milan Linate Airport is also just 7 km away.
– Newly opened in September 2022
– Well-located in the heart of Milan
– Luxurious 5-star accommodation
– Hammam and spa center for relaxation
– Convenient access to popular attractions
Grand Hotel Imperiale Resort & SPA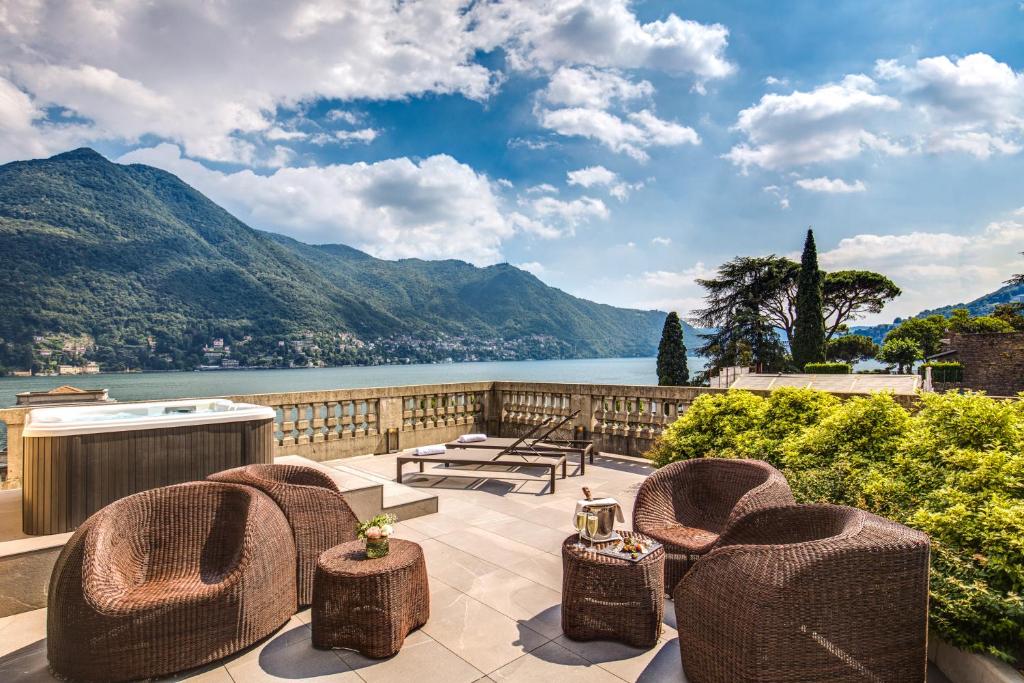 Located in the picturesque town of Moltrasio on the stunning shores of Lake Como, Grand Hotel Imperiale Resort & SPA is a luxurious Art Nouveau villa built in the 1920s. With its charming ambiance and breathtaking views, this hotel is an idyllic retreat for travelers seeking relaxation and elegance. The property boasts a summer outdoor pool, an exquisite restaurant offering Lombardy specialties and classic Italian cuisine, and a state-of-the-art wellness center where guests can indulge in rejuvenating treatments. The spa features a small indoor pool with hydromassage, a fitness center, and a Turkish bath. Each room at Grand Hotel Imperiale offers modern amenities such as LCD satellite TV, internet access, and air conditioning. Additionally, every room provides mesmerizing views of either the lake, garden or Mount Bisbino. Whether guests opt for accommodations in the main building or the newer Rationalist-style wing, they are guaranteed comfort and style. The hotel's extensive grounds include a beautiful garden perfect for leisurely strolls and a tennis court for those looking to stay active during their visit. Boat rentals can also be arranged at reception for guests wanting to explore Lake Como's sparkling waters. To start their day off right, visitors can enjoy a delightful à la carte breakfast featuring both sweet and savory options. Grand Hotel Imperiale is conveniently located just 55 km from the Fiera di Milano Exhibition Centre and only a 50-minute drive from Malpensa Airport—ensuring easy access for travelers coming from afar. For added convenience, there is also a private garage available on-site.
– Charming Art Nouveau villa with breathtaking lake views
– Outdoor pool ideal for relaxing during summer months
– Exquisite lakeside restaurant serving Lombardy specialties
– Luxurious spa with indoor pool, fitness center & Turkish bath
– Convenient location near Milan Exhibition Centre & airport
Hotels with Pools in Milan That Are Good for Families
Milan offers a variety of hotels with pools that cater to families. These family-friendly accommodations provide a refreshing oasis for both parents and children, allowing them to relax and cool off after exploring the city's attractions.
Colletto AgriBioRelais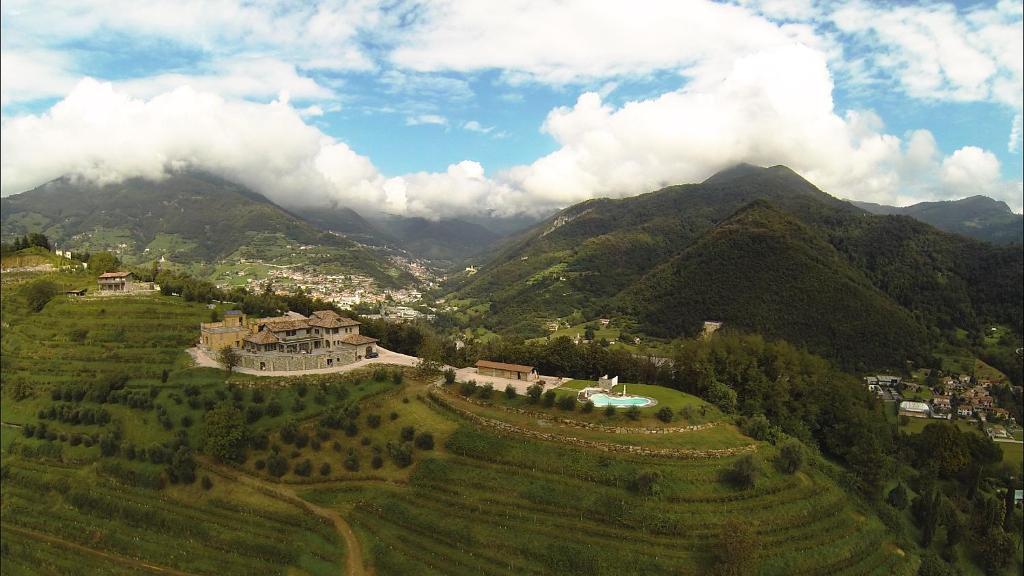 Colletto AgriBioRelais is a charming country house located in a tranquil area just 6 km outside of Villongo and a short 15-minute drive from Sarnico. The highlight of this hotel is its beautiful outdoor pool, surrounded by a lush garden that provides a serene and relaxing atmosphere. Offering free WiFi throughout the property, all rooms at Colletto AgriBioRelais are equipped with modern amenities including minibars and safety deposit boxes. Guests can also enjoy the convenience of having a private bathroom with a shower and complimentary toiletries. In addition to its comfortable accommodations, this country house produces its own wine, olive oil, and honey, allowing guests to indulge in authentic local flavors during their stay. For those interested in exploring the renowned Franciacorta wine region, it is conveniently located just a 20-minute drive away.
– Peaceful location outside Villongo
– Outdoor pool surrounded by garden
– Free WiFi throughout the property
– Own production of wine, olive oil, and honey
– Short distance from Lake Iseo and Franciacorta wine area
Château Monfort – Relais & Châteaux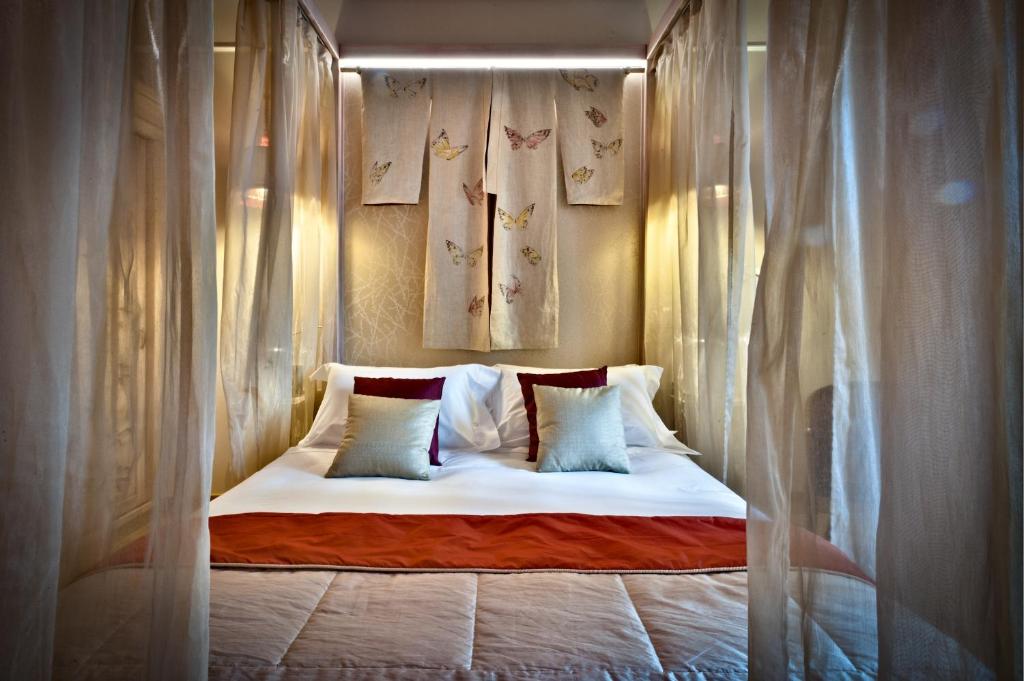 Château Monfort – Relais & Châteaux is a 5-star boutique hotel located in the heart of Milan's historic center. Just an 8-minute walk from Piazza San Babila and Via Montenapoleone, this luxurious hotel offers elegant rooms with parquet floors, LCD TVs, and free Wi-Fi. The dining options at Château Monfort are exceptional, with Restaurant Rubacuori serving classic Italian cuisine, Mezzanotte Lounge Bar offering late-night drinks, and La Cella Di Bacco wine bar boasting an impressive wine selection. What sets this hotel apart is its unique theme – each room is dedicated to a different fairy tale or nursery rhyme. The combination of antique details and modern amenities creates a glamorous chic style that is truly one-of-a-kind. Guests can enjoy a delightful breakfast spread featuring cakes, fresh fruit, hot and cold beverages, as well as traditional cheese and cold cuts. With Linate Airport just 6 km away and Porta Venezia Station within a 10-minute walk, Château Monfort offers convenience alongside its charm.
– Prime location in Milan's historic center
– Elegant rooms with themed designs
– Exceptional dining options including an impressive wine bar
– Unique mix of antique details and modern facilities
– Delicious breakfast spread included
Bulgari Hotel Milano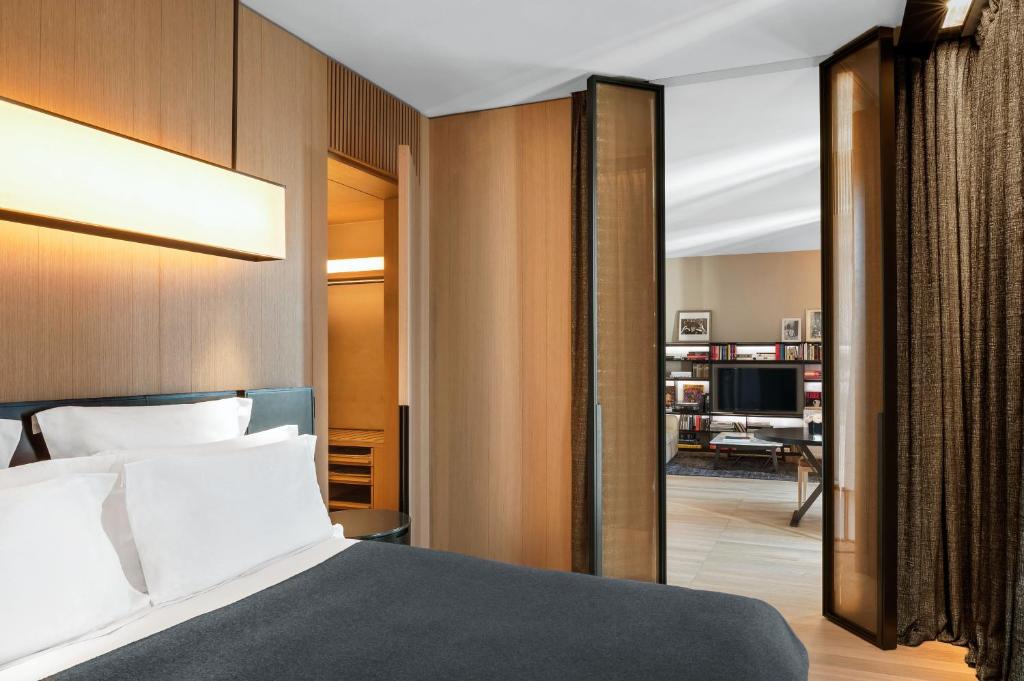 Bulgari Hotel Milano is a refined and exclusive boutique establishment located in the heart of Milan, adjacent to the renowned shopping street, Via Montenapoleone. The comfortable rooms offer breathtaking views of Bulgari's enchanting garden and the neighboring Botanical Gardens. The hotel boasts a harmonious blend of modern design and high-tech features, with luxurious touches such as glass mosaics, gold accents, emerald green designs, and special lighting effects creating a relaxing atmosphere in the spa. Unwind after a busy day exploring Milan at the hotel's wonderful spa, which includes an indoor swimming pool. The central bar overlooks the beautiful gardens, while just behind it lies the restaurant where guests can indulge in fresh Italian cuisine and enjoy cocktails or wines from an extensive selection. With its spacious yet friendly ambiance, Bulgari Hotel Milano is an exceptional choice for those seeking luxury accommodation in Milan.
Pros:
– Adjacent to Via Montenapoleone for convenient shopping
– Stunning views of Bulgari's magical garden and Botanical Gardens
– Modern design with high-tech features
– Relaxing spa with indoor swimming pool
– Spacious bar and restaurant serving fresh Italian cuisine
Milan Hotels with Pool Information
| | |
| --- | --- |
| 🛎️ Hotels with a Pool in Milan | 12 |
| 💰 Hotel prices starting from | $297 |
| 💵 Highest price | $1231 |
| 🥇 Average Review Score | 8.8/10 |
| 🛏️ Average number of Rooms | 81 |
FAQ
Can I find hotels with pools in Milan?
Yes, you can definitely find hotels with pools in Milan. Being a popular tourist destination and a cosmopolitan city, Milan has a wide range of luxury hotels that offer pool facilities to their guests. Whether you are looking for rooftop pools with stunning views of the city skyline or indoor swimming pools for year-round relaxation, there are plenty of options available in Milan.
What types of pool facilities do hotels in Milan offer?
Hotels in Milan offer various types of pool facilities to cater to the diverse needs and preferences of their guests. Some hotels boast luxurious rooftop infinity pools, perfect for sunbathing and enjoying panoramic views of the city. Other establishments provide indoor swimming pools, ideal for relaxation and exercise no matter the weather outside. Additionally, some hotels may have outdoor pool areas surrounded by lush gardens or spacious terraces for ultimate leisure.
Are hotel pools open all year round?
The availability of hotel pool facilities throughout the year depends on individual hotel policies and climates. While some luxury hotels in Milan have indoor swimming pools that remain open all year round, others operate seasonally due to weather conditions. It is advisable to check with your chosen hotel directly or consult their website to confirm if their pool facilities will be accessible during your intended stay.
Do I need to pay extra to use the hotel pool?
In most cases, access to hotel pool facilities is included in the overall room rate. However, it is always recommended to double-check this information when making your reservation as there might be instances where certain luxury amenities such as spa treatments or additional services might incur an additional fee.
Which neighborhoods in Milan have hotels with pools?
Milan offers a great selection of neighborhoods where you can find luxury hotels offering pool facilities. The Brera district is known for its upscale accommodations that often include stunning rooftop or courtyard pools within walking distance from famous landmarks like Sforza Castle and Pinacoteca di Brera. The Porta Nuova district also features several modern hotels with rooftop pools, providing a refreshing escape in the heart of Milan's business and fashion district. Additionally, Navigli and Porta Romana neighborhoods offer stylish boutique hotels with unique pool settings perfect for a chic stay experience.
Popular Hotels with Pool destinations