Best 6 Hotels with Pools in Kelowna
Welcome to our guide on luxurious accommodations in Kelowna, Canada boasting exquisite swimming facilities. For those seeking a refreshing and invigorating getaway, look no further than the stunning hotels that grace this picturesque city. Nestled amidst the captivating landscape of British Columbia's Okanagan Valley, these opulent establishments offer a plethora of aquatic delights for guests to indulge in.
Immerse yourself in the lap of luxury as you dive into the crystalline waters of Kelowna's upscale lodgings. Discover an oasis of tranquility where azure pools sparkle like liquid sapphire against the backdrop of majestic mountains and lush vineyards. Whether you desire a leisurely swim beneath clear skies or yearn for an evening dip under twinkling stars, these hotels present an idyllic setting for all your aquatic adventures.
Escape from the hustle and bustle of everyday life by basking in the serenity offered by these extraordinary poolside retreats. Experience ultimate relaxation as you lounge beside shimmering waters, surrounded by meticulously manicured gardens and sun-kissed loungers beckoning you to unwind. Soak up vitamin D while sipping on refreshing cocktails delivered right to your poolside cabana, surrendering yourself to pure bliss amidst tranquil surroundings.
Embark on a journey through this guide, which unveils some of Kelowna's most glamorous hotels with enticing pools that promise unparalleled elegance and rejuvenation throughout your stay.
The Best Kelowna Hotels with a Pool
Best Western Plus Kelowna Hotel & Suites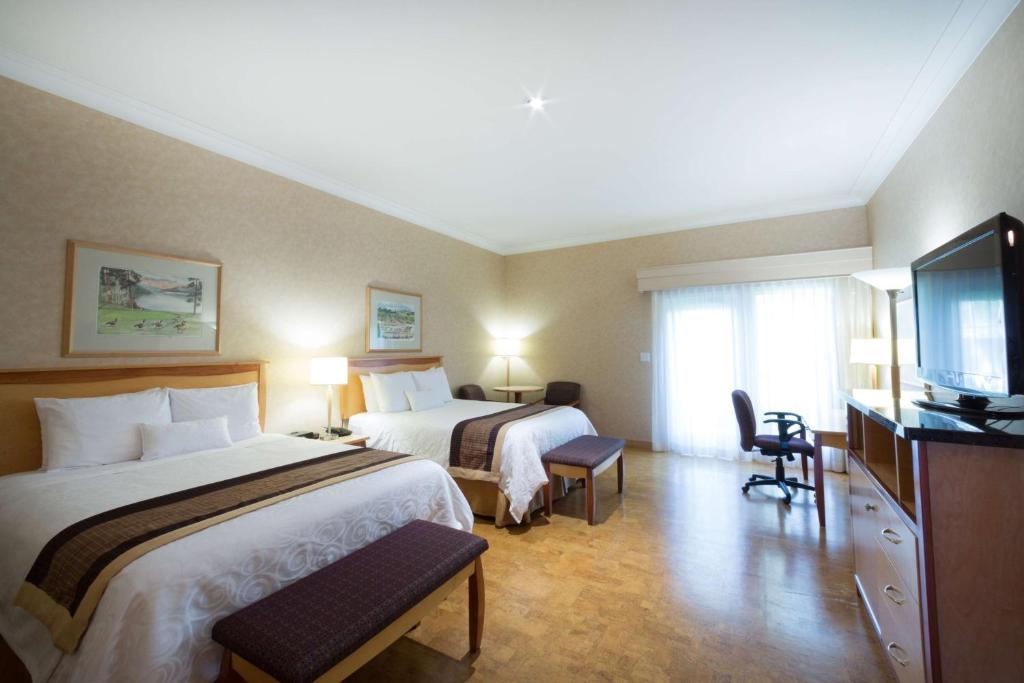 The Best Western Plus Kelowna Hotel & Suites is a conveniently located hotel in British Columbia, just a 10-minute drive from Kelowna International Airport. This hotel offers a range of amenities for guests to enjoy, including an on-site restaurant serving dinner, a full-service spa, an indoor heated mineral pool, a gym, and free Wi-Fi. The guest rooms are well-appointed with modern amenities such as a 40-inch flat-screen TV and an iPod docking station. Some rooms even include a small refrigerator. Guests can also take advantage of the two outdoor hot tubs and indulge in a massage or utilize the full-service conference center. The hotel provides complimentary airport shuttle service upon special request with the hotel directly and offers free airport parking for up to two weeks. Additionally, with its close proximity to downtown Kelowna and Okanagan College, this hotel is an ideal choice for both business and leisure travelers.
– Convenient location near the airport
– On-site restaurant serving dinner
– Indoor heated mineral pool
– Complimentary airport shuttle service
– Close proximity to downtown Kelowna
Coast Capri Hotel
Coast Capri Hotel, situated in downtown Kelowna just blocks from Okanagan Lake, offers a luxurious experience with its range of amenities. Guests can indulge in the hotel's two on-site restaurants and pamper themselves at Beyond Wrapture spa. The state-of-the-art fitness center overlooks a serene outdoor pool, creating a perfect setting for relaxation. Vinter's Poolside Grill treats visitors to live jazz and blues while Coffeecopia specializes in delightful coffees and snacks. The elegantly decorated rooms provide free WiFi, making it convenient for guests to stay connected. Additionally, the Vintage Room impresses with its fine dining options for lunch and dinner. With Kelowna International Airport located only 12.6 km away, Knox Mountain Park nearby at 7 km distance, and Kelowna Golf & Country Club merely 3 km away, Coast Capri Hotel is an ideal choice for travelers seeking both comfort and convenience.
– Outdoor pool overlooking a tranquil environment
– Two on-site restaurants offering diverse culinary experiences
– Beyond Wrapture spa providing relaxation through various massages and beauty treatments
– Elegant Vintage Room offering fine dining options
– Convenient location near Okanagan Lake, airport, parks, and golf club
Manteo at Eldorado Resort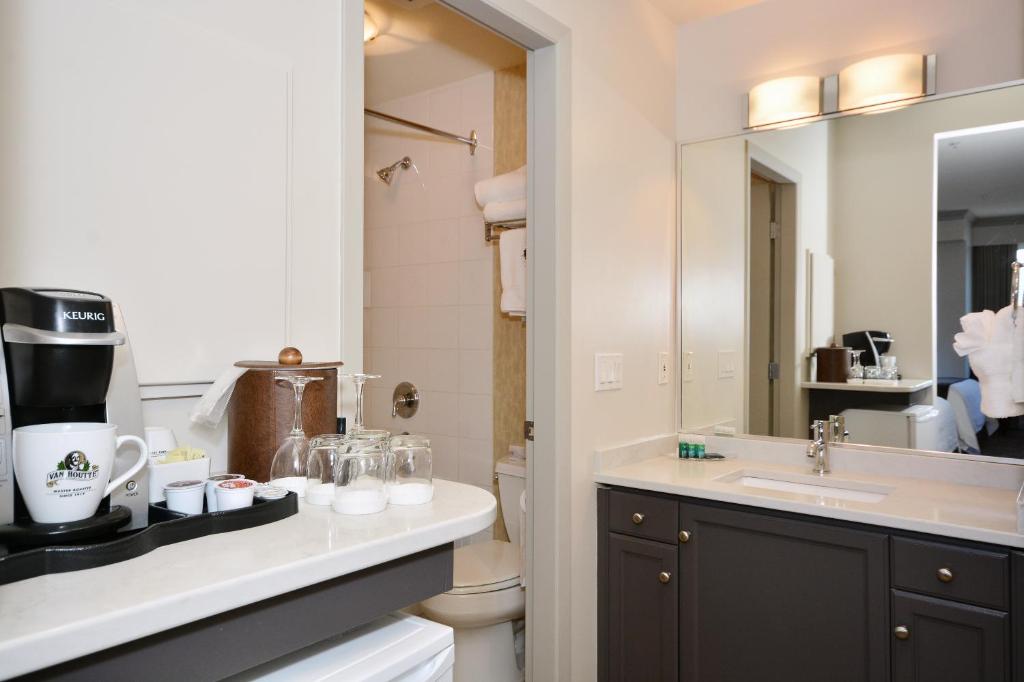 Located on the waterfront of Lake Okanagan in Kelowna, Manteo at Eldorado Resort is a stunning beachfront accommodation just steps away from Rotary Beach Park. This resort offers a range of amenities including indoor and outdoor pools, a hot tub, fitness center, private beach area, and Maestro's Mediterranean restaurant. The rooms are equipped with all the modern comforts including air conditioning, flat-screen TVs, and private bathrooms. For those looking for something extra special, Manteo also offers beautiful villas with radiant lake views. Guests can enjoy activities such as hiking, skiing, and cycling in and around Kelowna. With its convenient location near beaches and a commercial district with boutiques and restaurants nearby, Manteo at Eldorado Resort provides an excellent base for exploring the city.
– Indoor and outdoor pools
– Beautiful beachfront location
– Variety of room options including villas
– Health and wellness services available
– Close proximity to beaches and shopping district
Other places to stay in Kelowna
Hotels with Pools in Kelowna with Nice Views
Hotels with pools in Kelowna offer a refreshing way to unwind while enjoying stunning views of the surrounding landscapes. Whether you prefer a mountain backdrop or a lakeside vista, these hotels provide the perfect setting for relaxation and rejuvenation.
Comfort Suites Kelowna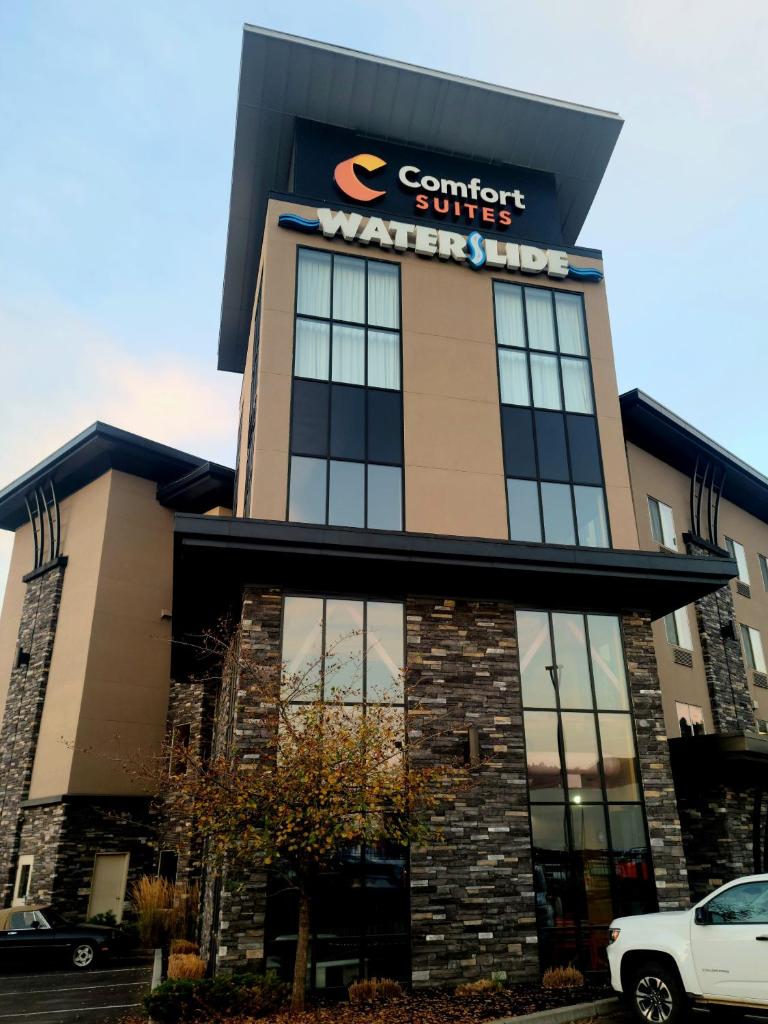 The Comfort Suites Kelowna is a fantastic hotel that offers a range of amenities for its guests. The spacious suite rooms, which are 46 square meters in size, provide ample space for relaxation and comfort. Each room is equipped with a flat-screen cable TV, as well as a microwave and refrigerator for added convenience. Guests can start their day off right with the delicious daily breakfast at the hotel's waffle station. Additionally, this family-friendly hotel features an indoor pool with a waterslide and a hot tub for ultimate relaxation. For those looking to stay active during their trip, there is also a fitness center available onsite. With its convenient location near Big White Ski Resort and Gyro Beach Park on Okanagan Lake, guests have plenty of opportunities for outdoor activities nearby. And to top it all off, the Comfort Suites Kelowna provides a recharge station with USB ports and electric outlets to keep your devices powered up throughout your stay.
– Spacious suite rooms
– Indoor pool with waterslide
– Daily breakfast at waffle station
– Convenient location near outdoor attractions
– Recharge station with USB ports and electric outlets
Delta Hotels by Marriott Grand Okanagan Resort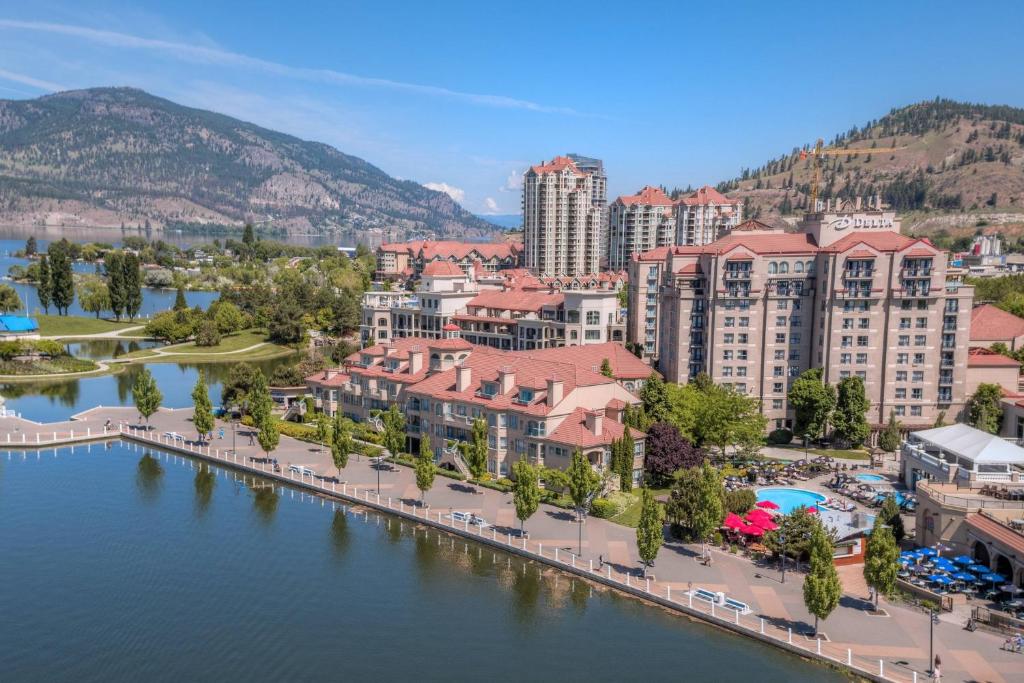 Delta Hotels by Marriott Grand Okanagan Resort is an exceptional resort hotel situated along the picturesque Okanagan Lake, surrounded by stunning mountains. Just a stone's throw away from the Kelowna Art Gallery, this resort offers a range of excellent recreational amenities including hot tubs, indoor and outdoor pools, a spa, and fitness center. Guests can savor delicious meals at the lakefront patio restaurant while enjoying breathtaking views. The air-conditioned guest rooms are equipped with cable TVs, iHome audio systems, coffee makers, and mini refrigerators. OAK + CRU Social Kitchen & Wine Bar is also available daily for guests to indulge in craft cocktails and exclusively Okanagan wines. Additionally, visitors can partake in outdoor activities such as biking, hiking, kayaking or skiing on Okanagan Lake. This property boasts outdoor terraces and a ballroom for events and offers catering and event planning services. Furthermore, it's conveniently located just 7 minutes' drive from Kelowna Golf & Country Club and only 5 km away from Orchard Park Shopping Centre.
Pros:
– Beautiful location overlooking Okanagan Lake
– Ample recreational facilities including indoor/outdoor pools
– Convenient proximity to attractions like Kelowna Art Gallery
– Stunning mountain views surrounds the hotel
– On-site restaurant serving delicious meals with lakefront ambiance
Prestige Beach House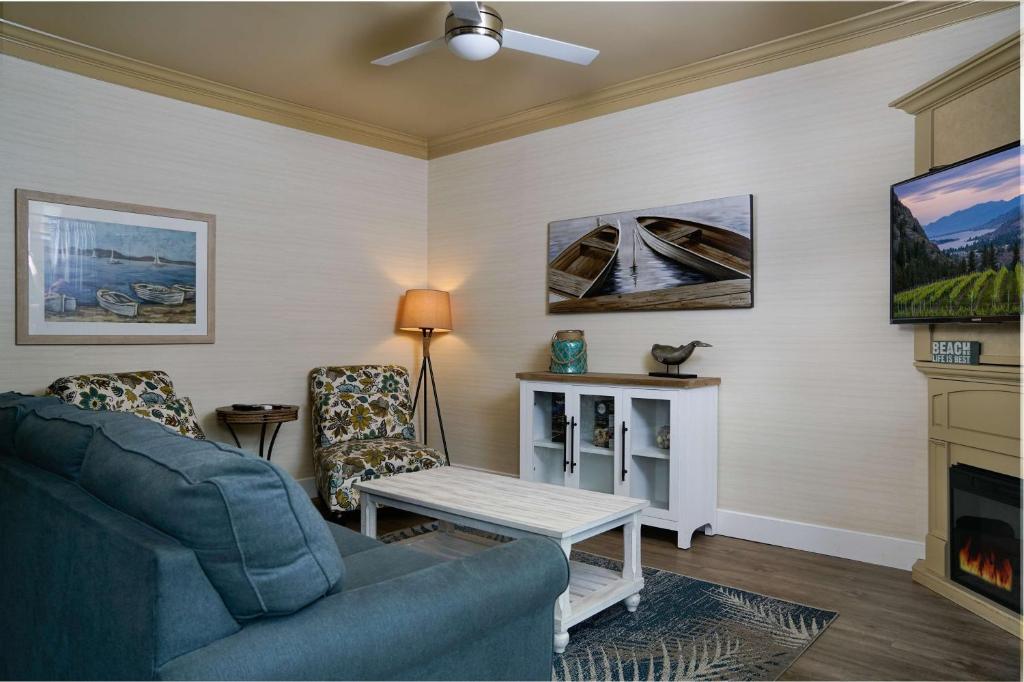 Located across from Hot Sands Beach, Prestige Beach House offers an indoor pool, on-site dining, and rooms with flat-screen TVs. Lake City Casinos is 2 km away. The hotel provides rooms furnished with granite bathrooms and a balcony, equipped with free WiFi and cable HD TV. Guests can enjoy facilities such as the West Coast Grill & Oyster Bar, a hot tub, and a gym. Additionally, guests have complimentary access to sporting equipment items like bikes, balls, beach toys and games, board games, and more. The Kelowna Golf and Country Club is less than 10 minutes away from Prestige Beach House.
Pros:
– Perfect location across from the beach
– Indoor pool for year-round enjoyment
– On-site dining options at the West Coast Grill & Oyster Bar
– Complimentary access to sporting equipment for outdoor activities
– Close proximity to popular attractions like Lake City Casinos and Kelowna Golf and Country Club
Kelowna Hotels with Pool Information
| | |
| --- | --- |
| 🛎️ Hotels with a Pool in Kelowna | 6 |
| 💰 Hotel prices starting from | $81 |
| 💵 Highest price | $1747 |
| 🥇 Average Review Score | 7.8/10 |
| 🛏️ Average number of Rooms | 126 |
FAQ
Which luxury hotels in Kelowna have pools?
Kelowna offers several luxury hotels that feature pools for guests to enjoy. Some popular options include the Delta Hotels by Marriott Grand Okanagan Resort, The Cove Lakeside Resort, and Manteo Resort Waterfront Hotel & Villas. These hotels not only provide beautiful pool areas but also offer stunning views of the city or lakefront.
Are there any budget-friendly hotels in Kelowna with pool facilities?
Yes, there are budget-friendly hotels in Kelowna that offer pool facilities for their guests. If you're looking to save money without compromising on convenience and amenities, consider staying at properties like Accent Inns Kelowna or The Recreation Inn & Suites. These affordable options provide comfortable accommodations and refreshing swimming pools.
Do all hotels in Kelowna have indoor pools?
Not all hotels in Kelowna have indoor pools as it depends on the property's design and facilities. While some hotels may offer both indoor and outdoor pool options, others may only have outdoor pools available for guests to use. It's always best to check with the specific hotel you're interested in booking to confirm their pool offerings.
Are hotel pools open year-round in Kelowna?
Hotel pool availability can vary depending on the time of year and weather conditions in Kelowna. Many luxury hotels keep their outdoor pools open during warmer months from spring to fall when weather permits. Indoor pools are usually accessible throughout the year regardless of weather conditions, offering guests a place to swim regardless of the season.
Can non-guests use hotel swimming pools in Kelowna?
The policy regarding non-guests using hotel swimming pools varies from one property to another. Some luxury hotels may allow non-guests access to their pool facilities for an additional fee or under certain conditions, such as purchasing a day pass or making a reservation at an affiliated spa or restaurant within the hotel. It's advisable to contact the hotel directly to inquire about their policies for non-guest pool use.
Popular Hotels with Pools destinations