Best 12 Hotels with Pools in Devon
Welcome to our guide on luxurious accommodations with swimming facilities in Devon, United Kingdom. If you're searching for a retreat that offers more than just picturesque landscapes and charming towns, these hotels are sure to make a splash. Nestled amidst the stunning vistas of Devon's countryside, these establishments provide an exceptional experience by combining elegant amenities with refreshing pools.
Immerse yourself in the epitome of opulence as you dive into the crystal-clear waters at these magnificent hotels. Whether you prefer taking a leisurely swim or simply lounging by the poolside with a cocktail in hand, these properties cater to your every desire. Indulge in revitalizing laps while marveling at panoramic views that stretch across Devon's rolling hills and serene valleys.
Discover a haven of relaxation where tranquility meets modernity at these exquisite hotels. With their pristine swimming facilities, each property ensures an unforgettable stay filled with blissful moments and soothing aquatic delights. So pack your swimsuit and get ready to plunge into luxury as we explore some of the most remarkable hotels with pools in beautiful Devon!
The Best Devon Hotels with a Pool
Boringdon Hall Hotel and Spa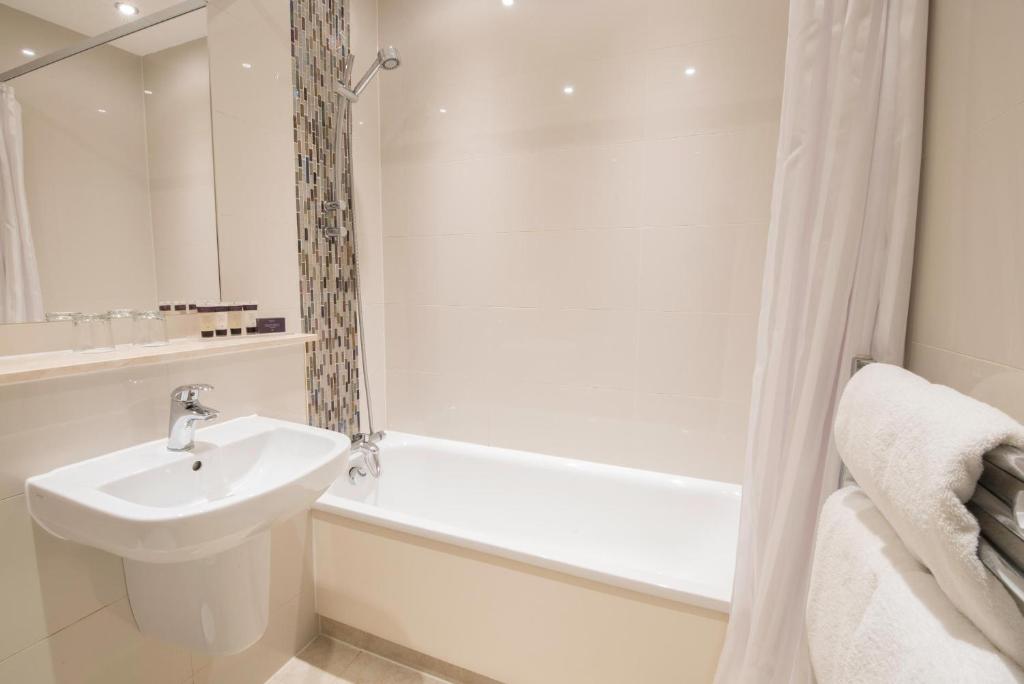 Located on the outskirts of Dartmoor National Park and a short distance from Plymouth, the 5-star Boringdon Hall Hotel and Spa offers a luxurious retreat with its historic interiors and elegant rooms. The hotel's Gaia Spa is exclusively for adults, providing a tranquil haven for relaxation and rejuvenation. Indulge in delicious cuisine at Àclèaf, the Michelin-star restaurant that showcases traditional British dishes made with locally sourced ingredients. The hotel provides access to a swimming pool, hydrotherapy pool, gym facilities including Peloton bikes, and an array of spa services. With its modern decor and classic furnishings, some rooms even feature carved wooden beds, antique furniture, and historic elements. Guests can also enjoy traditional afternoon teas in the magnificent Great Hall or partake in outdoor activities such as climbing or horse-riding arranged by the hotel. Unfortunately, pets are only allowed in the Courtyard Rooms for an additional fee.
– Stunning historic interiors
– Exclusive adult-only Gaia Spa
– Michelin-star restaurant offering exceptional dining experience
– Access to swimming pool and hydrotherapy pool
– Convenient location near Dartmoor National Park
Mercure Exeter Southgate Hotel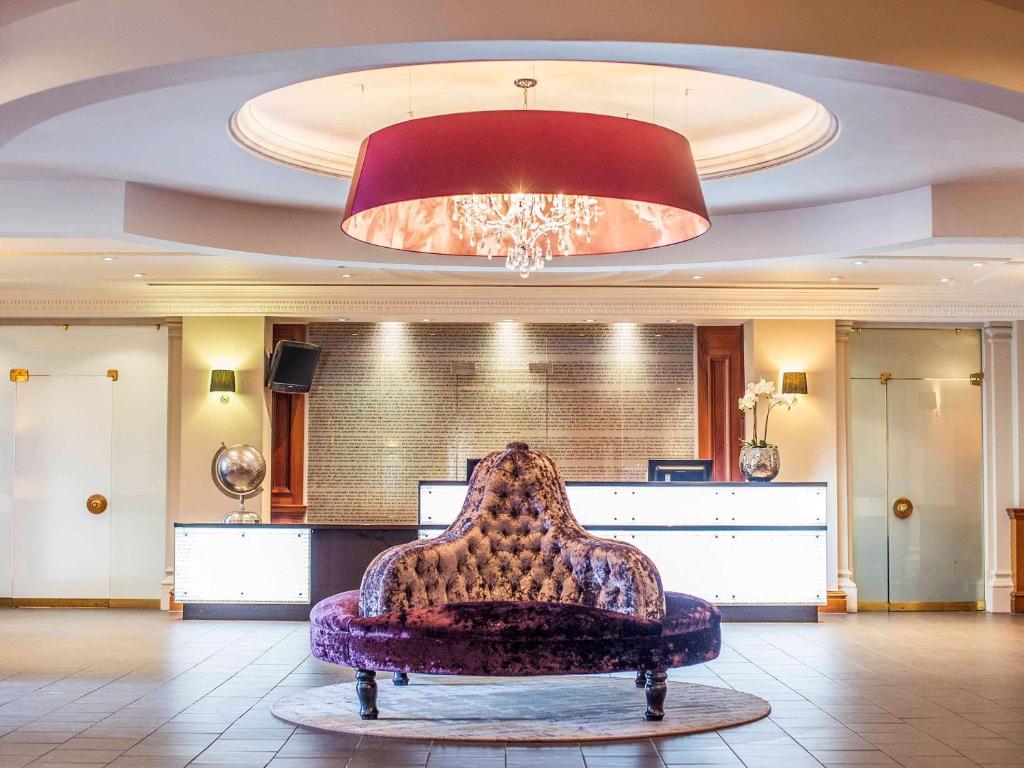 Mercure Exeter Southgate Hotel is a centrally located hotel in the heart of Exeter, offering stunning views of the historic old cathedral. The hotel boasts a health and fitness centre complete with an indoor swimming pool and gym facilities. With convenient access to buses along the High Street and only a 10-minute walk from Exeter Central Rail Station, guests can easily explore the city. The hotel also features a sauna and whirlpool spa for ultimate relaxation. Each room at Mercure Exeter Southgate Hotel includes Freeview TV and tea/coffee-making facilities, with interconnecting rooms available upon request. Guests can enjoy drinks at the Terrace lounge bar or experience elegant dining at The Gate House Restaurant, which also serves traditional Devonshire afternoon tea. Within just a short 5-minute walk, guests can indulge in shopping and dining options in the bustling city centre.
– Centrally located with stunning views of the old cathedral
– Health and fitness centre with indoor swimming pool
– Sauna and whirlpool spa for relaxation
– Interconnecting rooms perfect for families or groups
– Terrace lounge bar and elegant dining options including afternoon tea
Harbour Hotel Salcombe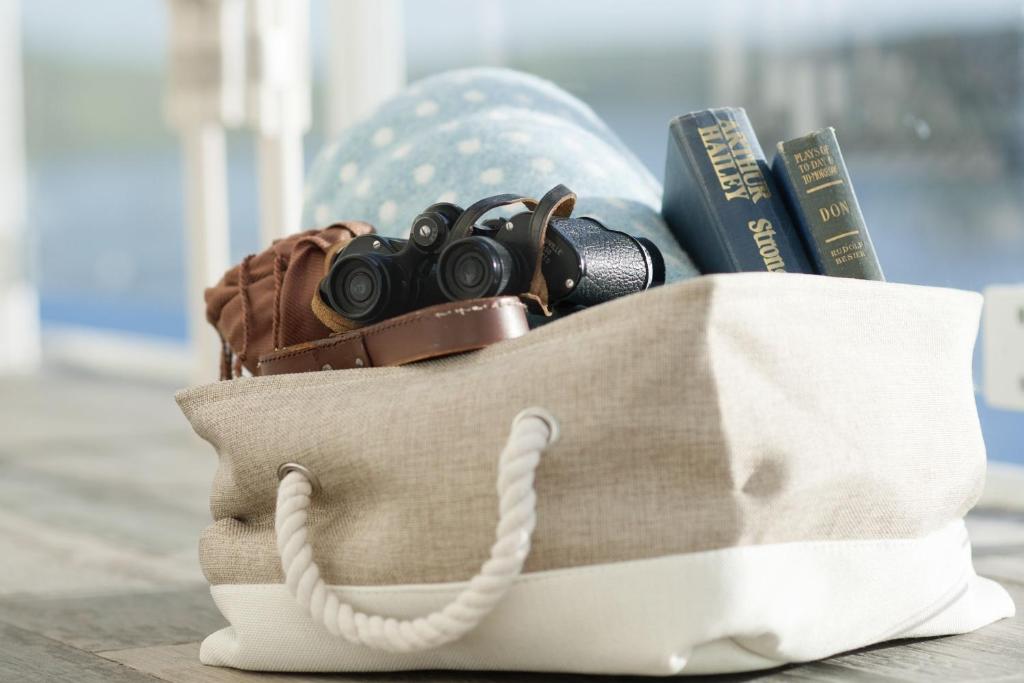 Situated on the waterfront in the picturesque coastal town of Salcombe, Harbour Hotel Salcombe offers a luxurious retreat with an array of amenities. Guests can indulge in ultimate relaxation at the hotel's spa, which boasts five treatment rooms, an indoor pool, hot tub, sauna, and fitness area. The hotel also provides free Wi-Fi and secure off-site parking for added convenience. The lounge offers breathtaking views from every window, allowing guests to immerse themselves in the beauty of their surroundings. With Dartmoor National Park just a 30-minute drive away and Plymouth city center reachable within 50 minutes by car, there are plenty of opportunities for outdoor adventures and exploration nearby. The spacious and modern en-suite rooms are equipped with all the necessary comforts such as TVs and tea/coffee-making facilities. Balconies and sea views can be enjoyed from most rooms, providing a serene setting to relax after a day of sightseeing or beach activities. Additionally, the popular market town of Kingsbridge is only a short 15-minute drive from Harbour Hotel Salcombe.
– Stunning waterfront location
– Luxurious spa with various amenities
– Breath-taking views from the lounge
– Proximity to Dartmoor National Park
– Spacious en-suite rooms with balconies and sea views
Other places to stay in Devon
Hotels with Pools in Devon with Nice Views
Devon, known for its picturesque landscapes and coastal charm, offers a delightful selection of hotels with pools boasting stunning views. Whether you prefer an ocean panorama or a countryside vista, these hotels allow guests to relax and unwind while immersing themselves in the natural beauty of Devon.
Ilsington Country House Hotel & Spa (Ilsington)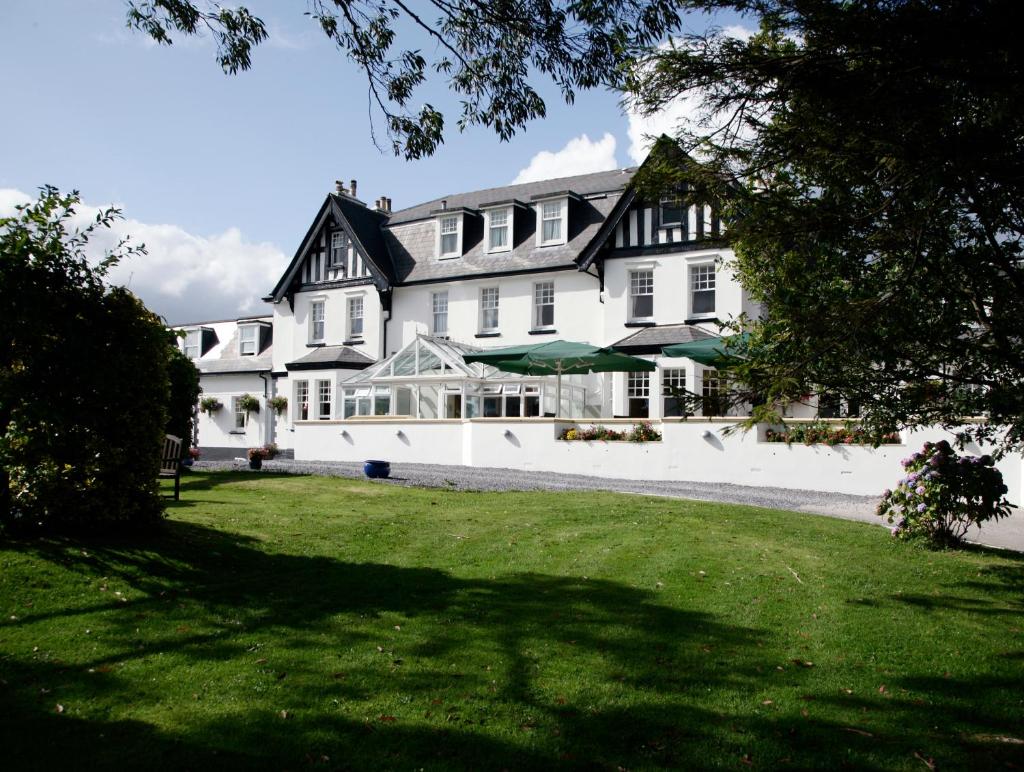 Nestled amid 10 acres of private grounds on the southern slopes of Dartmoor National Park, Ilsington Country House Hotel & Spa is a charming boutique hotel that offers a warm and welcoming atmosphere. With its award-winning service and attention to detail, this family-run hotel is the perfect base for exploring the natural beauty of South Devon. The hotel features breathtaking views of the surrounding countryside towards Haytor as well as a brand-new spa facility. Guests can enjoy indoor swimming in the pool, indulge in hydrotherapy relaxation, unwind in the sauna or steam room, and keep fit at the fitness suite. For those seeking rejuvenation, various treatments can be booked in advance. Additionally, free WiFi is available throughout the property.
– Idyllic views over the picturesque countryside
– New spa facility with indoor pool and hydrotherapy pool
– Friendly and attentive service from hosts
– Convenient location for exploring Dartmoor National Park
– Free WiFi available throughout
The Belmont Hotel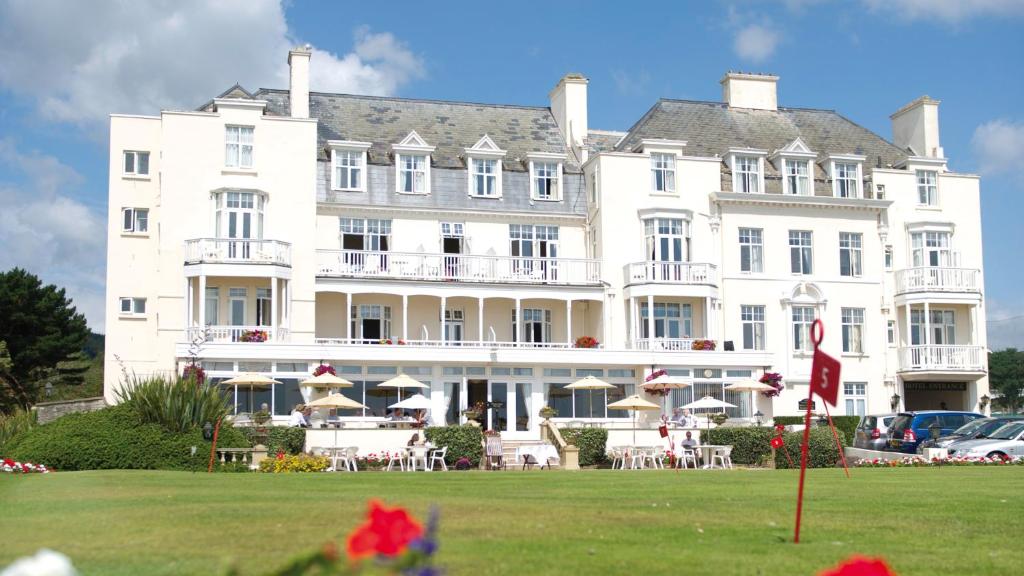 Located on the picturesque Regency seafront with breathtaking sea views, The Belmont Hotel is a highly sought-after 4-star hotel in Sidmouth. Its prime location allows guests to enjoy a short level walk to the town center. The hotel offers an array of complimentary leisure facilities including both indoor and outdoor swimming pools as well as a spa area, which can be accessed at its adjacent sister hotel. With beautifully manicured private gardens and a terrace perfect for sipping drinks or enjoying lunches by the seaside, The Belmont provides an idyllic setting for relaxation. Designed to maximize the stunning vistas, the bar, lounges, and most of the bedrooms offer exceptional sea views that create a warm and cozy atmosphere for guests. Dining options are aplenty at The Belmont with its modern English menu served at Belmont Restaurant along with friendly and efficient staff ready to cater to every need. For those seeking a more casual experience, Horizon Restaurant offers customers a laid-back dining experience. Nature enthusiasts will delight in exploring Sidmouth's surrounding beautiful countryside as it becomes part of the Jurassic Coast famous for its cliffs adorned with geological features and fossils waiting to be discovered. A short drive away lies Exeter renowned for its cathedral and new shopping center Princesshay.
Pros:
– Outdoor pool available for guests' enjoyment
– Beautiful panoramic sea views from various areas of the hotel including bar, lounges, and most bedrooms
– Complimentary access to leisure facilities including indoor pool and spa area at sister hotel
– Private manicured gardens and terrace providing a serene environment near the ocean
– Prime location offering easy access to Sidmouth town center amd nearby attractions like Jurassic Coast
Harbour Hotel Sidmouth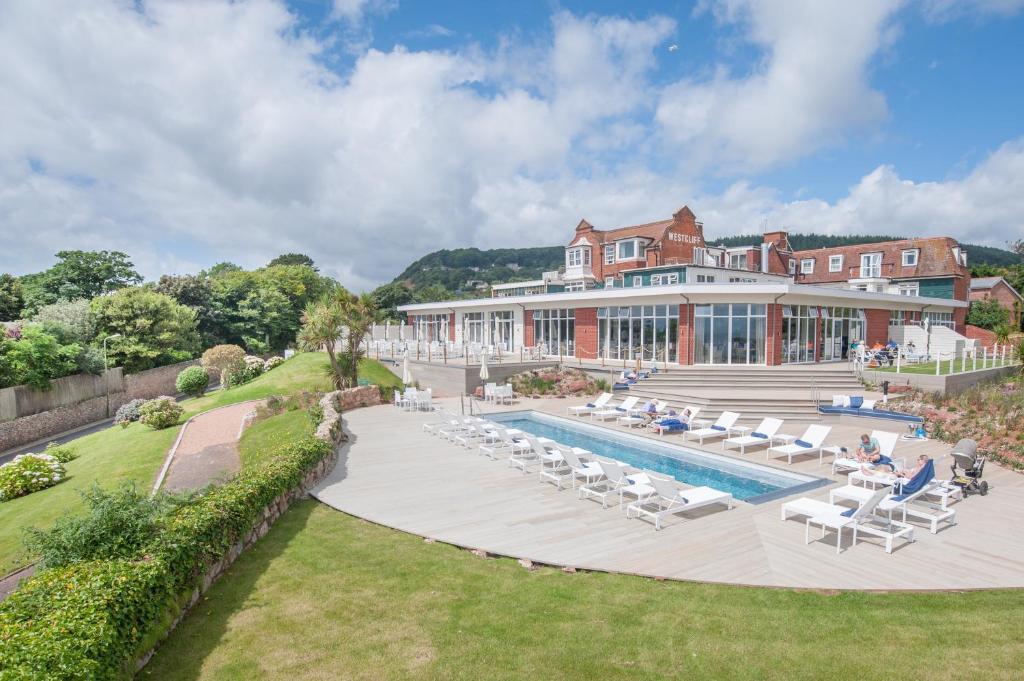 Harbour Hotel Sidmouth is a luxurious 4-star hotel located in the charming town of Sidmouth. The hotel offers a range of excellent amenities including a garden, terrace, restaurant, and bar. Guests can enjoy free WiFi throughout the property as well as convenient room service provided by the 24-hour front desk. For ultimate relaxation, there is a sauna and spa center available for guests to unwind and rejuvenate. The hotel boasts comfortable rooms with modern amenities such as TV, coffee machine, and private bathrooms. Some rooms even feature balconies offering stunning views. Guests can start their day with a delicious buffet or Full English/Irish breakfast served at Harbour Hotel Sidmouth. The hotel's prime location sets it just 200 meters away from Jacobs Ladder Beach and only 400 meters from Sidmouth Beach. Additionally, Sandy Park Rugby Stadium is just a short drive away at 20km distance for sports enthusiasts to enjoy events and games. With its ideal location near Exeter International Airport (20 km), Harbour Hotel Sidmouth is not only easily accessible but also provides guests with an exceptional stay experience.
Pros:
– Convenient location near beautiful beaches
– Luxurious amenities including sauna and spa center
– Friendly and attentive staff providing excellent service
– Delicious breakfast options offered
– Comfortable rooms with modern facilities
Romantic Hotels with a Pool in Devon
Devon offers a selection of romantic hotels with pools, where couples can unwind and enjoy a blissful retreat. These tranquil and intimate settings provide the perfect opportunity for relaxation and quality time together, surrounded by stunning views of the picturesque countryside or coastline.
The Imperial Torquay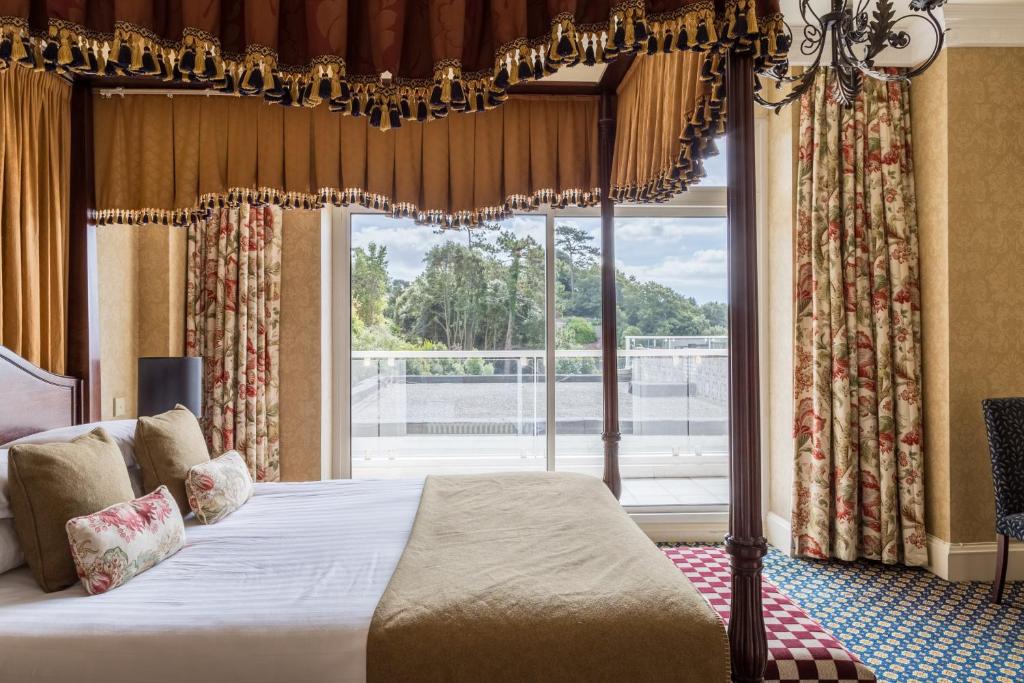 The Imperial Torquay is a magnificent hotel, boasting Mediterranean-style decor and a rich history dating back to 1866. Perched atop a cliff, it offers breathtaking views of Torquay and the sparkling bay below. The hotel's prime location means that the city center is just a short 10-minute walk away, while popular attractions such as the beach, Torre Abbey, and English Riviera Centre are all within easy reach. Guests can indulge in the luxurious amenities provided by this 4-star establishment including swimming pools, a health club, gym facilities, squash and tennis courts, sauna and hot tub. For those seeking relaxation and rejuvenation, the spa offers a range of treatments that can be booked according to preference. Culinary delights await at the AA-rosette Regatta restaurant where exquisite cuisine is served alongside panoramic views of Torbay. For lighter fare or cocktails with friends in hand, head to the conservatory or Britannia Bar respectively. The hotel rooms are spacious and well-appointed with comfortable seating areas offering armchairs and coffee tables.
– Stunning bay views from an idyllic cliff-top location
– A variety of leisure facilities including swimming pools and tennis courts
– Luxurious spa treatments for ultimate relaxation
– Exquisite dining at the AA-rosette Regatta restaurant with panoramic views
– Spacious rooms adorned with bright decor and comfortable seating areas
Thurlestone Hotel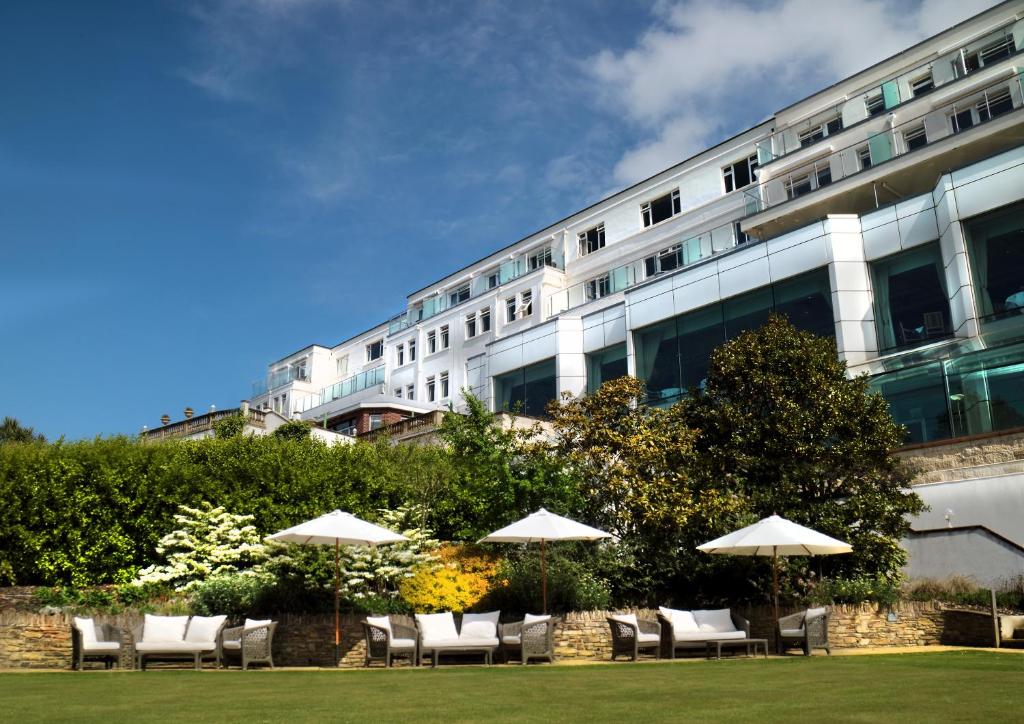 Located in Thurlestone, less than 1 km from Leasfoot Beach, Thurlestone Hotel offers a luxurious stay with its range of amenities. The hotel features a seasonal outdoor swimming pool and free private parking for guests' convenience. Guests can also enjoy the fitness center and garden on-site. Free WiFi is available throughout the property, and there is a kids' club for younger guests to enjoy. The spa and wellness center includes an indoor pool, sauna, hot tub, and terrace for ultimate relaxation. The guest rooms are well-equipped with modern amenities such as satellite TV, kettle, shower, hairdryer, desk, and safety deposit box. Some rooms even offer balconies with sea views. Breakfast options include buffet, à la carte, and continental choices served daily. The hotel's restaurant serves delicious European cuisine with vegetarian, vegan, and dairy-free options upon request. Other facilities at Thurlestone Hotel include a children's playground and various recreational activities like table tennis, squash,and mini-golf. Snorkeling is popular in the surrounding area as well.Additionally,the friendly staff at reception are always ready to provide information about the local area.Exeter International Airport is the nearest airport located 74 km away from Thurlestone Hotel.
Pros:
– Great location near Leasfoot Beach
– Seasonal outdoor swimming pool
– Spaand wellness center with indoor pool,sauan,a nd hot tub available
– Delicious European cuisine served at the restaurant
Harbour Beach Club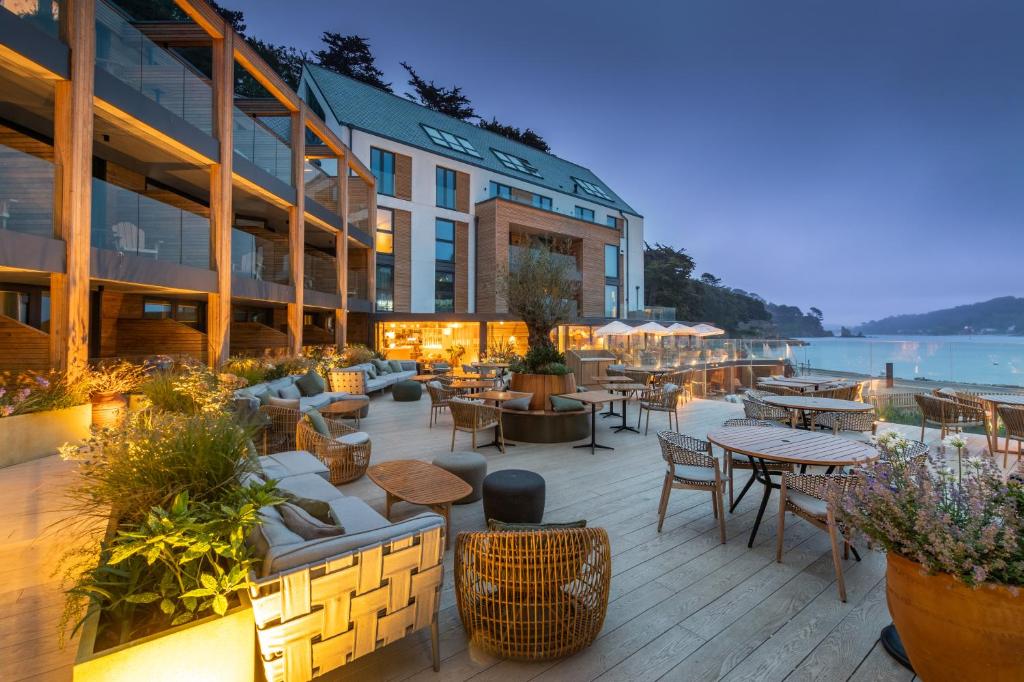 Harbour Beach Club is a boutique hotel that opened in October 2021. Situated in Salcombe, just 500 metres from Salcombe North sands, this 4-star hotel offers a range of amenities to enhance your stay. With a fitness centre, free private parking, a terrace, and a restaurant on-site, guests can enjoy convenience and comfort during their visit. The hotel also provides room service, a 24-hour front desk, and complimentary WiFi for all guests. Indulge in an à la carte or Full English/Irish breakfast at Harbour Beach Club before exploring the nearby attractions such as East Portlemouth Beach (2.6 km) and Small's Cove Beach (2.9 km). For relaxation, the hotel features an indoor pool and spa centre where you can unwind after a day of exploration. Each room is well-appointed with modern amenities including a TV and some rooms even offer balconies for stunning views of the surroundings. Enjoy your stay at Harbour Beach Club while immersing yourself in the beauty of Salcombe.
– Boutique hotel with modern amenities
– Convenient location near beautiful beaches
– Fitness centre for active guests
– Indoor pool and spa centre for relaxation
– On-site restaurant offering delicious meals
Hotels with Pools in Devon That Are Good for Families
Devon boasts a selection of family-friendly hotels with pools, allowing guests to create unforgettable memories. From indoor pools for year-round enjoyment to outdoor pools with stunning views, these accommodations offer a refreshing escape for families seeking relaxation and quality time together.
Woodford Bridge Country Club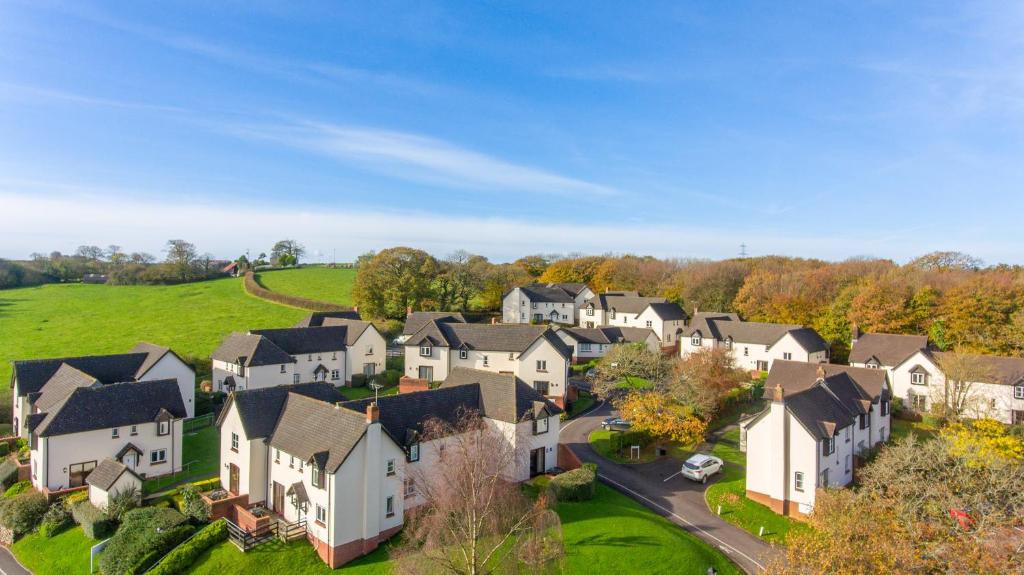 Located in the heart of North Devon, Woodford Bridge Country Club is a 15th-century former coaching inn that provides a tranquil retreat for its guests. Just 34 miles away from Tintagel Castle, the legendary birthplace of King Arthur, this charming thatched building offers a range of elegant rooms and spacious self-catering apartments. Each accommodation includes an en-suite bathroom, a TV with Freeview, and tea/coffee making facilities. The resort also features amenities such as a pool, gym, free on-site parking, and complimentary Wi-Fi throughout the property. Guests can enjoy drinks at the bar and indulge in delicious meals at the restaurant which prides itself on using high-quality local ingredients. With a library to relax in and a peaceful garden to unwind in, Woodford Bridge provides an ideal base to explore picturesque Devonshire towns nearby or venture into Exmoor National Park which is just an hour's drive away. Additionally, Bude is conveniently located only 26 km from the property.
Pros:
– Charming thatched building with elegant rooms
– Spacious self-catering apartments
– Pool and gym facilities available
– High-quality local ingredients used in restaurant meals
– Convenient location for exploring Devonshire towns and Exmoor National Park
The Purple Tree Guest House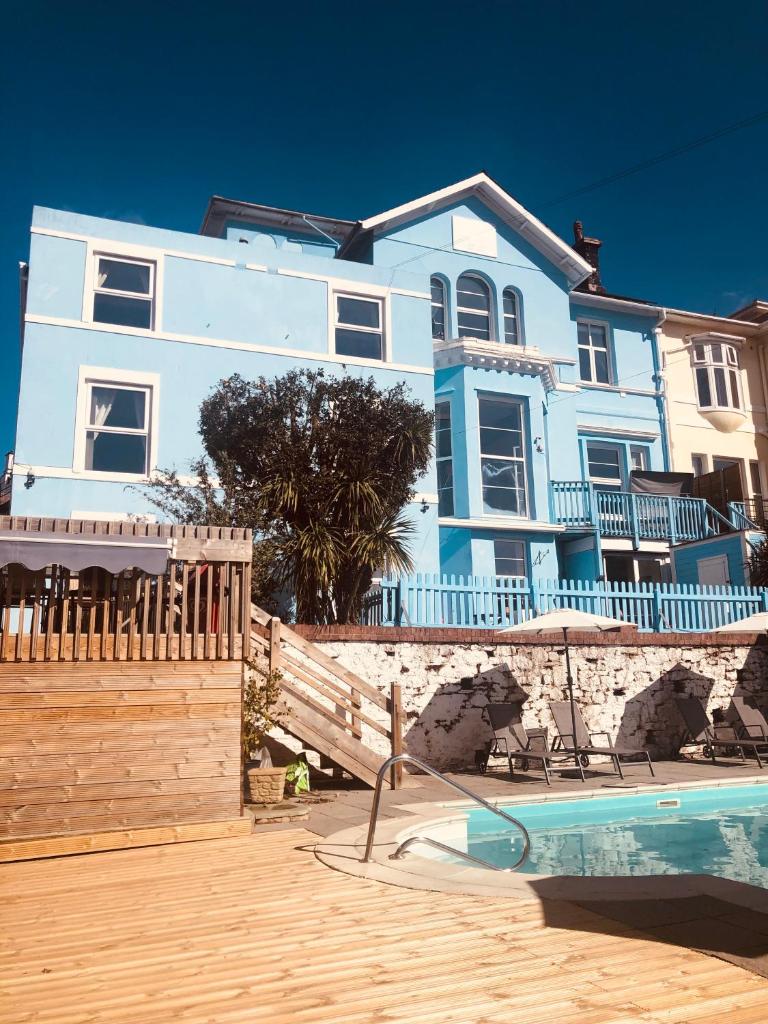 The Purple Tree Guest House is a charming small hotel with an outdoor pool, located in a large, extended Victorian house. Its prime location offers easy access to the seafront, the English Riviera Centre, the theater, and a variety of shops, bars, and restaurants. Guests can enjoy complimentary BT Wi-Fi throughout their stay and choose between free private parking or on-street parking. The guest house features a 30-foot swimming pool and hot tub for ultimate relaxation. With ten beautifully appointed bedrooms and two self-catering family apartments (one situated on the ground floor), guests can expect comfort and convenience during their stay. All rooms are equipped with smart TVs that have access to streaming channels via the free Wi-Fi. On warmer days and nights, guests can unwind on the garden terrace which overlooks a picturesque valley. The dining room and licensed bar serve breakfast from 8:30 am to 9:30 am but also offer snacks and drinks throughout the day upon request. At The Purple Tree Guest House, visitors can expect warm hospitality, excellent quality service, and an enjoyable stay.
– Charming Victorian house with spacious rooms
– Convenient location near attractions
– Complimentary BT Wi-Fi throughout
– Relaxation options including swimming pool & hot tub
– Garden terrace with beautiful views
Croyde Bay Hotel or Self Catering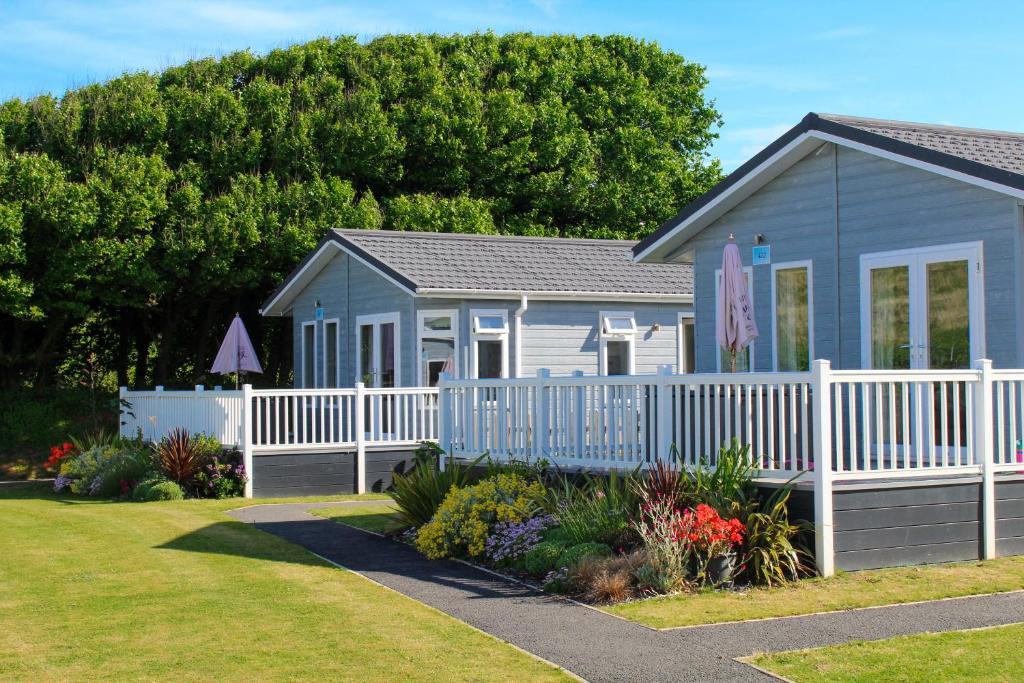 Croyde Bay Resort, situated behind the Sand Dunes on Croyde Beach, offers a delightful stay with its indoor pool and convenient amenities. The rooms are well-equipped with TV, tea/coffee making facilities, and some even have fridges. Private bathrooms feature showers, hairdryers, and free toiletries. Guests can enjoy garden views from their rooms along with additional amenities such as a desk, bed linen, and ironing facilities. The resort also boasts a restaurant, tennis court, fitness centre, entertainment staff, an on-site surf shop with lessons available, and meeting facilities. Activities like bowling and mini golf can be enjoyed here or in the surrounding area. Free parking is provided for guests' convenience. Only dog-friendly rooms allow dogs.
Pros:
– Indoor pool for relaxation and enjoyment
– Convenient location behind the sand dunes on Croyde Beach
– Variety of amenities including a restaurant and fitness centre
– Entertainment staff offering plenty of activities onsite
– Dog-friendly rooms available for those travelling with pets
Devon Hotels with Pool Information
| | |
| --- | --- |
| 🛎️ Hotels with a Pool in Devon | 12 |
| 💰 Hotel prices starting from | $249 |
| 💵 Highest price | $712 |
| 🥇 Average Review Score | 8.4/10 |
| 🛏️ Average number of Rooms | 77 |
FAQ
Can you recommend any luxury hotels with pools in Devon?
Yes, there are several luxury hotels in Devon that offer fabulous pool facilities. One highly recommended option is the Bovey Castle, located amidst stunning countryside. This hotel features a beautiful indoor pool surrounded by elegant loungers and floor-to-ceiling windows offering breathtaking views. Another excellent choice is the Salcombe Harbour Hotel & Spa, which boasts an impressive outdoor pool overlooking the picturesque Salcombe Estuary.
Are there any budget-friendly hotels in Devon with swimming pools?
Yes, there are affordable options available if you're looking for a hotel with a pool in Devon. The Langstone Cliff Hotel is one such choice, offering comfortable accommodation and an indoor heated swimming pool at reasonable rates. The Passage House Hotel is another great option, known for its lovely outdoor pool where guests can enjoy a refreshing swim while taking in the tranquil surroundings of the River Teign.
Do all hotels in Devon have pools?
No, not all hotels in Devon have pools. While many luxurious properties offer this amenity to enhance their guests' experience, some smaller or more traditional accommodations may not feature swimming facilities due to space limitations or other factors. It's always best to check with your chosen hotel beforehand if having access to a pool is important to you during your stay.
What are some additional amenities commonly found alongside hotel pools?
Apart from the fantastic swimming facilities themselves, many hotels in Devon provide additional amenities to ensure guests have an enjoyable time by the poolside. These often include sun loungers and umbrellas for relaxation under the sun or shade, towel services so guests don't need to bring their own beach towels, and sometimes even poolside bars or cafes where they can grab refreshments without having to leave the area.
Are hotel pools typically open year-round?
The availability of hotel pools throughout the year varies among establishments in Devon. While some larger luxury resorts keep their pools open year-round, others may have seasonal restrictions due to weather conditions. It's advisable to inquire with the hotel directly about pool access during your planned stay to avoid disappointment.
Popular Hotels with Pool destinations