Best 8 Hotels with Pools in Cork
Welcome to Cork, Ireland, a mesmerizing destination known for its breathtaking landscapes and rich history. As you embark on your journey through this captivating city, make sure to take some time to relax and unwind in the luxurious hotels with swimming pools scattered throughout the area. These establishments offer an array of aqua-centric amenities that are sure to rejuvenate both your body and soul.
Immerse yourself in tranquility as you dive into the crystal-clear waters of these opulent accommodations. Whether you're seeking a peaceful escape or a fun-filled adventure, Cork's poolside havens cater to every traveler's desires. Take a refreshing dip in the invigorating lap pool or bask in the sun-drenched terrace while sipping on a delightful cocktail from the poolside bar. Let all your worries float away as you embrace the soothing ambiance and stunning views provided by these exquisite properties.
Indulge in ultimate relaxation at these luxurious hotels where swimming pools are not merely aquatic facilities but rather serene oases designed for your utmost pleasure. Allow yourself to be pampered by attentive staff members who will cater to your every whim as you lounge by the waterside paradise. With their elegant design, state-of-the-art amenities, and tranquil atmosphere, these hotels with pools redefine what it means to experience true luxury amidst Cork's enchanting surroundings. So pack your swimsuit and get ready for an unforgettable stay at one of Cork's finest accommodations offering unparalleled aquatic indulgence!
The Best Cork Hotels with a Pool
Clayton Hotel Cork City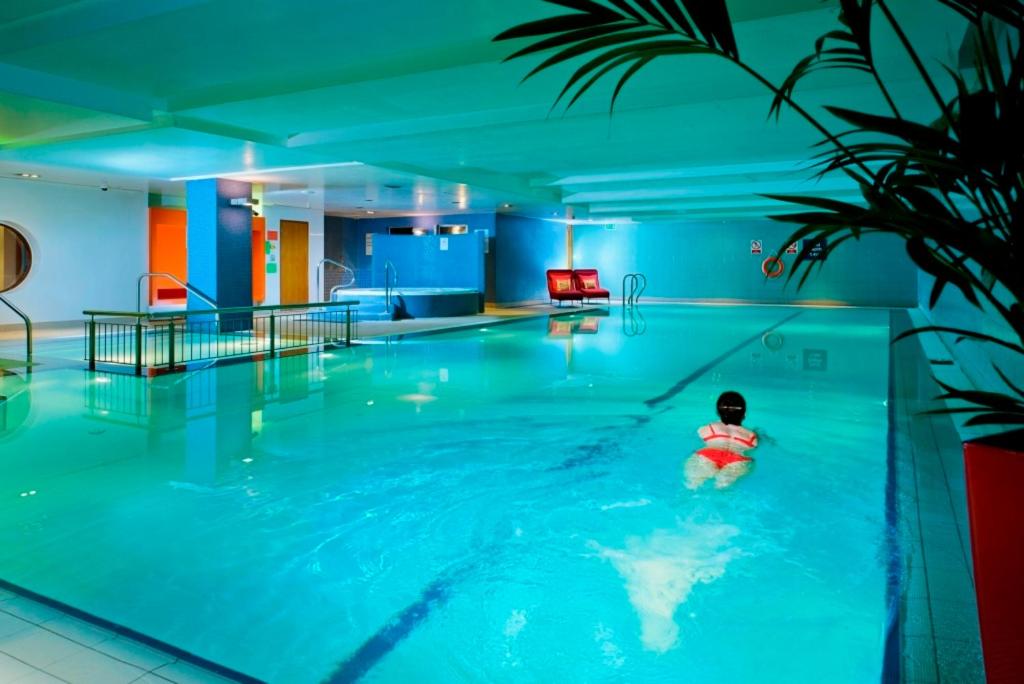 Located in Cork City, the Clayton Hotel offers stunning views of the River Lee and is conveniently situated near Cork City Hall. The hotel features beautifully designed air-conditioned rooms with floor-to-ceiling windows, creating a light and modern atmosphere. Guests can enjoy the ClubVitae Health & Fitness Club and Essence Spa, which offer fantastic facilities including a gym, sauna, steam room, and an invigorating pool. The hotel also houses a fine restaurant where guests can indulge in delicious cuisine. Additionally, there is an extensive range of beauty treatments available at the spa using top-quality Yon-ka products. With its central location, guests have easy access to nearby attractions such as shops, Kent Station, and the Opera House.
Pros:
– Stunning views overlooking the River Lee
– Beautifully designed air-conditioned rooms
– Impressive health and spa center with pool
– Convenient location within walking distance to shops and attractions
Rochestown Park Hotel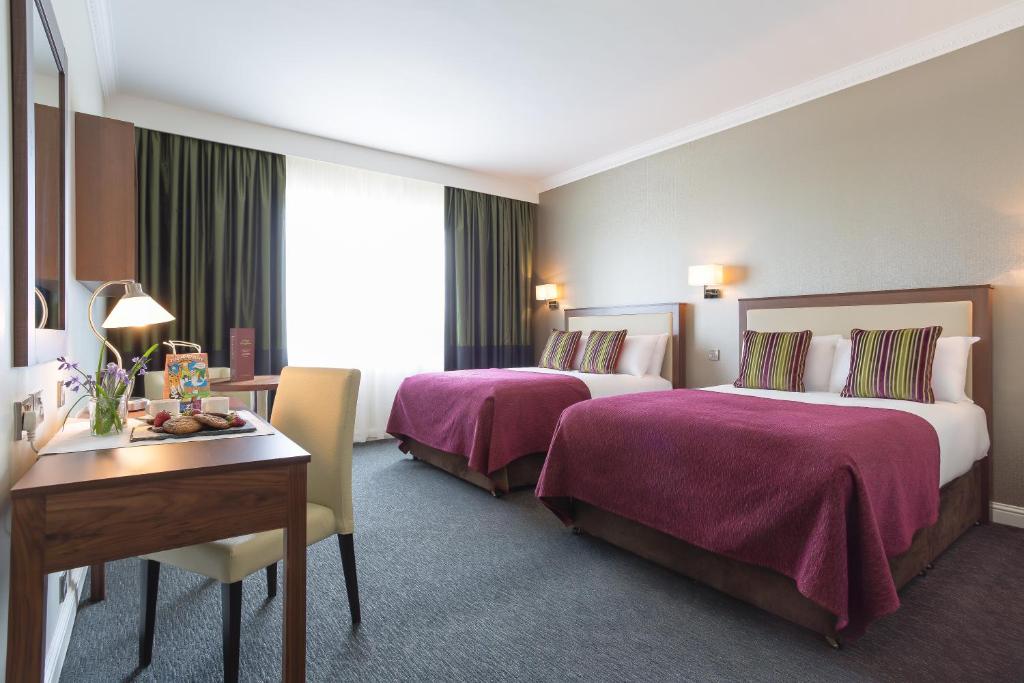 Located just 5 miles from Cork and its airport, the Rochestown Park Hotel offers elegant rooms with marble bathrooms, a leisure center with pool and beauty salon, and a fine-dining restaurant. The spacious air-conditioned rooms feature 32-inch flat-screen TVs, free Wi-Fi, mood lighting, dressing tables with hairdryers, luxurious beds with feather duvets, and a 24-hour room service menu. Guests can enjoy the award-winning fitness center with a hot tub, sauna, and modern gym. Indulgent treatments are available at the Thalasso Therapy Centre and Beauty Salon. The hotel also boasts the sophisticated Gallery Restaurant serving modern cuisine along with Suttons Bar And Bistro for relaxing drinks. Golf enthusiasts will appreciate being a short walk away from the Douglas and Frankfield courses. With attractions like Shandon Steeple, Cork Opera House, bars, pubs,and restaurants nearby in Cork city itself., guests at Rochestown Park Hotel will have plenty of options to explore during their stay.
– Elegant rooms with marble bathrooms
– Leisure center including pool and beauty salon
– Fine-dining restaurant offering modern cuisine
– Award-winning fitness center with hot tub and sauna
– Proximity to golf courses and attractions in Cork city
Oriel House Hotel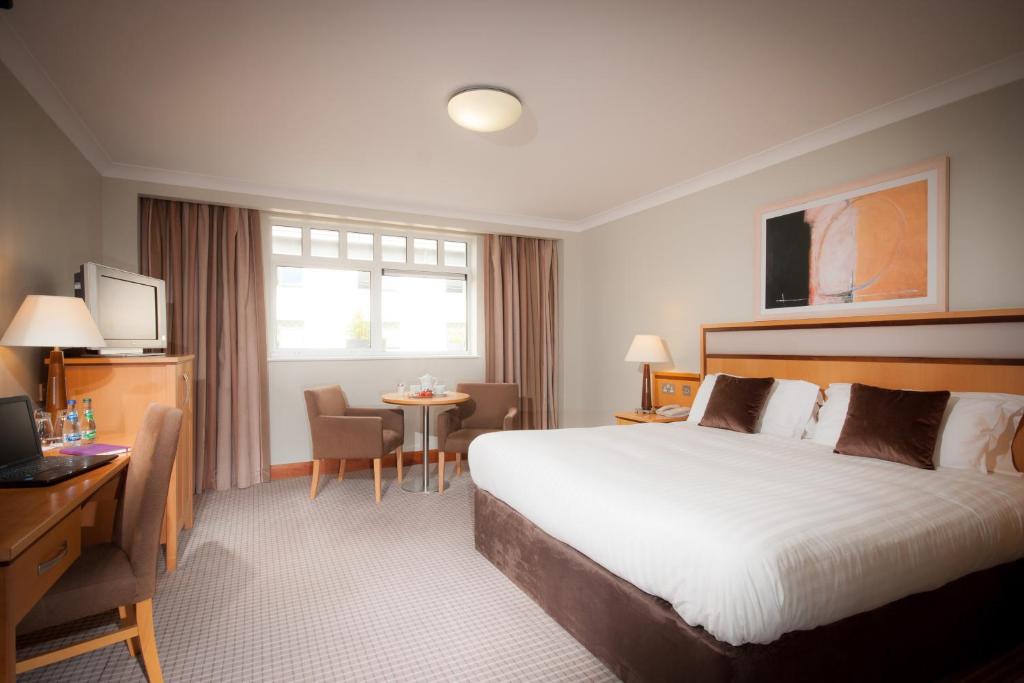 Located just a 15-minute drive from both Cork Airport and the city center, Oriel House Hotel is an excellent choice for travelers looking to explore the vibrant city of Cork. This luxury hotel boasts a range of amenities including a pool, restaurant, and bar. The rooms at Oriel House Hotel are beautifully appointed with modern furnishings and feature flat-screen TVs and free Wi-Fi. The en suite bathrooms are truly luxurious with marble finishes, a large bath, and separate shower. Guests can enjoy delicious meals at the Oriel Restaurant which specializes in modern international cuisine made with locally sourced ingredients. For a more casual dining experience, the Oriel Bar and Bistro offers a delightful atmosphere and has a courtyard terrace for al fresco dining. To stay active during your stay, head to the Oriel Leisure Club where you'll find a swimming pool, an infinity resistance pool, and fully equipped gym.
– Conveniently located near Cork Airport & city center
– Luxurious rooms with modern furnishings
– Delicious cuisine using local produce at the Oriel Restaurant
– Casual dining experience at the Oriel Bar & Bistro
– Relaxing leisure facilities including swimming pools & gym
Other places to stay in Cork
Hotels with Pools in Cork with Nice Views
Cork offers an array of hotels with pools that boast stunning views. From rooftop pools overlooking the city skyline to serene pool decks with countryside vistas, these luxurious accommodations provide the perfect opportunity to relax and soak in the beauty of Cork while enjoying a refreshing swim.
Fota Island Hotel and Spa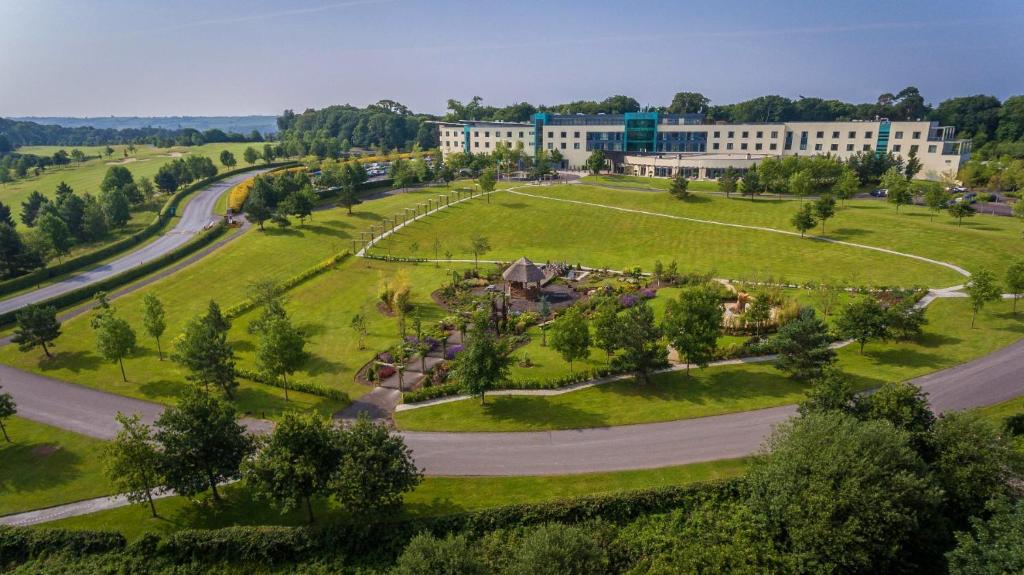 Fota Island Hotel and Spa is a luxurious 5-star resort located just 8 miles from Cork. This stunning hotel offers guests a range of amenities including an 18-hole championship golf course, a swimming pool, and beautifully designed rooms with countryside views and luxury bathrooms. The Fota Restaurant features huge windows that fill the space with natural light, creating a spacious and stylish dining experience. The bedrooms at Fota Island are equipped with flat-screen satellite TVs, free Wi-Fi, mini-bars, seating areas, and bathrooms with walk-in showers and bathrobes. The hotel also boasts 18 treatment rooms where guests can indulge in massages, hydrotherapy treatments, and thermal suites. In addition to these exceptional facilities, guests can enjoy fine traditional and international cuisine on the terrace for al fresco dining or relax with afternoon tea or cocktails in either the Amber Lounge or The Spike Bar. For those looking to stay active during their visit, there is a state-of-the-art gym available for use. Furthermore, nature enthusiasts will appreciate the proximity of Ireland's large wildlife park – Fota Wildlife Park – which is just a 5-minute walk away. With its combination of luxurious amenities and convenient location near Cork Airport (a mere 20-minute drive), Fota Island Hotel offers an unforgettable experience for discerning travelers.
– Beautifully designed rooms with countryside views
– Championship golf course on-site
– Fine international cuisine served in Fota Restaurant
– Relaxing spa offering massages and hydrotherapy treatments
– Conveniently located near Fota Wildlife Park
Radisson BLU Hotel & Spa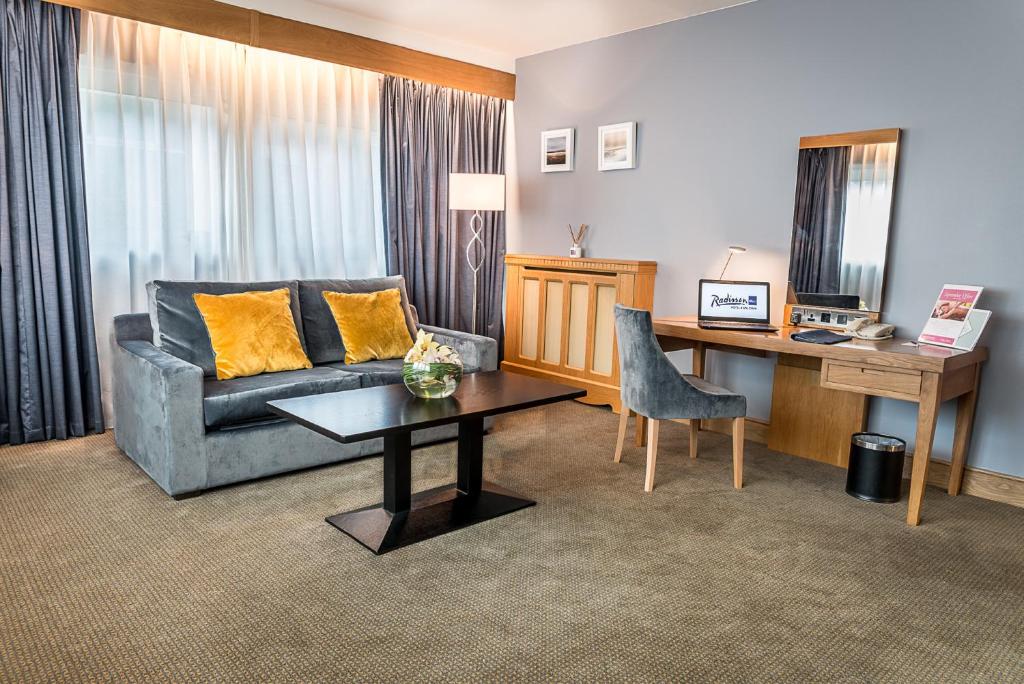 Located in Little Island, just a short drive from Cork city center and the airport, the Radisson BLU Hotel & Spa is Cork's premier luxury hotel. With its stunning Victorian-style building, known as Ditchley House, this hotel seamlessly combines old-world charm with modern sophistication. Situated on 9 acres of beautifully landscaped grounds, guests are greeted with a tree-lined entrance and ample parking spaces. Offering impeccable service and stylish accommodations, this hotel is perfect for both business and leisure travelers.
Pros:
– Convenient location near the city center and airport
– Beautiful Victorian-style building with a blend of classic and contemporary design
– Spacious grounds providing a peaceful environment
– Excellent service delivering high standards of comfort
– A wide range of amenities including spa facilities
The Montenotte Hotel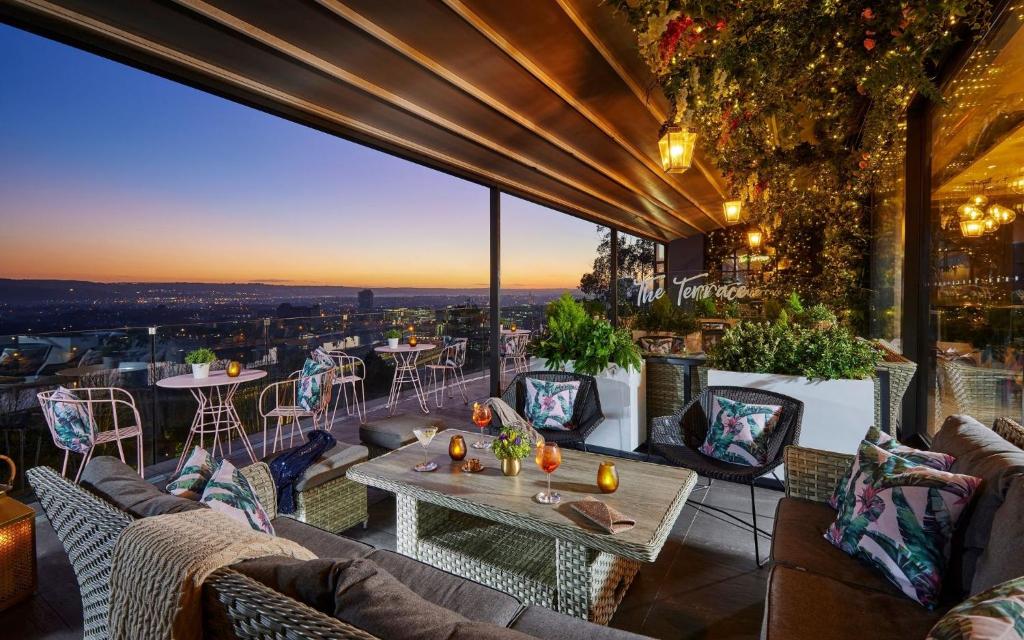 Located just one mile from Cork city centre, The Montenotte Hotel offers a tranquil stay with fantastic city views. The hotel features spacious modern rooms with en suite bathrooms, TVs, hairdryers, and tea/coffee making facilities. Guests can take advantage of the 20-metre indoor pool for aquarobics or swimming lessons. The Panorama Bistro & Terrace provides breathtaking views of Cork city and serves a full a la carte menu daily. Additional amenities include a gymnasium, sauna, hot tub, in-house cinema showing nightly films, and free parking. With its convenient location near shops, theatres, and attractions like the Beamish Brewery and Blarney Stone, The Montenotte Hotel is the perfect choice for a memorable stay in Cork.
– Spectacular city views
– Indoor pool for aquarobics and swimming lessons
– Panorama Bistro & Terrace with a full a la carte menu
– Gymnasium, sauna, hot tub for leisure activities
– In-house cinema showing nightly films
Romantic Hotels with a Pool in Cork
Cork offers a charming selection of romantic hotels with pools, providing couples with the perfect setting for relaxation and intimacy. Whether you prefer a serene rooftop pool or a secluded oasis surrounded by lush gardens, these hotels offer the ideal escape for couples seeking a romantic getaway.
Maldron Hotel Shandon Cork City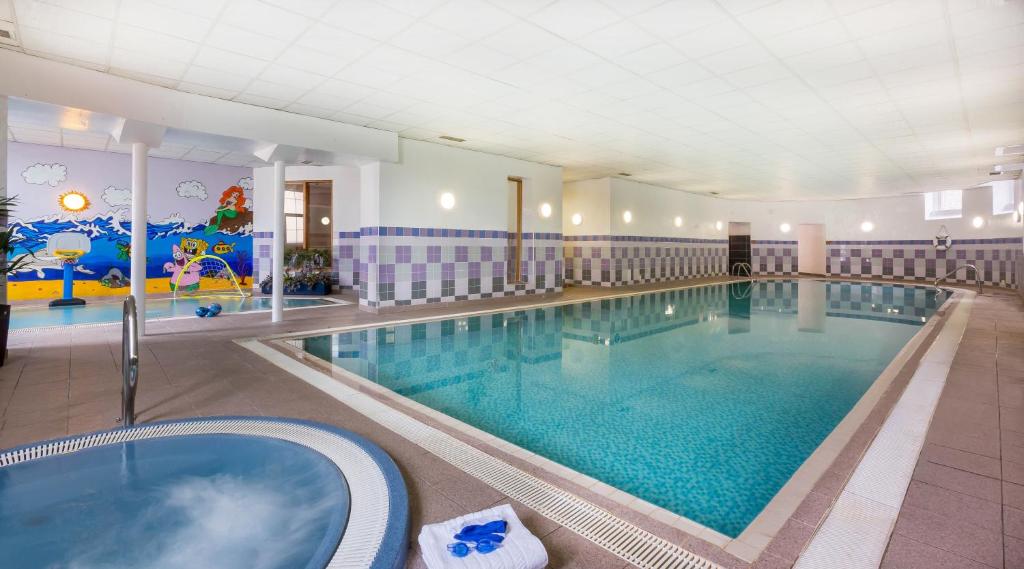 The newly refurbished 4-star Maldron Hotel Shandon Cork is centrally located in Cork City, just a short stroll from St. Patrick's Street and Opera Lane. This modern hotel boasts a leisure centre and offers spacious rooms with private bathrooms and comfortable beds. Guests can enjoy satellite TV and a 24-hour room service menu in their rooms. The Grain & Grill restaurant serves light and contemporary cuisine made with fresh ingredients, including a variety of healthy options, seafood, and vegetarian dishes. A delicious breakfast buffet with hot and cold choices is served daily. Bells Bar provides live sports coverage, a diverse bar menu, and live entertainment on weekends. Moreover, the hotel is conveniently situated within walking distance of attractions such as Cork Sea Safari and the city tour bus stop.
Pros:
– Convenient central location
– Newly refurbished rooms
– Leisure centre available for guests' use
– Variety of dining options at Grain & Grill restaurant
– Live entertainment at Bells Bar on weekends
The Dean Cork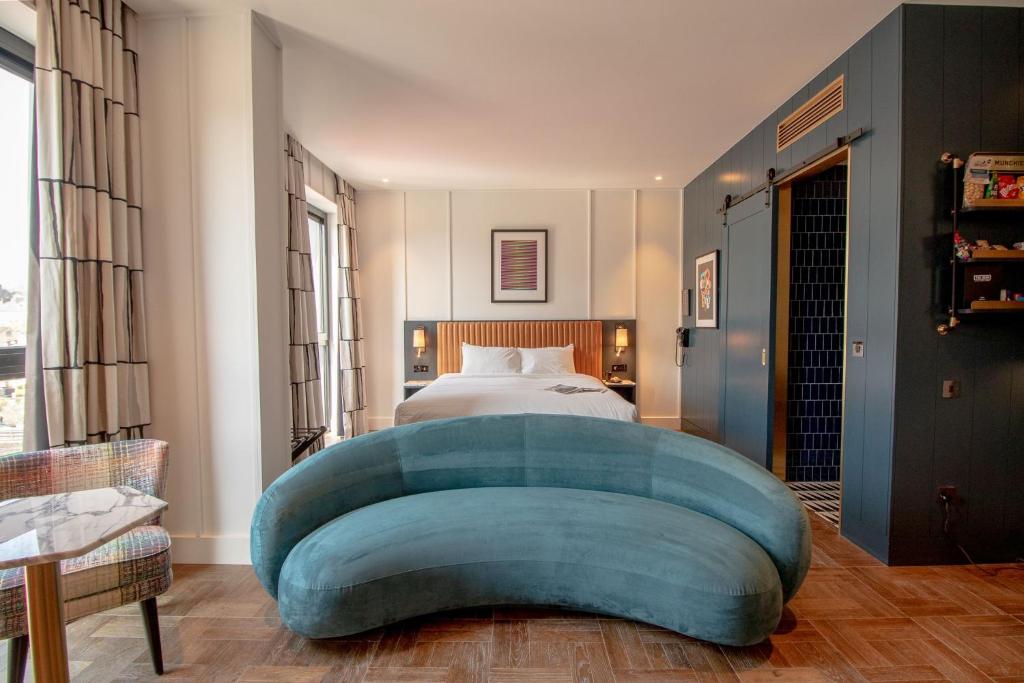 Located just 400 meters from Cork Custom House, The Dean Cork is a stylish boutique hotel that offers 4-star accommodation in the heart of Cork. This newly opened hotel boasts a range of amenities including a bar, free WiFi, room service, and a 24-hour front desk. Guests can start their day with delicious à la carte or Full English/Irish breakfast options. The hotel also features an indoor pool, fitness centre, sauna, and hot tub for guests to enjoy. Each guest room at The Dean Cork is equipped with modern comforts such as air conditioning, flat-screen TV with satellite channels, fridge, coffee machine, and a private bathroom with complimentary toiletries. The on-site restaurant serves Irish, Italian and local cuisine with vegetarian, vegan and dairy-free options available upon request. Popular attractions like Cork City Hall, Kent Railway Station and Saint Fin Barre's Cathedral are within easy reach of the hotel. With its convenient location and top-notch facilities, The Dean Cork offers a memorable stay for both business and leisure travelers.
– Stylish boutique hotel in the heart of Cork
– Well-equipped rooms with modern amenities
– Access to indoor pool, fitness center, sauna, and hot tub
– On-site restaurant serving Irish-Italian fusion cuisine
– Convenient location near popular attractions
Cork Hotels with Pool Information
| | |
| --- | --- |
| 🛎️ Hotels with a Pool in Cork | 8 |
| 💰 Hotel prices starting from | $75 |
| 💵 Highest price | $1664 |
| 🥇 Average Review Score | 8.1/10 |
| 🛏️ Average number of Rooms | 106 |
FAQ
Can I find hotels with pools in Cork, Ireland?
Yes, there are several luxury hotels in Cork that offer swimming pools as part of their amenities. These hotels provide a perfect opportunity for guests to relax and unwind after a day exploring the city or touring the breathtaking countryside. Whether you prefer an indoor pool for year-round use or an outdoor pool with stunning views, there is definitely a hotel in Cork that meets your requirements.
Do all hotels in Cork have pools?
Not all hotels in Cork have swimming pools. While many luxury hotels offer this amenity, some smaller boutique hotels may not have pool facilities due to space limitations or a different focus on their overall guest experience. Therefore, it is always recommended to check with your preferred hotel beforehand if having a pool is essential to your stay.
Are the hotel pools heated?
Most hotel pools in Cork are heated, ensuring that guests can enjoy a comfortable and relaxing swim regardless of the weather conditions outside. The temperature of the pool water is typically maintained at a pleasant level throughout the year, providing an enjoyable experience no matter when you choose to take a dip.
Can non-guests use the hotel pools?
In most cases, access to hotel pools is exclusive for guests staying at the respective property. However, some luxury hotels may offer day passes or access for non-guests at an additional fee. It's advisable to inquire directly with each hotel about their policy on allowing non-guests to use their swimming pool facilities.
Is lifeguard service available at these hotel pools?
The presence of lifeguards varies from one hotel to another. While some larger resorts may have designated lifeguards overseeing their swimming areas during specific hours, it's important for guests and visitors alike to exercise caution and responsibility when using any pool facility. Always adhere to safety guidelines provided by the individual hotel and keep an eye on children while enjoying your time by the water.
Popular Hotels with Pool destinations