Best 8 Hotels with Pools in Alabama
Welcome to the enchanting state of Alabama, where pristine pools beckon travelers seeking relaxation and rejuvenation. As a luxury hotel connoisseur and wanderlust aficionado, I am thrilled to share with you a curated collection of opulent accommodations boasting magnificent aquatic oases. Nestled amidst Alabama's awe-inspiring landscapes, these lavish resorts offer a splendid respite from the scorching sun and an opportunity for guests to immerse themselves in ultimate bliss.
Prepare to be captivated by these exquisite havens, adorned with aquamarine gems that shimmer under the golden rays of the Southern sun. From quaint boutique hotels nestled in charming towns to sprawling resorts nestled along the Gulf Coast, Alabama's poolside retreats are as diverse as they are luxurious. Immerse yourself in serenity as you indulge in a refreshing dip or unwind on plush loungers while sipping on tantalizing cocktails crafted by skilled mixologists.
Embark on an unforgettable journey through Alabama's finest accommodations where each pool provides an idyllic setting for unwinding after days filled with exploration and adventure. Soothe your senses amidst lush palm trees swaying gently in the breeze or revel in panoramic views of rolling hills lining horizon pools that seemingly merge seamlessly into the sky above. Whether you seek tranquility or prefer lively poolside gatherings, Alabama's hotels with pools promise unparalleled experiences that will leave an indelible mark on your memory.
Join me as we dive into this compilation of luxurious havens that redefine poolside elegance across the captivating state of Alabama.
The Best Alabama Hotels with a Pool
The Westin Huntsville (Huntsville)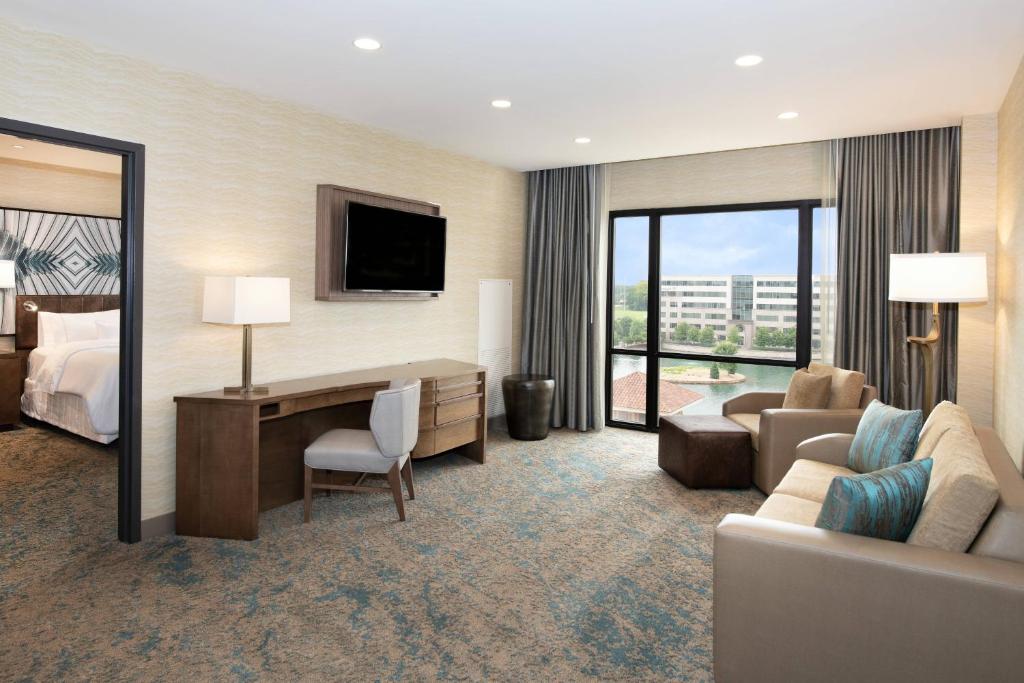 Located near the Cummings Research Park and adjacent to Bridge Street Town Centre in Huntsville, Alabama, The Westin Huntsville hotel offers a convenient and luxurious stay. With both an indoor and outdoor pool, guests can enjoy a refreshing swim no matter the weather. The rooms are well-appointed with amenities such as flat-screen cable TVs, private bathrooms with towels and hairdryers, and ironing facilities. The hotel also provides free WiFi throughout the property. Guests can take advantage of the fitness center for a workout or utilize the meeting facilities for business needs. Additional services include dry cleaning and laundry facilities, ensuring a hassle-free stay. With free parking available on-site, exploring nearby attractions like the US Space and Rocket Center is easy as it's just an 8-minute drive away. Plus, Huntsville International Airport is only 11 minutes' drive from this fantastic hotel.
– Indoor and outdoor pool for year-round swimming enjoyment
– Well-equipped rooms with modern amenities
– Free WiFi throughout the property
– Convenient location near popular attractions
– Complimentary parking
Perdido Beach Resort (Orange Beach)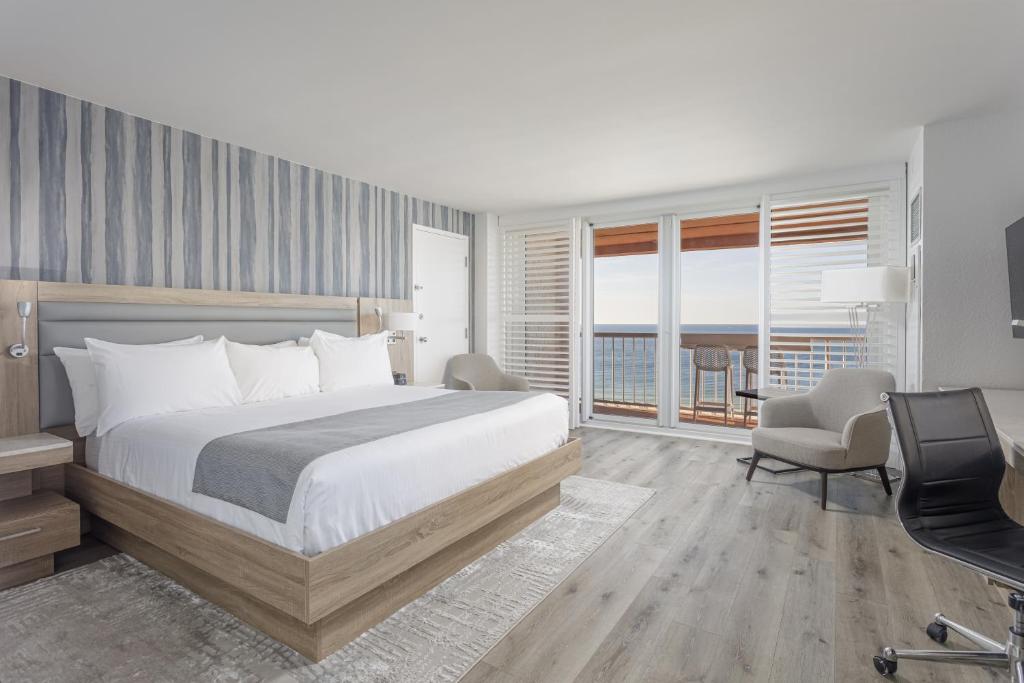 Perdido Beach Resort in Orange Beach offers a luxurious accommodation option with both indoor and outdoor pools. The resort boasts a seasonal outdoor pool with stunning views of the sea, allowing guests to soak up the sun while enjoying the beautiful surroundings. The rooms are well-appointed with amenities such as flat-screen TVs, cable channels, iPod docking stations, and private bathrooms fitted with baths. Guests can indulge in delicious meals at the on-site restaurant and enjoy drinks at the bar. With four dining options available, including Voyagers which offers coastal cuisine made from local produce, there is something for every palate. For those looking for activities, golfing and snorkeling are offered in the area, and bike hire is also available at the resort. Located just 14 km from Gulf Shores and 41 km from Pensacola Beach, Perdido Beach Resort is an ideal destination for a relaxing getaway.
Pros:
– Indoor and outdoor pools for year-round swimming options
– Seasonal outdoor pool with breathtaking sea views
– Well-appointed rooms with modern amenities
– Four dining options offering various culinary experiences
– Convenient location near popular beaches and activities
Embassy Suites by Hilton Tuscaloosa Alabama Downtown (Tuscaloosa)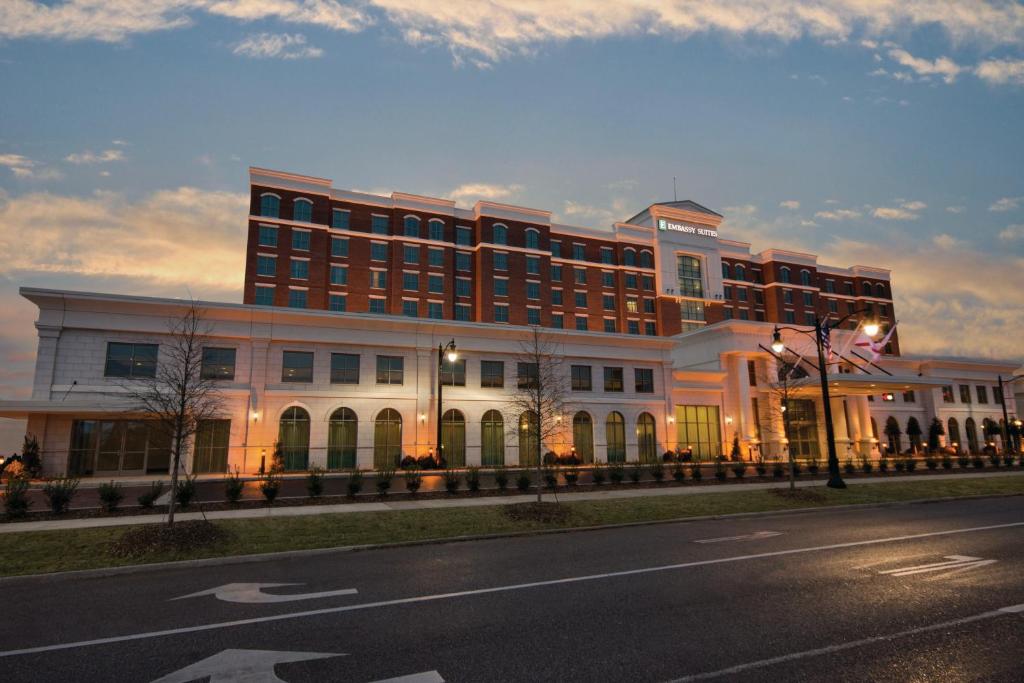 Located in downtown Tuscaloosa, the Embassy Suites by Hilton Tuscaloosa Alabama Downtown offers comfortable accommodations just a short walk from the scenic Tuscaloosa River Walk. The small but well-appointed rooms feature air conditioning and amenities such as a flat-screen TV, desk, coffee machine, and ironing facilities. Guests can enjoy a range of on-site features including an indoor pool, fitness center, launderette, and free parking. The hotel also boasts a California-style restaurant serving artisan cocktails and a complimentary cooked-to-order breakfast with options like omelettes, fruit, oatmeal, and pastries. Additionally, guests are invited to attend the complimentary evening reception. With its convenient location within walking distance of attractions like the Tuscaloosa Farmers' Market and the University of Alabama, this hotel is an ideal choice for travelers looking to explore the area.
Pros:
– Convenient downtown location
– Indoor pool for relaxation
– Complimentary cooked-to-order breakfast
– Fitness center available for staying active during your stay
– Free parking on site
Other places to stay in Alabama
Hotels with Pools in Alabama with Nice Views
Hotels with pools in Alabama offer guests a refreshing escape with stunning views. Whether it's overlooking the beach or surrounded by lush greenery, these hotels provide a tranquil oasis for relaxation and breathtaking scenery.
SpringHill Suites by Marriott Mobile West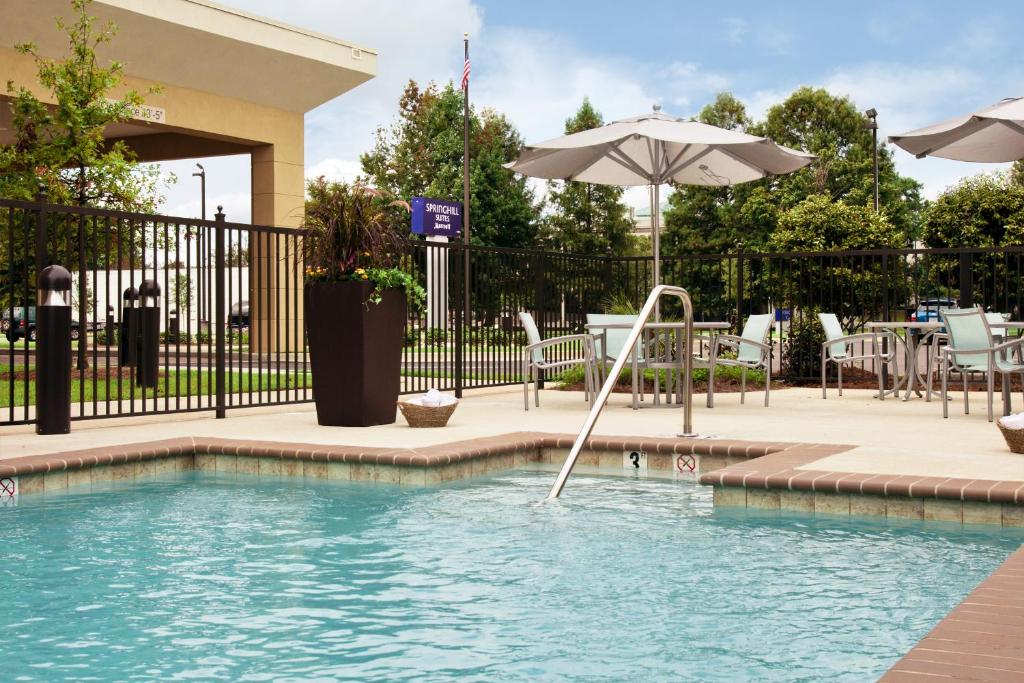 The SpringHill Suites by Marriott Mobile West in West Mobile offers guests a comfortable stay with convenient amenities. Guests can enjoy a daily breakfast, free WiFi, and rooms equipped with a flat-screen TV. The hotel is located less than 1 km away from Omni Health and Fitness. On-site, guests can relax by the outdoor pool or work out at the fitness centre which features treadmills and weightlifting machines. The en suite bathrooms include free toiletries and a hairdryer, while some rooms also offer a seating area. Additional amenities include free parking, fax/photo copying services, and the option for dry cleaning services for an extra fee. The hotel's location adjacent to Interstate 65 Exit 3 and Springdale Mall makes it easily accessible, while both Mobile Regional Airport (MOB) and Spring Hill Golf Course are less than 12.8 km away.
Pros:
– Outdoor pool
– Daily breakfast included
– Free WiFi
– Convenient location near shopping mall and major highway
– Fitness centre on-site
Renaissance Mobile Riverview Plaza Hotel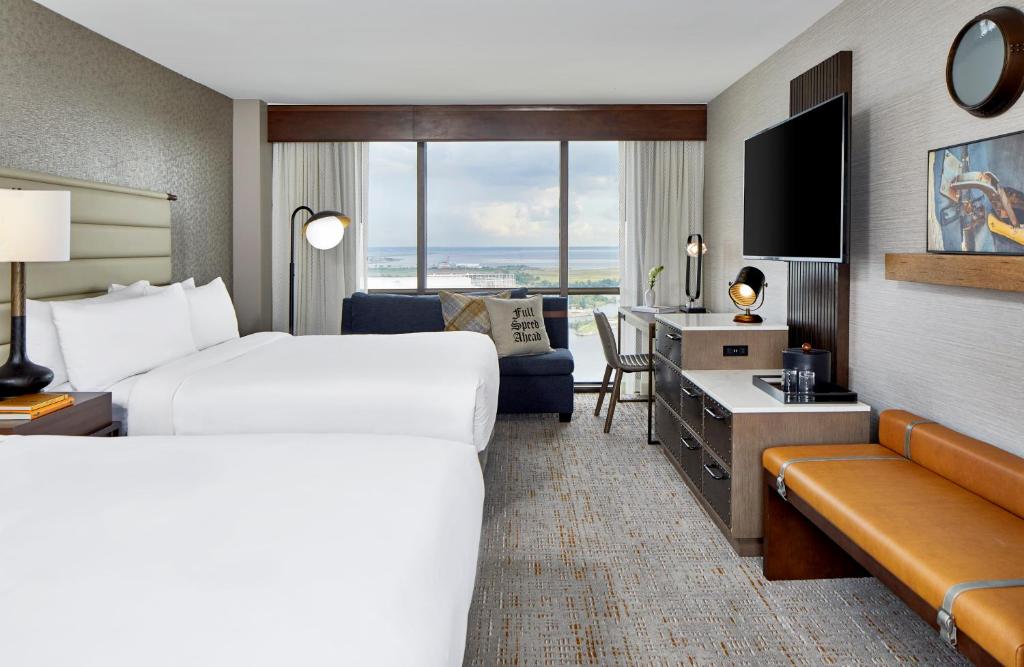 Located in the heart of downtown Mobile, the Renaissance Mobile Riverview Plaza Hotel offers a convenient and luxurious stay. Connected to the Arthur R. Outlaw Convention Center via a skywalk, this hotel boasts an outdoor pool and modern rooms with flat-screen TVs and free Wi-Fi. The Mobile Downtown Airport is just a short 10-minute drive away. Each spacious room features an iPod docking station, pay-per-view movies, desk, and refrigerator for added comfort. Guests can take advantage of the hotel's amenities including a fully-equipped gym, hot tub, and on-site seafood restaurant. The friendly concierge and room services are available to cater to guests' needs throughout their stay. Plus, with its close proximity to the USS Alabama battleship museum, guests can easily explore this historic attraction.
Pros:
– Superb downtown location with easy access to convention center
– Outdoor pool for relaxation and recreation
– Modern rooms equipped with all essential amenities
– Excellent on-site seafood restaurant
– Convenient proximity to USS Alabama battleship museum
The Admiral Hotel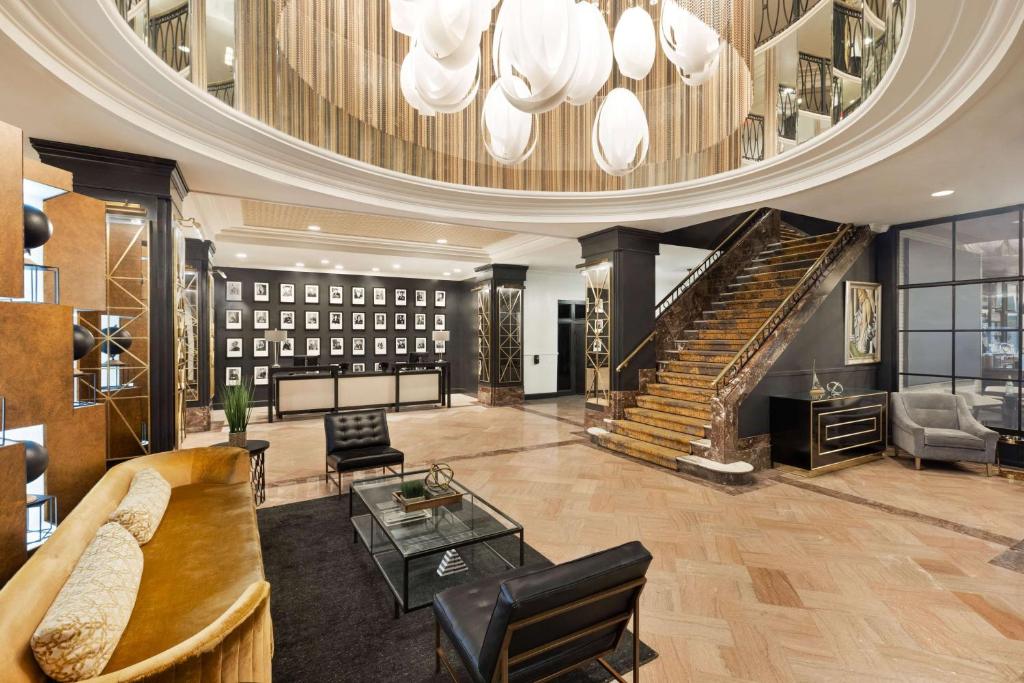 The Admiral Hotel offers a range of amenities and services to ensure a comfortable stay. With free WiFi access and a 24-hour front desk, guests can easily connect with loved ones or seek assistance whenever needed. Each room is equipped with a refrigerator for added convenience, and the University of South Alabama is just 13.7 km away for those visiting the campus. The hotel boasts air conditioning and cable TV with pay-per-view channels in all rooms, along with Queen Anne-style furnishings that add an elegant touch. The en suite bathrooms feature granite and glass-enclosed showers for a luxurious experience. Located off Interstate 10, The Admiral Hotel is perfectly situated just 3.2 km from the USS Alabama Battleship, making it an ideal choice for history enthusiasts. Moreover, guests will find themselves within walking distance of popular attractions such as Mobile Carnival Museum, Gulf Coast Exploreum Science Center, Mobile Symphony Orchestra, and Crescent Theater – perfect for exploring the vibrant city of Mobile.
– Convenient location near popular attractions
– Elegant Queen Anne-style furnishings
– Luxurious en suite bathrooms with granite showers
– Helpful 24-hour front desk assistance
– Free WiFi access throughout
Romantic Hotels with a Pool in Alabama
Discover romantic hotels with pools in Alabama, where you can relax and unwind in a serene and intimate setting. Indulge in a swim together or bask in the sun by the poolside, creating lasting memories of a luxurious getaway for couples.
Best Western Premier – The Tides (Orange Beach)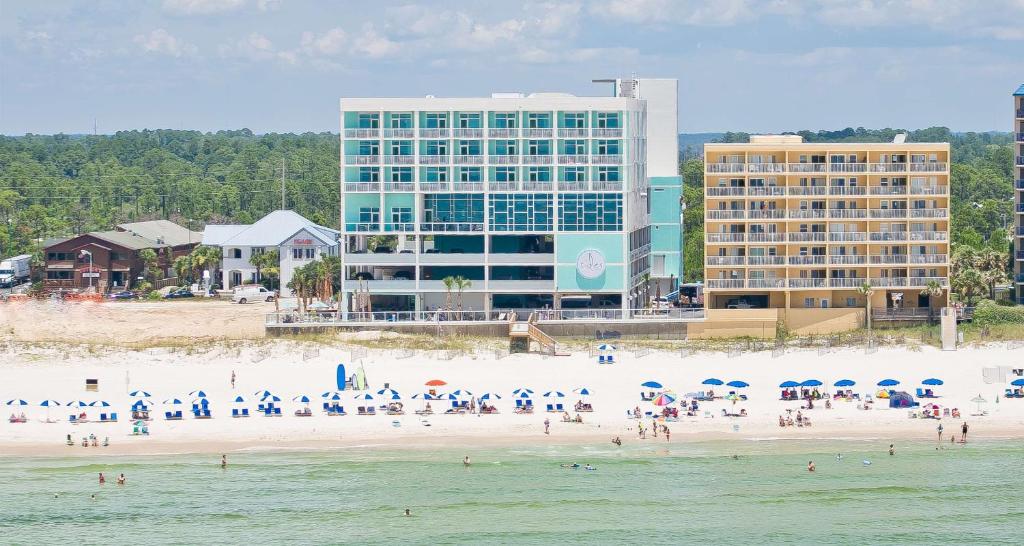 Best Western Premier – The Tides in Orange Beach is a luxurious hotel located directly on the beach, offering guests a private beach along the Gulf of Mexico. The hotel boasts a restaurant and bar, as well as a seasonally heated beachfront pool for guests to enjoy. A free daily hot breakfast is provided, featuring a variety of delicious options such as eggs, breakfast meats, waffles, pancakes, pastries, bread, and bagels. Guests can also take advantage of amenities like the Low Tides Poolside Bar, High Tides Lobby Bar, and the Grab 'n' Go Deli. Additional perks include an outdoor pool deck with stunning views of the ocean, adult and children's activities for entertainment throughout the stay, barbecue grills for delicious outdoor meals. Each room at Best Western Premier – The Tides comes equipped with modern amenities like a 42-inch flat-screen TV with media chargers and Bluetooth capabilities, free WiFi access for easy connectivity,
a Keurig coffee machine to start your day off right,
and both microwave and refrigerator facilities.
Families will love the kid's bunk bed suites which even include a gaming system. With its convenient location near popular attractions like The Wharf shopping area and Adventure Island water park,
guests can easily explore all that Orange Beach has to offer.
For those seeking natural beauty,
the Cotton Bayou Trail into Gulf State Park is just 650 meters away,
offering a tranquil walk through nature.
Overall this hotel promises an unforgettable experience with its fantastic amenities
and prime location by the beach.
– Private beach frontage along the Gulf of Mexico
– Seasonally heated beachfront pool
– Free daily hot breakfast with plenty of options
– Great dining choices including poolside bar and deli
– Convenient location near popular attractions
Homewood Suites Mobile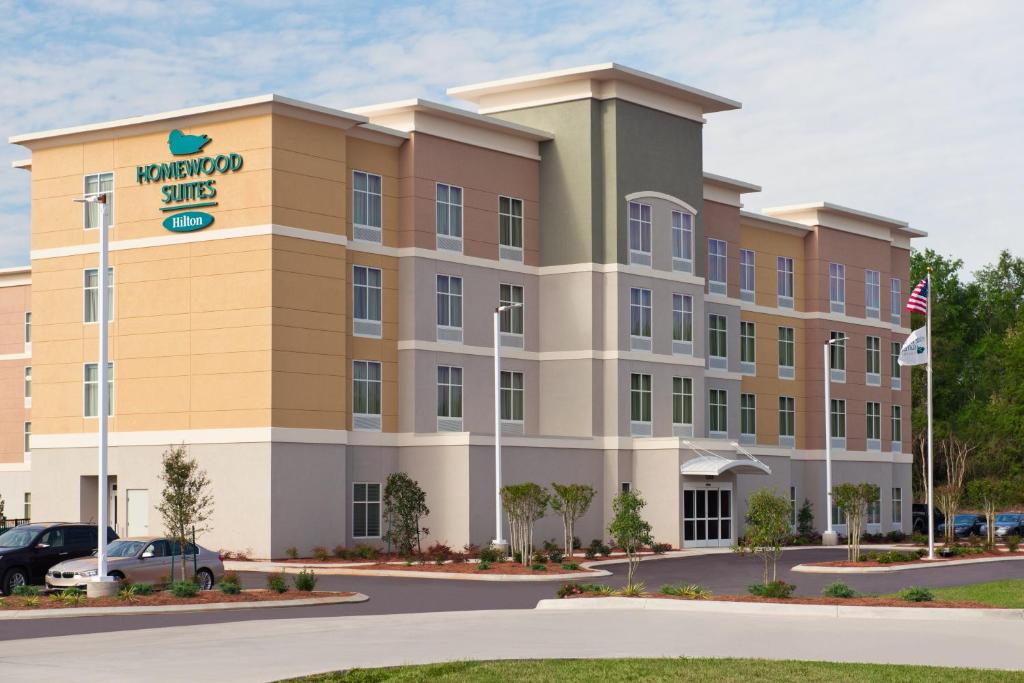 Homewood Suites Mobile, conveniently located off Interstate 65, offers guests a comfortable stay with fully equipped kitchenettes in all suites. Start your day with a satisfying continental breakfast before heading out to explore the nearby USS Alabama Battleship, just 5 miles away. Each room at this Mobile hotel includes free Wi-Fi, a cable TV, and coffee-making facilities for your convenience. Additionally, guests have access to a business center throughout their stay as well as a laundrette and 24-hour mini-market on-site. With Mobile city center just 11 miles away and the Airbus North America Engineering campus only an 11-minute drive from the property, Homewood Suites Mobile provides both comfort and convenience for travelers.
– Fully equipped kitchenettes in all suites
– Continental breakfast included
– Free Wi-Fi and cable TV in every room
– Business center available to all guests
– Convenient location near popular attractions
Alabama Hotels with Pool Information
| | |
| --- | --- |
| 🛎️ Hotels with a Pool in Alabama | 8 |
| 💰 Hotel prices starting from | $252 |
| 💵 Highest price | $1568 |
| 🥇 Average Review Score | 8.8/10 |
| 🛏️ Average number of Rooms | 175 |
FAQ
Which luxury hotels in Alabama have pools?
Alabama offers a range of luxury hotels with stunning pools. One option is the Grand Hotel Golf Resort & Spa, located in Point Clear. It features a beautiful outdoor pool overlooking Mobile Bay, where guests can relax and enjoy the scenic views. Another choice is The Battle House Renaissance Mobile Hotel & Spa in downtown Mobile, which boasts an elegant indoor pool perfect for unwinding after a day of exploring the city.
Are there any budget-friendly hotels in Alabama with swimming pools?
Yes, there are several budget-friendly hotels in Alabama that also offer swimming pools. One option is the Red Roof Inn Birmingham South, located just outside of downtown Birmingham. This hotel provides its guests with an outdoor pool to cool off during hot summer days. Another option is the Sleep Inn Tuscaloosa, which offers an indoor pool where visitors can take a refreshing dip no matter the weather outside.
Can I find hotels with private pools in Alabama?
Certainly! For those seeking ultimate privacy and luxury, there are hotels in Alabama that offer private pool experiences. The Lodge at Gulf State Park – A Hilton Hotel in Gulf Shores features rooms and suites with private balconies showcasing plunge pools overlooking the Gulf Coast's pristine beachfront. Additionally, The Wharf Rental Management offers luxurious vacation rentals along Orange Beach equipped with private pools exclusively available for guests' use.
What amenities do most hotel swimming pools provide?
Most hotel swimming pools provide more than just a place to swim. They typically offer sun loungers or cabanas where guests can relax and soak up some sun after their swim sessions. Many have poolside bars or cafes serving refreshing drinks and light snacks so that you can stay fueled without having to leave the pool area. Some high-end resorts even feature waterfalls or water slides within their spacious pool complexes for added fun and enjoyment.
Do I need to book in advance to access hotel swimming pools?
While it's always a good idea to make reservations in advance, especially during peak travel seasons, most hotels with swimming pools allow their registered guests free access to the pool area. However, certain resorts may have limited capacity due to COVID-19 restrictions or offer day passes for non-guests at an additional fee. It's best to check with the hotel directly or consult their website for any specific requirements or restrictions regarding pool usage prior to your visit.
Popular Hotels with Pools destinations