Best 12 Hotels with Pools in South Wales
Welcome to the enchanting world of accommodations in South Wales, United Kingdom, where a myriad of luxurious hotels with gleaming aquamarine oases await your indulgence. Nestled amidst breathtaking landscapes and picturesque vistas, these resorts offer an exquisite respite from the hustle and bustle of everyday life. Whether you seek a tranquil retreat or a vibrant getaway, South Wales boasts an impressive array of pools that will leave you refreshed and rejuvenated.
Immerse yourself in pure opulence as you dive into the cool waters of these splendid aquatic havens. From infinity pools overlooking rolling hills to secluded plunge pools nestled within lush gardens, every property showcases its own unique charm. Indulge in moments of leisurely bliss as you bask under the gentle caress of the sun's rays or enjoy a refreshing cocktail by the poolside bar. With attentive staff catering to your every need, you can unwind and revel in unparalleled comfort while immersing yourself in nature's beauty.
Whether you prefer an intimate boutique hotel or a grand resort boasting world-class amenities, South Wales offers an exceptional selection for discerning travelers seeking luxury combined with pristine poolside experiences. Soak up the atmosphere as you soak yourself in crystal-clear waters surrounded by awe-inspiring landscapes at these magnificent Welsh establishments – where dreams blend seamlessly with reality for an unforgettable escape.
The Best South Wales Hotels with a Pool
Bryn Meadows Golf (Blackwood)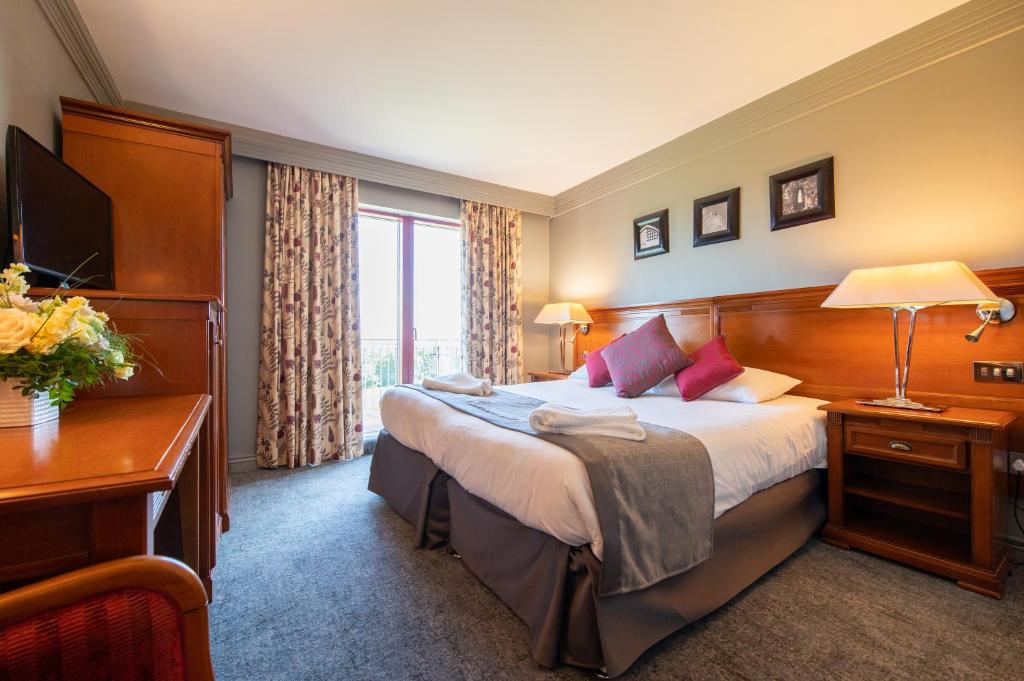 Located in Blackwood, Bryn Meadows Golf Hotel offers a luxurious experience amidst 100 acres of stunning surroundings. This 4-star hotel boasts an 18-hole golf course and magnificent views from the Blas at Bryn Meadows Restaurant, where guests can savor delicious seasonal dishes prepared with locally sourced ingredients. Each room features elegant Italian furniture and a private bathroom with marble baths. The hotel's leisure center overlooks the golf club and includes an impressive 18-meter indoor swimming pool, sauna, and hot tub. All rooms are equipped with modern amenities such as a flat-screen TV, minibar, toiletries, and hairdryer. Some rooms even offer balconies with breathtaking views of the golf course and surrounding valleys. For relaxation and rejuvenation, guests can make use of the on-site gym or indulge in a range of spa treatments including facials and massages. To start your day off right, enjoy a full English or continental breakfast served daily. With free private parking available on site, Bryn Meadows Golf Hotel is conveniently located just a 30-minute drive from Cardiff city center where you can explore all that this vibrant city has to offer. Additionally, nature enthusiasts will appreciate the proximity to Brecon Beacons National Park for scenic walks amidst its natural beauty.
Pros:
– Stunning views from the Blas at Bryn Meadows Restaurant
– Elegant Italian furniture in each room
– Access to an impressive indoor swimming pool, sauna, and hot tub
– On-site gym and spa offering various treatments
– Convenient location for exploring both Cardiff city center and Brecon Beacons National Park
Holm House Hotel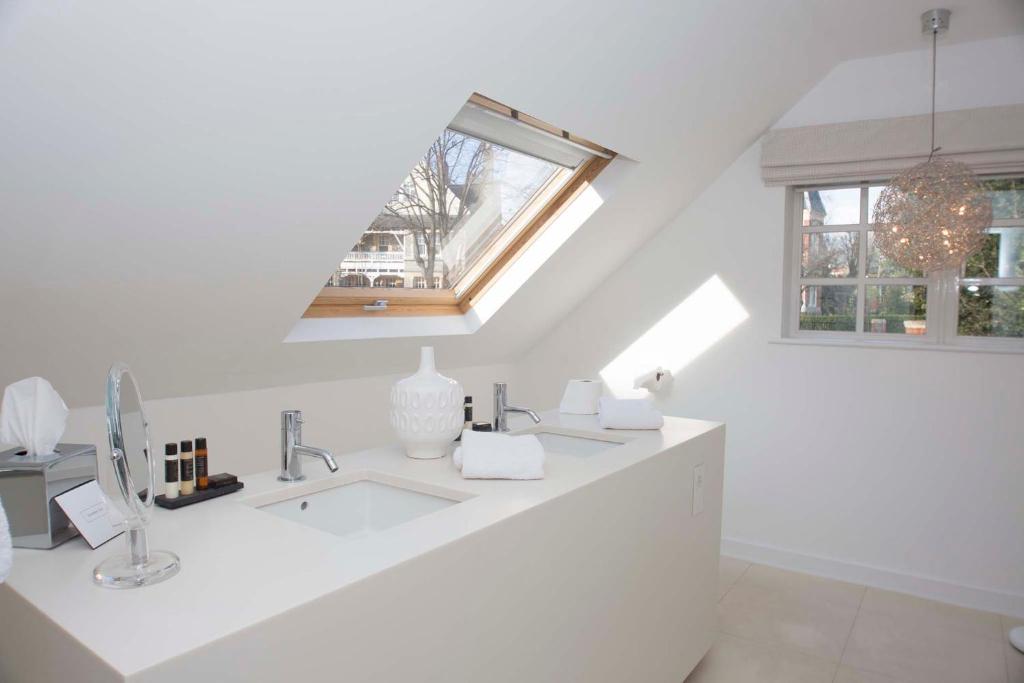 Holm House Hotel, located on Penarth's Marine Parade just south of Cardiff, is a charming 1920s house that offers a cosy, decadent and indulgent experience for its guests. With stunning views of the Bristol Channel and the islands of Flatholm and Steepholm, this hotel seamlessly blends modern and classic Welsh, British and European design. The holistic spa boasts a relaxation room with sea views, a small gym, and a large hydrotherapy pool with swim jet. The hotel's quirky and bohemian atmosphere adds to its sumptuous charm. Each bedroom comes equipped with Sky TV and complimentary Wi-Fi. Guests can also enjoy delicious local cuisine at the property's restaurant.
– Exquisitely designed 1920s house
– Stunning views across the Bristol Channel
– Holistic spa with relaxation room and hydrotherapy pool
– Quirky, bohemian atmosphere
– Delicious local cuisine served in the restaurant
Delta Hotels by Marriott St Pierre Country Club (Chepstow)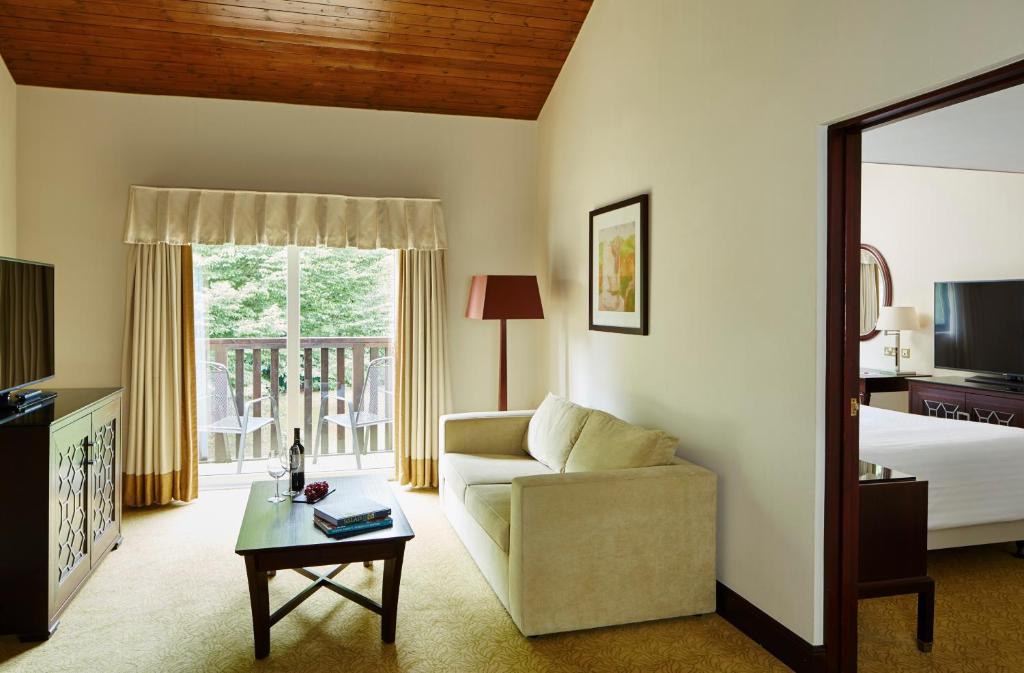 Nestled amidst 400 acres of stunning parkland, Delta Hotels by Marriott St Pierre Country Club in Chepstow offers a truly luxurious and tranquil getaway. This charming 14th-century manor boasts not only two magnificent golf courses but also a fitness club, spa, and exceptional meeting facilities. The elegantly appointed rooms feature plush bedding, tea/coffee making facilities, satellite TV, and a cozy seating area for ultimate comfort. Guests can enjoy complimentary WiFi access in all public areas. Indulge in the finest British cuisine at the Cast Iron Bar & Grill or unwind at the Trophy Sports Bar while watching your favorite sporting events and relishing delectable handheld classics with refreshing drinks. Conveniently located with easy access to the M4 motorway, this splendid retreat is just 25 minutes away from Bristol and within 40 minutes of Cardiff and Bath.
Pros:
– Breathtaking views across picturesque parkland
– Two golf courses on-site for golf enthusiasts
– Well-equipped fitness club and relaxing spa
– Excellent meeting facilities for business travelers
– Two delightful restaurants offering British dishes
Other places to stay in South Wales
Hotels with Pools in South Wales with Nice Views
Hotels with pools in South Wales offer a refreshing escape amidst picturesque landscapes. Guests can relax and enjoy stunning views while taking a dip in the pool, creating an unforgettable experience of luxury and tranquility.
Hilton Cardiff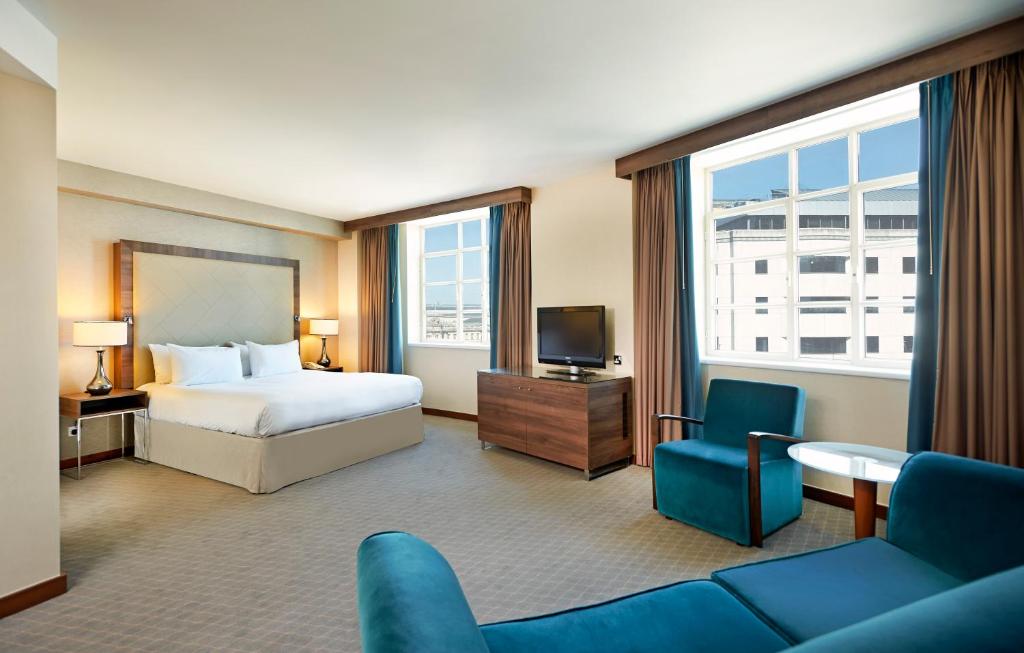 Located in the heart of Cardiff, overlooking Cardiff Castle and City Hall, Hilton Cardiff is a luxurious hotel offering spacious air-conditioned rooms. The hotel boasts an impressive range of amenities including a 20-meter heated pool, gym, spa, sauna, steam room, and spa bath. With its prime location just 0.75 miles from both the Principality Stadium and Cardiff Central Rail Station, guests have easy access to the city's top attractions. The modern rooms feature mini fridges, work desks, large flat-screen TVs, and en-suite bathrooms with walk-in showers. Indulge in modern Welsh and British cuisine at Grey Restaurant or enjoy famous afternoon tea at the exclusive Metropole Lounge bar. Additionally, guests can take advantage of 24-hour room service, concierge service for sightseeing tours and tickets reservations as well as a business center. With all these amenities combined with its convenient location near shopping areas like Queen Street and St Mary's Street nightlife district make Hilton Cardiff an ideal choice for travelers seeking luxury accommodations in the heart of the city.
– Prime city-centre location
– Stunning views of Cardiff Castle and City Hall
– Spacious air-conditioned rooms
– Impressive array of facilities including a heated pool and spa area
– Close proximity to popular tourist attractions
Park Plaza Cardiff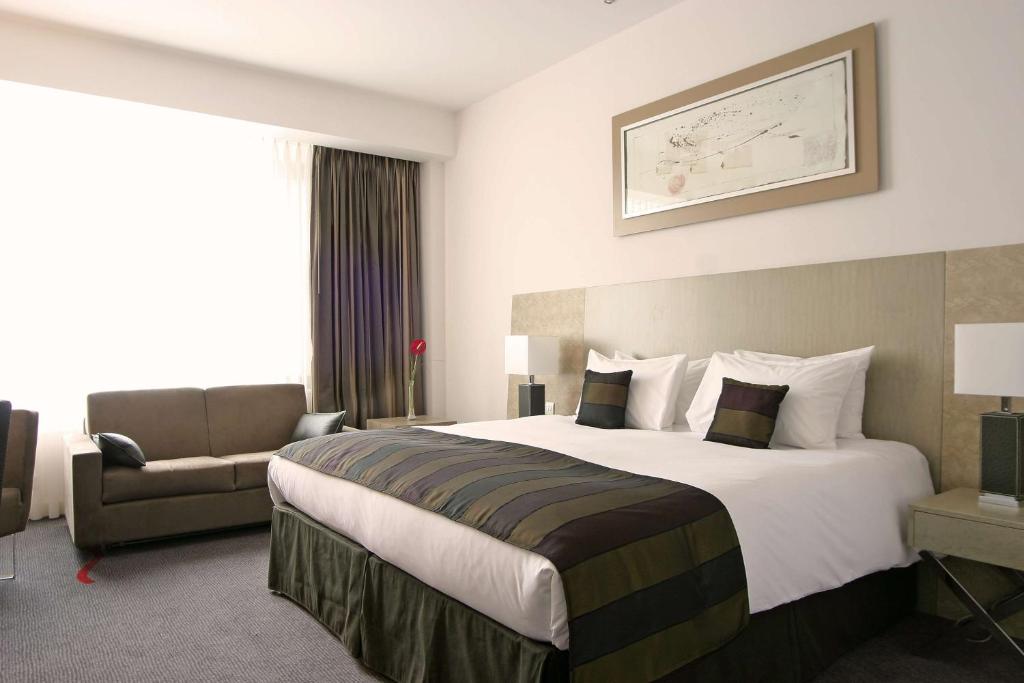 Located in the heart of Cardiff city centre, just a short stroll from Cardiff Castle, Park Plaza Cardiff is a luxurious 4-star hotel offering stylish accommodations with complimentary Wi-Fi. With its state-of-the-art Laguna Health and Spa, guests can unwind in the 20-metre indoor pool or indulge in a rejuvenating spa bath and steam room session. The spa also offers a range of lavish Pevonia treatments for ultimate relaxation. The rooms feature chic designs and are equipped with modern amenities such as Freeview channels on the TV, tea/coffee-making facilities, and private bathrooms. Within walking distance, guests will find popular attractions like Principality Stadium and St Davids 2 Shopping Centre. On site, guests can dine at Laguna Kitchen and Bar where they can savor both local and international cuisine made with fresh local produce. During warmer months, guests can enjoy their meal on the terrace.
– Convenient city centre location
– Stylish rooms with free Wi-Fi
– State-of-the-art indoor pool and gym
– Luxurious Laguna Health and Spa with various treatments available
– On-site restaurant serving delicious dishes using fresh local ingredients
Coldra Court Hotel by Celtic Manor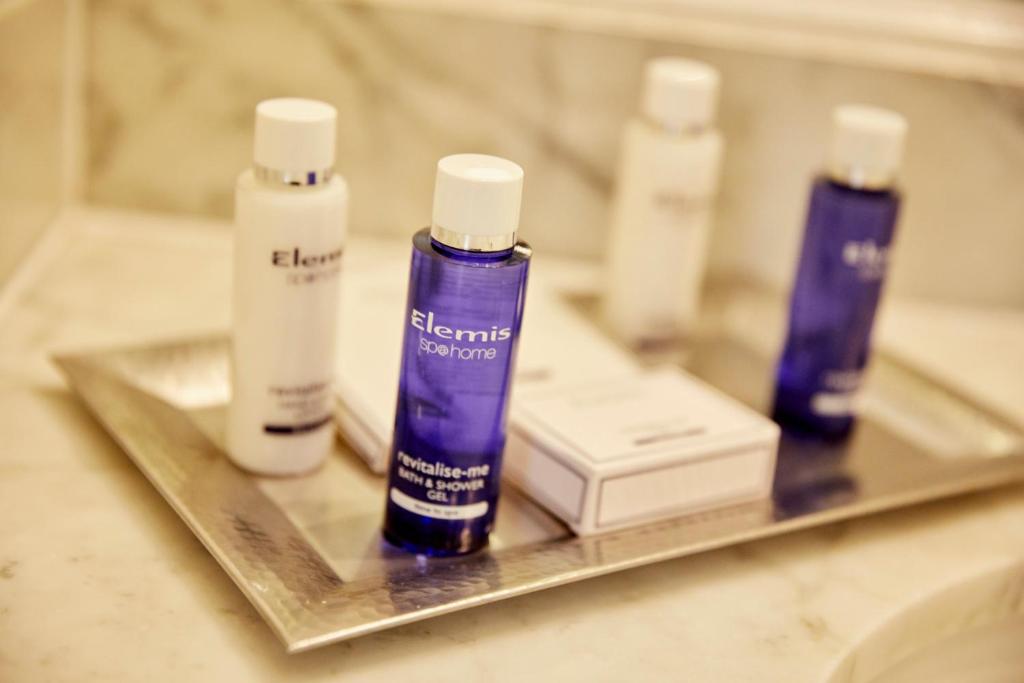 Located in Langstone on the outskirts of Newport, Coldra Court Hotel by Celtic Manor offers guests a comfortable and convenient stay. The hotel features an 18-meter swimming pool, sauna, and steam room for guests to relax and unwind. Each en-suite bathroom is equipped with a shower and complimentary luxury toiletries. Free WiFi is available throughout the hotel, along with wide-screen TVs and tea/coffee making facilities in all rooms. The Smokehouse & Grill restaurant serves delicious Southern style barbecue food cooked in their timber smoked oven. Guests can also enjoy pre-dinner drinks and cocktails on the patio of The Court Bar or relax with a coffee and newspaper on the sofas. For those looking to keep fit during their stay, there is cardio equipment available at the Springs Health Club. Popular local activities include watching rugby or football matches at Cardiff's Principality Stadium or attending horse racing events at Cheapstow, both within close proximity to the hotel. Bristol and Cardiff airports are easily accessible from Coldra Court Hotel, making it a convenient choice for travelers. Nature enthusiasts can visit Newport Wetlands Reserve located just 6 miles away to enjoy wildlife sightings and fresh air. Guests can also explore the scenic Usk Valley area surrounding the hotel, while Celtic Manor Resort is just a mile away.
– Convenient location near major highways
– Leisure facilities including an 18-meter swimming pool
– Delicious Southern style barbecue served at The Smokehouse & Grill restaurant
– Relaxing outdoor patio at The Court Bar
– Close proximity to popular sports venues like Principality Stadium
Romantic Hotels with a Pool in South Wales
South Wales offers a delightful selection of romantic hotels with pools, providing couples with the perfect setting to unwind and reconnect. These hidden gems nestled in picturesque landscapes provide a serene oasis for couples seeking a peaceful retreat and intimate moments by the pool.
The Celtic Manor Resort (Newport)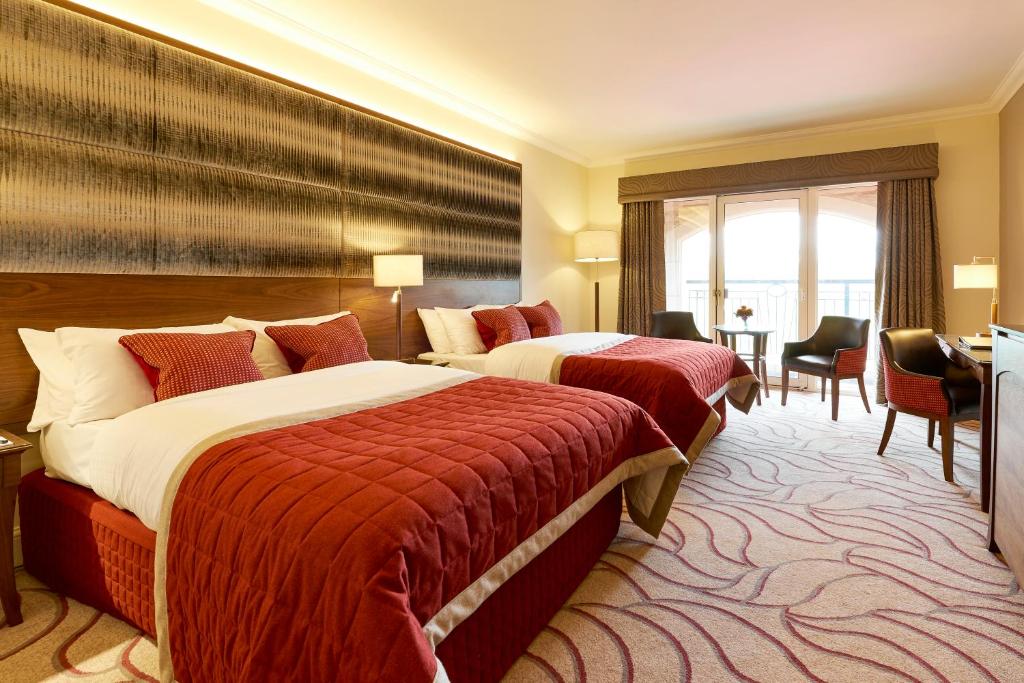 Nestled in the picturesque Usk Valley, The Celtic Manor Resort is an award-winning luxury hotel located on a sprawling 2000-acre parkland. Boasting a 5-star hotel and a charming 19th-century manor house, this renowned resort was the proud host of the 2010 Ryder Cup golfing competition. Guests can indulge in ultimate relaxation at the acclaimed Forum Spa or savor culinary delights at any of its five exceptional restaurants. For golf enthusiasts, there are three championship courses to choose from. Thrill-seekers will also find entertainment with two adventure golf courses and the exhilarating treetop adventure course Forest Jump. Additionally, The Celtic Manor Resort offers activities such as clay pigeon shooting, fishing, and mountain biking upon request. With its comprehensive convention center, exhibition hall, function rooms, and exquisite dining options for special occasions or business events, this resort ensures every guest's needs are met with exceptional service. Each room features modern amenities including satellite TV channels while free Wi-Fi is available in public areas.
– Stunning location within 2000 acres of parkland
– World-class Forum Spa offering ultimate relaxation
– Three championship golf courses for enthusiasts
– Exciting adventure activities including forest jump and adventure golf
– Comprehensive facilities for business events and special occasions
Parkway Hotel & Spa (Newport)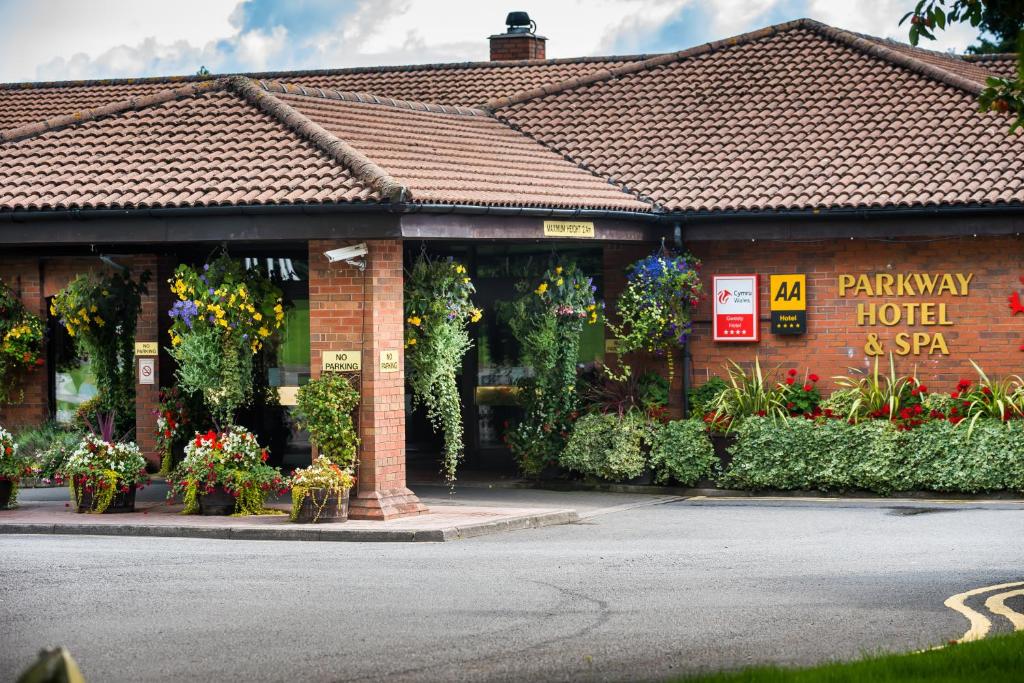 The Parkway Hotel & Spa in Cwmbran is a luxurious 4-star hotel nestled within 7 acres of stunning gardens. With its leisure club featuring a 15-metre swimming pool, sauna, and spa bath, guests can relax and rejuvenate during their stay. The hotel also offers a restaurant and lounge with a cozy log fire, ensuring a warm and inviting atmosphere. Conveniently located just under 5 miles from Newport and with easy access to the M4 motorway, it is an ideal choice for both leisure and business travelers. The rooms are beautifully furnished with oversized beds, plush carpets, and marble en suite bathrooms. Guests can indulge their taste buds at Ravello's Restaurant which serves delicious European dishes made from fresh local ingredients. For additional entertainment options, the hotel provides snooker and billiard tables as well as outdoor activities including chess, boules green, badminton, croquet lawn, herb garden, and an outdoor patio.
– Leisure club with swimming pool, sauna, and spa bath
– Cozy restaurant and lounge with log fire
– Convenient location near Newport and M4 motorway
– Beautifully furnished rooms with luxury amenities
– Range of outdoor activities available
Mercure Cardiff Holland House Hotel & Spa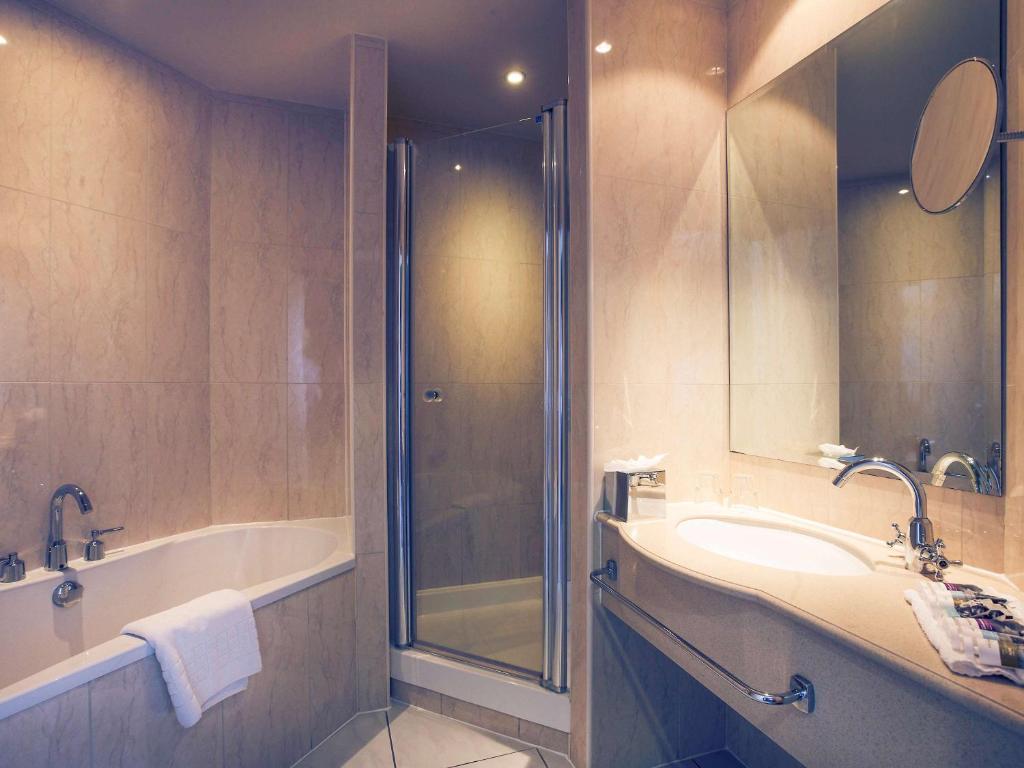 Located in the heart of Cardiff city centre, the Mercure Cardiff Holland House Hotel & Spa offers guests a luxurious and convenient stay. This 4-star hotel boasts a range of amenities including a swimming pool, gym, and spa. The hotel's modern rooms provide stunning panoramic views of the city, while guests can enjoy the stylish lounge bar and award-winning restaurant with its contemporary menu. Free Wi-Fi is available throughout the hotel, and on-site parking is offered for an additional fee. The superb leisure club features a Jacuzzi®, sauna, steam room, and aerobics and fitness studio. In just a short 5-minute drive, guests can reach Cardiff Bay where they will find an array of waterfront restaurants and bars to explore. With Queen Street Rail Station less than a 10-minute walk away, this hotel is perfectly situated for both business and leisure travelers.
– Prime city centre location
– Stunning panoramic views from modern rooms
– Convenient access to shopping district
– Award-winning restaurant with modern menu
– Superb leisure club with Jacuzzi®, sauna, steam room, and fitness studio
Hotels with Pools in South Wales That Are Good for Families
South Wales offers a variety of family-friendly hotels with pools, providing the perfect combination of relaxation and entertainment. These hotels allow families to enjoy swimming and water activities together while also offering comfortable accommodations for a memorable stay.
Vale Resort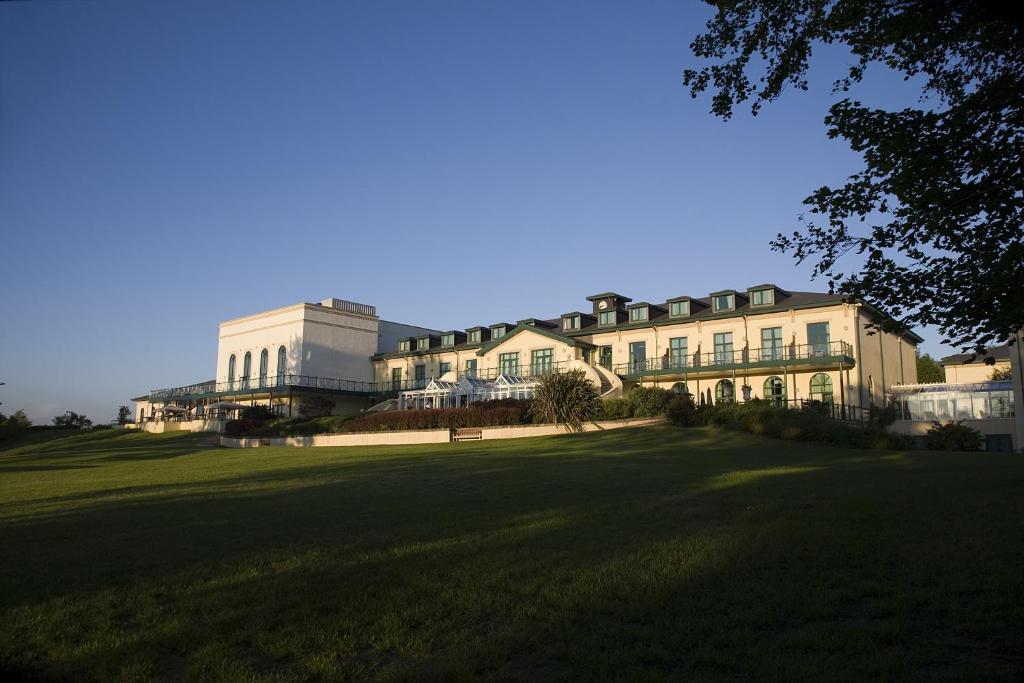 Nestled within 650 acres of picturesque Welsh countryside, Vale Resort offers a luxurious retreat complete with a state-of-the-art spa, two championship golf courses, and two exquisite restaurants. Located just a short 15-minute drive from the vibrant city of Cardiff, this grand estate provides complimentary on-site parking for guests' convenience. For those seeking historical sights and cultural experiences, Cardiff Castle can be reached within a mere 20-minute drive. The elegantly-appointed bedrooms boast modern amenities including air conditioning, comfortable seating areas, and interactive TVs with internet access. Upgrade to a room with a private balcony or scenic views overlooking the breathtaking Vale of Glamorgan. Indulge in delectable modern Welsh cuisine crafted from fresh local produce at the esteemed Vale Grill which has been awarded an AA Rosette for its culinary excellence. Unwind in style at the champagne bar with its elegant ambiance and live piano music or enjoy casual dining at the bistro and Clubhouse bar. The Vale Resort Leisure Centre beckons guests to take a refreshing swim in its inviting pool or work up a sweat at the spacious gym facilities. Pamper yourself at the spa offering indulgent treatments alongside rejuvenating amenities such as saunas, hot tubs, steam rooms, relaxation lounges, and tranquil treatment rooms. Situated in Hensol only moments away from the M4 motorway, Vale Resort combines luxury accommodation with convenient accessibility.
– Expansive grounds set amidst beautiful Welsh countryside
– Two championship golf courses for avid golfers
– Range of dining options including an award-winning restaurant
– Deluxe spa facilities perfect for relaxation and rejuvenation
– Convenient location near Cardiff while still providing tranquility
The Manor House At Celtic Manor (Newport)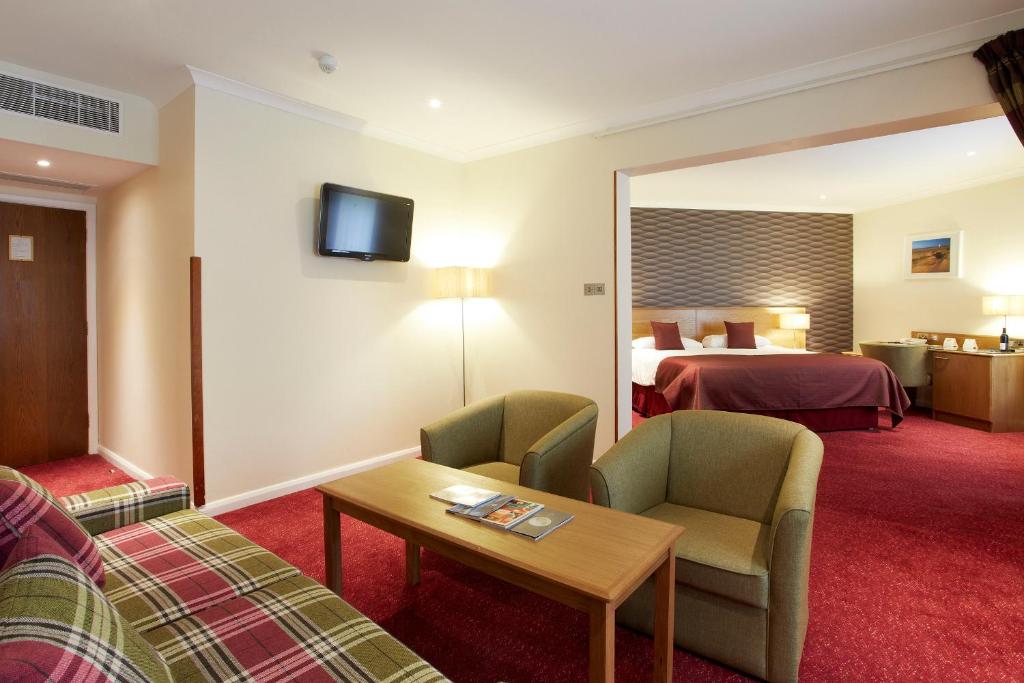 Nestled within the picturesque Usk Valley and surrounded by sprawling parkland, The Manor House at Celtic Manor is a historic 19th-century manor boasting elegant wood-panelled walls and a grand wooden staircase. With 65 beautifully appointed guestrooms that seamlessly blend modern comforts with the property's original charm, guests are treated to a truly luxurious stay. The on-site restaurant offers delectable dining options while providing direct access to the resort hotel, which features two health clubs and spas, three championship golf courses, and an outdoor play area for children.
Pros:
– Stunning location amidst 2000 acres of parkland in the Usk Valley
– Beautifully preserved original features add character to the manor house
– Modern comforts seamlessly integrated into each guestroom
– Access to additional facilities including health clubs, spas, golf courses, and outdoor play area
voco St. David's Cardiff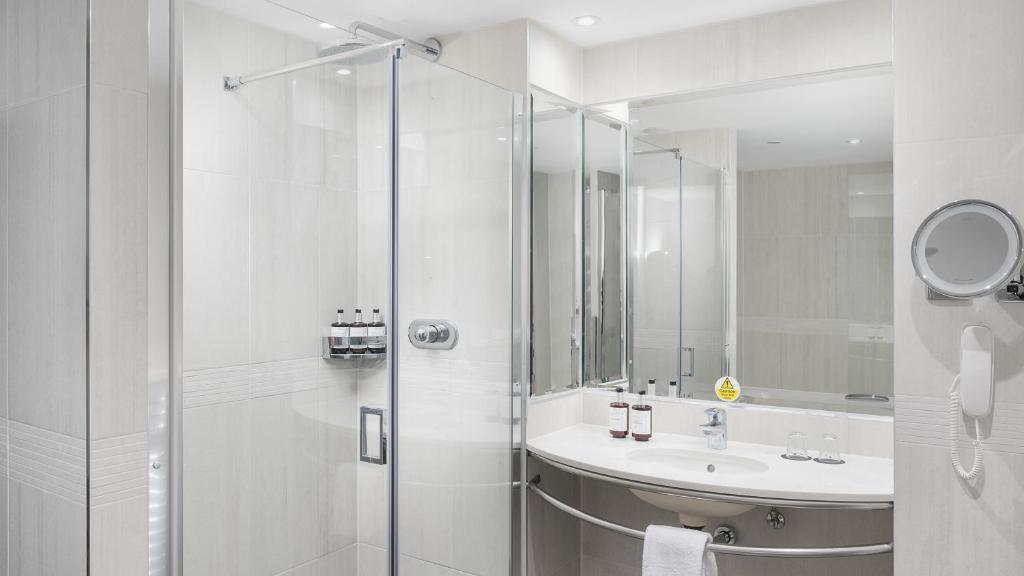 Located in a stunning building with breathtaking views of Cardiff Bay, voco – St David's Cardiff is a luxurious 5-star hotel that offers a range of amenities for an unforgettable stay. The spacious and stylish bedrooms feature luxury bathrooms, and some even have private balconies. The award-winning Spa at St David's boasts an impressive swimming pool, hydrotherapy pools, a modern fitness studio, and a relaxation room. Guests can enjoy delicious meals at Tir a Mor restaurant which also offers a waterside terrace, or unwind with cocktails, wine, and craft beer at the bar. Indulgent beauty treatments are available upon request for an additional charge. Conveniently situated near Cardiff Docks and just 2 miles from the city center, the hotel also provides meeting and conference facilities. Adjacent to the hotel are two paid car parks charged at £24 per 24 hours.
Pros:
– Iconic building with stunning views of Cardiff Bay
– Luxury spa offering swimming pool and hydrotherapy pools
– Stylish bedrooms with luxury amenities
– Innovative restaurant and bar with waterside terrace
– Convenient location near vibrant Cardiff Docks
South Wales Hotels with Pool Information
| | |
| --- | --- |
| 🛎️ Hotels with a Pool in South Wales | 12 |
| 💰 Hotel prices starting from | $196 |
| 💵 Highest price | $1914 |
| 🥇 Average Review Score | 7.9/10 |
| 🛏️ Average number of Rooms | 115 |
FAQ
Can you recommend hotels with pools in South Wales, United Kingdom?
Yes, there are several luxurious hotels in South Wales that offer pools for their guests' enjoyment. One such hotel is The Celtic Manor Resort, located in Newport. Their award-winning spa features an impressive array of facilities, including a large pool area complete with jacuzzis and steam rooms. Additionally, the St. David's Hotel & Spa in Cardiff Bay boasts a stunning indoor pool overlooking the bay, providing a truly relaxing experience for visitors.
Are there any family-friendly hotels with pools in South Wales?
Absolutely! Families visiting South Wales can choose from several family-friendly hotels that offer pools as part of their amenities. For instance, Bluestone National Park Resort in Pembrokeshire offers a fantastic water park featuring heated indoor and outdoor pools, slides, and even a lazy river – perfect for keeping both kids and adults entertained. Another option is the Oakwood Theme Park & Resort near Narberth, which has an on-site hotel complete with its own pool complex.
Do all hotels in South Wales have outdoor pools?
No, not all hotels in South Wales have outdoor pools. While some properties may feature beautiful outdoor swimming areas where guests can enjoy the sunshine during warmer months, many establishments opt for indoor pool facilities to accommodate visitors throughout the year regardless of weather conditions.
Can I use hotel swimming pools if I am not staying at the hotel?
In general, access to hotel swimming pools is reserved for guests staying at the property only. However, some hotels may offer day passes or allow non-guests to use their pool facilities by purchasing a spa package or booking a treatment at their on-site spa. It's best to check directly with each individual hotel regarding their policy on non-guest usage of swimming pools.
Are there any budget-friendly options for hotels with pools in South Wales?
Certainly! If you're traveling on a budget, there are still affordable options available that offer pool amenities in South Wales. The Holiday Inn Cardiff City Centre is a popular choice with its indoor pool and reasonable rates. Similarly, the Mercure Swansea Hotel provides both an indoor heated pool and a sauna for guests to enjoy without breaking the bank.
Popular Hotels with Pool destinations