Best 9 Hotels with Pools in Somerset
Welcome to our exploration of luxurious accommodations with magnificent swimming facilities in Somerset, England! As we delve into the flourishing hospitality scene of this enchanting county, brace yourself for an unforgettable aquatic experience. Prepare to be captivated by the opulent resorts and retreats that boast exquisite aquamarine pools, beckoning guests with their shimmering allure.
Nestled amidst the breathtaking landscapes of Somerset, these remarkable establishments offer a tranquil sanctuary where guests can unwind and rejuvenate. Immerse yourself in the serene ambiance as you dip into crystal-clear waters, enveloped by lush greenery or picturesque countryside views. Whether you seek solace from your daily routine or embark on a romantic getaway, these hotels present a haven that seamlessly blends luxury and relaxation.
Indulge your senses as you bask under the warm embrace of the sun beside glistening pools fringed with elegant loungers and palm trees swaying gently in the breeze. Dive into refreshing turquoise depths or simply float leisurely while sipping on delectable cocktails served poolside. Unwind in style at these exceptional lodgings that epitomize sophistication and provide an idyllic escape from the bustling world outside. Join us as we explore Somerset's most extraordinary accommodations where every swim is an experience to cherish forever!
The Best Somerset Hotels with a Pool
Apex City of Bath Hotel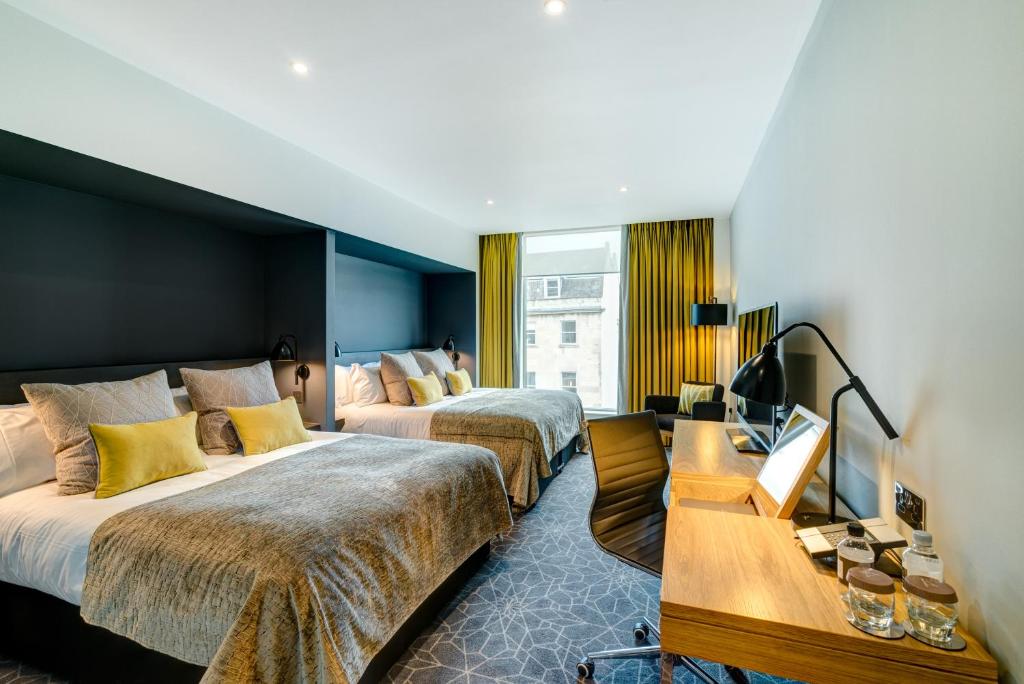 Located on the corner of James Street West, just steps away from top attractions, the luxurious 4-star Apex City of Bath Hotel is a perfect choice for both business and leisure travelers. It boasts spacious and sumptuous bedrooms with amenities such as free Wi-Fi, air conditioning, and mini fridges. The en-suite bathrooms are fitted with baths, walk-in showers, and Antipodes organic toiletries. Guests can indulge in some relaxation at the hotel's fitness and wellness facilities which include a heated indoor pool and gym. The hotel also offers cots and highchairs upon request. After working up an appetite, guests can enjoy delectable meals at The Orange Artichoke restaurant or savor a drink at the bar or terrace.
– Luxurious rooms with comfortable beds
– Spacious en-suite bathrooms with organic toiletries
– Heated indoor pool for relaxation
– Fitness facilities including a gym
– On-site restaurant with delicious dining options
Holiday Inn Taunton M5 (Taunton)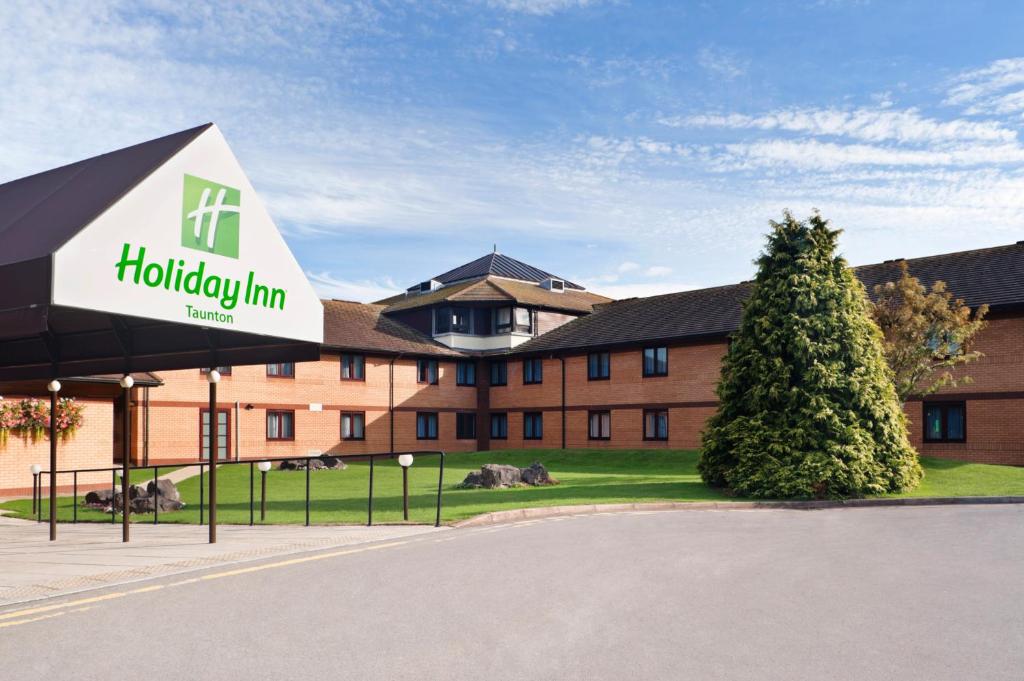 The conveniently located Holiday Inn Taunton M5, Jct25 is the perfect choice for travelers looking to explore both Exeter and Bristol, as it is situated off junction 25 of the M5. This modern hotel offers free Wi-Fi throughout and has meeting rooms available for booking. The well-appointed rooms feature a neutral decor and come with an en suite bathroom and TV. Guests can enjoy delicious hot breakfasts and evening meals at the on-site restaurant, with the option to dine outside during warmer months. Families staying during Easter weekend will receive a complimentary Easter egg for each child. Taunton, a historic town in Somerset, is just a short drive away from Taunton Rail Station and offers easy access to the beautiful West Country coastline.
Pros:
– Convenient location near junction 25 of the M5
– Free Wi-Fi throughout the hotel
– On-site restaurant serving hot breakfasts and evening meals
– Option to dine outside during warmer months
– Complimentary Easter eggs for children staying during Easter weekend
The Bath Priory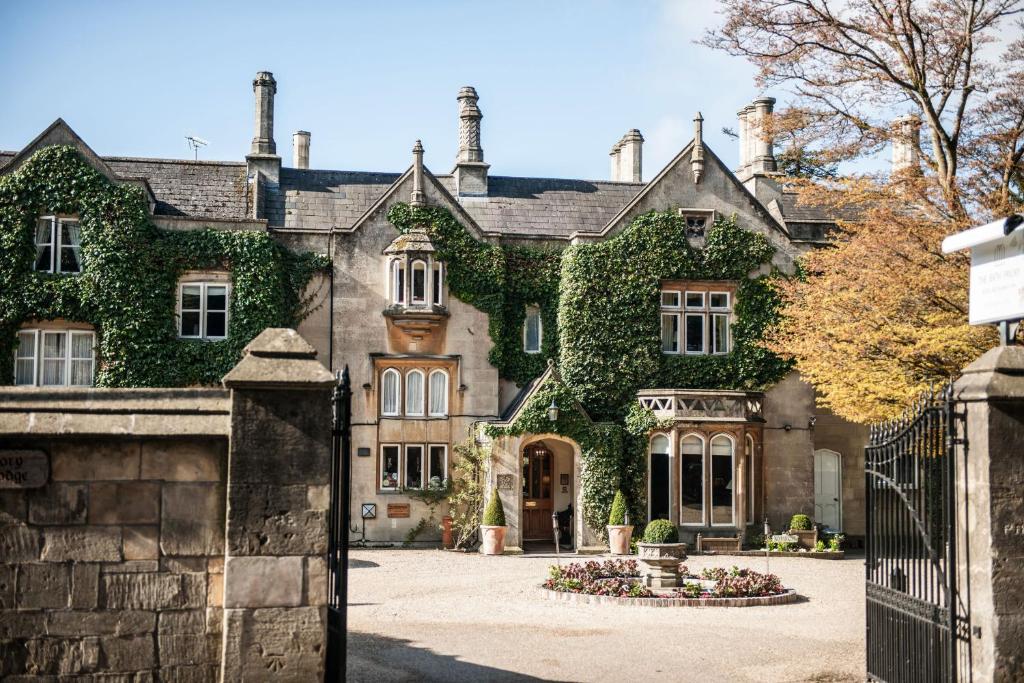 Situated less than 2 miles from Bath Abbey, The Bath Priory Hotel is a luxurious country house set within 4 acres of stunning grounds. With its luxury spa and renowned restaurant, guests are treated to a truly indulgent experience. The hotel's restaurant offers modern French dishes and seasonal dining, while the casual dining option at The Pantry provides drinks and delicious food in a cozy atmosphere. Guests can also enjoy the Provence-inspired Garden Spa by L'Occitane, which features an indoor heated swimming pool, sauna, and steam pod. Additionally, L'Occitane beauty treatments are available by appointment. The elegantly decorated rooms at Bath Priory offer free WiFi access and feature period furniture along with spacious en-suite bathrooms that come complete with fluffy bathrobes and designer toiletries. Surrounding the hotel is the picturesque Avon countryside, making it ideal for leisurely walks or exploring nearby attractions such as the Jane Austen Centre. For added convenience, the hotel provides free parking, while lively Bristol is just a short 20-minute drive away.
Pros:
– Beautiful country house setting
– Luxury spa with indoor heated swimming pool
– Renowned restaurant serving modern French cuisine
– Elegant rooms with period furniture and luxurious amenities
– Convenient location close to Bath Abbey and other attractions
Other places to stay in Somerset
Hotels with Pools in Somerset with Nice Views
Hotels with pools in Somerset offer a refreshing escape with stunning views of the surrounding landscapes. Whether it's overlooking rolling hills, charming countryside, or picturesque gardens, guests can indulge in a relaxing swim while enjoying the beauty of their surroundings.
The Royal Crescent Hotel & Spa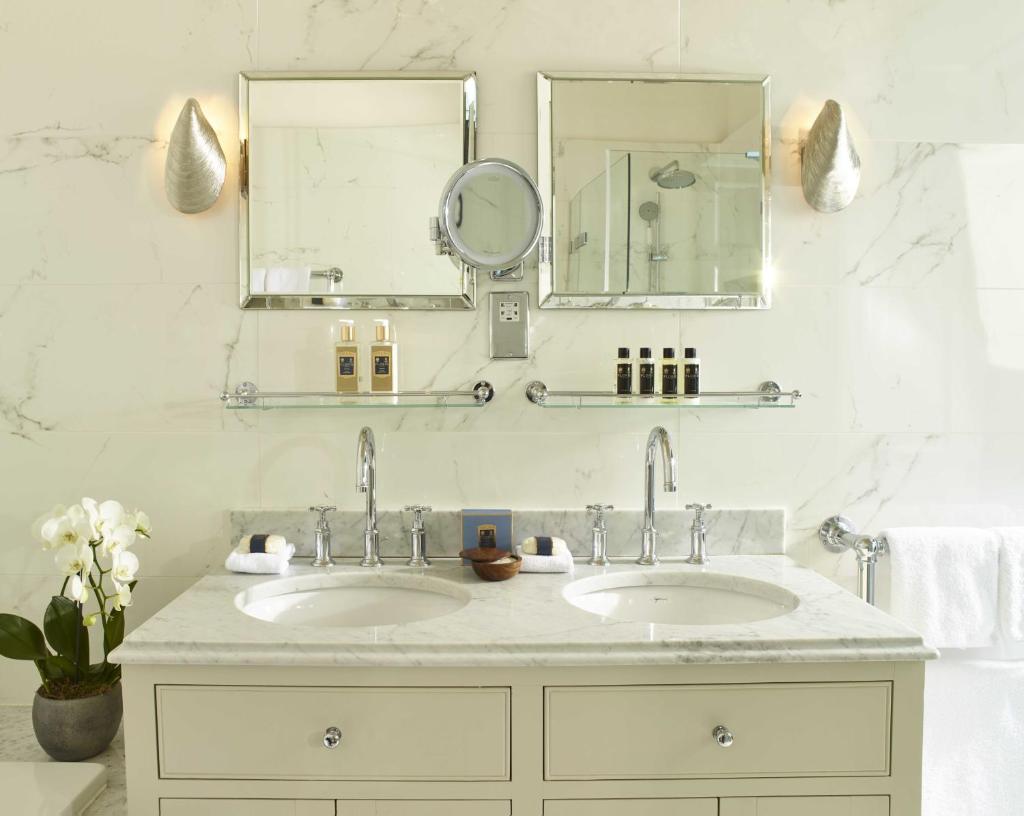 The Royal Crescent Hotel & Spa is a prestigious 5-star hotel located in Bath's iconic Royal Crescent. This luxurious hotel boasts an impressive range of facilities, including a fully equipped gym and a stunning spa that opens up to a picturesque landscaped garden. The Bath House spa offers guests the opportunity to relax in a tranquil pool or enjoy the hydrotherapy massage jets in an additional relaxation pool. For those seeking ultimate relaxation, there is also a sauna with salt therapy treatments and a steam room. The spa itself is housed within the original coach house and stables, adding to the hotel's charm and character.
The bedrooms at The Royal Crescent are beautifully decorated in an 18th-century style, complete with luxury bedding and fresh flowers. Guests can enjoy modern amenities such as free WiFi while admiring paintings from renowned period artists like Gainsborough. To satisfy their culinary cravings, visitors have access to the award-winning Dower House restaurant offering exquisite cuisine throughout the day. For more casual dining options or indulging in cocktails and champagne, The Montagu bar provides a delightful atmosphere.
One of the highlights of this hotel is its splendid gardens which provide an idyllic setting for enjoying traditional afternoon tea or simply relaxing amidst nature's beauty. The Grade I buildings themselves have been standing since 1775 and offer guests easy access to popular attractions including the city center, Pump Room Baths, and Theatre Royal – all within just 15 minutes' walk away. Additionally, Bath Spa Rail Station is conveniently located only one mile from this remarkable hotel.
Pros:
– Stunning location in Bath's iconic Royal Crescent
– Fully equipped gym and exceptional spa facilities
– Exquisite 18th-century-style bedrooms with luxury amenities
– Award-winning restaurant serving delectable cuisine
– Beautiful gardens perfect for enjoying afternoon tea
Harington's Boutique Hotel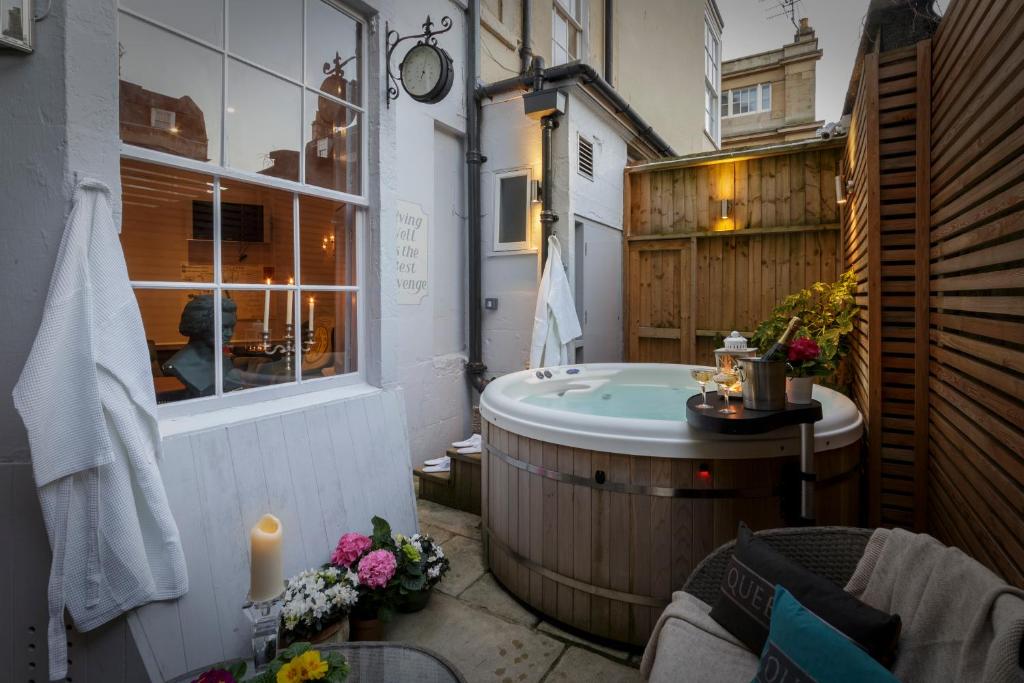 Located on a picturesque cobbled street in the heart of Bath, Harington's Boutique Hotel is a charming 18th-century establishment offering a unique and modern experience. With beautifully refurbished bedrooms featuring bright and imaginative decor, guests can expect a truly relaxing stay. The hotel is conveniently situated just steps away from the Roman baths and other major attractions, as well as an array of shops, restaurants, and vibrant nightlife. Harington's prides itself on warm hospitality and even extends its welcome to four-legged companions with pet-friendly accommodations available for an additional fee. Guests can indulge in homemade scones, clotted cream, and tea in the coffee lounge or enjoy a refreshing drink on the patio accompanied by delicious sandwiches from the bar. As an added luxury, Harington's boasts its own outdoor hot tub where visitors can unwind after exploring the city.
– Prime location in Bath city centre
– Pet-friendly with special amenities for furry friends
– Stylishly refurbished rooms with vibrant decor
– Delicious homemade treats served throughout the day
– Outdoor hot tub for ultimate relaxation
Middlewick Holiday Cottages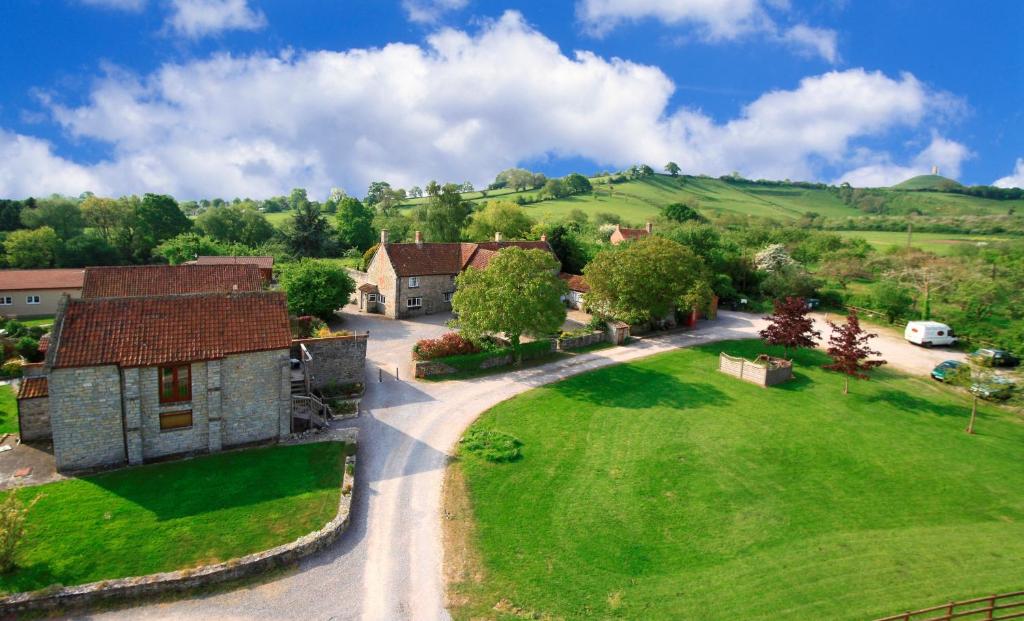 Middlewick Holiday Cottages is a charming country house farm stay located in Glastonbury, offering breathtaking views of Glastonbury Tor and The Mendips. The property features an indoor pool, free high-speed internet, and complimentary on-site parking. Guests can also take advantage of the convenient electric car charging station. The cottages are well-appointed with lounge areas and flat-screen TVs, as well as fully equipped kitchens including microwaves and dining areas. For a unique experience, the Studio Cabin provides an open-plan living and sleeping area along with a private shower room. In addition to a beautiful garden and barbecue facilities, Middlewick Holiday Cottages offers meeting facilities and the opportunity to interact with farm animals. Guests can enjoy various activities such as cycling and hiking both on-site and in the surrounding area. Located just 15 minutes away from the Glastonbury Festival site and within close proximity (13 miles) to Cheddar Gorge, Middlewick Holiday Cottages promises an unforgettable countryside getaway.
– Indoor pool for relaxation
– Free high-speed internet access
– Convenient electric car charging station
– Charming cottages with fully equipped kitchens
– Close proximity to popular attractions like Glastonbury Festival and Cheddar Gorge
Romantic Hotels with a Pool in Somerset
Somerset offers an enchanting backdrop for romantic getaways, with its picturesque countryside and charming villages. Couples seeking a touch of luxury can find refuge in the region's romantic hotels boasting pools, providing the perfect setting for relaxation and intimate moments together.
Homewood Hotel & Spa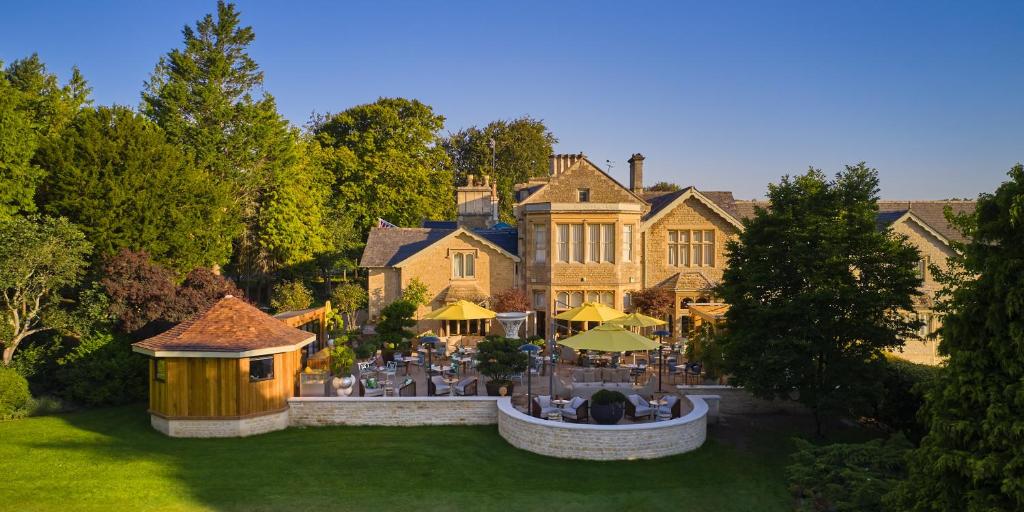 Homewood Hotel & Spa is a charming Georgian country retreat that offers an exquisite blend of tranquility, exceptional cuisine, and opulent relaxation. Nestled amidst picturesque parkland and stunning gardens near Bath, this hotel exudes a delightful atmosphere with its antique paintings, exposed wood floors, and cozy log fires complemented by modern fabrics, chic designs, and contemporary cuisine. The Restaurant at Homewood is renowned for serving the finest modern English dishes and stands as one of Bath's most popular dining establishments. The Spa at Homewood is a true haven situated within its own famous gardens enclosed by an original garden wall. It boasts a hydrotherapy pool, sauna, steam room, and a heated outdoor swimming pool that provides breathtaking views. Guests can indulge in luxurious treatments to rejuvenate mind and body. Additionally, Homewood features luxurious bedrooms with some offering magnificent garden vistas.
Pros:
– Idyllic location surrounded by parkland and beautiful gardens
– Highly acclaimed restaurant serving top-notch modern English cuisine
– Luxurious spa facilities including a hydrotherapy pool with stunning views
– Unique bedrooms exuding charm and elegance
– Conveniently close to the city of Bath for exploring local attractions
Castle Of Comfort Hotel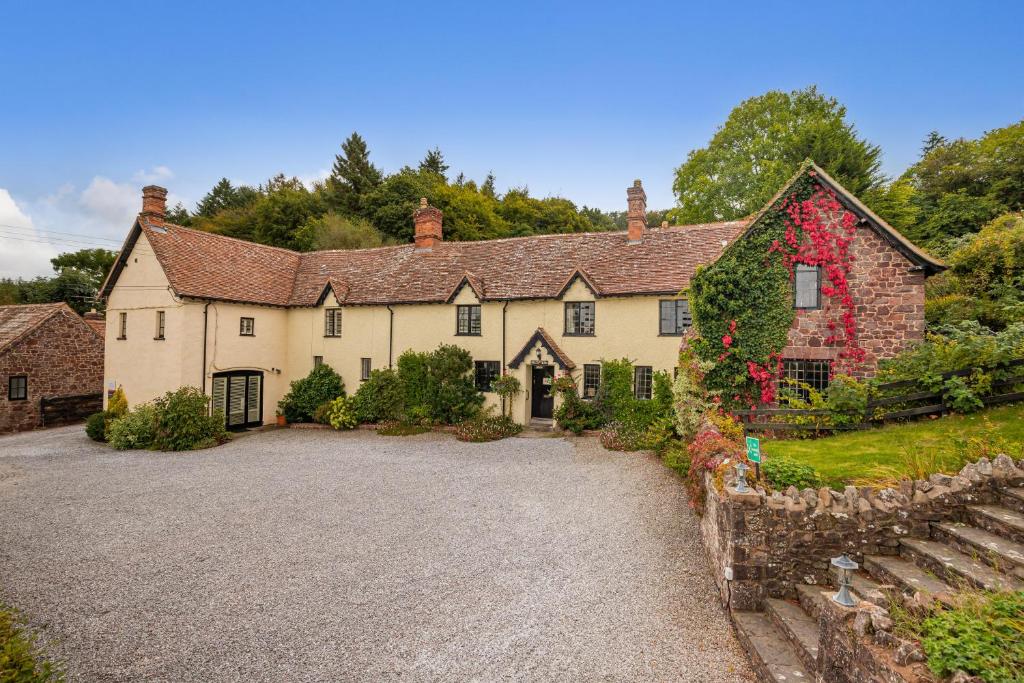 Located on the slopes of the Quantock Hills, just 15 miles from Exmoor National Park, Castle Of Comfort Hotel is a beautiful 16th century country house. It boasts quiet gardens, free Wi-Fi, free parking, and a highly-regarded restaurant. This 5-star property has been awarded the Gold Award by VisitBritain for its exceptional quality. The hotel features large gardens for guests to explore and relax in, a cozy lounge where you can enjoy drinks, and an exquisite restaurant that serves delicious meals every evening (except Sundays). With its historic charm and original features like wooden beams, this former coaching inn provides top-notch accommodation with en suite rooms equipped with modern amenities including TVs, telephones, hairdryers, tea/coffee facilities, and even complimentary sherry.
Pros:
– Stunning location on the Quantock Hills
– Impressive 16th-century country house with original features
– Free Wi-Fi and parking available
– Highly-rated restaurant serving delectable dishes
– En suite rooms with modern amenities including complimentary sherry
The Gainsborough Bath Spa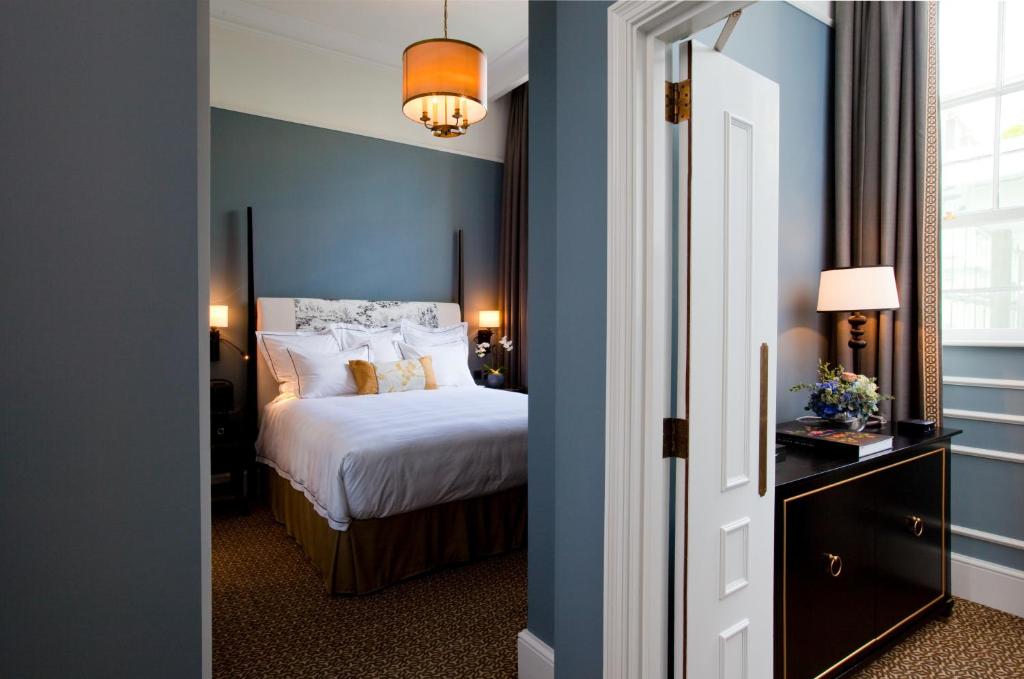 The Gainsborough Bath Spa – a YTL Hotel is a luxurious five-star accommodation in the historic city of Bath. What sets this hotel apart from others is its access to naturally heated thermal waters within its Spa Village, making it the only hotel in the UK with such an offering. The property also boasts a restaurant and bar, where guests can enjoy delicious meals and refreshing beverages. The rooms are well-appointed with modern amenities, including flat-screen TVs and coffee machines. Guests can relax in comfortable seating areas and indulge in the plush bathrobes and slippers provided. Conveniently located near popular attractions like the Roman Baths and Bath Abbey, this hotel ensures easy access to explore the city's rich history. Moreover, the friendly concierge team is always available to offer advice and assist with any alternative arrangements needed during your stay.
– Only UK hotel with access to naturally heated thermal waters
– Well-appointed rooms with modern amenities
– Convenient location near major attractions
– On-site restaurant serving delightful meals
– Friendly concierge team for assistance
Somerset Hotels with Pool Information
| | |
| --- | --- |
| 🛎️ Hotels with a Pool in Somerset | 9 |
| 💰 Hotel prices starting from | $91 |
| 💵 Highest price | $1883 |
| 🥇 Average Review Score | 8.7/10 |
| 🛏️ Average number of Rooms | 59 |
FAQ
Can you recommend a luxury hotel with a pool in Somerset?
Certainly! One of the top luxury hotels in Somerset with a pool is The Castle Hotel in Taunton. This elegant hotel features an indoor swimming pool where guests can take a refreshing dip or simply relax by the water. The pool area is beautifully designed, offering a tranquil atmosphere for ultimate relaxation during your stay.
Are there any budget-friendly hotels in Somerset that have pools?
Yes, there are budget-friendly options available in Somerset with pools. The Days Inn Hotel Sedgemoor offers comfortable accommodation at an affordable price and boasts an indoor swimming pool for guests to enjoy. It's the perfect choice if you're looking for both convenience and value during your trip.
Do all hotels in Somerset with pools provide towels for use at the pool?
Most hotels in Somerset that have pools do provide towels for guest use at the pool area. However, it's always best to check with the specific hotel beforehand to ensure that they offer this amenity as policies may vary from one property to another.
Are children allowed to use the pools at hotels in Somerset?
Children are generally welcome to use the pools at hotels in Somerset, but some properties may have specific age restrictions or designated timings for children's access to ensure safety and enjoyment of all guests. It's recommended to inquire about any regulations regarding children's usage when booking your stay.
What other amenities can I expect at hotels with pools in Somerset?
In addition to swimming pools, many hotels in Somerset offer various amenities such as fitness centers, spa facilities, hot tubs, sauna rooms, and sun loungers near the pool area. These additional features allow guests to fully indulge and unwind during their luxury stay by enjoying multiple leisure activities within the premises
Popular Hotels with Pool destinations