Best 12 Hotels with Pools in Scotland
Welcome, fellow travelers, to the enchanting land of Scotland, nestled in the captivating United Kingdom. As we embark on our adventure through this picturesque country, let us dive into a world of aquatic bliss and discover the hidden gems that lie within its luxurious hotels with magnificent swimming facilities.
In this guide, we will explore Scotland's opulent accommodations that offer aqua-centric havens for relaxation and indulgence. From tranquil infinity pools overlooking majestic lochs to heated indoor sanctuaries surrounded by breathtaking landscapes, these hotels will transport you into a realm of serenity and rejuvenation. Prepare to take a refreshing dip in crystal-clear waters as you immerse yourself in Scotland's rich history and culture while basking in the lap of luxury.
Whether you seek a tranquil retreat amidst nature's wonders or a sophisticated urban escape with panoramic views, Scotland boasts an impressive collection of hotels with pools that cater to every discerning traveler's desires. So pack your swimsuits and get ready for an unforgettable journey through Scotland's most exquisite properties where cascading waterfalls, designer loungers, and serene spa experiences await your arrival. Let us embark on this aqua-adventure together as we uncover the ultimate destinations for poolside serenity in bonnie Scotland!
The Best Scotland Hotels with a Pool
Loch Rannoch Hotel and Estate (Kinloch Rannoch)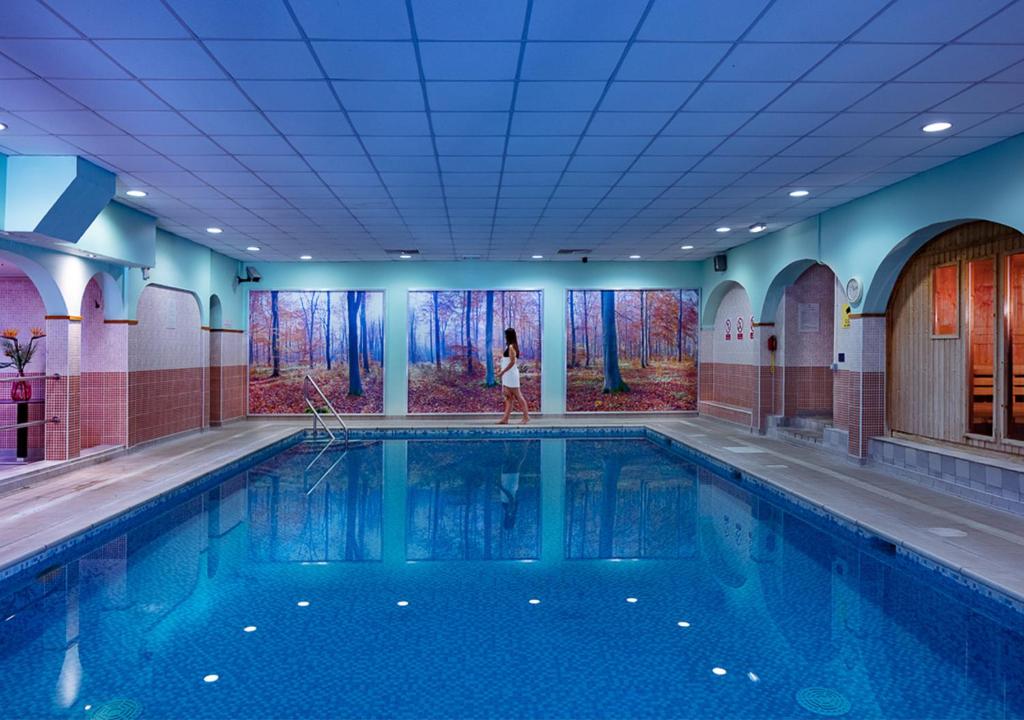 Loch Rannoch Hotel and Estate, located in Kinloch Rannoch, is a newly opened 4-star hotel offering a range of amenities for its guests. With its convenient location just 28 km from Castle Menzies, this hotel provides comfortable accommodation with free private parking and free WiFi. The hotel features a fitness centre, shared lounge, and terrace for guests to enjoy. For dining options, there is a restaurant serving British and local cuisine, as well as a bar. Guests can also take advantage of the spa and wellness centre, which includes an indoor pool and sauna. Each room at Loch Rannoch Hotel and Estate is equipped with modern amenities such as a flat-screen TV, desk, private bathroom, bed linen, and towels. The hotel offers various breakfast options including à la carte, Full English/Irish, vegetarian, vegan, and dairy-free choices. Additionally, the surrounding area is perfect for outdoor activities such as hiking and cycling with bike hire available at the hotel. Nearby attractions include Blair Castle (29 km) and The Scottish Crannog Centre (27 km). Dundee Airport is the nearest airport located 98 km away.
Pros:
– Newly opened 4-star hotel
– Convenient location near Castle Menzies
– Fitness centre and spa with indoor pool
– Restaurant serving British cuisine
– Ample free private parking
Sheraton Grand Hotel & Spa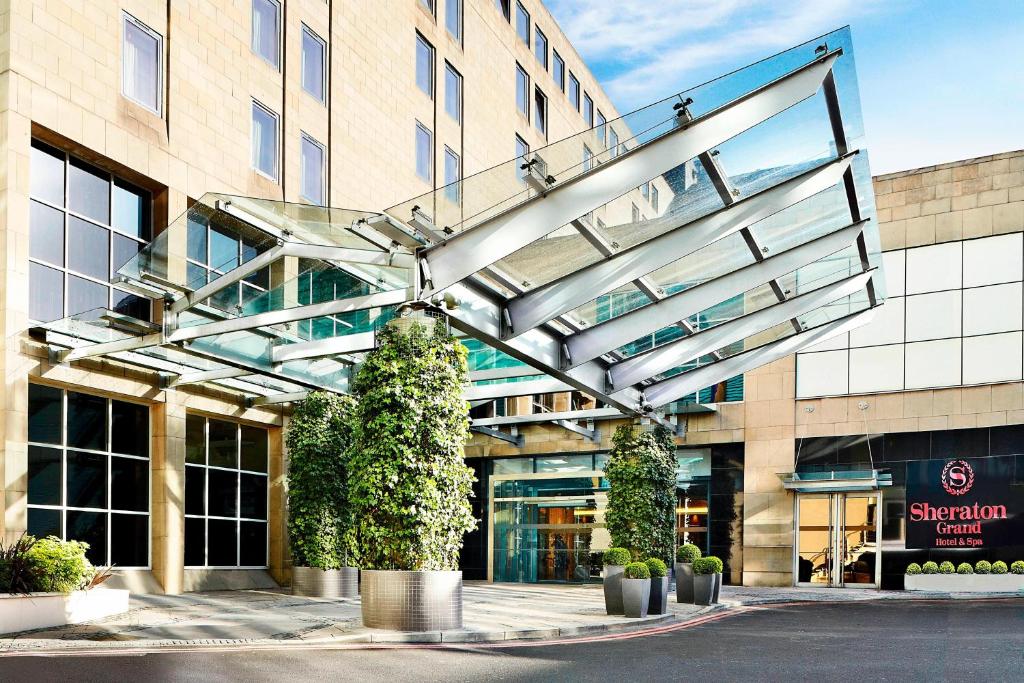 The Sheraton Grand Hotel & Spa is a luxury hotel located in the heart of Edinburgh. With its prime location overlooking Edinburgh Castle and close proximity to the West End business and entertainment area, this hotel offers guests a convenient and stylish stay. The rooms at the Sheraton Grand Hotel & Spa are both luxurious and elegant, equipped with modern amenities such as free wireless Internet access, interactive satellite flat-screen TV, and 24-hour room service. The bathrooms feature a separate bath and walk-in shower, providing guests with ultimate comfort and relaxation during their stay. One of the highlights of this hotel is its renowned One Spa, where guests can enjoy complimentary use of the 19-meter swimming pool, fitness studios, and gym facilities. Additionally, guests can indulge in various beauty treatments and spa therapies throughout their stay (advance booking required). For those seeking a truly unique experience, the recently renovated Thermal Suite and rooftop Hydropool known as Escape at One offer a serene sanctuary at a preferential rate. To complete your experience at Sheraton Grand Hotel & Spa, be sure to visit the vibrant One Square Bar + Brasserie which offers a modern Scottish menu along with an unforgettable Gin Tasting experience.
– Prime location overlooking Edinburgh Castle
– Luxurious rooms with modern amenities
– Complimentary use of swimming pool and fitness facilities
– Extensive selection of beauty treatments at One Spa
– Unique dining experience featuring Scottish menu and Gin Tasting
Crieff Hydro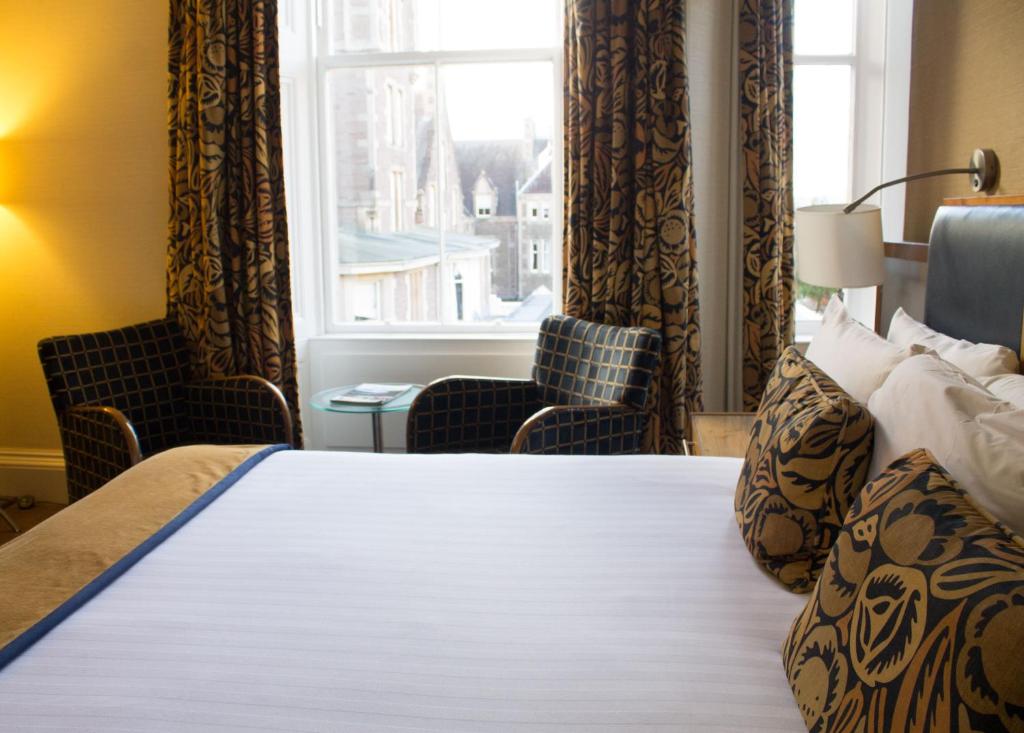 Crieff Hydro Hotel is a luxurious resort nestled in the stunning Strathearn Valley. Surrounded by a 900-acre estate, the hotel offers an array of activities and amenities for guests to enjoy. The Victorian spa provides a relaxing retreat with facilities such as an indoor pool, steam room, sauna, and spa bath. For those seeking adventure, there are off-road driving courses, tennis courts, and even a rifle range. Horse riding, quad biking, and water sports are also available for an adrenaline rush. The accommodation is stylishly decorated and includes modern amenities like satellite TVs and private bathrooms. Guests can indulge in delicious dining options at the Italian-style family restaurant or experience a more traditional meal in the grand Victorian dining room. With its prime location just an hour's drive from both Edinburgh and Glasgow, Crieff Hydro Hotel is the perfect destination for those looking to unwind while enjoying a wide range of activities.
– Extensive range of indoor and outdoor activities
– Luxurious adults-only spa with pool and relaxation facilities
– Family-friendly rooms with modern amenities
– Multiple dining options including Italian-style restaurant
– Convenient location close to both Edinburgh and Glasgow
Other places to stay in Scotland
Hotels with Pools in Scotland with Nice Views
Hotels with pools in Scotland offer a delightful combination of luxury and stunning views. Whether perched on the rugged coast, nestled in the rolling hills, or overlooking serene lochs, these hotels provide a tranquil retreat where guests can unwind and immerse themselves in Scotland's breathtaking landscapes.
Marine North Berwick (North Berwick)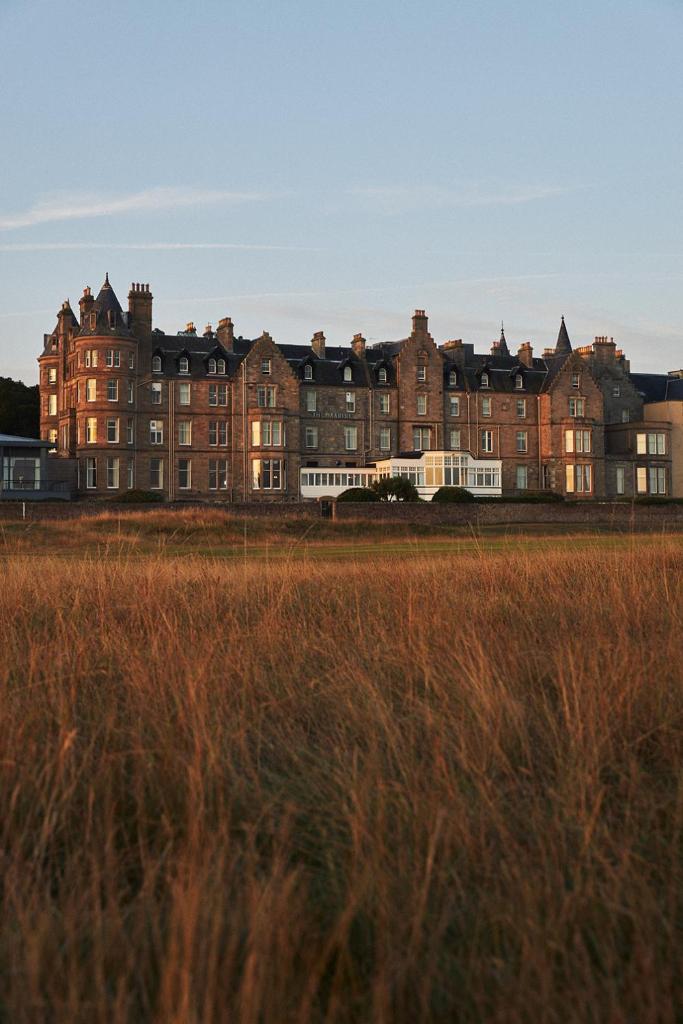 Marine North Berwick is a luxurious hotel located in North Berwick, offering breathtaking views of the Firth of Forth and overlooking the renowned North Berwick Golf Club. This elegant Victorian property boasts stylish rooms with modern en suite bathrooms, flat-screen TVs, and comfortable seating areas. Guests can indulge in relaxation at The Spa at Marine Hotel, which features an indoor swimming pool, thermal suite, hydro pool, and a well-equipped gym. Additionally, the hotel offers fitness classes and beauty treatments for those seeking rejuvenation.
One of the highlights of Marine North Berwick is its award-winning restaurant that serves an extensive all-day menu showcasing the best British and Scottish dishes. For those looking for a more casual atmosphere to unwind and enjoy refreshing beverages, The Bass Rock bar and lounge offers a wide variety of cocktails, international wines, award-winning whiskies, local spirits as well as Scottish craft beers and ales.
Conveniently situated in East Lothian's famous golfing coast area, Marine Hotel is just a 40-minute drive away from Edinburgh's lively city center. The sandy beaches of North Berwick are only minutes away from the hotel's doorstep while transportation is made easy with North Berwick Railway Station being just a short 5-minute walk away.
– Stunning views across the Firth of Forth
– Free parking available
– Award-winning restaurant serving British and Scottish cuisine
– Relaxation facilities including an indoor swimming pool and spa
– Convenient location near golf courses and sandy beaches
Ardoe House Hotel & Spa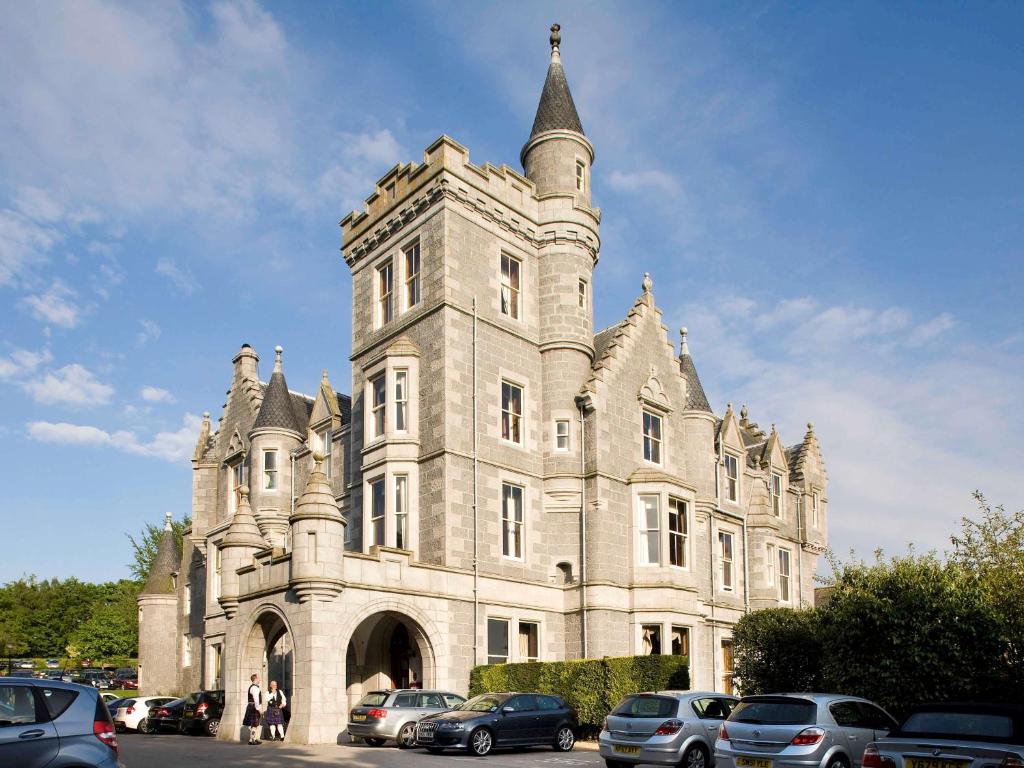 Ardoe House Hotel & Spa is a stunning Victorian mansion located in the peaceful countryside just 5 miles from Aberdeen. This 4-star hotel features original Victorian architecture including beautiful staircases, fireplaces, and wooden panelling. Guests can park for free on site and enjoy the convenience of two bars, one restaurant, and proximity to the Castle Trail just 3 miles away. The hotel also offers a luxurious spa with a pool, hot tub, sauna, steam room, beauty salon, and treatment rooms. Indulge in fine cuisine made from fresh local produce at Blair's restaurant or relax by the grand fireplace in the cosy Drawing Room.
– Beautiful Victorian mansion with original architectural features
– Convenient location near Aberdeen city center and Castle Trail
– Luxurious spa facilities including pool, hot tub, sauna, and steam room
– Fine dining experience at Blair's restaurant using fresh local produce
– Cosy atmosphere in the Drawing Room with a grand fireplace
Glasgow Argyle Hotel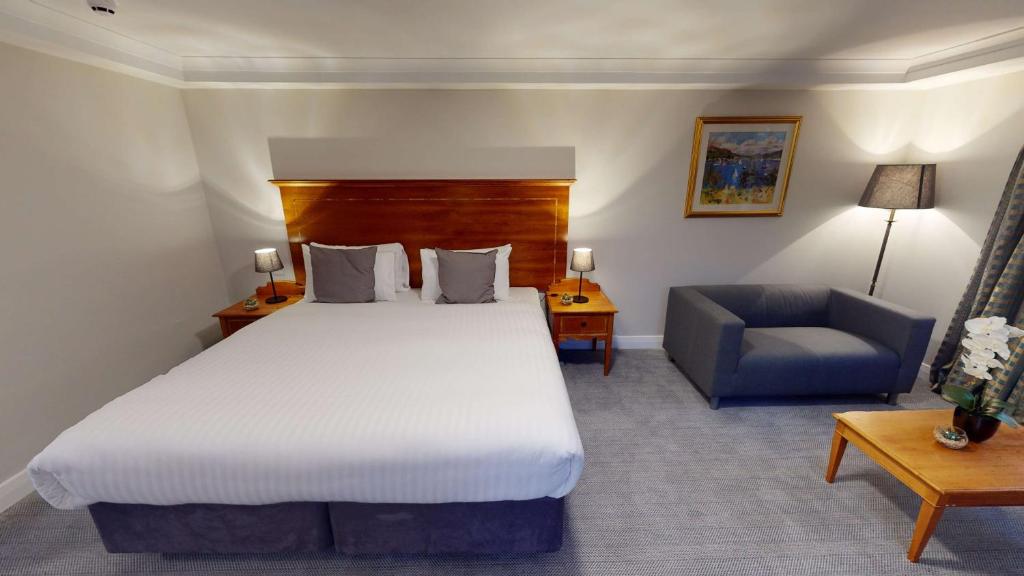 Located just a few minutes' walk from Glasgow Central Station or a short 17-minute drive from Glasgow Airport, the Glasgow Argyle Hotel offers guests a comfortable and tranquil stay. The hotel features spacious and air-conditioned rooms with free Wi-Fi, as well as leisure facilities including a 15-meter pool, steam room, sauna, and fully equipped gym. The hotel has been recognized with a Silver Green Tourism Award for its commitment to sustainability. Guests can enjoy delicious meals at the Brasserie restaurant, which serves dishes made with seasonal ingredients. There is also a lounge bar offering a variety of wines and beers for relaxation. Additionally, the hotel is conveniently situated within walking distance of George Street shops and the Argyle Arcade. The Scottish Exhibition and Conference Centre (SEC) can be reached in just 15 minutes on foot, while Celtic Park and Ibrox Stadium are only three miles away by car.
– Convenient location near transportation hubs
– Spacious and air-conditioned rooms
– Leisure facilities including pool, steam room, sauna, and gym
– Sustainability recognition with Silver Green Tourism Award
– Delicious dining options at Brasserie restaurant
Romantic Hotels with a Pool in Scotland
Romantic hotels with pools in Scotland offer couples a blissful escape amidst stunning landscapes. Surrounded by lush greenery or overlooking serene lochs and rolling hills, these hotels provide the perfect setting for relaxation and romance, making them an ideal choice for a romantic getaway in Scotland.
Marine Troon (Troon)
The Marine Hotel in Troon is a luxurious 5-star property with breathtaking views of the Firth of Clyde and Isle of Arran. Overlooking the prestigious Royal Troon Golf Course, this grand hotel offers a wide range of leisure and fitness facilities including a modern fitness suite, sauna, spabath, steam room, indoor pool, and beauty salon. The elegantly designed en-suite bedrooms provide stunning views of either the golf course or sea. Guests can enjoy complimentary wireless internet access and parking throughout their stay. The hotel's restaurant, The Rabbit, serves delicious dishes made from locally sourced produce while The Seal Bar Lounge offers light snacks and drinks with magnificent sea views. With Glasgow just a short drive away and attractions like Culzean Castle and Ayr Racecourse within easy reach, Marine Troon is an ideal destination for both relaxation and exploration.
– Spectacular views over the Firth of Clyde
– Excellent leisure and fitness facilities
– Elegantly designed en-suite bedrooms
– Complimentary wireless internet access and parking
– Convenient location for exploring nearby attractions
SCHLOSS Roxburghe
Located in Kelso, SCHLOSS Roxburghe, part of Destination by Hyatt, offers a luxurious retreat with its outdoor swimming pool, fitness center, and beautiful garden. The hotel also boasts a restaurant, shared lounge, sauna, and hot tub for guests to enjoy. With comfortable rooms featuring modern amenities like flat-screen TVs and coffee machines, guests can relax and unwind after exploring nearby attractions such as Melrose Abbey and Etal Castle. The hotel also offers free WiFi throughout the property and a 24-hour front desk. Guests can start their day with a delicious buffet or à la carte breakfast options before indulging in the spa center's rejuvenating treatments. Conveniently located just 84 km from Edinburgh Airport, SCHLOSS Roxburghe is an ideal destination for those seeking relaxation and luxury.
– Outdoor swimming pool
– Fitness center
– Spa center
– Restaurant on-site
– Close proximity to popular attractions
Seamill Hydro Hotel & Resort (Seamill)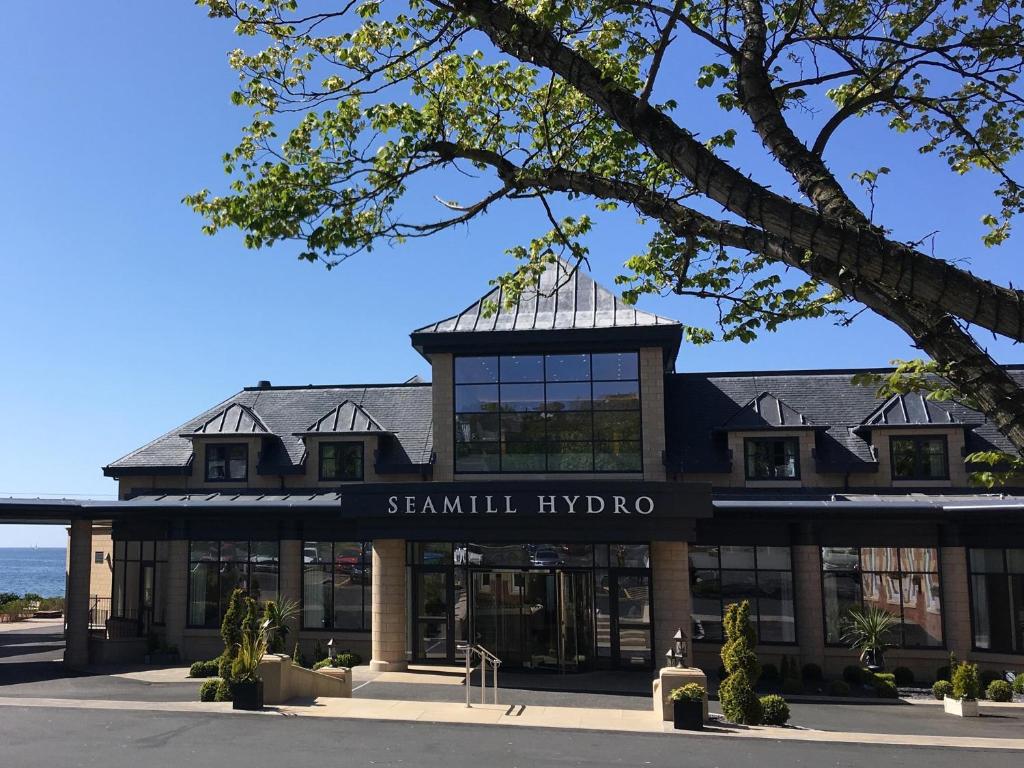 Set on the stunning seafront, with panoramic views of the Firth of Clyde and the isles of Arran and Ailsa Craig, Seamill Hydro Hotel & Resort is a luxurious destination. This family-run hotel offers a range of amenities including a leisure club with a gym, indoor pool, sauna, and steam room. Guests can indulge in beauty treatments at the salon or enjoy relaxed dining at The Orangery, which overlooks the beautiful grounds and serves seasonal local produce. With Victorian-style rooms featuring high ceilings and bay windows, as well as modern rooms with flat-screen TVs, Seamill Hydro provides a comfortable stay for all guests. Just a short walk away from West Kilbride's town center with its shops, bars, and train station.
Pros:
– Beautiful seafront location with stunning views
– Luxury leisure club and salon
– Variety of room options to suit different preferences
– Relaxing spa breaks available
– Close proximity to town center amenities
Hotels with Pools in Scotland That Are Good for Families
Scotland offers a range of hotels with pools that are ideal for family getaways. These properties provide a refreshing retreat and a fun-filled experience for both parents and kids, giving families the perfect opportunity to relax and unwind in beautiful surroundings.
Golf View Hotel & Spa (Nairn)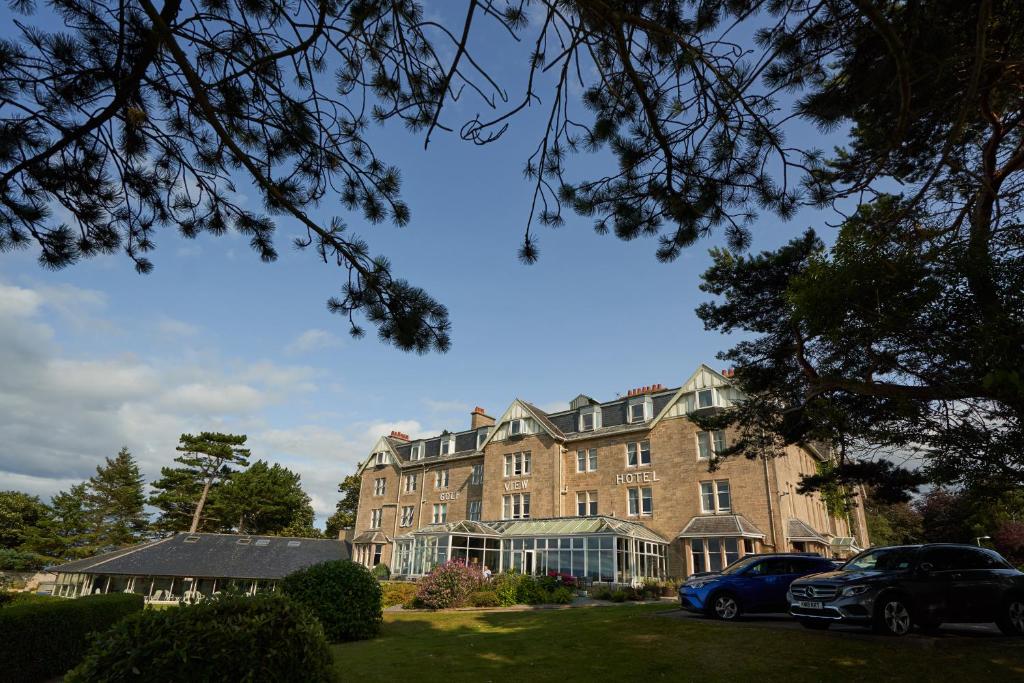 Situated overlooking the picturesque Moray Firth, the Golf View Hotel & Spa in Nairn offers guests a truly idyllic setting. With its charming gardens leading down to the seashore, this hotel and leisure club provide a serene oasis for relaxation. Whether you prefer an elegant fine dining experience at the AA Rosette awarded Hickory Restaurant, a more casual meal with stunning panoramic views at the contemporary Links Brasserie, or indulging in afternoon tea in the cozy lounge, there is something to satisfy every culinary desire. The spacious rooms are beautifully designed and offer modern comforts, with many boasting incredible sea views. In some bedrooms, window seats allow guests to enjoy breathtaking panoramic views over the Moray Firth and mystical Black Isle beyond.
– Stunning location overlooking the Moray Firth
– Award-winning dining options
– Elegant and spacious rooms
– Spectacular sea views from many bedrooms
– Tranquil gardens leading to the seashore
Norton House Hotel & Spa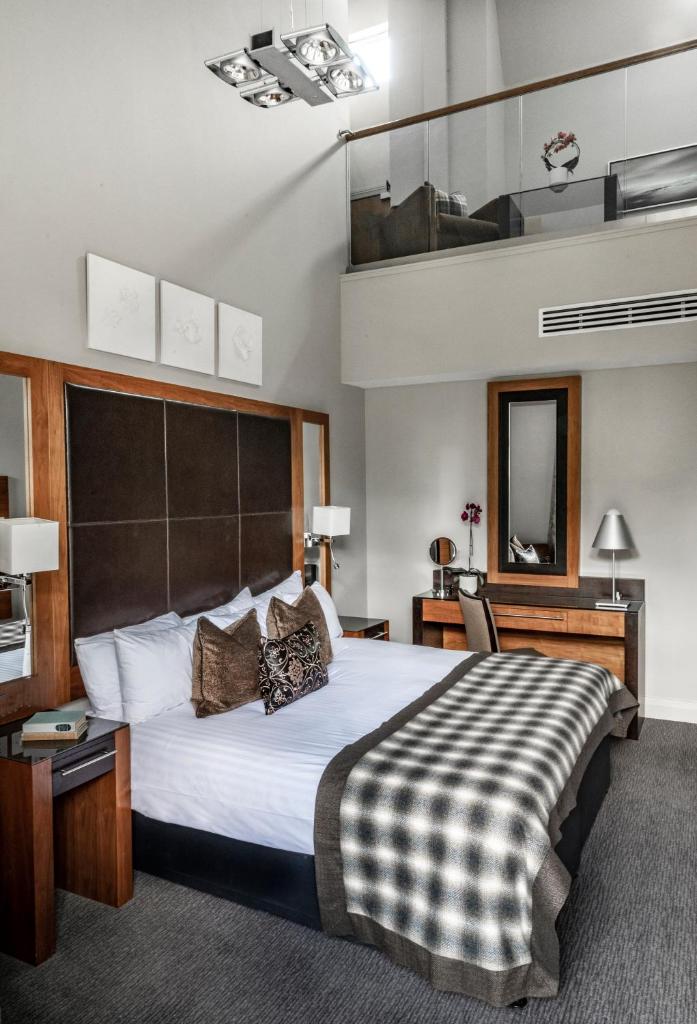 Norton House Hotel & Spa is a stunning boutique hotel located in a Victorian mansion encompassed by 55 acres of beautiful grounds. Situated just a short drive away from Edinburgh and the airport, this luxurious hotel offers guests an exceptional experience with its state-of-the-art spa, renowned restaurant, and stylish rooms equipped with free internet access. The spa provides ultimate relaxation with its sauna, steam room, hydrotherapy pool, and swimming pool embellished with elegant fountains. Additionally, guests can take advantage of the fully equipped gym and indulge in rejuvenating treatments at the hotel's treatment rooms. Each of the 4-star bedrooms exudes modern elegance while offering amenities such as free toiletries, fluffy bathrobes, satellite TV/DVD player, and minibar. The Brasserie serves up delectable traditional British cuisine while The Glass Lounge is perfect for sipping on classic cocktails or enjoying afternoon teas. Conveniently located near the M8 and M9 motorways with complimentary parking on-site, Norton House Hotel provides easy access to Edinburgh Castle which can be reached in just 20 minutes by car.
– Beautiful Victorian mansion set in expansive grounds
– Luxury spa facilities including sauna, steam room, hydrotherapy pool
– Well-equipped gym available for guests' use
– Award-winning Brasserie serving delicious British cuisine
– Convenient location near motorways with free on-site parking
Best Western Inverness Palace Hotel & Spa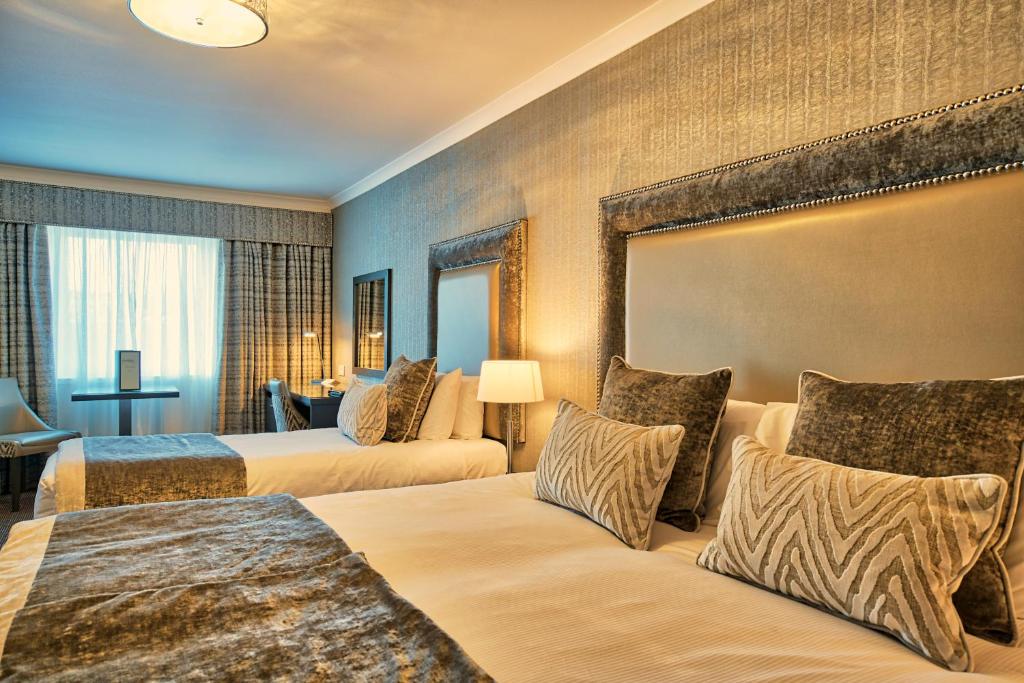 The Best Western Inverness Palace Hotel & Spa is a luxurious hotel situated on the banks of the River Ness, directly opposite Inverness Castle. Its prime location offers guests easy access to Inverness city centre, which is just a 5-minute walk away. The hotel boasts an indoor swimming pool, leisure club, spa, and free WiFi throughout the property. Guests can enjoy complimentary use of the Palace Leisure Club & Spa's facilities, including an indoor pool, sauna, steam room, and hot tub. Each well-appointed room features modern amenities such as a flat-screen TV, radio, and tea/coffee making facilities. The accommodation is spread across Victorian properties or garden cottages with some rooms offering picturesque views of the castle and river. For dining options, guests can choose between the Brasserie for informal lunch and evening meals or restaurant Eight on the River for a more formal dining experience and a hot/cold breakfast buffet. Afternoon tea can be enjoyed in the refurbished River View Lounge where guests can also savor their favorite Starbucks coffee as it proudly serves Starbucks beverages. Additional amenities include beauty treatments at Sleeping Beauty Spa and a state-of-the-art gymnasium. The hotel conveniently sits within walking distance of riverside restaurants and bars while being just a 12-minute stroll from the train station. Visitors looking to explore the world-famous Loch Ness will find it only a short 15-minute drive away.
Pros:
– Fantastic location overlooking Inverness Castle
– Well-equipped leisure club with an indoor pool
– Comfortable rooms featuring modern amenities
– Multiple dining options catering to different tastes
– Convenient proximity to riverside attractions and transportation links
Scotland Hotels with Pool Information
| | |
| --- | --- |
| 🛎️ Hotels with a Pool in Scotland | 12 |
| 💰 Hotel prices starting from | $121 |
| 💵 Highest price | $1289 |
| 🥇 Average Review Score | 8.3/10 |
| 🛏️ Average number of Rooms | 96 |
FAQ
Can I find hotels with pools in Scotland?
Yes, there are several hotels in Scotland that have pools. Whether you're visiting the vibrant city of Edinburgh or exploring the stunning landscapes of the Highlands, you can find luxury accommodations with swimming facilities. These hotels offer a perfect combination of relaxation and indulgence, allowing you to unwind after a day of exploring.
Are hotel pools in Scotland open year-round?
Hotel pool availability may vary depending on the property and location within Scotland. While some hotels keep their pools open year-round, others may have seasonal restrictions due to weather conditions or maintenance requirements. It's best to check with your chosen hotel beforehand to ensure that their pool will be available during your visit.
Do all hotels in Scotland offer indoor pools?
Not every hotel in Scotland offers indoor pools, but many do provide this amenity for guests. Indoor pools are particularly popular in larger cities like Edinburgh and Glasgow where space is limited and weather can be unpredictable. These indoor facilities allow guests to enjoy a swim regardless of the season or weather conditions outside.
What are some popular areas in Scotland for finding hotels with pools?
There are several popular areas in Scotland where you can find hotels with pools. In cities like Edinburgh and Glasgow, you'll discover a wide selection of luxury accommodations offering this amenity. Additionally, resort destinations such as Loch Lomond, St Andrews, and Aviemore also feature upscale properties with swimming facilities.
Can non-guests use hotel pools in Scotland?
In most cases, access to hotel pools is reserved for guests only. However, some upscale hotels may offer day passes or spa memberships that grant non-guests access to their pool facilities for an additional fee. It's advisable to contact individual hotels directly to inquire about any arrangements they may have for non-guests wishing to use their pool.
Popular Hotels with Pool destinations