Best 7 Hotels with Pools in Norfolk
Welcome to our latest exploration of the luxurious world of hotels in Norfolk, United Kingdom. Today, we dive into a refreshing topic as we explore the exquisite accommodations that boast magnificent swimming facilities. With its idyllic coastal charm and stunning countryside landscapes, Norfolk is not only renowned for its picturesque beauty but also for its exceptional hospitality and luxury offerings.
As we embark on this journey through Norfolk's poolside paradise, get ready to discover a treasure trove of indulgence waiting to be explored. From opulent resorts nestled amidst rolling greens to elegant boutique hotels with hidden oases, there is something for every discerning traveler seeking the perfect dip. Soothing azure waters beckon guests to unwind and rejuvenate after a day spent exploring charming villages or strolling along sandy beaches.
Escape from the ordinary as you immerse yourself in the opulence of these pools – where tranquility and relaxation converge seamlessly with lavish amenities. Whether you seek an invigorating swim under clear blue skies or a leisurely soak while admiring panoramic views, Norfolk's hotels with pools are poised to exceed your expectations every stroke of the way. Join us on this aquatic adventure as we dive deep into an oasis of luxury in beautiful Norfolk!
The Best Norfolk Hotels with a Pool
Cromer Country Club (Cromer)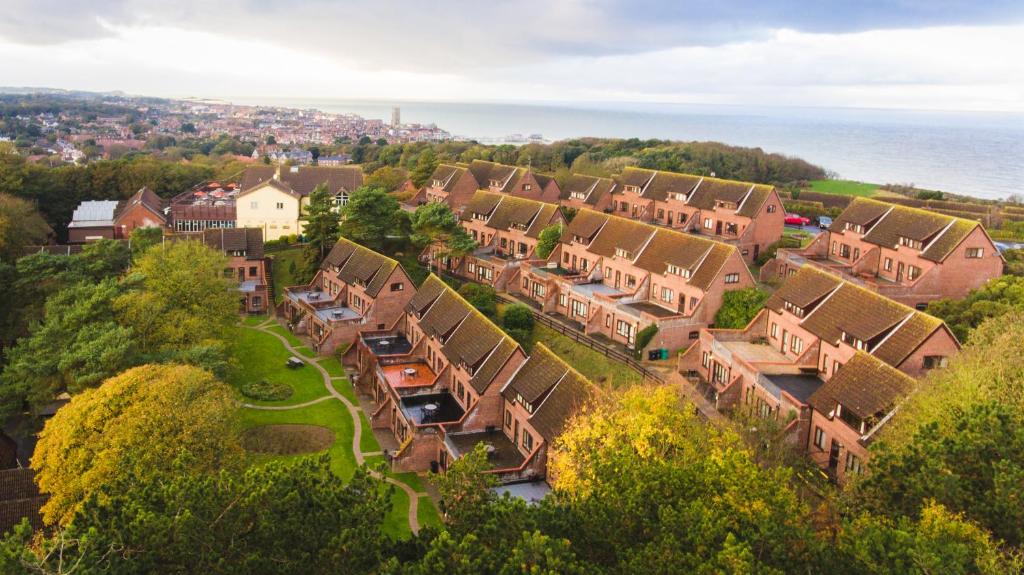 Cromer Country Club is a charming resort situated in the delightful Victorian seaside town of Cromer, offering breathtaking views of the picturesque Norfolk coastline. With its range of health and leisure facilities, this self-catering apartment complex is perfect for a relaxing break. The apartments are well-equipped with modern conveniences and furnished to ensure utmost comfort. Guests can enjoy a refreshing swim in the indoor pool or indulge in relaxation at the pool-side whirlpool. Families will love the extensive leisure facilities, making it an ideal destination for everyone. The Amber Bar and Restaurant provides a pleasant atmosphere with an extensive menu featuring daily specials made from locally sourced ingredients. Please note that some rooms/studios may require guests to climb steps as they are located on a hill.
– Indoor swimming pool
– Picturesque views of Norfolk coastline
– Well-equipped self-catering apartments
– Extensive leisure facilities for families
– Delicious meals made from locally sourced ingredients at Amber Bar and Restaurant
Dunston Hall Hotel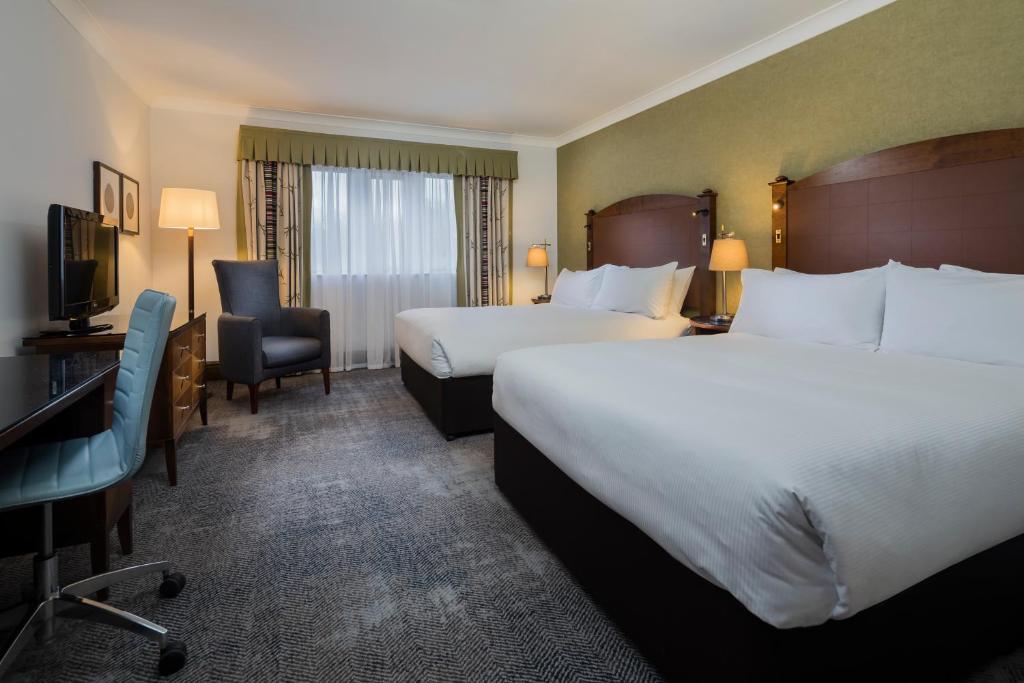 Situated in 150 acres of picturesque wooded parkland, Dunston Hall Hotel, Spa & Golf Resort combines the elegant styles of Elizabethan and Victorian architecture. With an 18-hole PGA championship golf course, a driving range, a footgolf course, an indoor swimming pool, and a luxurious spa, this hotel offers a wide range of amenities for guests to enjoy. Each room is equipped with a satellite TV and free WiFi is available throughout the property. The hotel is also dog-friendly and family-friendly, making it perfect for a relaxing getaway with loved ones. Indulge in delicious meals at the Brasserie Restaurant, which offers both breakfast buffets in the morning and à la carte menus in the evening. For those looking for a more relaxed setting, the Garden Terrace bar provides afternoon tea with stunning garden views while the Bunker Bar serves up refreshing drinks. Conveniently located just a 10-minute drive from Norwich's city center and within easy reach of Great Yarmouth's beautiful coast, Dunston Hall Hotel is ideal for exploring both urban attractions and tranquil natural landscapes. Additionally, it is only 4 miles away from Norwich train station and 8 miles from Norwich International Airport.
– Stunning location amidst wooded parkland
– Extensive golf facilities including an 18-hole championship course
– Relaxing indoor swimming pool and luxurious spa
– Dog-friendly accommodations catering to furry friends
– Close proximity to both Norwich city center and Great Yarmouth's coastline
Sprowston Manor Hotel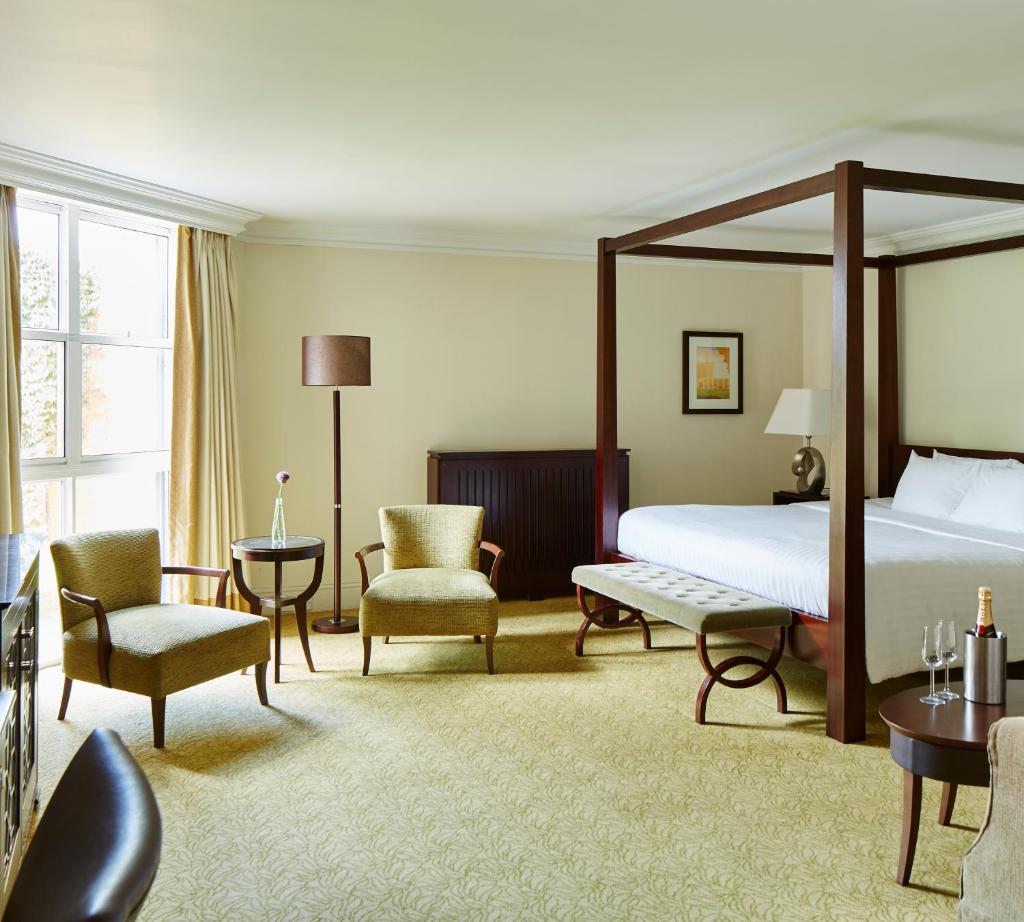 Located just 3.5 miles from central Norwich, Sprowston Manor Hotel is a historic house set amidst beautiful grounds. This luxurious hotel offers a range of amenities including a golf course, spa, and pool. Guests can enjoy free Wi-Fi in public areas and indulge in the elegant bedrooms with 24-hour room service and luxury bedding. Perfectly situated, Sprowston Manor Hotel is only a 15-minute drive from Norwich Airport. The hotel also boasts a Bar & Grill with stunning views overlooking the 18th green. For ultimate relaxation, guests can take advantage of the on-site spa which features a gym, indoor tropical pool, hot tub, and various treatments.
– Convenient location close to central Norwich
– Stunning grounds for leisurely walks
– On-site golf course for enthusiasts
– Luxurious bedrooms with excellent service
– Relaxing spa facilities including an indoor tropical pool
Other places to stay in Norfolk
Hotels with Pools in Norfolk with Nice Views
Norfolk offers a range of hotels with pools boasting stunning views. Whether it's overlooking the picturesque coastline or scenic landscapes, these hotels provide guests with the perfect relaxation retreat alongside breathtaking vistas.
Park Farm Hotel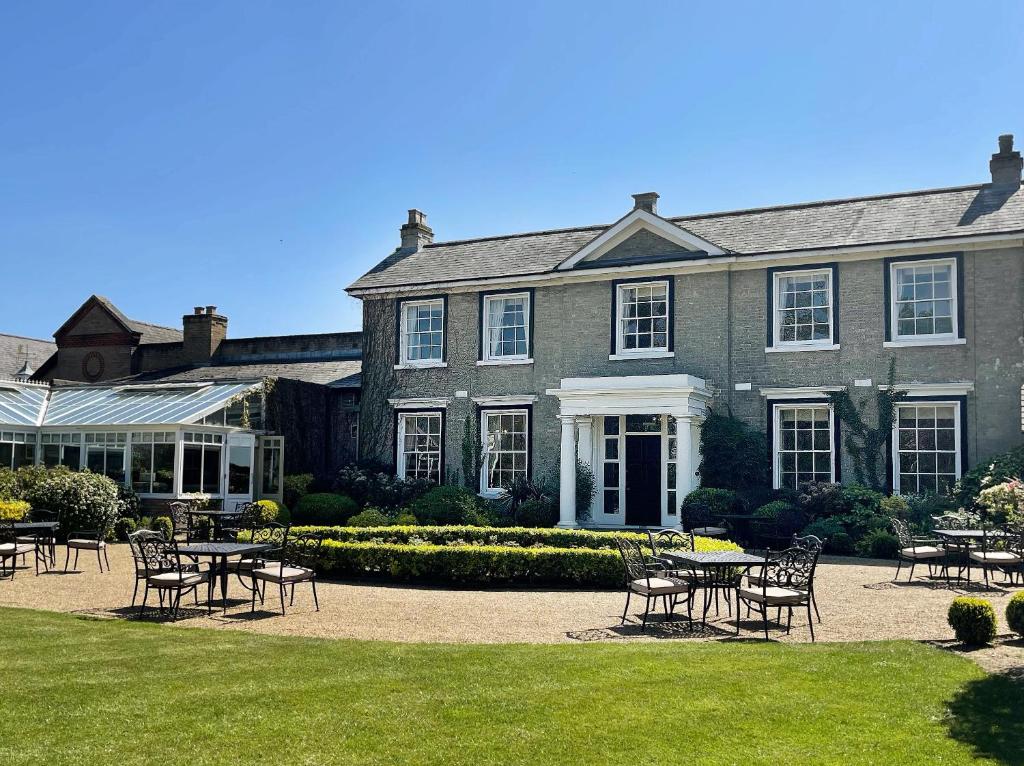 Park Farm Hotel is a luxurious hotel located in over 200 acres of beautifully landscaped gardens and green fields, just 5 miles south of Norwich city centre. The hotel offers a range of amenities including a bar, restaurant, leisure club, and free parking. Each individually decorated bedroom provides stunning views of the gardens, while the award-winning restaurant serves delicious meals made with locally sourced ingredients. Guests can also enjoy the hotel's leisure and spa facilities which include a 16-meter indoor heated swimming pool, sauna, and gym. Additionally, there is a lounge bar where guests can indulge in bar meals and afternoon teas. For those looking for some pampering time, there is also a beauty/hair salon available.
– Indoor heated swimming pool
– Beautifully landscaped gardens
– Restaurant with locally sourced ingredients
– Lounge bar serving bar meals and afternoon teas
– Beauty/hair salon available for guests' convenience
Holiday Inn Norwich North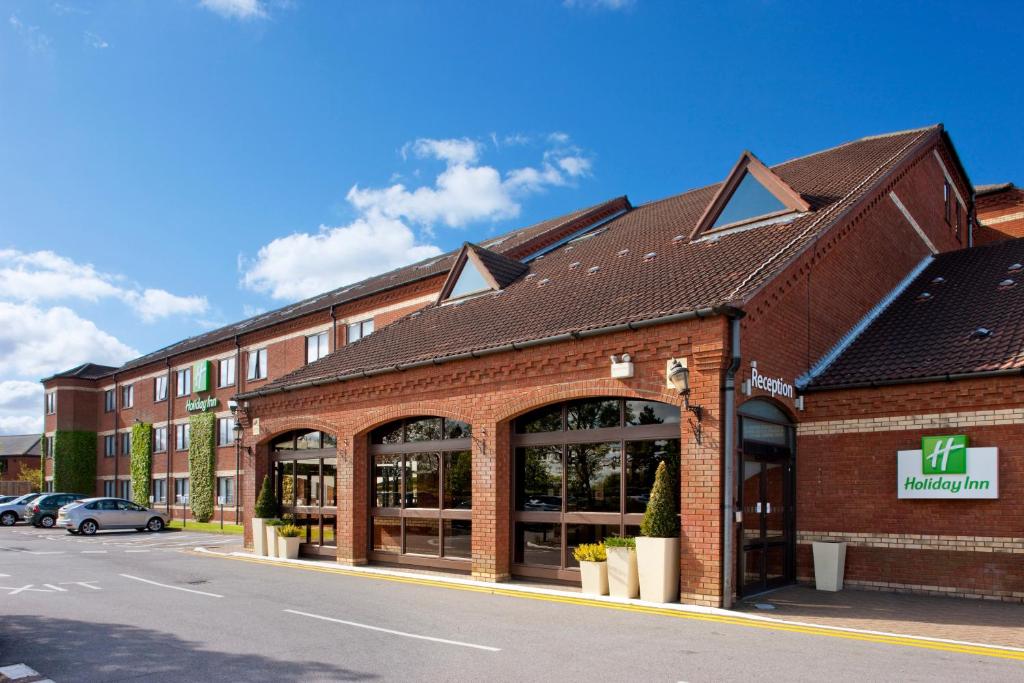 The Holiday Inn Norwich North is a fantastic hotel located in the northern part of Norwich. The hotel offers spacious and air-conditioned rooms, ample parking, a restaurant, and a lounge/bar. Guests can also enjoy the fully equipped health club pool and gym, which includes an indoor pool, hot tub, steam room, and sauna. The staff at the Holiday Inn provides attentive and welcoming service to ensure a comfortable stay. Additionally, the hotel is conveniently located within walking distance of Norwich International Airport and just 6.5 km away from Norwich city centre. With attractions such as Norwich Cathedral, Theatre Royal, and Carrow Road (home to Norwich City F.C) nearby, guests have plenty to explore during their visit.
– Spacious and air-conditioned rooms
– Fully equipped health club with indoor pool
– Convenient location near airport and city centre
– Attentive and welcoming service
Kings Lynn Knights Hill Hotel & Spa (Kings Lynn)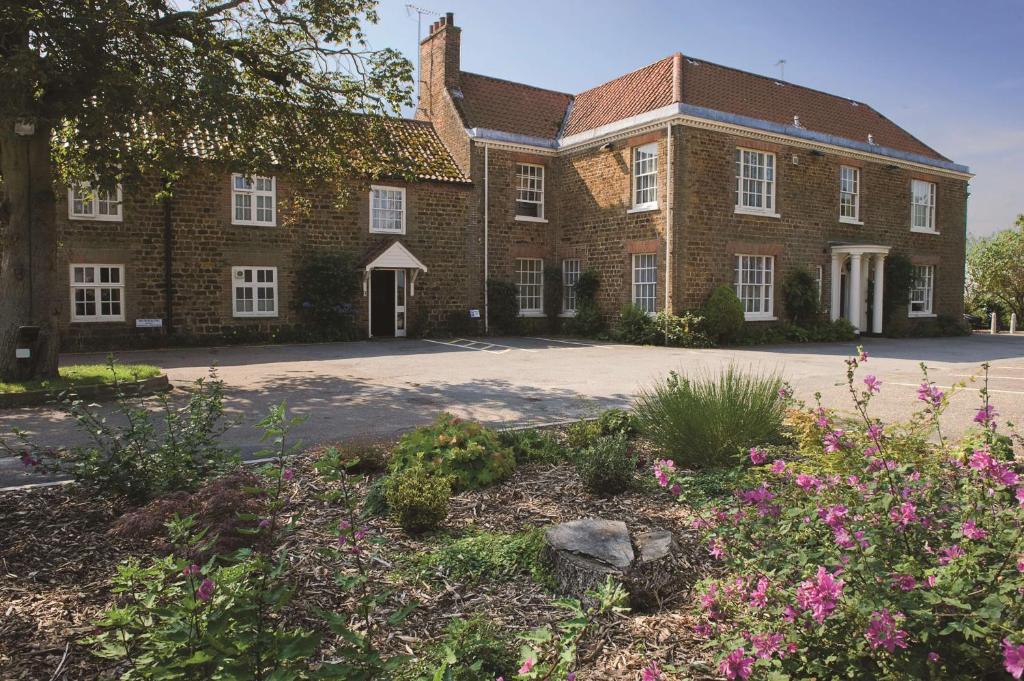 Located in the picturesque West Norfolk countryside, the Kings Lynn Knights Hill Hotel & Spa, BW Signature Collection offers guests a tranquil retreat just a short drive from the historic town of King's Lynn. The hotel features comfortable rooms with en suite bathrooms, tea/coffee making facilities, and TVs. Guests can enjoy free internet access throughout the property, both via Wi-Fi and wired connections. With its stunning views and stylish ambiance, The Garden Restaurant and Bar is the perfect spot to indulge in delicious cuisine. For a more traditional country inn experience, guests can visit the on-site Farmers Arms inn and restaurant, which boasts exposed beams, cobbled floor areas, and cozy nooks to relax in. Pros:
1. Set on 11 acres of lush grounds
2. Close proximity to King's Lynn city center
3. Free internet access available throughout the hotel
4. Two dining options offering a variety of culinary experiences
5. Charming country inn atmosphere in the Farmers Arms
Romantic Hotels with a Pool in Norfolk
Norfolk offers a selection of romantic hotels with pools, perfect for couples seeking a serene and intimate getaway. These hotels boast luxurious pool areas, allowing guests to relax and unwind in a tranquil setting while enjoying each other's company.
Greenbanks Hotel Norfolk (Great Fransham)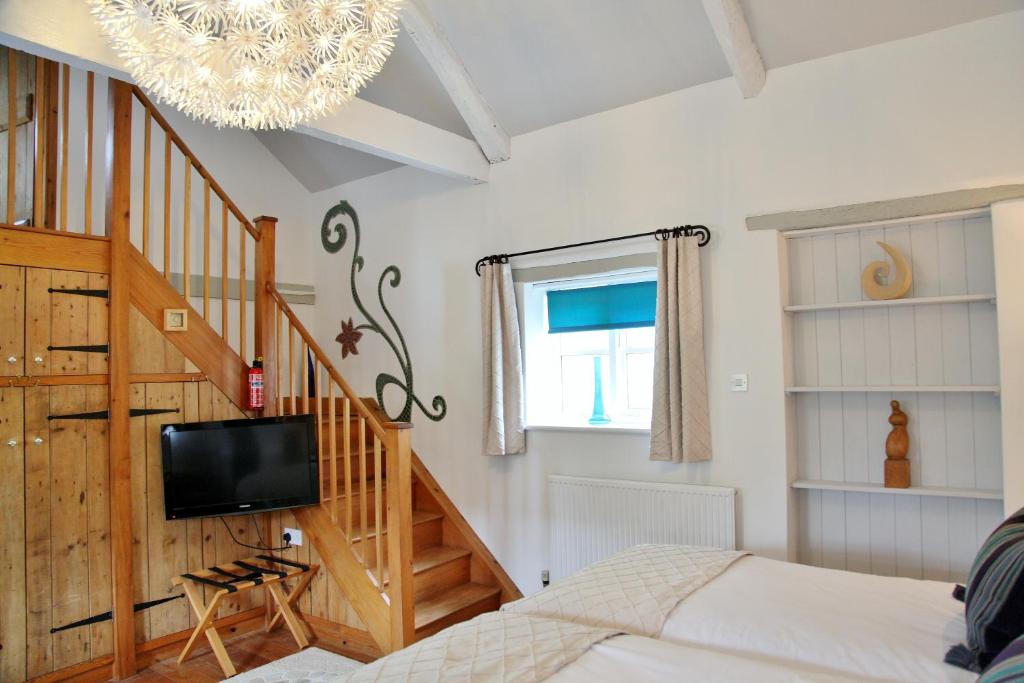 Nestled in the heart of Norfolk, a short drive from East Dereham and Swaffham, Greenbanks Hotel is a charming countryside retreat. Guests can enjoy the luxury of an indoor heated swimming pool, a soothing sauna, and a rejuvenating hot tub. The hotel also offers convenient amenities such as free parking and complimentary Wi-Fi throughout the premises. Each well-appointed room at Greenbanks features an en suite bathroom stocked with free toiletries, as well as tea/coffee making facilities and a TV with Freeview channels. The on-site restaurant prides itself on its varied menu crafted from locally sourced ingredients. The talented chef goes above and beyond to accommodate special dietary requirements and food intolerances. With Norwich and Kings Lynn located within 20 miles away, guests have easy access to explore these vibrant cities. Moreover, the picturesque east coast destinations of Hunstanton and Great Yarmouth are just a short 50-minute drive from the hotel.
– Indoor heated swimming pool
– Relaxing sauna
– Invigorating hot tub
– Locally sourced cuisine at the on-site restaurant
– Convenient location for exploring Norwich, Kings Lynn, Hunstanton, and Great Yarmouth
Norfolk Hotels with Pool Information
| | |
| --- | --- |
| 🛎️ Hotels with a Pool in Norfolk | 7 |
| 💰 Hotel prices starting from | $79 |
| 💵 Highest price | $1182 |
| 🥇 Average Review Score | 8/10 |
| 🛏️ Average number of Rooms | 120 |
FAQ
Can you recommend any luxury hotels in Norfolk with swimming pools?
Yes, there are several luxury hotels in Norfolk that offer beautiful swimming pools for their guests. One highly recommended option is The Pigs, a boutique hotel with a stunning heated outdoor pool surrounded by lush gardens and sun loungers. Another great choice is the Barnham Broom Hotel & Spa, which boasts both indoor and outdoor pools along with a luxurious spa facility.
Are there any budget-friendly hotels in Norfolk that have swimming pools?
Absolutely! If you're looking for budget-friendly options in Norfolk that still offer access to a swimming pool, consider staying at the Premier Inn Norwich City Centre. This hotel offers affordable rates and features an indoor pool where guests can enjoy a refreshing swim after exploring the city. Another option is the Wensum Valley Hotel Golf and Country Club, which provides comfortable accommodations as well as an outdoor pool for guests to unwind.
Do all hotels in Norfolk provide towels for use at their pools?
Yes, most hotels in Norfolk do provide towels for use at their pools. However, it is always best to check with your chosen hotel beforehand to confirm this detail. Some higher-end establishments may even offer plush beach towels specifically for their guests' poolside comfort. If you happen to forget your towel or prefer not to bring one along during your travels, rest assured knowing that most hotels understand this need and strive to accommodate their guests accordingly.
Are there any child-friendly hotels in Norfolk with pools?
Certainly! There are several child-friendly hotels in Norfolk that feature fantastic swimming pools suitable for young ones. The Park Farm Hotel & Leisure is one such establishment offering both indoor and outdoor heated pools perfect for family fun. For those seeking additional amenities like water slides and splash areas, Holiday Inn Norwich – North includes an excellent leisure club complete with multiple children's activities beside its inviting indoor pool.
Can I expect any complimentary services or facilities alongside the pool at hotels in Norfolk?
Yes, many hotels in Norfolk offer complimentary services and facilities alongside their pools to enhance guests' experiences. You might find amenities such as sun loungers, parasols, poolside bars or cafes where you can order drinks and snacks, towel service, and even dedicated lifeguards ensuring safety. It's always a good idea to inquire about these offerings when booking your stay to make the most of your time relaxing by the pool in Norfolk.
Popular Hotels with Pools destinations