Best 11 Hotels with Pools in Jersey
Welcome to our latest exploration of luxurious accommodations in the enchanting island of Jersey, located in the United Kingdom. As we dive into this delightful destination, we can't help but marvel at the plethora of opulent hotels adorned with exquisite swimming facilities. Whether you seek a tranquil retreat or an invigorating escape, these establishments boast an array of aquatic havens that are sure to captivate even the most discerning traveler.
Picture yourself basking under the sun's warm embrace, cocktail in hand, as you admire the mesmerizing vistas from poolside. In Jersey, this idyllic scene becomes a reality as you immerse yourself in a world where relaxation and indulgence go hand in hand. With a wealth of options available, each hotel entices guests with unique and lavish swimming sanctuaries. From sparkling infinity pools overlooking sweeping coastal panoramas to secluded oasis-like retreats cocooned within lush gardens – there is something here for every water enthusiast.
Indulge your senses as you dip into crystal-clear turquoise waters or rejuvenate your body with invigorating laps amidst breathtaking settings. Whether it's a romantic getaway or a family adventure, these magnificent hotels provide exceptional amenities where guests can unwind and create memories that will last a lifetime. So pack your swimsuit and join us on this immersive journey through Jersey's most prestigious hotels boasting extraordinary aquatic escapes!
The Best Jersey Hotels with a Pool
Somerville Hotel (Saint Aubin)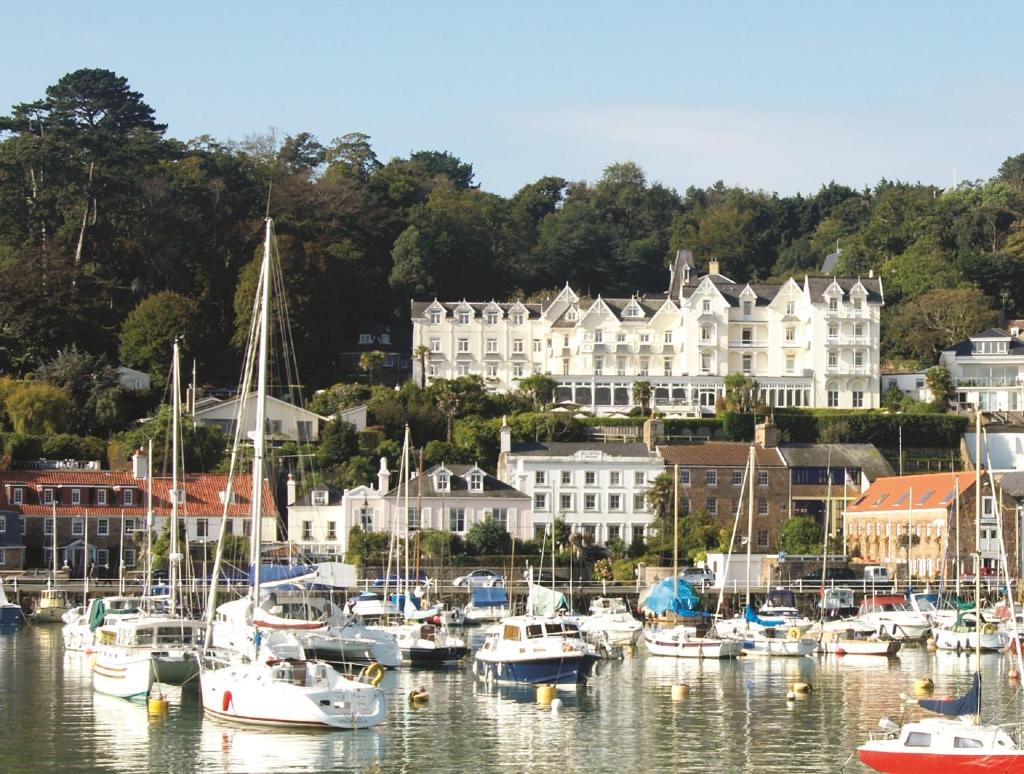 Nestled on a hillside overlooking the picturesque harbour of St. Aubin, the Somerville Hotel in Saint Aubin is a charming retreat surrounded by award-winning gardens. With its outdoor swimming pool and terrace, guests can enjoy spectacular views while lounging under the sun. The hotel offers individually designed rooms that are luxuriously furnished for ultimate comfort. Food enthusiasts will be delighted by the extensive menu created by talented chefs who use seasonal local produce, paired with a competitively priced list of fine wines. After indulging in delectable dishes, guests can retire to their private rooms for a peaceful evening. With St. Aubin's Bay and Belcroute cove just minutes away, this hotel is perfectly situated to explore sandy beaches and enjoy coastal activities.
Pros:
– Stunning views from outdoor swimming pool and terrace
– Individually designed rooms with luxurious furnishings
– Extensive menu using seasonal local produce
– Competitive pricing for fine wines
– Close proximity to beautiful sandy beaches and coastal activities
Hotel Savoy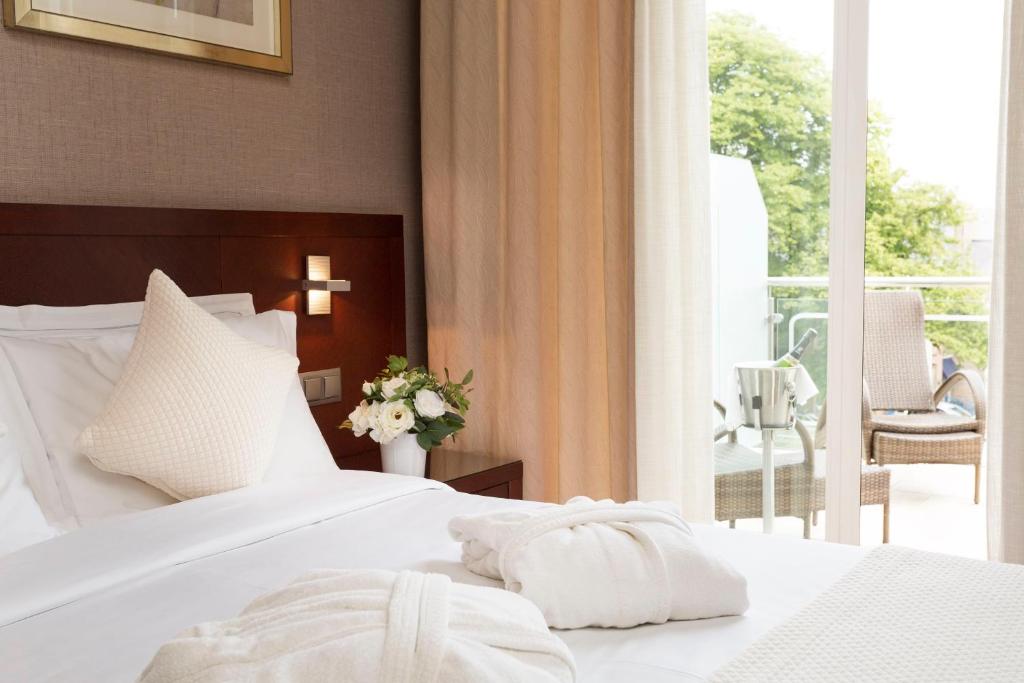 Originally a 19th-century manor house, Hotel Savoy offers a range of amenities for guests to enjoy. The hotel features a gym and a seasonal swimming pool, perfect for those looking to stay active during their stay. Guests can also dine at Restaurant 1840, which serves a delicious seasonal menu, or relax at Roberto's Jazz Bar with live music. The hotel also provides free WiFi and business facilities, ensuring that guests can stay connected and productive throughout their visit. The rooms at Hotel Savoy are well-appointed with modern amenities including plasma-screen TVs with satellite channels and facilities for making tea and coffee. Conveniently located just a 7-minute walk from St Helier town centre, the hotel is an ideal base for exploring the island's attractions. Beaches are also within easy reach, just a 10-minute walk away, and there is even a bus stop right outside the hotel.
– Gym and seasonal swimming pool
– Restaurant 1840 serving seasonal menu
– Live music at Roberto's Jazz Bar
– Free WiFi and business facilities available
– Convenient location close to town centre and beaches
The Royal Yacht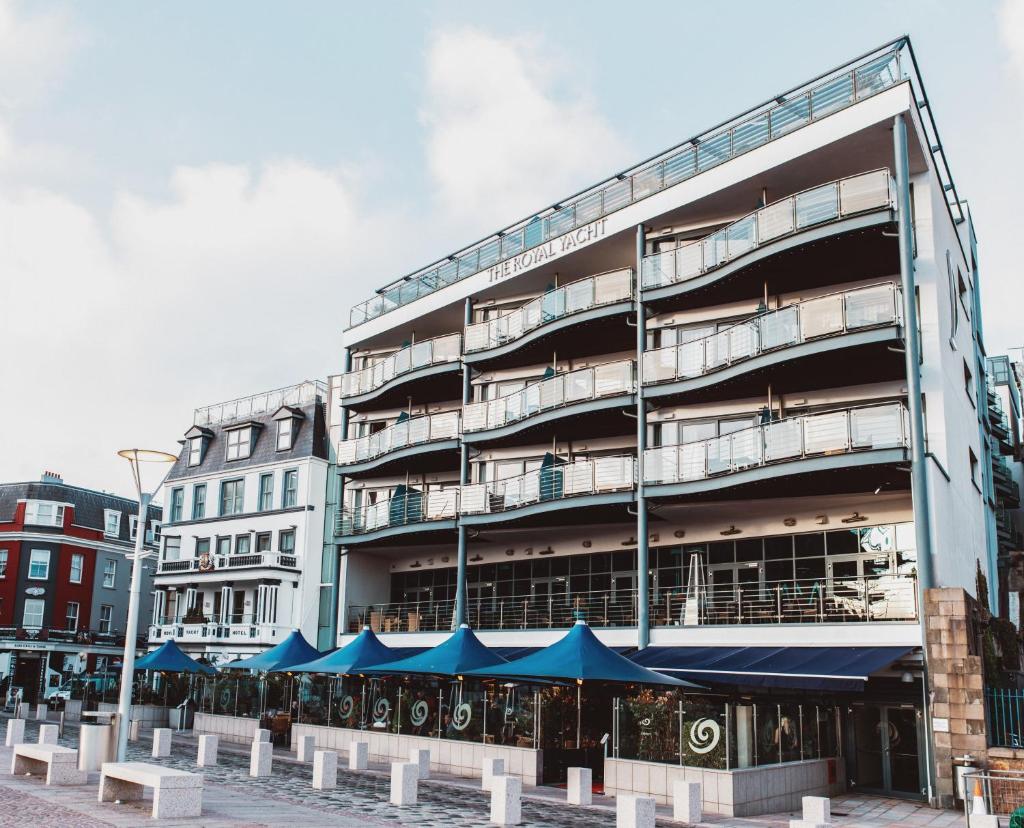 The Royal Yacht is a stylish hotel located in central St Helier, offering modern rooms with free Wi-Fi. The hotel features 2 restaurants and a brasserie cafe, as well as the on-site SpaSirene which includes an indoor pool, steam room, and beauty treatments. For families, the hotel provides passes to Aquasplash, a pool and water slide center just a short walk away. The rooms at The Royal Yacht are designed with contemporary decor and include amenities such as LCD TVs with pay movies, safes, and tea/coffee facilities. Some rooms even have balconies or terraces. Guests can enjoy the adult-only Spa Sirene which offers therapies using Phytomer products, along with a sauna, aromatherapy room, spa bath, and state-of-the-art gym. Additionally, the hotel is conveniently situated near shops, restaurants, galleries, and the ferry terminal. There are also two sandy beaches within a five-minute drive from the property. Dining options include Sirocco Restaurant serving a contemporary menu and Café Zephyr offering outdoor dining. The Royal Yacht boasts four stylish bars with live music for guests to enjoy their evenings.
Pros:
– Stylish rooms with modern design
– On-site SpaSirene including an indoor pool
– Convenient location in central St Helier
– Complimentary passes to nearby water slide center for children
– Multiple dining options including restaurants and bars
Other places to stay in Jersey
Hotels with Pools in Jersey with Nice Views
Hotels with pools in Jersey offer a refreshing escape with their beautiful views. Whether it's overlooking the sparkling ocean or surrounded by lush green landscapes, these hotels provide a tranquil and picturesque setting for guests to relax and unwind.
L'Horizon Beach Hotel & Spa (St Brelade)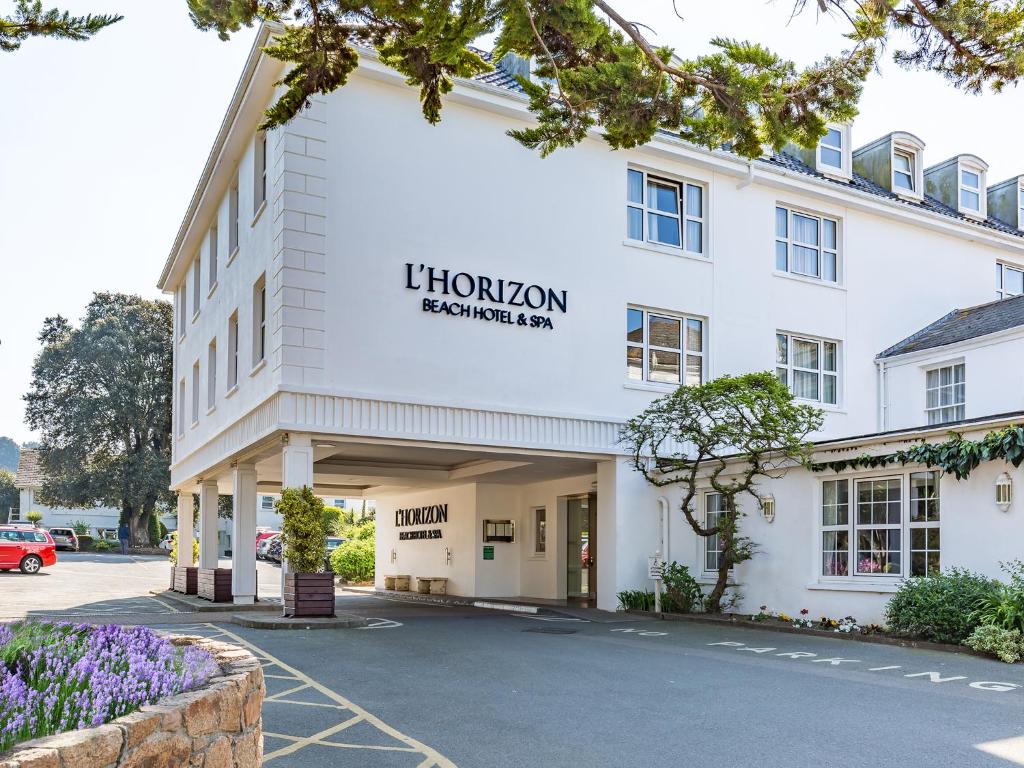 L'Horizon Beach Hotel & Spa is a stunning luxury hotel overlooking Jersey's most picturesque bay in St Brelade. Situated just a short 5-minute drive from Jersey Airport, this hotel offers a range of amenities for its guests to enjoy. The highlight of the hotel is undoubtedly the indoor heated salt-water swimming pool and spa, perfect for relaxation and rejuvenation. Additionally, there are two award-winning restaurants on-site: The Grill, known for its delectable seafood menu, and The Crystal Room, serving up traditional dishes. For those looking to unwind further, there is a sauna and steam room available, as well as a small gym for fitness enthusiasts. Each modern and spacious room at L'Horizon Beach Hotel & Spa comes with complimentary mineral water, Wi-Fi access, and luxurious toiletries by Gilchrist & Soames. Some rooms also boast breathtaking sea views. Guests can indulge in snacks at the brasserie or opt for al fresco dining on the beachfront terrace while enjoying the serene surroundings. Those seeking pampering can make use of the hotel's two spa treatment rooms or relax in the hot tub with panoramic views over St Brelade's Bay. Traveling to Jersey is made convenient with a ferry from St Malo taking only 45 minutes to reach the island. Lastly, free parking is available on-site for guests' convenience.
– Indoor heated salt-water swimming pool
– Award-winning restaurants serving seafood and traditional dishes
– Sauna and steam room facilities
– Modern rooms with sea views available
– Two spa treatment rooms and hot tub with panoramic bay view
Hotel Cristina (St Lawrence)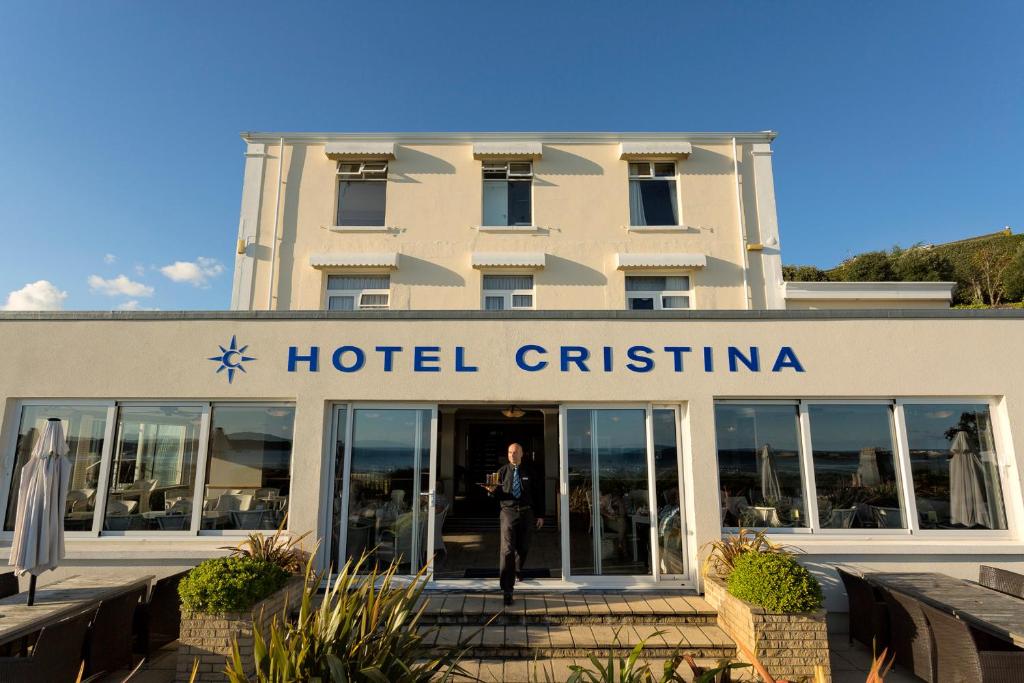 Hotel Cristina, located on the edge of Jersey's country lane network, offers a perfect blend of convenience and tranquility. Situated just minutes away from the beach, this hotel boasts breathtaking views over St Aubin's Bay, providing guests with a truly mesmerizing experience. The peaceful location makes it an ideal choice for those looking to explore Jersey's unique heritage sites. The hotel's outdoor pool and terrace provide a natural sun trap, offering stunning views of the gardens and sea. With its close proximity to the airport and St Helier, as well as being within walking distance of the beach, Hotel Cristina is perfectly situated for guests to explore all that the island has to offer.
– Conveniently located near the airport and St Helier
– Breathtaking views over St Aubin's Bay
– Peaceful location ideal for exploring heritage sites
– Heated swimming pool and terrace with stunning garden and sea views
– Close proximity to the beach allows easy access for leisure activities
Merton Hotel (St. Saviour)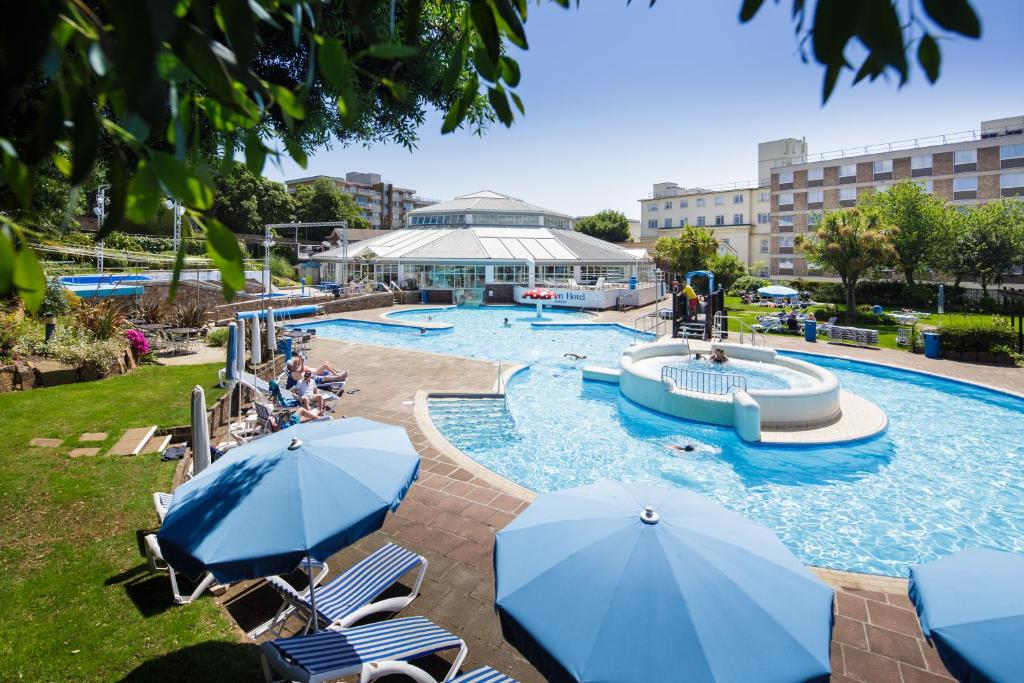 Located just a short 10-minute walk from St Helier, the Merton Hotel in St. Saviour offers guests a fantastic water park with exciting slides and a rejuvenating spa. The hotel provides free parking for guests and boasts five different dining options to choose from. The highlight of the hotel is its unique Aquadome, featuring both indoor and outdoor pools, as well as a sauna, steam room, and hot tub. Each spacious bedroom at the Merton comes with its own private bathroom, tea and coffee making facilities, and a flat-screen TV with complimentary 24-hour movies and WiFi access. For those looking to stay active during their visit, the hotel also offers amenities such as a surf machine, fitness center, and tennis court. Guests can indulge in delicious cooked breakfasts or evening buffets at Belvedere Restaurant or enjoy an American dining experience at Jersey Joe's. Additionally, Bonetti's Italian Brasserie provides an authentic taste of Italy while the sports bar offers a lively atmosphere for sports enthusiasts. For live entertainment and activities suited for children, there is also the Star Room available on-site. Conveniently located within walking distance of both St Helier city center and St Helier Harbour (a 20-minute walk), the Merton Hotel promises an enjoyable stay filled with fun-filled amenities.
– Exciting water park complete with thrilling slides
– Variety of dining options including cooked breakfasts
– Unique Aquadome offering indoor/outdoor pools
– Amenities such as surf machine, fitness center & tennis court
– Convenient location near city center & harbor
Romantic Hotels with a Pool in Jersey
Jersey offers a collection of romantic hotels with pools, providing couples with the perfect retreat for a luxurious and intimate getaway. Whether it's soaking in a private plunge pool or lounging by a serene infinity pool overlooking the stunning coastline, these accommodations offer an idyllic setting for romance to flourish.
Hotel de France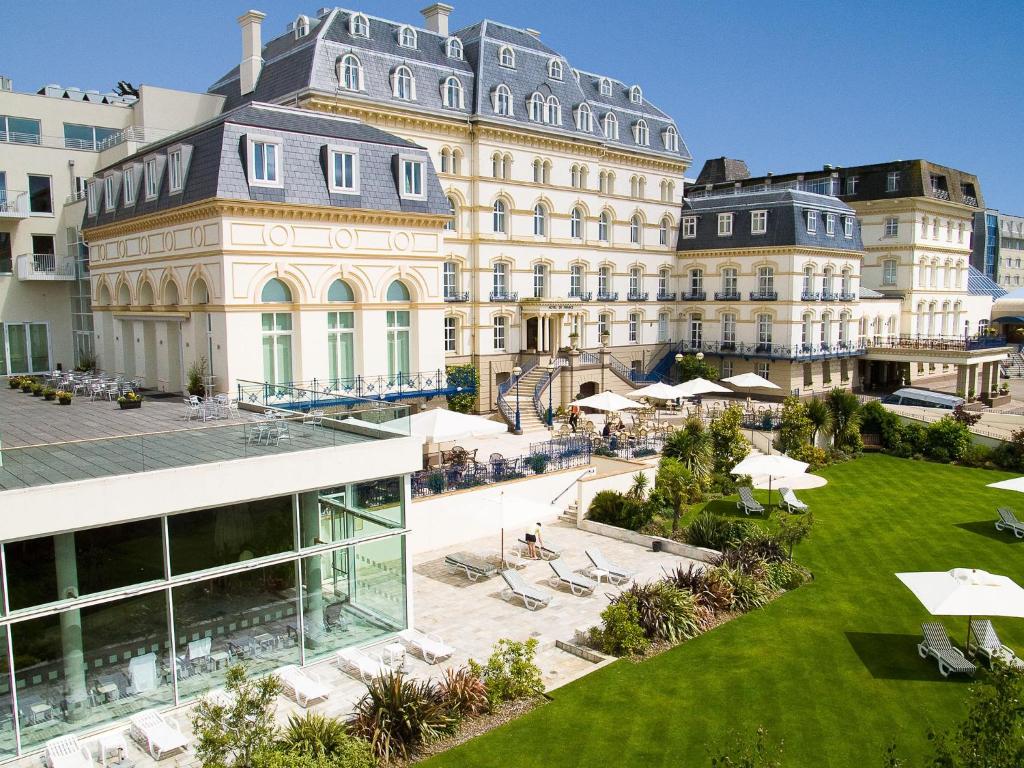 Located on the picturesque island of Jersey, Hotel de France is a 4-star luxury hotel that offers a serene retreat just a short 15-minute walk from the town center. The hotel provides free WiFi and parking for its guests, along with a spa, gym, and swimming pool complex. With three distinct dining areas, including the Palm room with its towering palm trees, guests can indulge in delicious cuisine inspired by traditional French cooking techniques and featuring local ingredients with exciting twists. The hotel also boasts an extensive bar area and both covered and open terraces to enjoy breathtaking sunsets. For ultimate relaxation and wellness, guests can unwind at the large Ayush Wellness Spa which features swimming pools, sauna, steam room, and 6 treatment rooms. Additionally, there is an impressive fitness center for those looking to stay active during their stay. Conveniently located just 1 km from the ferry port and a short 15-minute drive from Jersey Airport.
– Tranquil location on Jersey Island
– Free WiFi & parking
– Luxurious spa facilities including swimming pools
– Unique dining experience combining French cuisine with local ingredients
– Convenient proximity to ferry port and airport
Hotel La Place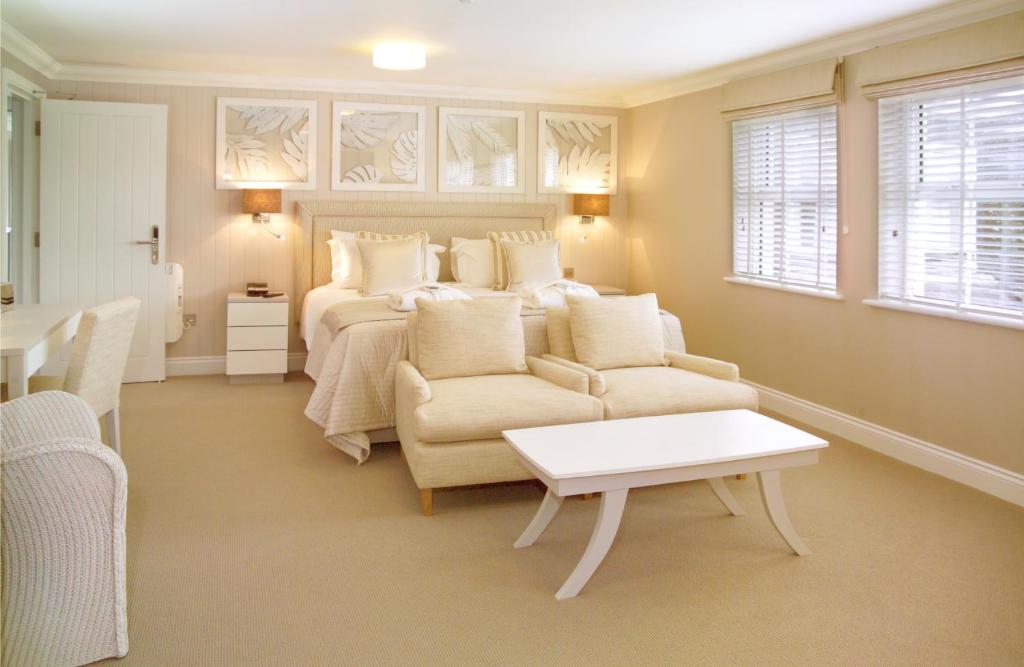 Hotel La Place is a charming boutique hotel nestled in the beautiful rural setting of Jersey. Housed in a restored 17th-century farmhouse, this tranquil retreat offers guests peaceful and comfortable accommodation. The highlight of the hotel is its inviting outdoor pool, perfect for a refreshing dip on sunny days. All guestrooms at Hotel La Place boast stunning views of either the pool or the picturesque Jersey countryside. The award-winning Retreat Restaurant showcases the best local produce and provides al fresco dining options in the hotel courtyard. Each room is equipped with modern amenities including tea/coffee making facilities, a flat-screen TV, a fridge, safe, and hairdryer. Guests can also enjoy satellite TV, work areas, and ironing facilities in their rooms. Bathrobes and slippers are provided for added comfort. For further relaxation, guests can unwind at the Retreat Bar which serves lattes, cocktails, and snacks. Conveniently located just a 5-minute drive from Jersey Airport and 10 minutes from St Helier, Hotel La Place offers an ideal base for exploring all that this stunning island has to offer.
– Peaceful location in rural Jersey
– Charming restored farmhouse setting
– Outdoor pool for relaxation
– Award-winning on-site restaurant with al fresco dining option
– Close proximity to both airport and St Helier capital
Longueville Manor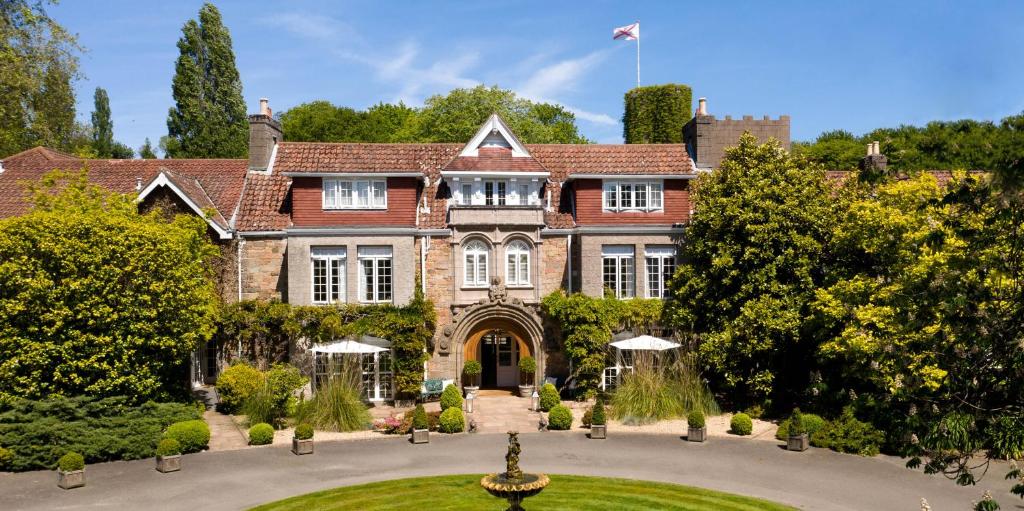 Located just outside St Helier, Longueville Manor is a charming 14th-century manor house that offers a luxurious and memorable stay. The hotel features a 3 AA-Rosette restaurant with oak-paneled dining rooms and garden views, serving creative dishes made from locally sourced produce. Guests can unwind in the outdoor pool area, which also offers al fresco dining options, or enjoy a casual cocktail at the hotel's cocktail bar. Longueville Manor is nestled within 18 acres of private woodland, offering a serene setting for guests to explore with amenities such as a tennis court, croquet lawn, and jogging trails. The hotel also boasts an idyllic boutique spa called The Cottage Garden with two treatment rooms, a fitness center, and a serene garden complete with a spa pool. Each individually decorated room at Longueville Manor offers modern amenities including flat-screen TVs/DVD players, free Wi-Fi access, iPod docks, Blu-ray players, fresh fruit and flowers, mineral water, and luxurious bathrooms stocked with bespoke toiletries, scented candles robes and slippers. For wine enthusiasts, the hotel houses an impressive state-of-the-art wine cellar that showcases over 4,o00 wines including rare bottles of Champagne's and Ports. Indulgent afternoon teas and traditional cooked breakfasts are available for guests to savor during their stay. Additionally,guests can relax in the leafy gardens or on the poolside terrace while taking in the picturesque surroundings. Conveniently located just one mile from St Helier Beach and nearby attractions like Royal Jersey Golf Club,the city center of St Helierwith its marina shopping bars,and restaurants are only five minutes away by car making it easy to explore all that Jersey has to offer.
Pros:
– Charming 14th-century manor house
– Award-winning restaurant offering creative dishes made from locally sourced produce
– Outdoor pool area with al fresco dining options
– Boutique spa with two treatment rooms and a serene garden
– Convenient location near St Helier Beach and city center attractions
Hotels with Pools in Jersey That Are Good for Families
Jersey offers a range of hotels with pools that are perfect for families. Whether you're looking for a relaxing dip or a fun-filled day by the pool, these family-friendly hotels provide a refreshing escape during your Jersey vacation.
Radisson Blu Waterfront Hotel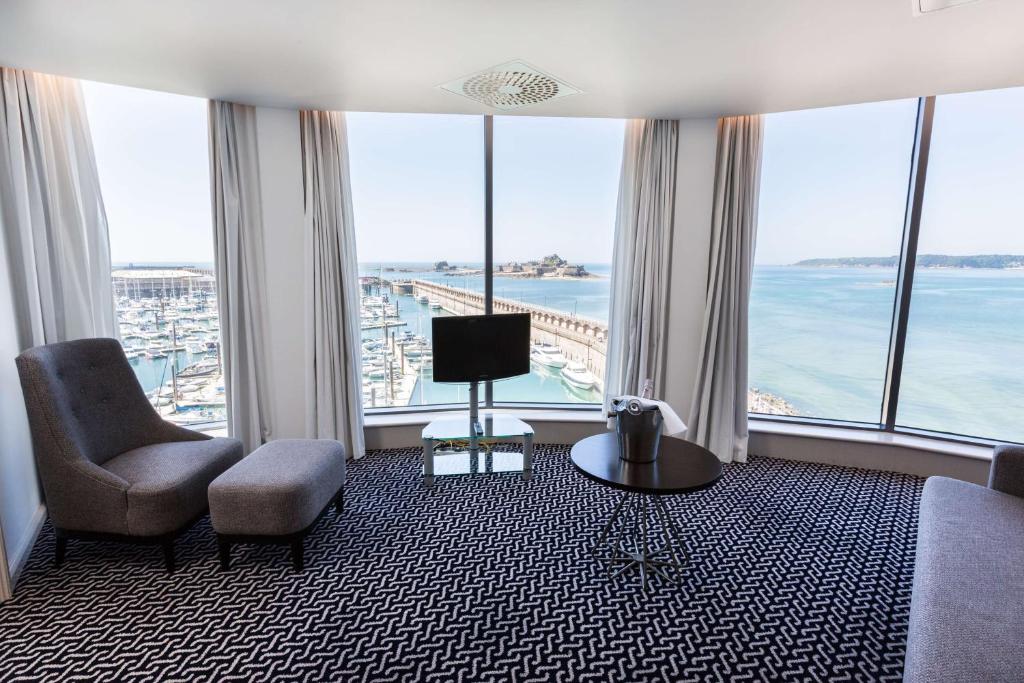 Located on the picturesque waterfront of St Aubin's Bay, the Radisson Blu Waterfront Hotel in Jersey offers guests a luxurious stay with stunning views. The hotel features a health club with a pool, beauty salon, and an exquisite Waterfront Restaurant, Bar, and Terrace overlooking the marina. The elegantly designed rooms offer either town or sea views, and come equipped with modern amenities such as free Wi-Fi, flat-screen TV, fridge, and 24-hour room service. Guests can enjoy fantastic facilities at Fabriah Hair & Beauty Salon including a sauna, steam room, fully equipped gym, massages,body therapies,facials,and hair treatments. The Waterfront Restaurant serves delectable dishes made from fresh local ingredients while the chic Waterfont Bar provides a stylish atmosphere bathed in sunlight from floor-to-ceiling windows leading to a south-facing terrace with breathtaking sea views. With beautiful beaches nearby and St Helier's city center just a short walk away,the hotel offers convenient access to both relaxation and exploration. Plus,it provides free parking for added convenience.
– Spectacular waterfront location
– Health club with pool
– Fabriah Hair & Beauty Salon offering extensive spa facilities
– Delicious dining options at the Waterfront Restaurant
– Free parking available
Greenhills Country Hotel (Saint Peters)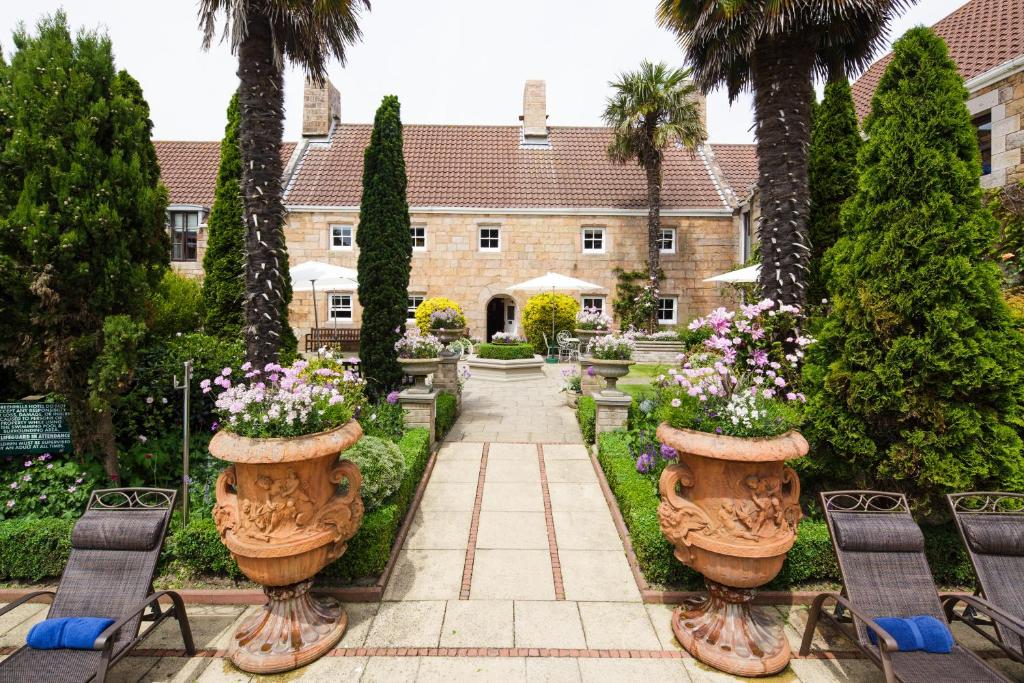 Located in the serene countryside of St. Peter, the Greenhills Country Hotel offers a tranquil retreat with its picturesque gardens and an inviting outdoor heated pool. The hotel's restaurant holds an esteemed AA Rosette and serves delectable table d'hôte menus featuring locally sourced seafood. During summer, guests can enjoy alfresco dining on the terrace. Inside, the comfortable bedrooms boast a blend of traditional decor with modern touches, complemented by luxurious bedding and toiletries. The dedicated staff at Greenhills are friendly and always ready to assist guests during their stay. As an added bonus, guests have complimentary access to the Aquadome Leisure Club at Merton Hotel, which features an indoor pool, sauna, gym, and café.
– Peaceful setting amidst St. Peter's green lanes
– Beautifully landscaped gardens
– Acclaimed AA Rosette restaurant serving local produce
– Comfortable bedrooms blending tradition with modernity
– Complimentary access to Merton Hotel's Aquadome Leisure Club
Jersey Hotels with Pool Information
| | |
| --- | --- |
| 🛎️ Hotels with a Pool in Jersey | 11 |
| 💰 Hotel prices starting from | $255 |
| 💵 Highest price | $1889 |
| 🥇 Average Review Score | 8.7/10 |
| 🛏️ Average number of Rooms | 73 |
FAQ
Can you recommend any luxury hotels with pools in Jersey?
Certainly! There are several luxury hotels in Jersey that offer pools for their guests to enjoy. One highly recommended option is The Atlantic Hotel, which boasts a stunning outdoor pool overlooking the beautiful St Ouen's Bay. Another great choice is Longueville Manor, a luxurious country house hotel with an indoor pool and spa facilities. Both of these hotels provide a perfect combination of luxury accommodation and fantastic pool amenities.
Are there any budget-friendly hotels in Jersey with pools?
Yes, there are a few budget-friendly options in Jersey that still offer pools for their guests' enjoyment. The Merton Hotel is one such choice, offering both indoor and outdoor pools as part of their extensive leisure complex. Another affordable option is the Mayfair Hotel, which features an outdoor heated swimming pool surrounded by sun loungers and a tropical garden area.
Do all hotels with pools in Jersey provide towels for guests to use?
In most cases, yes! The majority of hotels with pools in Jersey will provide towels for their guests to use while enjoying the pool facilities. However, it's always best to check directly with your chosen hotel before arrival to ensure that you pack accordingly.
Are children allowed to use the pool at all hours in Jersey's hotels?
The policies regarding children using hotel pools vary from property to property in Jersey. Some hotels may have specific designated times when children can access the pool, while others may allow unrestricted access throughout the day. It's advisable to inquire directly with your chosen hotel about their policies regarding children's access and supervision at the pool.
What safety measures are implemented by hotels for their swimming pools in Jersey?
Hotels take the safety of their guests very seriously, especially when it comes to swimming pool facilities. Most establishments will have trained lifeguards or responsible staff members overseeing the main areas of the pool during operational hours. In addition, many hotels in Jersey also have safety measures in place, such as clear signage, depth markings, and security cameras to ensure a safe and enjoyable pool experience for all guests.
Popular Hotels with Pools destinations