Best 10 Hotels with Pools in Ella
Welcome to Ella, Sri Lanka, where picturesque landscapes and breathtaking views await you at every turn. Nestled amidst the lush greenery of this charming town are some truly magnificent hotels offering a rejuvenating oasis for travelers. And what better way to beat the tropical heat than by taking a dip in one of their inviting swimming areas?
Ella's hotels with pools offer much more than just a place to cool off; they provide an exquisite retreat that seamlessly blends luxury and natural beauty. As you soak in the crystal-clear waters, surrounded by vibrant foliage and scenic vistas, you'll feel like you've stepped into paradise itself. Whether you prefer lounging poolside with a refreshing cocktail or taking a leisurely swim under the radiant sun, these hotels have thoughtfully designed their pools to cater to your every desire.
Immerse yourself in pure tranquility as you unwind on plush sunbeds amidst palm trees swaying gently in the breeze. The mesmerizing sounds of nature will lull you into relaxation while your cares melt away under the warm Sri Lankan sun. Soak up the ambiance as you indulge in delectable cuisine served right beside the pool or pamper yourself with an invigorating spa treatment overlooking the stunning infinity edge pool.
In Ella, let your worries float away as you discover these enchanting hotels with pools that will leave you refreshed and revitalized throughout your stay.
The Best Ella Hotels with a Pool
Madulkelle Tea and Eco Lodge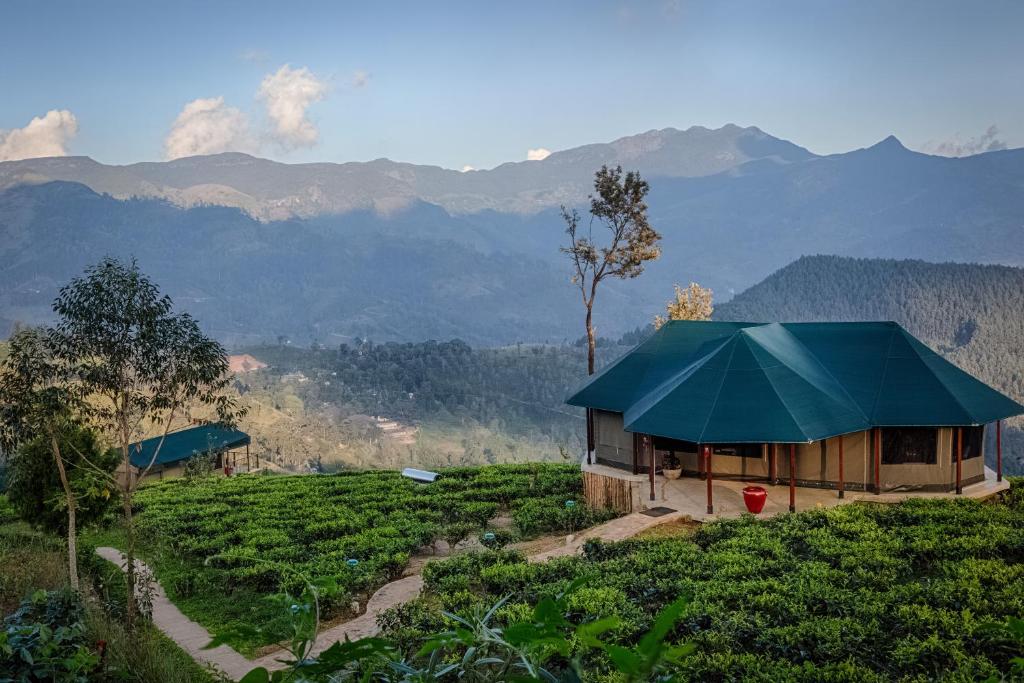 Madulkelle Tea and Eco Lodge is a stunning resort nestled amidst picturesque rolling green hills and the Madulkelle Tea Estate. The property offers luxurious tents with a terrace, seating area, and en suite bathrooms featuring hot/cold water facilities. Guests can enjoy wired internet access and dine at the on-site restaurant that serves delectable dishes made with organic vegetables from their own garden. This peaceful retreat is conveniently located just a 15-minute walk from Hatale Waterfalls and a 40-minute drive from the UNESCO World Heritage Site of Knuckles Mountain Range. Guests can relax by the outdoor pool, indulge in campfires organized by the friendly staff, or take guided visits to the nearby tea factory. Additional activities like trekking and day trips are readily available upon request. With Kandy Town only 30 km away and Colombo City at a distance of 140 km, this eco-lodge provides an ideal escape from city life while still being easily accessible.
– Beautiful location amidst rolling green hills
– Luxurious tents with private terraces
– Delicious dining options using organic vegetables
– Close proximity to Hatale Waterfalls and Knuckles Mountain Range
– Outdoor pool for relaxation
Ella Planters Bungalow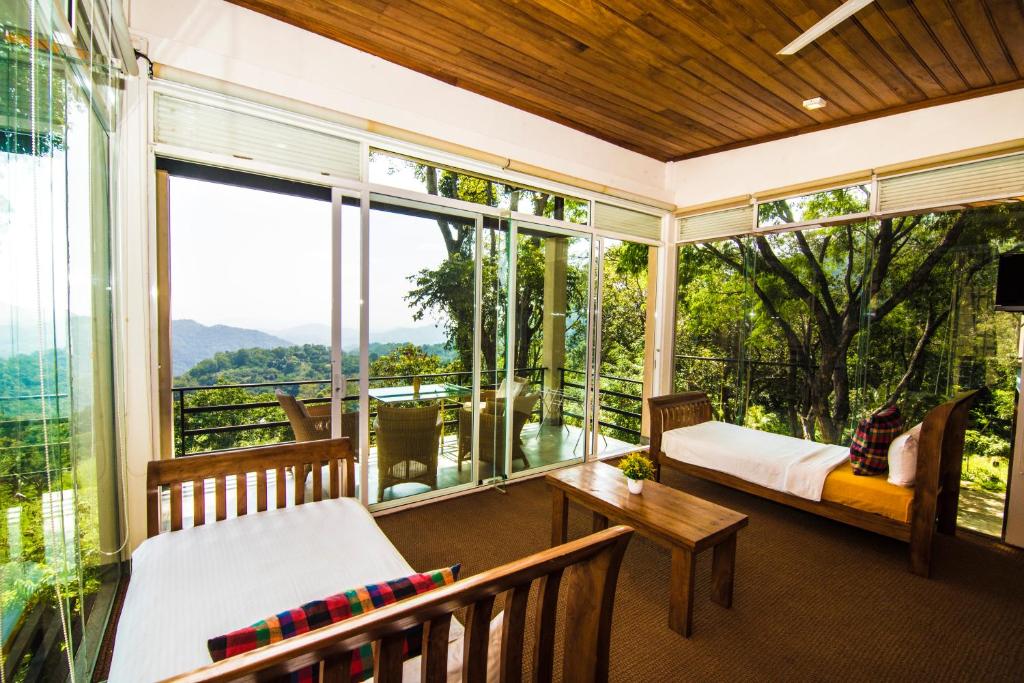 Located in the beautiful town of Ella, Planters Bungalow is a boutique-style eco-friendly hotel offering a serene and luxurious stay. The property features an outdoor swimming pool and provides free WiFi in public areas. Guests can indulge in delicious meals at the on-site restaurant and enjoy refreshing drinks at the bar. Each room is elegantly furnished with a seating area, work desk, and dining table. The private bathrooms come with showers and complimentary toiletries. With garden views from every room, guests can relax and unwind in a peaceful setting. Planters Bungalow also offers a garden, barbecue facilities, grocery deliveries, water sports facilities, cooking classes, and meeting facilities to cater to all guest needs. Outdoor enthusiasts can engage in activities such as cycling and hiking both on-site or nearby. The hotel also offers free parking for added convenience. Packed lunches can be requested for those looking to explore the surrounding areas or embark on day trips. With its close proximity to Mattala Rajapaksa International Airport (62 km) and Ella city (9 km), as well as attractions like Rawana waterfalls (5 km), Planters Bungalow is an ideal choice for travelers seeking tranquility amidst nature.
Pros:
– Boutique-style eco-friendly property
– Outdoor swimming pool
– Delicious meals at the on-site restaurant
– Beautiful garden views from every room
– Convenient location with easy access to attractions
The Kandyan Manor Home Stay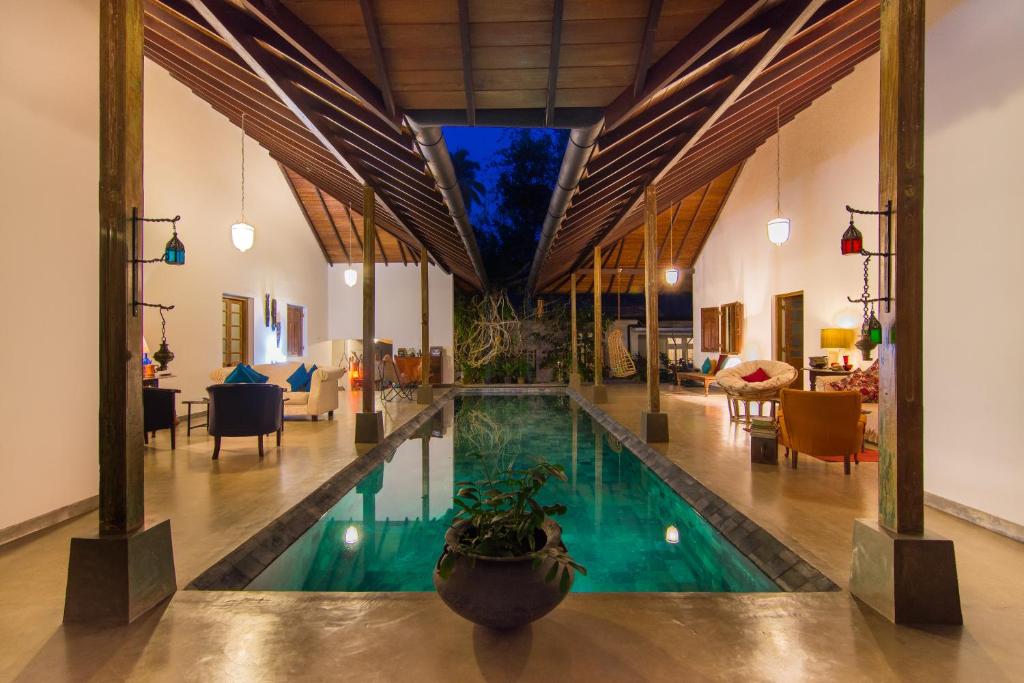 Located just a 5-minute walk from the historic Sri Rajasingharamaya Temple, The Kandyan Manor Home Stay offers a choice between rustic cottages and modern rooms. Situated 4.5 km from both Kandy City and Kandy Railway Station, this charming property features barbecue facilities and outdoor seating in its lush gardens. The simply furnished rooms come equipped with fans, while the cottages have mosquito nets for added comfort. En suite bathrooms are fitted with showers. Colombo International Airport is approximately a 4-hour drive away. Guests can enjoy free internet in public areas and take advantage of laundry services and complimentary parking offered by the home stay. Delicious meals can be ordered from the kitchens upon request or enjoyed through convenient room service options. A tour desk is also available to assist guests in planning their excursions.
Pros:
– Convenient location near prominent ancient sites and within easy reach of Kandy City
– Choice between cozy cottages or modern rooms
– Beautiful gardens with barbecue facilities for guests to enjoy
– Helpful amenities such as free internet, laundry services, and complimentary parking
– In-room dining options available for added convenience
Hotels with Pools in Ella with Nice Views
Ella, Sri Lanka is blessed with picturesque landscapes, making it an ideal destination for hotels with pools boasting stunning views. Whether nestled amidst lush greenery or perched on hilltops overlooking cascading waterfalls, these properties offer a serene oasis to sip cocktails and unwind while soaking in the breathtaking surroundings.
Hotel Topaz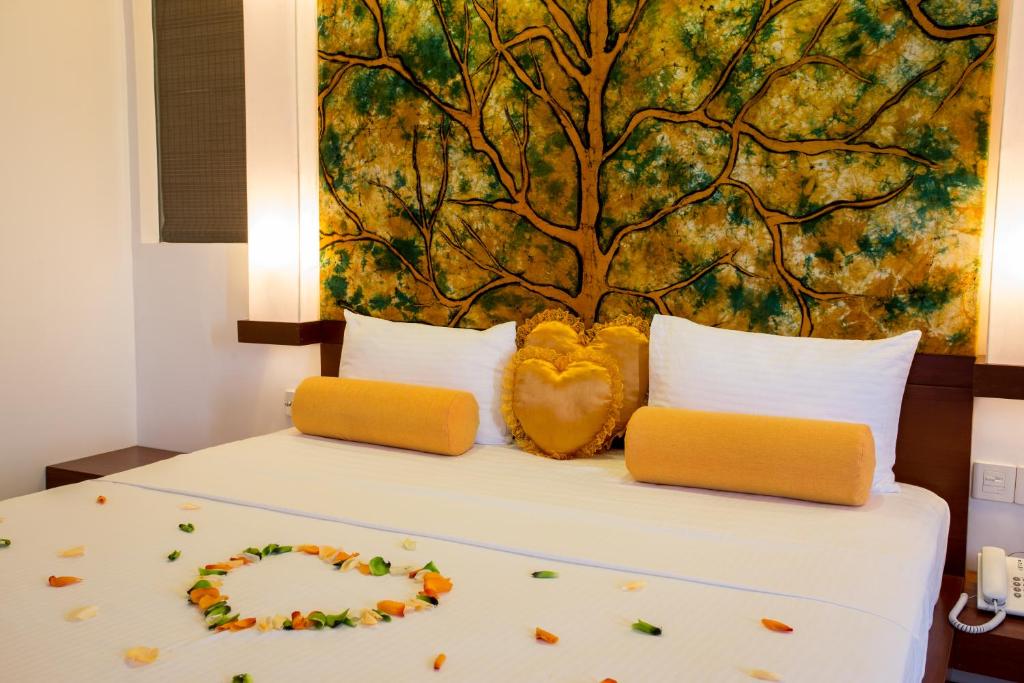 Hotel Topaz is a luxurious mountain retreat located on top of Anniewatte Mountain. With its elegant accommodation and stunning views of the mountain, guests can unwind and relax in style. The hotel offers a range of amenities including a spa, a large outdoor pool, tennis courts, and a fitness center. For those seeking relaxation, the Ayurvedic Centre provides soothing massages and body treatments. Guests can indulge in delicious local dishes at the hotel's restaurant or enjoy international meals. Room service is also available for added convenience. With its close proximity to the famous Temple of the Tooth and Bandaranaike International Airport, Hotel Topaz is an ideal choice for travelers looking for luxury and comfort.
– Luxurious accommodations with comfortable bedding
– Large windows allowing natural light into rooms
– Free WiFi throughout the property
– Beautiful views of the mountain from guestrooms
– On-site night club for entertainment
Grand Udawalawe Safari Resort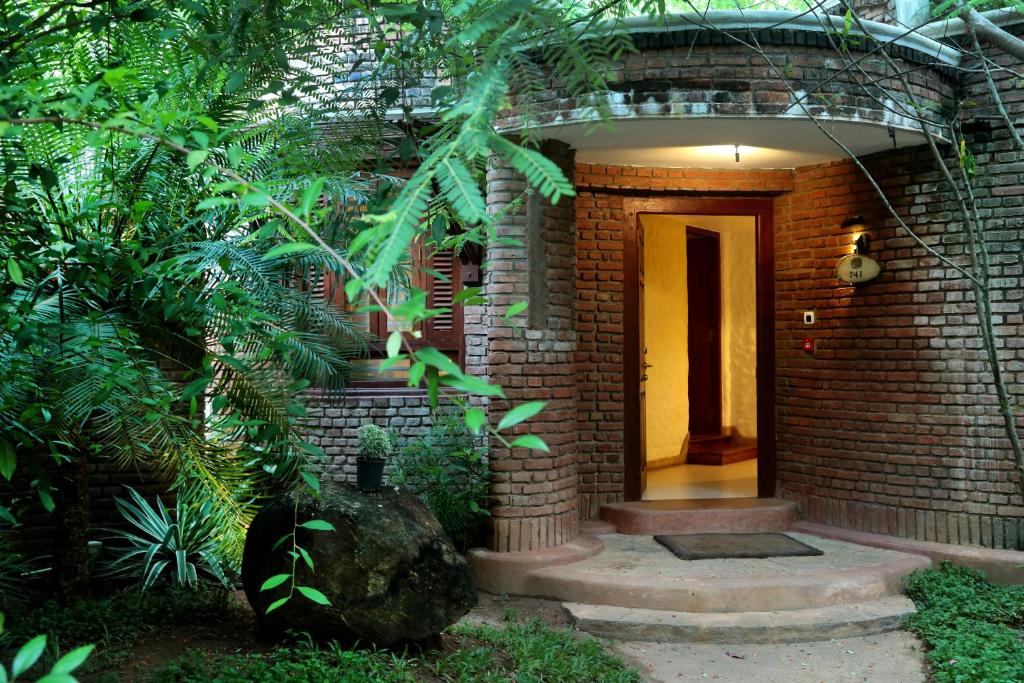 Located just a 10-minute drive from the famous Udawalawe National Park, Grand Udawalawe Safari Resort is a stunning getaway surrounded by nature. The resort boasts an outdoor swimming pool and spacious rooms with picturesque views. Guests can take advantage of free parking on site, making it convenient for those traveling by car. The hotel is also conveniently located near Ath Athuru Sevana, an elephant orphanage, and Katunayake Airport is approximately 160 km away. For sports enthusiasts, the Mahinda Rajapaksa International Cricket Stadium is just a short 40-minute drive away.
– Spacious rooms with beautiful views
– Outdoor swimming pool for relaxation and leisure
– Convenient location near Udawalawe National Park and other attractions
– Free parking available on site
– In-house restaurant serving delicious local and international cuisine
Nil Diya Mankada Safari Lodge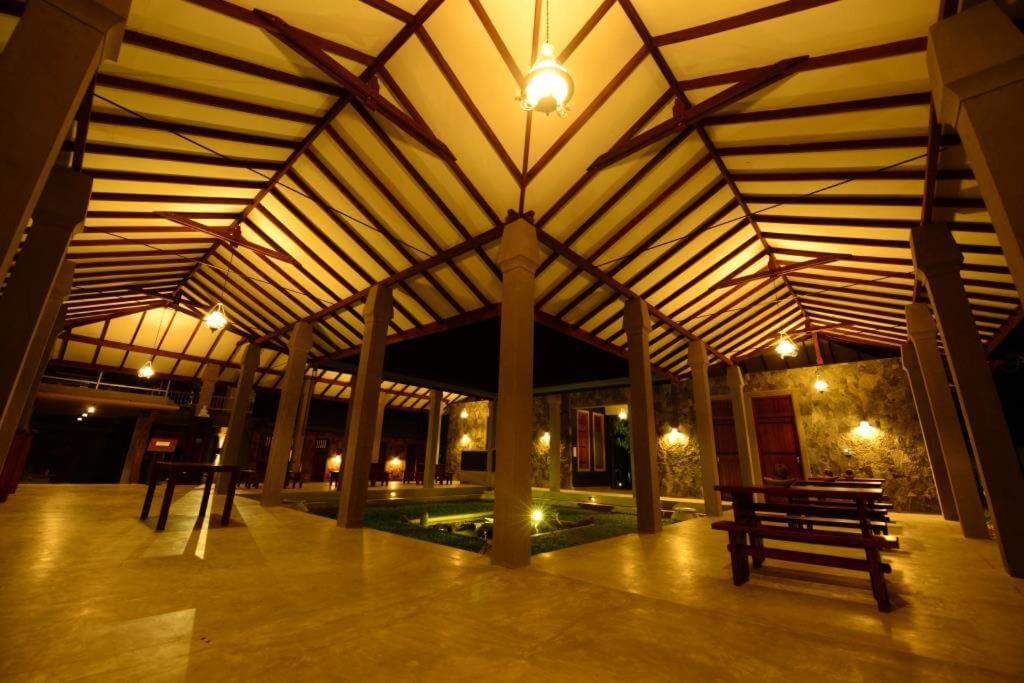 Located in Udawalawe, just 9 km from Udawalawe National Park, Nil Diya Mankada Safari Lodge offers a comfortable stay with its air-conditioned rooms and on-site restaurant. The rooms are equipped with a seating area, private bathroom, free toiletries, and a hairdryer. Free WiFi is available throughout the property and free private parking is provided. Guests can enjoy activities such as cycling and fishing or hire bikes and cars from the hotel. Safaris can also be arranged by the property. The nearest airport is Mattala Rajapaksa International Airport, which is 48.7 km away.
– Convenient location near Udawalawe National Park
– Comfortable air-conditioned rooms
– On-site restaurant for dining convenience
– Free WiFi throughout the property
– Various activities available such as cycling and fishing
Romantic Hotels with a Pool in Ella
Ella, a picturesque town nestled amidst the lush green hills of Sri Lanka, offers romantic hotels with enchanting pools. These tranquil retreats provide couples with the perfect setting to unwind and bask in each other's company while surrounded by breathtaking natural beauty. Whether it's floating hand-in-hand in an infinity pool or watching the sunset together from a private plunge pool, these romantic hotels in Ella offer idyllic experiences for lovebirds seeking a peaceful getaway.
Mountain Heavens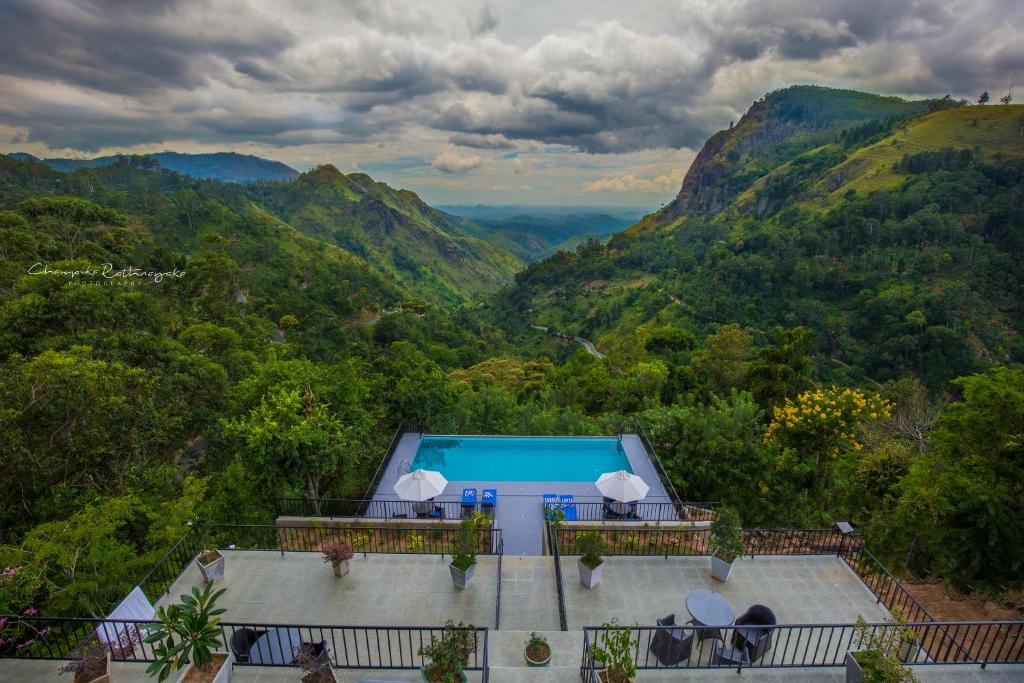 Nestled amidst picturesque nature, Mountain Heavens offers guests a modern and serene retreat with the added convenience of free WiFi in public areas. Perched on lush green mountains, this hotel boasts a restaurant and nearby parking facilities. The well-appointed rooms feature a spacious balcony, tiled floors, a clothes rack, sofa seating area, and a flat-screen TV with satellite channels. Guests can enjoy breathtaking views of the garden and mountains from their rooms, which also include private bathrooms with shower facilities. For those looking to explore the area and visit local attractions, Mountain Heavens offers car rental services. Additional amenities such as laundry and room service are available upon request. Indulge in a delightful dining experience at the in-house restaurant where guests can savor a delicious selection of local and western dishes while marveling at the stunning vistas of verdant mountain tops. Located approximately 65 km away is Mattala Rajapaksa International Airport.
– Idyllic location overlooking scenic nature
– Spacious balconies offering breathtaking views
– Restaurant serving tasty local and western cuisine
– Convenient access to nearby attractions
– Car rental services available for exploring the area
Langdale Boutique Hotel by Amaya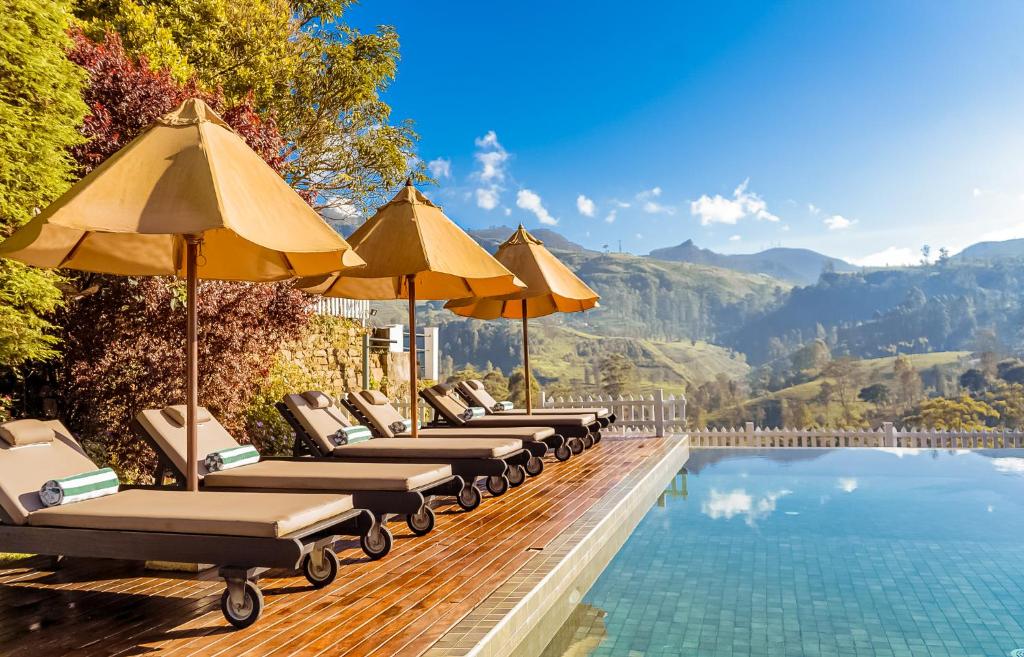 Located in the picturesque Nuwara Eliya Hills, the Langdale Boutique Hotel by Amaya is a luxurious retreat offering stunning hillside views. The hotel features an outdoor pool, a restaurant serving international cuisine, and complimentary Wi-Fi. The rooms at Langdale exude elegance with their dark wooden flooring and classic furniture, evoking the charm of the Tea Estate era. Each room is equipped with satellite TV, a sofa, and a tea maker for ultimate comfort. Guests can indulge in various activities such as hiking in the scenic surroundings or unwinding in the sauna or steam room. For those seeking relaxation, the Ayurvedic Spa offers rejuvenating massages. The hotel's cozy dining room serves a variety of dishes ranging from French to Sri Lankan, while the bar offers refreshing cocktails beneath lush trees. Conveniently located just a 5-minute walk from Somerset Tea Factory and within short driving distance from Hakgala Botanical Garden and Nuwara Eliya Golf Course.
Pros:
– Amazing hillside views
– Outdoor pool for relaxation
– Cosy dining room serving international cuisine
– Tranquil atmosphere perfect for hiking and spa treatments
– Convenient location near popular attractions
Kalu's Hideaway Udawalawe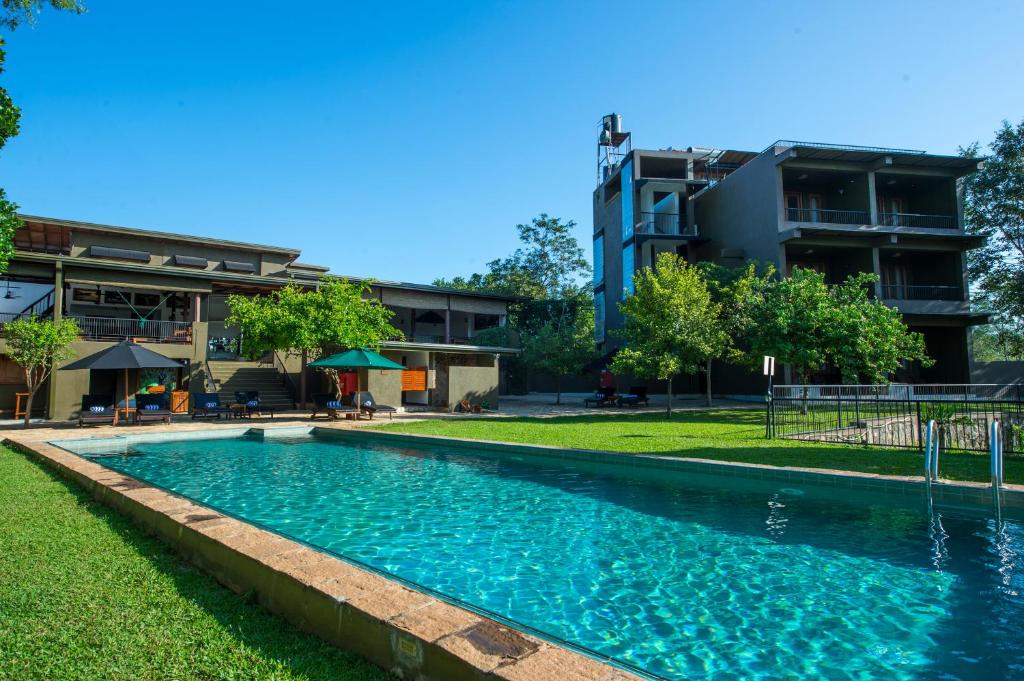 Kalu's Hideaway Udawalawe is a serene and tranquil hotel located in the beautiful surroundings of Udawalawe. The property spans across 5 acres of meticulously maintained gardens, offering guests a peaceful retreat. The hotel features an inviting outdoor swimming pool, perfect for a refreshing dip, as well as an on-site restaurant where guests can savor a variety of delectable dishes including Sri Lankan, Indian, Chinese, and Continental cuisine. Conveniently situated approximately 40 km from the Mattala International Airport and just 10 km from Pallebedda Sri Sankapala Raja Maha Viharaya, Kalu's Hideaway Udawalawe is also in close proximity to attractions such as Udawalawe National Park and Ath Athuru Sevana (Elephant Transit Home), both within 3 km of the hotel. With comfortable accommodation options that boast private balconies and spacious interiors, guests are sure to feel at ease during their stay. Additionally, the hotel offers a wellness center with massage services available upon request for ultimate relaxation. Younger guests can enjoy themselves at the playground while barbecue facilities are also provided on-site for those who wish to indulge in some outdoor cooking. Room service is readily available for added convenience.
– Serene location amidst beautifully manicured gardens
– Outdoor swimming pool for refreshing dips
– Variety of cuisines offered at on-site restaurant
– Close proximity to popular attractions like Udawalawe National Park
– Comfortable accommodation with private balconies
Hotels with Pools in Ella That Are Good for Families
Hotels with pools in Ella offer a great option for families looking to relax and cool off during their vacation. These hotels provide a refreshing pool experience, allowing kids and adults alike to enjoy quality time together in the water.
Ella Flower Garden Resort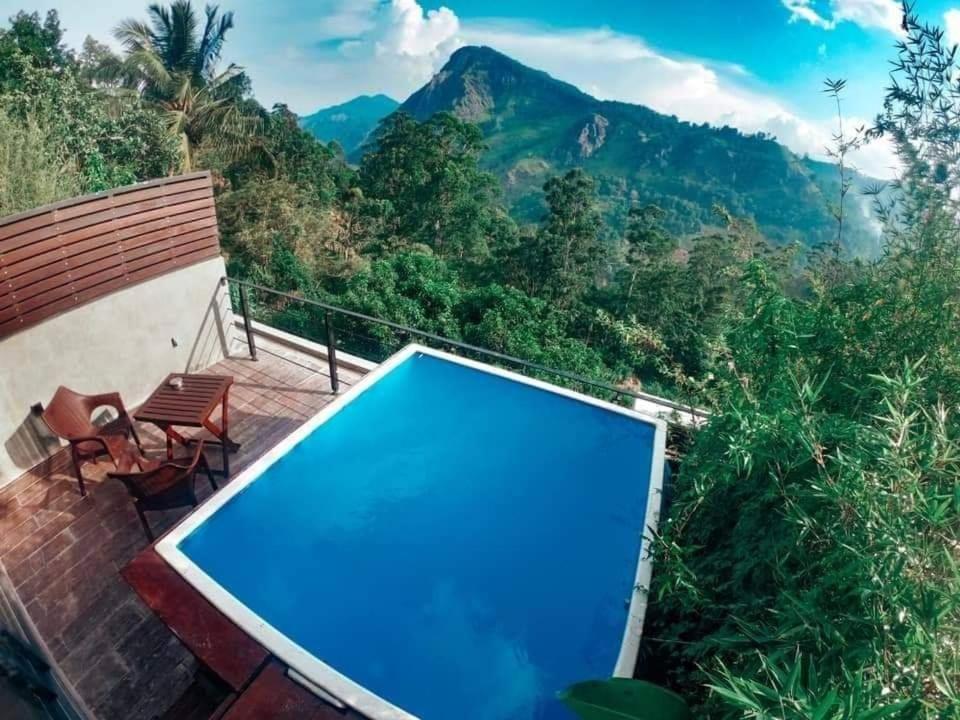 Nestled in Ella, overlooking panoramic mountain views, the Ella Flower Garden Resort offers a tranquil retreat for guests. The rooms are beautifully appointed with a spacious private balcony and free WiFi access is available in all public areas. Each room boasts stunning views and comes equipped with a comfortable seating area and writing table. The attached bathrooms feature a hairdryer and either a bathtub or shower. With excellent service, the staff at Ella Flower Garden Resort can assist with grocery deliveries, provide doctor (on-call) services, and take care of any ironing needs. Guests can explore the scenic area by renting bicycles or cars, while free parking facilities are also provided for those who drive. Dining options include authentic Sri Lankan meals at the on-site restaurant as well as packed lunches and in-room dining upon request. The resort is conveniently located 65 km away from Mattala Rajapaksa International Airport.
– Breathtaking mountain views
– Spacious private balconies
– Free WiFi access
– Excellent service from attentive staff
– Convenient location for exploring the scenic area
Ella Hotels with Pool Information
| | |
| --- | --- |
| 🛎️ Hotels with a Pool in Ella | 10 |
| 💰 Hotel prices starting from | $260 |
| 💵 Highest price | $1334 |
| 🥇 Average Review Score | 8.5/10 |
| 🛏️ Average number of Rooms | 22 |
FAQ
Is there a hotel in Ella with a pool?
Yes, there are several hotels in Ella that feature pools. These hotels provide a refreshing and relaxing space for guests to cool off after a day of exploring the city's attractions. Whether you prefer to take a dip or simply lounge by the poolside, these hotels offer an excellent option for enjoying some leisure time while staying in Ella.
Which hotels in Ella have the best pools?
There are several hotels in Ella that stand out for their impressive pool facilities. Some of the top choices include The Secret Ella, 98 Acres Resort & Spa, and The Grand Hotel Ella. These properties not only offer stunning views but also boast well-maintained pools with comfortable seating areas, making them perfect for those seeking an enjoyable swimming experience.
Can I use the pool if I'm not staying at the hotel?
In most cases, hotel pools are exclusively available to guests who are staying at the property. However, some hotels may offer day passes or allow non-guests to access their pool facilities for an additional fee. It is always best to check with each individual hotel regarding their policies on external guest usage of their pools before making any arrangements.
Are hotel pools open year-round in Ella?
Hotel pool opening hours can vary depending on the property and weather conditions. In general, most hotels keep their pools open year-round as Sri Lanka experiences warm temperatures throughout much of the year. However, it's worth noting that during heavy rainfall or maintenance periods, some hotels may close their pools temporarily for safety reasons or necessary repairs.
Do all budget accommodations in Ella have swimming pools?
Not all budget accommodations in Ella have swimming pools as they often prioritize providing basic amenities at affordable rates. While it is possible to find budget-friendly options with small plunge or rooftop pools, larger and more luxurious swimming facilities tend to be more commonly found in higher-end accommodations. It's important to review the hotel's amenities before booking if having a pool is a priority for your stay in Ella.
Popular Hotels with Pool destinations