Best 7 Hotels with Pools in Connecticut
Welcome to our latest adventure as we dive into the world of luxury accommodations in Connecticut, USA. Today, we are exploring the opulent realm of hotels with shimmering aqua paradises. Nestled amidst scenic landscapes and flourishing greenery, these exquisite establishments offer a resplendent escape for those seeking tranquility and indulgence.
Connecticut, known for its rich history and charm, is also home to a remarkable selection of hotels boasting lavish pools. Immerse yourself in pure bliss as you glide through the crystalline waters or bask under the warm sun on stylish loungers lining the poolside oasis. Whether you seek an intimate hideaway or a grandiose resort experience, Connecticut has an array of options that will leave you refreshed and rejuvenated.
Indulge in leisurely laps while admiring breathtaking views or luxuriate in secluded swim-up bars where refreshing cocktails are crafted with precision. With an impeccable blend of elegance and serenity, these luxurious havens promise an unforgettable stay where your comfort is their utmost priority. Get ready to dive into this captivating journey through Connecticut's finest hotels with pools – your gateway to ultimate relaxation awaits!
The Best Connecticut Hotels with a Pool
The Simsbury Inn (Simsbury)
The Simsbury Inn in Simsbury, Connecticut is a charming and intimate hotel nestled in the picturesque Farmington River Valley. Surrounded by museums and historical homes, this cozy inn offers guests a unique and memorable stay. The hotel features a welcoming lobby adorned with a stone fireplace, stocked bookcases, and comfortable seating areas. Guests can enjoy a refreshing swim in the indoor pool or keep up with their fitness routine at the on-site fitness center. The Simsbury Inn also offers complimentary continental breakfast to start your day off right. With advance notice, guests can take advantage of the free chauffeured transportation service to and from the airport as well as local destinations.
– Cozy and intimate atmosphere
– Indoor pool for year-round relaxation
– Complimentary continental breakfast
– Free chauffeured transportation service
– Unique guestrooms featuring 4-poster beds, plush linens, and down duvets
The Mayflower Inn & Spa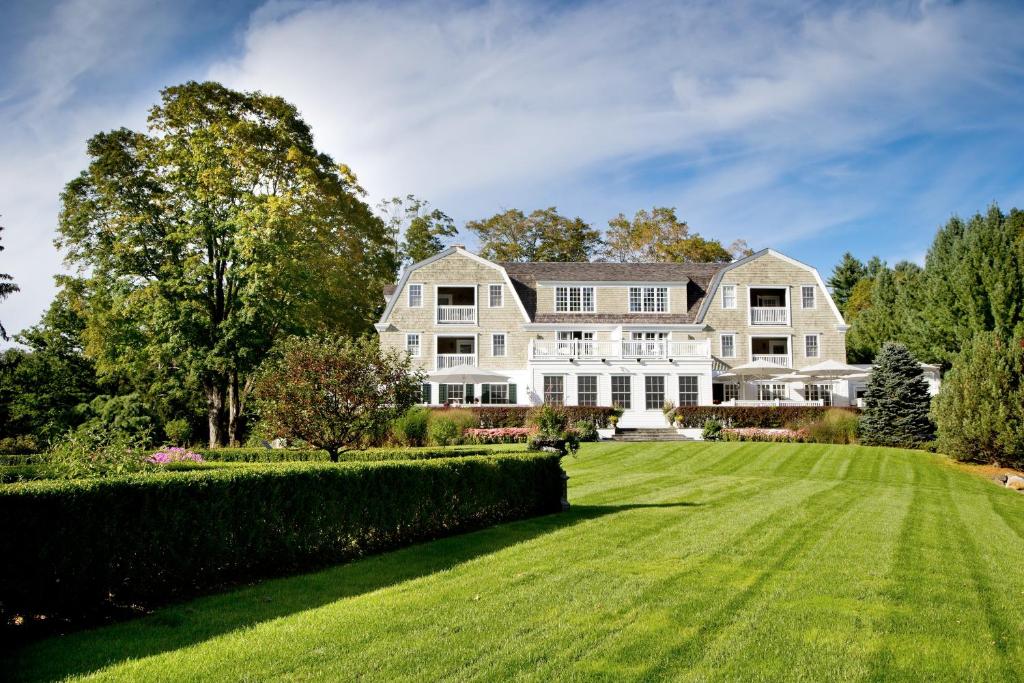 Located in the idyllic town of Washington, Connecticut, The Mayflower Inn & Spa is a boutique hotel that offers guests the celebrity treatment with its world-class service. Renowned as one of Northeast America's most distinguished luxury hideaways, this beautiful establishment and its surrounding small town served as inspiration for television writer and producer Amy Sherman-Palladino's fictional town of Stars Hollow. Nestled in 58 acres of beautifully landscaped gardens and woodland, guests can enjoy a range of activities including swimming in the sparkling pools, playing tennis or golf, indulging in revitalizing spa treatments, and savoring meals made from regionally-sourced ingredients at The Mayflower Dining Room. The 30 rooms are elegantly furnished with feather topped mattresses, antique oriental rugs, marble bath accommodations, and the Inn's signature welcoming orchid. With gas fireplaces and a well-stocked bar also available to guests, The Mayflower Inn & Spa offers a truly luxurious experience.
Pros:
– Exceptional service
– Beautifully landscaped gardens
– Range of onsite activities including swimming pools
– Elegant and comfortable room furnishings
– Delicious dining options
Mystic Marriott Hotel and Spa (Groton)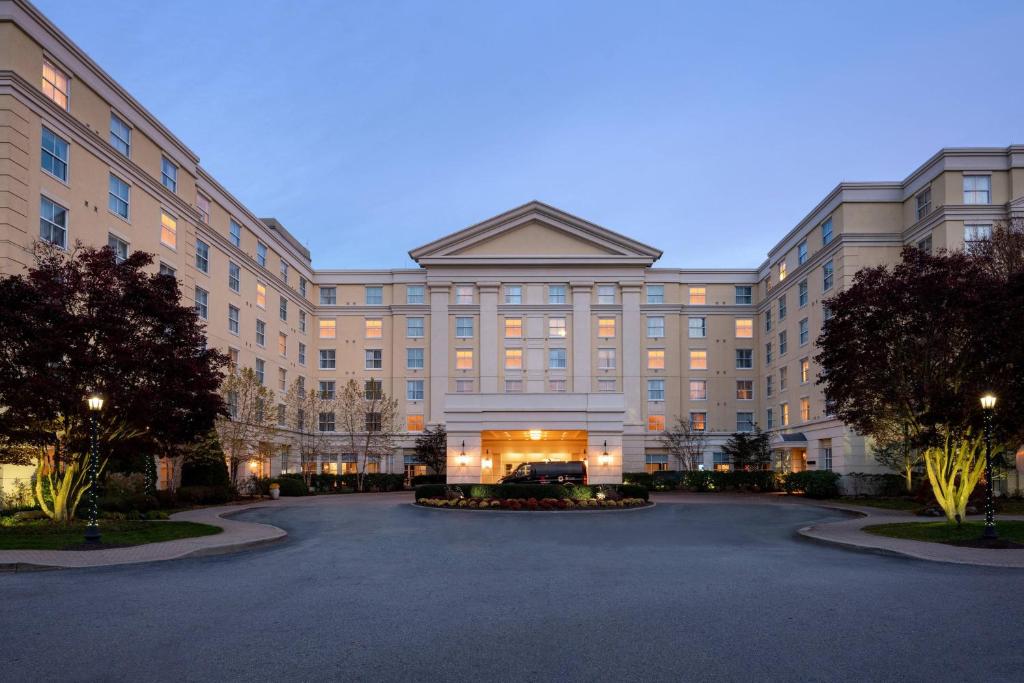 Located in the heart of Groton, Connecticut, the Mystic Marriott Hotel and Spa offers a truly luxurious experience for guests seeking relaxation and comfort. With its centrally located position, visitors have easy access to nearby attractions while enjoying the hotel's spa amenities and comfortable guestrooms. The Mynd Spa provides a haven for both men and women to unwind with a range of indulgent treatments such as massages, facials, and skin treatments. As evening falls, guests can retreat to their rooms featuring plush bedding including down comforters, custom duvets, and cotton-rich linens. For those seeking an active lifestyle even during their stay, the hotel offers a well-equipped fitness center where exercise enthusiasts can break a sweat or take a refreshing dip in the swimming pool. Whether it's pampering oneself at the spa or staying on top of fitness goals, Mystic Marriott Hotel and Spa delivers an unforgettable luxury experience.
– Conveniently located in central Groton
– Luxurious spa amenities at Mynd Spa
– Comfortable guestrooms with plush bedding
– Variety of indulgent massage and facial treatments available
– Well-equipped fitness center with swimming pool
Other places to stay in Connecticut
Hotels with Pools in Connecticut with Nice Views
Connecticut offers a selection of hotels with pools that boast stunning views of the surrounding landscapes. Whether it's overlooking scenic coastlines or tranquil countryside, guests can enjoy a refreshing swim while taking in the natural beauty of Connecticut.
Circle Hotel Fairfield (Fairfield)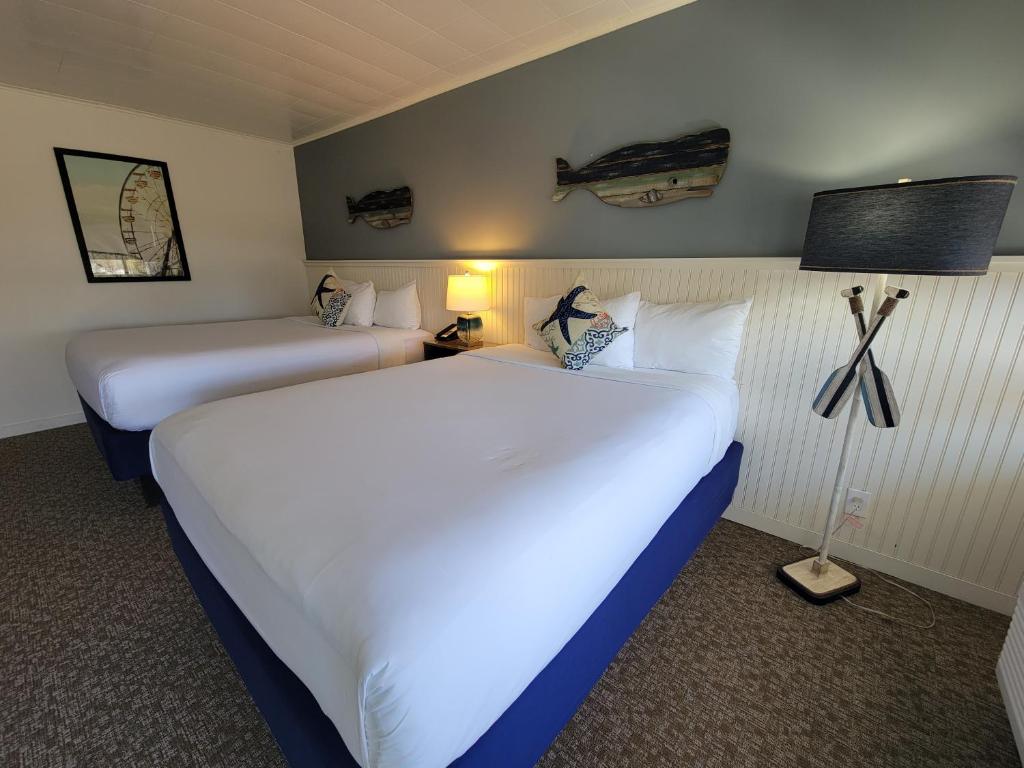 The Circle Hotel Fairfield offers visitors the charm and historic character of a New England hotel. With ADA compliant rooms and facilities, this hotel ensures accessibility for all guests. Enjoy amenities such as in-room WiFi, Roku Streaming Services, mini-refrigerators, and an outdoor terrace. For business travelers, there is free high-speed internet access, two private meeting rooms (subject to availability), and copy and fax services. Conveniently located on the Post Road at the Circle in the heart of Fairfield, this hotel is just minutes away from Interstate 95 and the Metro North train station. Explore local beaches, golf courses, shops, and parks easily from this central location. Indulge in delicious dining options including the on-site Circle Diner or explore nearby fine restaurants.
– Charm and historic character
– ADA compliant rooms
– In-room WiFi and Roku Streaming Services
– Outdoor terrace
– Convenient location near attractions
Saybrook Point Resort & Marina (Old Saybrook)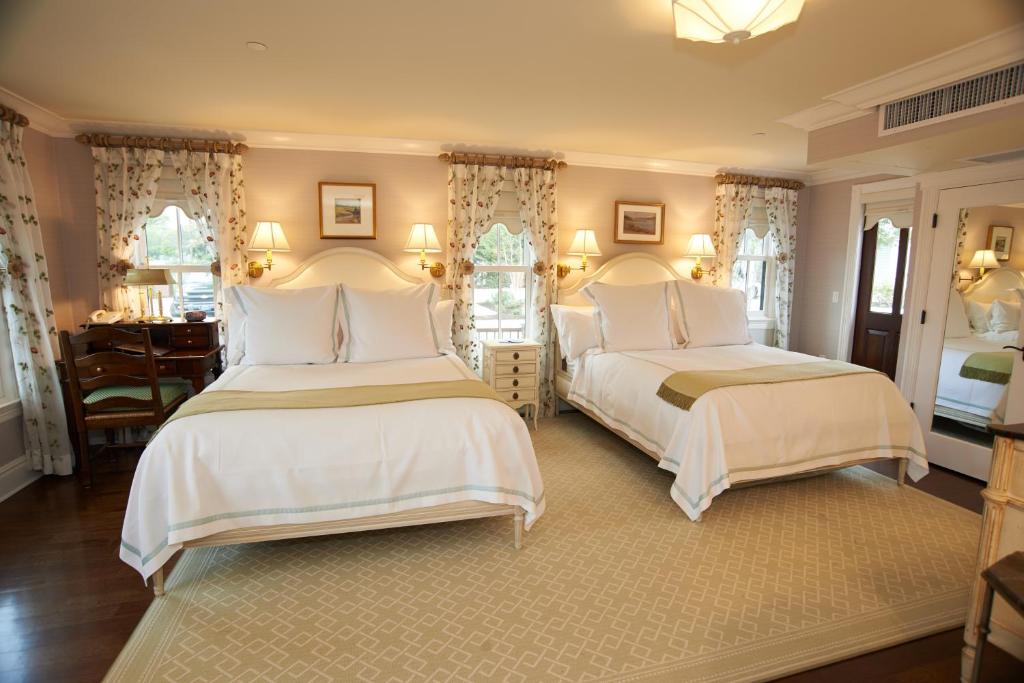 Located in historic Old Saybrook along the Connecticut River, the eco-friendly 4-star hotel Saybrook Point Resort & Marina offers a luxurious experience for guests. With indoor and outdoor saltwater pools, a full-service spa, and an on-site marina, guests can indulge in relaxation and tranquility during their stay. The hotel is also home to Fresh Salt, a 4-diamond restaurant offering stunning waterfront views and delectable American cuisine. The spacious guest rooms are equipped with wet bars, refrigerators, bathrobes, and dressing areas for ultimate comfort. For added convenience, guests can enjoy free Wi-Fi access and utilize the on-site laundry facilities. The Saybrook Spa offers an array of services including massages, facials, body wraps, a nail salon, and even exercise classes. Additionally, the Inn is conveniently located near popular attractions such as Chamard Vineyards and Fort Saybrook Monument Park. Shopping enthusiasts will also find downtown Saybrook just a short distance away.
Pros:
1. Indoor and outdoor saltwater pools offer relaxation options throughout the year.
2. Access to an on-site marina adds convenience for guests with boats or yachts.
3. The full-service spa provides a wide range of rejuvenating treatments.
4. Fresh Salt restaurant offers exquisite waterfront dining with picturesque views.
5. Convenient location near popular attractions ensures plenty of entertainment options nearby
Hilton Garden Inn Wallingford/Meriden (Wallingford)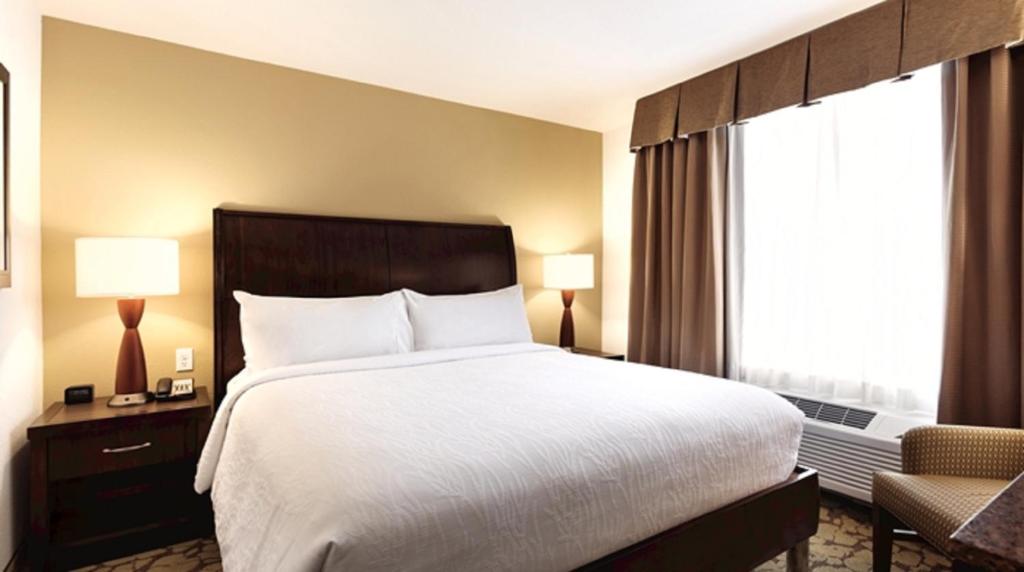 Hilton Garden Inn Wallingford/Meriden is a luxurious hotel located in Wallingford, just 3.3 km from Paradise Hills Vineyard. The hotel offers a range of amenities to ensure a comfortable stay for guests, including an on-site restaurant where delicious meals can be enjoyed. The rooms at Hilton Garden Inn are well-appointed and feature either a private bathroom with a spa bath or free toiletries and a hairdryer. Some rooms even come with a seating area where guests can relax and unwind after a long day of exploring the area. Each room also includes a flat-screen TV for entertainment purposes. With its 24-hour front desk, guests can expect exceptional service throughout their stay. Additionally, the hotel is conveniently located near Bradley International Airport, making it easily accessible for travelers.
– Convenient location near Paradise Hills Vineyard
– On-site restaurant offering tasty meals
– Well-appointed rooms with modern amenities
– Relaxing spa baths available in some rooms
– Excellent customer service from the 24-hour front desk
Romantic Hotels with a Pool in Connecticut
Connecticut offers a charming setting for romantic getaways, with its serene landscapes and luxurious accommodations complete with pools. Couples can bask in the tranquility of a private poolside retreat, enjoying moments of relaxation and romance amidst the natural beauty of the state.
Wyndham Southbury (Southbury)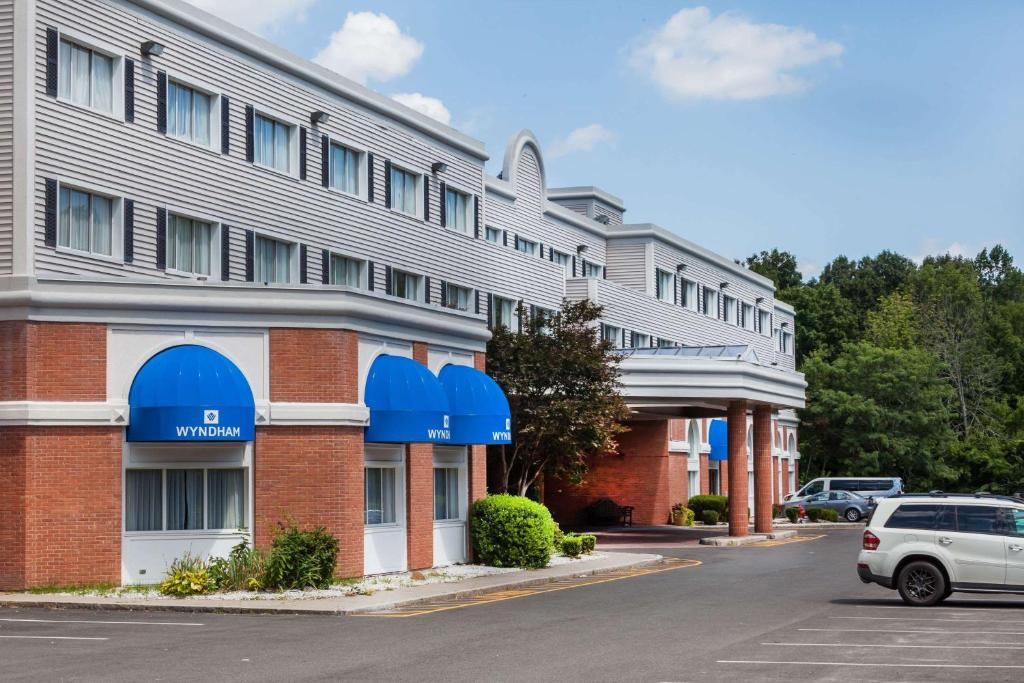 Located just off Interstate 84, the Wyndham Southbury in Southbury is a convenient and comfortable hotel option for travelers. The hotel offers an array of amenities including an indoor pool, sauna, on-site restaurant, gift shop, and free area shuttle. Each room comes with modern conveniences such as free Wi-Fi, a flat-screen TV, coffee maker, and work desk. Guests can enjoy delicious American cuisine at the on-site restaurant for breakfast, lunch, and dinner. Additionally, the hotel features a well-equipped gym and business center for guests' convenience. With attractions like Quassy Amusement Park and Woodbury Ski Area nearby, there are plenty of opportunities for fun activities during your stay.
Pros:
– Indoor pool for relaxation
– Free Wi-Fi in every room
– On-site restaurant serving American cuisine
– Convenient location near Interstate 84
– Easy access to nearby attractions like Quassy Amusement Park
Connecticut Hotels with Pool Information
| | |
| --- | --- |
| 🛎️ Hotels with a Pool in Connecticut | 7 |
| 💰 Hotel prices starting from | $191 |
| 💵 Highest price | $729 |
| 🥇 Average Review Score | 8.5/10 |
| 🛏️ Average number of Rooms | 128 |
FAQ
Can you recommend any luxury hotels with pools in Connecticut?
Certainly! One highly recommended luxury hotel with a pool in Connecticut is the Delamar Greenwich Harbor. This waterfront property offers a stunning outdoor pool overlooking the harbor, complete with comfortable loungers and cabanas. Guests can take a refreshing dip while enjoying beautiful views of the water, making for a truly luxurious experience.
Are there any family-friendly hotels in Connecticut with pools?
Absolutely! If you're traveling with your family to Connecticut and looking for a hotel with a pool, the Dinosaur State Park in Rocky Hill is an excellent choice. The park features an indoor pool that's perfect for kids to splash around in while exploring the park's dinosaur-themed exhibits. It's not only fun but also educational, making it an ideal option for families visiting Connecticut.
What are some budget-friendly hotels in Connecticut that offer pools?
For travelers on a budget who still want to enjoy a swimming pool during their stay in Connecticut, consider checking out the Comfort Inn & Suites East Hartford or Best Western Plus North Haven Hotel. Both properties offer affordable rates and have indoor pools where guests can relax and unwind after exploring all that Connecticut has to offer.
Do any hotels in Connecticut have heated pools?
Yes, several hotels in Connecticut feature heated pools for their guests' comfort and enjoyment. One such hotel is Saybrook Point Resort & Marina located at Old Saybrook. They boast both an indoor and outdoor heated saltwater pool where guests can swim year-round regardless of weather conditions. So whether it's summer or winter, you can always take advantage of their inviting heated swimming facilities.
Are there any boutique hotels with unique pool experiences in Connecticut?
Absolutely! The Mayflower Inn & Spa located in Washington is known for its luxurious accommodations and unique amenities – one of which includes their exquisite outdoor infinity-edge pool surrounded by lush gardens. This boutique hotel provides guests with an exceptional oasis-like experience where they can relax and unwind in style while enjoying breathtaking views of the Connecticut countryside.
Popular Hotels with Pools destinations